Introduction
Today, we are taking a look at the ASUS TUF GAMING H1 WIRELESS GAMING HEADSET. While this headset isn't officially available yet in the UK, it's not far off and is slated to be released in November. When it is released it should come in at around £74.99 and ASUS are even releasing a wired version which should be around £60 on release. The H1 Wireless uses a 2.3GHz connection and comes packed with 40mm Neodymium Drivers with 7.1 surround sound and deep bass! To use the H1 Wireless, you simply plug the USB-C dongle into your PC and if you don't have USB-C worry not as it comes with a USB 2.0 adapter.  The wireless frequency is rated for a 25-meter range but as many will know, it depends on what is in that 25-meter range whether it will work properly or not. The more walls, floors, doors or any type of obstruction can shorten the length a bit. With that being said I could go downstairs in the kitchen and still hear my music playing so the range is quite good! Right, enough of my rambling, let's have a better look at what the H1 Wireless has to offer.
Packaging and Accessories.
Taking a quick look at the box and on the front, we can see a nice image of the H1 Wireless headset itself as well as the USB-C wireless transmitter. We can also see that this headset is compatible with the PS5 and Discord and TeamSpeak certified. The H1 wireless features an all-black design with NO RGB! Yes, that's correct, there is no RGB on the H1 wireless. Wherever will we get all our extra frames without our beloved RGB?
On to the back and as you would expect, there is a bit more information into some of the specifics that the H1 Wireless has to offer.
Taking everything out of the box and there isn't much to see which is good. We have the headset itself, the USB-C dongle, USB-C to USB-A(2.0) adapter and the USB-C to USB-A(2.0) charging cable! The headset will come with a small charge out of the box in most cases but it's always good to go ahead and charge them up properly before your first use.
The charging cable is only 1-metre long so is meant for just charging. I used both the USB-C dongle and the USB-A adapter during my testing and I couldn't tell a difference between the two in terms of sound performance. So, this means that hopefully both of them will offer the same experience so don't worry too much should you not have a USB-C port on your PC or whichever device you are going to be using the H1 wireless on.
H1 Wireless Closer Look
Instead of just adding padding to the headband, ASUS has gone with a retractable elastic band. This is to reduce the amount of pressure the headset puts on the top of your head which should hopefully mean you get to enjoy longer game playing times. The suspension band also has a bit of TUF GAMING branding on it, not that you will likely see it much, but when you first open the box for the H! Wireless and take them out, you will no doubt see it then!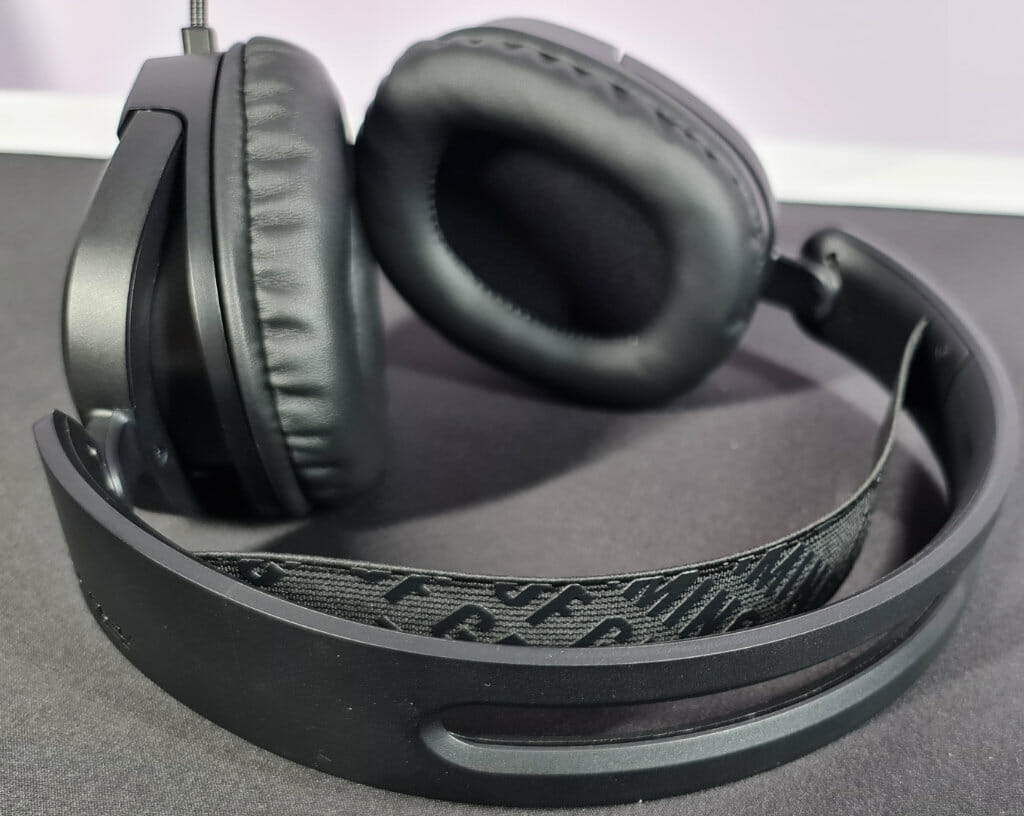 ASUS got a bit happy with the branding and while it's done subtly, there is also a small ASUS logo on the outer side of the plastic headband.
On the other side, we can see it also says TUF GAMING. Sometimes I do wonder if companies add this type of branding for any other reasons than they know it will end up in photos. Either way, the branding is not overdone and will not interfere with the overall sleek and stealthy look the H1 wireless has going for it.
For those that can't tell their left from their right, ASUS has you covered and has put little markers on the inside of the headband for you. I mean, the mic facing backwards wouldn't be a giveaway or anything but we can appreciate that ASUS and most other companies always give us a nice little L or R so we can make sure we get our headsets on properly.
Of course, the earcups are going to have a bit of branding on them as well. If you look long enough, you can see that this says TUF and that's no cap! We aren't just trying to make you stay on our page longer, we swear. Just keep looking until you can see it, it's there. Again, black on black for the ultimate in subtle stealthy branding. Whoever at ASUS designed these did an amazing job, well done!
The unidirectional boom mic is quite flexible and you will have no problem bending it back a bit should you not want to use it. This will also allow you to get it into just the right position for you when you want to use it.
The Mic itself is certified by TeamSpeak and Discord. Simply put, this mic should be half decent and TeamSpeak and Discord are certifying that when using their software, this mic works well. Nothing more and nothing less. I do have to be honest, I haven't used TeamSpeak in many years, does anyone still use it? I mean, I am guessing quite a few do but let us know down in the comments if you still do. I did however jump into a couple of Discord chats while testing this out and didn't receive any complaints or hear anyone say the mic was crap, so going to go and say that for gaming, it'll do the trick.
The earcups have a bit of padding around the outside to allow for a more comfortable fit when wearing them. However, the real magic comes from the internal hardware which offers a good sound when gaming. While these are good to use for music as well, they are designed for gaming so that is what we are going to go ahead and focus on for this review. The ASUS TUF GAMING H1 WIRELESS comes with a 40mm ASUS essence driver that is said to offer a stronger base. Pair this up with an airtight sound and you have a much richer and crisper sound being offered. As with all gaming products, I loaded up some of my favourite games such as APEX, CS:GO, Quake LIVE, COD:CW and even the new Back 4 Blood. Normally I used a Corsair headset that costs almost double the price of the H1 wireless and I honestly couldn't tell that much of a difference. From hearing my enemies footsteps in CS:GO to being able to tell where fights were going on across the map in APEX, the H1 wireless help make sure my enemies never got the advantage on me.
On the back of the left earcup are all the controls for the H1 Wireless. Asus has included a mic-mute button that you simply press in once to mute the mic. There is also a volume rocker that can turn the volume up or down and even mute the volume if you push it in.
There is also a small power button and power LED alongside the USB-C port. The simplicity and ease of use of these buttons and the volume switch are quite important as you wouldn't want to hit the wrong one while gaming or have to fiddle around finding the button you are looking for. All in all, ASUS have done a great job making the H1 Wireless a good looking and easy to use gaming headset.
.
Final Words
Value
With more and more wireless peripherals trying to charge a premium for what they offer, it is nice to see ASUS offer something a bit more affordable. Again, when these are released here in the UK, they should be around £74.99 and if they are, that is quite impressive. For the money, you will be getting a very worthy gaming headset that will help you in the heat of battle. At this price, you should expect a decent listening experience, both in-game and out, a good quality build and they should also be comfortable, even when wearing them for a few hours. The ASUS TUF GAMING H1 WIRELESS GAMING HEADSET offers all of this and more.
Design and Performance
I must admit, even I wasn't expecting them to look quite as stealthy and nice as they did. ASUS has pulled the stops out at this price range. Not only does it look good, but it is also packed full of features that allow it to perform equally as good. The H1 Wireless features a 2.4 GHz wireless technology, 40mm Neodymium drivers with an airtight chamber for better sound, virtual 7.1 surround sound and the mic is even Discord and TeamSpeak certified. What more could you want from a headset in this price range? Maybe a lightweight design with a suspension headband for more comfort and less pressure during gaming? Maybe you would like a 15-hour battery life so you are sure not to lose charge while gaming? Well, the H1 wireless offers all of that while remaining stylish and affordable. What's even better is the compatibility that the H1 WIRELESS offers as they can be used on a number of devices including PCs, Macs, PS4 and PS5, Nintendo Switch, smartphones and even tables. So, you see, you're not just getting a PC Gaming headset, you are getting a rather versatile gaming headset that can be used across a number of devices with ease!
Getting the most for your money is always important no matter the product you are purchasing. The H1 WIRELESS GAMING HEADSET offers an amazing balance of price, performance and looks. If you are looking to enjoy a comfortable gaming experience, even for a few hours then the H1 wireless is well worth considering.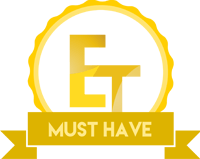 Thanks again to ASUS UK for sending in a sample of their TUF GAMING H1 WIRELESS GAMING HEADSET for this review.