INTRODUCTION
Today, we are taking a look at an overview of the ASUS TUF M4 Wireless Gaming Mouse. This mouse is available on ASUS's website for £33.99. Asus is well-known in the PC gaming community for its premium products.  The mouse is a wireless gaming mouse via 2.4GHz wireless as well as Bluetooth LE dual connectivity, it features a 12,000 DPI optical sensor, comes in at 62 grams and is costed with ASUS Antibacterial guard to keep the device sanitary.
SPECIFICATION
2.4GHz wireless and Bluetooth connectivity options

PBT top cover and side buttons

100% PTFE feet

Six tactile and programmable buttons

It can be powered with either a AA or AAA battery (using an adapter)

86-gram weight
PACKAGING AND ACCESSORIES
Looking at the front of the box, it is well presented but at the same time minimalist. The reference to ASUS's Antibacterial Guard is mentioned in the top right. The bottom left has the model and the Tuf Gaming logo in Silver.
Looking at the rear of the box and it goes into more information regarding the top cover and side buttons, it also goes into slightly more detail about the built-in antibacterial guard and references the design of the mouse. Looking towards the bottom, the specification is listed in more detail.
Inside the box are the standard quick-start guide/instructions, warranty card and the mouse itself. Pretty basic but to be honest, there's no need for anything else given that this is a wireless device.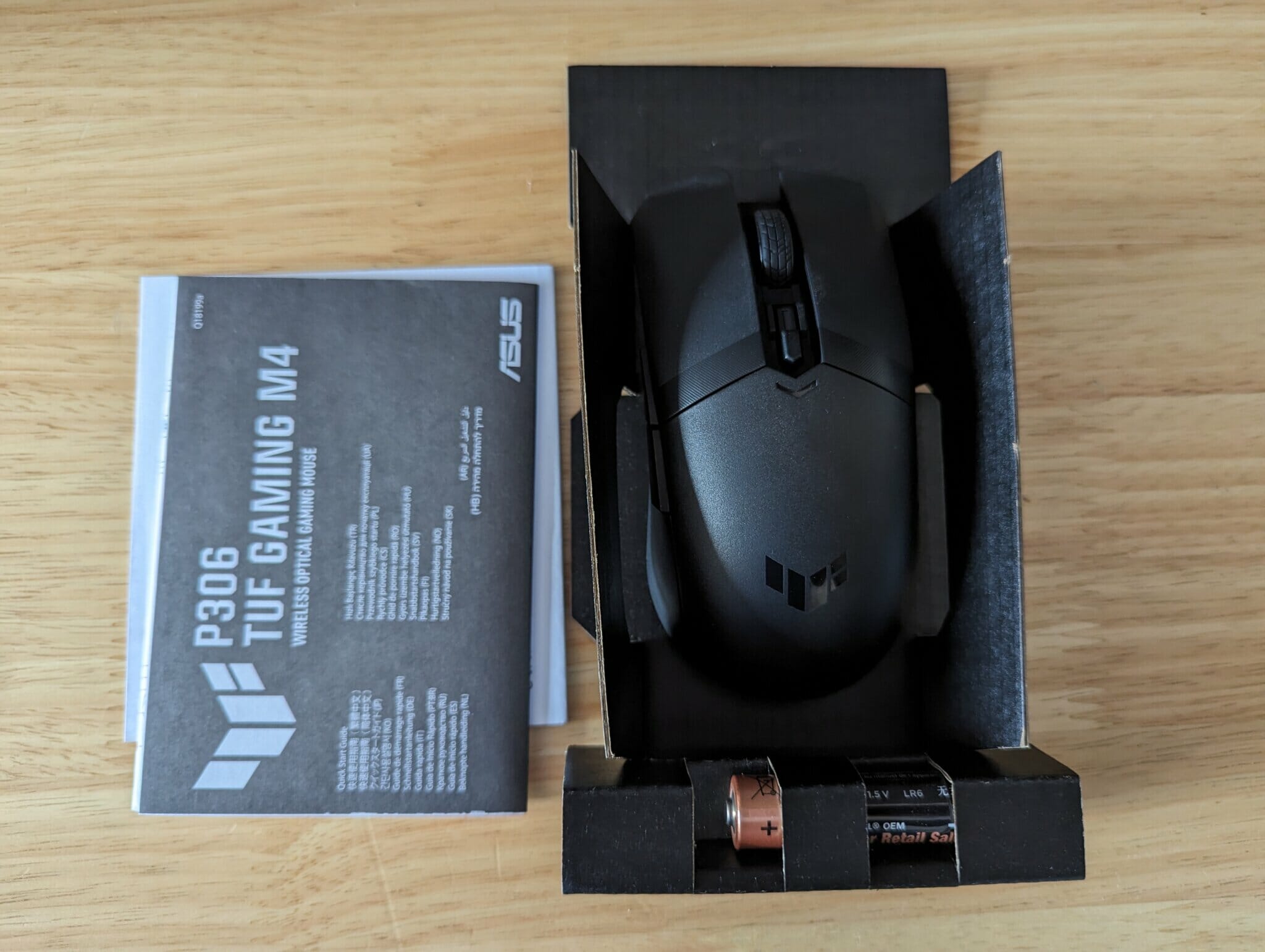 A CLOSER LOOK
So now we take a closer look at the features of this mouse. To start with, the mouse features an ergonomic design which means it is easy to use for both left-handed and right-handed people. The compact design enhances manoeuvrability during those long gaming sessions.
The mouse has 2 different connectivity options, one being the standard 2.4Ghz wireless option (using the supplied dongle), and the second option is to switch to Bluetooth connectivity. You can do this by flipping the switch on the bottom of the mouse. I'm a fan of both options as knowing me, I'd probably end up losing the dongle and then the mouse would be useless, but not with this one. It means you can use it with a much larger range of devices. 
On top of the mouse, you can see the usual left and right-hand click buttons, the scroll wheel in the middle and just underneath that is the button to adjust the DPI. This mouse has a maximum DPI of 12,000. The DPI button isn't too obtrusive so if like me you have chubby fingers, you don't have to worry about accidentally clicking it in the middle of a boss fight. The left-hand side of the mouse has the back/forward buttons.
At first, I couldn't find the dongle in the box but then I realised you have to slide the top cover of the mouse off and you can then see the dongle, nicely hidden inside the mouse, as well as the AAA battery adapter. This means you can power the device from either AAA or AA batteries and is an extremely nice feature. If you wish to use a AA battery then you just insert it normally into the mouse. If you however wish to use a AAA battery, then you pop it into the capsule/adapter and then pop this into the mouse. I'm very impressed with this kind of customization.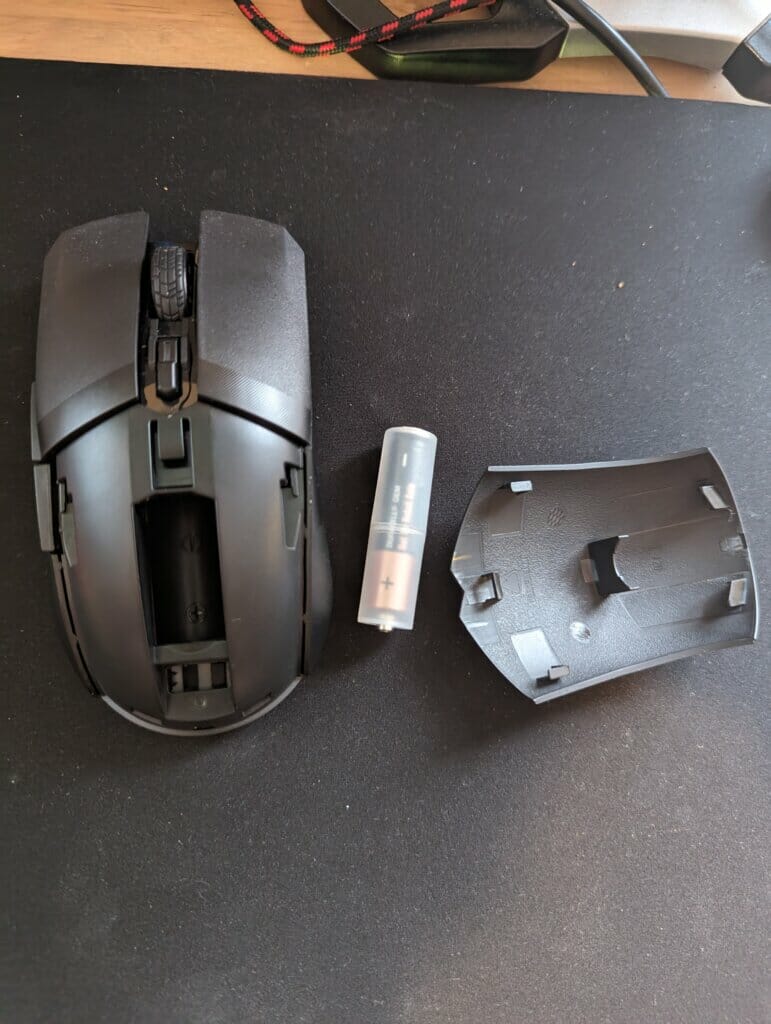 Looking underneath the mouse, we can see the connectivity mode switch, sensor and other information such as the CE mark. The selector switch has 3 positions, the furthest left is Bluetooth, the middle is switched off and the right-hand side is for 2.4GHz connectivity.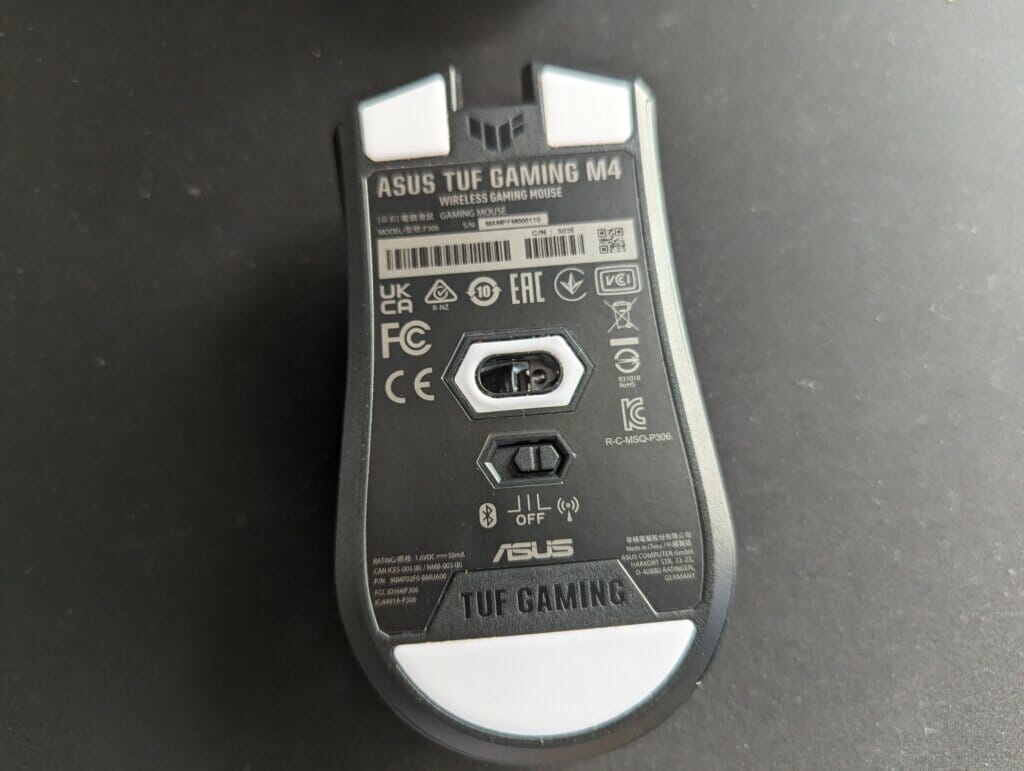 The mouse features 6 customizable buttons that you can reprogram to your liking using ASUS's Armoury Crate software which means if you are already invested in ASUS's products/ecosystem then configuring all your peripherals can be done from one central tool. ASUS Armoury Crate can be downloaded from here and is a simple install. It did take a few minutes to finish installing on my system though, but this could be down to a number of factors. The software itself is intuitive and easy to use once up and running. You can click on any of the button text and reprogram those buttons. It doesn't get much easier than that.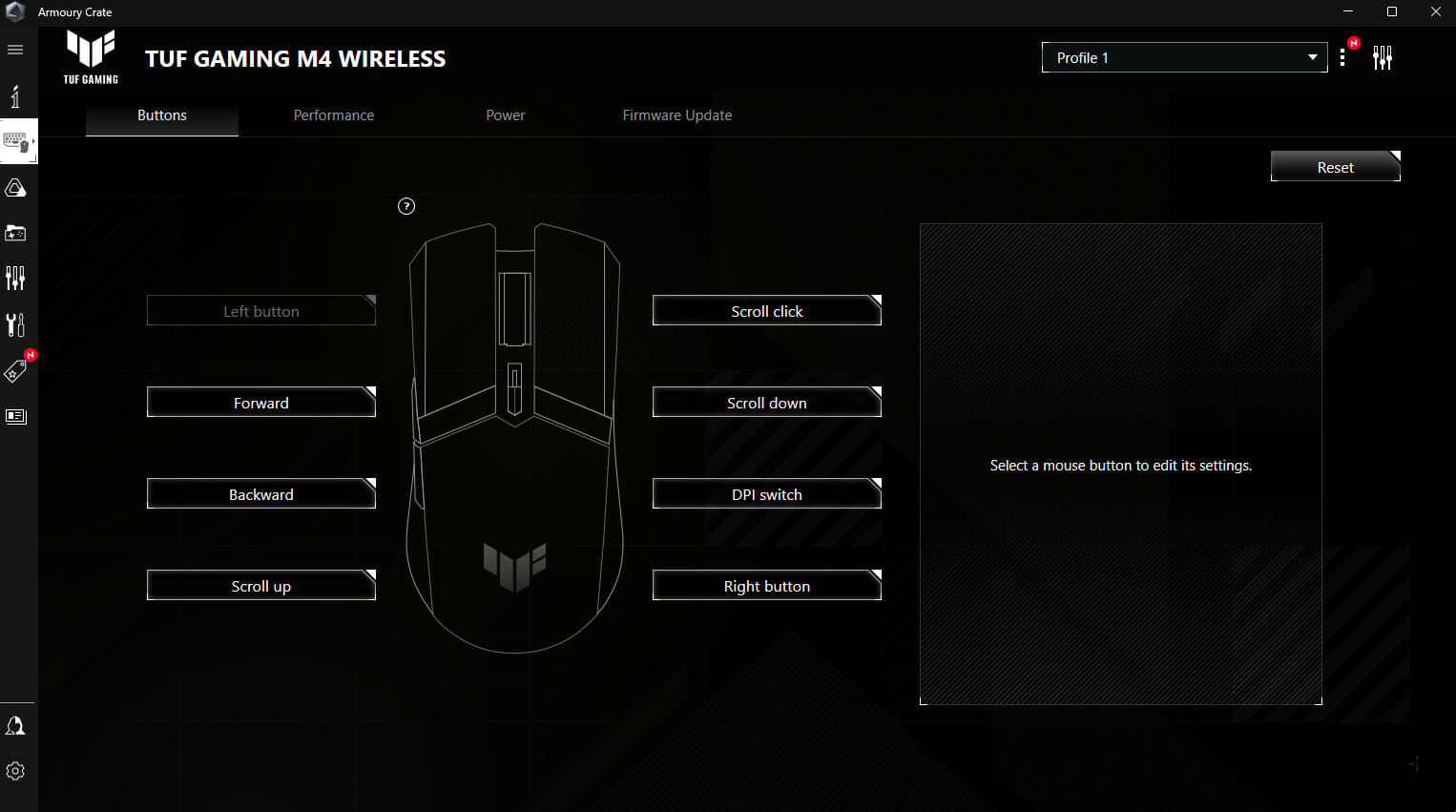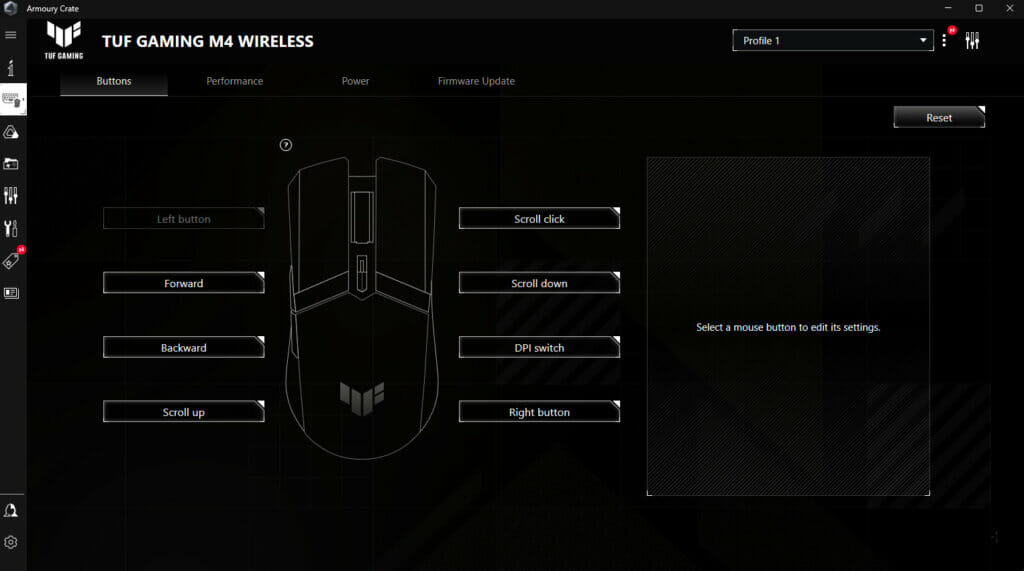 Battery life has so far been pretty impressive. I've been running all week from a single AAA battery with no sign of it going flat yet. That's both gaming and using it in the office. Although I do like the fact that Asus provide you with both a AAA and an AA battery to get you started. 
Let us talk a little bit more about ASUS's antibacterial guard. Hygiene and safety is a big thing with ASUS and they haven't disappointed with this mouse either. The mouse does have the antibacterial guard built in. This helps to break down bacterial presence and ensures that the mouse stays clean and hygienic for as long as possible. ABG features heavily on ASUS's laptop ranges and you can watch a video on how it works here. The world is starting to move forward after COVID-19 and it's nice to see such a large, respectable manufacturer continuing to take hygiene seriously without impacting the price of the product.
There isn't any RGB on this mouse but to be honest it isn't needed. The design is basic and let's be honest, you have your hand over the mouse most of the time anyway. So I can't speak too negatively. Chances are, if you're buying an ASUS peripheral, you already know what you are after. 
FINAL WORDS
VALUE
This is a decent mouse at a perfectly respectable price point. It has all the features of a top-end product, but currently only costs £33.99 makes it a bargain at this price. You'll struggle to find much more of a premium product at such a low price point.
DESIGN & PERFORMANCE
Although the design/colour scheme of this mouse is more bland being Black all over, it really doesn't matter. It's a nice lightweight design which you can take anywhere with you. It feels nice underneath the palm of your hand. The choice of connectivity options is a good touch and is normally found on products double the price. The added antibacterial guard is a nice addition to help keep things hygienic. Overall it's a very good product and I am more than happy to recommend it to friends and family.
We have decided to award ASUS the EnosTech Recommended award for the TUF M4 Wireless Gaming Mouse. It's a solid purchase at the price it's currently being offered for and we don't think you'll be disappointed.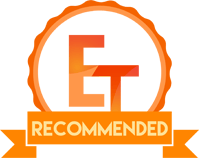 We would like to thank ASUS for sending in a sample of the TUF M4 Wireless Gaming Mouse for review.