AZZA, a leading brand of computer cases and accessories, announces the BLIZZARD SP 240 and BLIZZARD SP 360, a new line-up of CPU All-In-One liquid coolers. Focused on delivering high-performance with style, the BLIZZARD SP features a low-profile 3200rpm pump with rotatable diamond-cut ARGB infinity mirror-covered housing. The 240mm and 360mm radiators include a square fin pattern that improves heat dissipation and are paired with AZZA's Hurricane SP Digital 120mm PWM ARGB fans.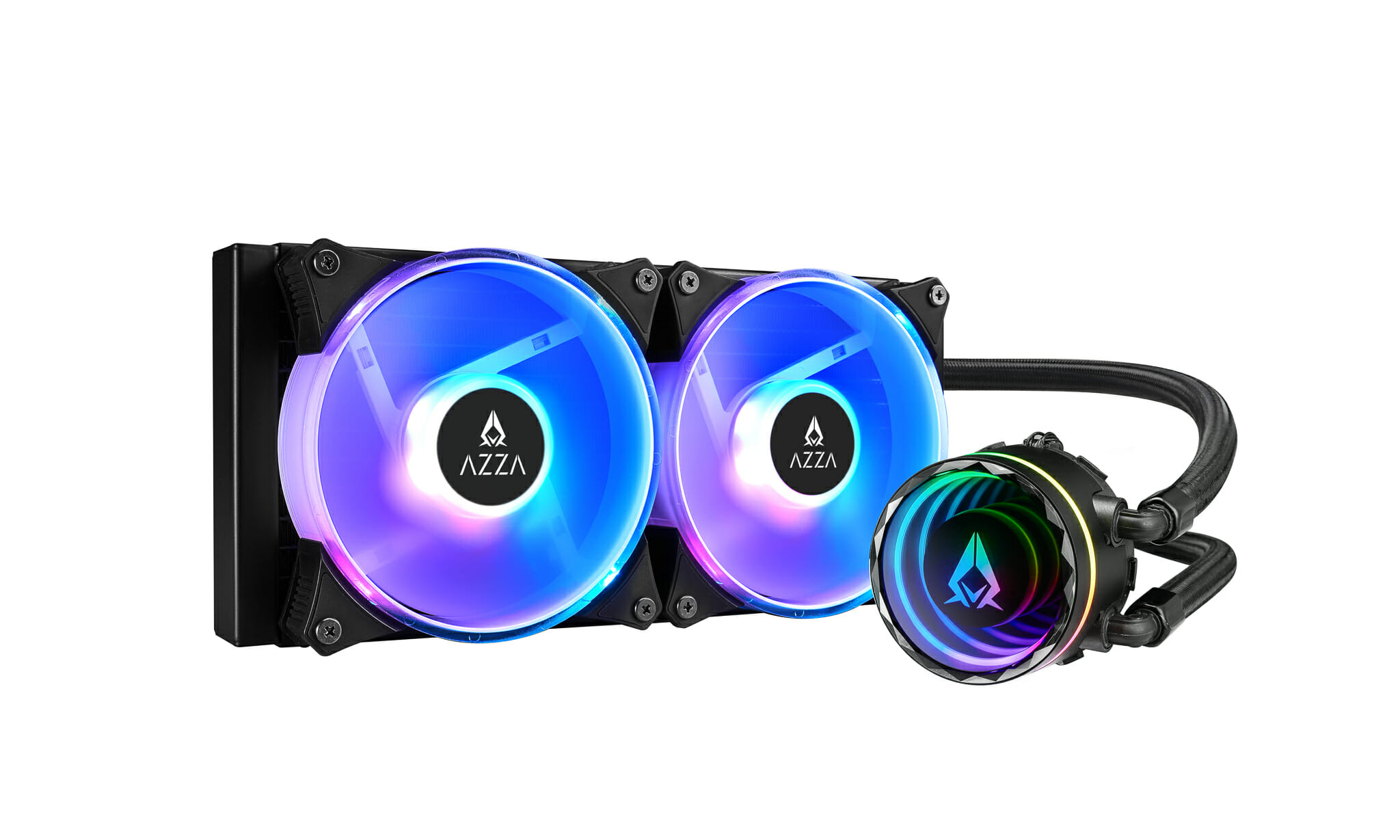 Excellent cooling performance with quiet 3200 rpm pump below 25 dBA
Diamond-cut style infinity mirror ARGB pump head (rotatable).
Radiator feature square cooling fin design for larger heat dissipation surface area
Equipped with AZZA Hurricane SP Digital 120mm PWM ARGB fans
BLIZZARD SP 240 MSRP € 99
BLIZZARD SP 360 MSRP € 129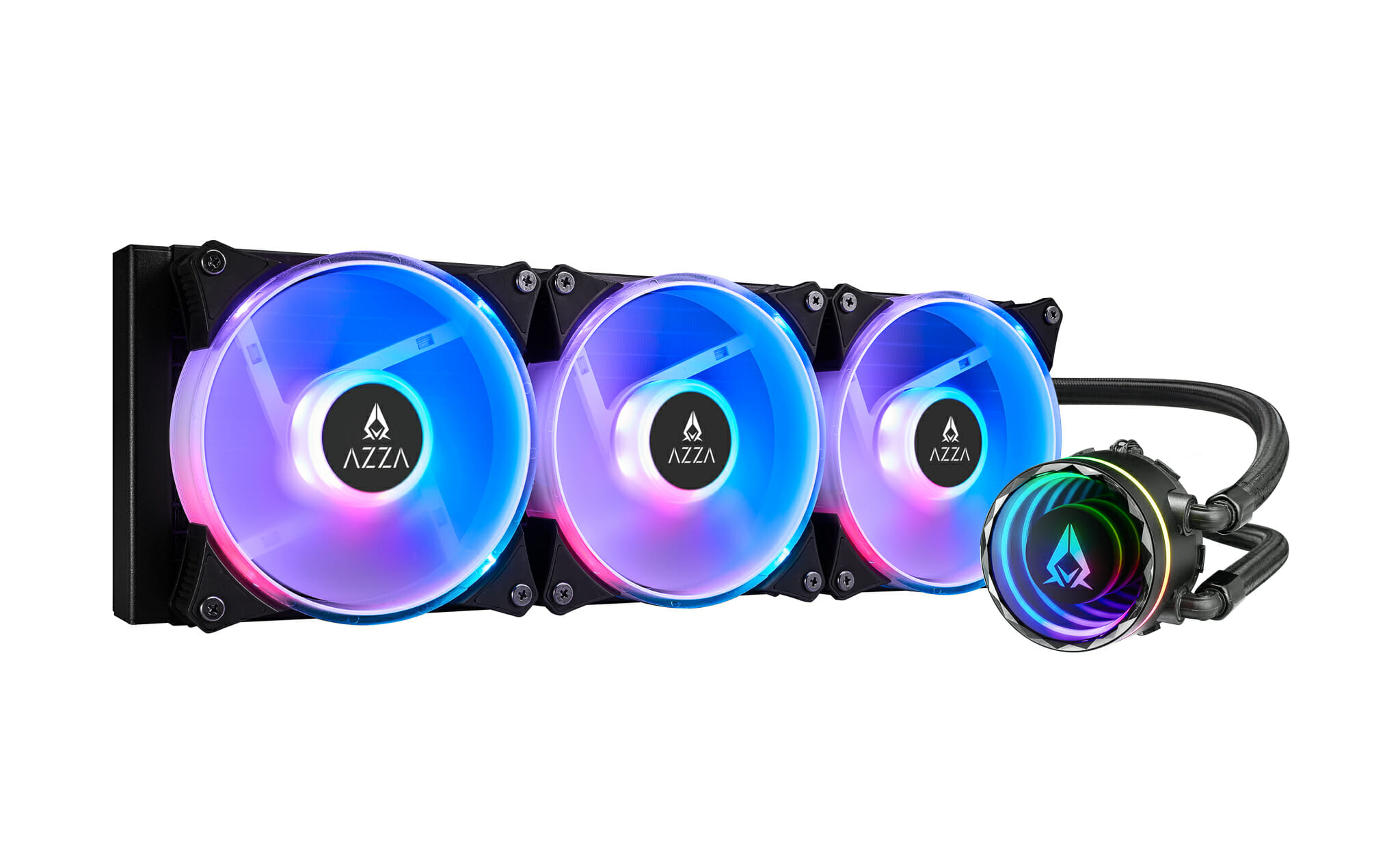 Excellent Cooling Performance
The BLIZZARD SP CPU liquid cooler's pump is a non-PWM set at a constant speed of 3200rpm. The combination of speed and build quality results in excellent heat transfer at low noise level of 25 dBA. The pump is linked to the radiator by a pair of 400mm long leak-free Teflon tubes wrapped in Rayon mesh that are durable and high temperature resistant. As for the aluminum allow radiator, either in 240mm or 360mm format, the fin pattern moves from the traditional wave shape to a square shape which greatly increases the contact area with the water channels of the radiator and improves heat transfer and dissipation.
To ensure proper heat dissipation, the Blizzard SP 240 and 360 come with a set of AZZA Hurricane SP Digital 120mm fans. Featuring PWM functionality, the fan's speed ranges between 700 and 2200 RPM. At 25mm thick, they make with the radiator of the BLIZZARD SP a total of 52mm in thickness, ideal for compact cases.
Stylish RGB
The CPU pump block is an addressable RGB-equipped infinity mirror stylized with diamond style cutting around the edge, and a ring of light along the edge of the block. In addition, the pump block cover can be rotated to ensure proper alignment of the logo. The Blizzard SP fans feature bright inner and outer rings of ARGB LEDs. Both the fans and pump LEDs are compatible with any motherboard software for complete customization of the lighting effects.
For more information:
BLIZZARD SP 240: https://azza.gg/azza/products/liquid%20coolers/blizzard%20sp%20240
BLIZZARD SP 360: https://azza.gg/azza/products/liquid%20coolers/blizzard%20sp%20360
Pricing
The AZZA BLIZZARD SP 240 and 360 AIO are available at MSRP € 99 and € 129 respectively.
Specifications
Name
BLIZZARD SP 240
BLIZZARD SP 360
PUMP
Pump Speed
3200 RPM
Water Pressure
1.5 m
Flow Rate
156 L/Hr
Lifespan
50,000 Hrs
Sound Level
25 dBA
PWM Control
No
Dimension (H x W x D)
71.5mm x 82.3mm x 52.3mm
Connectors
3 PIN DC12V Fan Header

3 PIN 5V ARGB Header

RADIATOR
Material
Aluminum Alloy
Dimension (H x W x D)
274mm x 120mm x 27mm
394mm x 120mm x 27mm
FAN
Type
AZZA Hurricane SP Digital RGB Fan (x2)
AZZA Hurricane SP Digital RGB Fan (x3)
Speed
700 – 2200 RPM
Bearing Type
Hydro Bearing
Max Airflow
62.1 CFM
Max Static Pressure
3.1 mm-H2O
Sound Level
36 dBA
PWM Control
Yes
Connectors
4 PIN DC12V PWM Fan Header

3 PIN 5V ARGB Header (M+F)

Dimensions
120mm x 120mm x 25mm
COMPATIBILITY
Intel Sockets
LGA 2066 / 2011-V3 / 1366 / 1200 / 115X / 1700 / 1800
AMD Sockets
AM4 / AM3+ / AM3 / AM2+ / AM2 / FM2+ / FM2 / FM1 / TR 4 / TRX 4
About AZZA
AZZA, a Linkworld Electronic brand, is a leading manufacturer and distributor of a full range of computer cases. The company specializes in producing, and marketing uniquely designed computer products. To learn more about AZZA, please visit https://azza.gg/. Connect with AZZA on: Facebook, Instagram, Twitter, and YouTube.