Expanding on the success of the Galahad II series, Lian Li introduces their first LCD display AIO CPU cooler.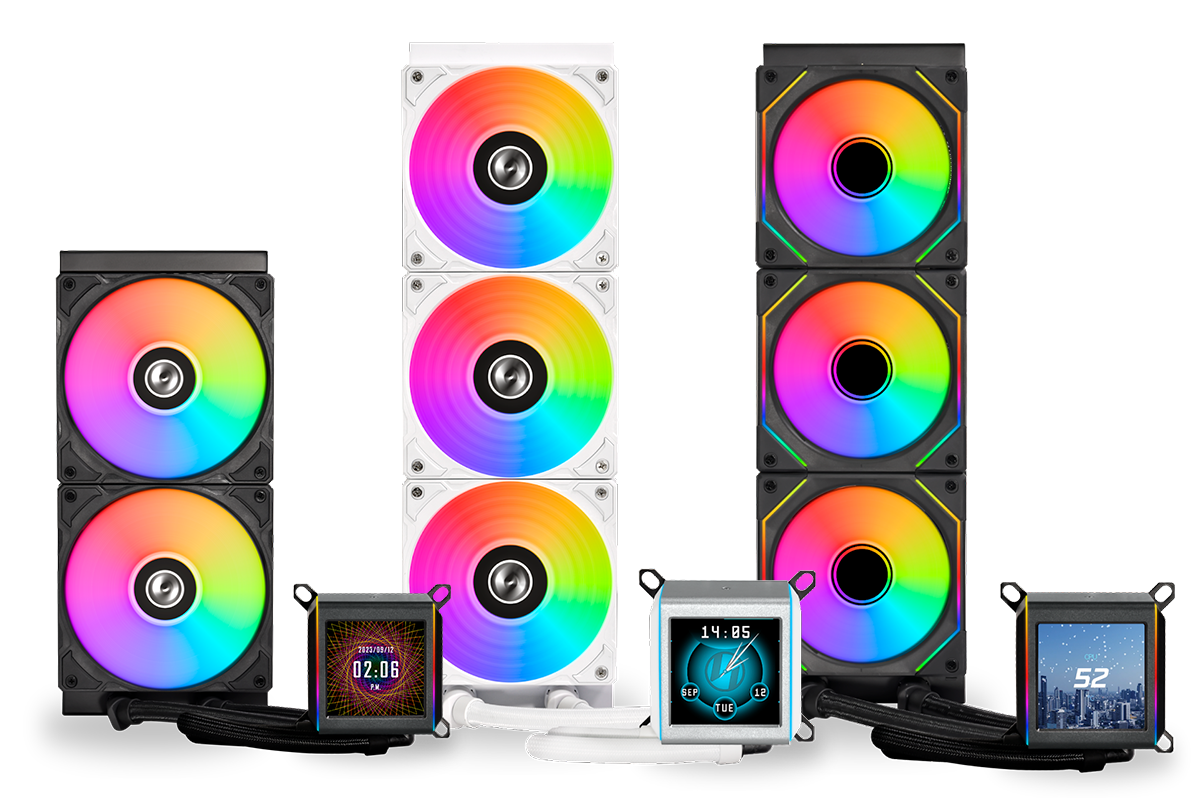 View Products
Lian Li's first LCD display Cooler  
A first for Lian Li, the Galahad II LCD AIO features a 2.88″ IPS display with a screen resolution of 480 x 480 pixels. With the ability to show system information, images, or even video, the Galahad II LCD's display can be fully customised to your preference. GIFs and MP4 files can be displayed even if L-Connect 3 isn't running, thanks to the cooler's internal memory that can store up to 3 minutes of video. As well as offering support for various media, the Galahad II LCD comes with special effects that can be combined with the chosen media to create unique finishes.
  The latest version of L-Connect 3 not only includes display controls but also features options to edit media, including cropping and rotation, recolouring and the ability to trim videos. L-Connect 3 still retains controls such as RGB lighting and speeds of cooling components while allowing you to fully customise the LCD display in a single programme.
Latest generation pump 
The Galahad II LCD AIO has an 8th Gen Asetek pump with 100W, offering the equivalent of 2 degrees better cooling performance. The pump has been refined to include a precision-engineered 3-phase motor, improving flow rate while remaining quieter than its predecessors. To support the higher flow rate, the diameter of the tubes has expanded, allowing more coolant to pass through.
To improve heat dissipation, the surface area of the cooling plate has increased. Lian Li have also utilised 30mm thick radiators with 20 fans per inch in a single-wave configuration. The radiators offer a large surface area for dissipation, and resistance is minimised.
A choice of fans and sizes  
The Galahad II LCD AIO arrives with fans pre-installed on the radiator, each differing depending on the model. There are three models to choose from 280mm with two 140mm fans, 360mm which has three 120mm fans, and the SL-INF version, which arrives with three 120mm SL-INF UNI fans.
Cable clutter is kept to a minimum, with daisy chain link cables hidden in the recess of the fan frames. As well as this, each set of fans can be connected directly to the pump block for control of both PWM and ARGB via L-Connect 3.
| | 120mm ARGB | 140mm ARGB | 120mm SL-INF |
| --- | --- | --- | --- |
| Model included in | 360mm | 280mm | 360mm SL-INF |
| Max Fan Speed (RPM) | 2450 | 1550 | 2100 |
| Airflow (CFM) | 79.9 | 89.7 | 61.3 |
| Static Air Pressure (mmH2O) | 3.26 | 2.99 | 2.66 |
| Acoustic Noise (dB(A)) | 30 | 26.7 | 29 |
Installation  
Each cooler is compatible with many of the latest CPUs from AMD and Intel, including AMD AM4 and AM5, and LGA 1700, 1200, and 115x sockets. For installation, the radiator can be easily stationed in any position, thanks to the 45-degree fittings provided. The CPU contact plate also arrives with pre-applied thermal paste as well as an additional tube for remounting in the future.
Aesthetic choices  
The Lian Li Galahad II LCD AIO is available in two sizes: 280mm and 360mm, and two colours: black or white. Each model features ARGB fans, while the Galahad II LCD SL-INF version is complete with stunning SL-INF UNI fans to further enhance the RGB lighting. The SL-INF UNI fans also feature RGB lighting within the sides of the fan frames, as well as an infinity mirror effect to extend the RGB lighting outwards.
Galahad II LCD SL-INF in white shown