be quiet! have been kind enough to send us a sample of their Pure Rock Slim for a launch day review. The last cooler we saw from be quiet! was their Dark Rock 3 back on our X99 test bench. be quiet! products are easily spotted out in the crowd as they normally feature a primarily black colour scheme, especially the fans with a bit of orange accenting. The be quiet! logo is also white/orange which further helps them to stick out in crowds. be quiet! have a great range of products from CPU coolers to Cases, Power Supplies and more.
Manufacturer Website: be quiet!
Product Page: Coming Soon
Suspected Price: €28 / £23.99
The Pure Rock Slim is currently the cheapest and smallest CPU cooler be quiet! offer. It features support for both AMD and INTEL 115x sockets and is ready to be mounted on Intel's 115x sockets straight out of the box. Coming equipped with a 92mm 4-pin PWM fan and 3x copper heat pipes, the Pure Rock Slim is designed to cool CPUs with a maximum 120W TDP. While the Pure Rock Slim may not be the biggest cooler on the block, its lower price tag may make it a more viable option for a lot of users as long as it offers some decent performance. be quiet! are known for offering quality products so it will be interesting to see if this lives up to their standards.
Main Specification
Overall dimensions without mounting material (L x W x H), (mm)
81.8 x 97 x 124.8
Fan model, number
silence-optimized be quiet! fan
Overall noise level (
dB(A)
) @ 50/75/100% (rpm)
13.1 / 19.2 / 25.4
Heatsink specifications
Dimensions (L x W x H), (mm)
56.2 x 97 x 124.8
Heatpipe number / Diameter (mm)
3 / 6
General fan specifications
Fan dimensions (mm)
92 x 92 x 25
Air flow @ 12V (cfm / m3/h)
35.14 / 59.38
Air pressure @ 12V (mm H2O)
1.67
Lifespan (h / 25°C)
80,000
If you've ever seen a product box for any be quiet! products you will know they all look very similar. As with the products themselves, the boxes are mostly black and show and image of said product that is inside.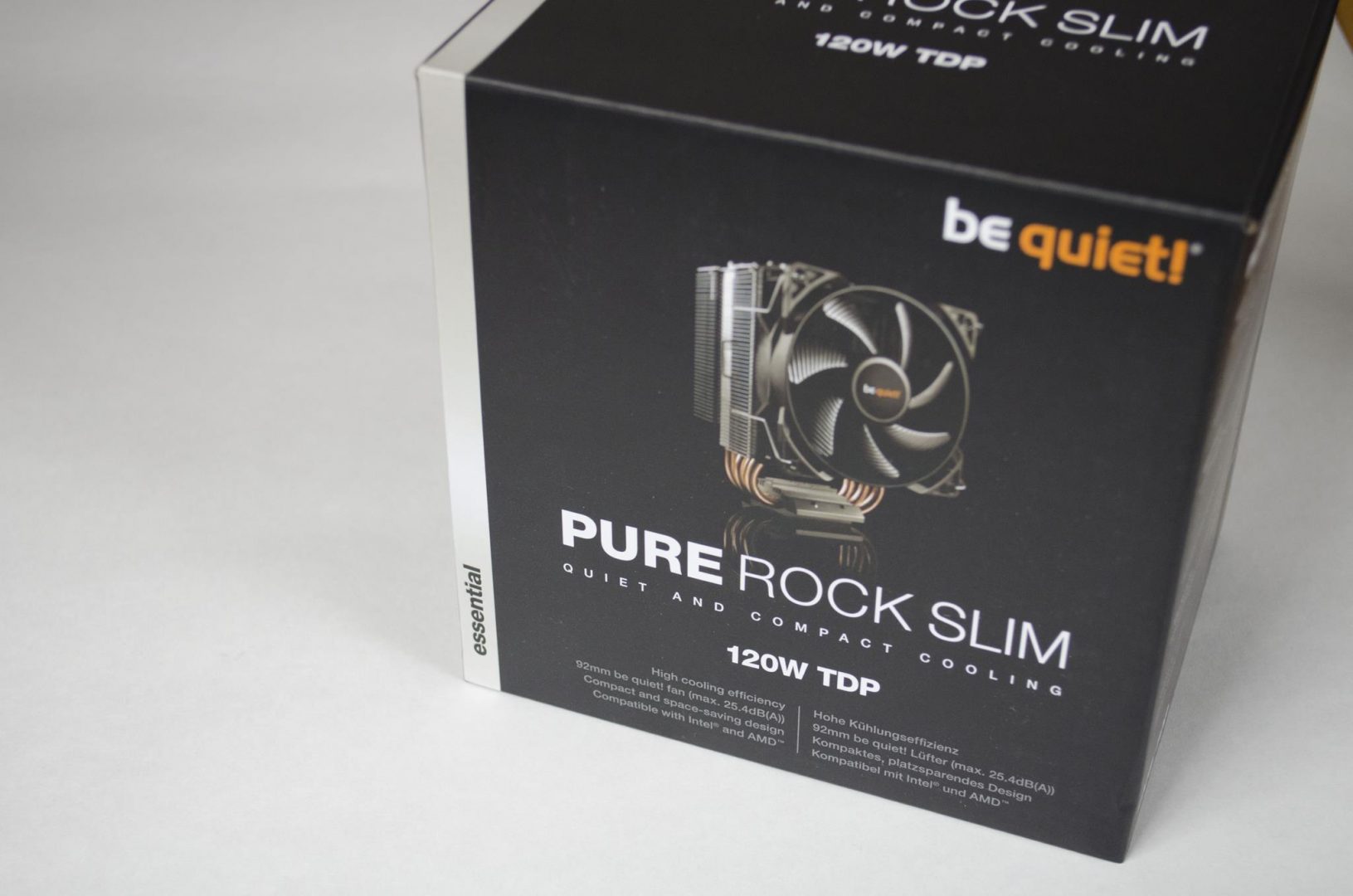 Not only is this be quiet!'s smallest and cheapest CPU cooler, it is also their most minimalist CPU Cooler as well. Simply meaning, there are not a load of accessories to go with this. Inside the box are the heatsink, fan, fan retention clips and the AMD bracket. Depending on what socket type you install this on, the only thing you won't use is either the Intel or AMD mounting bracket.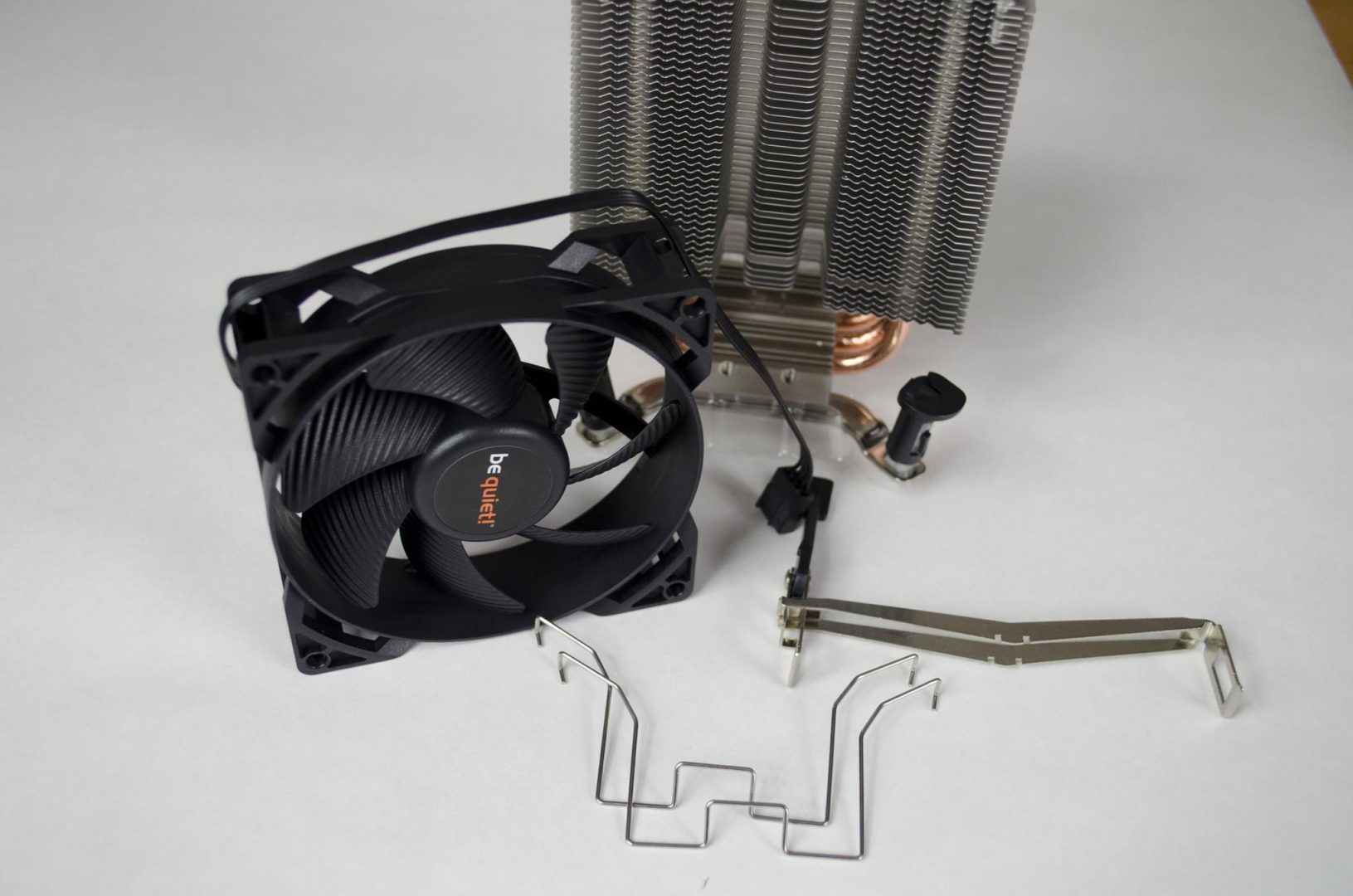 The Pure Rock Slim heatsink is a nice and shiny aluminium. One thing that I was very happy to see was the capped off heat pipes. For this price, most other manufacturers would just let the heat pipes protrude through the top of the cooler and be done with it.  Not be quiet! though, they value their quality and have capped off the heat pipes on their cheapest cooler the offer! This is just another one of those things that speaks on the quality that be quiet! offers to their customers.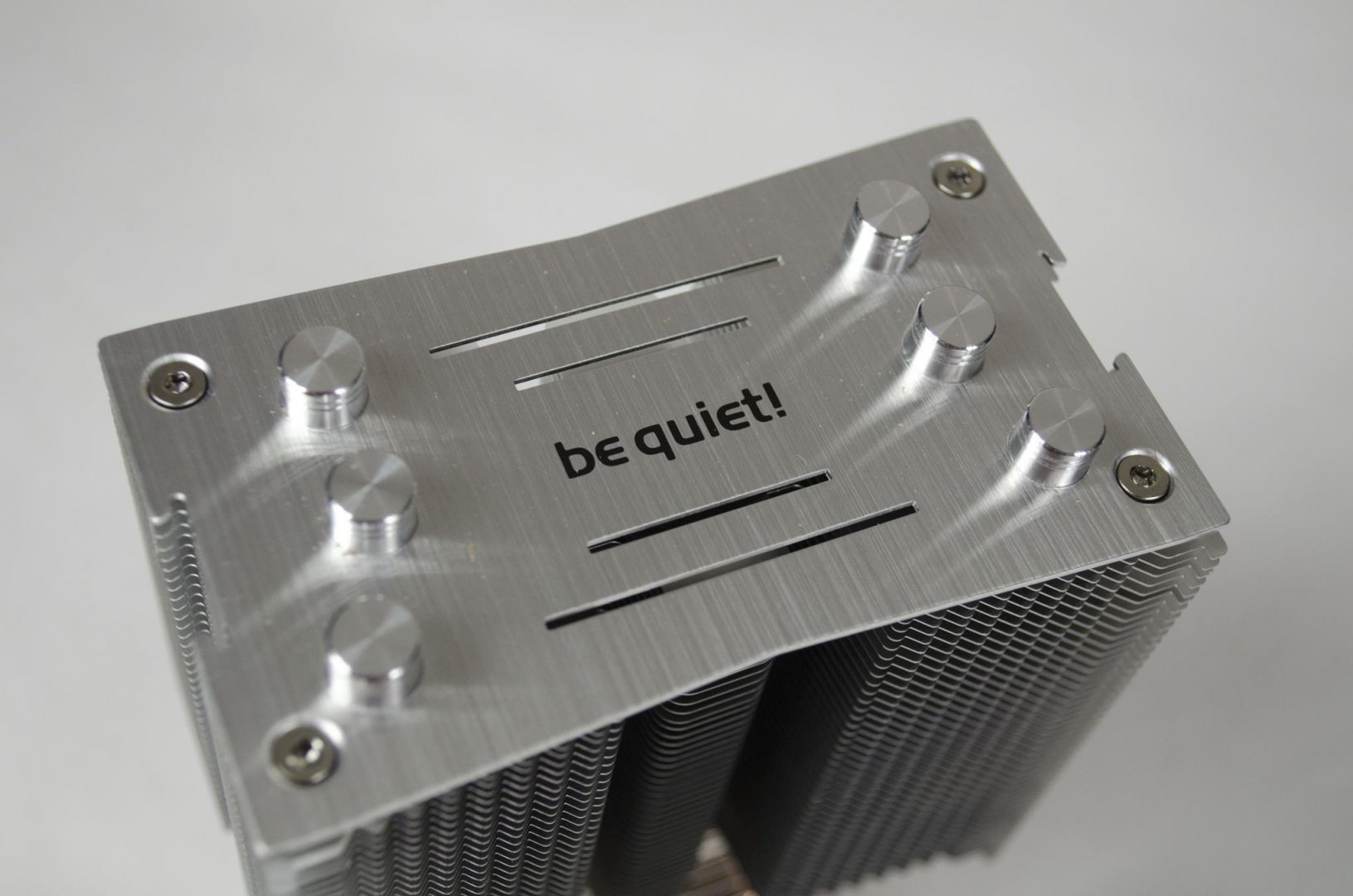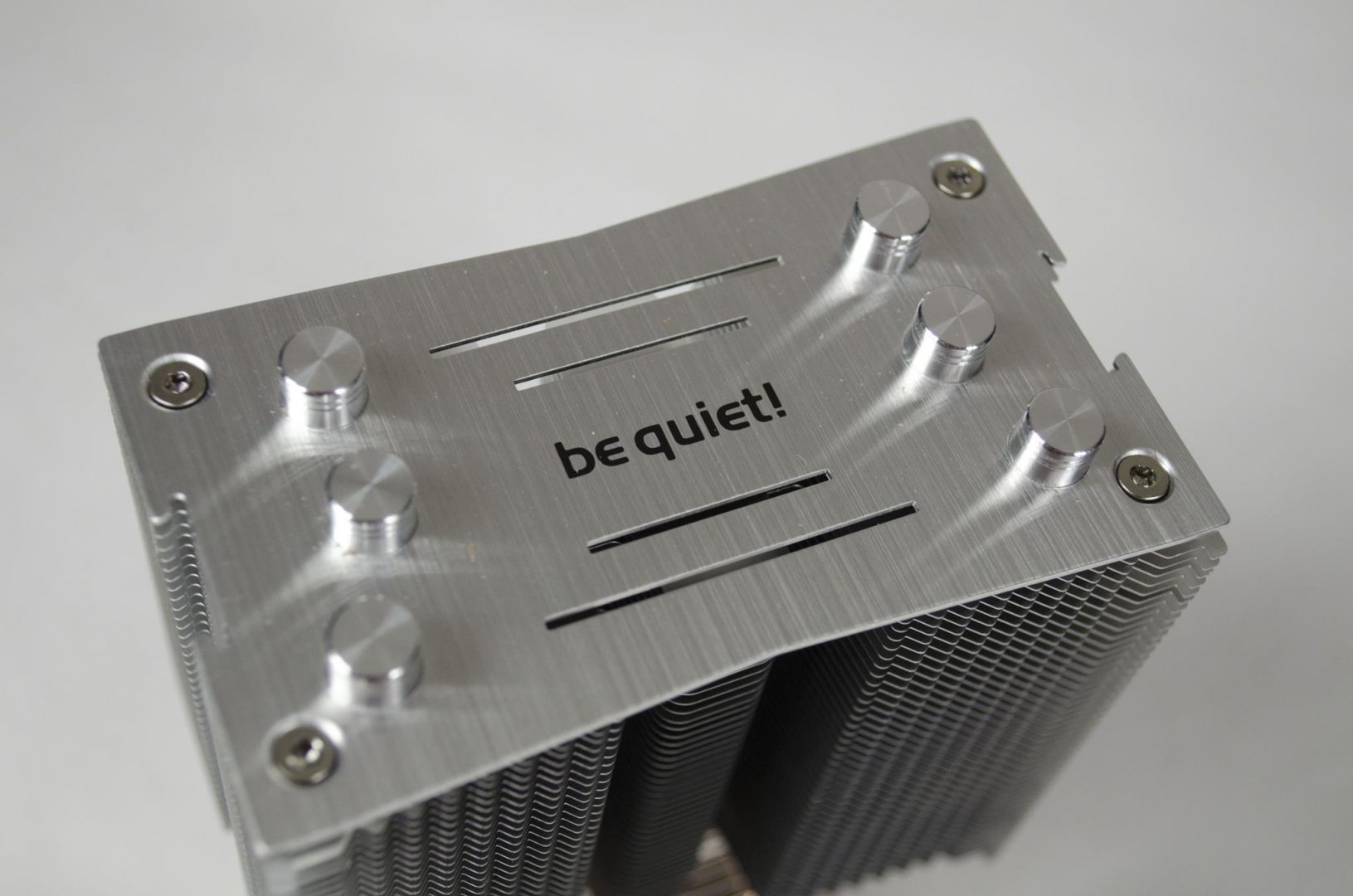 The heatsink is definitely quite small and even with the fan installed, it only measures 81.8 x 97 x 124.8 mm. This cooler offers great RAM compatibility as it doesn't sit over the DIMM slots, even with the fan installed.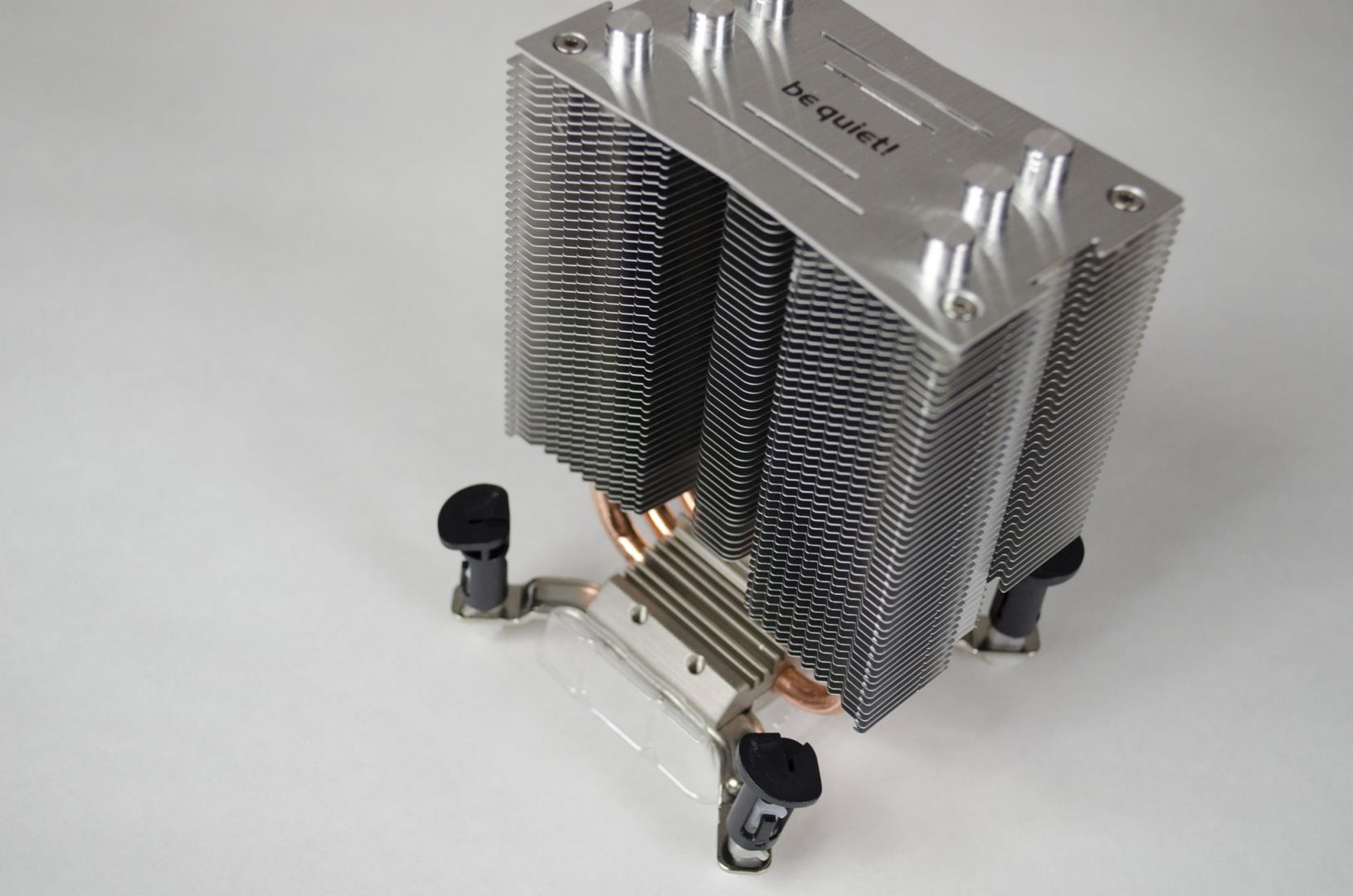 While it only comes with one fan and one set of fan retention clips in the box, it does appear you could installed a second fan on it if you wanted. This design also allows it to be more versatile as you can install a single fan on either side.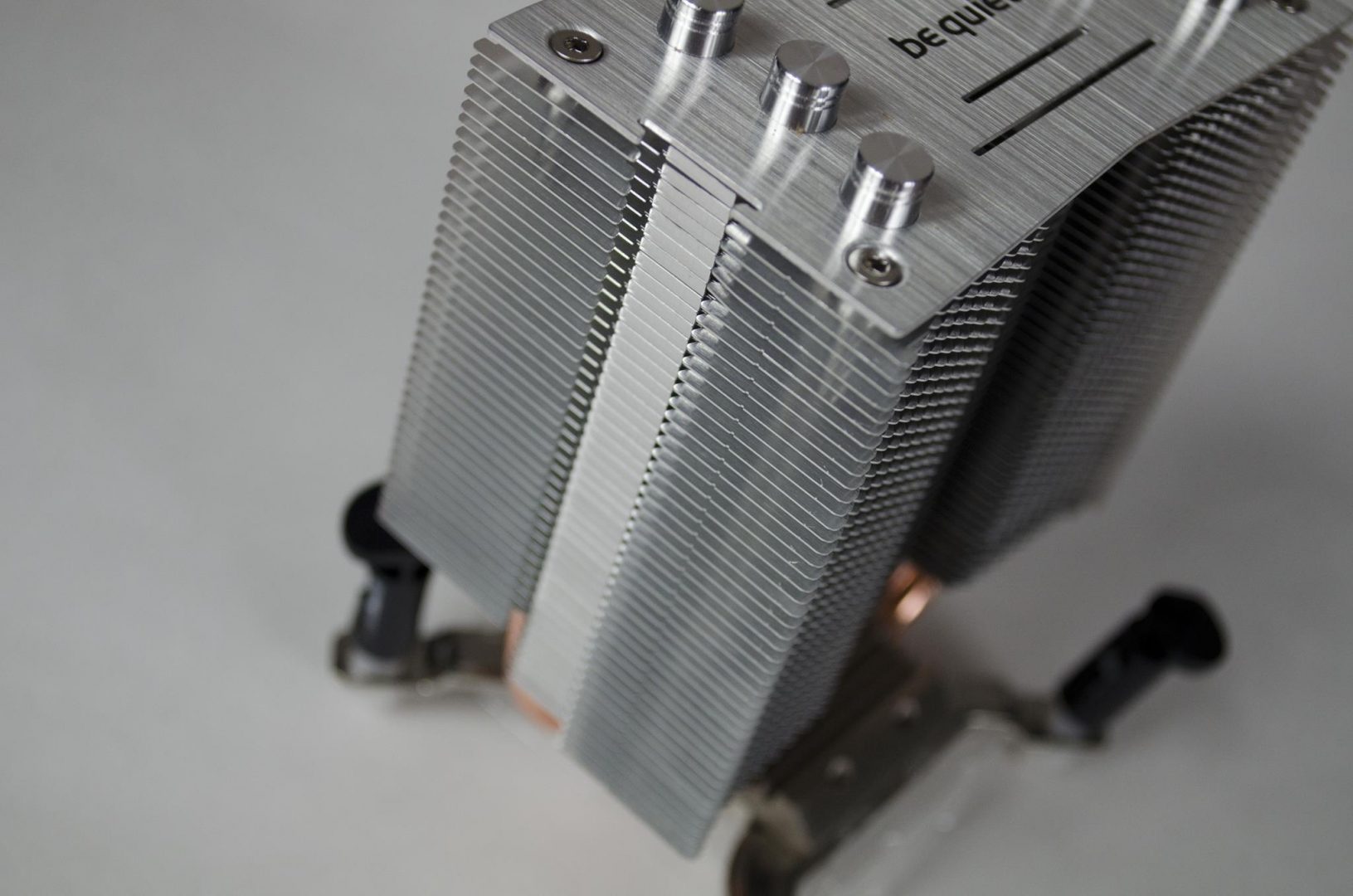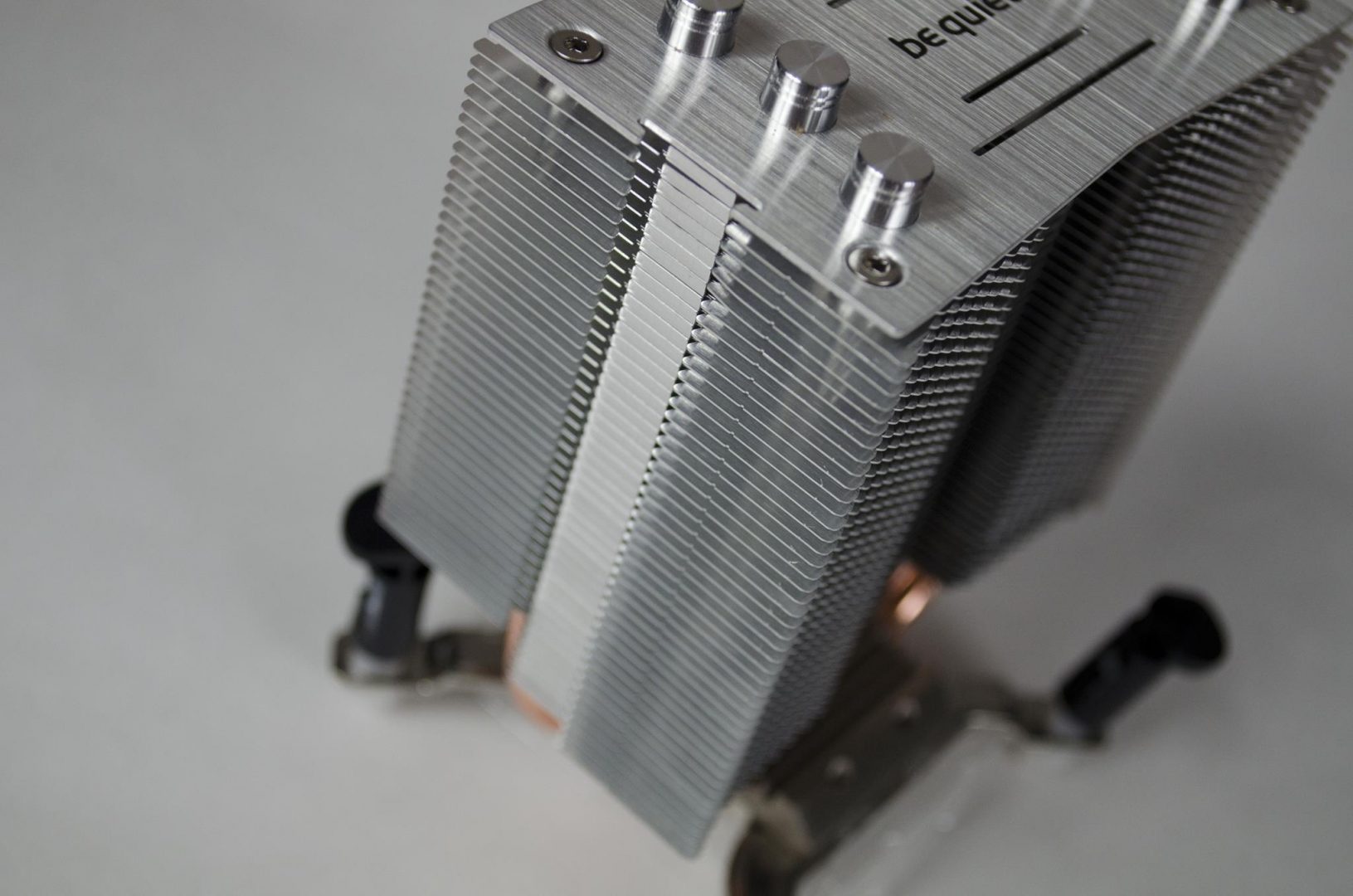 As with most CPU Coolers, the fan is easily attached with a pair of retention clips. While small, this cooler does look great when it's got the fan on and ready for business. be quiet! make some amazing fans that perform as well as they look so I have high hopes for the Pure Rock Slim.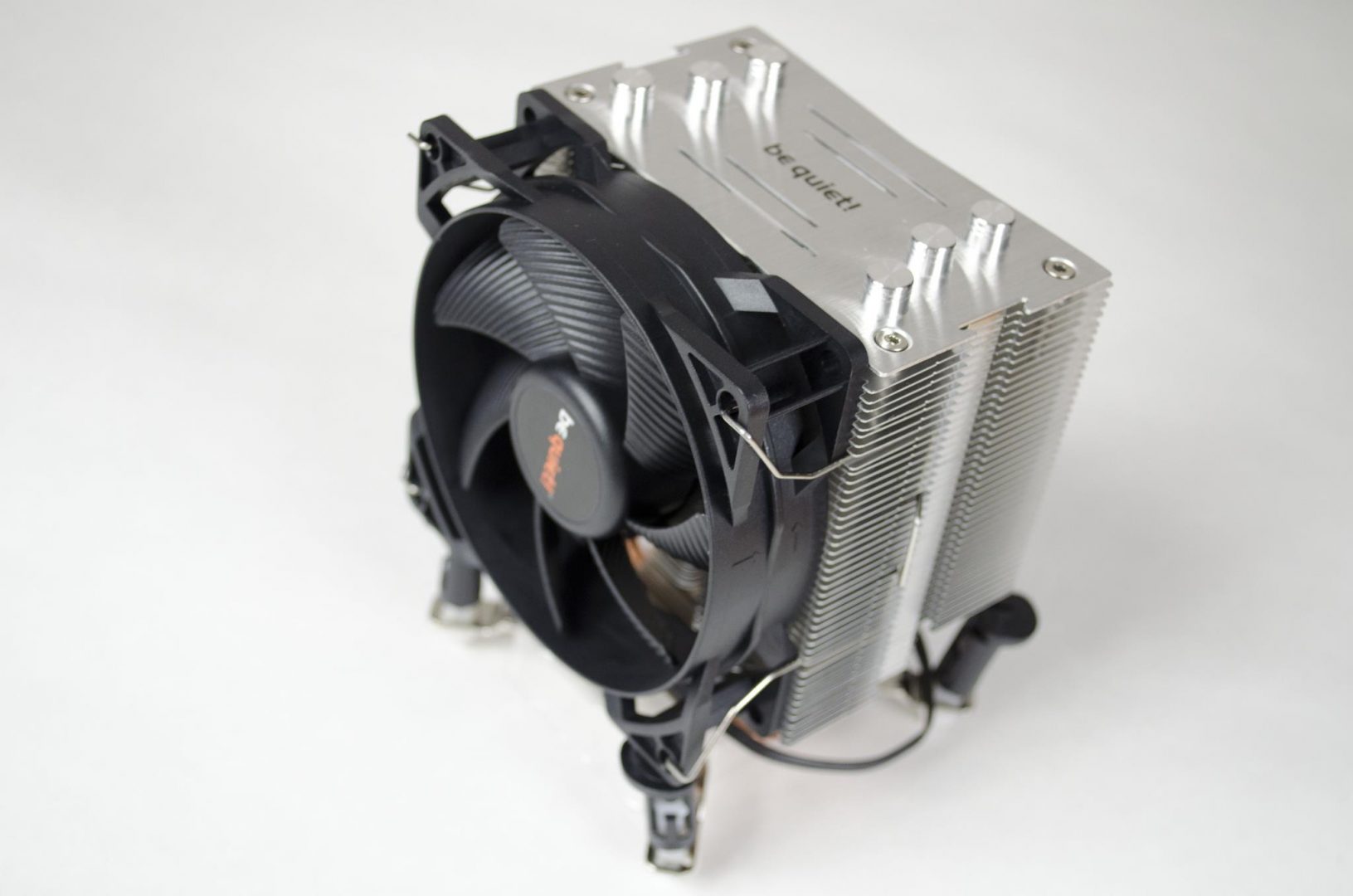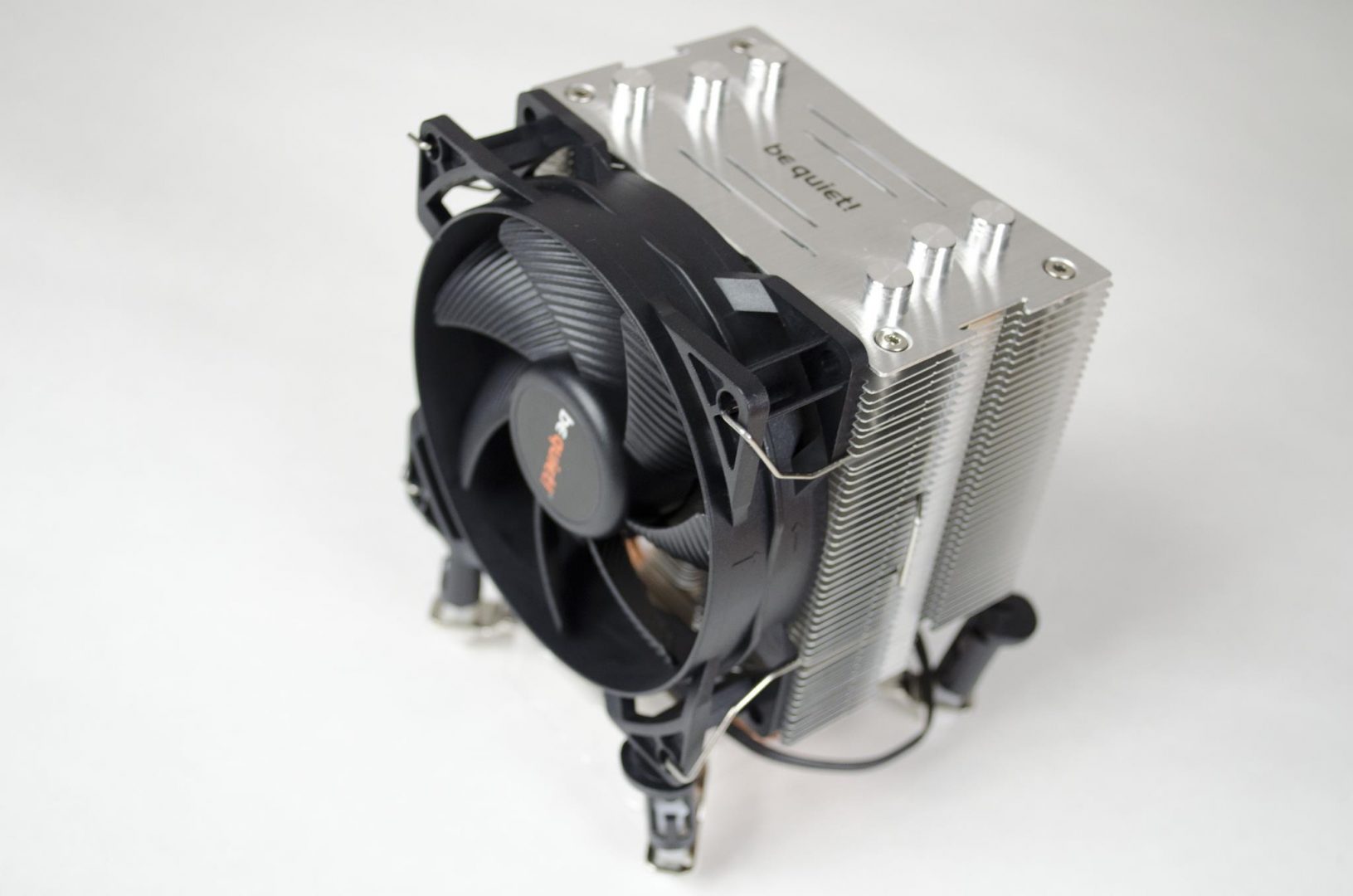 The 3x 6mm heat pipes pass through the nickel plated copper base plate to offer the best in heat dissipation regardless of size. We can also see in the below photo the screws to remove the Intel mounting bracket so you can use this cooler on AMD socket CPUs.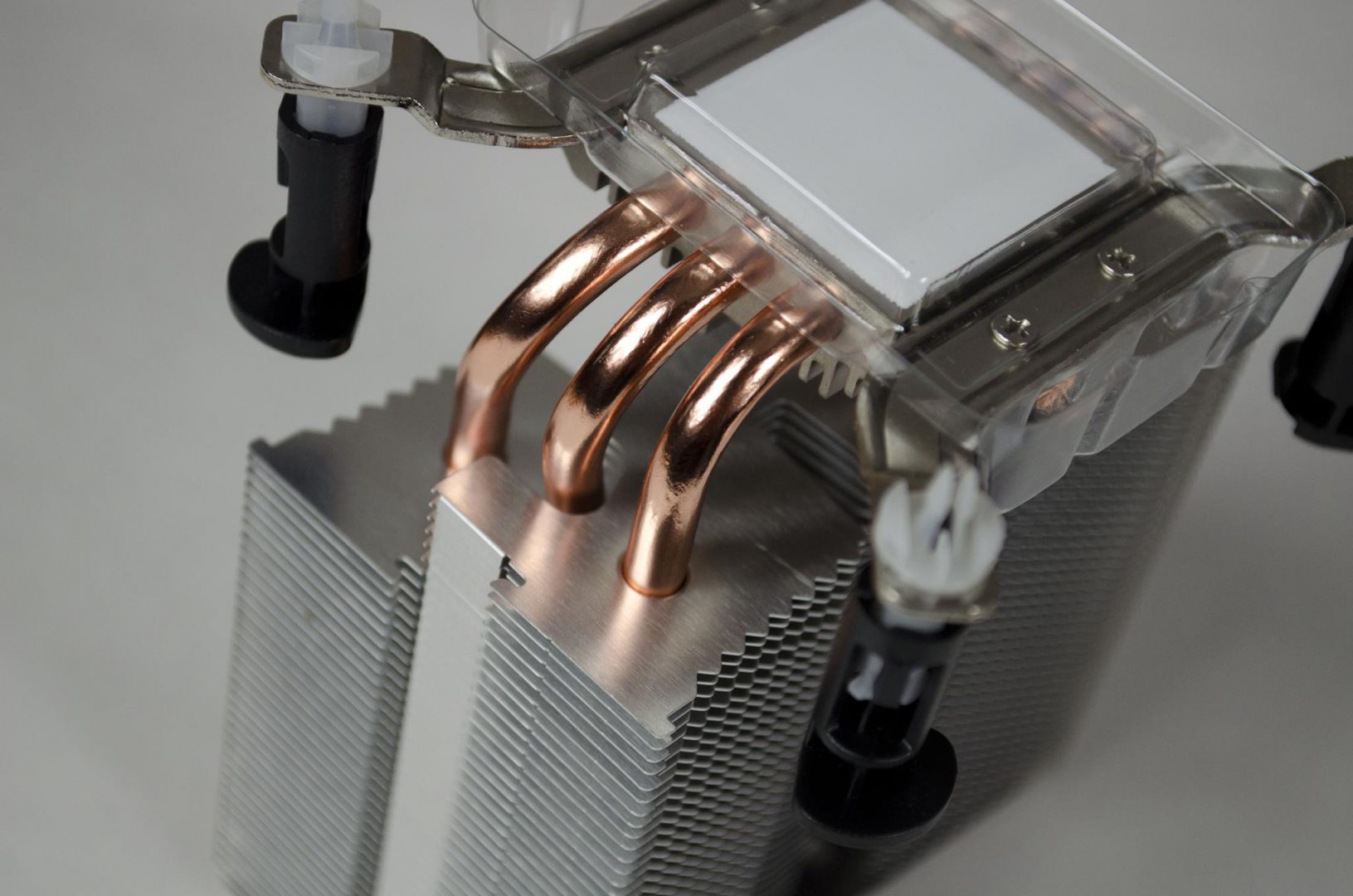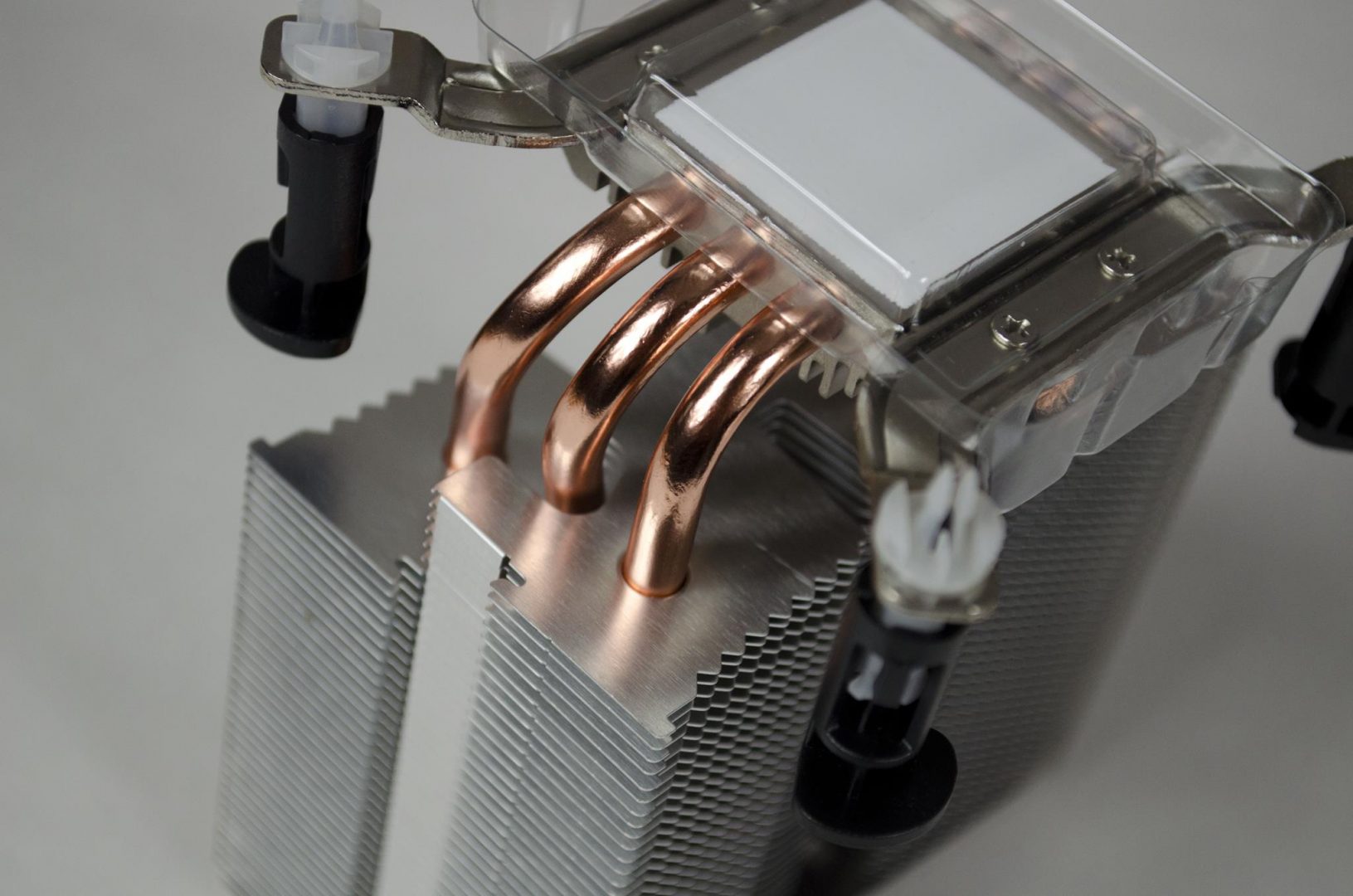 The Pure Rock Slim also comes with the thermal paste pre-applied for easy installation. As said, this cooler is ready to go right out of the box if you are installing it on an 115x socket CPU.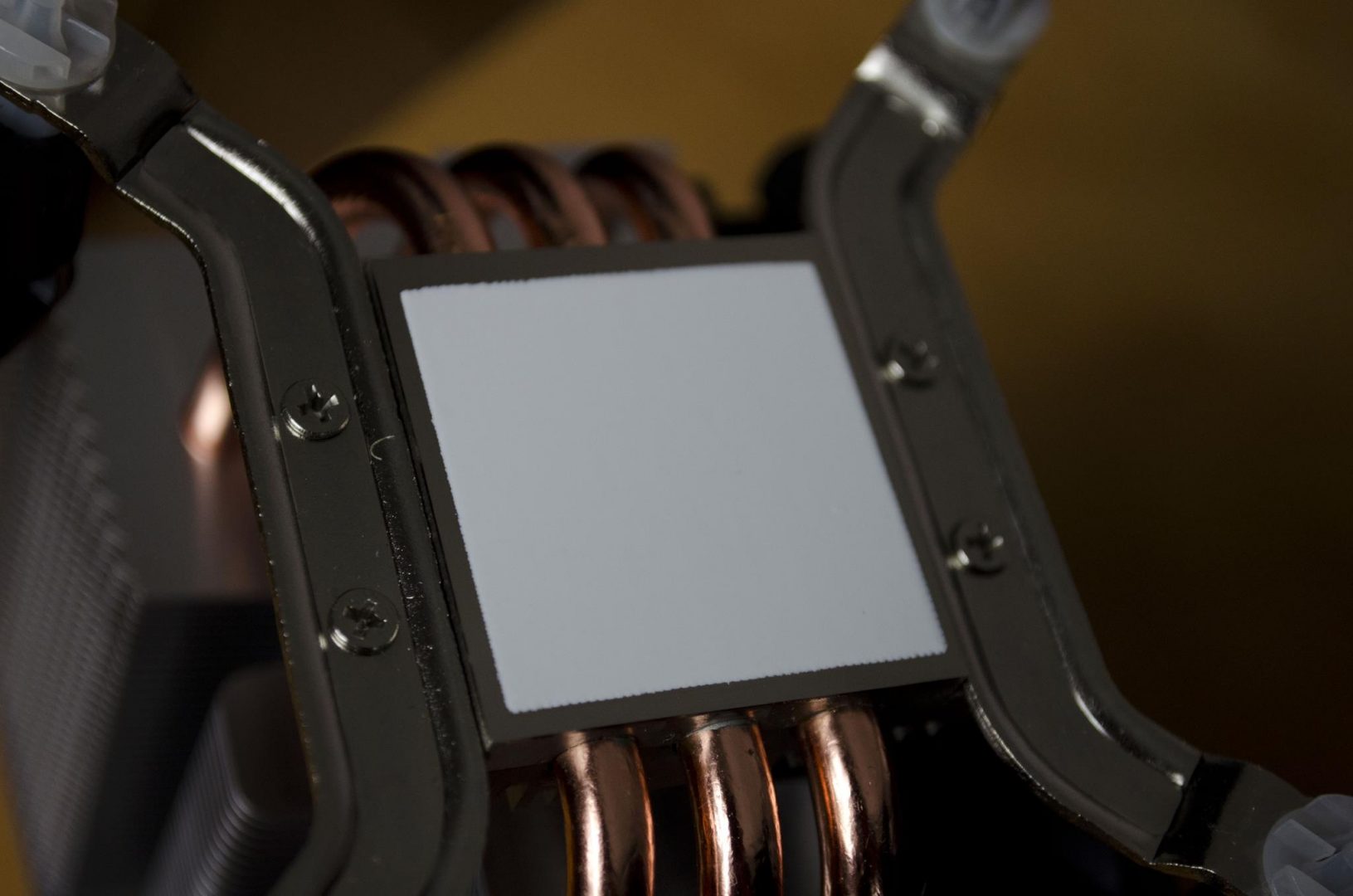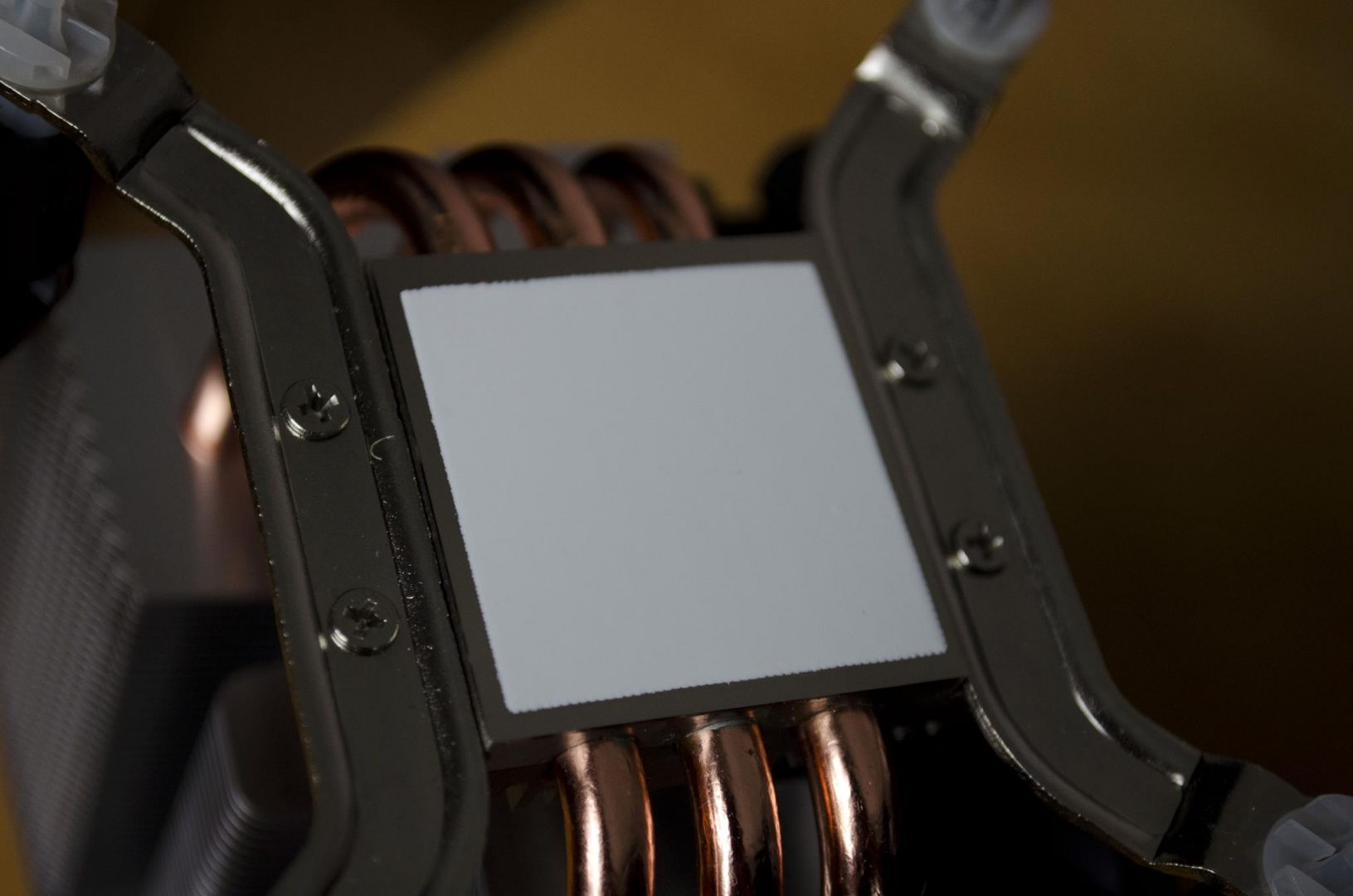 Installing this onto a clean CPU using the 115x socket can be done in under 30 seconds! You literally just line the plastic clips up with the holes on the motherboard and push them into place and you are done! Now you can put the fan on and get ready to use your new CPU coolers.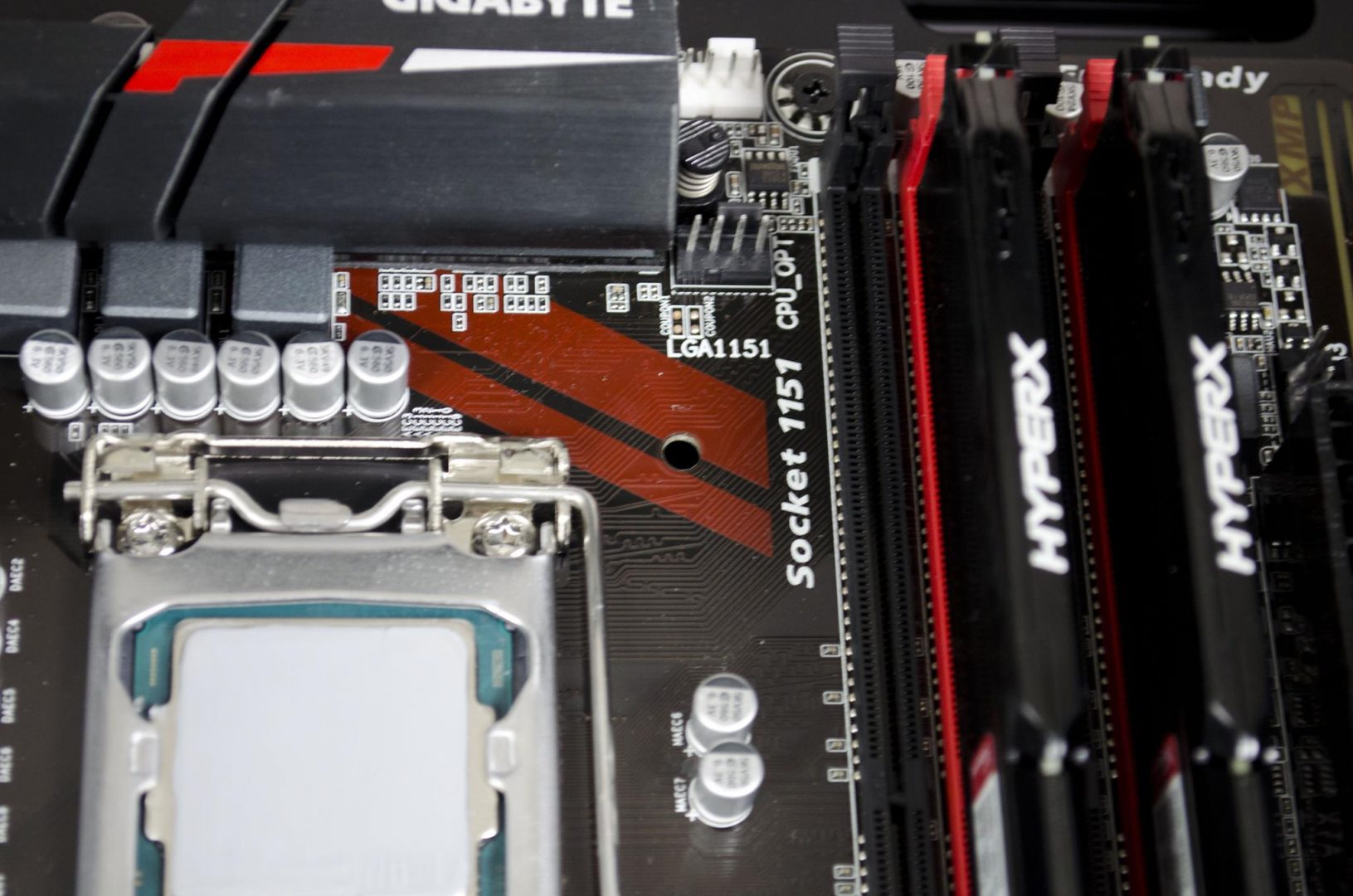 Once installed, there is plenty of room for RAM as this cooler does not interfere with the DIMM slot at all.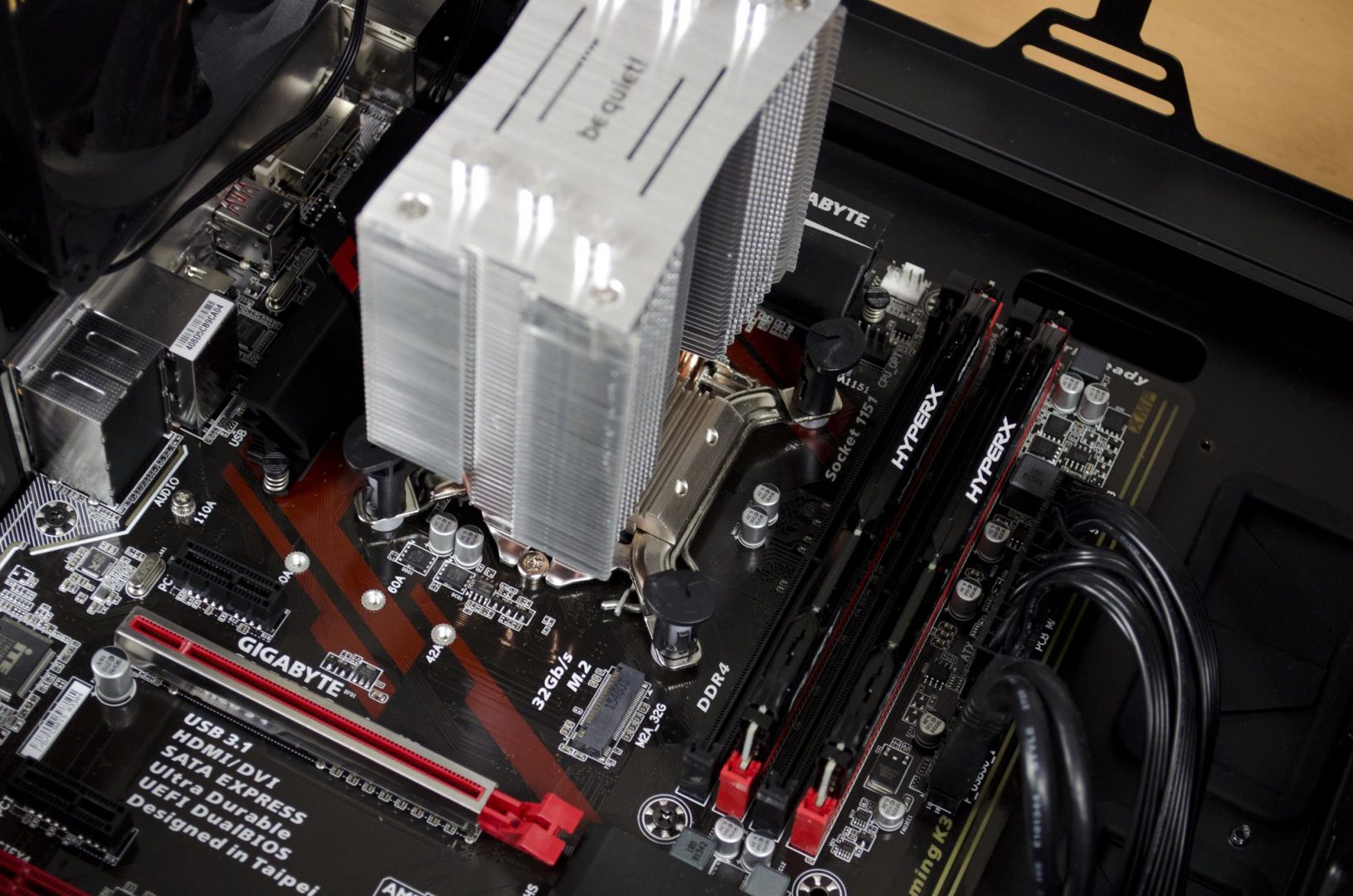 Even with the fan on, there is plenty of room for RAM. Even RAM with taller heatsinks will have no problem be installed next to this cooler which is great. While big beasty coolers are great, a lot of them limit you to use lower profile heatsinks.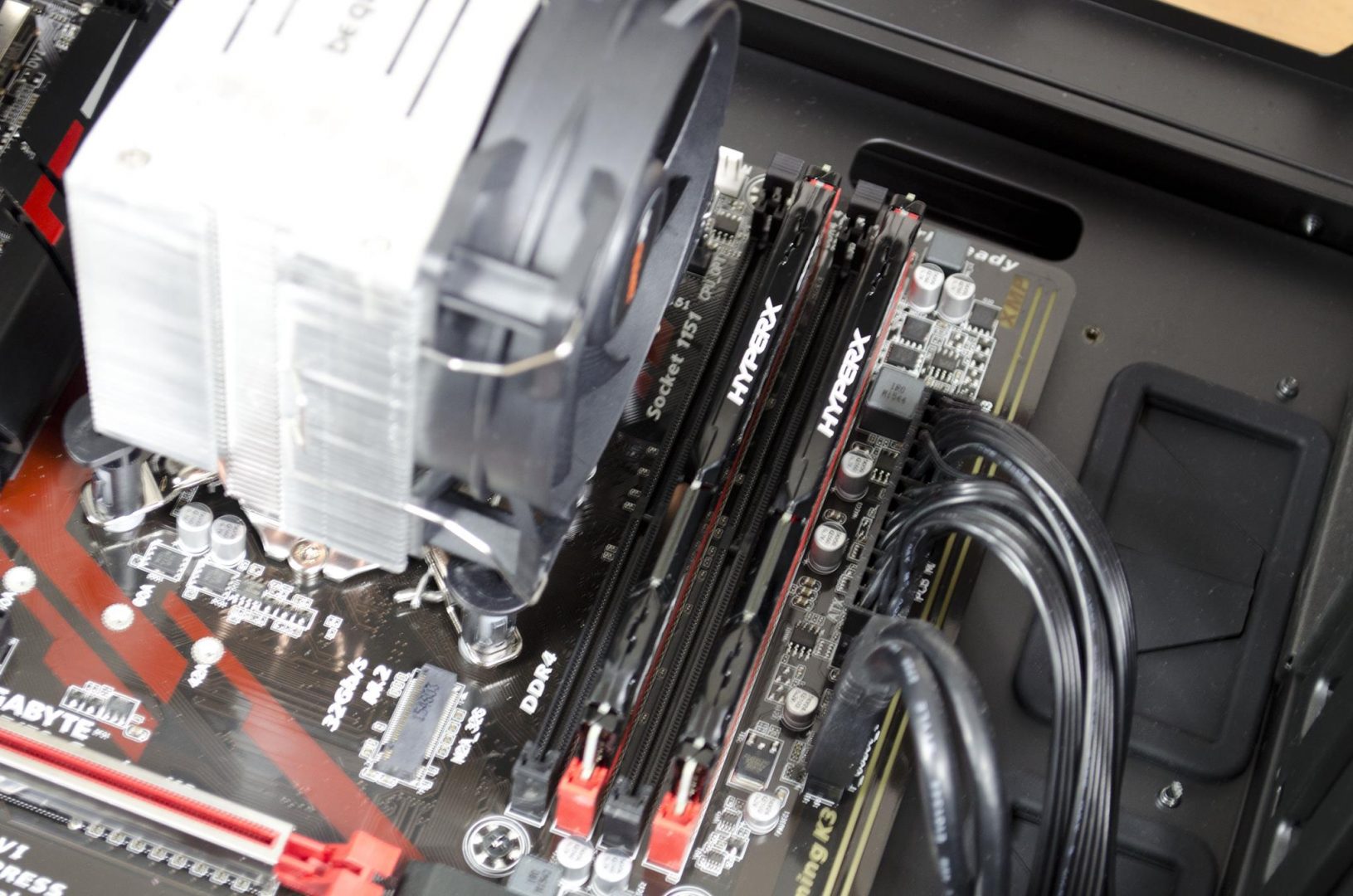 Test System and Methodology
Test System
Test System
Windows 10 with all the latest updates
Intel i7 6700K CPU Stock / 4.5GHz @1.400V OC
Gigabyte Gaming K3 Z170 Motherboard
16GB HyperX Fury 2x8GB @ 2666Mhz RAM
2x HyperX Fury 120GB SSD
Coolermaster V650 PSU
Methodology
For our testing, we use the Prime 95 stress testing program to make all the cores on our CPU run at 100% for 10minutes then we monitor them with CoreTemp and CPU-Z. We then take all the individual core temperature readings and add them up, then we divide that total by the number of cores and finally, we subtract the ambient room temperature to achieve our final result.
To have the best chance of having like for like results, all testing is done in a Cooler Master Master Case Pro 5 with both side panels off.
Programs
Temperatures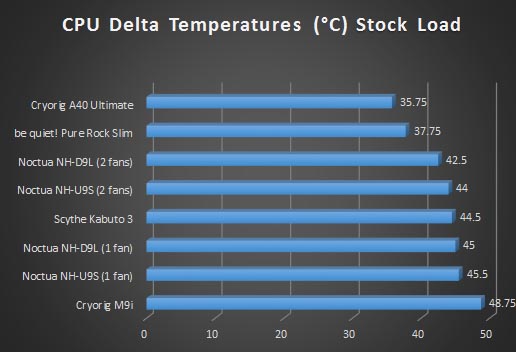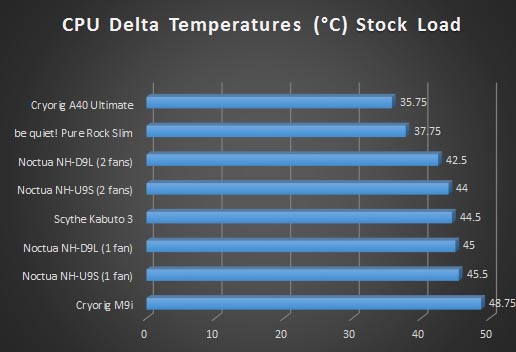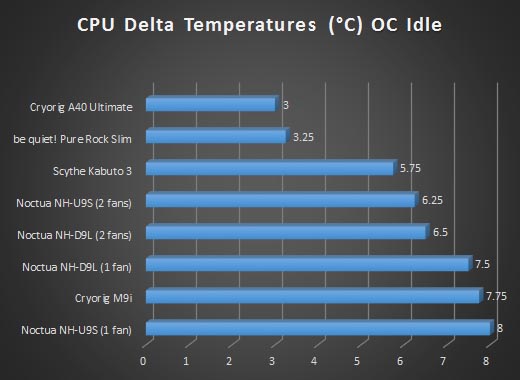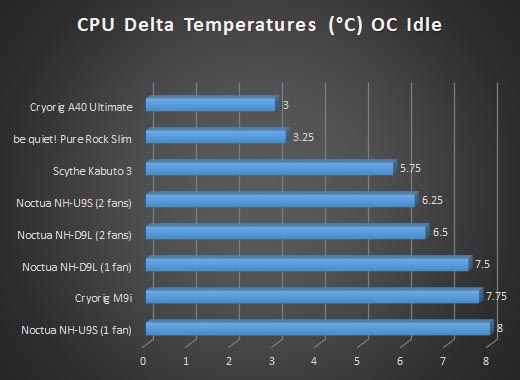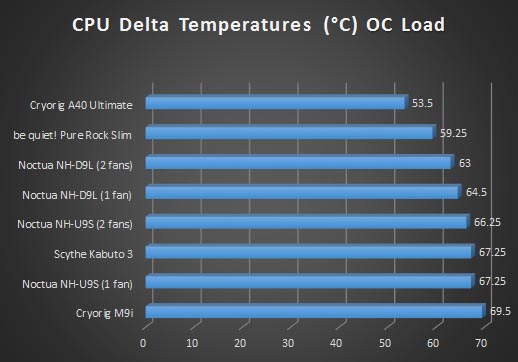 Noise Levels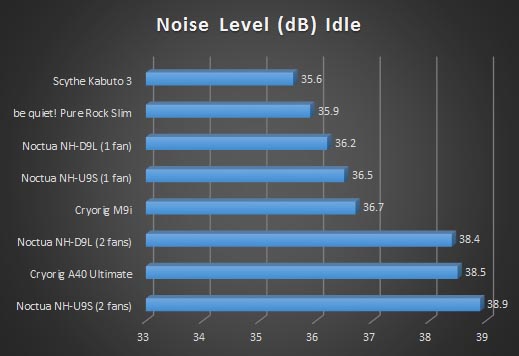 So, this is what it all comes down to. I've put the Pure Rock Slim through its paces on our Z170 test bench and I have to say, I am rather impressed with it. For such a smaller cooler, it does offer some great performance and being backed by be quiet! surely doesn't hurt anything.
Performance
Surprisingly enough, the Pure Rock Slim is the second best cooler we have testing on our Z170 test bench. While we haven't tested too many coolers, this is still good as it definitely beats out a good few others that are very similar in size. For a 92mm CPU cooler, I really wasn't expecting too much. However, it managed to keep an overclocked 6700K pumping 1.4v through it within respectable temperatures which is truly amazing to see. be quiet! are known to offer great performance and they have not let us down with their cheapest offering from their CPU cooler range.
Design
The Pure Rock Slim features a pretty standard design for a smaller more budget friendly heatsink. Though in saying that, it is still easy to see be quiet! have kept to their outstanding quality roots with things like capping off the tops of the heat pipes. The all aluminium heatsink with the copper heat pipes does look quite nice. Even though this is a cheaper cooler, it still features a nickel-plated copper base which seems to currently be the best option for air coolers. Not only does the cooler look great, it also performs equally as well so be quiet! have definitely done something right as far as design is concerned.
Value
While our current price isn't final, especially with all the Brexit drama, if be quiet! can keep this around €30 / £25 mark, it will be a very solid competitor in the market. For the price, you are getting a smaller and more versatile cooler that may a more viable option to a lot of people rather than those massive air coolers. If the price on launch is what they have previously hoped it will be, be quiet!'s new Pure Rock Slim may just become the SFF / 92mm king. Even at around £30-£35 this cooler would still offer great performance for the price which, of course, would represent good value.
be quiet! has a great cooler on their hands and if we can keep prices down, this will easily become one of the best coolers of its size on the market. If you are looking for something in this size or price range, I would definitely give the Pure Rock Slim a look!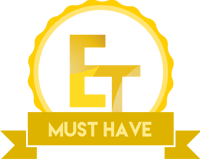 Many thanks to be quiet! for sending in the Pure Rock Slim for review.