Today we will be taking a look at the BenQ RL2755HM Console Gaming Monitor. The more reviews I do, the more I realise it must be an absolute pain for those not in the know to pick components for a PC, or, choose a monitor. While the monitor on hand today is designed for console gaming, I have a feeling plenty of people are still using it as a full-on PC monitor. BenQ has a great range of gaming monitors to suit most people's needs and in the past, we have been quite pleased with them so let's hope that is the case here today. Nowadays, monitors come in all sorts of sizes, resolutions, refresh rates and so forth, making picking the right one for you a complicated task at times.
As mentioned, the BenQ RL2755HM is a 27″ monitor that is designed for console gaming. While some of the features such as the controller and headphone holders won't help your game, they are definitely nice to have and make the overall experience of using the monitor more enjoyable. The monitor also features dual HDMI ports so you can hook multiple consoles and or PC's to it at the same time and switch between them with ease. As for features that will help you in your gaming endeavors, the RL2755HM features a black eQualizer, fighting mode, low blue light , flicker-free technology and more. The RL2755HM features a native resolution of 1920x1080P and as such you can actually customize the monitor and change the size of the displayed area to as small as a 17″ screen. Enough of all that, though, let's have a look at the specifications and get into the closer look part of this review.
Product Color

Display

Screen Size
24″W
Aspect Ratio
16:9
Resolution (max.)
1920 × 1080
Pixel Pitch (mm)
0.276
Brightness (typ.)
250 cd/㎡
Contrast (typ. )
1000:1
DCR (Dynamic
Contrast Ratio) (typ.)
12M:1
Panel Type
TN
Viewing Angle
(L/R;U/D) (CR>=10)
170° / 160°
Response Time
(Tr+Tf) typ.
1ms GTG
Display Colors
16.7million
Color Gamut
72% NTSC

Audio/Video Inputs/Outputs

| | |
| --- | --- |
| Input Connector | D-sub / DVI-DL(Dual Link) / HDMI x 2 / Headphone jack / Line in |
| Speaker | 2W x 2 |

Power

Power Supply
(90~264 AC)
Built-in
Power Consumption
(On mode*)
27W (Based on Energy Star 6.0 test criteria)
Power Consumption
(Power saving mode)
<0.5W
Dimensions & Weight

CTN Dimensions
(H×W×D mm)
420 x 650 x 134
Dimensions
(H×W×D mm)
435 x 579 x 189
Dimensions with Wall Mount (HxWxD mm)
(H×W×D mm)
350 x 579 x 63
Net Weight (kg)
4.10
Gross Weight (kg)
5.70

Special Features

| | |
| --- | --- |
| Flicker-free Technology | Yes |
| Windows® 8 Compatible | Yes |
| Senseye | Senseye 3 |
| AMA | Yes |
| Win7 & Win8 | Yes |
| HDCP | Yes |
| Color Temperature | Reddish / Normal / Bluish / User mode |
| OSD Language | 17 languages |
| VESA Wall Mounting | 100 × 100mm |
| Tilt (down / up) | -5° / 15° |
| Kensington Lock | Yes |
| Black eQualizer | Yes |
| Display Mode | 17″ / 19″ / 19″W / 21.5″W / 22″W / 23″W / 24″W |
| Smart Scaling | Yes |
| RTS Mode | Yes |

Regulations
As it is a 27″ monitor, it has a great viewing area. The bezel around the outside isn't overly big but is definitely there. The bezel itself is all black, except for the small BenQ logo in the bottom middle and the power icon on the power button, even the menu buttons are all black to help them fade into the bezel a bit better. BenQ has used this type of bezel design on a few of their monitor and I must say, I am quite happy with it. While we would all like to have no bezels at all, these are not to hard on the eyes and it's not really an issue unless you want to have multi-monitor setups and again, this is a console gaming monitor so that problem shouldn't arise in most cases.
As mentioned, the menu buttons are all black and blend in nicely with the rest of the bezel. The bottom one opens up the menu and then there are corresponding options next to each of the buttons on the screen.
What I originally thought was just a cool stand, actually has a beneficial feature to it. The front part of the stand is designed for users to lay their controllers on which will help to save a bit of precious space and is just a nice general feature to have for our console gaming friends.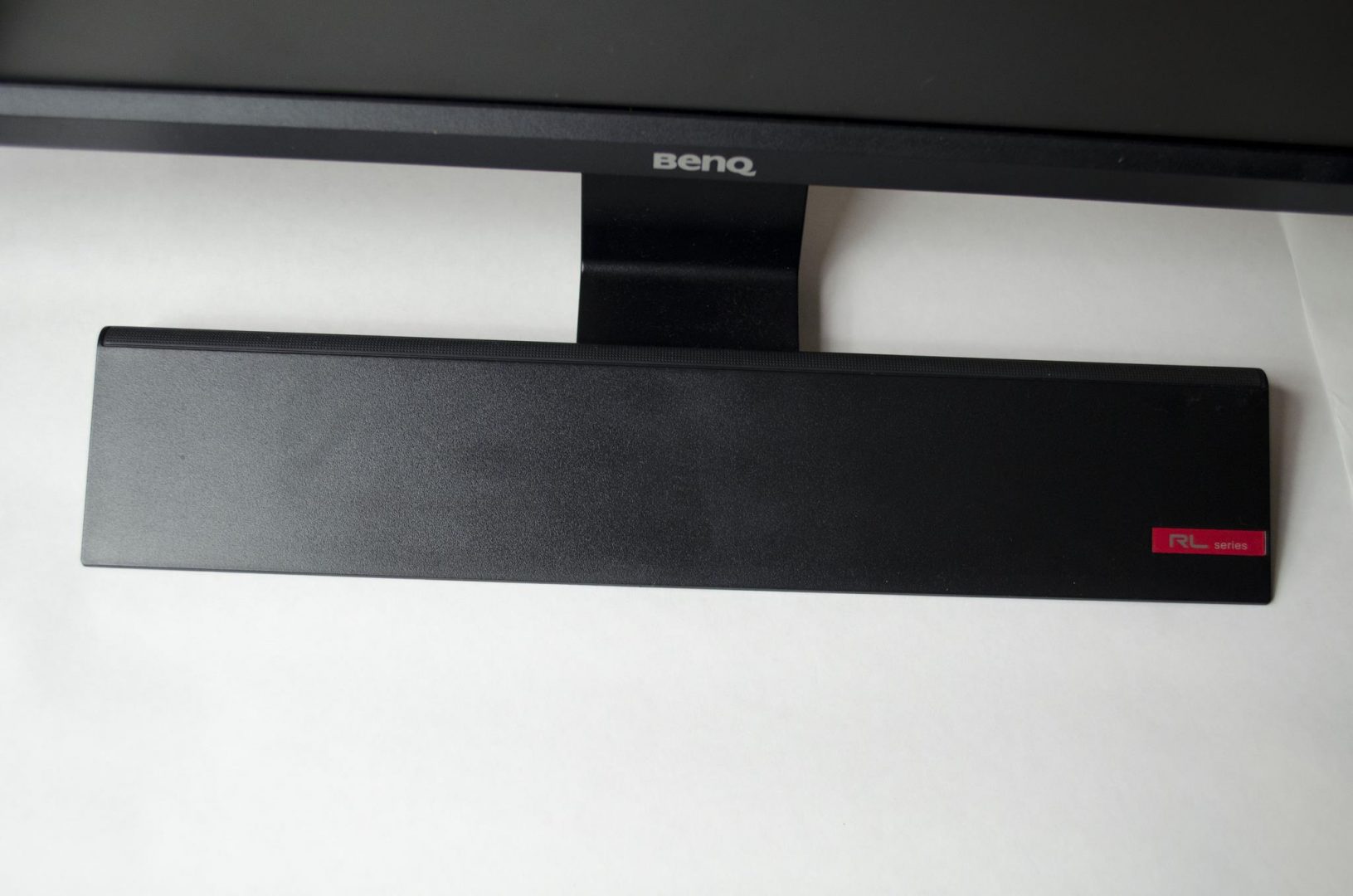 Cable management is one of the most annoying and most talk about issues with any gaming station. BenQ has decided to try and help combat this issue a bit  by featuring a cable holder on the back side of the stand so all the cables you may be using can be routed behind the monitor in an orderly fashion.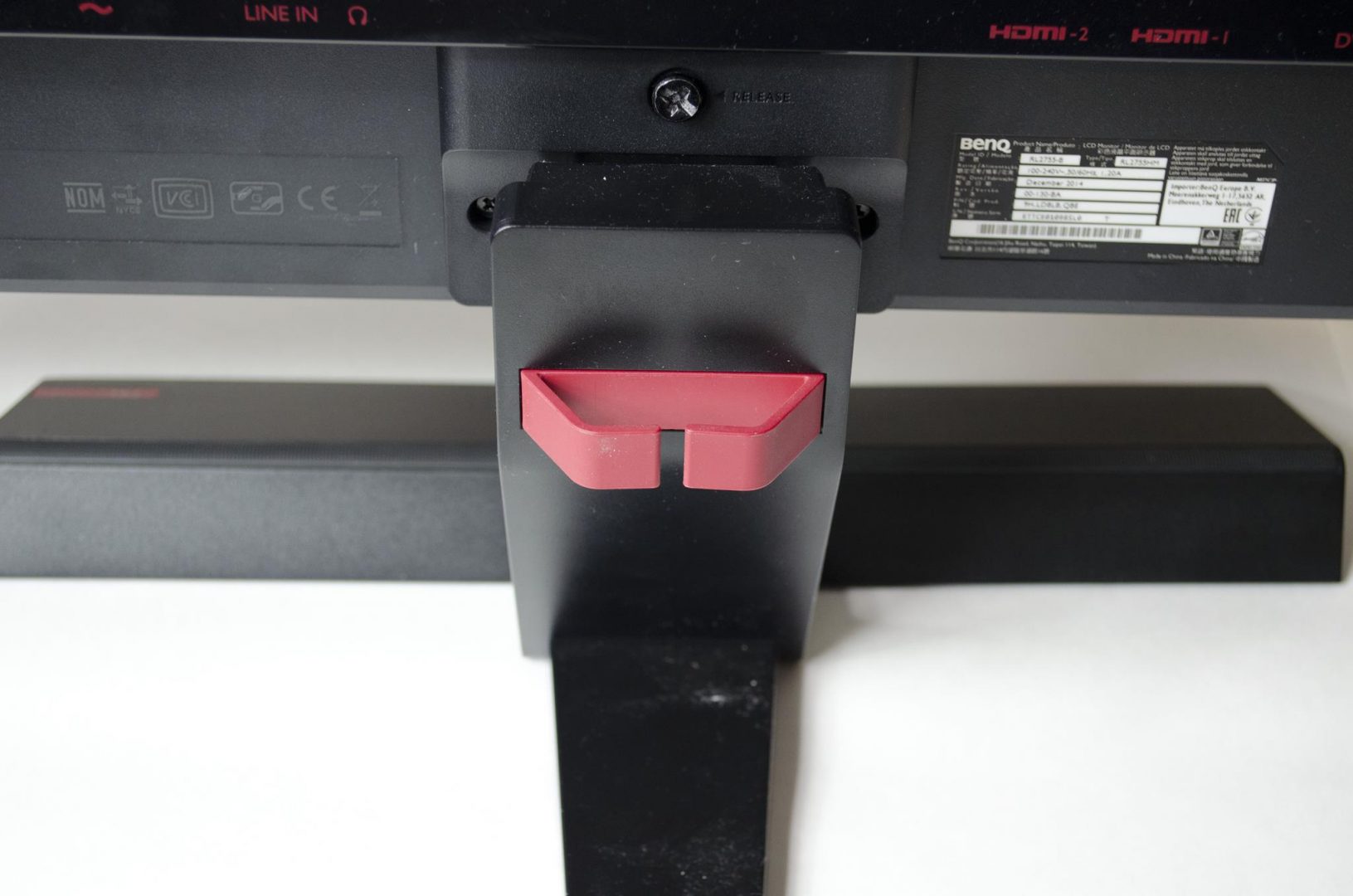 Another handy feature is the built-in headphone holder. This is located just on the back, towards one side and easily flips down so you can stash your cans out of the way when not using them. Another great space saving feature that will also leave your desk/gaming looking a bit more tidy.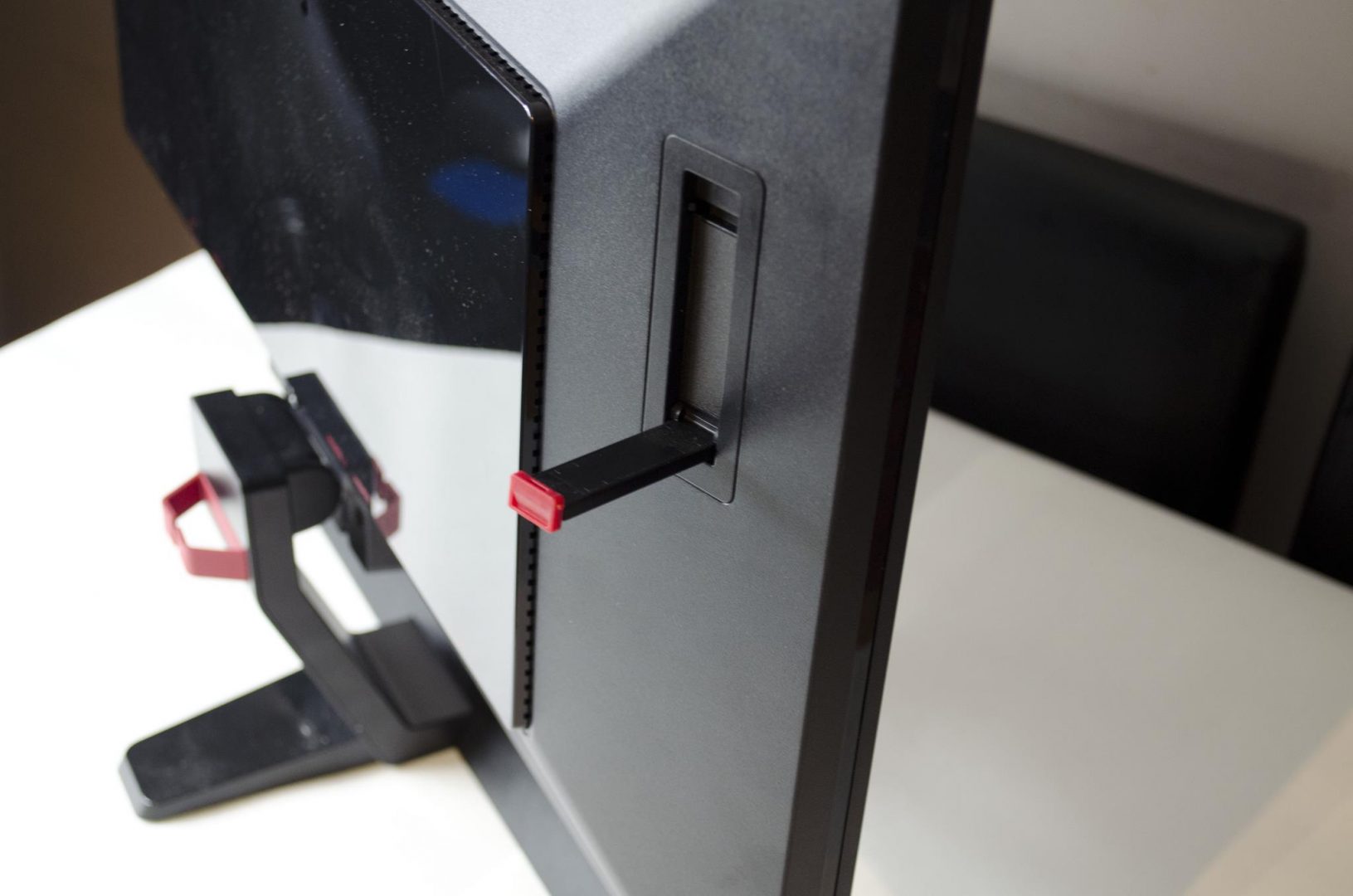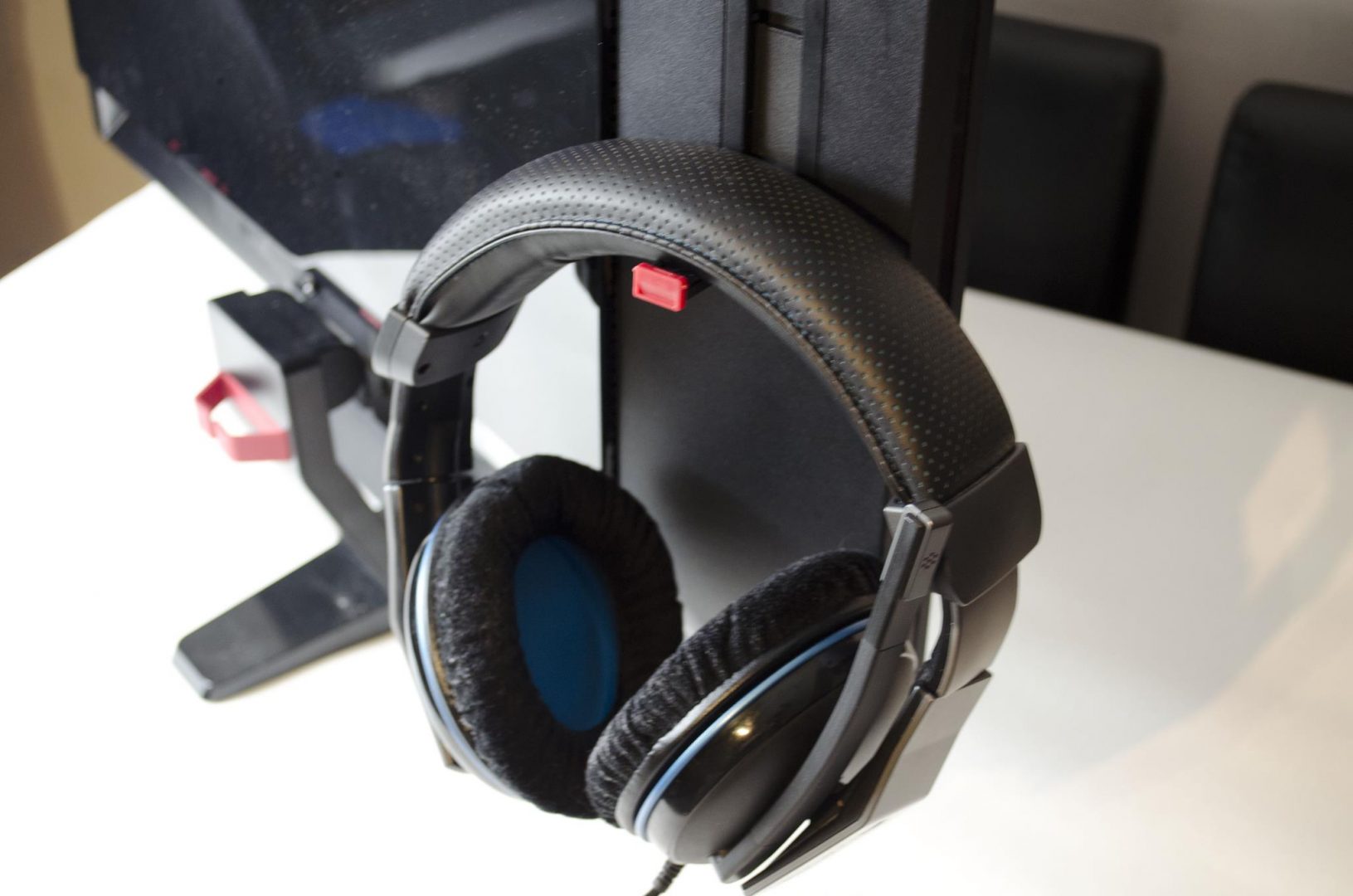 While this monitor may be designed for console gaming, it does still feature the PC standard VGA and DVI connections alongside its two HDMI connections.
On the opposite side from the graphic inputs, there are the power and audio connections. The audio connections will allow you to plug a standard 3.5mm jack into the monitor so you can then plug your headphones right into the monitor should they also utilize a 3.5mm jack.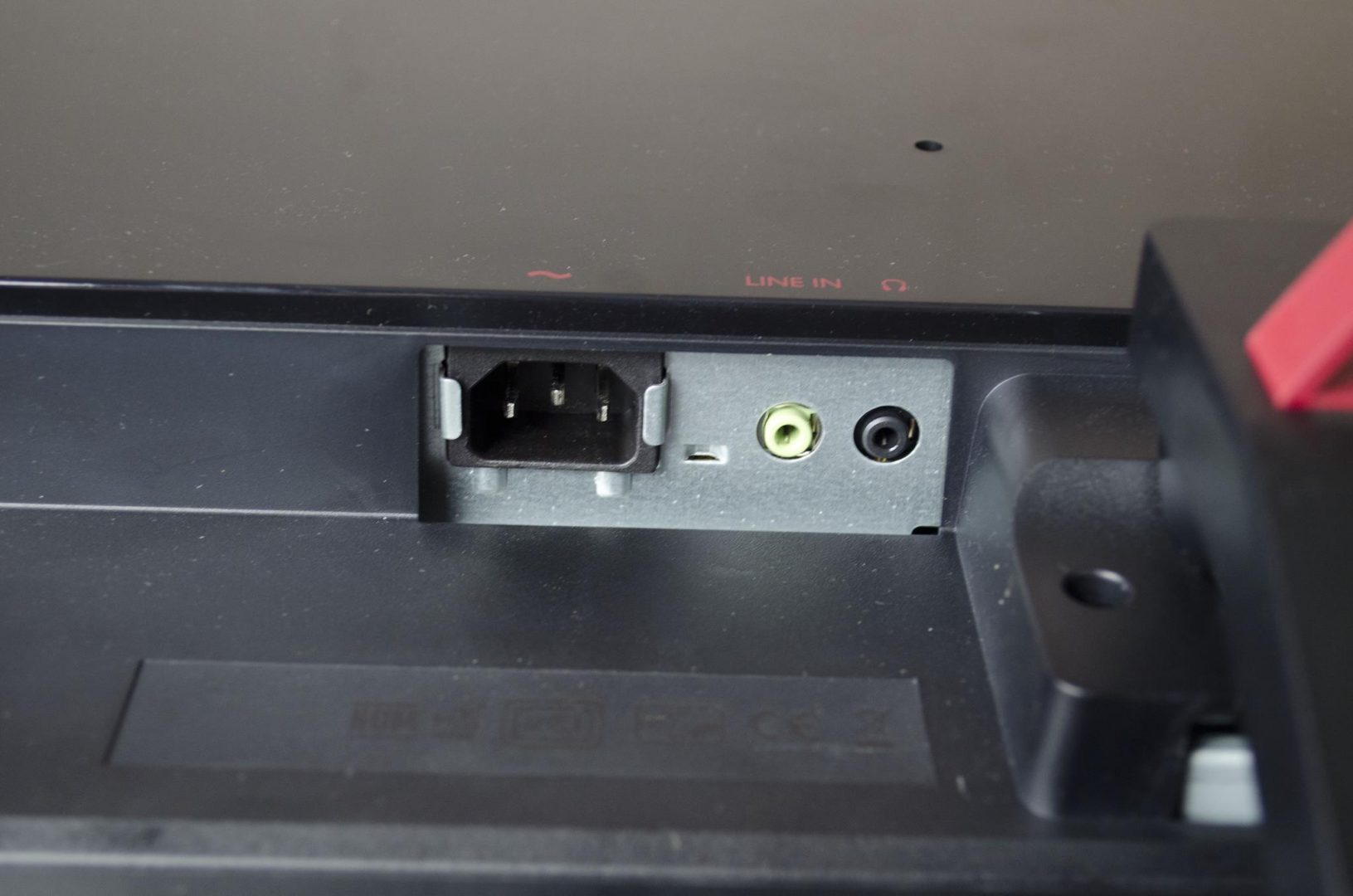 Below the graphical inputs is a sticker that features all of the technical information should any problems with the monitor arise and you need to RMA it or anything of that nature.
After using the RL2755HM for awhile, it becomes easy to see why this is a console gaming monitor and not a standard PC gaming monitor. First, it's 27″ and only features a 1080P resolution and in a bid to save money I would imagine, BenQ has gone with a TN panel rather than an IPS. I'm not going to lie, I did most of my testing on my PC and I was a tad let down, but one has to take into considerations the limitations of consoles. The debate is always on if consoles will run the newest games at 1080P or not so anything over that would be total overkill, though I will give BenQ credit, they, at least, went with a 1MS response time. Enough of that, though, let's recap this review and finish up here!
Performance
Overall, the performance wasn't bad, for a TN panel monitor. Jokes aside, in all honesty ,this is a fairly decent monitor for console gamers. 27″ and 1080P Is great for those console gamers who want a bit of an edge over their opponents who, a lot of, still use 42″ TV's and the likes. If there is one thing that has been proven time and time again, monitors are the way to go for gaming and it's great to see BenQ offering some for the console gamers out there. During my testing, the colour reproduction wasn't too bad and I didn't notice any lag or input stuttering when gaming on the PC. My only real complaint is how massive everything looks when running 1080P on a 27″ screen. This monitor has some great gaming based features to allow for better performance as we mentioned and they really do come in handy. The black eQualizer and low blue light are great and when combined with the 1MS response time and fighting modes, this allows the RL2755HM to offer good performance for console gamers, it's that simple.
Design
The design is one I actually found quite favourable. While, at first, I was a bit skeptical about the front bar of the stand taking up to much room on my desk, it wasn't an issue and is a great controller stand. While I do primarily game on the PC these days, I still like to keep a Xbox 360 controller handy for racing games and Rocker League. Another small feature that was nice was the headphone holder that easily just flipped down into place from behind the screen and allowed me to get my headphones off of my desk. In my opinion, it is these small details that really do help declare this a good monitor for console gamers. On a different note, I am also a big fan of the unlabeled menu buttons that are all black so they fade into the bezel and don't draw too much attention, good call BenQ, good call!
Value
This is the best part of the RL2755HM in my opinion, the price. Coming in at around £200 here in the UK, this monitor offers console gamers the upper hand on their enemies who may be using a TV. I know a lot of people are thinking, well I can get a bigger TV for the same price so surely that is better and unfortunately, you are very wrong. The RL2755 is designed for gaming, as where TV's are designed for viewing shows and movies. BenQ has added some decent features to this monitor to make it better than your average TV for console gamers and it shows. The RL2755HM offers great features and design and won't break the bank. For £200, you surely are getting your monies worth for a console gaming monitor.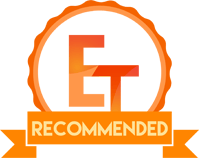 Major thanks to BenQ for sending in their RL2755HM Gaming Monitor for review.