Introduction
Manufacturer: ARCTIC
Product Page: ARCTIC.com
Purchase: $59.99 at the time of review from Manufactures Website
A little bit about ARCTIC: As an international company, our expertise extends over noise reduction in PCs to consumer electronics products. ARCTIC acts as an umbrella brand and combines the various product areas COOLING, SOUND, EQUIPMENT, and POWER.
In 2001, we initiated the trend towards quiet cooling systems for desktop PCs and have since become one of the leading manufacturers in this sector. Since 2010, we use the know-how of many years of IT experience to expand our portfolio with consumer electronics. In the course of expansion ARCTIC COOLING finally evolved into ARCTIC.
Today I have the pleasure to take a look at another product I was surprised to see ARCTIC producing a monitor arm, the ARCTIC Z1 Pro (gen3) monitor arm to be exact. Touting features such as 4x USB 3.2 Gen 1 with DC Power allowing you to connect and charge devices with even longer cables with zero issues, and superb build quality. Installation and usability seem to be the peak of ARCTICs thought process when designing this product. So let us set up and take a look at this solid monitor arm meant to replace those wobbly stands.
Specifications
Features
Material: Steel, Aluminum Alloy ADC12
Color: Matt black
Tilt: +/- 15°
Swivel: 180°
Rotation: 360°
Compatibility
VESA Standard: 75×75 / 100×100
Maximum Monitor Weight: 15 kg (33 lbs) per mount
Classis 16:9 monitor size: up to 34"
Ultrawide monitor size: up to 38″
* Recommendation based on the tabletop thickness > 20mm. For a thinner tabletop, you may need to reinforce prior to installation.
USB
Compatibility: Windows 10, 8,1, 7, Vista, XP
macOS
Linux
Ports: 4x USB 3.2 Gen 1, with DC Power Jack
Cable Length: 2m
Closer Look
Plopping the box down on the table, right away you will notice the heft to the box noting the steel and aluminium parts inside making up the bulk of the arms weight. On the front of the box are your basic infographics noting the product brand "ARCTIC" and the product at hand the "Z1 Pro" with a few feature details listed on the bottom next to their product name and product QR code which will take you to their site for the product scanned. On the right are a few notes on size, weight and mount compatibility as well as a 2 Year Limited Warranty notation.
Turning the box over you will find a list of more specifications about the arm itself and the built-in USB Hub, on the other side of the box from there are a few more details of the specifications of the Z1 Pro Monitor Arm.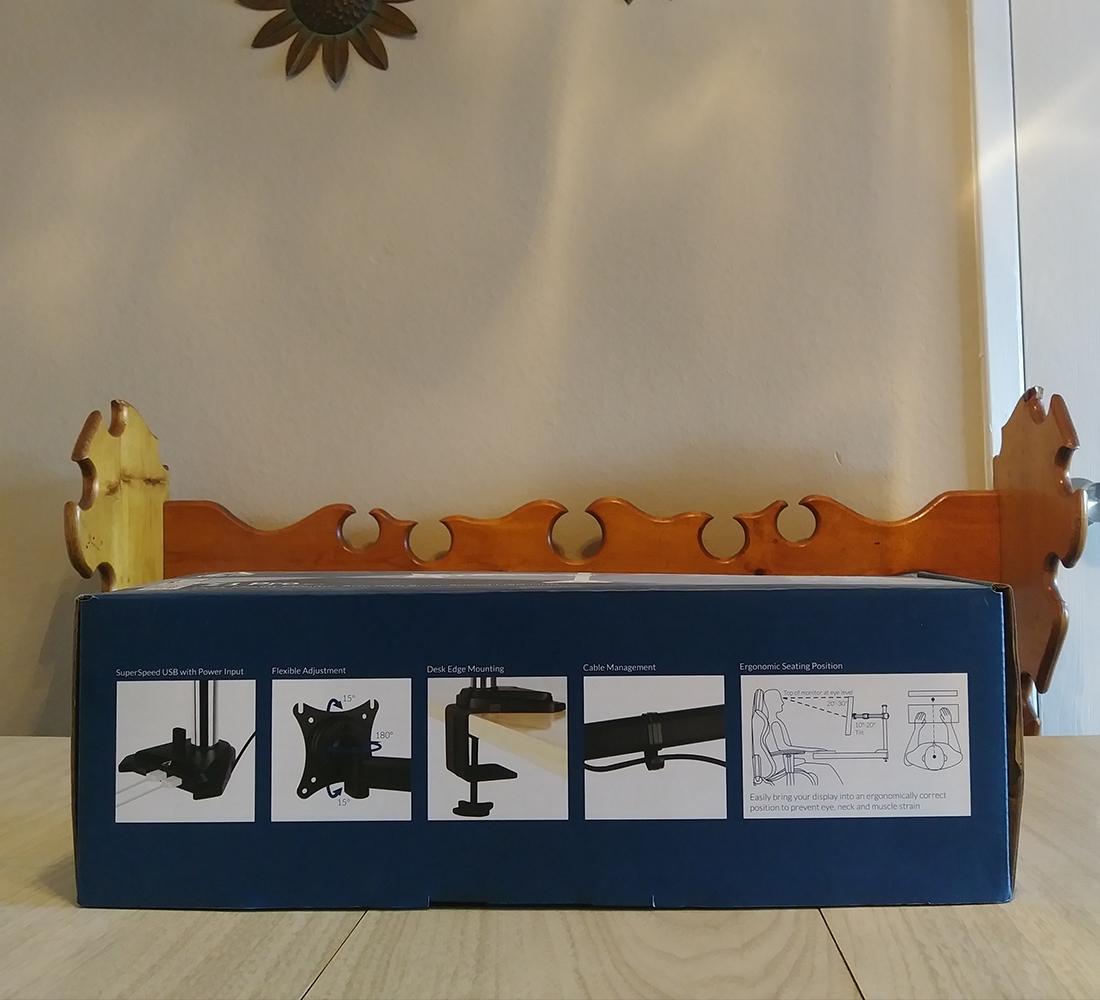 On one of the sides of the box are a few more graphics about the USB Hub, Vesa Adjustments, Desk Edge Mounting, Cable Management and an Ergonomic Seating Position example.
The weight of the base when I pulled it out of the box was a huge surprise. Almost the entire unit outside some of the bottom which houses the USB components is die-cast metal. Instantly giving a feeling of top quality, most of the other monitor mounts I have used that mount like this had cheap metal mounting and a big plastic case around it making them far less stable feeling once loaded down with a monitor on the desk. This was not the case with the ARCTIC Z1 Pro, once it is mounted down properly it is mounted and staying there.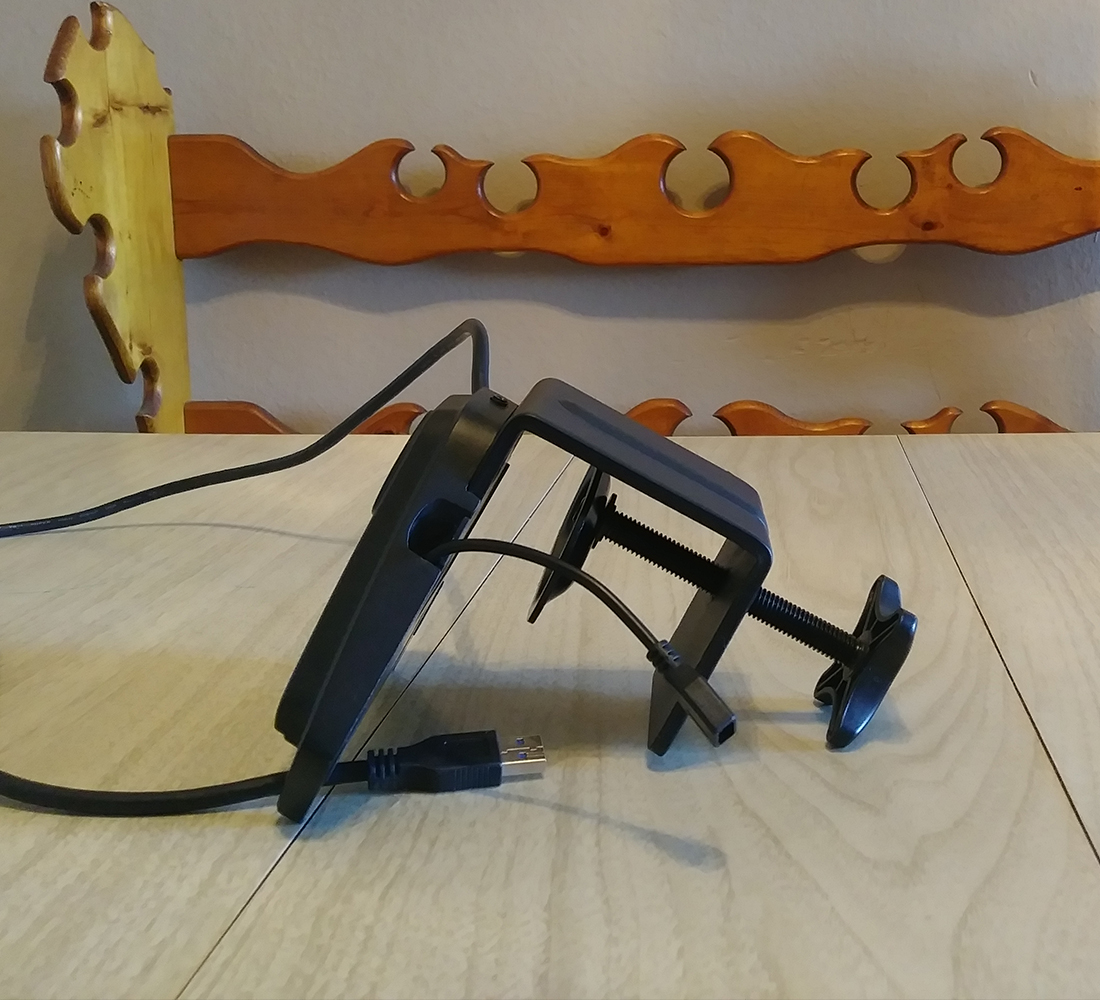 Here from the side of the base, you can see the USB 3.2 cable that you will need to plug into your computer to utilize the USB hub as well as the Micro USB Power cable. You do not need the power cable until you use a long game controller or try using several of the plugs at once. Either way, I advise plugging this into a micro USB cable and plugging it into the back of your computer as well to provide the extra power needed to fully use the USB hub.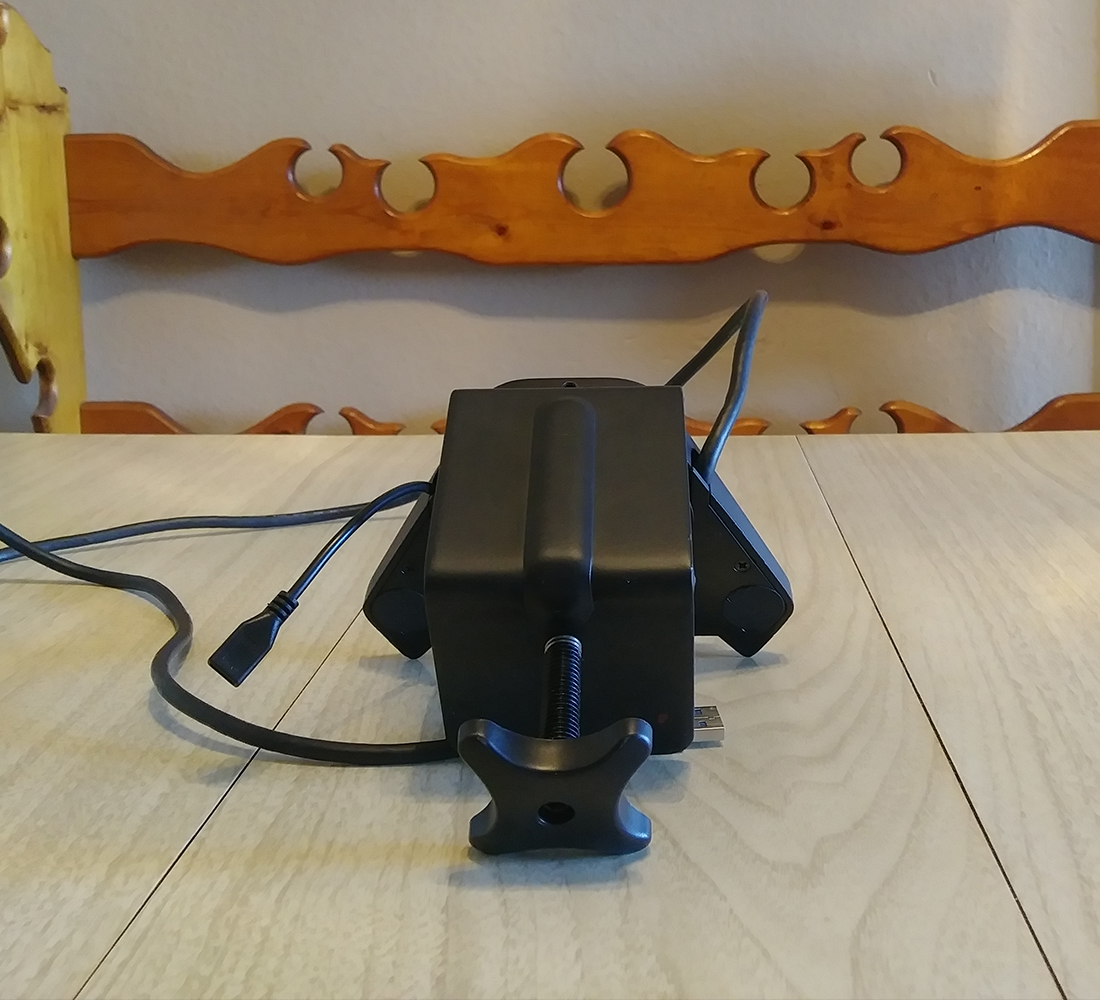 Here is a look at the bottom of the clamping mechanism, this out of all of the monitor mounts I have used to date is the best I have used. With other mounts, the clamp handle used is one of those tightens with a bolt type and those easily come loose and make getting the mount back off rather hard. With the ARCTIC Z1 Pro (gen3) this handle stays firmly in place. I have rearranged the mount so many times with no issue, far more than you would probably ever do in a more permanent setup. On either side of the mount here you can see the two little round foam spacers. I had experienced data loss and had to reshoot my photos leaving me with no shot of these before installation.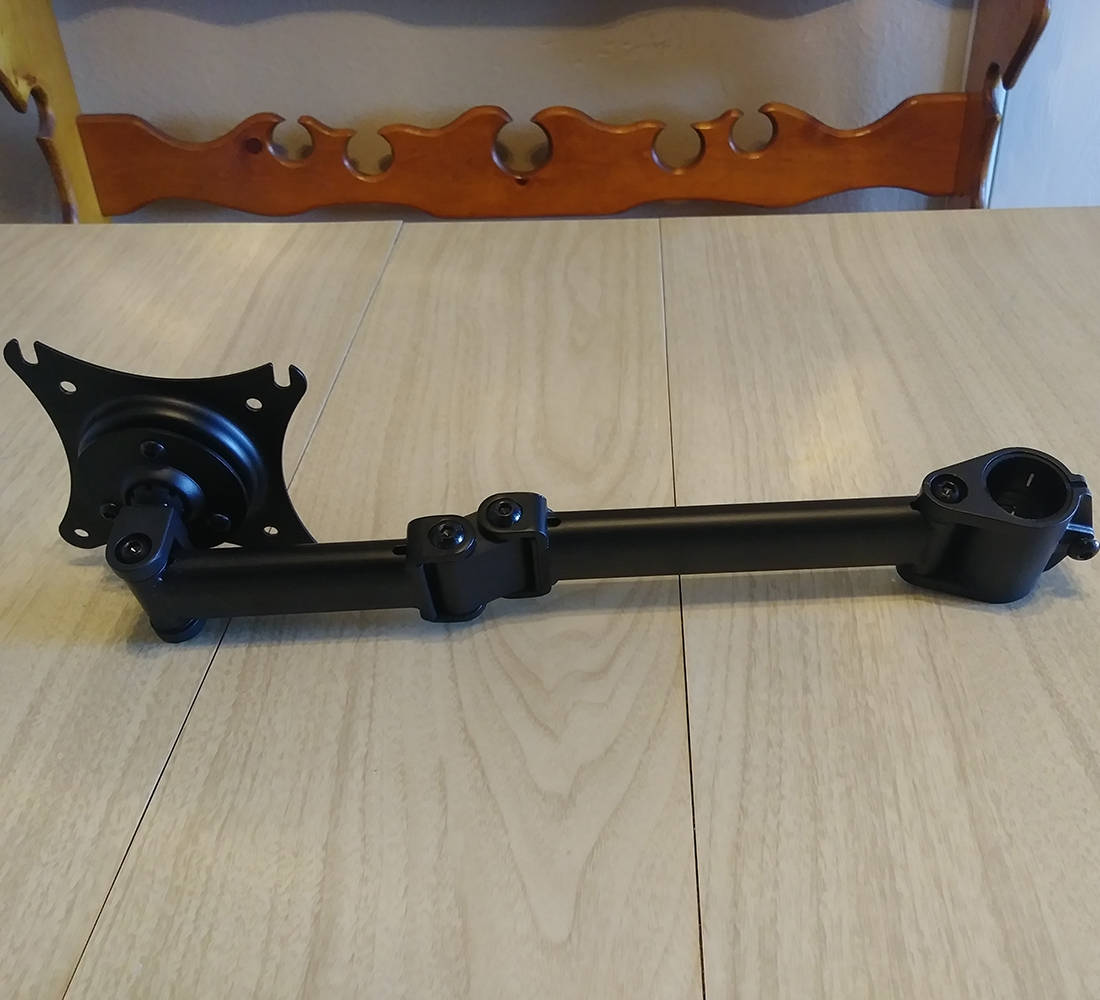 Here is a good look at the Mounting Arm itself, so far in every way I have tried using this Arm and Mount I have not found much limitation in what you can do other than height and really there is more than enough there to make it unusably high off your desk if that's what you desire. With the included Allen wrenches you can tighten and loosen all of 7 of the bolts in this photo to increase or decrease tension in that point of the arm for more stability or movement as needed.
Here is the Vesa side of the arm, and as with most Monitor Mounts/Arms it supports both the 75×75 and 100×100 standard supporting a maximum weight of 33lbs/15kg. The Arm supports monitor sizes ranging all the way up to 34″ 16:9 monitors and up to 38″ UltraWide monitors. I have personally put the Viotek GFT27DB we took a look at on the mount, and it is a 27″ 16:9 monitor weighing 9-10lbs. This kinda weight is only a 3rd of what the mount supports and so supports this pannel very easy and allows for smooth adjustment once the tensions were tweaked a little.
Installation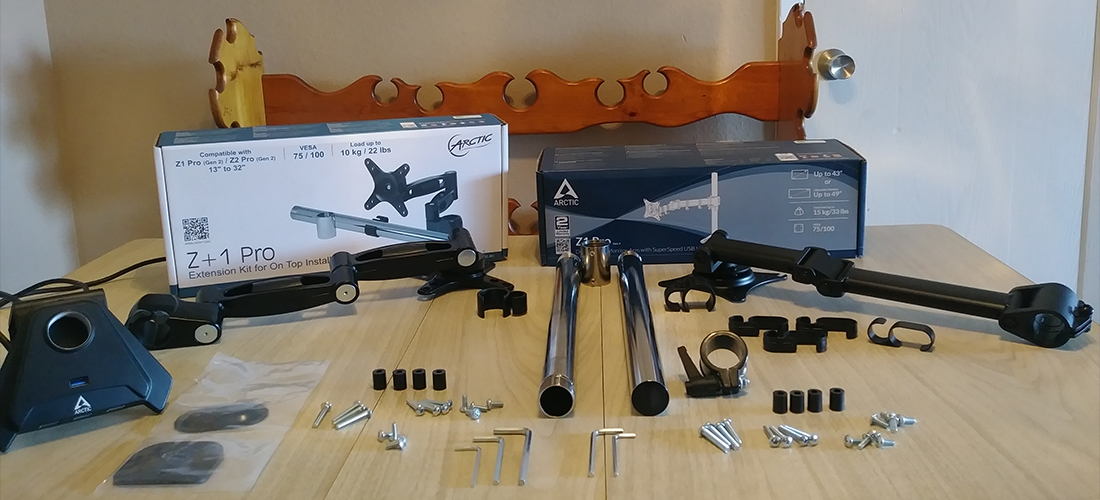 Here we have all the mounting hardware included with both the Z1 Pro (gen3) as well as the Extension Kit (review coming after this one). Again I had a huge bit of data loss and forgot to get a shot of all the hardware separated. Thankfully below is an image ARCTIC has on their website that shows all the proper parts included with the kit. As far as I call tell with my monitors at home and some help from a friend this kit covers all the bases for the 75×75 and or 100×100 VESA Standards. All 5 monitors I tried the Arm on were fairly easy and uniform to install.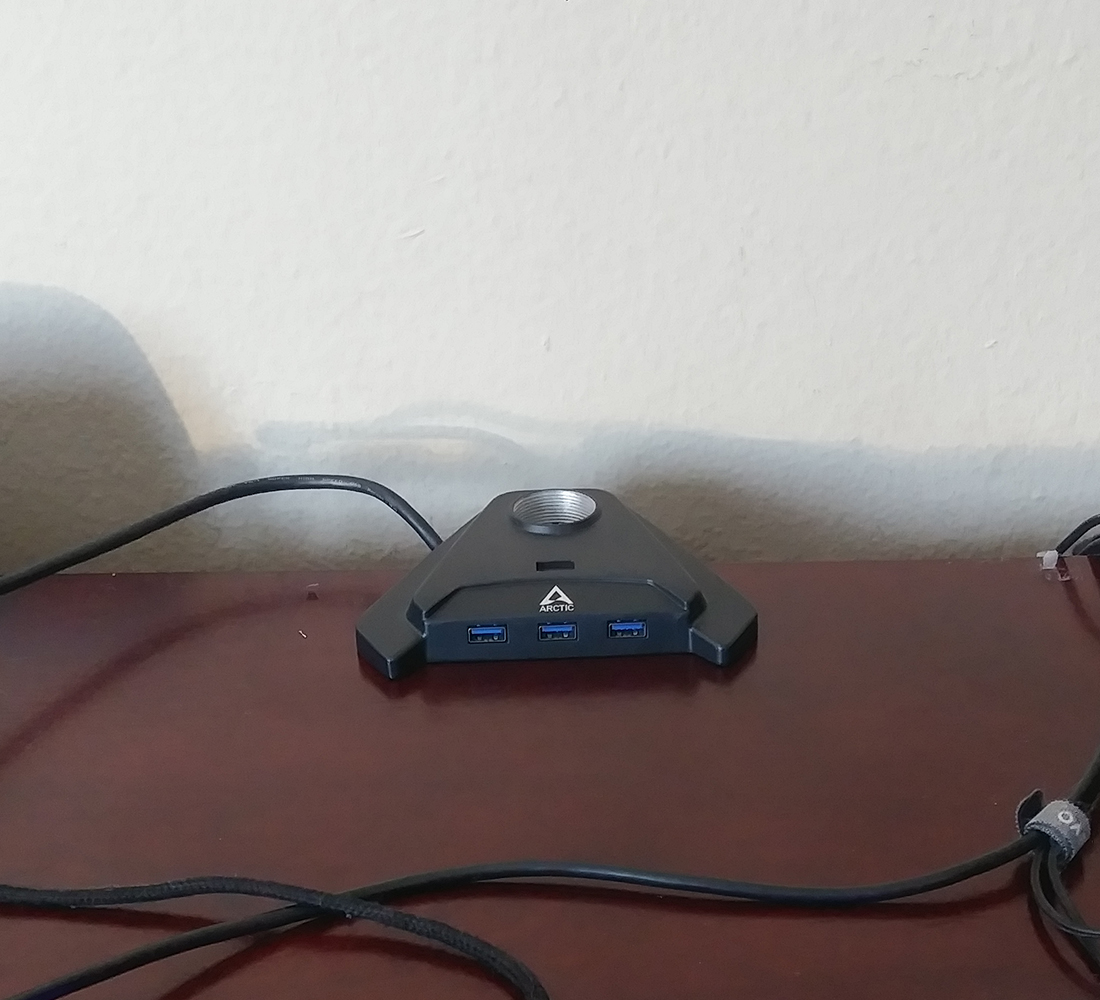 Firstly you will want to get your Base and assemble it with the desk clamp if that is your installation method, if your desk has pre-cut holes in it then there is gear for that type of installation included. Make sure to put your foam spacers on as well no matter your mounting method your desk will thank you for being scratch free later. Figure out where you want to roughly install your mount. Once you get further ahead you might decide to make some adjustments.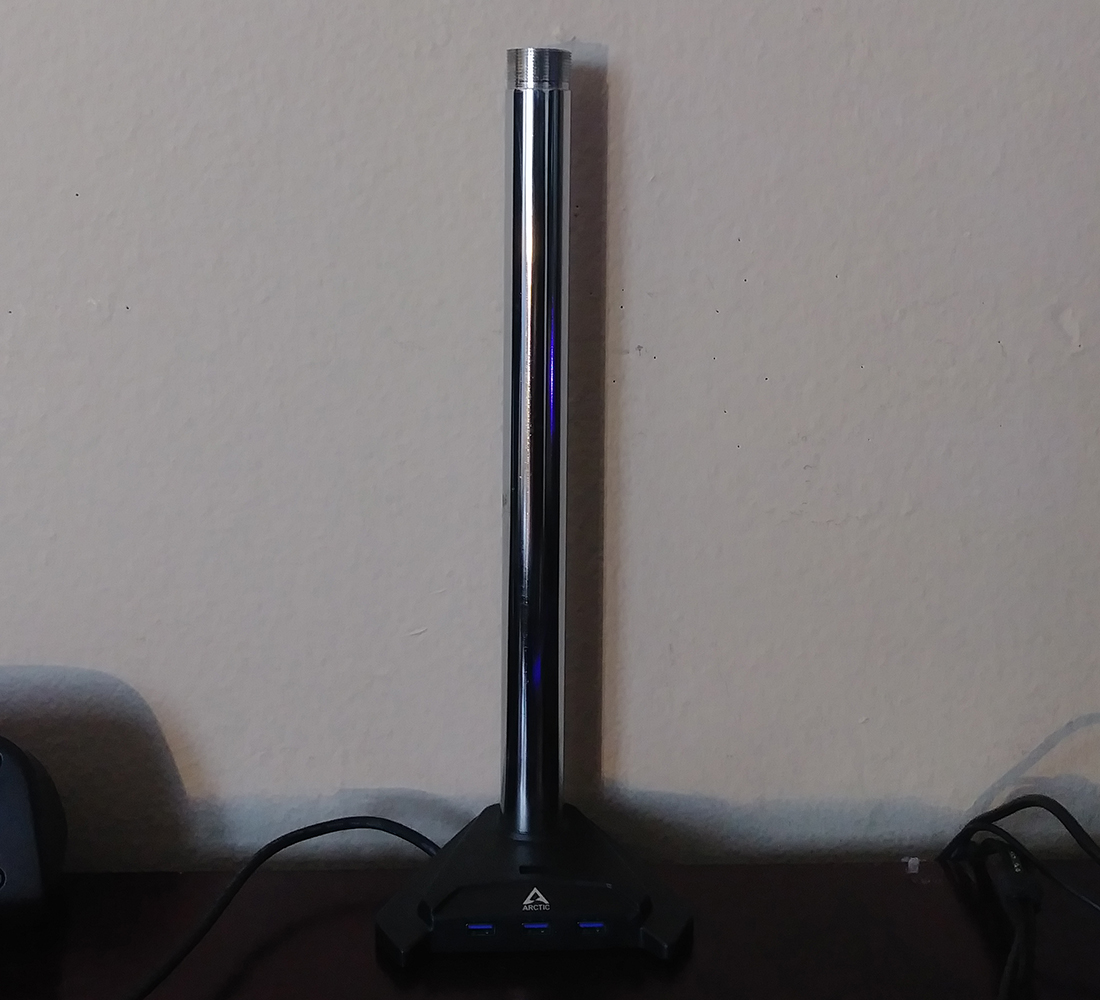 Next, you are going to want to grab your Pole and take the threaded side and screw it all the way into the hole in the Base.
Depending on your monitors backing you might or might not need to use some of the M4/M5 Spacers like above, just make sure that you can firmly tighten all of the screws down, don't try to over tighten them and make sure to use the proper length screws for the proper spacers.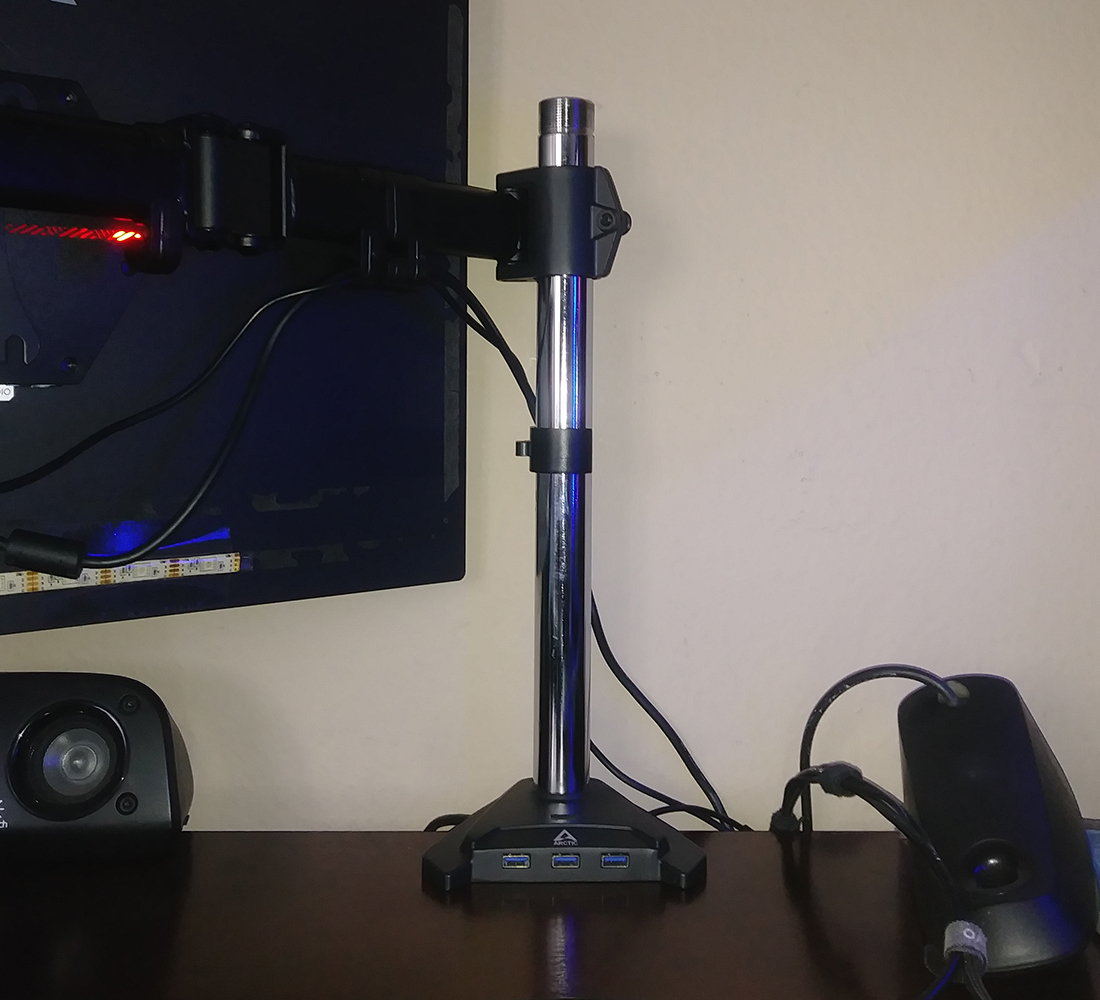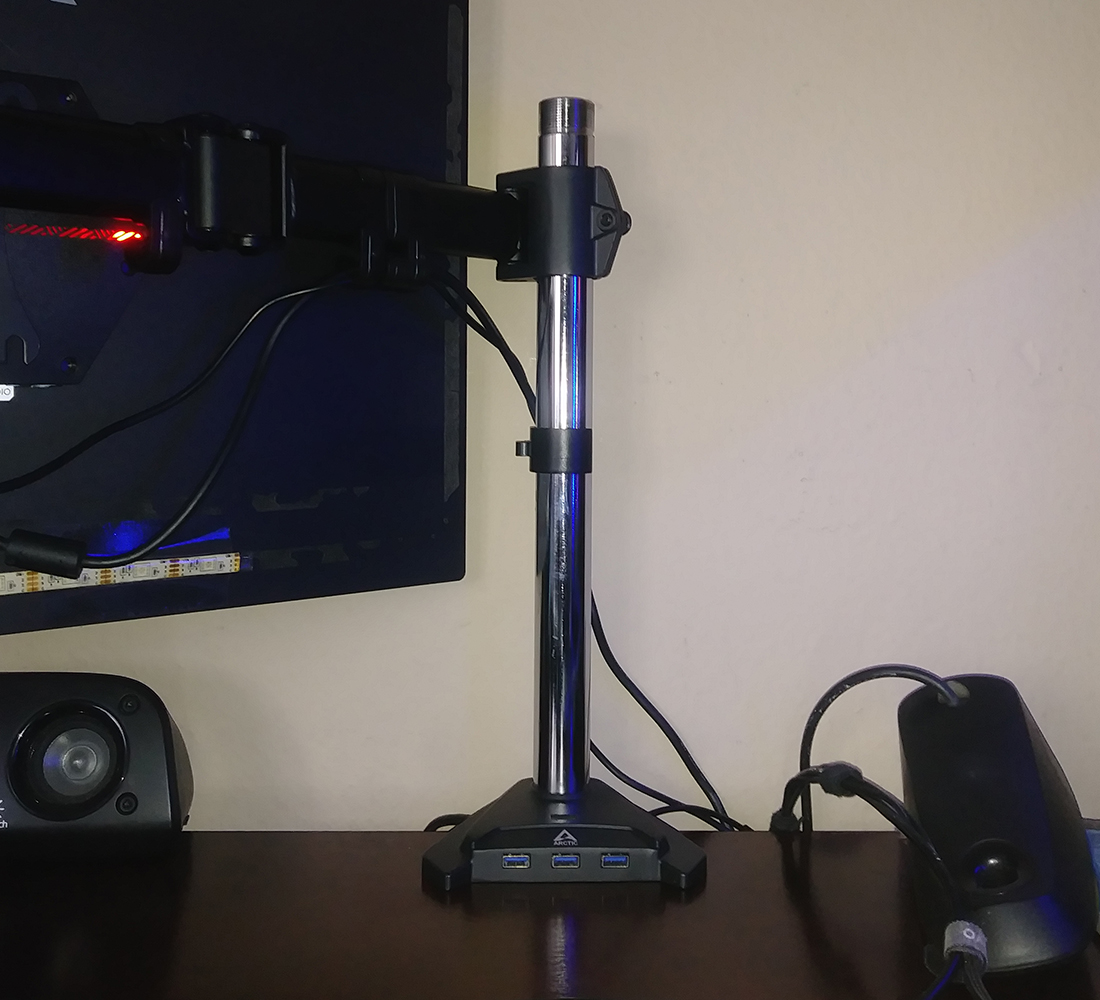 Once your monitor is set up on the Monitor Arm you can start figuring out where you want everything to go. This is where you might decide to move the Base one way or another so on and so forth. If you do need to move the base make sure to remove your monitor and Arm first so it is easier to slide side to side. Now that you have the base where you want it, it is just a matter of lowering the Arm down to the height you want and tighten the hex screw on the Arm near the Pole.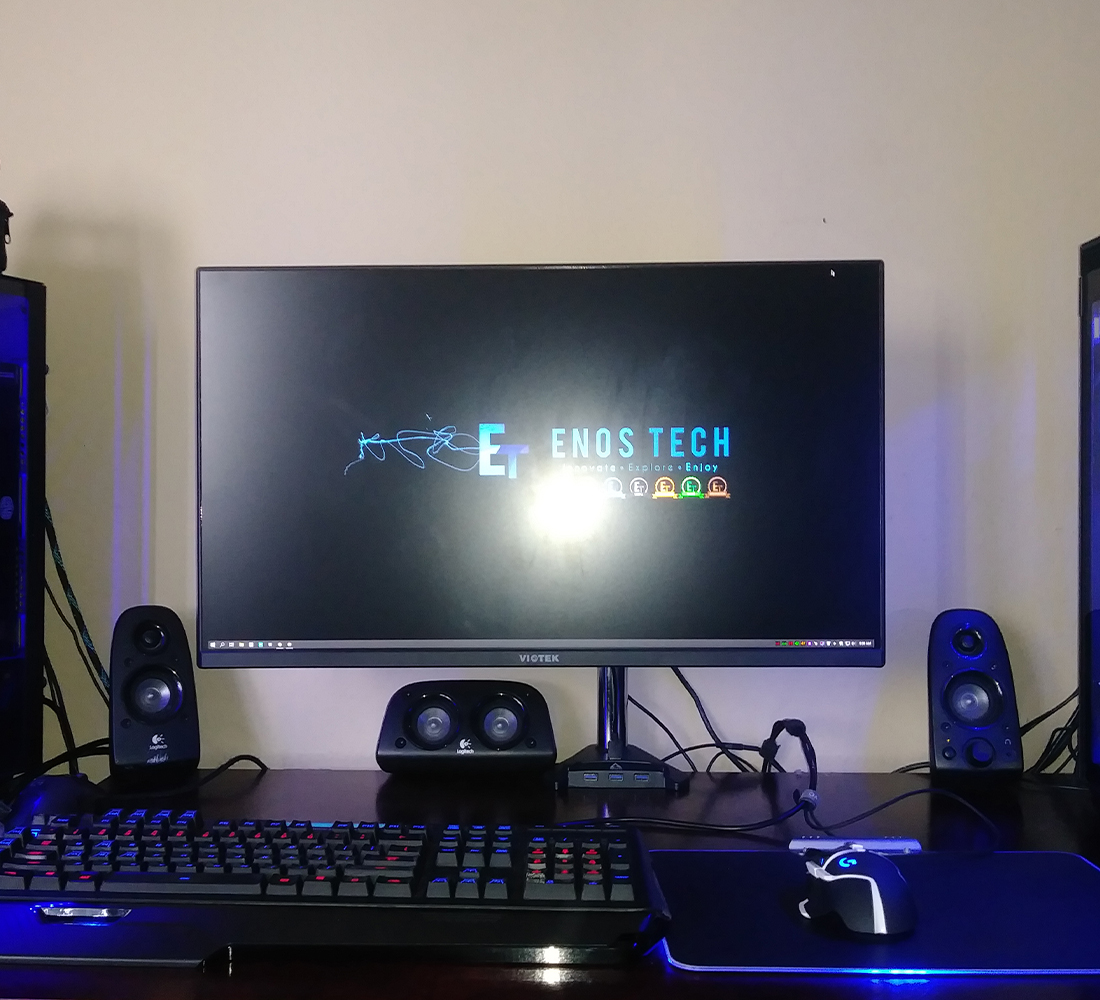 As you can see a good monitor arm like the Z1 Pro (gen3) will not only clean your desk of a base but will also bring much more functionality to the underside of your monitor as well as allowing you to more ergonomically position your monitor so that you are comfortable while working or playing.
Final Thoughts
Performance
Performance in this metric is ergonomics and convenience. The ARCTIC Z1 Pro (gen3) has both of these in spades, covering all of your potential ergonomic needs for mounting a monitor properly at your workstation. Allowing for a full range of height, side to side movement depending on where you swing the arm to the +/- 15% Tilt, 180-degree Swivel and 360-degree Rotation you can get your monitor comfortably set up how you need in no time.
In the convenience department, the solid structure of the Z1 Pro (gen3) coupled with the high speed 4x USB 3.2 Gen 1 with Micro USB Power adds a handful of USB ports right at the back of your desk so you have no need to fiddle with the back or top of your computer. These can come in handy for a multitude of reasons, and for just about any PC user. For myself, it makes file transfer very convenient when needed and adds a nice little powered spot to plug a controller with a VERY long cable in for my kids to play some games without the worry of them tugging at the back of the computer with the cable. Normally I cannot use this cable with some front USB ports on cases. There never seems to be enough power down the 10ft cable I have for that use unless plugged directly into the back of the computer. No problem here the Micro USB Powered hub seems to handle it all just fine.
Design
The overall design of the ARCTIC Z1 Pro (gen3) is very nice and minimal. No pain in the but and quite an unpredictable scissor arm design here to deal with, where at any point your arm can decide to twist tilt or collapse. The solid Steel Pole with the metal base and arm allows for a more firm one at a time adjustment instead of trying to twist and squeeze a spring-loaded design to your will. The 4x Cable Hooks and 2x Cable Clips included are more than enough to completely run your cables behind everything to keep things neat and clean as well.
Value
Coming in at $59.99 sets the ARCTIC Z1 Pro (gen3) around $10-20 more than other single monitor arms I have tried to date, with that said though it is in a league of its own when compared to these other more basic and cheaply made arms. From the base to the height pole all the way to the arm connecting to your monitor is made very sturdy. The Monitor Arm itself can be as flexible or stiff as you would like for your set up needs. All the components that take the weight of your monitor(s) yes this is made for extension kits in mind as well! You can put up to 2 of the Viotek GTF27DB 27″ monitor that I tested on this arm with no worries still remaining a few pounds (about +/- 14lbs) under the full mounts weight specifications.
I really enjoy the design that allows you to completely isolate your adjustments if you need to move your monitor up or down and don't want your arm to adjust? No worries just tighten the Arms hex screws and then do what you need with the height with little worry as to loosing how you have your monitor centered. The same goes if you need to move the arm itself and don't want the height to adjust and get in the way.
I really like the design of the 4x USB 3.2 Gen 1 ports, they don't feel cheap and like they will easily wear out from use. The micro USB power is a huge helper allowing you to plug much longer cabled devices into your monitor stand rather than fiddling with the back or top of your case. Not only that but no port wear on your case or motherboard from a cable hanging out of it, this mount simply lets you run a cable across your desk, or just reach out and plug a USB drive-in. I really like the addition of the top USB port pointing up. This is a wonderful port for those who might use a webcam for streaming or conference calls, allowing you to use the mounts included cable management to handle the cable of the webcam and neatly run it down to the port its plugged into.
All in all the ARCTIC Z1 Pro (gen3) is a top-quality monitor mounting solution for pretty much anyone, the design is not overdone and will not make a big stand out party on your desk which is what you want in a professional setting. The Z1 Pro is also very minimal allowing you to recover so much usable desk space that you loose from monitor stands, all while giving you ergonomic control that will allow you to adjust things to your comfort. Making this a MUST HAVE product from ARCTIC.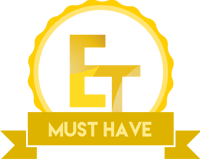 I want to thank ARCTIC for sending over the Z1 Pro (gen3) sample for review.