Introduction
The MSI MPG ARTYMIS 323CQR is a curved gaming monitor that is packed full of amazing features. As we are seeing with more and more manufacturers these days, they are branching off into more products, almost as if to create their own ecosystem. I mean, we all like things to match, and being able to buy everything you need to build a PC, including accessories and monitors sounds like an amazing idea, right? Well, it does and manufacturers are making the most of it! MSI is bringing some amazing gaming monitors to the market and the MPG ARTYMIS 323CQR is just that. Boasting a 100R curvature, WQHD display, in-built KVM, and more, this monitor has all the features a gamer could want! Everything looks good on paper so let's take a quick look at the official specifications and then get into what we all came to see, the MSI MPG ARTYMIS 323CQR!
MSI MPG ARTYMIS 323CQR Specifications
Packaging And Accessories
Generally, when it comes to gaming-based products, companies are trying to get your attention from the first second you see them. MSI has designed the box for the MSI MPG ARTYMIS 323CQR to do just that, grab your attention, and make you want to see more. We can see the MSI logo, a small RGB area that is reminiscent of the back of the monitor, and an image of the monitor itself. There is also a small section that lists some of the main specs that MSI wants to make sure everyone is aware of.
Taking everything out of the box we have everything we need to get the monitor up and running as quickly as possible. There are multiple display cables, a power cable, stand and base, and a couple of information cards.
Closer Look
The stand is easily inserted into the back of the monitor panel itself. Once secured, there is an extra cover you can put where the stand connects to the panel so it looks a bit nicer, not that many of us are going to see the backs of our monitors at any time. However, it is still nice to see MSI covering all their bases.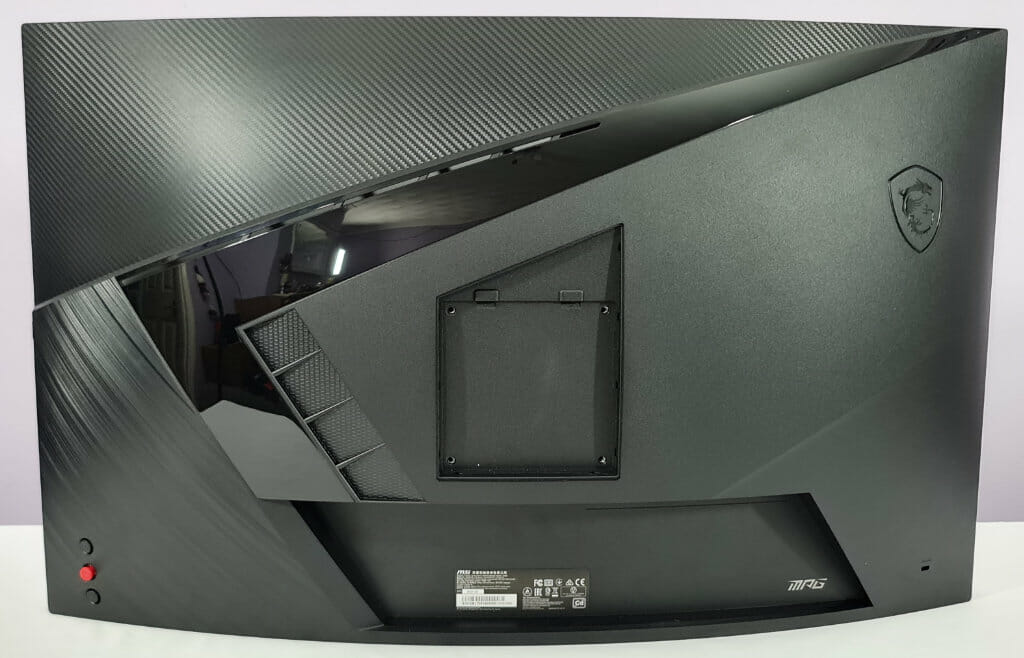 On the back of the stand, there are the words 'Gaming Series' which can be hard to read. However, if they were plain and easy to read, would they give off that 'gamer' feeling?
The MSI MPG ARTYMIS 323CQR features an easily adjustable stand. You can move it up or down, tilt it, and even swivel it a bit to give you that perfect viewing angle day or night! While this may seem like a simple feature, it hasn't always been included with monitors and still isn't on some cheaper models.
Getting the monitor to your perfect viewing angle is so easy you can do it right from your seat once the monitor is set up on your desk. The tilt angles available are -5° ~ 20° while the swivel angle is -30° ~ 30° and the height adjustment is 100mm. Whether you are 5 foot nothing or 6 foot 13, you should be able to find a viewing angle best suited for your needs.
I've got to admit, a couple of years ago, I wasn't a big fan of curved monitors. Alongside gaming I do a lot of work from my main PC so was always put off by the curves. However, over the years it is starting to grow on me and the 1000R Curvature that we see on the MSI MPG ARTYMIS 323CQR is quite nice. When gaming, it offers a more immersive experience and even makes it easier to see everything going on at once.
Turning the monitor's power on and off and navigating through the on-screen menus is as easy as ever. This is thanks to the way MSI has installed what I would say is more like a joystick than a button. While you can click on it to select things, you can move it around to navigate menus. This is a much better option than those who put 4-6 buttons on the back of the monitor and you've got to try and guess which one does what and then hope you hit the right one.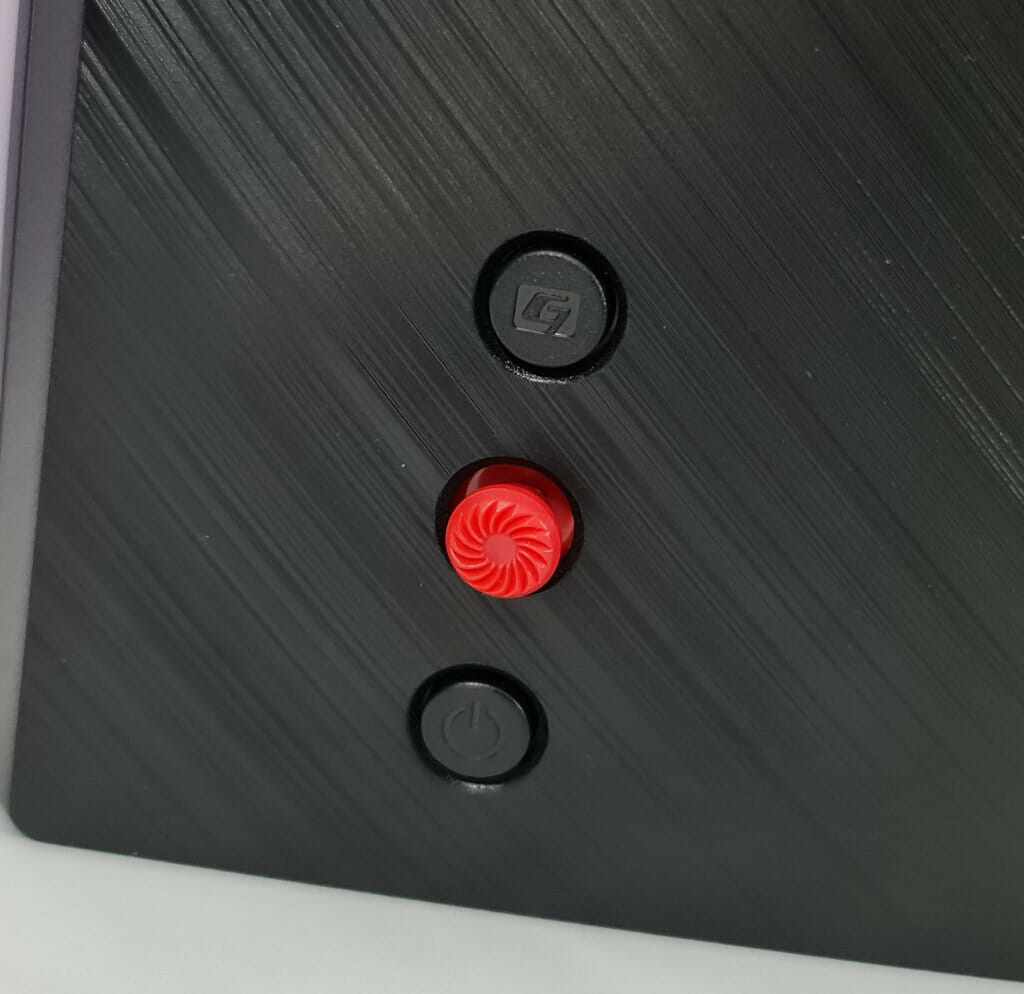 The MSI MPG ARTYMIS 323CQR uses a standard power cable which is, again, something fairly basic but a nice feature to have!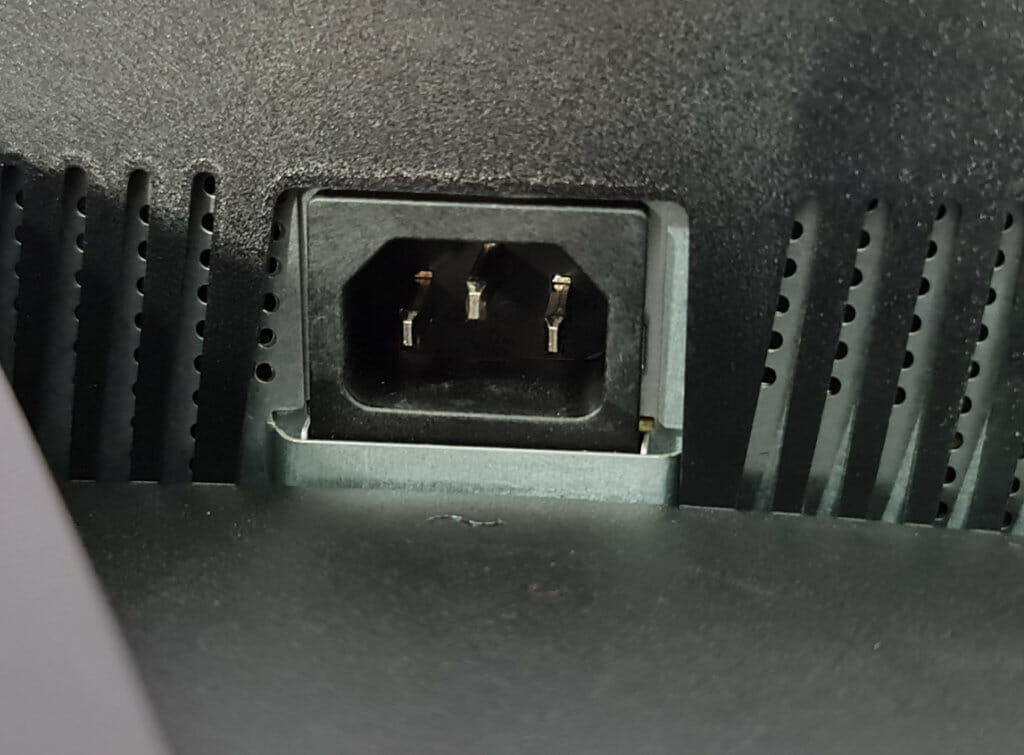 For inputs, there are quite a few. We have a single DisplayPort, dual HDMI, USB-C, Audio input, USB upstream, and two USB ports. Remembering that this monitor has an inbuilt KVM, you can use it to connect multiple devices and control them VIA a single set of peripherals.
The MSI MPG ARTYMIS 323CQR comes with its own headset holder. This is nothing overly fancy but it does the job and will easily keep your headset off of your desk if nothing else.
Simply push the button in and out pop the arm. This is a very simple solution but will help to keep your desk tidy and your headset out of the way. Sometimes it really is the little things that can make all the difference.
One of the first things I like to do is check how my own website looks on a new monitor! Have to say it looks lovely on the MSI MPG ARTYMIS 323CQR and while there is plenty of spare real estate, we will be looking to get some site banners in the background soon to make things pop a bit more! The MSI MPG ARTYMIS 323CQR does a great job of picking up all of the different colors and making things look very vibrant, without overdoing it.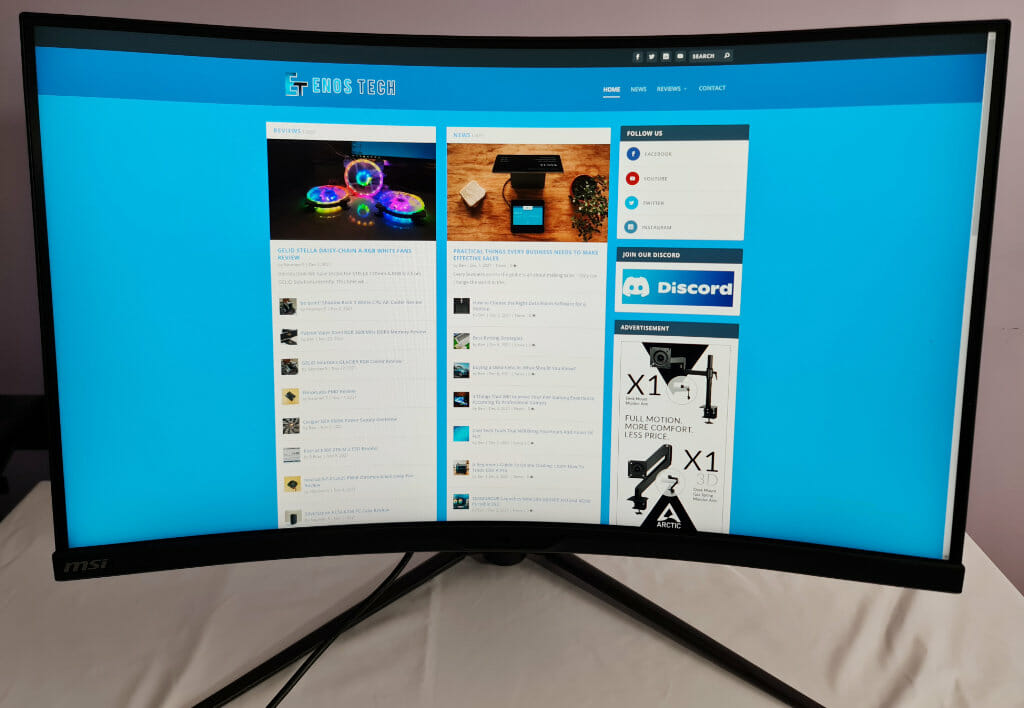 MSI MPG ARTYMIS 323CQR RGB Lighting
What gaming product is complete without RGB? The MSI MPG ARTYMIS 323CQR has a couple of small RGB areas on the backside of the monitor.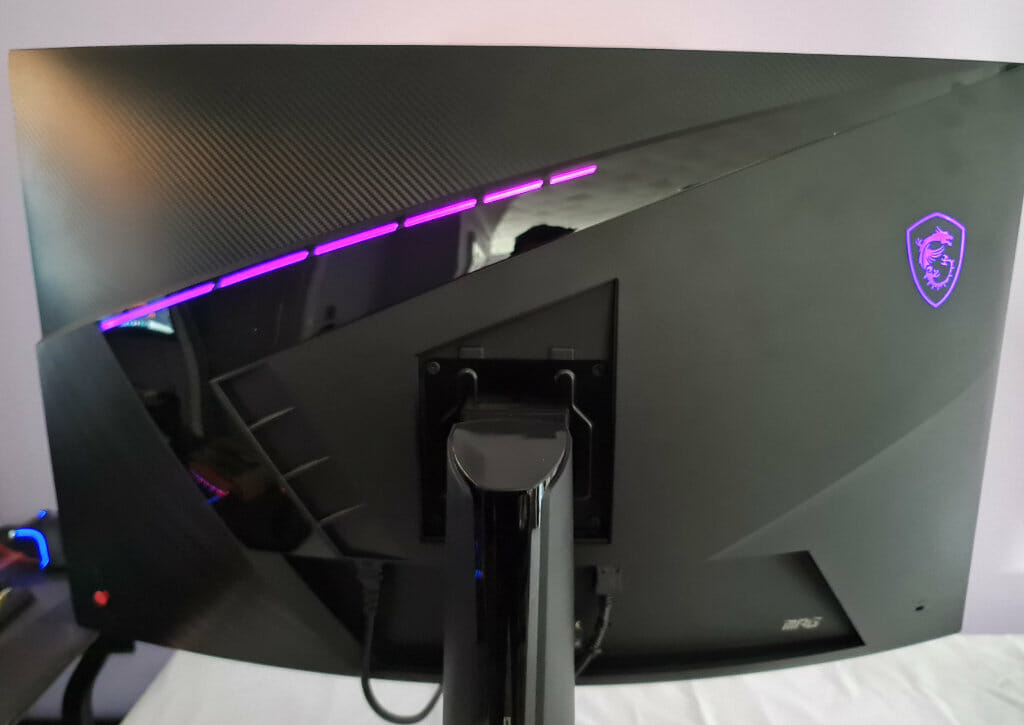 The MSI Dragon logo looks amazing when lit up!
This RGB bar looks quite nice and while most won't always see it, if you play in the dark it may just light up the wall or whatever is behind it just enough to see.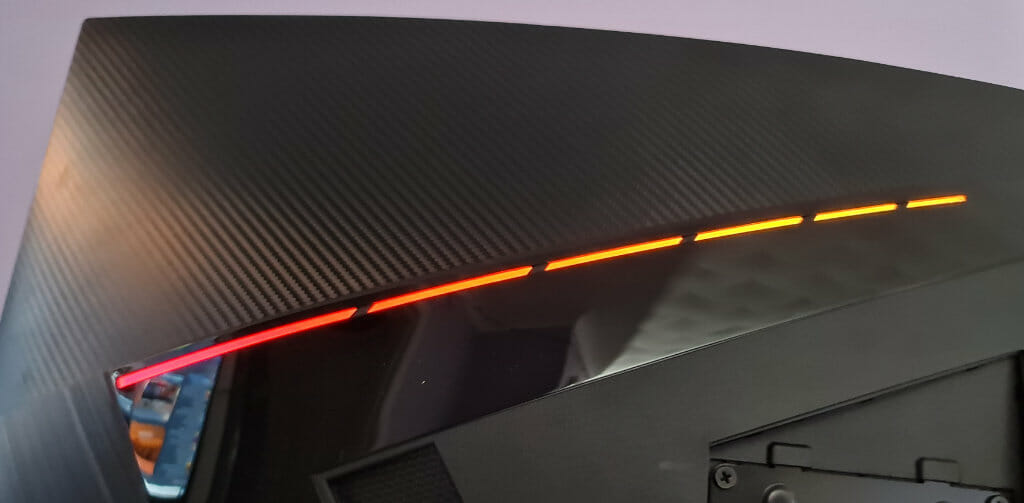 MSI MPG ARTYMIS 323CQR Gaming Performance
Before we speak on the gaming performance, let's take a look at some of the more gaming-based features this monitor has to offer!
1000R Perfect Curved Screen – Perfectly fits the curvature of the human eye so that you can see the entire screen without any fatigue.
WQHD High Resolution – Game titles will even look better, displaying more details due to the WQHD resolution.
Gaming Intelligence – A new dawn of AI gaming, including Smart Brightness, Smart Crosshair, Night Vision AI, and Sound Tune.
Rapid Boost (165 + 1ms) – Experience smooth gaming with a blazing fast refresh rate and response time.
HDR400 + 10 bits – It has passed the VESA HDR Display 400 Certification, meaning it can provide a display with the most realistic colors.
Gaming OSD App – Create the ultimate viewing settings for your game.
HDMI CEC Profile Sync– Set up profiles for multiple sets of devices and can automatically detect your settings.
KVM – Control multiple devices via one set of keyboard, mouse, and MSI gaming monitor.
Console Mode– Best solution for console users:
FHD/WQHD@120Hz, 2K Resolution PS5™ Optimization.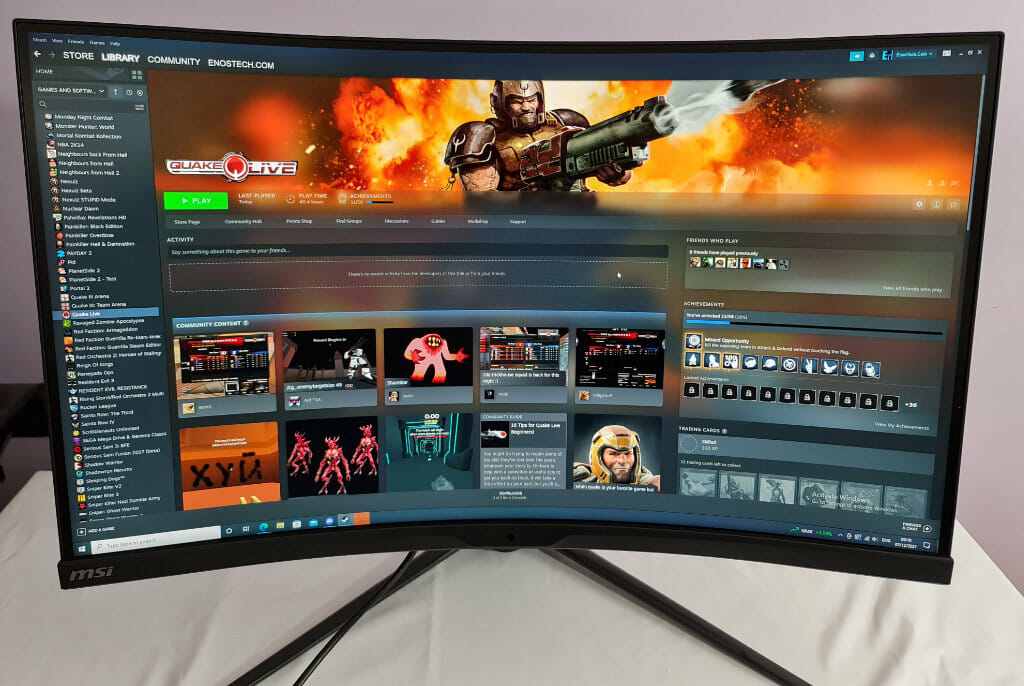 So there is no denying this is a PC Gaming monitor. However, MSI has also added a Console Mode that is even optimized for PS5 players and will change settings to 120Hz and a 2K resolution. The HDMI CEC Profile Sync will allow you to change settings based on what device you are using and the monitor can even auto-detect what settings are needed.
For those looking to make the most out of the monitor and are on PC, the 165Hz refresh rate and the 1ms Response time are going to offer an absolutely amazing gaming experience. Combine those features with the 1000R curvature, WQHD display, and 31.5″ screen and you are in for a real treat!
I tried a number of my favorite games on this monitor and must say I was very impressed. I am primarily an FPS player on PC so while I don't need all of the features a monitor like this has to offer, I can appreciate having them when and if needed.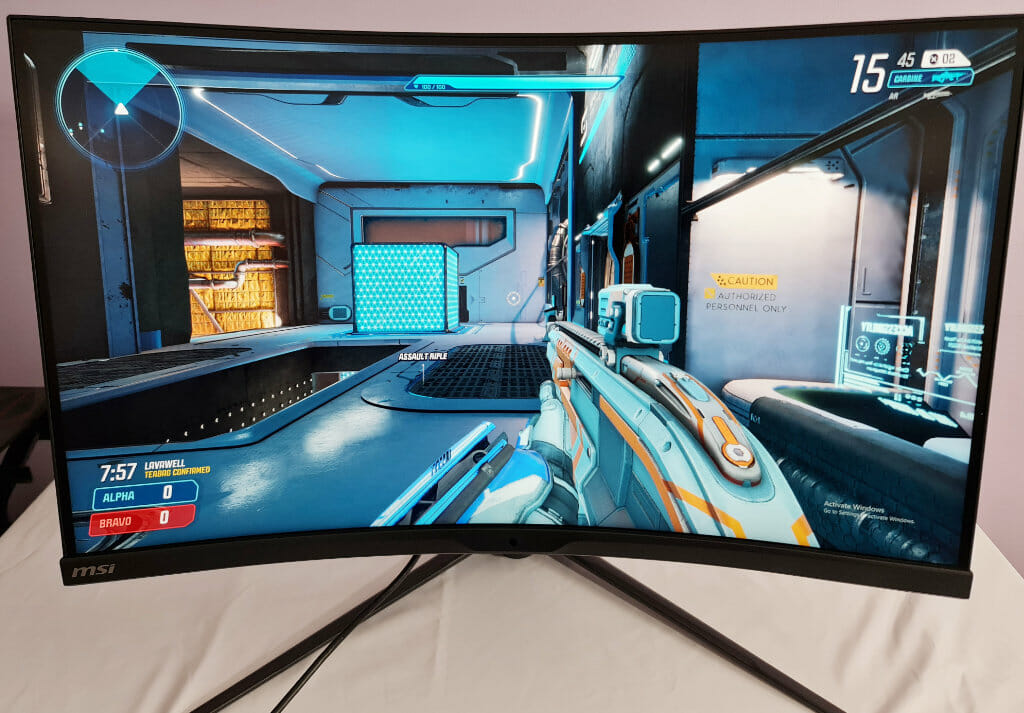 From Splitgate to Apex over to Warzone and Quake Live, I was fragging my enemies as best I ever had when using this monitor. The MSI MPG ARTYMIS 323CQR really does offer a great gaming experience for PC and console users alike. Not only are the gaming features top-notch, but it also has a lot of standard features that almost anyone can make use of. The Gaming OSD APP 2.0 will help you get things easily set up from on-screen layouts for productivity to adding the smart crosshair, customizing the monitor to your needs is very easy.
Final Words
Value
The MSI MPG ARTYMIS 323CQR can currently be found for £499 from Currys or on Pre-order for £498.98 at SCAN. This is definitely far from the cheapest or more affordable monitors out there and rightly so. This monitor isn't just designed for gaming, it is designed with streamers and professional gamers in mind. It has several beneficial features that many content creators could make the most of. For the price, you are getting a very versatile monitor that also happens to be rather large at 31.5″. Sure, you can get something cheaper but it won't have a fraction of the features the MSI MPG ARTYMIS 323CQR has to offer. For the near on £500 price, you are getting a lot of monitor!
Design
Technical features aside, the MSI MPG ARTYMIS 323CQR has a lot going it in terms of looks. It has a very small stand, minimal bezels, and even some RGB lighting thrown in for good measure. The folks at MSI really wanted this monitor to stand out and while it does, it does so with a very small footprint for its size. The MSI MPG ARTYMIS 323CQR looks almost as good as it performs, and it looks amazing! A pair of these on your desk would definitely be quite the sight to see and would surely add to the overall aesthetics of your setup.
Performance
And this is where the MSI MPG ARTYMIS 323CQR really shines. Not only does it offer a plethora of features, it actually allows you to utilize them with ease and make the most of them. Whether you are playing on PC or Console, the MSI MPG ARTYMIS 323CQR has you covered. Oh, you have a separate streaming PC to the PC you game on? The built-in KVM has you covered so you only need one keyboard and mouse to control both!
Don't forget about that WQHD display, 165Hz refresh rate, 1MS response time, and the HDR 400 rating that offers some amazing color output. Those looking to switch between devices on the MSI MPG ARTYMIS 323CQR will want to make use of the HDMI CEC Profile Sync that will allow you to set up different profiles based on the device being used with the monitor. Throw in a smooth 100R curvature and you are on to something! MSI has put a lot of thought and effort into this monitor and making sure that it is one of the top 31.5″ monitors currently on the market!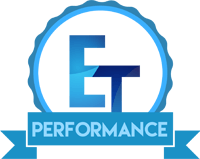 Many thanks to MSI for sending in a sample of the MPG ARTYMIS 323CQR for this review.