Following on from our last BenQ review of the BL2420Z monitor, today, we will be taking a look at the BenQ Zowie RL2460. The RL2460 is console based gaming monitor. The RL2460 is a 24″ monitor that features a 1080P displayed and a 75/60Hz refresh rate so is optimised for consoles. This monitor is also VESA mountable so can be wall mounted or used on a multi monitor stand. The important thing to remember about this monitor is that while it can still be used with a Gaming PC, it is designed for consoles and as such, has some limitations. Console hardware is not as powerful or demanding as WHAT PC hardware can be, hence why the monitor doesn't need to be as powerful either. However, it is also worth nothing that a designated console gaming monitor is much better than just using a standard TV for console gaming. TV's generally have a higher response time if nothing else which can hold back your gaming experience.
BenQ purchased Zowie and know uses that branding as for their gaming range of products. For those who may not know, Zowie also manufacturers some great gaming peripherals, to find out more about Zowie visit their website at http://zowie.benq.com/. For those who follow eSports closely, you may have noticed the Zowie XL2540 monitors being used for various games tournaments. Having your monitors being used at big gaming tournaments is surely an honour and also speaks highly of the quality and functionality they must uphold to achieve such greatness
Getting the monitor RL2460 out of the box and all setup,  it looks like a fairly standard monitor you may see at an office. However, as we've seen in the specifications, it has some pretty impressive features.
The buttons to power on the RL2460 and navigate through the menus are on the right-hand side of the monitor itself. However, BenQ has added some dots onto the bezel so you know where the buttons are. This is starting to become a fairly standard feature for a lot of monitors these days and a welcome one at that.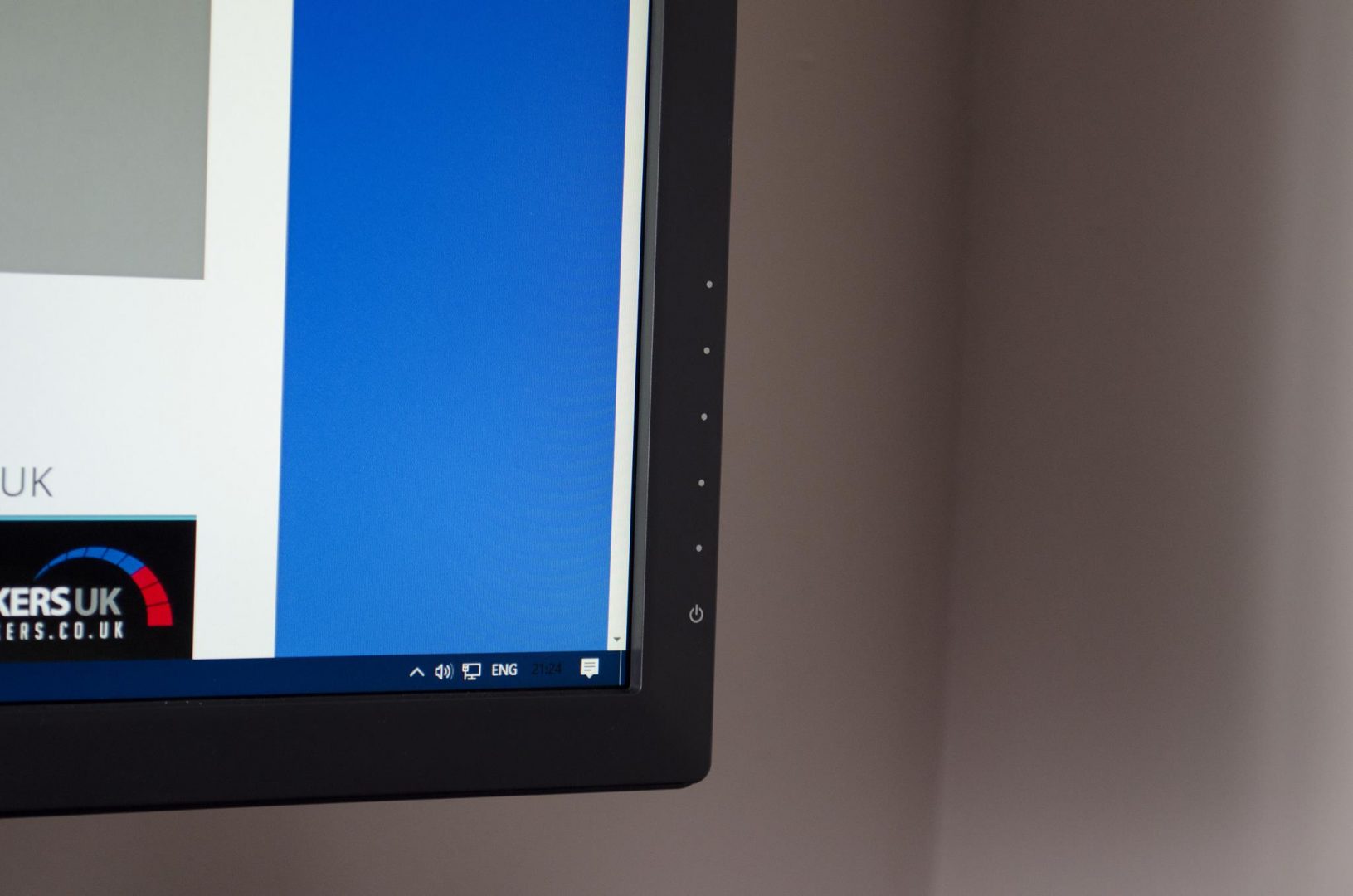 The power button also has a LED so you can tell when it's powered on.
One of my favourite features is actually part of the stand. The stand for the RL2460 not only allows you to move the monitor up and down to get it at perfect eye level for each individual user, but it also lets you tilt the screen itself as well giving you full control. Being able to tilt the monitor can greatly come in handy as depending where your setup is, you may need to tilt it a bit to get rid of glare from the sun at certain times of days. It also just means you should be able to get the monitor positioned somewhere that is comfortable for you and will help to reduce eye strain.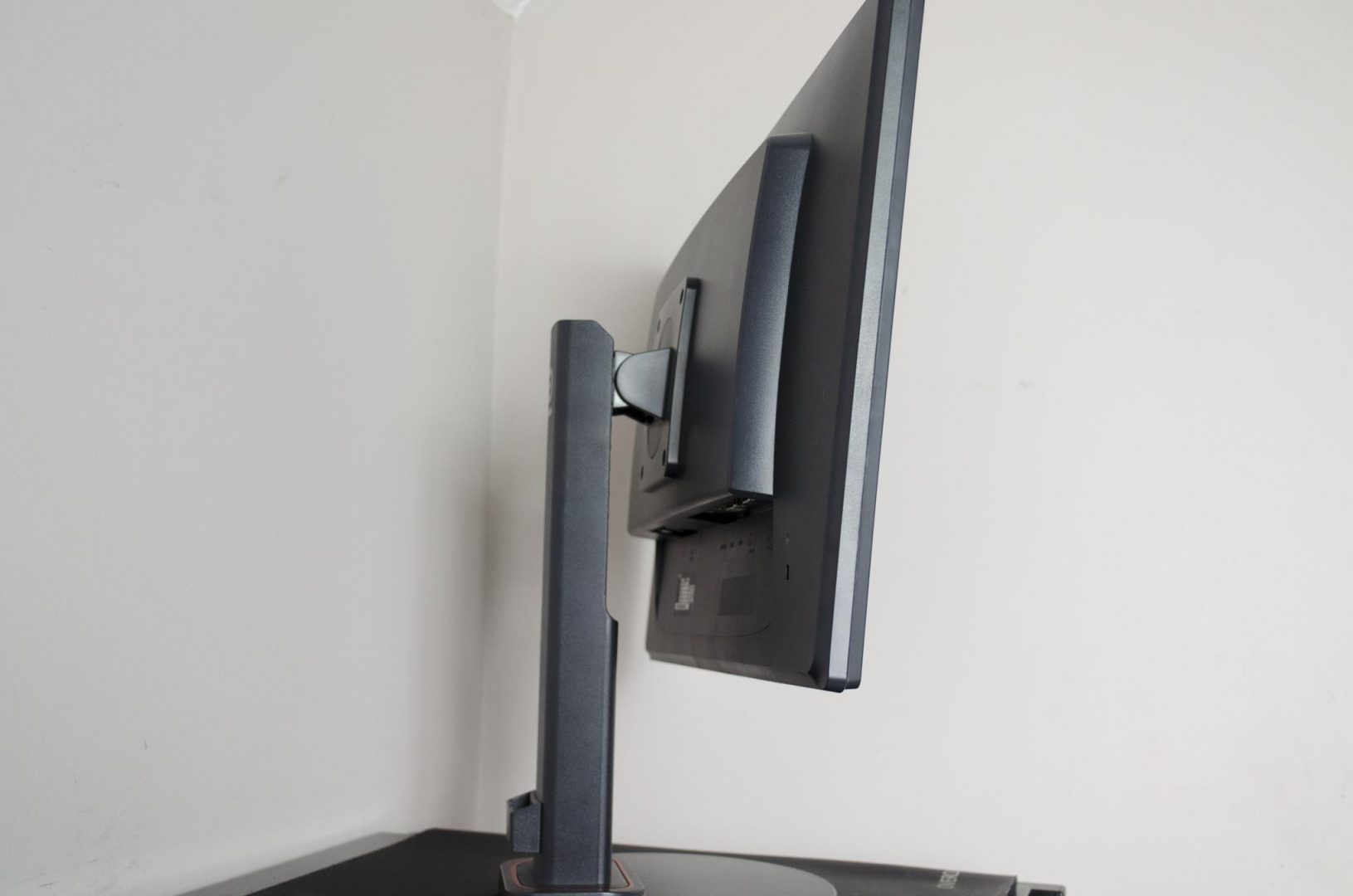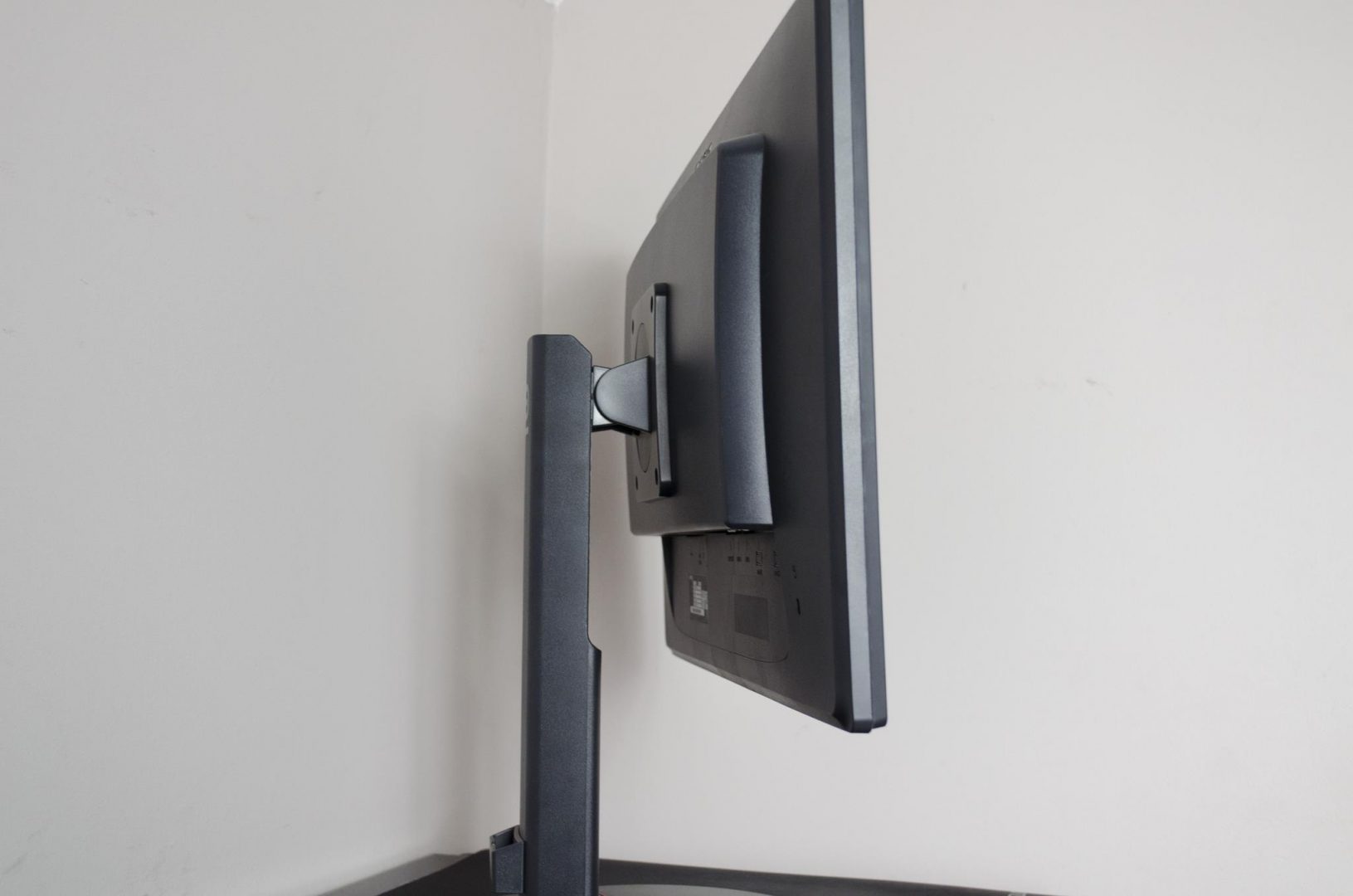 Not only does the screen move up and down, Ben Q has included an easy to use guide on one side so you can remember your exact settings. This is especially handy if you travel a lot with the monitor to tournaments and LAN's or if you just share you monitor with other people.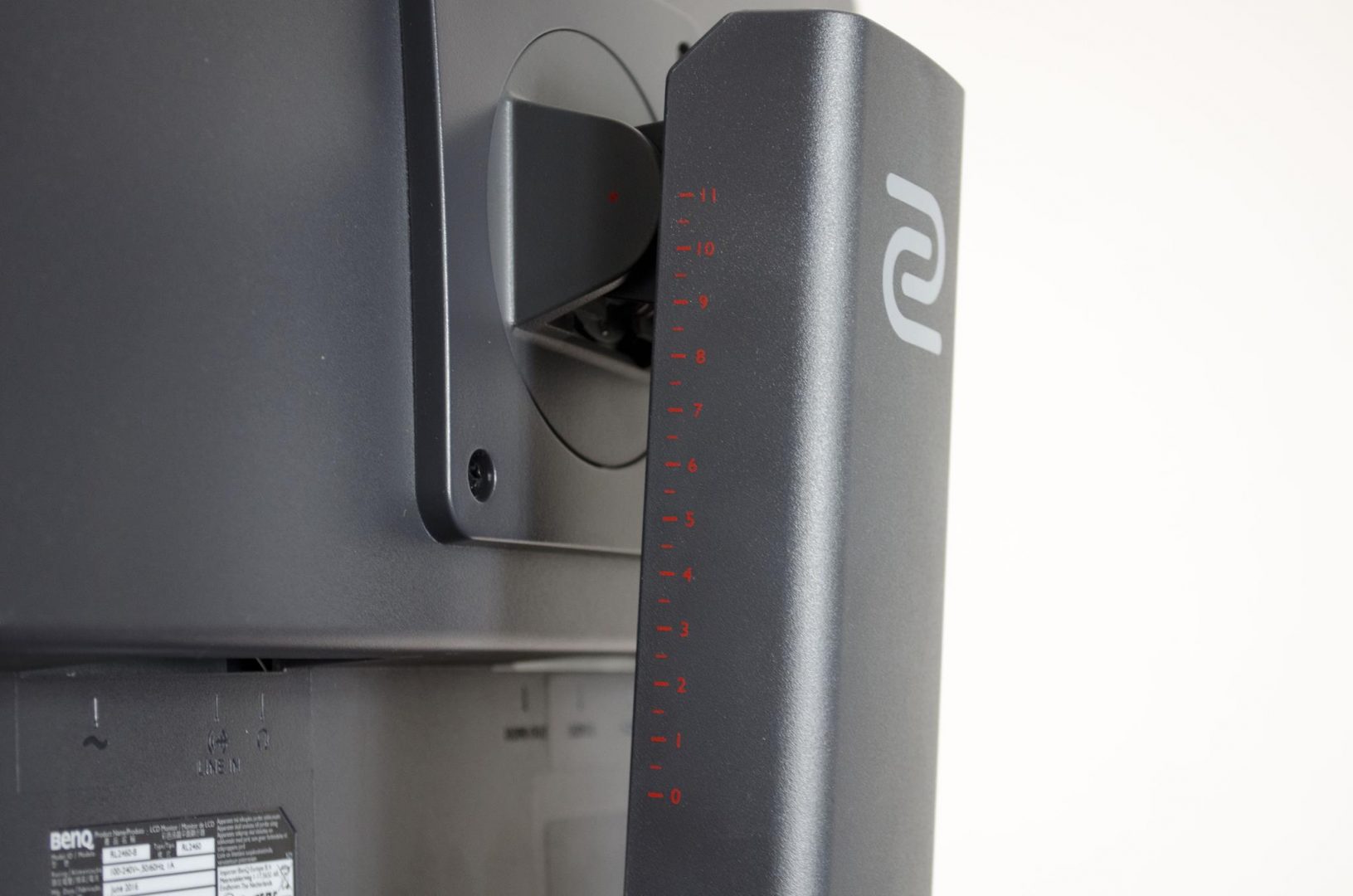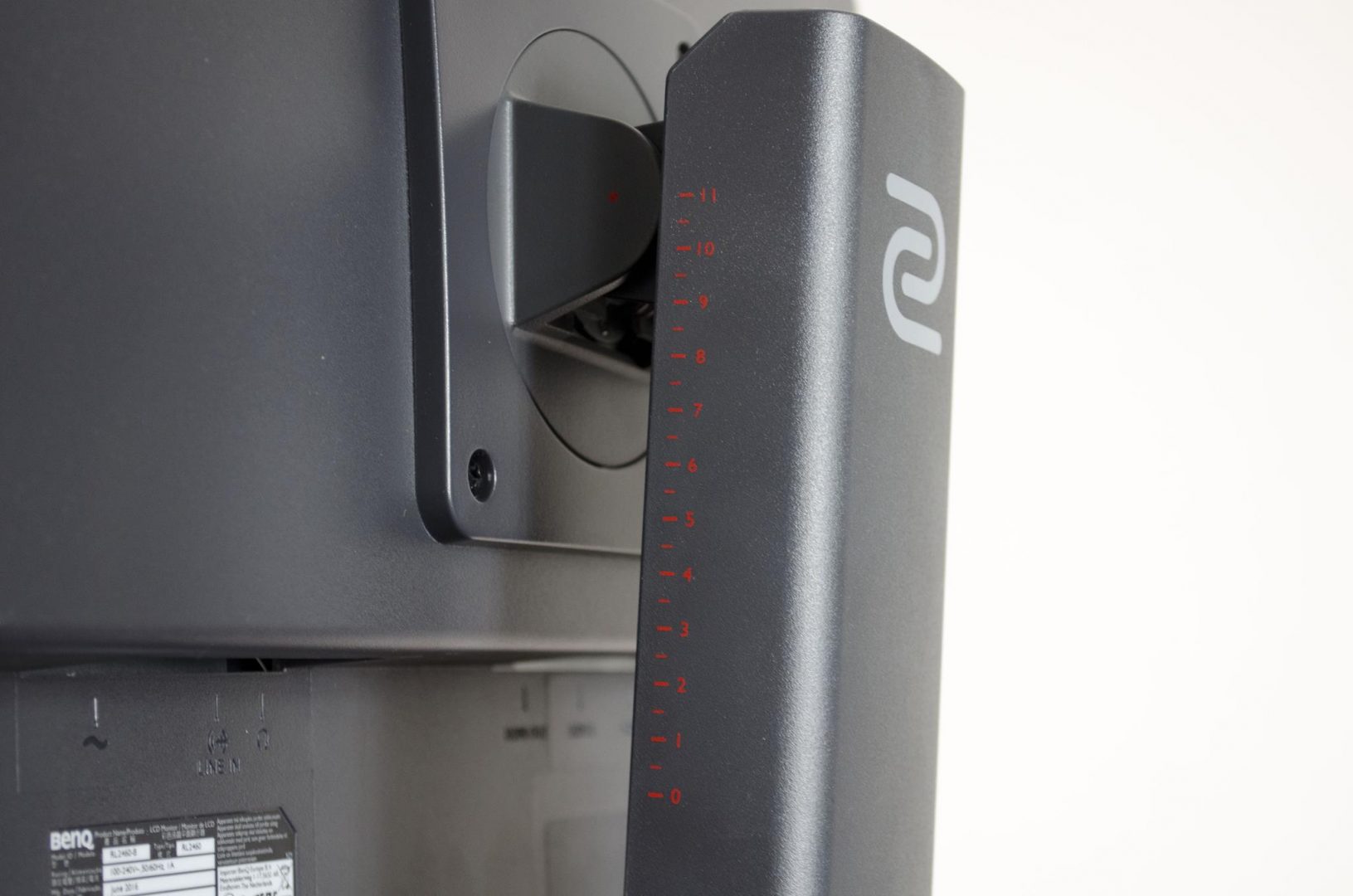 Cable management is also becoming a very important part of the design of any PC/Gaming hardware and Ben Q has done a nice job of including and easy to use clip on the back of the stand so that you can route all your cables through it.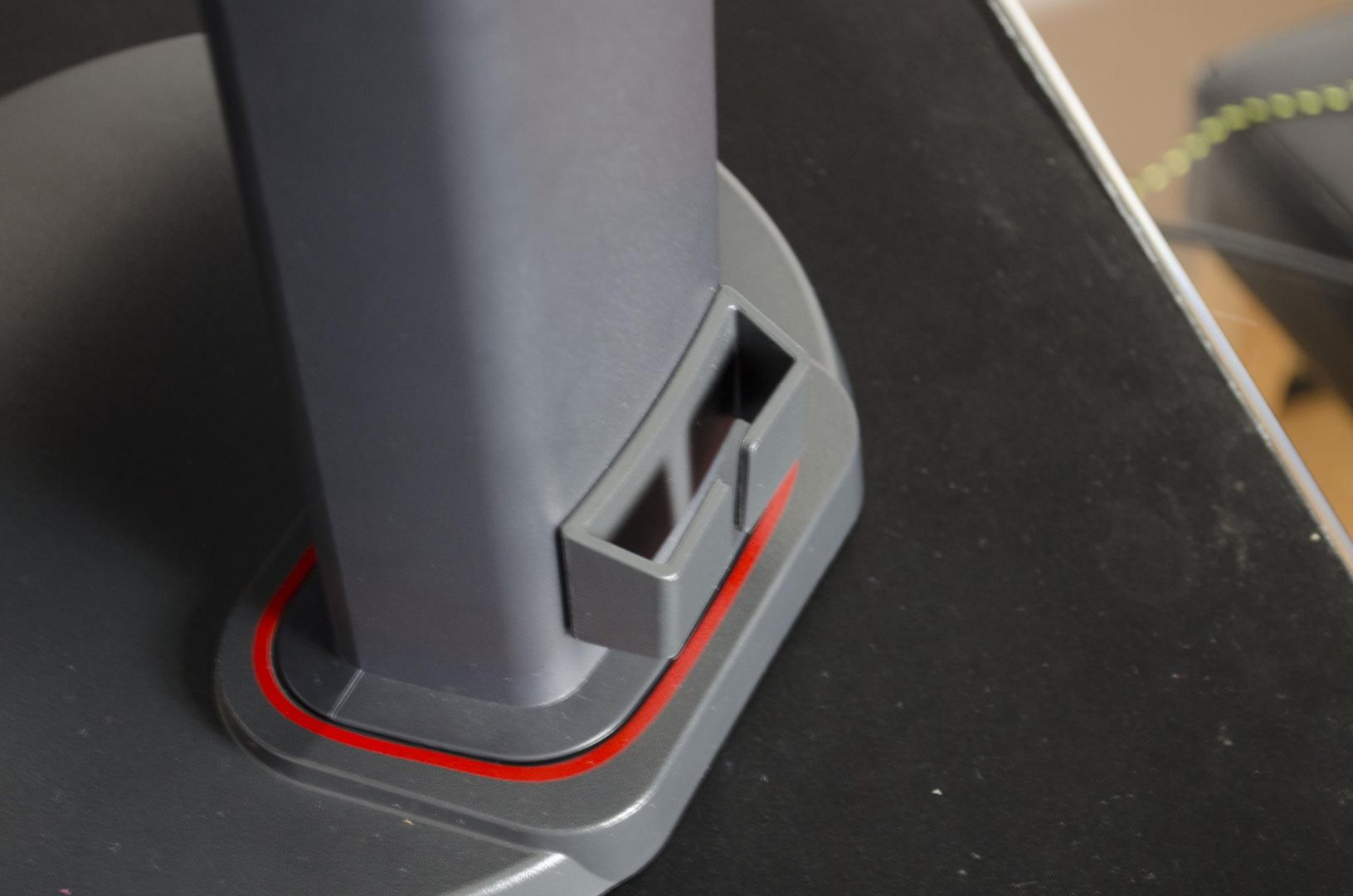 Another feature we are starting to see more of is ventilation on the backside of the monitor. We all know electronics heat up and normally we don't have to worry about it too much as companies take care of it for us. As this is a gaming monitor and BenQ know it will be used for hours on end, they have added some ventilation to help make sure it doesn't overheat and start to cause issues. While it is important that no electronics overheat there is a host of problems that could happen to a monitor one of which is screen burn. Screen burn is where a part of what you are viewing on the screen literally burns into the LCD itself and will remain, even when the scene changes. This normally happens when an image stays in the same place for a prolonged period of time and the screen starts to warm up it'll burn into it.
On the bottom left of the back is a label that lets us know the exact model of the monitor as well as the rating, manufacturer date and more.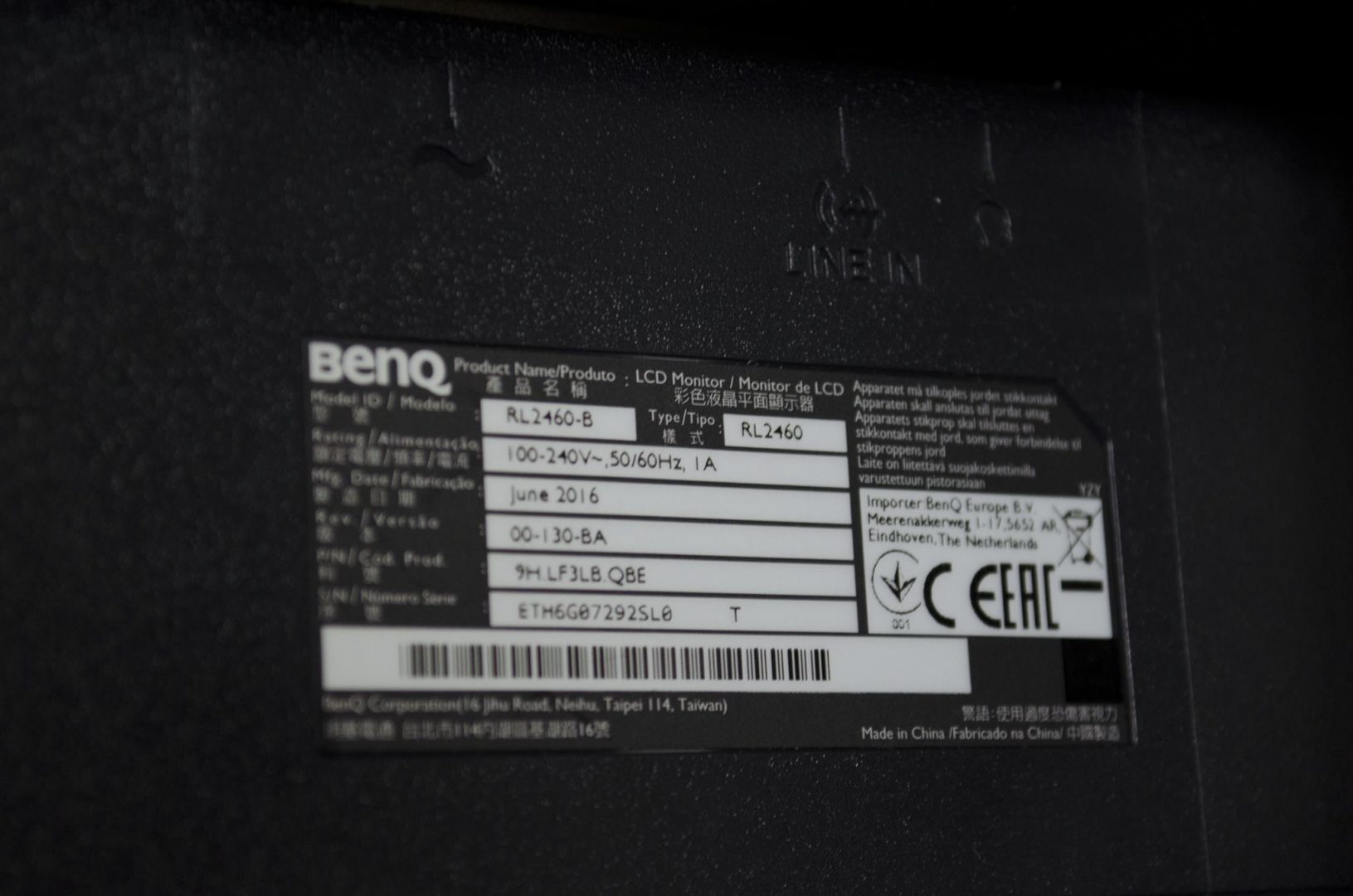 There is 1x HDMI output which lets you utilise the Head-to-Head Combat feature. This will allow you to link the monitors together so you do not get distracted by your opponents which is a great feature to have for serious competitions style gamers.
As for inputs, there is 2x HDMI 1x DVI-D and a standard D-SUB/VGA input. Having multiple inputs means you can plug the monitor into your console and PC at the same time, saving space as you won't need two monitors. It will also make it easy to switch back and forth between your PC and consoles.
Performance
Remembering this is a monitor designed for Console gaming and it is hard to fault its performance. I even went as far as to use it for a PC monitor for a few days and did play some games on that as well and overall, it's a decent monitor. For someone looking to have one monitor for PC and Console gaming or someone just looking for a dedicated Console gaming monitor it is perfect. Not only does the RL2460 offer the head-to-head mode where you can link it to another monitor, it also has separate preset profiles based on what type of game you are playing such as RTS or FPS. The limiting factor here is the 60Hz refresh rate as this is not ideal for FPS gamers who generally want 144Hz, but is more than suitable for RTS gaming. Alongside these features is the black equalizer which helps increase the visibility in darker areas without affecting the lighter/brighter areas. This will allow you to more easily see those who coward down in dark corners and get the jump on them!
Design
BenQ has gone with a fairly normal design when it comes to the RL2460. It features a regular sized bezel and doesn't have anything flashy or fancy going on. Ben Q really seemed to have spent more concern on designing the internals and making sure this monitor has the features that consoles gamers need and deserve in a monitor. While there is still a clip for cable management and you can move the screen itself up and down and also tilt it, things like the head-to-head combat mode really stick out to me. Being able to link the monitor to another to reduce onscreen distraction from competitors is amazing and sure to come in handy for console gamers. One of the primary reasons I've always liked PC gaming is the fact that I don't have to share my screen with anyone and now having that on consoles is amazing! Aside from that, BenQ has included a load of other design features which we have gone over already which all add to the overall excellent design of the RL2460.
Value
Coming in at around £200 during the time of review, the RL2460 is a fairly priced monitor. While I know a lot of people will say well for that money I could get a bigger 32″ television to use for my console, it won't have any of those gamer-specific features. If you went with a standard Tele, you'd be missing out on all the features we just covered in the performance and design parts of this conclusion in return for gaining a larger viewing area. You really need to consider what is going to be a better option for you, if all you do is game a bit here and there casually then yea, a TV may make more sense but if you want to be a professional, you may want to consider a monitor such as this one. For the price, the Ben Q RL2460 is a great console gaming monitor.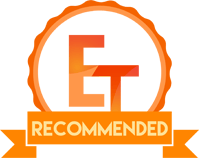 Many thanks to Ben Q for sending in the Zowie RL2460-B Console Gaming monitor for review.