Today we are back with another peripheral review by way of an ergonomic gaming mouse. But first, what makes a good gaming mouse in general? Size, weight, sensor, design, RGB lighting? Well, simply put, all of those can be very good contributing factors to what I would say is the start of a good mouse. Of course, when all is said and done, I would personally say that the overall performance is the biggest contributing factor. Any manufacturer can slap RGB lighting on a product and say it is designed for gamer's, but if it doesn't perform well, then you are pretty much left with nothing. In my time reviewing, I have come across some of those "gaming" mice that look amazing, but try to play a game on them and you want to throw your whole PC out the window, not just the mouse. However, that is not the case with today's review sample.
CM Gaming website
Sentinel III Product Page
Today we will be taking a look at the CM Storm Sentinel III which is an ergonomic gaming mouse. The Sentinel III fits right into your right-hand perfectly and is very comfortable, even after prolonged sessions of use. RGB lighting aside, one of the major changes it has over its predecessor is the 6400 DPI Avago 3988 optical sensor, whereas the Sentinel II featured an Avago 9800 laser sensor. The new upgraded Sentinel III also comes with a nice OLED screen that allows you to add a personalized 32×32 image in .bmp format right on the display of the mouse, which is a pretty neat feature. All of this comes backed by a 2-year warranty from Cooler Master!
CM Storm Sentinel III SPECIFICATIONS
| | |
| --- | --- |
| Model Number | SGM-6020-KLOW1 |
| Grip Type | Palm |
| Material | Plastic / Rubber |
| Color | Black |
| LED Color | RGB |
| Sensor | Avago 3988 Optical Sensor |
| CPI / DPI | 4 Levels / Up to 6400 DPI setting |
| Tracking Speed | 200IPS / 50g |
| Lift Off Distance | Adjustable (<2.1mm) |
| Polling Rate | 1000Hz / 1ms |
| Angle Snapping |  Yes |
| Mouse acceleration |  50g |
| Programming Profiles |  5 |
| On-board Memory |  512KB |
| Programmable buttons |  8 |
| Connector Cable |  USB 2.0 |
| Cable Length |  1.8 Meters |
| Dimensions |  135 x 83.6 x 40 mm (5.3 x 3.3 x 1.6 inch) |
| Weight | 177.5 g / 0.392 lbs |
| Weight (w/o weights) | 155 g / 0.342 lbs |
| Weight (w/o cable) | 115 g / 0.254 lbs |
| Additional Weights | 5x 4.5 g / 5x 0.009 lbs |
| Warranty |  2 years |
Getting the Sentinel III out of the packaging and you may think you have seen this mouse before and you would almost be correct. The Sentinel III looks very similar to its predecessor. Looking at the top of the mouse and we can see the standard mouse 1 and 2 buttons and the scroll wheel. In front of the scroll wheel is a button that will allow you to switch profiles while the buttons behind it will adjust the DPI. Behind the DPI buttons is a small OLED screen that not only allows users to see the DPI selected, you can also add your own image to it. Please note the Image will need to be 32×32 pixels and in .BMP format for the mouse to display it. Around the OLED is a nice area with some RGB LED's that can make use of many different colours and a few settings VIA the downloadable software. To download the software you can head over to the Sentinel III product page on the CM Storm website, or, you can CLICK HERE to begin downloading it.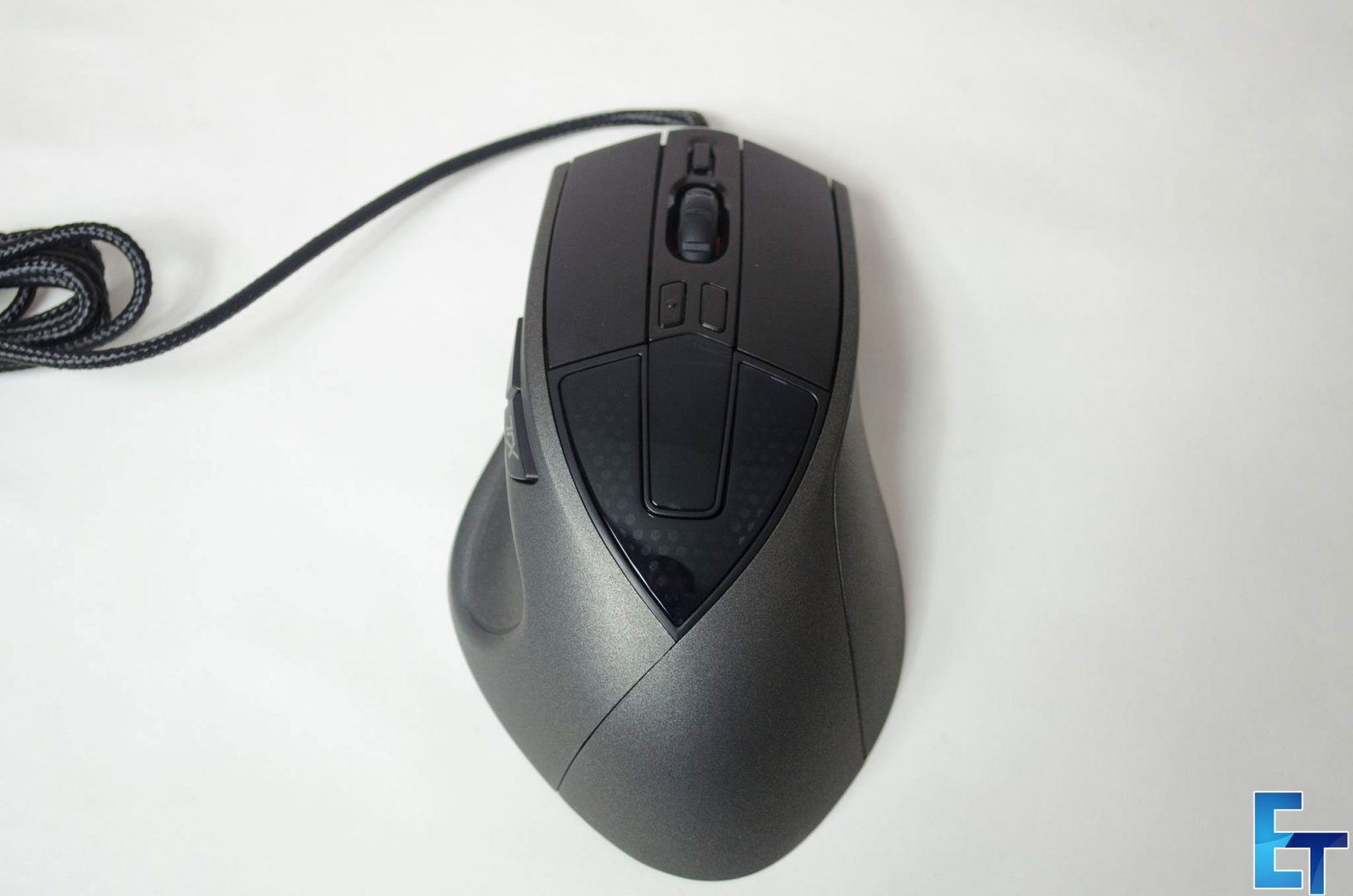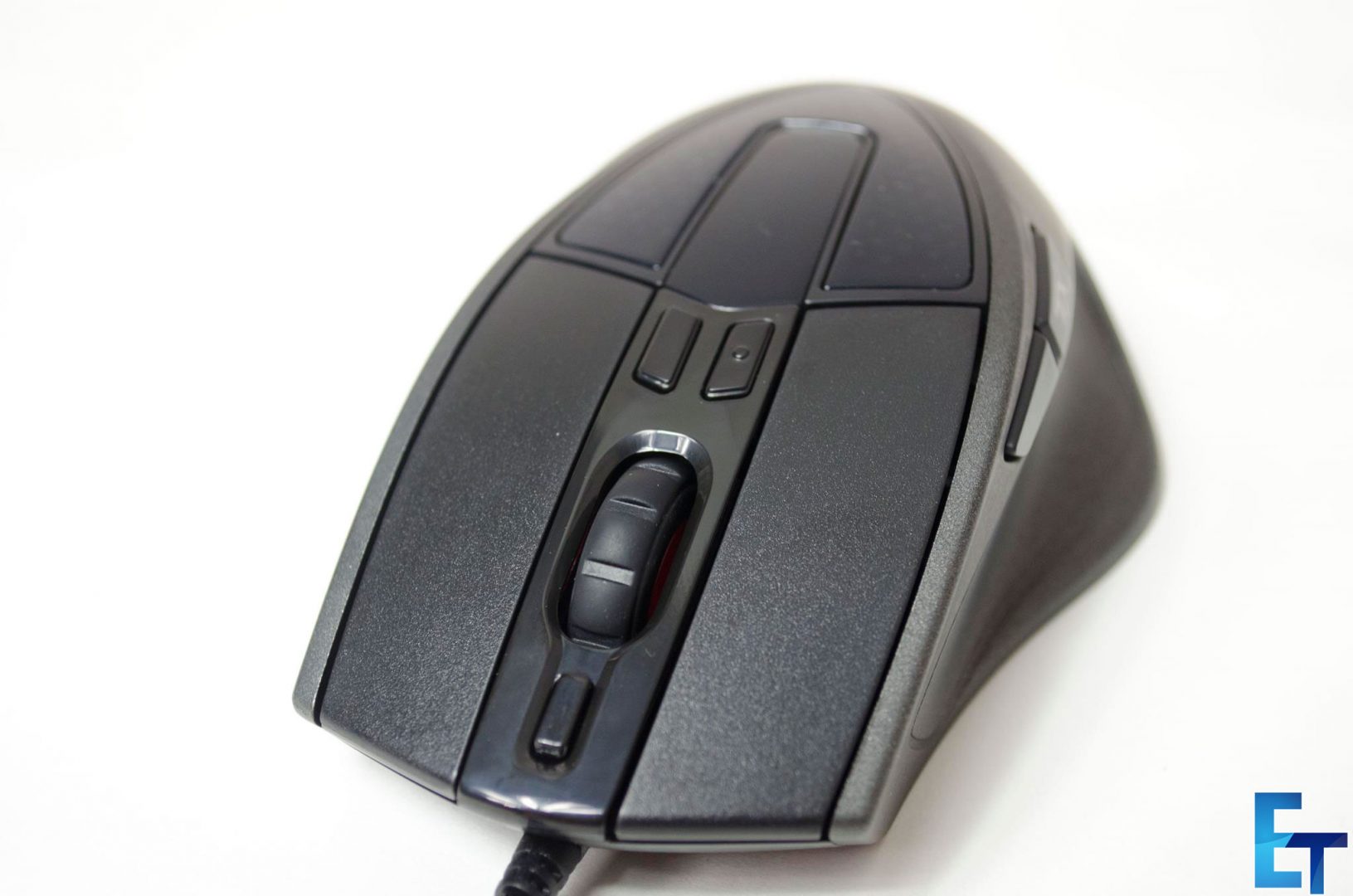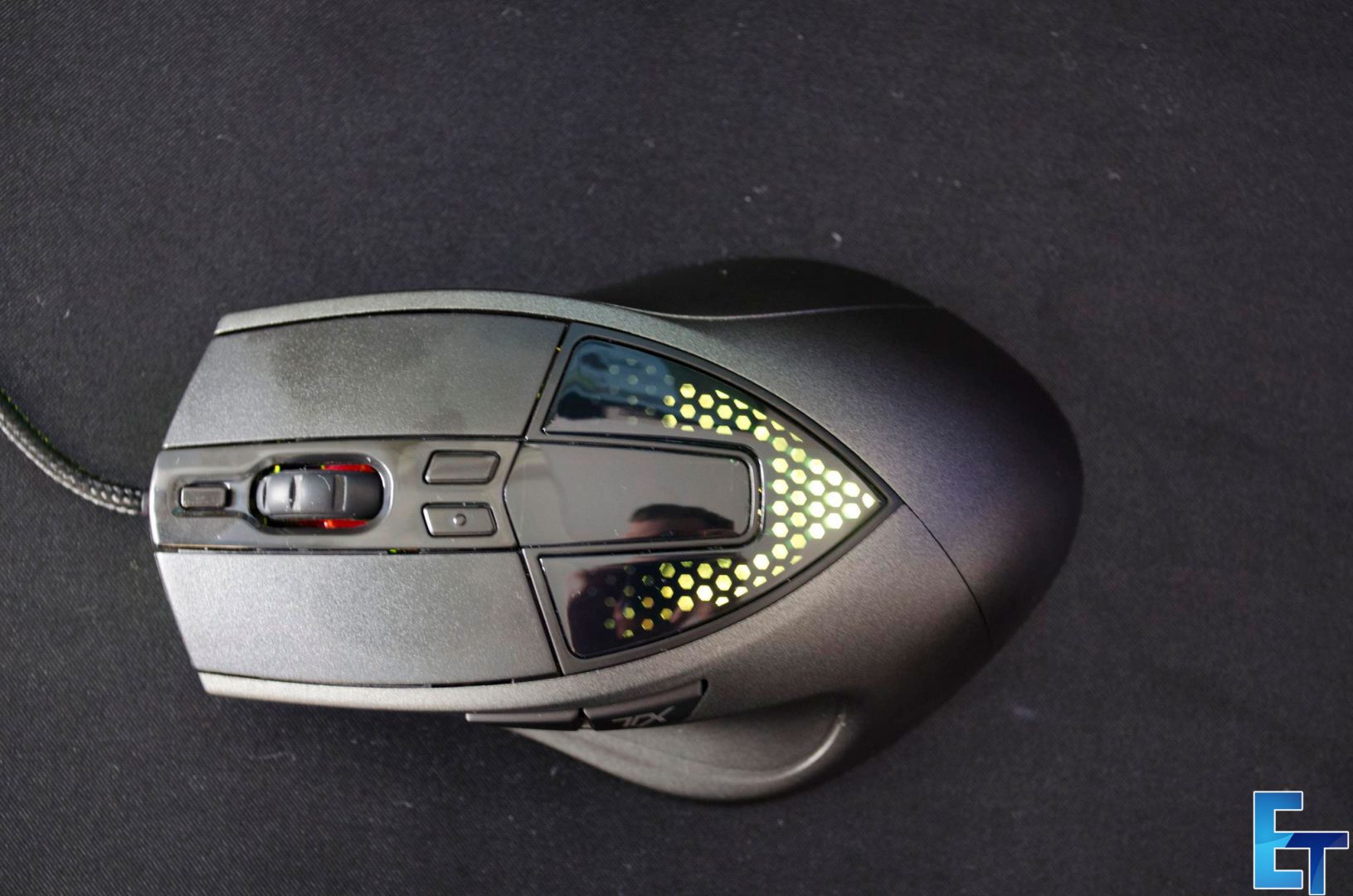 Checking out the sides of the Sentinel III and we will see on the left-hand side that there are two programmable macro buttons which are a must for me when it comes to gaming mice! I don't need a load of buttons but I do at least need these two by my thumb as I use them for various things depending on the game I am playing, generally grenades or to switch weapons. On the other side is a smooth curved surface.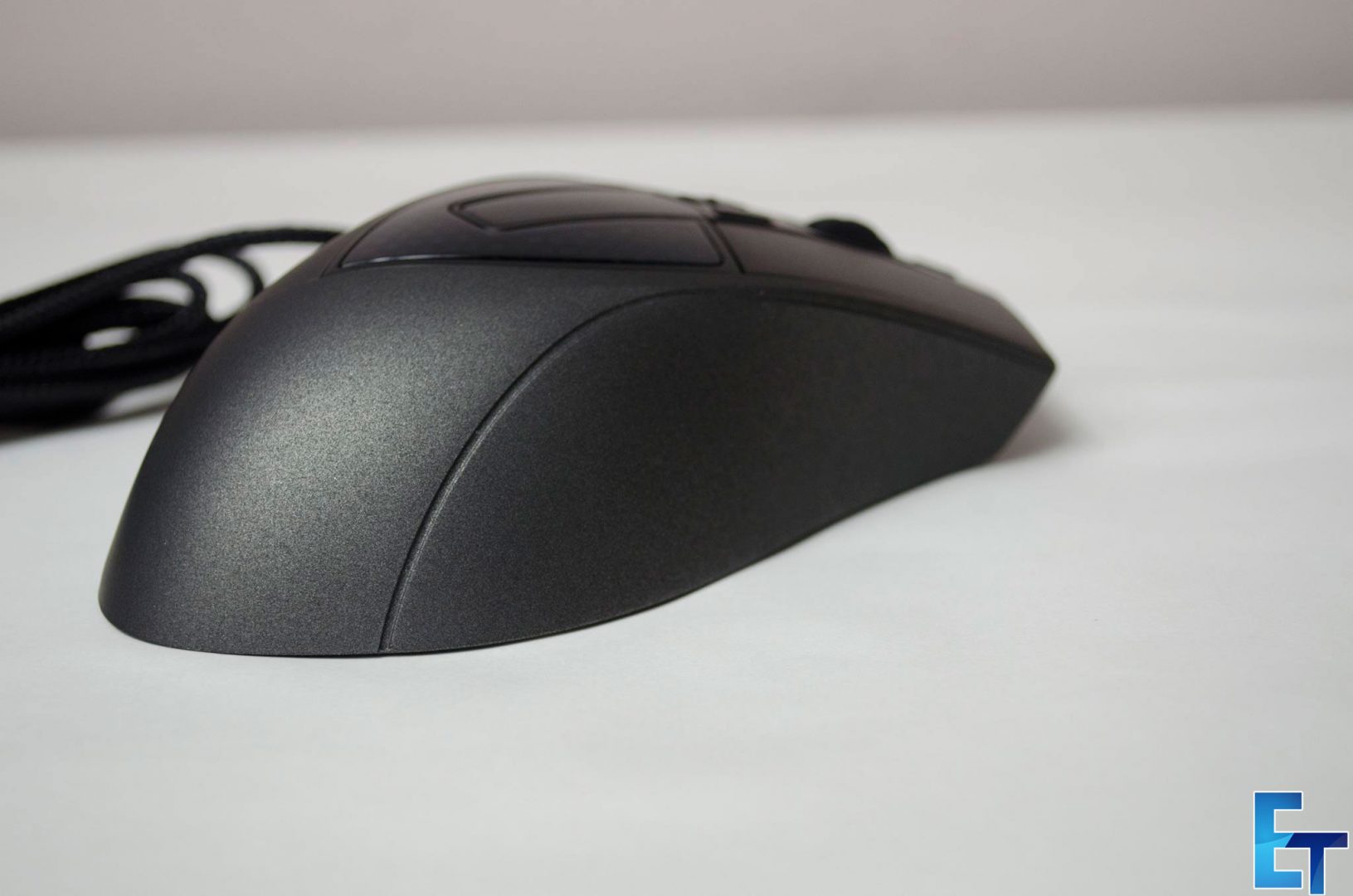 Looking at the front of the mouse and there are two what I would almost call headlights! These can also be set up through the software to each user's own preference.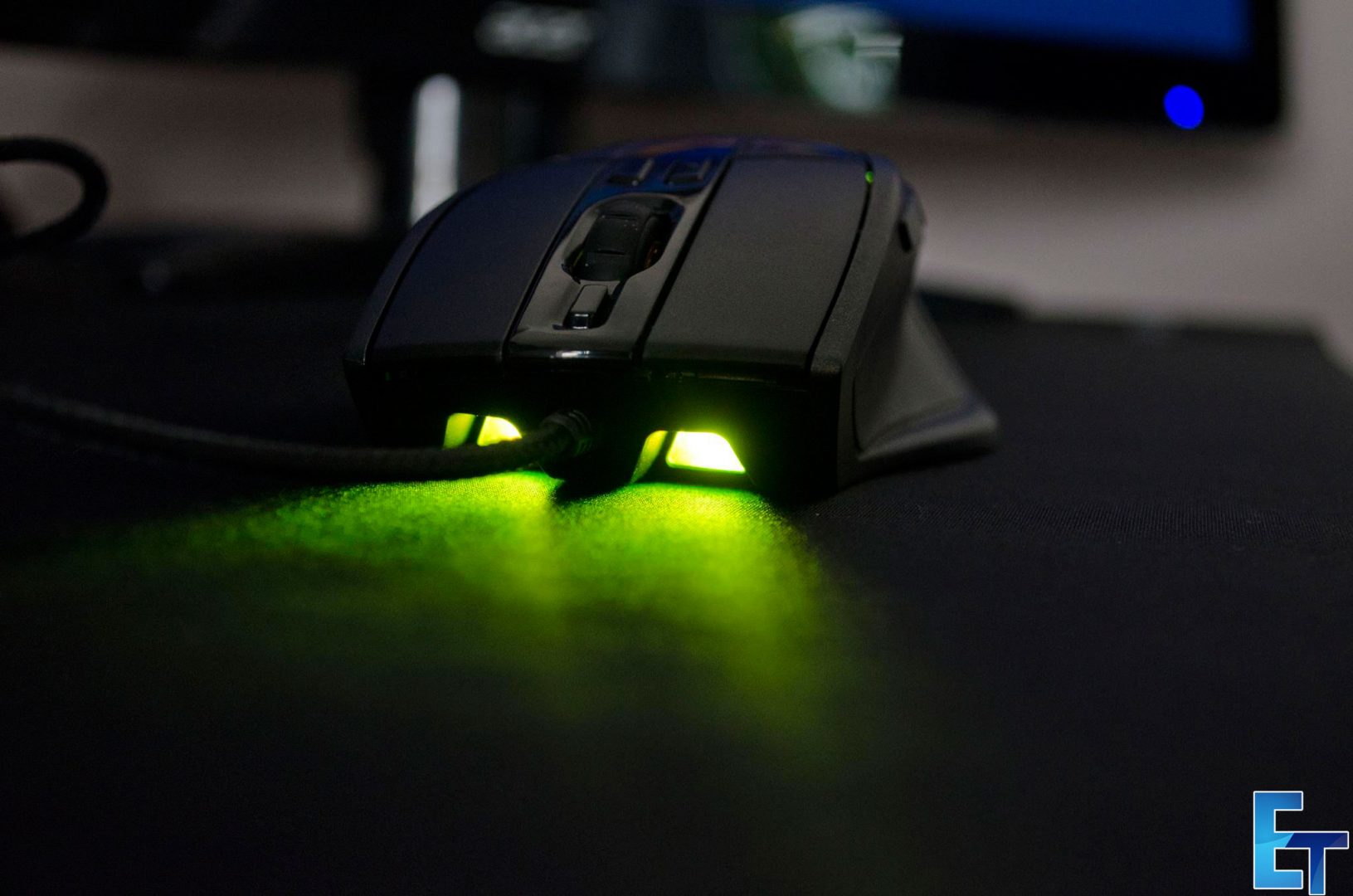 Flipping the mouse over and we can see two long glide pads, one down each side then one on the top and one on the bottom to help ensure the Sentinel III glides smoothly across any surface you may use it on. One of the other great features is the removable weights that are included. To access the weights, simply open the flap and there they are, 5 removable 4.5g weights which further allow the individual user to customize their gaming experience.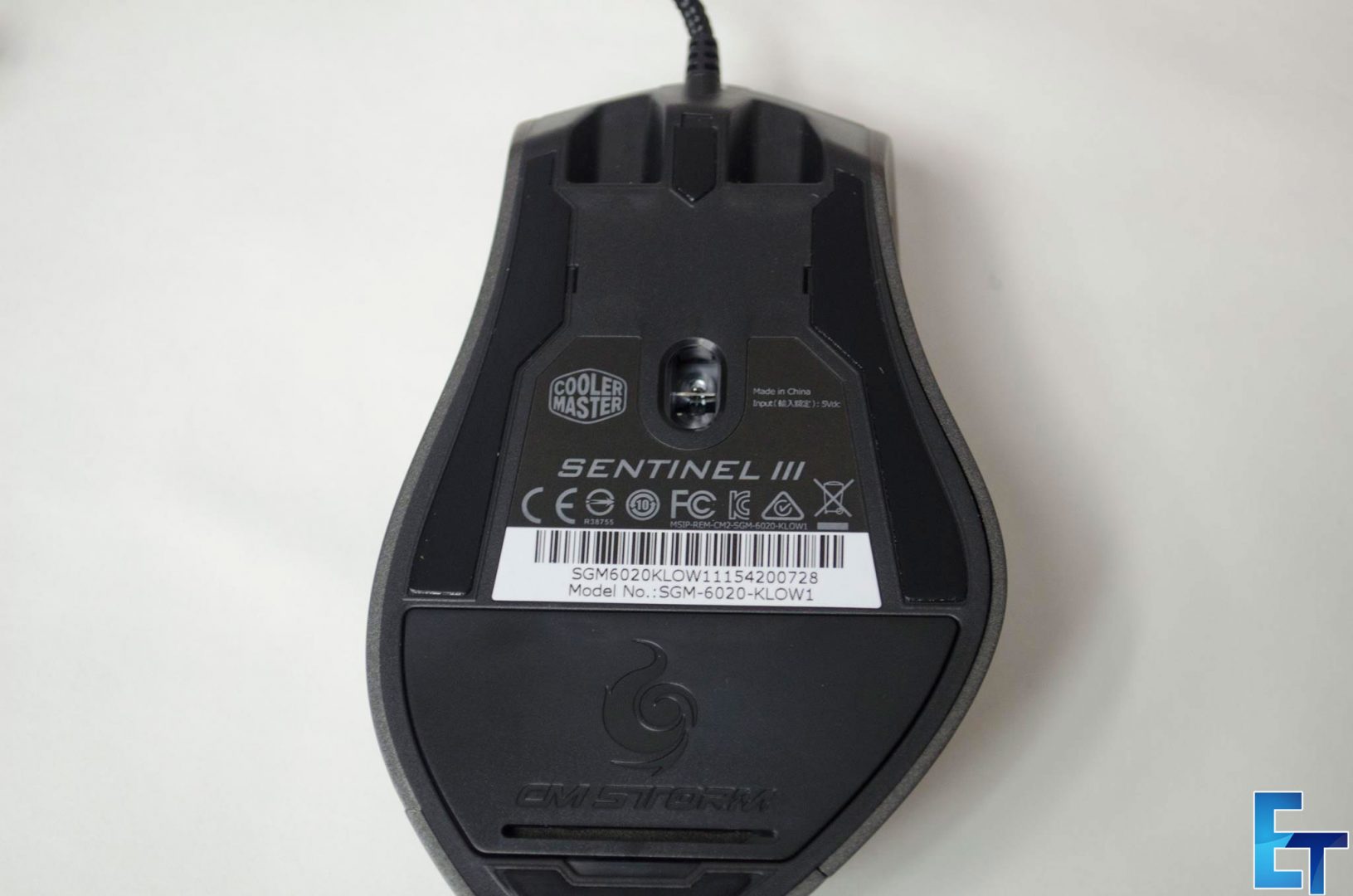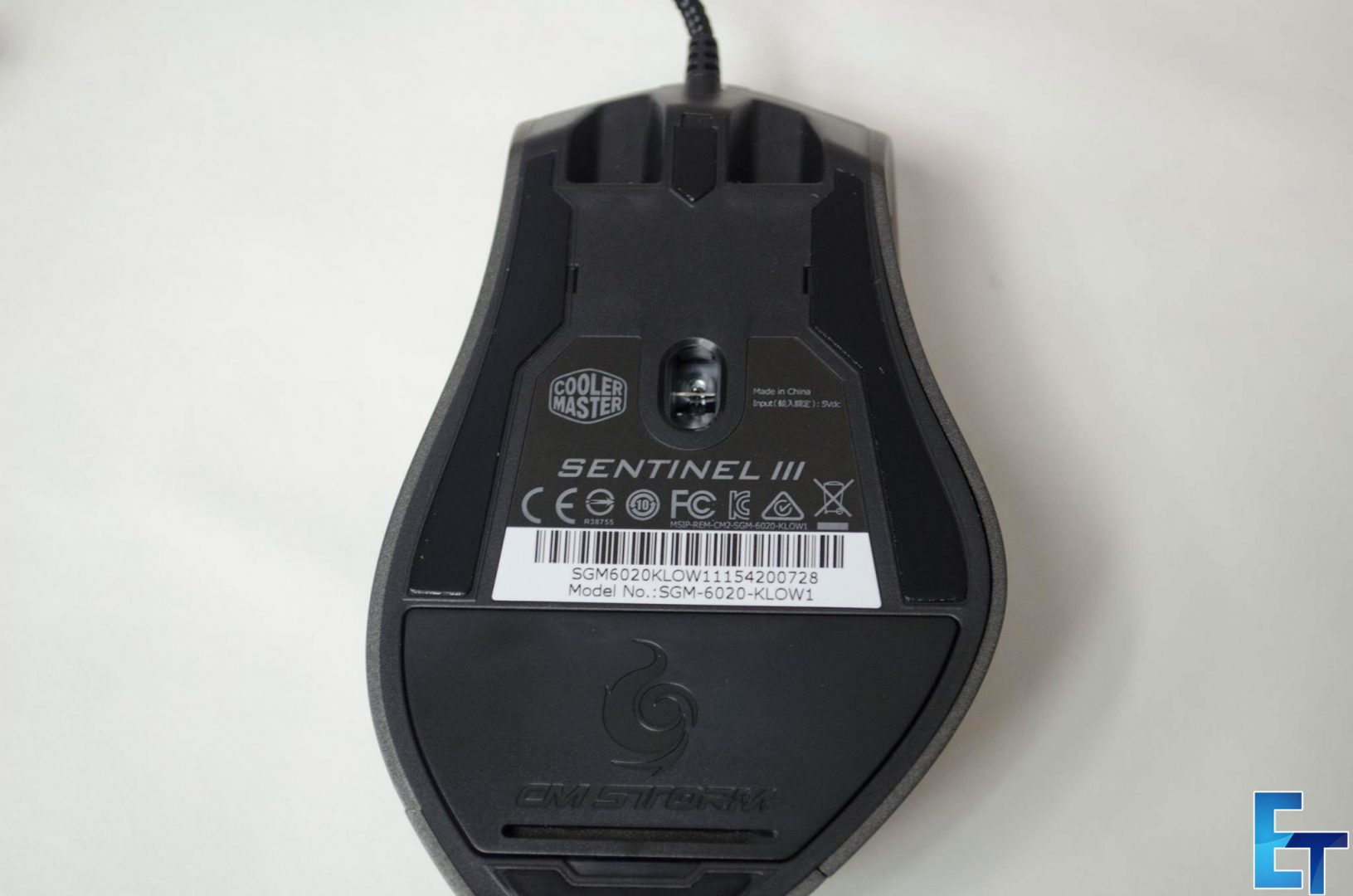 The Sentinel III features a braided cable with a gold-plated USB 2.0 connector on the end.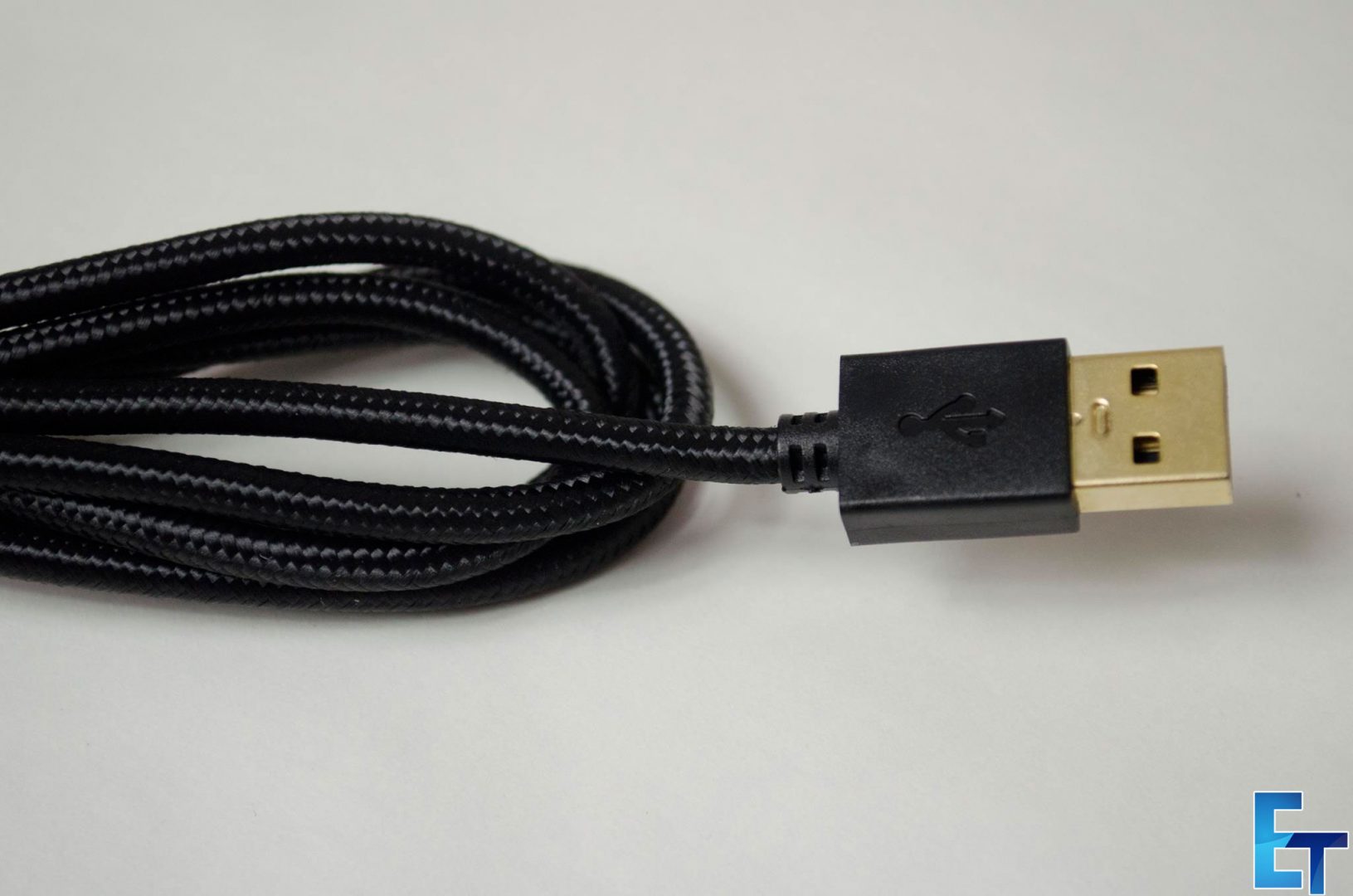 CM Storm Sentinel III Software
The software that you can download for the Sentinel III is straight-forward and very easy to use. Using the software, you can change the buttons functions, change the LED colours and even go ahead and set up your macros if need be. The software also allows you to change the sensor settings, double click speed and even allows you to backup and manage all of your profiles. One thing I really do like about the software is the ease of use it offers, it's simple and functional and that's just what I like to see something like this.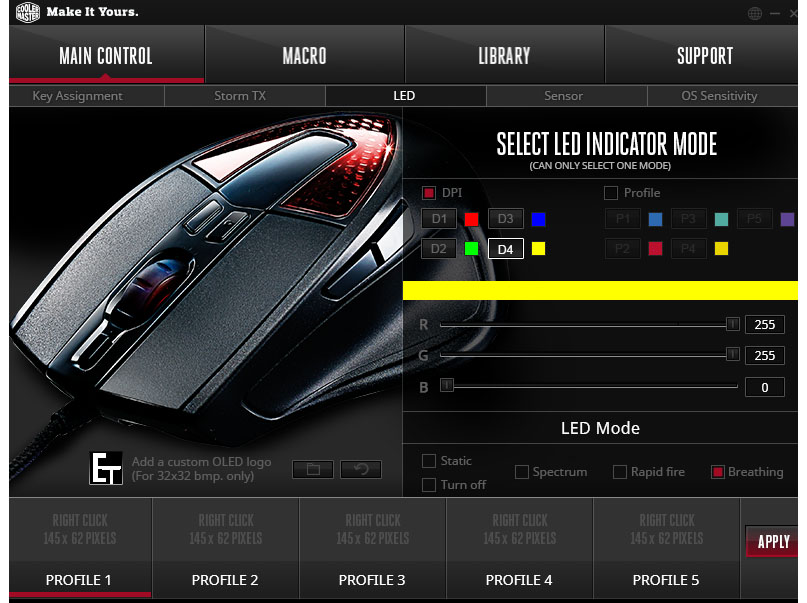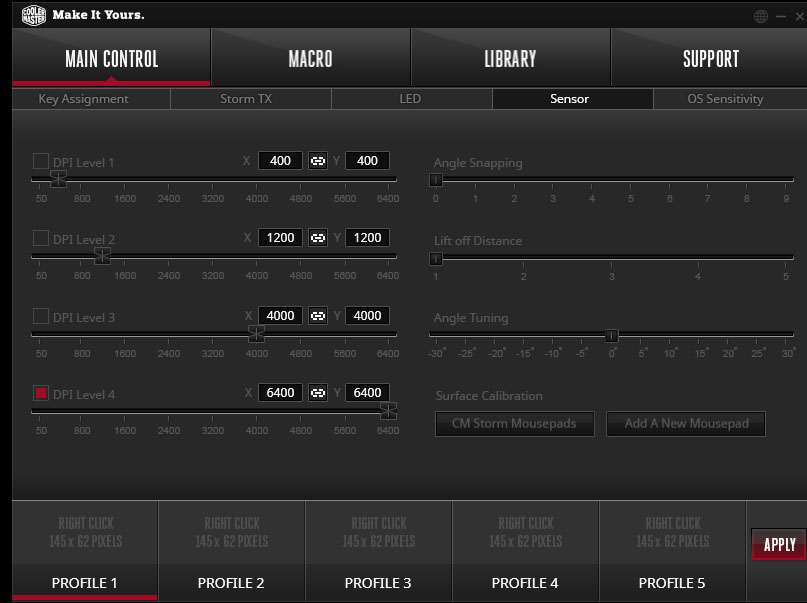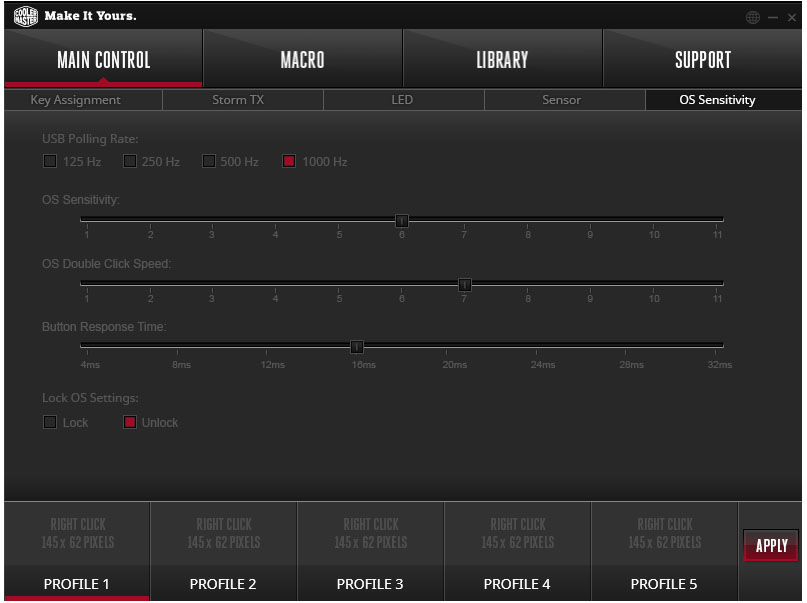 CM Storm Sentinel III Final Thoughts
The CM Storm met all of my expectations during all of the tests I conducted with it. Buttons and sensor were both very responsive and there was no strain or fatigue after prolonged uses. I think the longest I used it for was a 3-hour Dirty Bomb session and there was absolutely no discomfort. Is the CM Storm Sentinel III good enough to be your next gaming mouse, though? Well, let's wrap this up and find out.
Performance
The performance of the CM Storm Sentinel III was everything I had hoped it would be. I'm a bit of a sensitivity whore, meaning I normally run on 8200, but as the Sentinel III doesn't support this, I had to get used to the 6400 DPI which wasn't so bad. The Avago 3988 Optical Sensor is amazing, it's accurate, responsive and just feel downright good when using. Whether in a game or just general web browsing, the Sentinel III was up to the task. I play a variety of FPS games from CS:GO to COD, BF4 and Quake live and could not fault the Sentinel III at all. When I needed to whip my mouse around to do a 360-degree rocket jump, it didn't slow me down and when I need to creep around a corner to snipe someone, the mouse didn't jump or jerk around and did just what I wanted. The precision and accuracy of the Avago 3988 is nothing short of amazing and as mentioned, will hold up no matter the task at hand.
Design
The Sentinel III has an ergonomic and functional design to it. It has what I would call a big butt(back) on it which fit into my hand nicely to allow for hours of gaming with no fatigue. Cooler Master really did a great job making sure this was a comfortable mouse and it shows. I am more of a claw grip gamer who uses an ambidextrous mouse but the Sentinel III was so comfortable I had no problems enjoying it. Ergonomics aside, the Sentinel III features two separate RGB LED zones which add an appealing aesthetical look without over-doing it and becoming tacky. The inclusion of the OLED that will allow users to see the DPI or profile they have just switched to, but it will also allow them to upload their own image to the mouse which is a nice feature to have. When it comes to games and even enthusiasts, customization is key and Cooler Master are one of those companies who recognize this and give their consumers what they deserve.
Value
I've got to say, I was quite surprised at the price when I finally went and looked it up on Amazon. I was expecting the Sentinel III to be £60-65 but much to my surprise is wasn't even £45 which is a great deal for this mouse. Value is one of those things I normally hate getting into as at the end of the day, if you want the best, you will pay for it and if you buy cheap, you don't expect the best quality and are just happy if it works. Cooler Master have managed to offer us a mouse that has exceptional performance at a very and I mean very, reasonable price. This year alone I have come across mice that are more expensive than this that don't have the features or performance to compare to the Sentinel III.
The CM Storm Sentinel III offers amazing performance and a wallet (or purse) friendly price. It also comes in a nicely designed package that is not only ergonomic, it is comfortable and aesthetically pleasing. Cooler Master really have given us a great mouse with their Sentinel III and it is well worth a look if you are in need of a new mouse.
P.S this would make an amazing sidekick for the previously reviewed Quick Fire XTI Mechanical Keyboard.
I would like to thank Cooler Master for sending in the Sentinel III for review.