CES 2016, Las Vegas, USA – Cooler Master, today announces a range of products built for the PC community at large. The top-of-the-line Maker products; MasterCase Maker 5, MasterAir Maker 8, and MasterWatt Maker 1200 are designed to enable enthusiasts and professionals to build their version of the ultimate PC. With the advent of new Maker products, Cooler Master delivers an ecosystem that embeds excellent performance and superb quality within a customizable medium wherein users have the freedom to explore, express and enjoy their creativity as it unfolds. 
This year the Cooler Master suite at CES hosts Lindsey Berkebile, a stop motion animator, showcasing her award winning art form. Maker-made accessories are being showcased including displays by Bill Owen of MNPCTech, Brian Farrell of PrimoChill, Irie Ahmad of Mod 'n' Go Design and Ron Lee Christianson, a freelance air-brush artist. Their handcrafted accessories for various Cooler Master products will be on display at the suite.   
MasterCase Maker 5
Combined with an arsenal of accessories for noise control, lighting expression and thermal performance, the MasterCase Maker 5 outdoes all notions of the standard build.
MSRP inc VAT: TBC
UK Stock Availability: Q1 2016
Key features:
·         Upgraded I/O – including 3.0 Type C added fan LED and speed control buttons
·         Magnetic panelling – Front and top panels fit snugly with a magnetic grip
·         Sound suppression – Optional padded front and top panels balance noise and airflow
·         Custom air cooling – Up to six 140mm fans, with one LED Silencio fan included
·         Clip-and-click – Unique components panel for drive cage adjustment
·         Diverse liquid cooling – Top or front mounted radiators with Water bracket or by moving the bottom-mounted HDD cage.
·         Dual chamber – Partition panel isolates power supply and cables for clean management
·         Slip-and-clip SSDs – Two pockets with four mounting positions – behind motherboard tray and on top of partition
MasterAir Maker 8
The world's first air cooler to feature our exclusive 3D Vapor Chamber (3DVC) technology seamlessly merging the horizontal base with 8 heatpipes, helping to improve cooling by 19% compared to conventional copper base coolers. Choose from two bundled top cover designs and adjust the fan size, model or position, allowing memory or graphics card clearance.
MSRP inc VAT: TBC
UK Stock Availability: Q1 2016
Key features:
·         Dual 140mm Silencio FP 120 Fans
·         3D Vapor Chamber (3DVC) technology
·         Intuitive bracket design for removing and adjusting fans
·         Customize with included translucent or aluminium top cover
·         3D print your own top cover designs
·         5 Year Warranty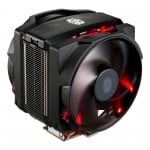 MasterWatt Maker 1200
Cooler Master's first all aluminium, digital power supply unit with Titanium 94% efficiency offers unbeatable performance in tandem with unparalleled oversight and control via our exclusive Cooler Master Connect app. The power is in your hands.
MSRP inc VAT: TBC
UK Stock Availability: Q1 2016
Key features:
·         Safe, inexpensive and efficient digital power with Titanium 94% efficiency
·         Increased airflow and reduced components with next-gen 3D circuit design
·         Real-time readouts and control for multiple parameters via mobile and desktop app
·         Single and Multi-rail modes
·         Fan-less mode up to moderate loads
·         Ultra-quiet silent profile with Silencio FP 135mm PWM fan
·         Analyze failures and rescue data with hard drive logging system
·         Fully modular, flat cables for clean cable management
·         7 Year Warranty