Introduction
Cougar has done a great job of making a name for themselves over the last few years. Today, we will be taking a look at their GEX 650W Power Supply. While they originally looked like they could've gone down the only budget ranges available rabbit hole, they have proven that they can make quality products. Cougar products, in general, offer a great amount of performance at a price that is normally slightly better than the bigger manufacturers. One of the first products we ever saw from Cougar was their 550M Gaming Mouse which if memory serves was a nice and big mouse that had some amazing performance for its time. From there, we have seen a few other cougar peripherals and products come through our office for review.
I am always happy to review Cougar products as not only are they good, their staff is friendly as well. The whole process is just rather enjoyable and really can't fault them at all. If you are in the market for some new PC peripherals or components, it's definitely worth checking out their Website (CLICK HERE) and taking a look at the different ranges they have to offer. Enough of all that though, let's take a look at the GEX 650W PSU that we have in front of us!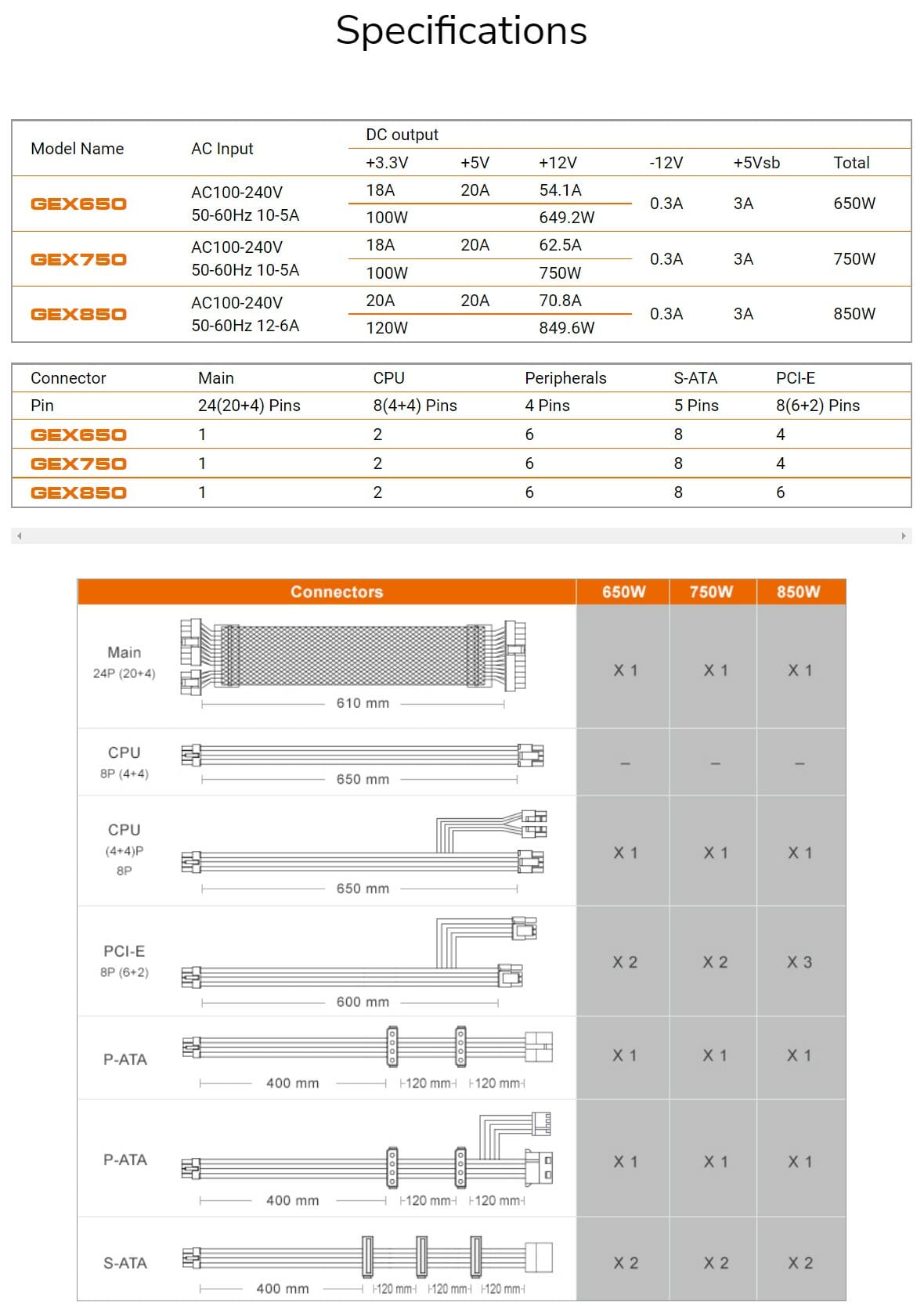 GEX 650W Video Unboxing
GEX 650W Packaging
Cougar goes for a black and orange looking packaging on most of their products. Here on the front of the box for the GEX 650W, we can see that it is an 80PLUS Gold Rated PSU and also comes with a 5-year warranty. Both of these details really do speak on the quality of the GEX 650W PSU and hopefully, its performance will live up to the specs and warranty details.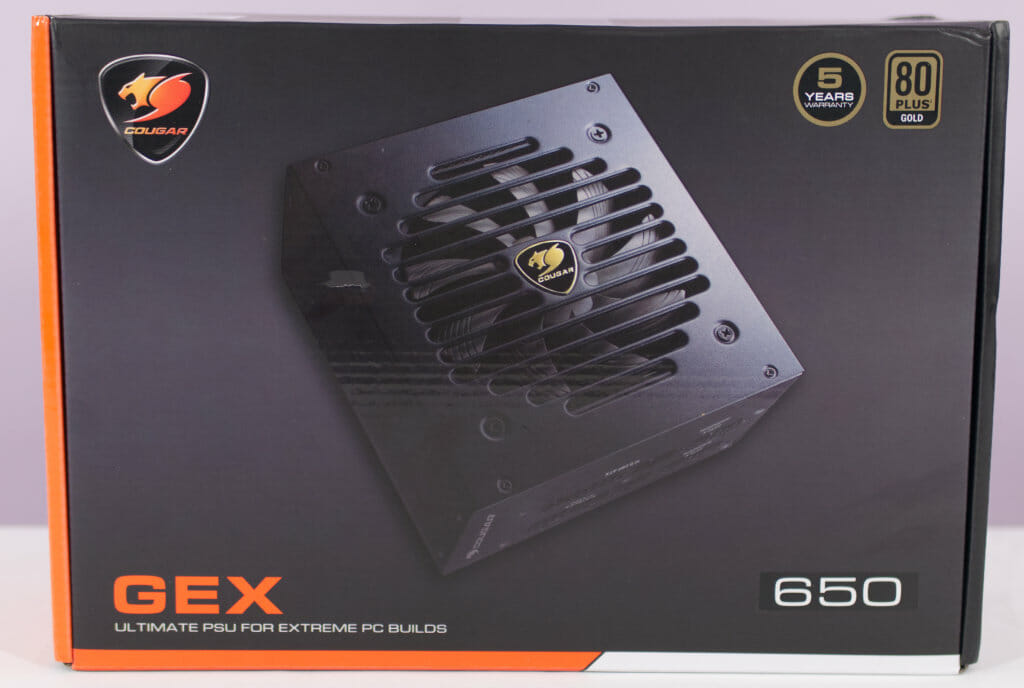 Jumping over to the back of the box and we have a bit more details into the efficiency, durability and stability that the GEX 650W has to offer. We can also see that it has a Zero-Noise operation which means the fan won't spin until a certain percentage of power is being used by the PSU. This is a great feature that we are starting to see more and more of on power supplies lately.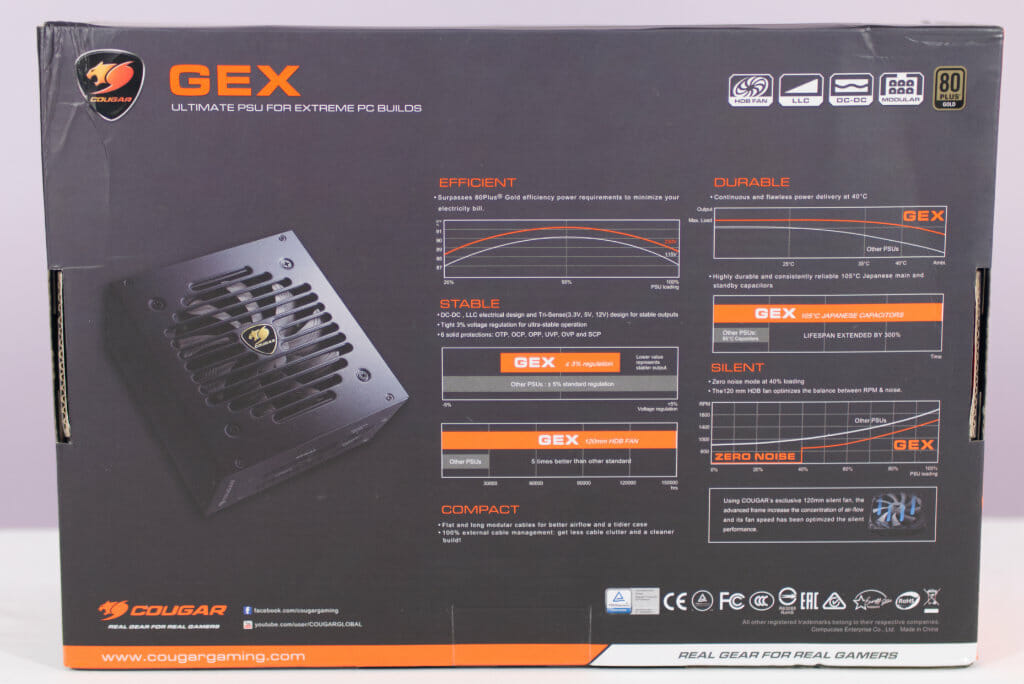 On one of the sides and there is even more info on what the GEX 650W PSU is going to offer. We can see AC/DC inputs and there is also a section to let us know exactly how many of each connector comes with the various wattages of GEX power supplies.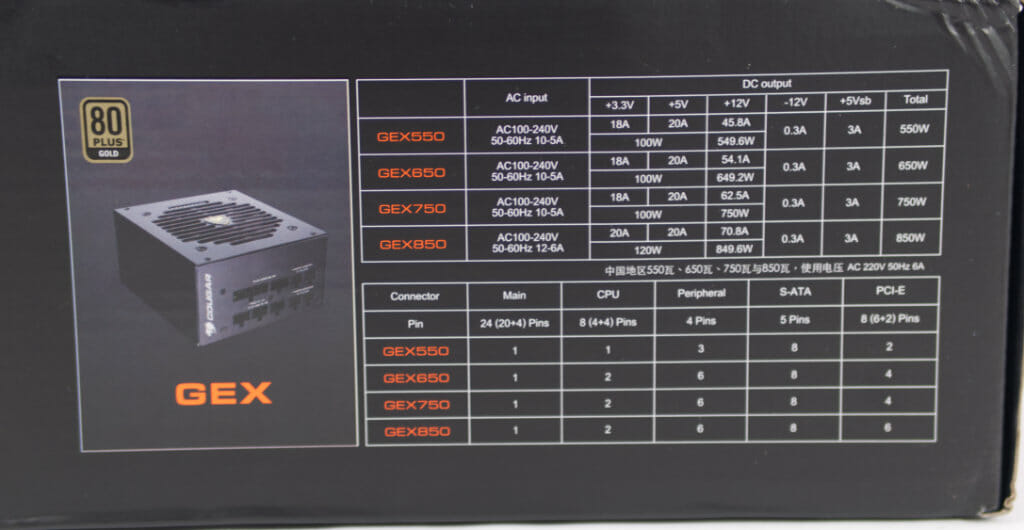 Opening up the box and we can see everything comes very neatly packed. There are three different compartments with the one on the left holding our power cable. The one on the right has the PSU modular cables and smack in the middle is the GEX 650W PSU itself. Notice how it is covered in a cloth type bag, this is to ensure it gets to the end-user in the best condition possible.
Getting everything out and as you would imagine, we have the power supply, power cable and modular cables and even some screws so we can install it into our case right away. All fairly standard stuff.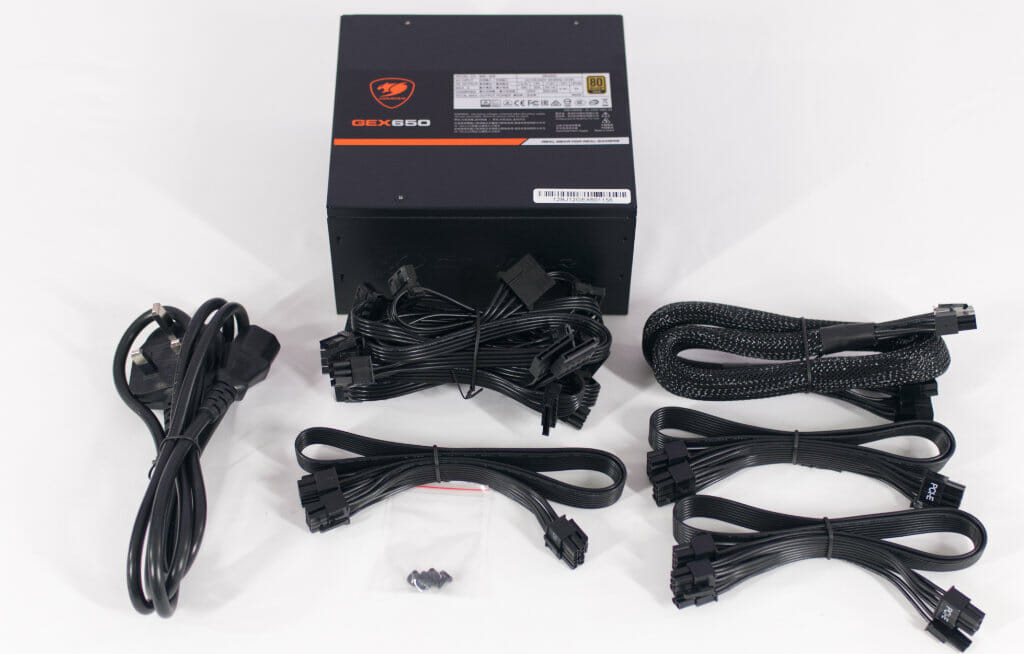 The 24-pin cable is a bit different in look from the others and this is going to be down to the size of it and the number of individual cables that it has. The 24-pin has a braided look to it while the rest of the modular cables are flat black. The flat black cables will allow them to be easily tucked out of the way and should also not cause any eyesores in your builds.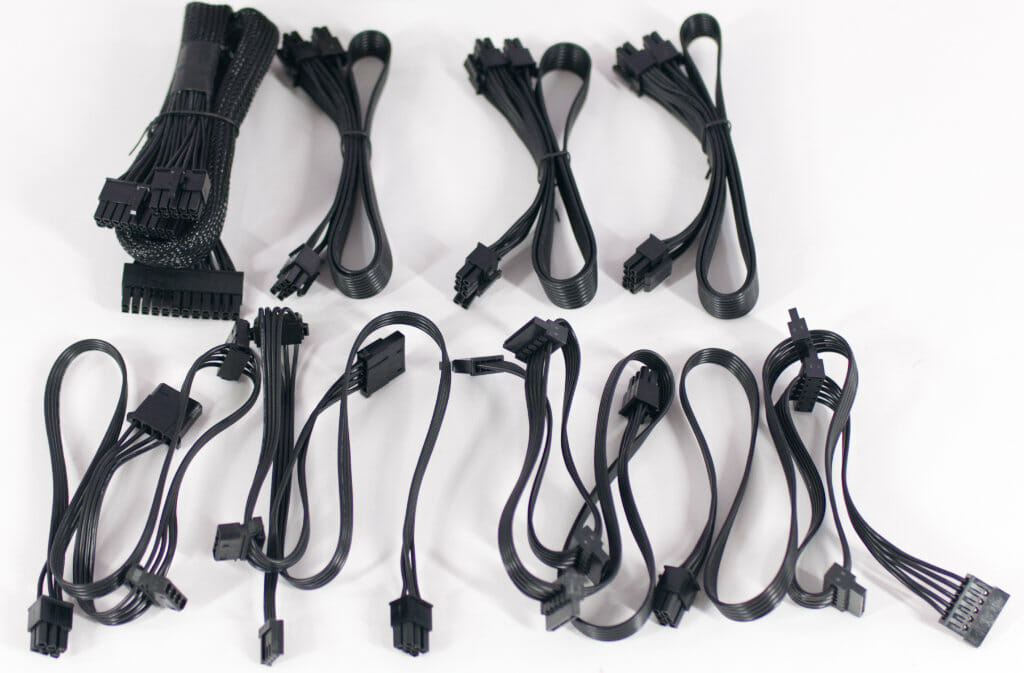 Cougar GEX 650W PSU Closer Look
With most power supplies, there isn't a whole lot going on with them. They are generally made to be tucked out of the way and a lot of times aren't even visible these days. However, Cougar has done a nice job at making it so that if you do see the GEX PSU, it still looks nice. On the top part that will most likely never be seen in any build, we have the sticker that as all the various info that companies have to include on power supplies as they are electrical items. They have tried to make it look as best possible by including their logo and model number which is nice to see.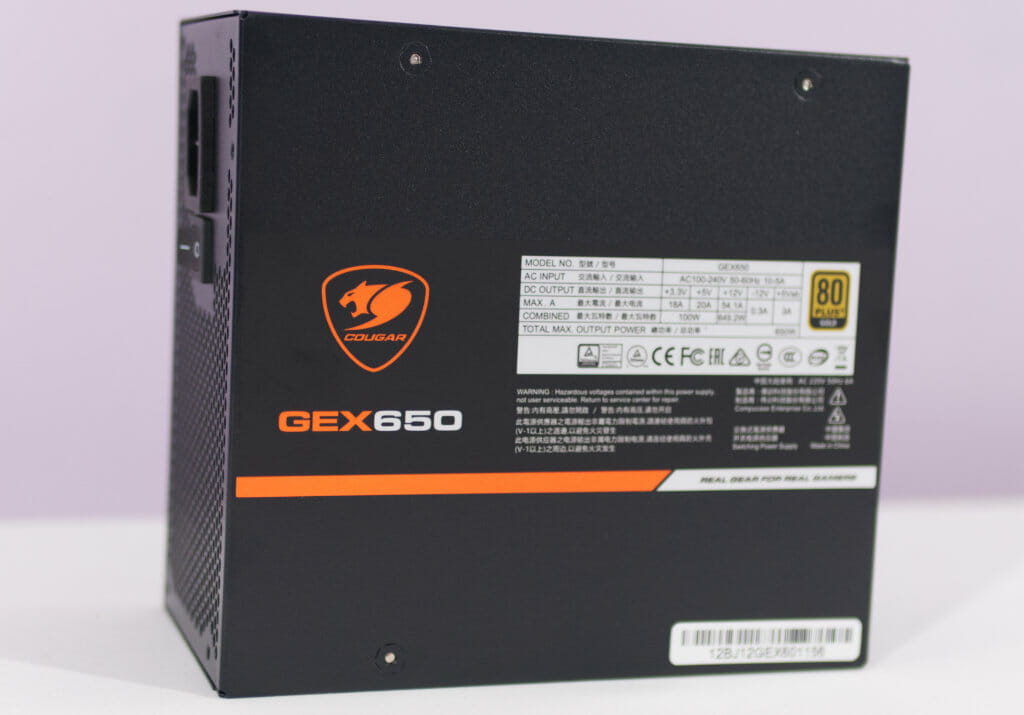 On the two sides is going to be a very subtle Cougar logo. It almost goes unseen if you don't know that it is there. You will notice that the image may look upside down on one side or the other, this is to make sure the logo is always right side up no matter how it is installed into a case.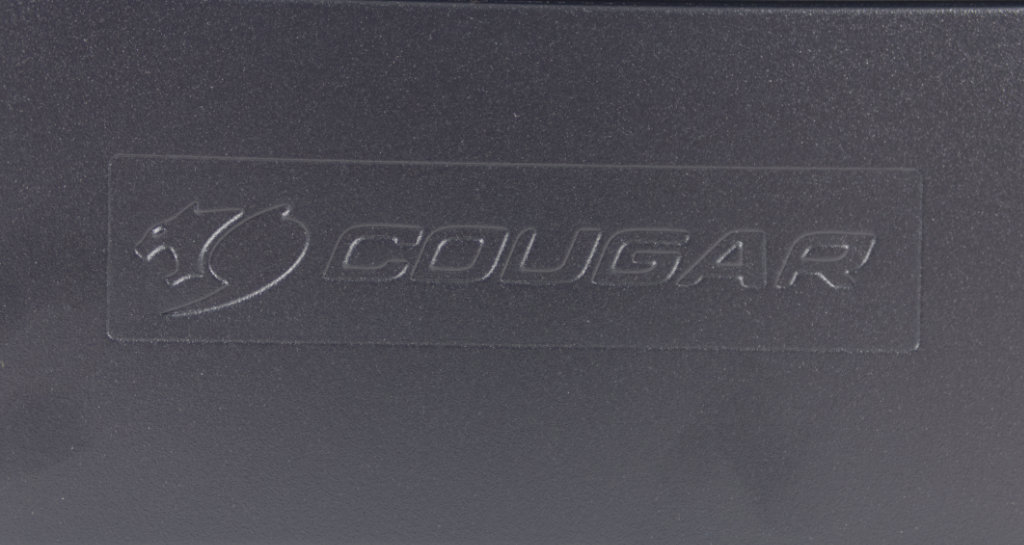 As we have seen, there are quite a few cables to use with the GEX 650W PSU. On the power supply itself, they are all labelled nicely so you will know where they go. You will also notice that the cables will only fit where they belong, so you don't have to worry too much about connecting them to the wrong port. I'm not saying that it is impossible to do so, just that it shouldn't be easy and as you can see, a lot of the connectors have a different amount of wires.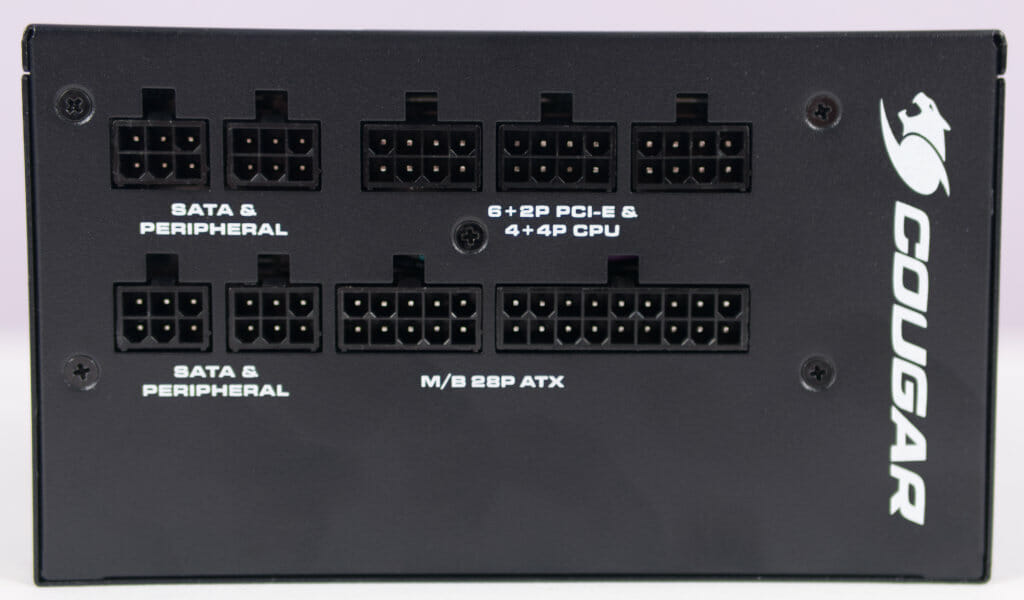 On the opposite side from where you will connect the modular cables, we have the power cable input and a power button. Any time you are plugging the cable in, it's best to have the PSU button turned off. Same as if you are swapping components out in the case. Now, that's not to worry you if you have left it on and changed things about, it's just a good habit to cut the power off when changing components just to be on the safe side more than anything.
Final worlds
Value
Currently coming in at £90 on Amazon UK or £78.99 on BOX, Cougars GEX 650W is sitting right where we would want to see it in the market. When it comes to power supplies and especially Gold rated ones, you don't want them to be overly cheap as they aren't meant to be. They are designed to be quality units and as such, you want a price that also reflects this. Now, no one wants to pay over the top for 'Brand Tax' as we see from some so thankfully, this is not the case with Cougar. Alongside the price, it is also worth remembering that the GEX 650W power supply comes with a 5-year warranty, only further adding to the value that it has to offer.
Performance and Design
While we don't have a proper load tester, we can still run a few standard tests through our test system to try and get an idea of how the power supply performs. When doing this, we used our Ryzen 9 5900x test bench which also has a PowerColor 6700XT in it and 32GB (4x8GB) 36500MHZ Patriot Viper Steel RGB RAM just to see what we could do. From gaming to benchmarking and even a bit of stress testing, the power supply was more than up for the task. While we couldn't monitor ripple in the lines etc, we could see that the 12v/5v/3.3v lines were all within their allowed ranges. As far as our testing goes, this is all we can ask for from a power supply. Outside of this, it will come down to what components you are using as to which wattage PSU you will also need. The Cougar GEX 650W also looks nice in a completed build and comes with more than enough cables/connectors to power up most anything you could need from a 650W power supply. Coming with an 8-pin and 4+4-pin EPS connector, four 6+2-pin GPU connectors and a host of Molex and SATA connections, you can run everything from a standard PC to a gaming beast with the GEX 650W.
While our testing is limited, we have no problems recommending the GEX 650W power supply from Cougar for your next unit. Backed by a 5-year warranty and coming in at an affordable price, it offers everything you could need from a power supply of this size.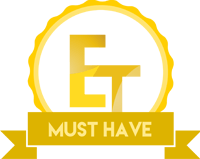 Many thanks to Cougar UK for sending in this sample of their GEX 650W Power Supple for this review.