Introduction
Storage is a crucial part of every build. These days, PCIe 4.0 NVMe drives are your best bet if you want the fastest drives out there. However, PCI3 NVMe drives can offer similar storage sizes at prices that won't make you cry! That's where Patriots P300 comes in, it comes in sizes up to 2TB but for a much more affordable price than a lot of other NVMe SSDs. Now, with the reduced price also comes reduced speeds but I am going to let you in on a little secret. Most people don't need the fastest storage speeds out there and will never really utilize said speeds. However, most people can use more storage and that makes the P300 an excellent choice to consider for your next M.2 drive.
The Patriot P300 comes backed with a 3-year warranty and a 640TB TBW. The Terabytes Written is quite good for a standard drive and would mean you would have to fill, delete and re-fill the drive up  320 times. Now, this is a lot unless you play COD:MW then you would only have to delete and reinstall the game once and it'd be over the TBW(jokes). The 2TB model as we are looking at today comes with a maximum read speed of 2,100MB/s and a maximum write speed of 1,650 and while not the fastest speeds out there, will be more than enough for standard users. Odds are, if you need the fastest speeds out there you wouldn't be reading this and would just skip straight to the benchmark results to ensure the drive can hit its rated speeds etc. Coming in at £229.99 from Amazon UK or a bit better price of £205.71 from grooves.land,  it will be interesting to see how the Patriot P300 holds so, so let's get to it.
P300 Closer Look
One good thing about M.2 drives and how small they are means that companies can reduce the packaging needed for them. Most M.2 drives come in packaging not much bigger than a credit card and the PAtriot P300 is no different. As we can see, there isn't a load of info on the packaging but we get a look at the actual drive we are purchasing.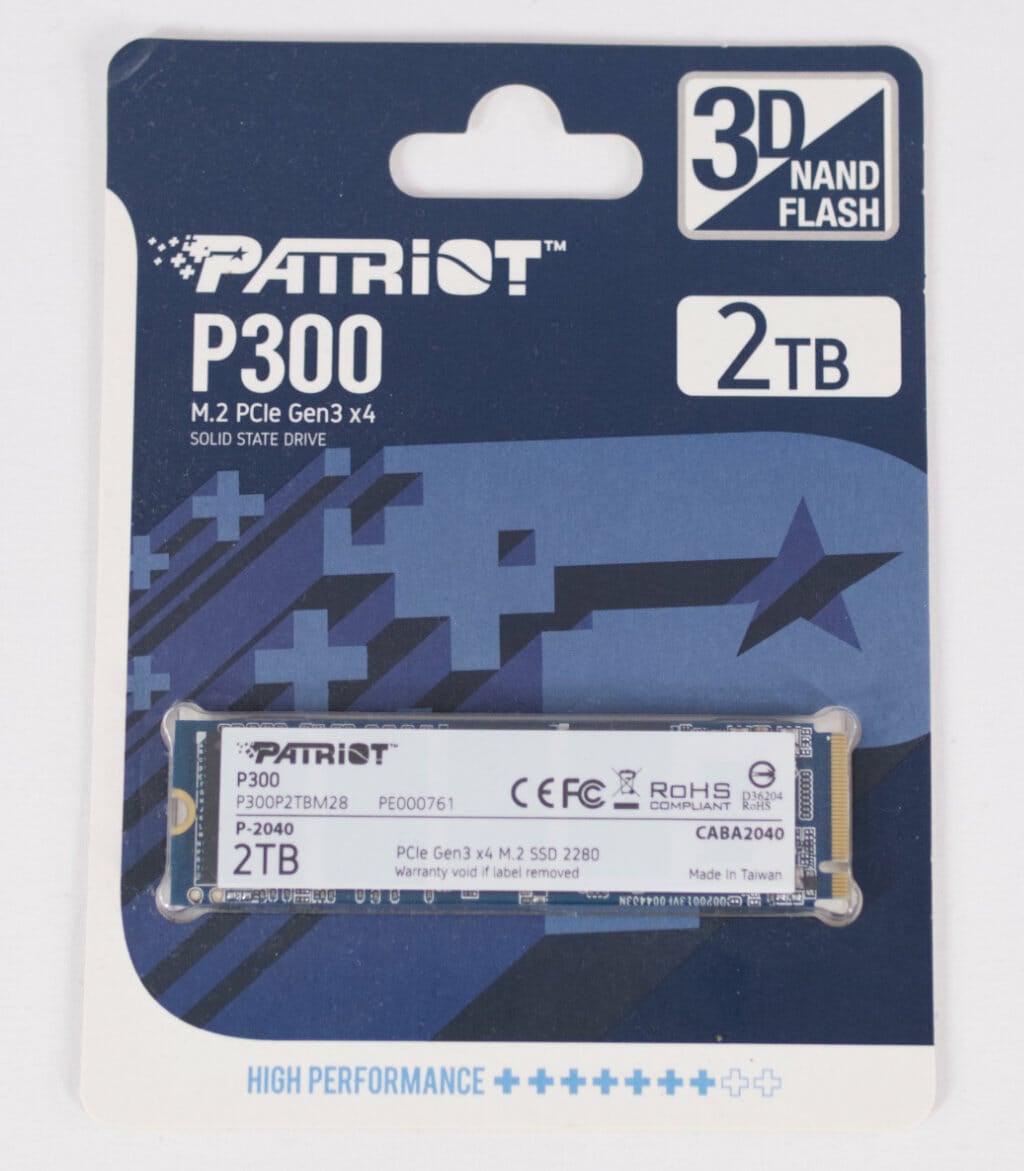 The drive itself has a sticker on it with a bit of the info. This is all pretty standard stuff for M.2 drives and it tells us the make, model, size in TB, and physical size (2280) and we can see it is a PCIe Gen3 x4 drive. It also says 'Warranty Void If Removed' so you know what we had to do. I mean, we were given no choice as we need to show you what is under this lovely sticker!
On the back of the drive is a small sticker with a number, a QR code and it says 2TB.
The P300 NVMe drives are all single-sided, meaning the memory chips, controller, and everything is on a single side of the PCB. The Patriot P300 is using a Phison E13T controller and a Kioxia 96L TLC NAND. To cut down on costs, the P300 is also DRAMless and instead, relies on HMB which allows the drive to allocate some of the CPUs DRAM to the drive itself, instead of having its own DRAM. In short, as we have mentioned, this is not going to be the fastest drive out there but rather, it should be much more affordable than a lot of the other NVMe drives currently on the market.
Test System and Performance
TEST SYSTEM
Motherboard – MSI x570 MEG UNIFY
CPU – AMD Ryzen 9 5900
RAM – Patriot Viper Steel RGB 4x8GB 3600MHz
SSD – Patriot P300 2TB M.2
Graphics – PowerColor RX 6700XT
Power Supply – Cougar GEX 650W
BENCHMARKS
To test the performance, I ran a few of the more standard benchmark programs used for testing storage devices.
AS SSD – Test the sequential or random read/write 

performance

without using the cache. AS SSD Benchmark reads/writes a 1 GByte file as well as randomly chosen 4K blocks. Additionally, it performs the tests using 1 or 64 threads and determines the SSD's access time.
Anvil – Anvil's Storage Utilities is a powerful tool that was designed to provide you with a simple means of assessing the read and writer performance of your Solid State Drive or Hard Disk Drive. The benchmark tool helps you monitor and check the response time of your unit as well as view the system information collected using Windows Management Instrumentation (WMI).
ATTO – As the industry's leading provider of high-performance storage & network connectivity products, ATTO has created a widely-accepted Disk Benchmark freeware utility to help measure storage system performance. As one of the top tools utilized in the industry, Disk Benchmark identifies performance in hard drives, solid state drives, RAID arrays as well as the host connection to attached storage. Top drive manufacturers, like Hitachi, build and test every drive using the ATTO Disk Benchmark.
CrystalDiskMark – Another benchmark program designed to measure the read and write speeds of storage drives.
AS SSD
Anvil
ATTO
CrystalDiskMark
Final Words
Value
This is, unfortunately going to be the best thing about the drive, even though it isn't overly great! The cheapest I can currently find this £205.71 from grooves.land! With that being said, there are quite a few other similar 2TB drives that come in a bit cheaper than this. Considering the speeds aren't the best, it may be worth even looking into a cheaper SATA-based SSD and saving some of that hard-earned money. Even other NVMe drives from competitors are significantly cheaper and would likely be a much better option unless you happen to find an amazing deal on the P300.
Performance
Again, not the best out there but was is good to see is that the Patriot P300 can hit its rated speeds and even pass those with ease. The P300 is rated for 2,100MB/s read and 1,650MB/s write speeds and we managed to surpass those in multiple benchmarks even if only just! This gives us some faith in the drive, however for the price and even at the speeds we hit, the P300 isn't that great. While the performance for the P300 is OK for what it is, it just doesn't stack up against other drives currently on the market.
Drives from Samsung, Sabrent and more that boast speeds over 3,000MB/s+ can be had for around £215-£220! This makes the P300 and its slower speed quite overpriced and unfortunately, it's really just not worth it at the moment. While the P300 can be had for £205, for an extra £10 you can get something much faster! This is the first time in a while I have really had to say that a product is not worth it, and in the case of the P300, it all comes down to its price! The drive itself is decent for what it is and while it will last you a long while, I just can't currently recommend it at its current retail pricing.
So, in short – the Patriot P300 is OK for an average drive and will do everything you need it to. However, for the price, your money would be much better spent elsewhere.