Following on from our previous memory review of the Crucial Ballistix Tactical 2666MHz kit, today we will be taking a loot at another DDR4 kit from Crucial by way of the 16GB Sport 2400MHz kit. DDR4 was officially released back in 2015 alongside the release of Intel's Haswell-E i7 CPU lineup. DDR4 offers serious speeds and low voltages, however, the timings are normally higher than their DDR3 counterparts. Since its release, the price of DDR4 has drastically dropped and if you're in the market for a new PC, there is almost no reason not to consider one that can make use of DDR4 RAM. DDR4 is also allowing memory manufacturers the opportunity to release memory with ridiculous speed as you can currently by DDR4 with a 4000Mhz+ speed as stock right from retailers.
As mentioned, today we are taking a look at the Crucial Ballistix Sport 16GB DDR4 2400MHz kit. This kit consists of 2x8GB modules and as the name suggests, they run at 2400MHz stock speed. As this is DDR4 it utilizes lower voltages than it predecessor and come in at 1.2V which is nice to see compared to the norm of 1.5V on DDR3. The Ballistix Sport features a low profile heatsink design that is no bigger than the RAM module itself so it should be compatible with most aftermarket CPU coolers.
Product Specifications
Brand
Ballistix
Total Capacity
16GB Kit (2 x 8GB)
Specs
DDR4 PC4-19200 • 16-16-16 • Unbuffered • NON-ECC • DDR4-2400 • 1.2V • 1024Meg x 64 •
Series
Ballistix Sport
Form Factor
UDIMM
ECC
NON-ECC
Module Qty
2
Voltage
1.2V
DIMM Type
Unbuffered
Component Configuration
x8 based
The RAM comes in a blister pack which isn't much bigger than the RAM itself. On the front, there is a nice sticker that lets us know some of the specifications of the RAM and the blister packaging allows us a first-hand look at the actual RAM inside.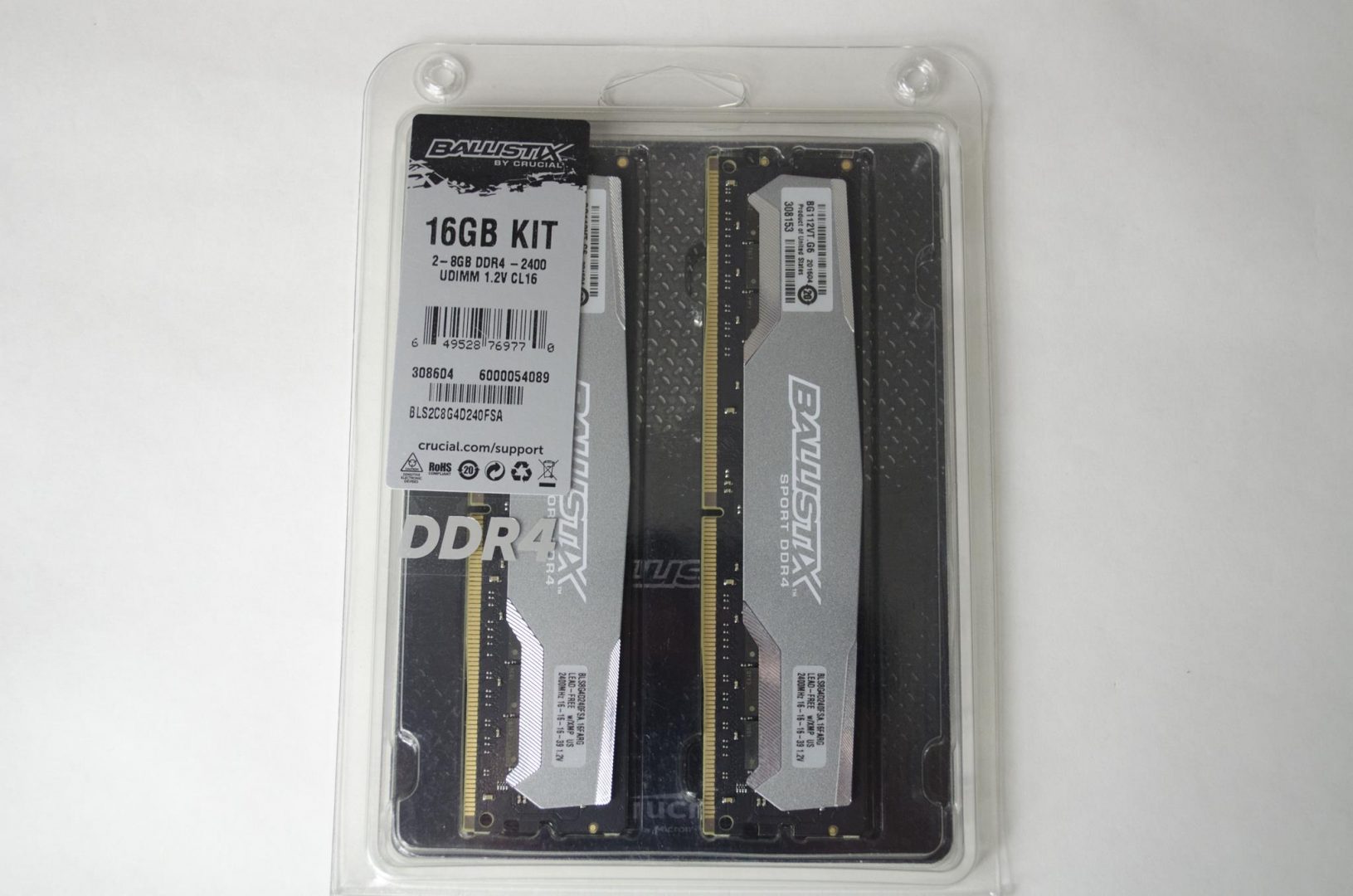 The Ballistix Sport memory does feature a heatsink though I imagine it's actually designed more for an aesthetical aspect, rather than to actually help cool the RAM. As you will see in the images below, the heatsink covers around 98% of the actual memory chips and nothing more. Looks have become more important when it comes to PC builds over the years and it's nice to see Crucial offer a lightweight option rather than just leaving us with bare DIMMs.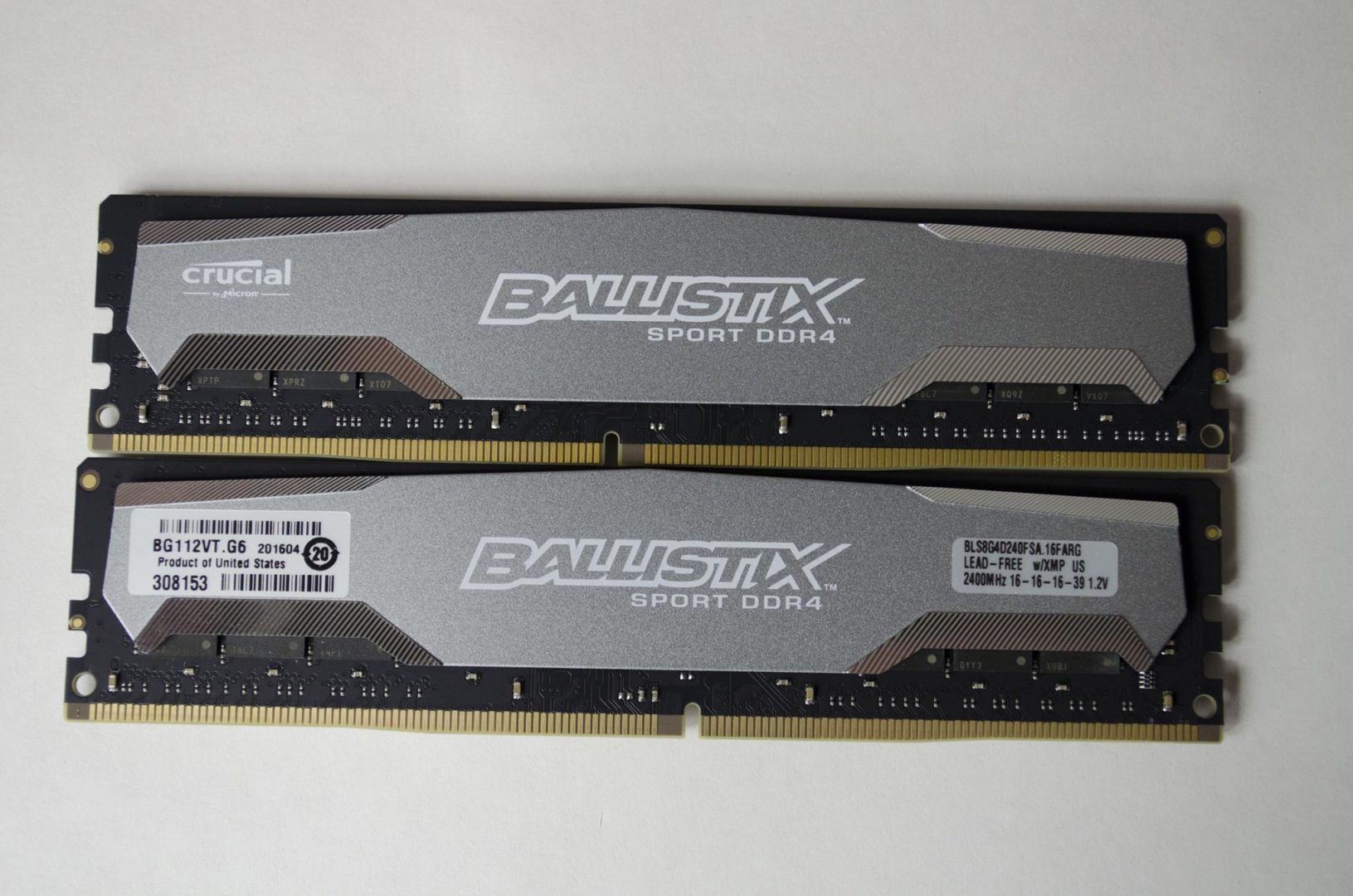 Most companies now also offer their RAM with black PCB's, rather than the previous green we all grew to hate over the years. While it offers no performance benefit, it does look much better and again, aesthetics is almost as key as performance is in this day and age.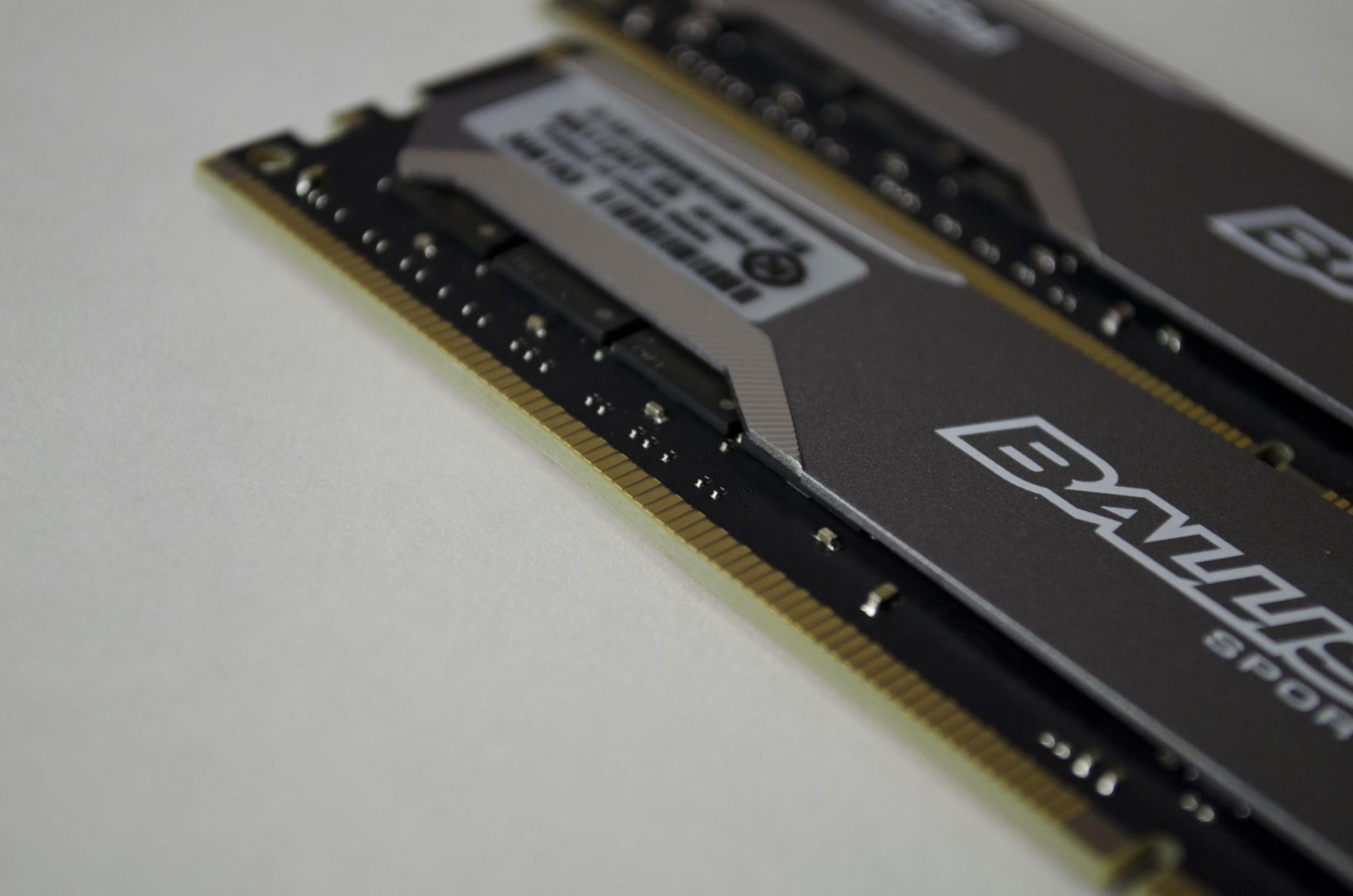 When all is said and done, the Crucial Ballistix Sport kit looks good and should be a great stepping stone into the DDR4 market. With that being said, let's get into the performance part of the review and see if the performance matches up to the looks.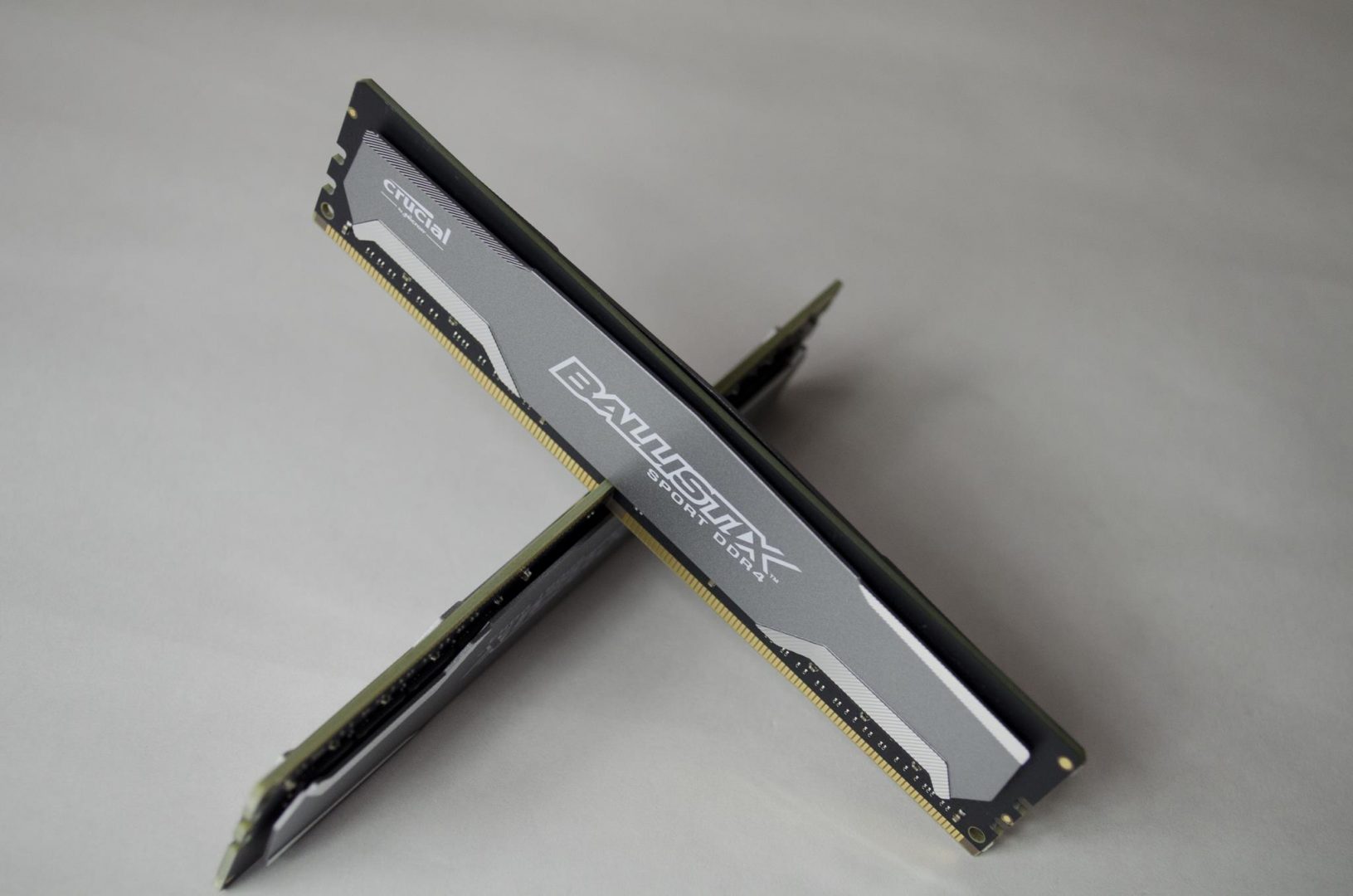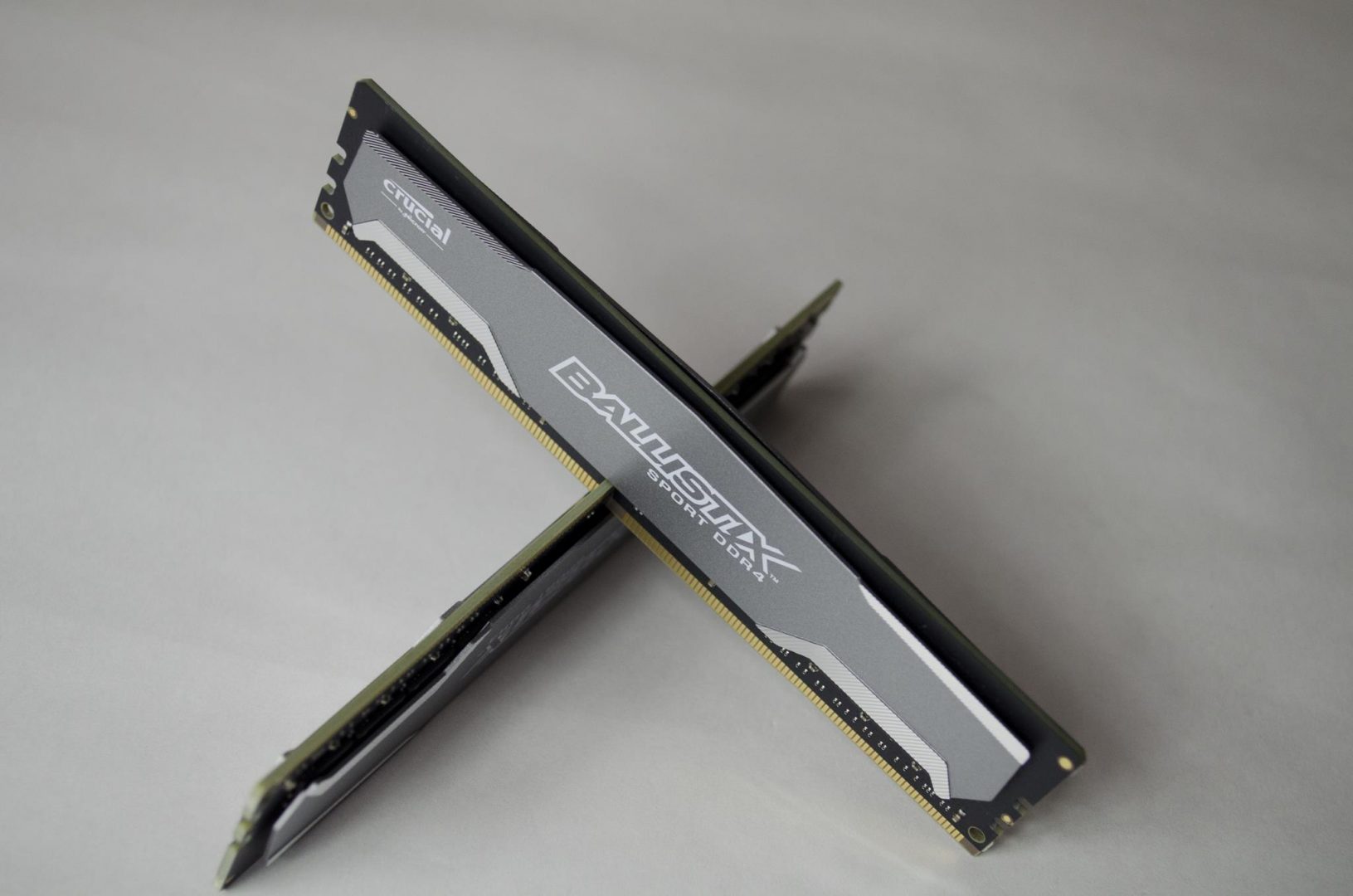 3D Mark Firestrike Extreme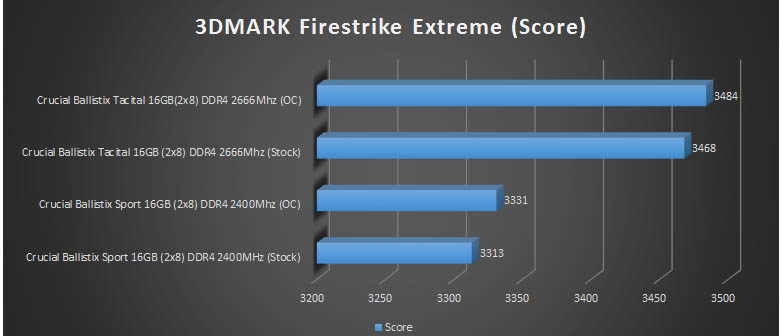 AIDA 64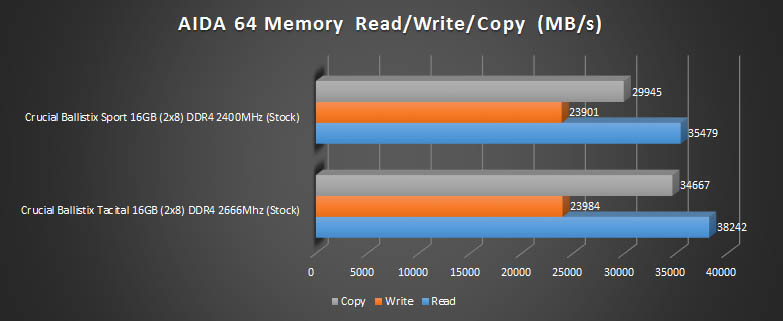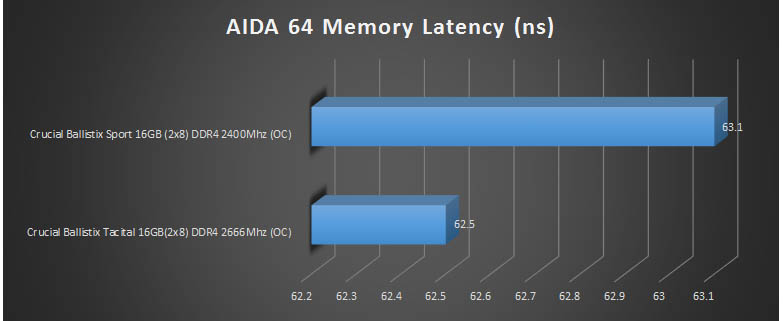 SiSoftware Sandra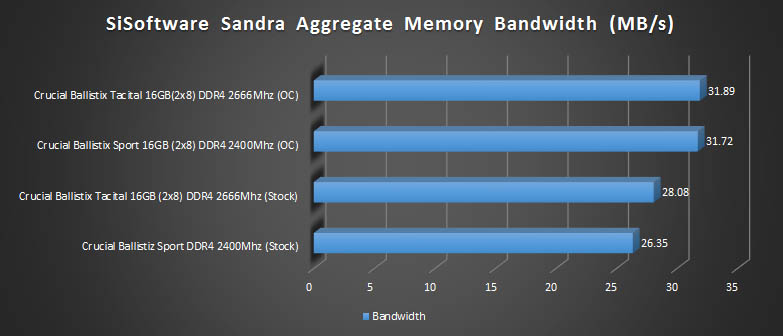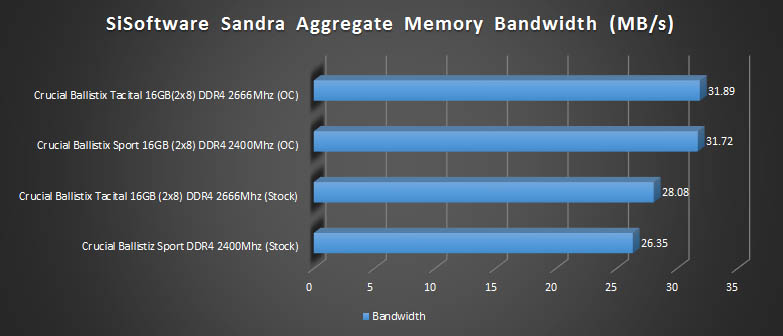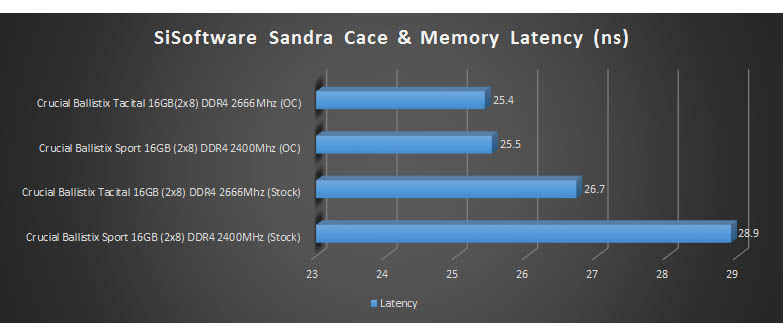 When it comes to overclocking RAM, I like to leave it at its stock voltages for reviews. I do this as I figure more people would be likely to change a couple of settings if they don't have to mess with the voltage. While you can up the voltage, some are not comfortable with this and in that case, it's probably best off left alone.
The first thing I did was see the speed I could get out of and I was only able to get it to clock up to 2666MHz which while not a lot, is a nice little jump. The next thing I did was see how tight I could get the timings and I managed to get the RAM running stable at 2666MHz at a 14-14-14-36 timing. Together, we the upped speed and tightened timings, there is a nice little extra bit of performance added to the Ballistix Sport kit and again, this is without touching the voltages.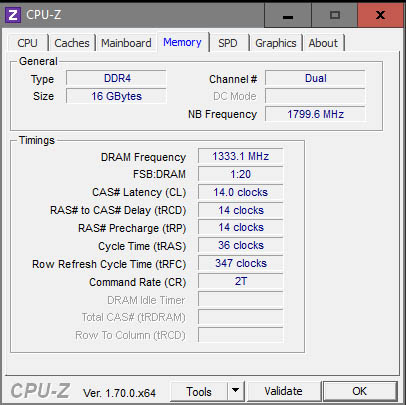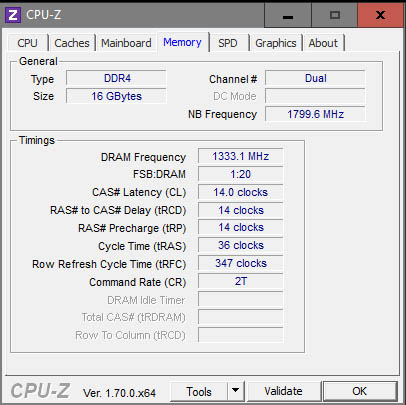 All benchmarks were run at the stock speeds and the overclocked speeds as seen above.
I had a good time testing the Crucial Ballistix Sport RAM and seeing just what it was capable off. I was pleasantly surprised that I was able to bump up the speed a bit and tighten the timings at the same time, this did add for a bit of a performance boost which is always nice. The Ballistix Sport RAM is not a flashy bit of kit, but it does look nice and offers a great stepping stone into the land of DDR4.
Performance
The Ballistix Sport is a 2400Mhz kit which is pretty much the norm for DDR4, though you can find some 2133MHz kits out there as well. The Sport line offers some good performance and even at stock speeds, it held up pretty well. Where the performance really came in was after overclocking the RAM. Once the overclock was in place, the Sport 2400MHz kit wasn't far off of the overclock results on the Tactical 2666MHz kit we had tested previously. I really was quite pleased with the overall overclock that was achieved and then seeing the performance gain was equally as impressive and really left me with a good feeling about the Ballistix Sport RAM.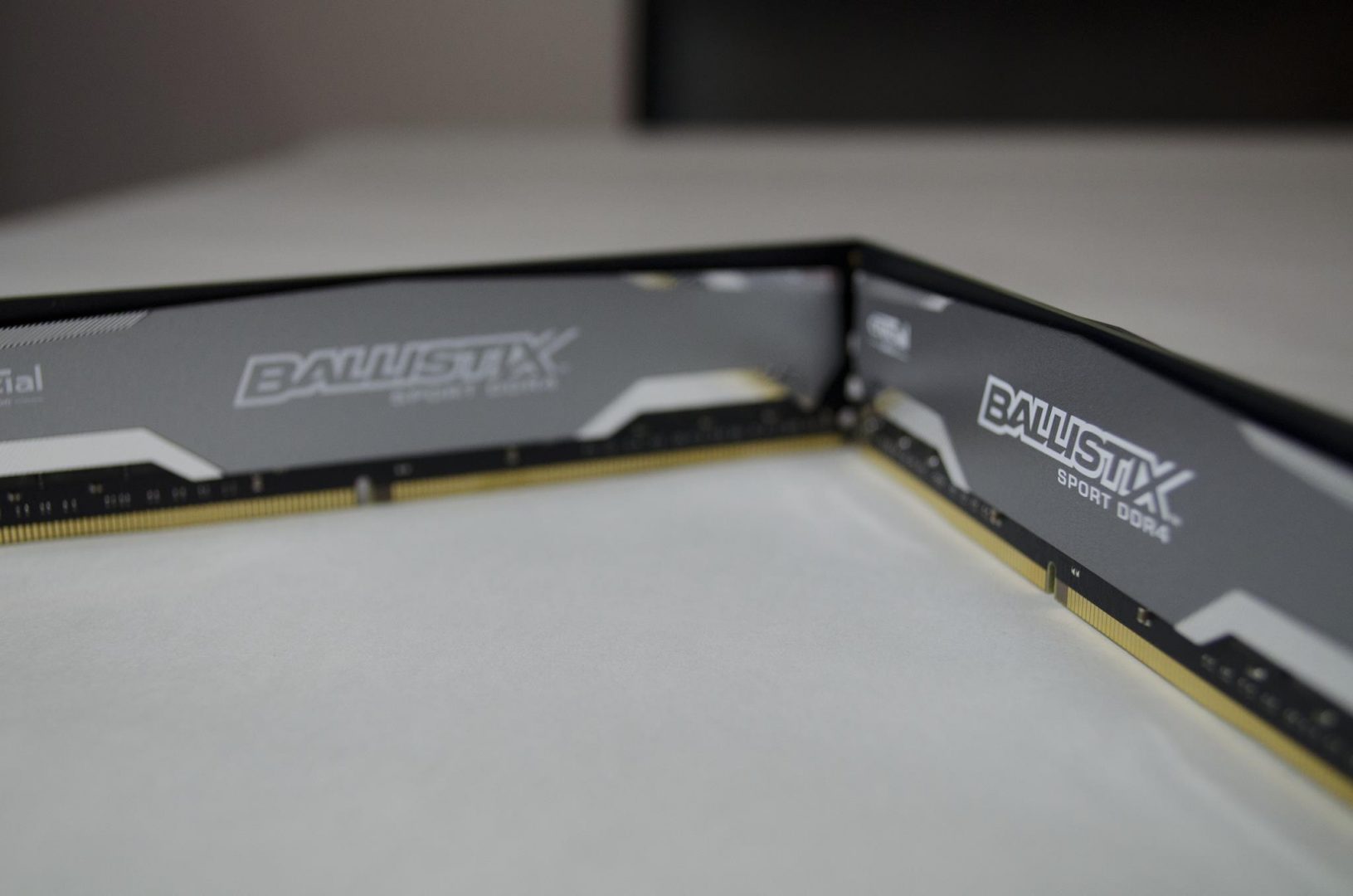 Design
The Ballistix Sport isn't a flashy kit of RAM by any means but it does look nice. It has a subtle grey heatsink that covers the memory chips so users aren't left staring at the bare DIMMs. The heatsinks also are not any bigger/taller than the RAM modules which are great as it should leave them compatible with more after market CPU coolers thanks to this. Another thing which is becoming more of the norm is the black PCB's and thank goodness for that as those old green PCB's were horrendous. Crucial have done a great job at not making this kit of RAM look to flashy or allowing it to look too cheap either, very well-rounded appearance.
Value
It's almost unfair to speak of the value of DDR4 memory as a whole right now with prices being what they are. The Ballistix Sport kit can be had for just under £60 for 16GB which is a great value. While the 2400MHZ kits are pretty much the entry level into the DDR4 world, £60 for a 16GB kit of any RAM is a good deal in my opinion. When you factor in the overclocking ability of this RAM with the price, you have yourself a great and well-rounded kit of RAM and throw in its subtle design and you really can't go wrong. You are definitely getting you money's worth when it comes to the Crucial Ballistix Sport DDR4 RAM!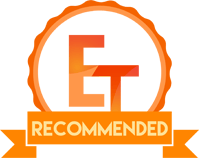 Big thanks go out to Crucial for sending in their Ballistix Sport DDR4 RAM.