Introduction
Manufacturer: OCPC
Product Page: OCPC X3REME RGB CL19 2666 2x8GB DDR4
Purchase: $84.99 at the time of review from VisionTek.com
OCPC provides a variety of PC gaming products, ranging from powerful, high-end Graphics Cards, SSD's, Memory and Peripherals. You can find most of what you need when building your own system. OCPC not only cares about high-quality but take into consideration today's gamer style and desire for an excellent looking system.
OCPC stands for "Over Clock PC Gaming", and their mission is to provide over the top attributes, performance, and style to their products. Gaming is more than the in-game experience, it is a lifestyle! OCPC will advance products to evoke the feeling and character of our gamers.
Closer Look
The kit of memory I am taking a look at today comes stock at 2666Mhz at CL20-19-19-43 with 1.35v. The OCPC X3REME line comes in a large array of speeds ranging from 2666-4000Mhz 2x8GB or 16GB Dual Channel kits. All of the X3REME RGB memory kits sport the same dark grey finish on the heat spreaders which I find rather appealing for my darker themed builds.
The RGB light diffuser bar is very good at spreading the RGB effects nicely out across the entire top of the kit of memory as well. OCPC sticks true to the meaning of their namesake "Over Clock PC Gaming". This kit of memory is very solid in several areas including performance, so let us get them out of the package and into the test bench.
The packaging that OCPC chose to use is a more upscale clamshell in a box design like you will see with most higher-end kits that come with heat spreaders and or RGB. The front of the box displays the kit of memory along with the company and product brandings, such as the X3REME DDR4 and RGB.
The back of the package has some more basic info including OCPC's basic warranty and guarantee. As well as a view of the stickers on the kit of memory, plus the one on the back of the box for what speed and timings the kit you are looking at come rated to run at. There is also some QR Codes you can scan for Facebook and the company website.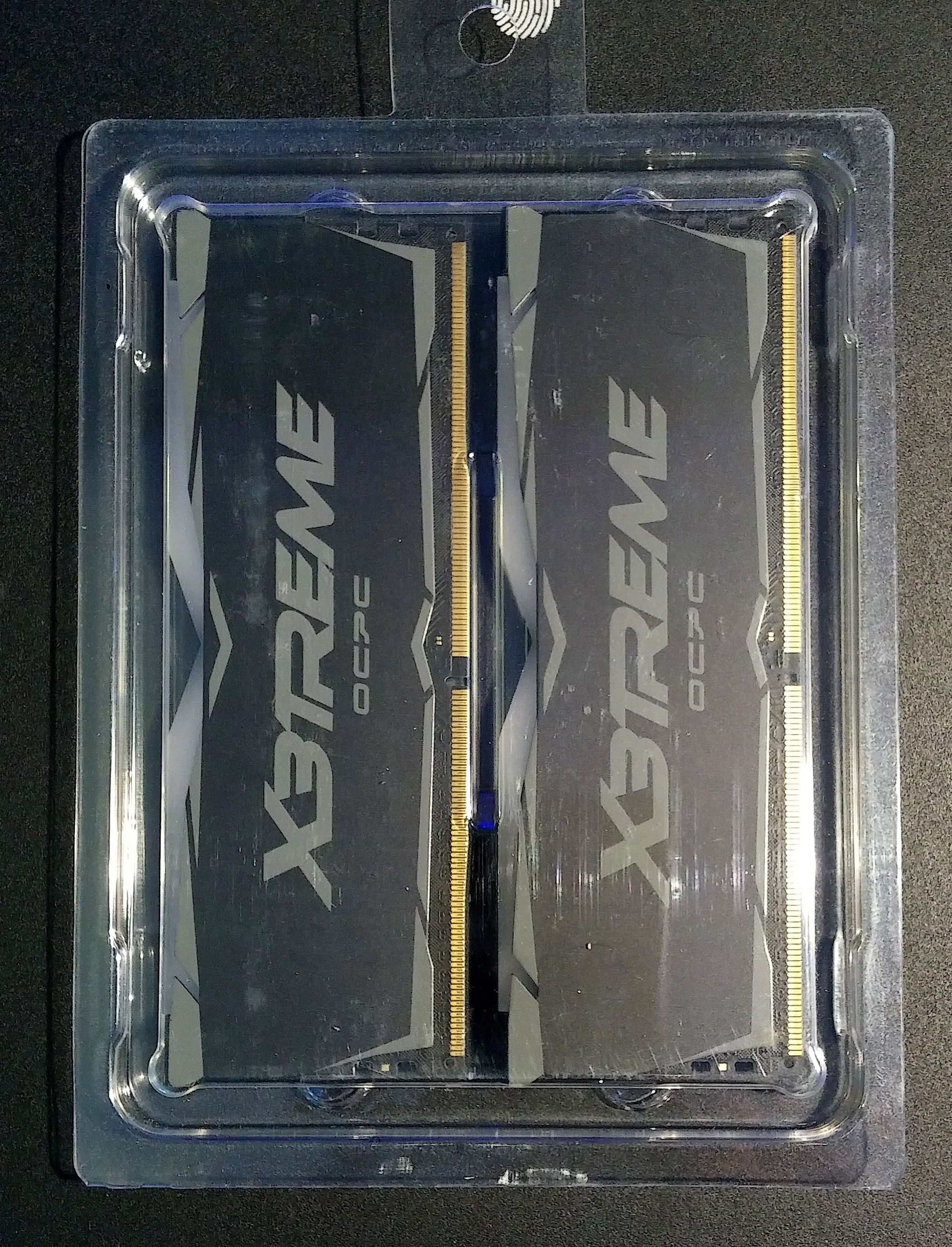 Above is the side with no stickers and the photo below with stickers, both sides share a uniform black and grey finish which is appreciated.
A closer look at the memory from each side. These are some really clean looking heat spreaders covering a black PCB which is a bonus none of that green or blue stuff here. You can also clearly see the V-shaped design of the RGB diffuser bar here as well.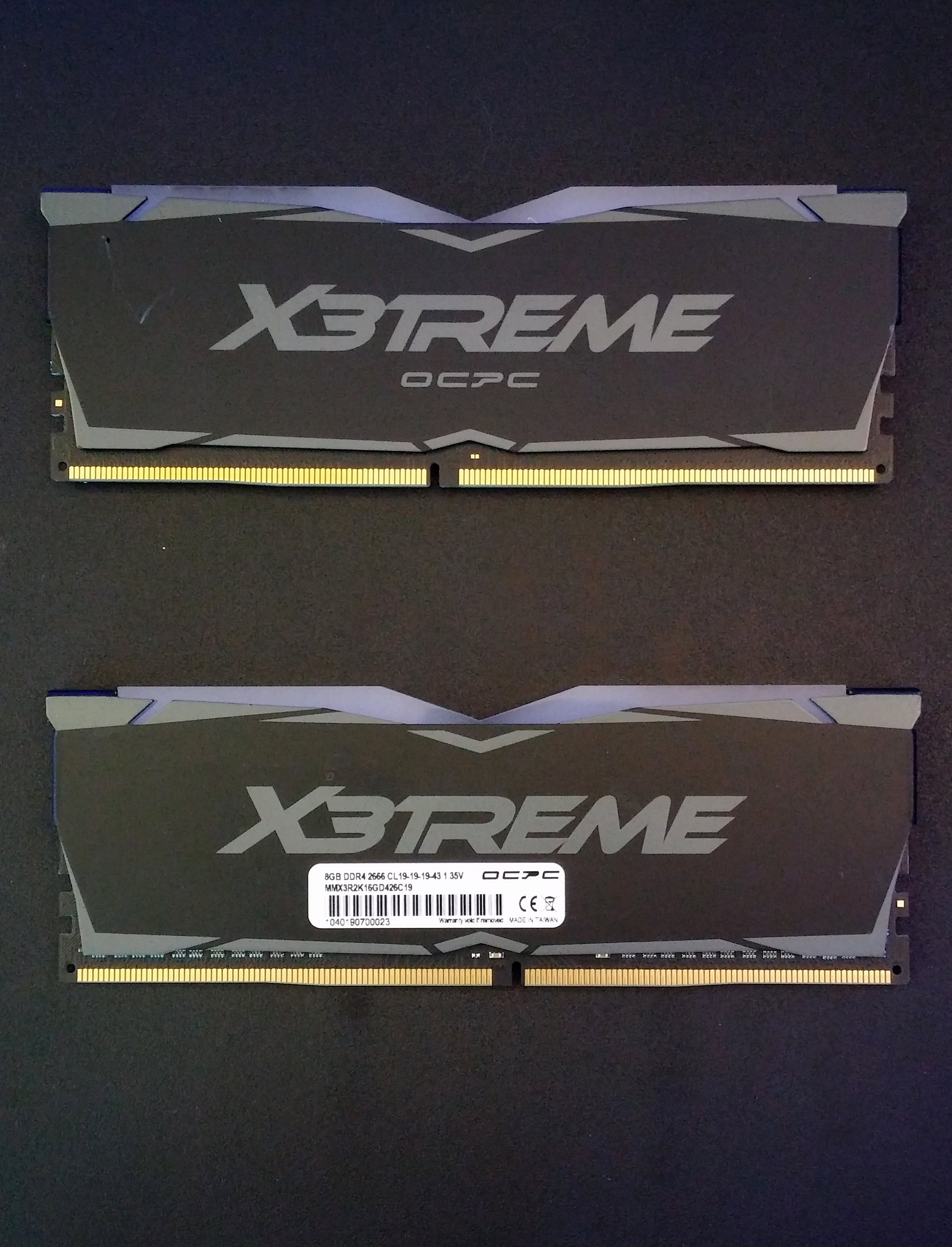 A good look at the RGB diffuser bar across the top, it is hard to see the V-shaped dip in this angle and the same goes once the memory kit is in your build.
Test System
Motherboard: ASUS Rog Strix B350-F
CPU: Ryzen R7 1700 @ 3.8Ghz 1.225v
Memory: (Product in review) (Dual-Channel)
Storage: OCPC M.2 PCIe NVMe 512GB XTREME
OS: Windows 10 (1903)
Performance and Usage
To test my very first kit of OCPC DDR4 goodness, I ran a few benchmarks (AIDA 64 and SiSoftware Sandra). As the graphs will show, the OCPC X3REME RGB kit is more than enough for most standard and even higher-end gaming builds using DDR4. Each test was run 3 times and then averaged to get the final result.
This specific kit of memory are geared towards gamers for sure, in productivity and purely synthetic loads they will loose so please keep that in mind. Moving forward from there this is a rather impressive dual channel kit of gaming memory with room to wiggle if you know your way around setting memory timings somewhat. Also, two sticks of memory can only be in dual channel mode in the proper slots, please refer to your motherboard manual for which slots are which.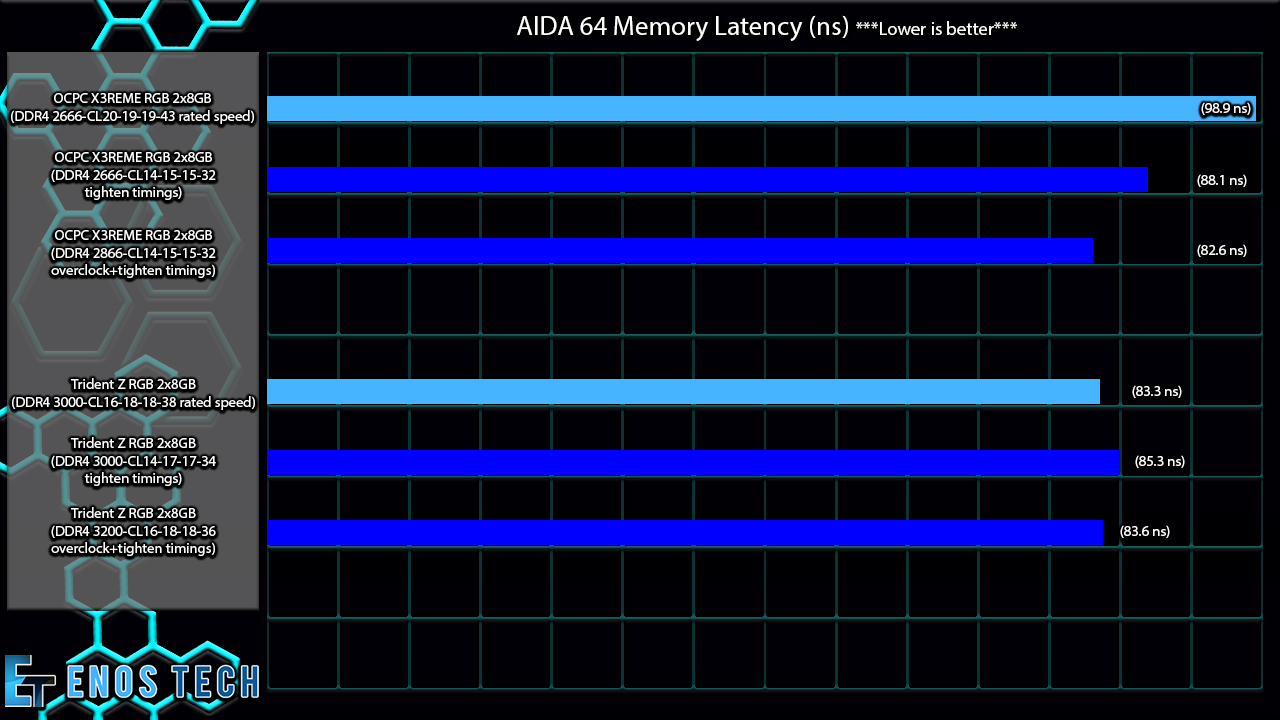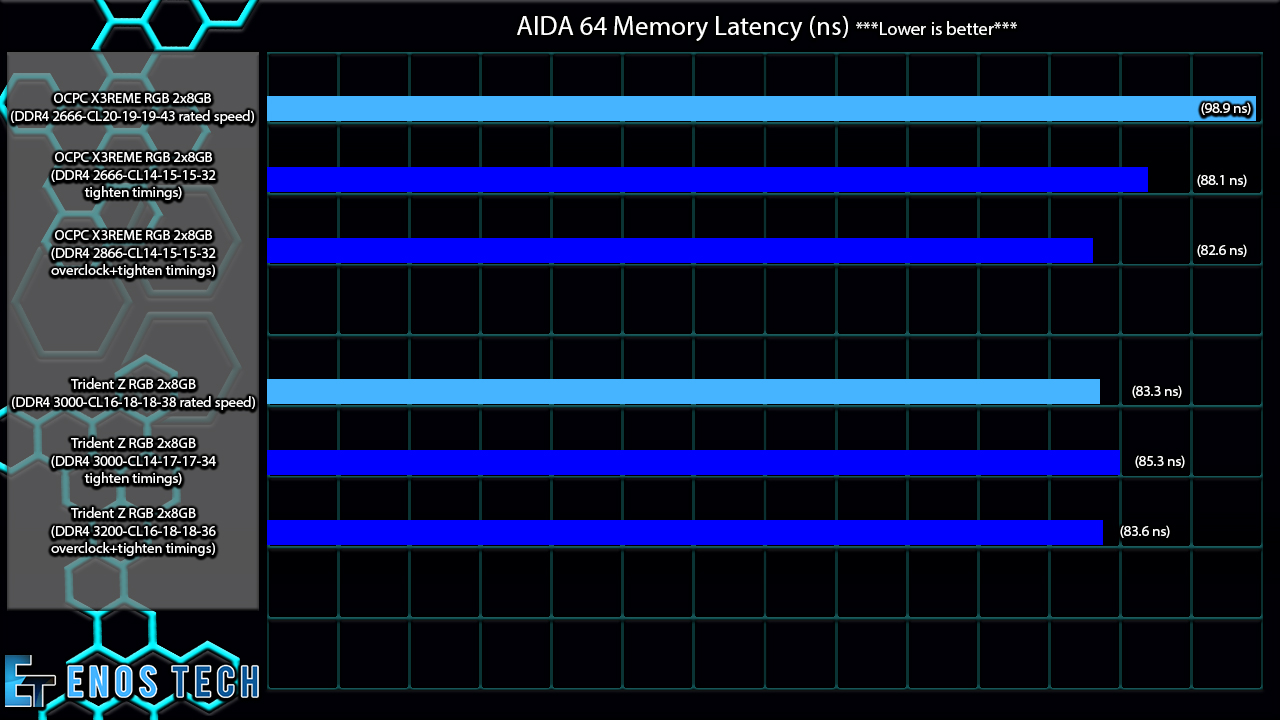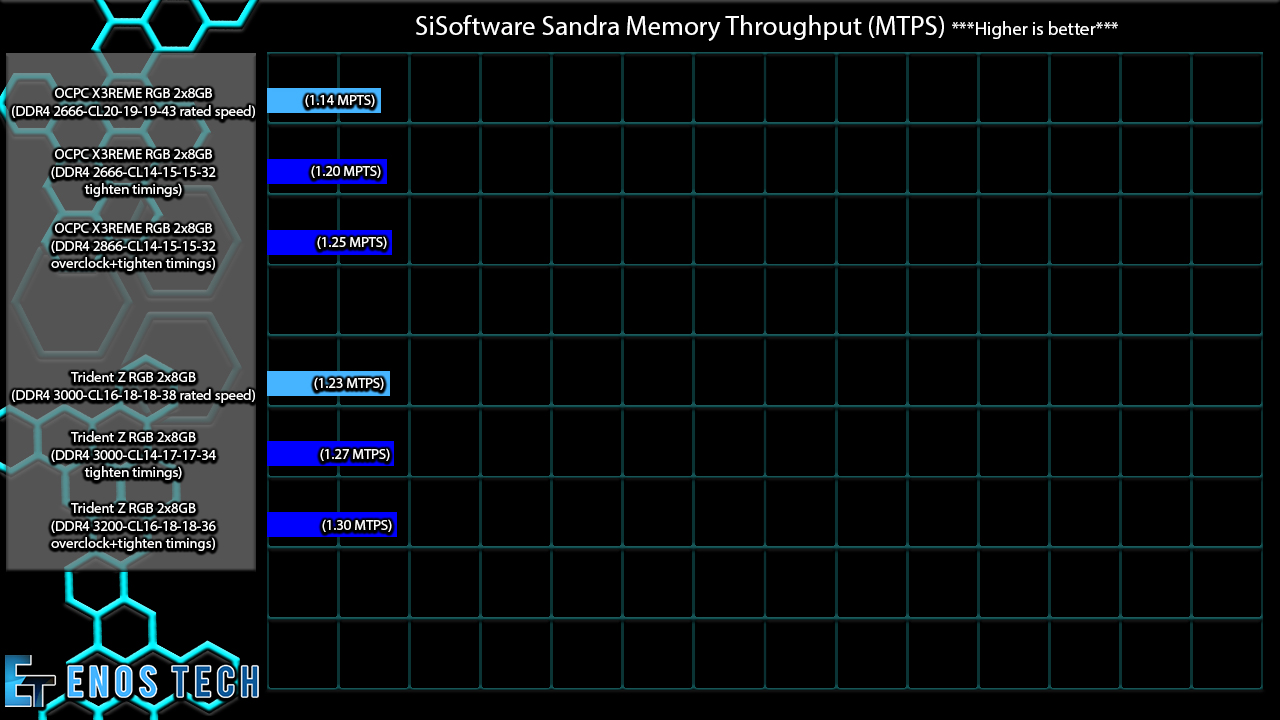 Overclocking
Overclocking memory on the Ryzen platform is a breeze these days with a combination of a few things. First of all patience, second Thaiphoon Buner and third DRAM Calculator for Ryzen. With these three key components and just a little bit of research, you can tighten your timings and even increase the speed of your memory (results will vary of course). Below are the timings and clocks used that I found stable and best suited for my Ryzen R7 1700 and B350 motherboard.
If you want to know more about how to push your memory further then please check Steve's video at Hardware Unboxed "How to Manually Tune Your DDR4 Memory For Ryzen". There he does a really good job of walking you through the basics and what he doesn't touch on his dedicated viewers have helped to fill the gaps in throughout the comments.
Thaiphoon Burner results from the OCPC X3REME 2666 kit of memory.
OCPC X3REME 2666Mhz with tightened timings "Calculated Fast"
OCPC X3REME overclocked 200Mhz to 2866Mhz with tightened timings "Calculated Fast" a 7% OC
RGB
As you can see below with the center purple (I know it looks pink. . . terrible phone camera) to blue fade the OCPC X3REME RGB Memory looks quite nice, and the video below will show some of what can be done with the RGB. OCPC also provides a direct download link to the software needed "AURA SYNC" to change the RGB effects.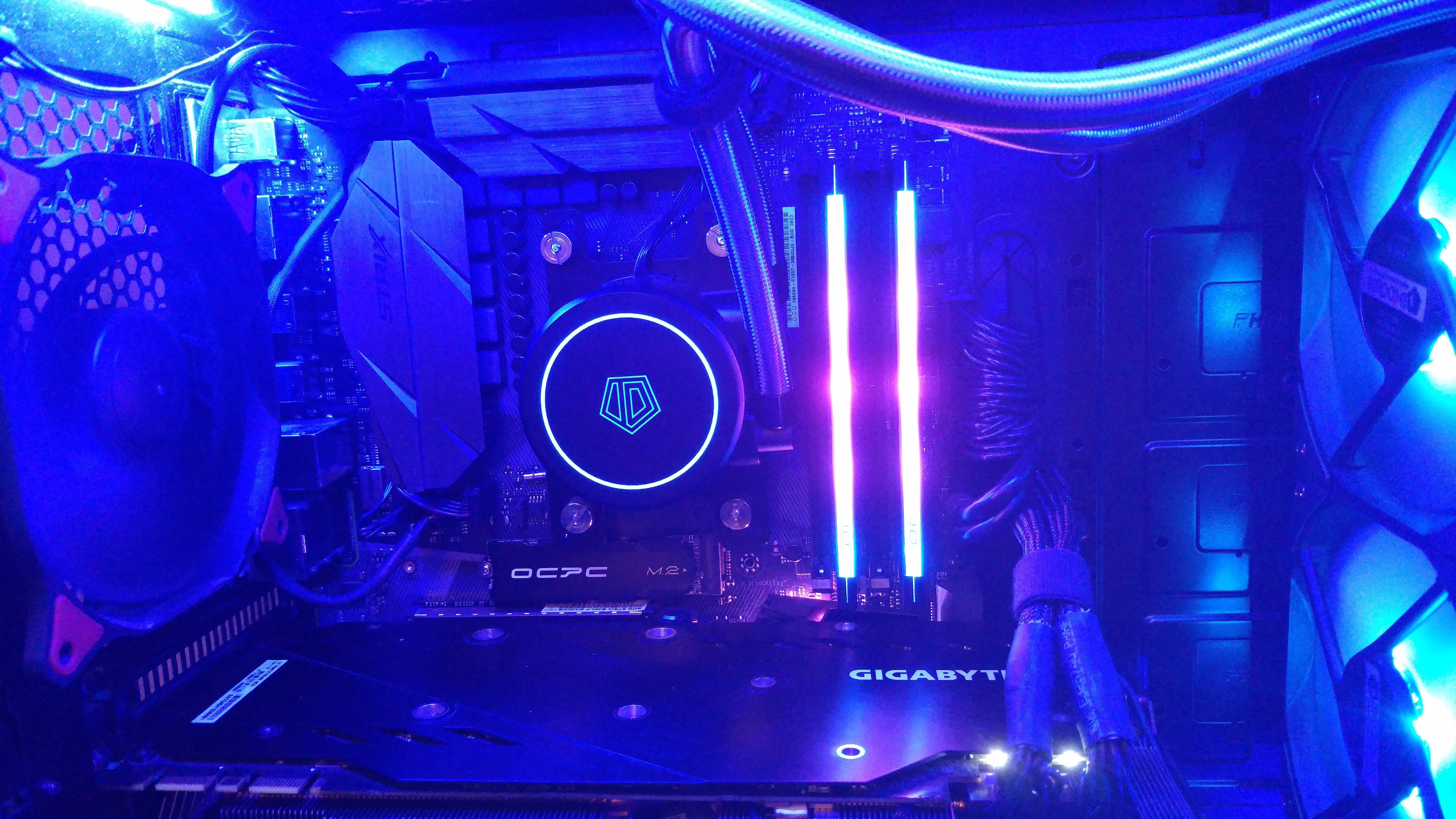 Conclusion
Performance
I had a little worry when I first found out what kit I was going to get to review, I mean as you can see my charts are a bit slim on the DDR4 flavor for testing. And with Ryzen the faster the speed with tighter timings is going to perform the best. With that said OCPC has left a lot on the table for enthusiasts to play with here. I was able to achieve a 200mhz OC while tightening the timings up from CL20-19-19-43 to CL14-15-15-32 which is a nice free bump in performance! With doing so they basically gave the faster kit of G.Skill memory a run for their money and at a much cheaper entry price than the more well known G.Skill brand.
Value
The value is on the table here. Coming with premium heat spreaders, and clean RGB lighting all for the cool price of $85 which when compared to some of the more well-known brands, coming in at $15-30 more, is a hard bargain to argue. Out of the box at their rated 2666 CL20-19-19-43, they were more than capable with any type of gaming I tossed at them. The only time you could see that they were slower was in synthetic benches, and I am sure if some productivity suites were ran that would show they are a little slower in those specific workloads.
With that said unless you are a high-end production company or professional, I don't think you should care or will even notice a difference without trying to find one. At 2866 CL14-15-15-32 these modules absolutely shined and almost overtook the faster G.Skill kit while costing $10-15 less depending on sales and whatnot.
Final Thoughts
If you do not need the absolute fastest production system then I can highly recommend the OCPC X3REME RGB 2666Mhz kit of memory to any gamer and even streamer for their system. These are well made and have room to grow if you are willing to take the steps to guide them there. The 2666 X3REME RGB kit of memory is suitable out of the box for anyone looking to add a decent performing and even very nice looking kit of RGB memory to their system. And OCPC does this without trying to break the bank, and memory is a place that can quickly consume your money if you are not only chasing speed but also brand or a specific look.
For most, any gamer and or streamer a 2666Mhz 2x8GB kit of memory like this will be more than enough to experience not only the build bling the RGB brings but the performance necessary in-game as well. Do not get me wrong OCPC does play in the high-end memory market with CL19 4000Mhz kits of memory and much more, I just don't see those as a need for most users. Unless you are spending on one of the top processors and motherboards out there just having the money to burn, and or are a workflow professional you will not need much more than a kit like these.
With how well this kit overclocked and stayed stable with the overclocked + "Calculated Fast" timings I honestly cannot wait to see what else OCPC brings to the table in the memory department. I am very interested in how 4 sticks of their memory will do while overclocking in a Ryzen system, as well as what their faster kits can do in general. Stay tuned maybe we will get to find out!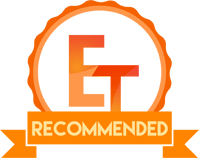 I want to thank OCPC/VisionTek for sending over the sample kit!