Up for review today, we have a niche product from a company I've yet to work with before. The good folks at iStorage have sent over their datAshur Pro 8GB USB drive. The datAshur Pro is a military grade encrypted USB drive that is packed with loads of features. With privacy being one of the main concerns of companies due to recent revelations, those like iStorage are doing everything they can to help you protect your most precious of files. If you have not heard of them before today, it is well worth popping over to the iStorage website and checking out the rest of the security enabled products they offer.
datAshur Pro Product Page
The datAshur Pro is a USB drive that features Military grade encryption and is compatible with a range of operating systems such as Windows, Mac, Linux, Android and more. It comes in four different sizes 8GB, 16GB, 32GB and 64GB and offers speeds of up to 116MB/s Read and 43MB/s Write. The fun doesn't stop there, though, this bad boy is also IP57 waterproof when fully encased while weighing only 25 grams. All in all, it's a very impressive bit of kit on paper, but will it hold up in real world testing? Let's find out, but first a look at the specifications.
Specifications
| | |
| --- | --- |
| Interface | USB 3.0 |
| Capacity | 8GB, 16GB, 32GB & 64GB* |
| Speed | Up to 116 MB per second read. Up to 43MB per second write. |
| Dimensions (drive with sleeve) | 80mm x 20mm x 10.5mm |
| Dimensions (drive without sleeve) | 78mm x 18mm x 8mm |
| Weight | 25 grams |
| Waterproof | MIL-STD-810F | IP57 Certified |
| Hardware | USB 3.0 high speed – compatible with USB 2 & USB 1 |
| Operating System compatibility | Windows, Mac, Linux, Chrome, Android, Thin Clients & Embedded Systems |
| Hardware Data Encryption | XTS-AES |
| Encryption Keys | 256-bit Hardware |
| Hashing | 256-bit SHA |
| Ordering Information | iStorage Part Number: IS-FL-DA3-256-xx (xx=drive size in GBs) |
The datAshur Pro comes in a blister packaging which inside users will find the USB drive and case alongside a quick start guide and that's it! The quick start guide will give you the generic pin code so you can start using the drive right away though please do make sure you change the pin code as soon as possible.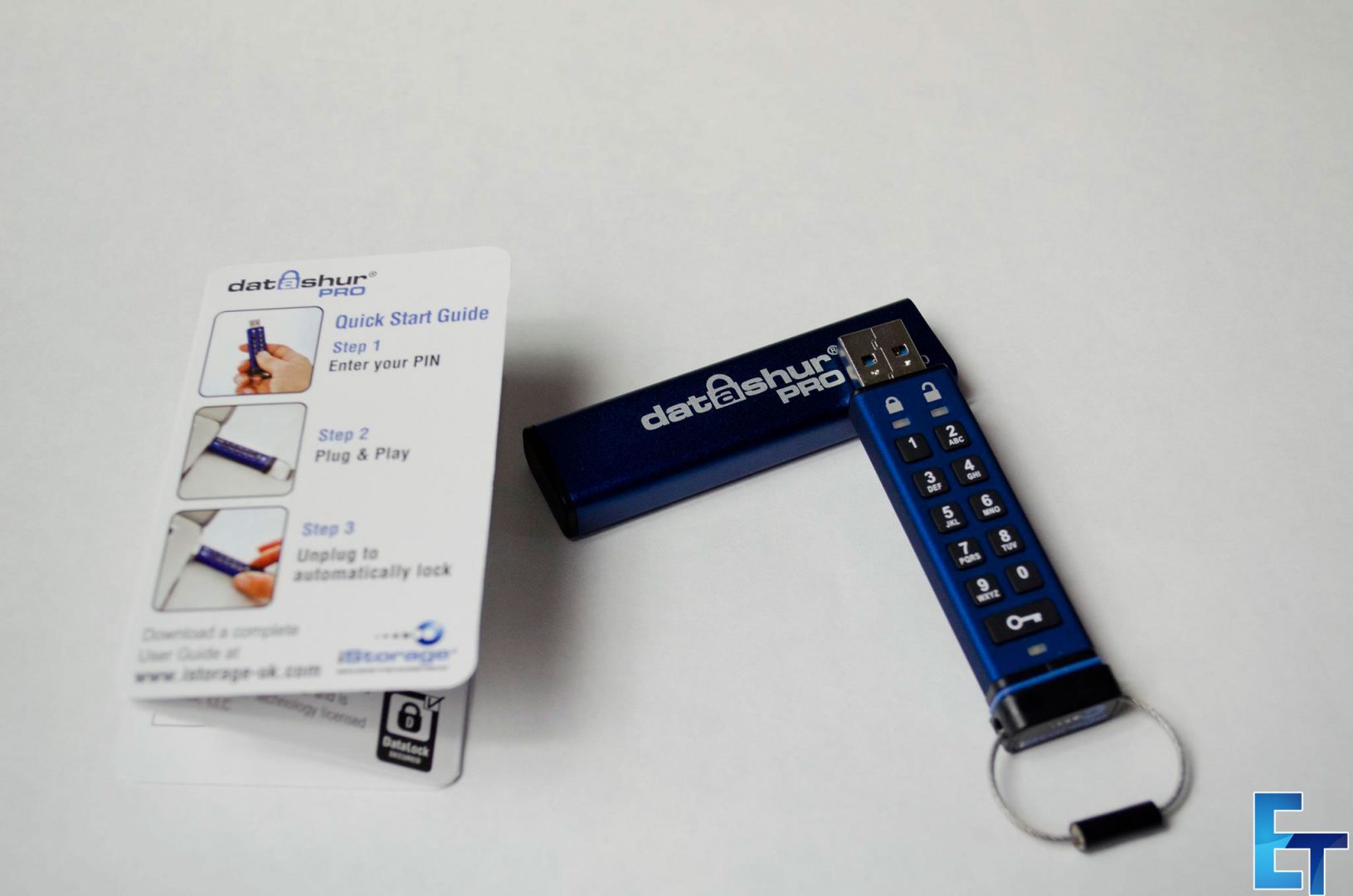 Just looking at the datAshur Pro itself and there is not a whole lot going on. The drive itself features a numeric keypad on it with one button having a key on it. To use the drive, you will hit the key button, enter your pin code, hit the key button again and then you have 30 seconds to connect the device before it locks itself. To lock the drive, you simply save your data and unplug the drive, it's that simple.
The datAshur Pro comes with a cover that not only protects it from nicks and dings, it also gives it an IP57 waterproof rating which may come in handy if you need to get your 007 on. All jokes aside, having electronics waterproof is a big help as you really never know what is going to happen and it's better to be safe than sorry. The drive is also based on the USB 3.0 connection which is what allows for its decent read and write speeds.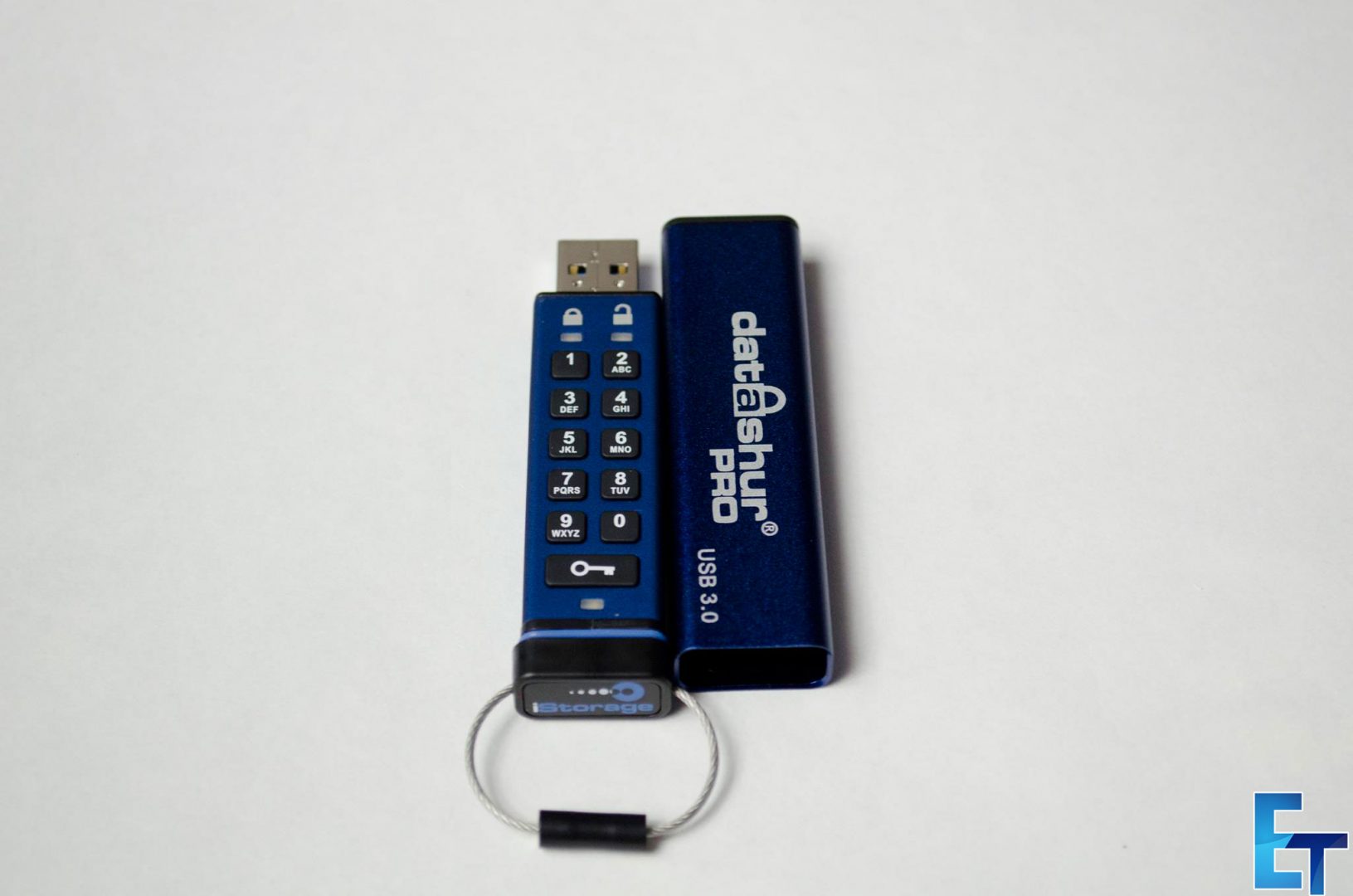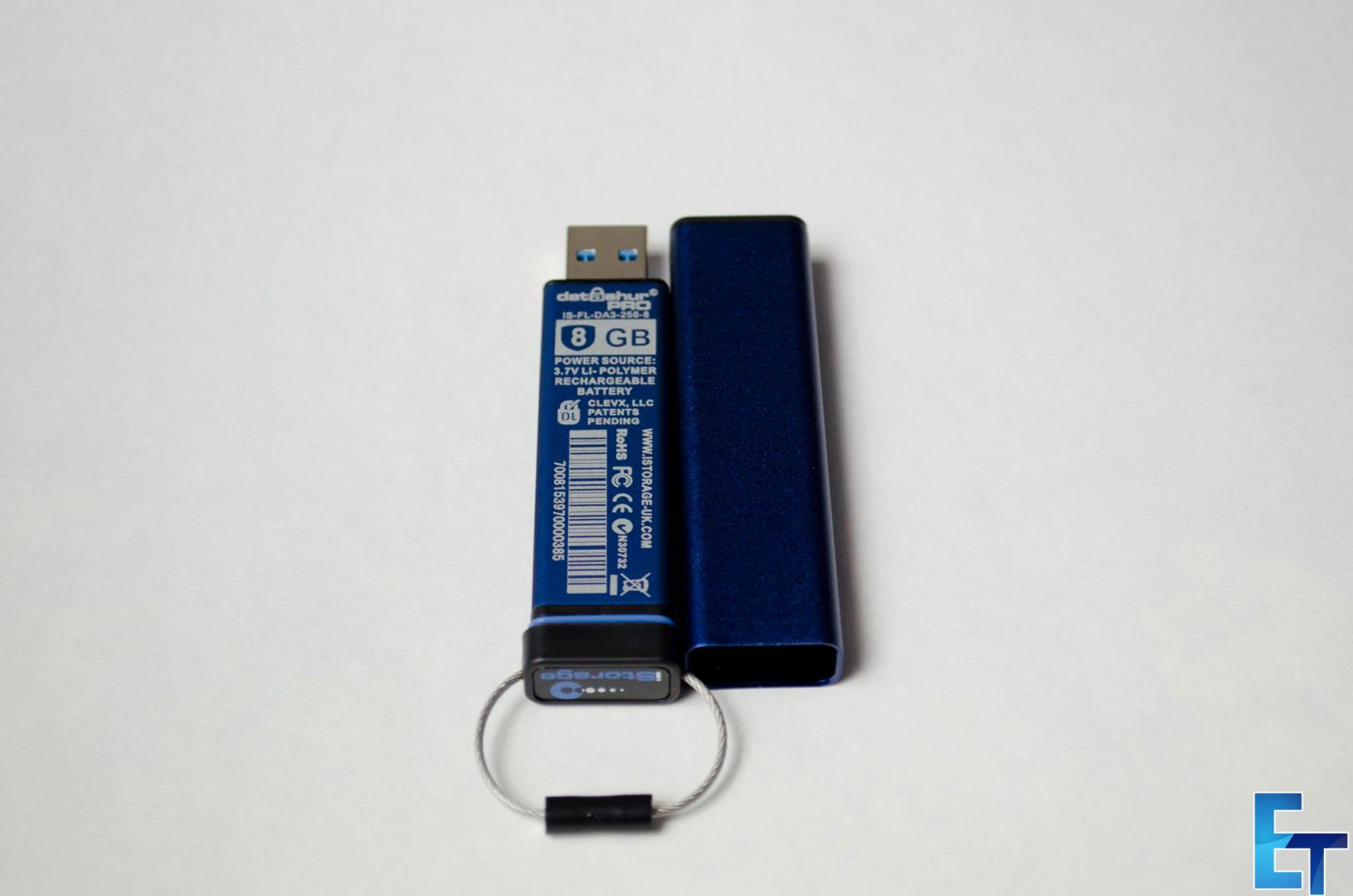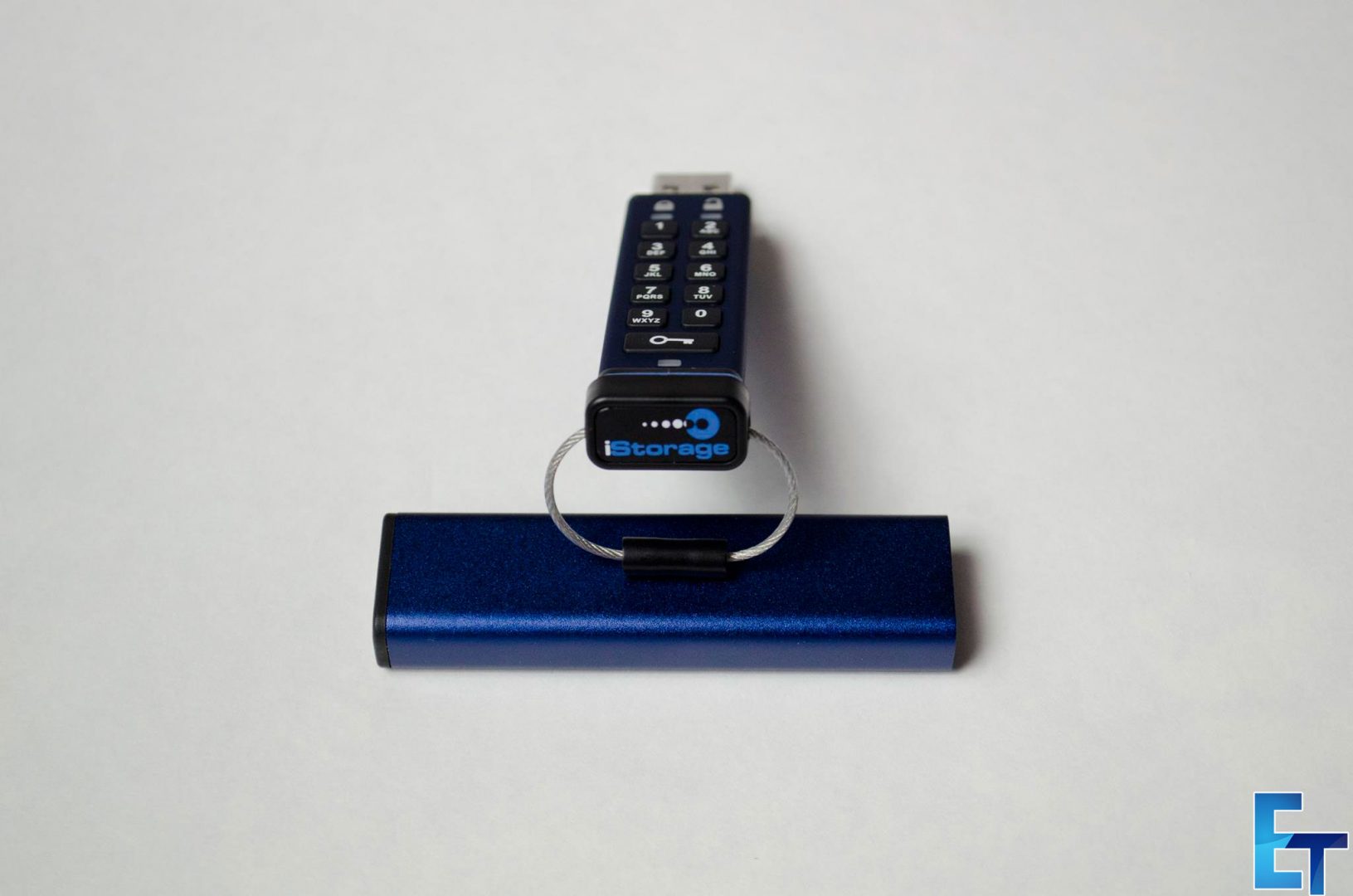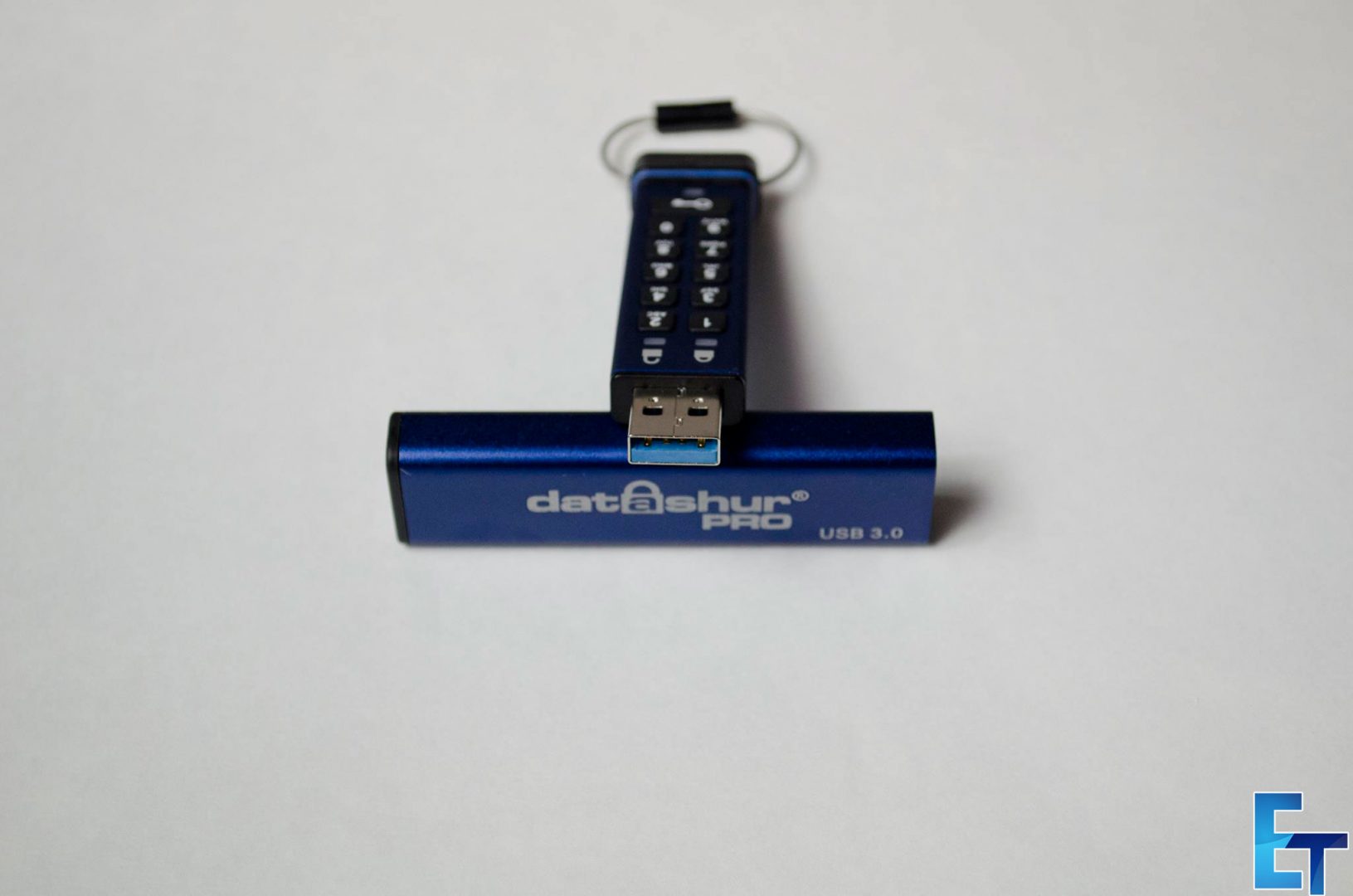 The datAshur Pro features pin code access and military grade XTS-AES 256-bit hardware encryption. One thing to note of, is, that the drive may need to be charged up for 30-60 minutes before first use on a powered USB port as it does feature a rechargeable battery. The rechargeable battery is what lets users enter their pin code via the onboard keypad. As far as pin codes go, users will be able to set admin and individual user pins, so if an individual forgets their pin, they can reset it with the admin pin. There is also a reset function on the drive that will allow users to reset both admin and individual users pins and generate new random number pins so they can reuse the drive. Sounds good, right? Well, there is more! The datAshur Pro is also Bootable which will allow you to install different operating systems onto it and boot right from the device itself. The datAshur Pro definitely has some great features if I may say so. 
Pros of Hardware encryption:
The datAshur Pro cannot be brute force attacked
The datAshur Pro is not vulnerable to keyloggers as the PIN is entered on the unit rather than the keyboard
The datAshur Pro does not require any software and can be used on any Windows, Mac, Linux, Chrome, Android, Thin Clients and Embedded Systems.
Encryption is performed in real-time thus there is no speed degradation
No software or drivers are required
To test the performance, I used some of the programs I would for benchmarking hard drives and SSD's. While the read and write speeds are most likely not the number one factor that will persuade a user into buying this drive, users will still want the drive to operate at decent speeds. If you average out the speeds from the three programs, the drive operates at 130MB/s Read and 32 MB/s Write which are very decent speeds. While the averaged write speed I achieved was not as high as the stated speed, looking at the AS SSD result gives us the stated write speed so there are no worries there. When it comes down to it, the drive performs as it should.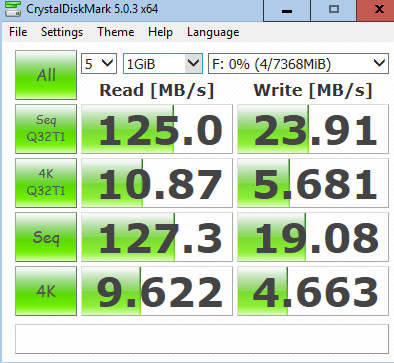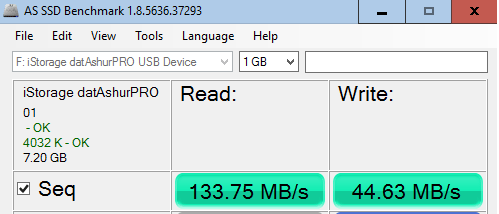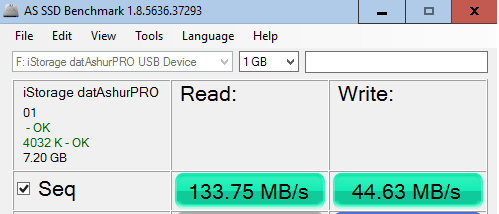 The time has come, I've enjoyed the time I've had with the datAshur Pro and am ready to give my final thoughts on it.
Performace
The main aspect of performance for me, from this drive, is its encryption capabilities. I am far from a hacker so I can't speak to much on it, but from a general user's standpoint it holds up well. I tried numerous ways to trick the drive into unlocking or allowing me to change the pin code, none of which worked. The keypad and hardware-based encryption definitely seem like a very secure way of protecting your data. As for the read and write speeds, they are normal USB 3.0 speeds which are quite decent, especially as speed is not the main factor or this device.
Design
The design is as solid as one could hope from such a drive. It features an aluminium shell and when fully encased, it's waterproof which adds a bit of extra protection no matter the situation. From a technical aspect, the Military grade 256-bit encryption is really what is going to seal the deal on this drive, that is what users will be buying it for. Hardware encryption definitely seems to be the way to go and the dataAshur Pro has chosen to go with this method. The onboard keypad is easy to use and all the buttons seem to be highly responsive so users shouldn't run into any problems with the drive.
Value
This is where people are really going to realize this isn't your average USB drive, the £74 price tag it comes with from Amazon UK. As for as value goes, can you really put a price on knowing your sensitive and private information is safe and secure? Governments and companies probably spend billions on different methods of encryption and trying to break these methods, so £74 for a USB drive really isn't all that bad when you think about it. If you really have files you want to protect, this price is more than fair in my opinion.
I have to say I am rather impressed with the datAshur Pro and will actually be looking to purchase one myself in the near future. I truly believe this drive will do a great job at keeping my files on it secure and this is something I can really use.
I would like to thank iStorage for sending this out for review!