Manufacturer: Valuegist Technology Co. Ltd
Product Page: 120GB SSD
Purchase: $33.99 At the time of review
Today I am taking a look at the Valuegist ST-120G SSD. This is my first look at such a value oriented company and this Dram-less SSD shows its value side for sure, but just how much? First a little about the company, Valuegist is a company I have not heard of before. They seem to be a small company started in 2008 who specializes in value/budget oriented storage, networking/cloud and HDMI2.0 cables. Back to the drive itself, and what I see so far is a nice metal casing with a cheap logo on the front and a haphazardly placed sticker on the back. And no anti-static bag for the product to protect it. . . this is what is to be expected at this budget level and a lot of little corners are cut to make such a product happen. So with that said let's dive in and see what the Valuegist ST-120G has to offer.
Product Detail specification:
1. Capacity: 120GB
2. Sequential Data Read/Write speed: 10X faster than 7200RPM hard drive.
3. Data retention: 10 years
4. MTBF:1,000,000 Hours
5. WARRANTY : 3 YEARS
6. Outline: standard 2.5 inch SSD.
7. Interface: SATA III, compatible with SATA 1.5/ 3.0/ 6.0Gb/s
8. Operating temperature range form 0? to +70?
9. SMART power management.
Touching on the box and packaging. In short this is a budget SSD aesthetically speaking, as there are no extra costs at all with the exterior and packaging of the ST-120G. With rather bare and simple packaging and a plastic 2.5″ tray to hold the SSD with no static packaging, and an Install Manual for the SSD. You can see the Valuegist logo on the front side and basic info on the sides and rear of the box.
Closer Look
The Valuegist ST-120G feels nice but that is about the end of it, the metal casing is nice and solid but the sticker on the back was nowhere near center or squared up and the cheap logo painted on the front continues to speak aesthetically on the cut corners to reach such a price point. Seeing as normally you won't see most of your drives this has no impact in reality and it was a pleasant surprise to see the metal casing.
Having a closer look at the controller and memory on the unit (this is a Dram-less SSD) the Silicon Motion SM2258XT is the same one we have seen on various transcend SSDs everywhere. The SM2258XT is a high-performance SATA 6Gb/s SSD controller suited and often found in cost-effective, small form factor and low power units. The single-chip, DRAM-less design reduced BOM cost without compromising performance while enabling 2.5″, 1.8″, slim SATA(MO-297), mSATA(MO-300) and M.2 form factor SSDs. Its ultra-low power consumption effectively extends battery life and optimizes the user experience.
Performance
Benchmarks: Anvil R/W – AS SSD – CrystalDiskMark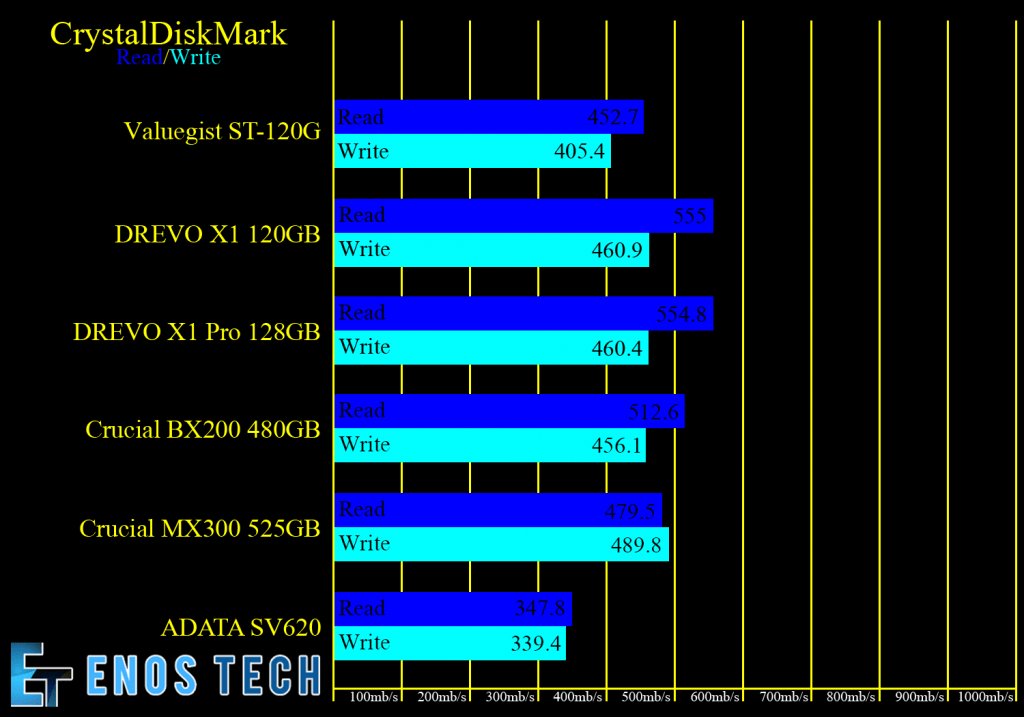 While the speeds were a little hit or miss at times depending on the benchmark used, the Valuegist ST-120G is delivering a punch that you would feel right away if you were upgrading from a standard HDD to one of these as your main system drive. I think Valuegist is landing right where they need to where Price vs Performance is concerned, offering up a SSD solution for the beginner or budget minded user, for just a refresh of an the system drive all the way to a faster game drive.
Final Thoughts
While the Valuegist ST-120Gs performance is underwhelming in today's SSD market, where else are you going to get a 120GB SSD that can throw out these kinds of read and write results compared to a HHD? I can see where a drive like this would be very handy for games like PUBG which has some serious texture load issues that grow smaller and smaller the faster the drive the game is stored on. The metal casing was a surprise to see at this price point, though the lopsided sticker and a rather cheap logo stamping shows its budget aesthetically and with it being a DRAM-less unit. In using the drive for the last two weeks I have had it positioned as everything from a boot drive to a game drive and even cached a few projects to it. All in all the performance is right where it is to be expected at this price point, everything from my boot to gameplay was much faster than any of my standard hard drives. I do hope that Valuegist will visit the idea of a static bag for shipping. I feel even if the price went up a few dollars to compensate is a cost that is never worth skipping, and will relieve potential loss in RMA units for static damage in any of the many transfers it makes from the factory to your device. And in all honesty, nothing bothers me more than getting my new hardware home and finding out I bought a dead unit…