Introduction
It has been quite some time since we have reviewed anything for the good folks over at Deepcool. However, that is all about to change and we should start seeing more of their products again. Today, we are taking a look at one of their newer models of PSUs. The PM500D is a non-modular PSU that boasts an 80PLUS Gold rating. Deepcool has recently undergone some rebranding if you will, and it has allowed for them to have a more quality look. Not only does their packaging look a bit nicer, but their products are also offering better performance and aesthetics instead of just focusing on being budget-friendly. Deepcool has been in the market for a good few years now and they are starting to make a great name for themselves and I look forward to seeing what else they may come out with as they branch out into new products categories. However, today, it is time to take a look at the PM500D power supply and see just what it has to offer.
Technical Spec
| | |
| --- | --- |
| Type | ATX12V V2.4 |
| Product Dimensions | 150×140×86mm (W x L x H) |
| 80PLUS Certifications | GOLD |
| Fan Size | 120mm |
| Fan Bearing | Hypro Bearing |
| Topology | Active PFC + Full Bridge SRC LLC + DC to DC |
| Capacitors | TW Bulk Capacitor |
| Power Good Signal | 100-150ms |
| Hold Up Time | ≥16ms(75% Load) |
| Efficiency | ≥90% Under Typical Load(50% Loading) |
| Protection | OPP/OVP/SCP/OTP/OCP |
| Operation Temperature | 0-40°C |
| Regulatory | TUV/cTUVus/CCC/CE/FCC/UKCA/EAC/BIS |
| Erp Regulation | ErP(2014) |
| MTBF | 100,000 Hours |
| EAN | 6933412709947 |
| P/N | R-PM500D-FA0B-US |
Deepcool PM500D PSU Closer Look
Since their rebranding, Deepcool has done a good job at making their packaging look a bit more professional I guess you could say. It wasn't bad before, but it has a more premium and quality look to it now. The front of the PM500D box features a sleeve that has an image of the PSU on it, the model, and an 80PLUS Gold sticker and that is it! Simple and to the point, something which I quite enjoy.
On the back of the box, we have a more detailed specifications list here. We can also see the efficiency curve which states that at %100 usage, the PM500D still operates at 87% efficiency which is great to see. While hopefully, no one is making out their PSU all the time, with smaller units is bound to happen from time to time so being able to have that faith in the unit itself is important.
Getting everything out of the box we have the PM500D itself, installation screws, and a single power cable and that is it. Just enough to make sure we can get the PM500D installed, secured, plugged in, and working with ease.
The sides of the PSU are the same and feature a very minimalistic design, which is great to see. There is a small logo in the bottom right and then, in Deepcool's new brand colour, a nice turquoise line to add a little something to a rather big and plain area. I am liking this approach, while I am all for a small bit of branding, most companies tend to overdo it these days. Well done to Deepcool for keeping it simple.
The top of the PM500D has that lovely info on it that companies are forced to put on all power supplies. Depending on how you install your PSU into your case will determine whether or not you will be able to see this sticker once the PSU is in your PC.
While I am on board with Deepcool's new branding and whatnot, I am still not so sure about the logo. While it looks nice, to me it looks more like DR than DC and I am sure they have had many people mention that to them. As you can see right in the middle of the fan protection grill, it is a nice and simple logo but yeah, kinda looks like something other than what it is supposed to be.
Around the back and again, we have a bit of that lovely turquoise colour to add a little something extra. It's only on the power button so it isn't overly done which is fine by me. Deepcool has also cone and added a fair bit of ventilation to this area as you can see.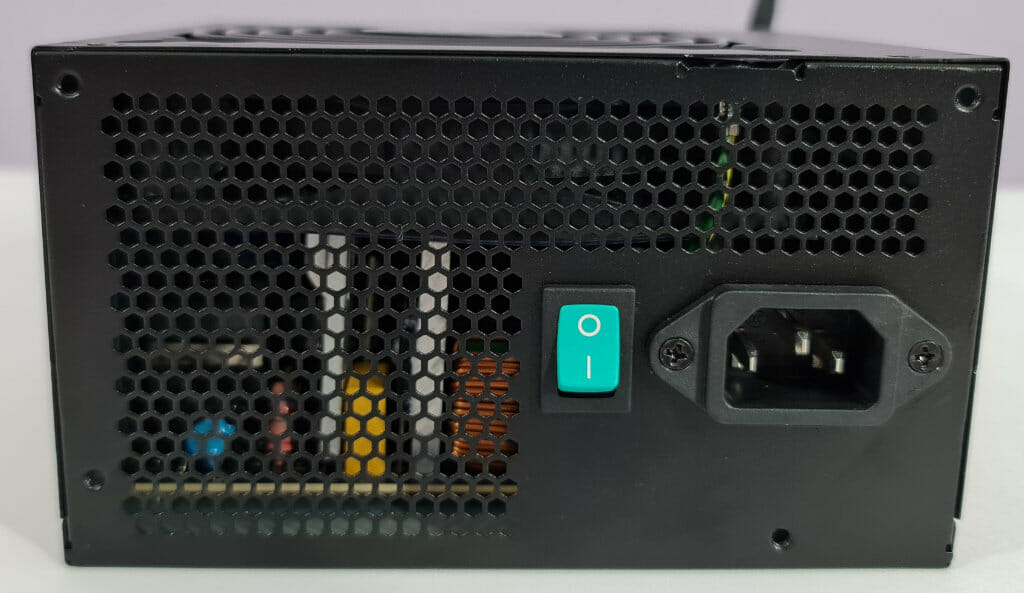 The PM500D is a non-modular PSU and what this means is that the cables are always attached to the PSU itself. While this isn't always ideal, to help keep prices down, sometimes companies chose this over going modular or fully modular. One thing that bodes well for Deepcool in this aspect is the fact that the cables are flat black cables. So while you may not be able to remove them, they do look nice and the flat design should allow for easier cable management.
The PM500D comes with the standard cables and connectors you would hope to see on a 500W power supply. There are a total of six SATA power cables and four MOLEX connectors.
We also have the main 20+4pin main power connector, two 6+2 PIN PCIe GPU power connectors, and a single 4+4 EPS Power connector. While a lot of power supplies are starting to come with dual 4+4 EPS connectors, as this is only a 500W it comes with a single EPS connector.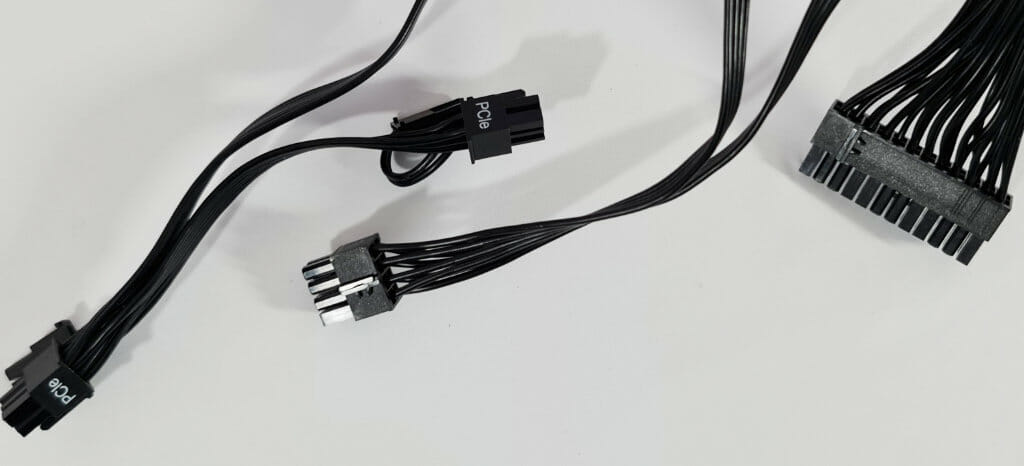 Deepcool PM500D Final Words
At the time of review, the only pricing we can find for the PM500D is around £80 here in the UK. This is pretty much the standard price you will pay for a 500W 80PLUS Gold Rated Power Supply during the current time.  Over the years, Deepcool has stepped their game up and it is nice to see them competing with market leaders, across a wide range of products! Power Supplies are something you never want to cheap out on so where possible, make sure to do some research and get a decent one!
While we can't hook the Deepcool PM500D up to a load tester, we can run it through our normal set of tests to at least make sure it won't pop during normal usage. Using some different software and tools, the Deepcools performance on the 3.3V, 5V, and 12V lines was well within the respected limits.  While our tests are not flawless, they have held up well over the years and do give us a good general understanding of how a PSU will hold up.
The PM500D passed all our in-house tests and I have no problem recommending it for your next build. The only thing that could make it a better option is if the price was a bit better. While the price is fine and is in line with the market, dropping it even just a few GBP could make it stand out a bit more in a currently highly saturated market.