DREVO is a relatively new company on the market, with the goal of hitting the gaming market with solid budget-friendly hardware. So far we have had a chance to get familiar with a few of their SSDs and were pleased with them and gave them the EnosTech Useful rating. Now we get a chance to look at the DREVO Joyeuse keyboard. The Joyeuse sample I have received is a preproduction sample so it is not the final version. The version sent to me came with RGB lighting on the side, the final model has been confirmed to only have white on the sides to match the key lighting. My model also came with what they are calling the DREVO Low Profile Switch in the Blue flavor. Black, Blue and Red switches are available.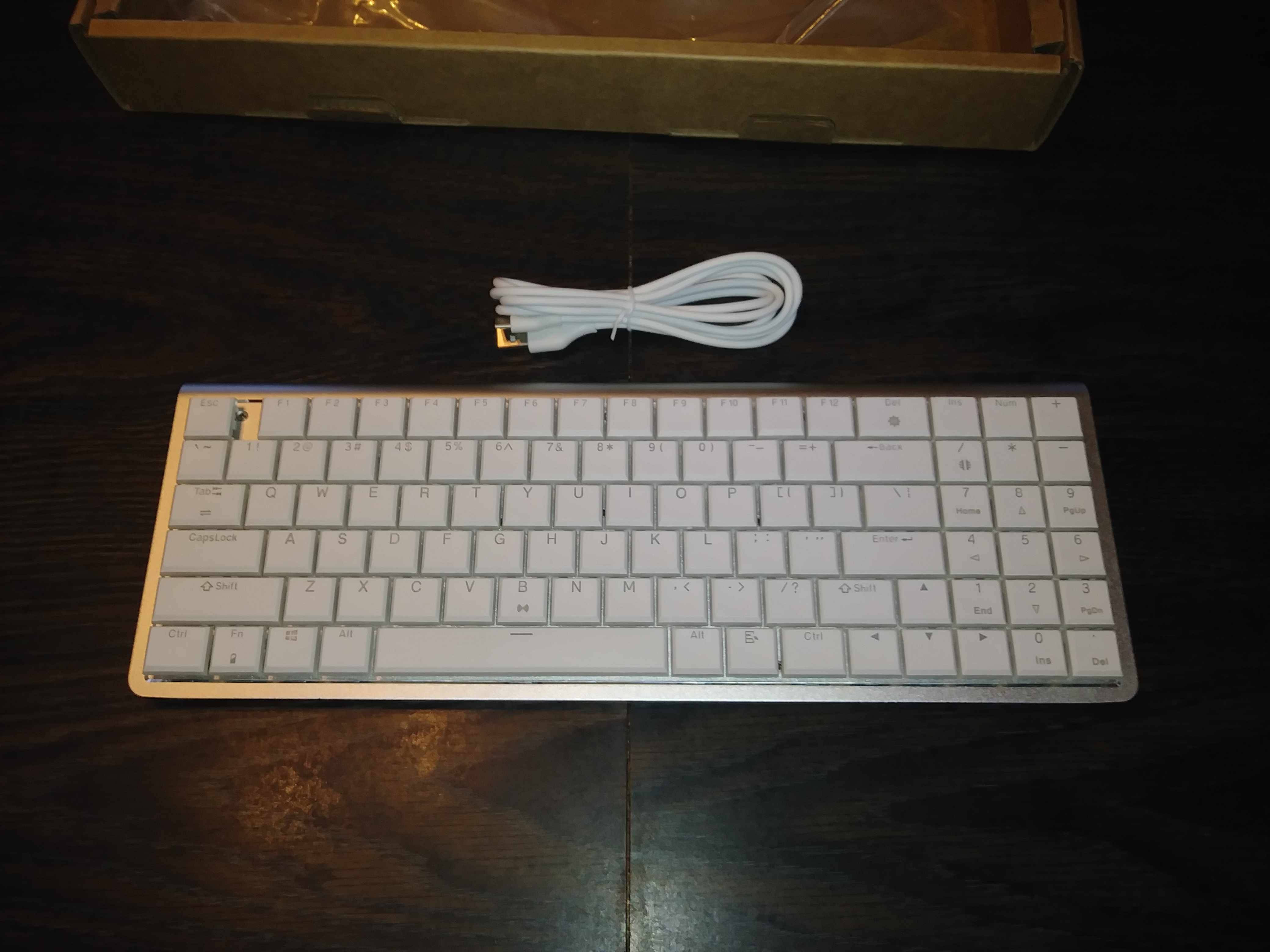 Product: Joyeuse 96 Key Ultra-Thin Keyboard
Manufacturer: DREVO
Price: The price on the DREVO website is $69.99
Specifications and Features
Packaging and Unboxing
My sample came with no box flair being it's a pre-production model. The box was well made but needs to be fit to the keyboard a little better, being there was some wiggle room for the device to move around freely. I am sure they will fix this during final production, as my box also came plain with no art or product information what so ever. The package itself contains the keyboard, one USB Type-C Cable, a Sticker (not included with my sample) and the Manual (also was not included).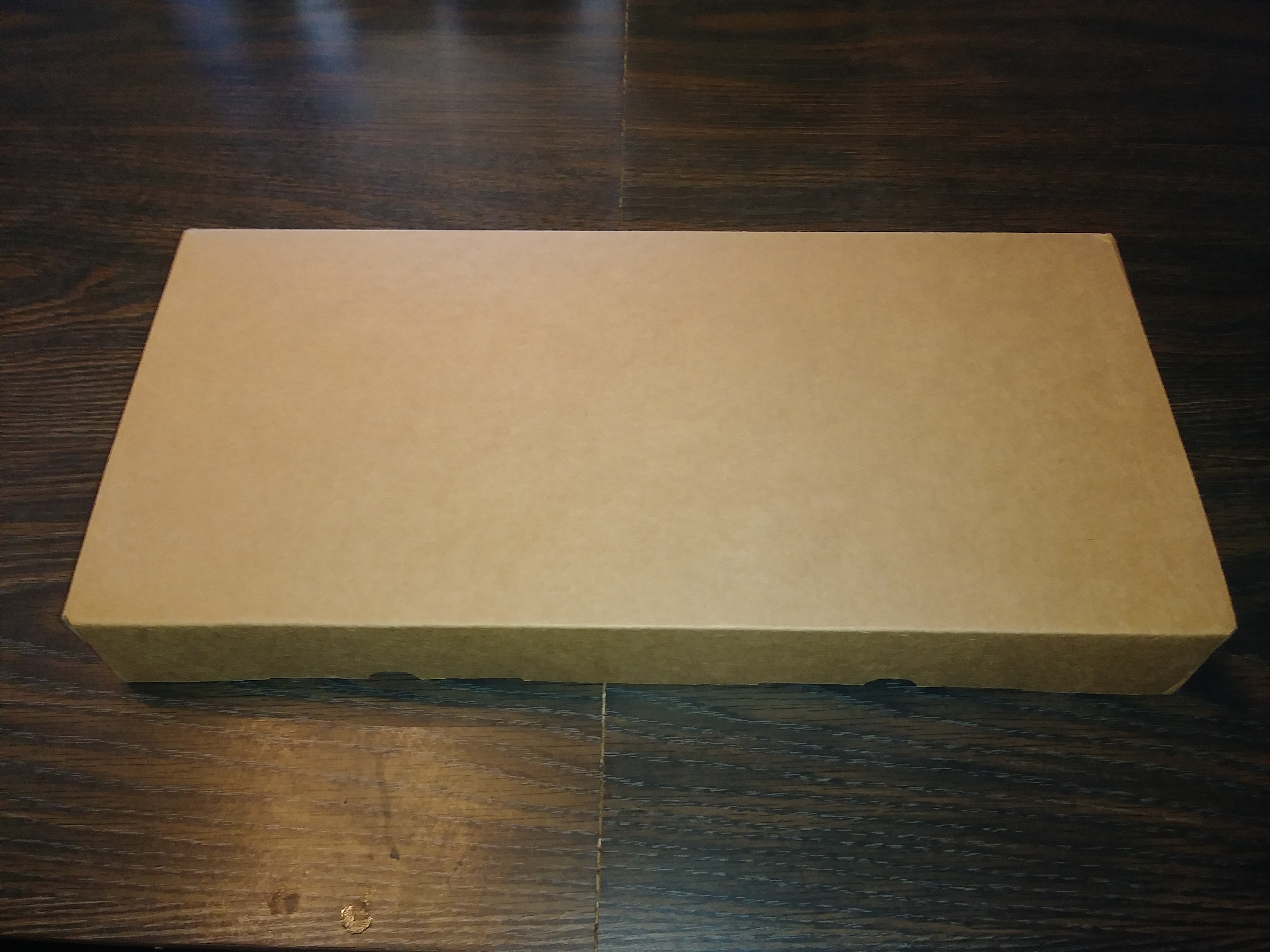 Closer Look
Let's take a look at the keyboard itself now. It is 21mm thin with a sleek All-Aluminium alloy housing measuring 343mm x 125mm and floating key design, which all combine to make a very portable, compact and beautiful keyboard to look at and use. There is an FN key that combines with the Del key (switches through various White LED backlight effects) and the Num Pad Slash key (on/off for the side lighting) as well as a few other FN key features found on most keyboards with such a key. Being this is a compact keyboard packed full of features there are no dedicated media buttons or secondary FN key functions for media that can be seen.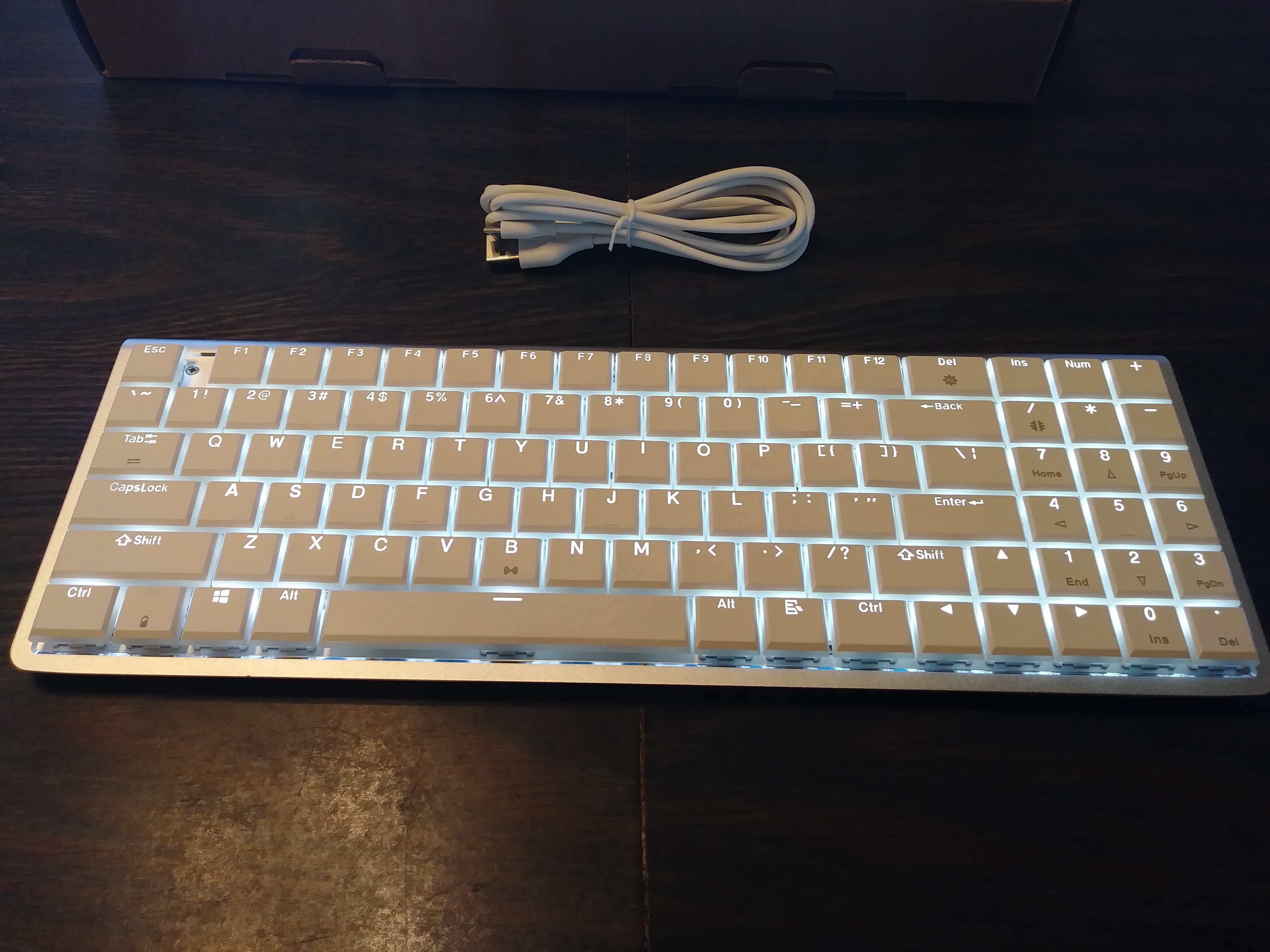 The Num Pad is pretty basic with the six keys that usually sit above the arrow keys being implemented as FN key functions. I added a darkroom shot to show how bright these keys can be, they will light up a little area on the desk around the device with ease.
The keycaps on this keyboard are Double-shot ABS which is pretty common in keyboards, but come with the downside of getting dirty easier and these keys are white with the silver alloy casing to worry about keeping dirt off of, so regular cleaning will be needed.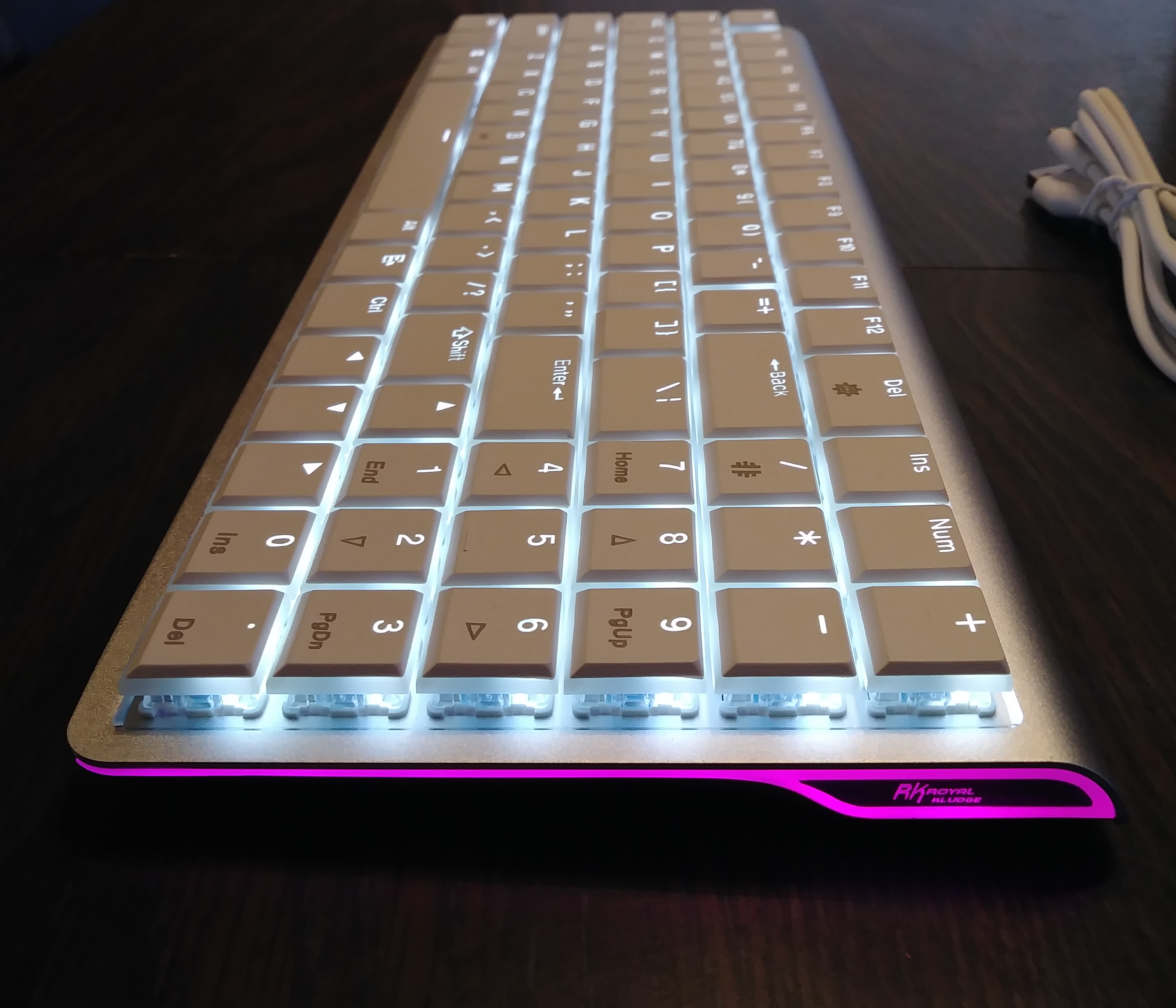 The backside of the keyboard has an On/Off switch for the wireless Bluetooth 3.0 function, which you can leave in the off position when the keyboard is plugged in via USB and it will charge as well as still function for you via the provided USB cable. You may also use any USB cable like the ones commonly found with Android phones, but please make sure that your phone USB cable is Micro USB and ensure the quality of it. There is zero cable management provided under the keyboard either, but this is to be expected since this specific model seems more aimed at the travelling business professional and or LAN seeking gamer.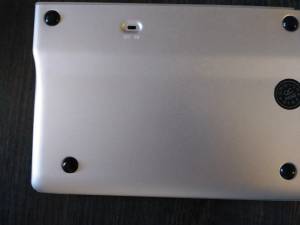 DREVO Blue Low Profile Switch
The DREVO Low Profile Switches are new to me, having never heard of them. They come in three variants, Black, Blue and Red with Black looking to have the most resistance and Red the least. The feel of the Blue switches on my sample is amazing to press and there is a wonderful little click with each press, not too loud but there to let you know audibly and by touch it's been pressed. If I could have these keys on my G910 Orion Spark with its caps I would be in keyboard heaven, but more on that later.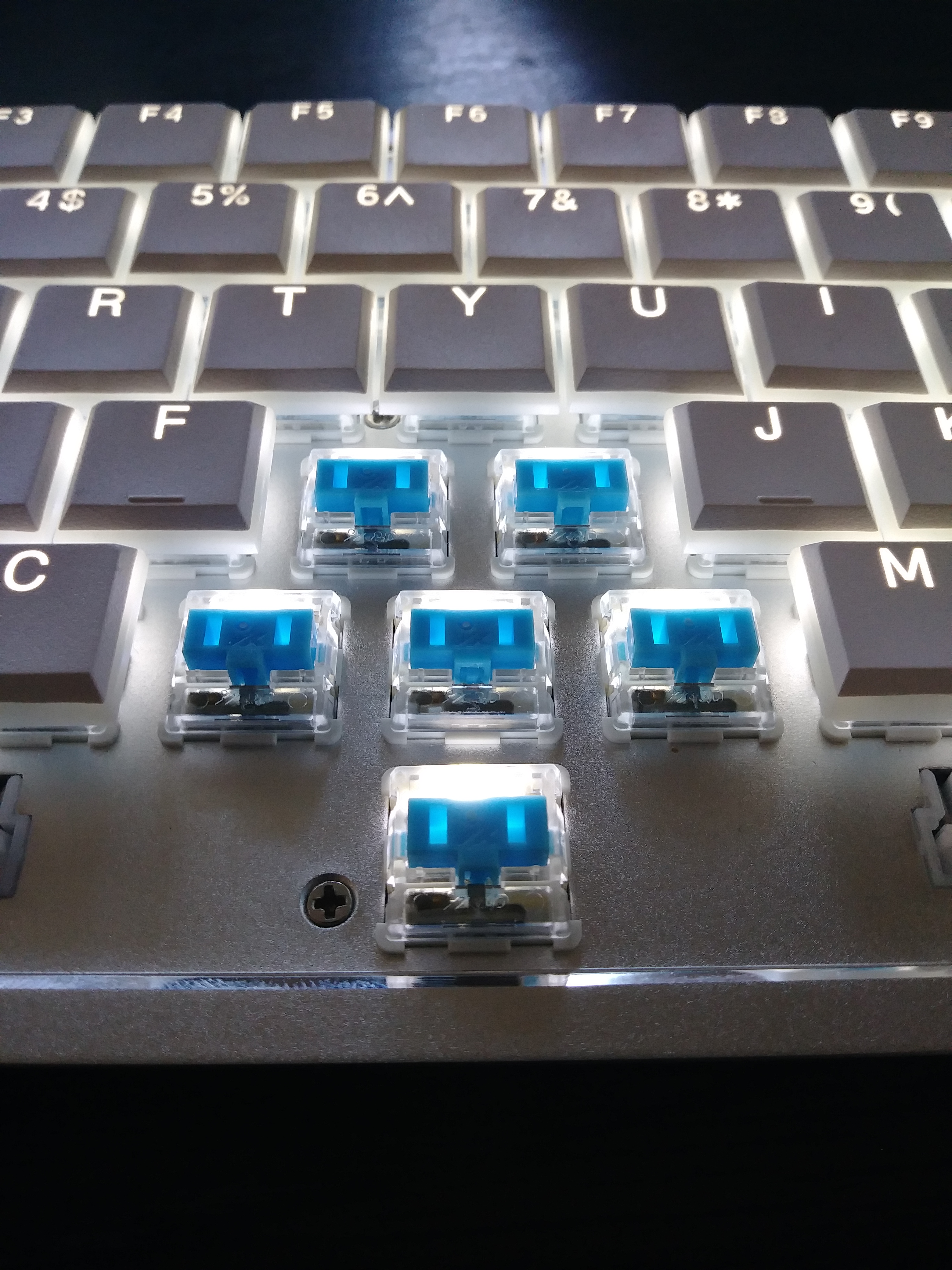 A closer look at the DREVO Blue Low Profile Switches, as you can see everything is pretty well sealed but the DREVO keyboards are not waterproof. The keycaps are manufactured by standard specifications and can support the replacement of most keycaps.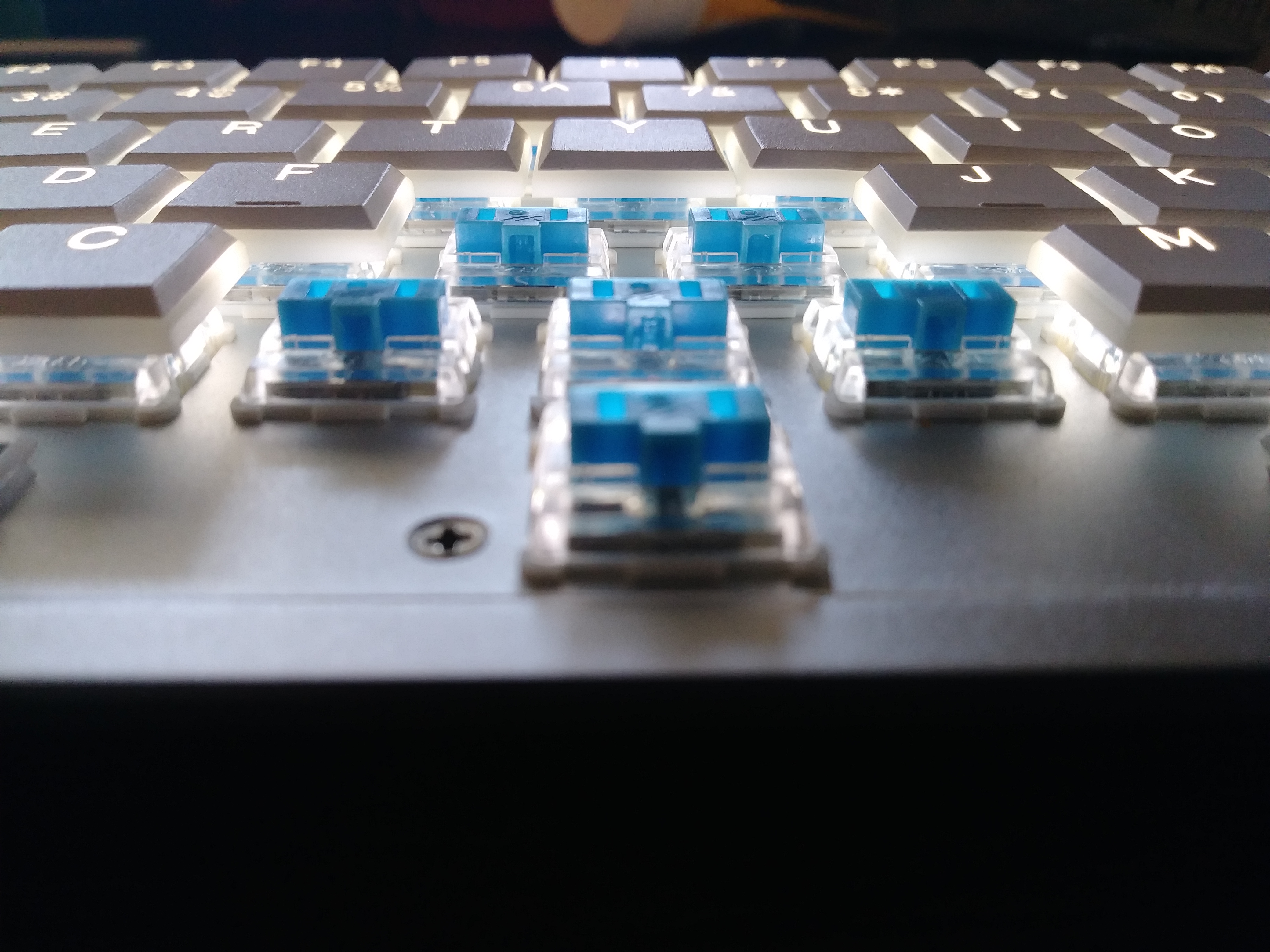 And one more of the switches from above with better light. Also, I should mention the switch is not pluggable.
The keycaps themselves are very thin which helps make the 21mm thickness a reality.
Conclusion
There is so much to love about this keyboard, from the great switches to the very premium feel of the whole unit, now for my one complaint from above. I love everything about it but the size, for travel this is perfect but as an everyday keyboard it's too small for my taste, please keep in mind though that I am a very large person with big hands. So using the keyboard to type up this review draft was a bit tough at times, gaming on the other hand after a small adjustment period was a very nice experience for me personally. The keys are very responsive and I get exactly what I press every time when I press the key.  If I could put these switches in my Logitech G910 Orion Spark I would be in Keyboard Heaven. The G910 is soft and smooth but tougher to push down and in long gaming sessions the G910 can leave your hands feeling it a bit fatigued, the DREVO Joyeuse switches solved this! The overall feel and look of the keyboard resonate high quality and anyone that sits down to use one of these will have a hard time not finding at least one thing they love about it. The lighting effects were way more than I expected from this keyboard by a long shot with the key-press splash effect being my favorite, and the best part being there is no need for any software to use this keyboard it is 100% plug and play.
The pricing on this keyboard is very fair in my opinion, considering I feel like it has a far superior switch than my G910 which retails at more than double that of the DREVO Joyeuse. It is a very compact yet sleek mechanical keyboard. There is next to no flex when I grab either side of the keyboard and twist, top that with the really nice switches and low-profile caps and this makes one very nice conversation piece at your next LAN party or office meeting. I was informed the final product will only sport white LEDs on the side to match the single color on the keys, but I think DREVO should explore the option of full RGB to go with the array of effects that are present in the keyboard.
I want to thank DREVO for providing me with the pre-production review sample.