Today we are taking a look at the Drevo X1 256GB SSD. Previously, we had looked at their GRAMR keyboard and were overall quite pleased with it. Drevo is somewhat of a new company and as such, they don't have a massive catalog of products. Instead, what they do have are some great budget friendly products that do perform well. While there isn't a whole lot to go on, it does seem as if Drevo is currently looking to cater to the 'PC Gaming' market with their products.
The Drevo X1 240GB variant is boasting write speeds of up to 470MB/s with read speeds topping out at 550MB/s. If these speeds are in fact achievable, which we will check in a bit, this will allow the X1 to be an all around good SSD. Having such speeds are essential for an SSD these days and the price point is right around where it should be. As with most SSD ranges, Drevo has included a few different sizes which can also have an impact on the overall read and write speeds. Generally speaking, the less space the SSD has to offer, the less performance it will offer as well.
The box the Drevo X1 comes in isn't much bigger than the SSD itself. On the outside of the box, we can see the Drevo logo with a bit of lightning going through it.
On the back of the box is the Warranty info and some tips for installing the X1 SSD.
The SSD comes in a nice anti-static packaging as well so you won't have to worry about any ESD when you first receive the drive.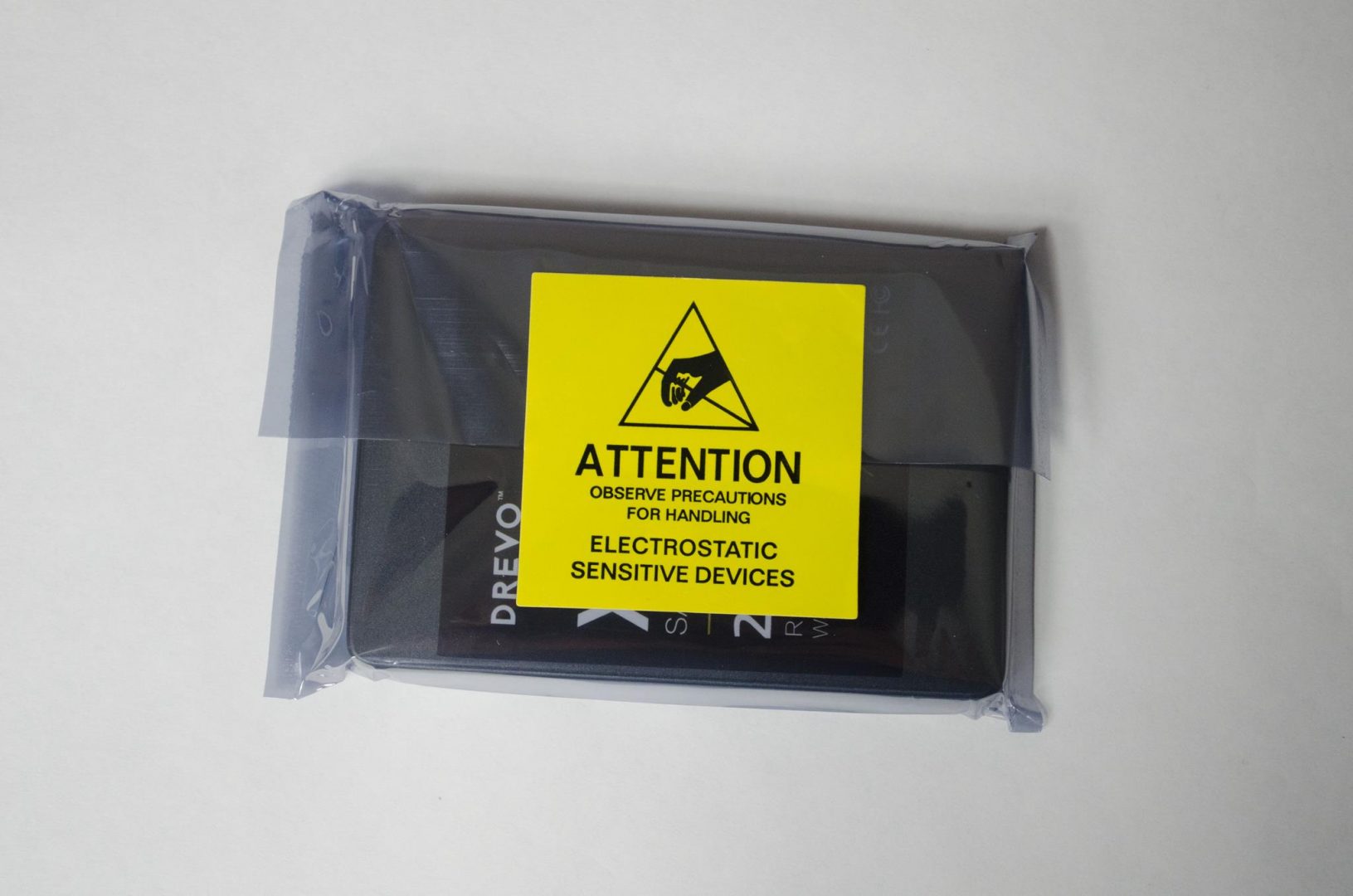 Alongside the SSD comes a nice little sticker feature the Drevo horse head logo.
When it comes to aesthetics, the Drevo X1 is quite pleasing to the eye. It features a grey casing and again, we see the big yellow lightning bolt that appears to be giving off electricity. Also on the front, we can see the capacity of the SSD alongside the stated read and write speeds.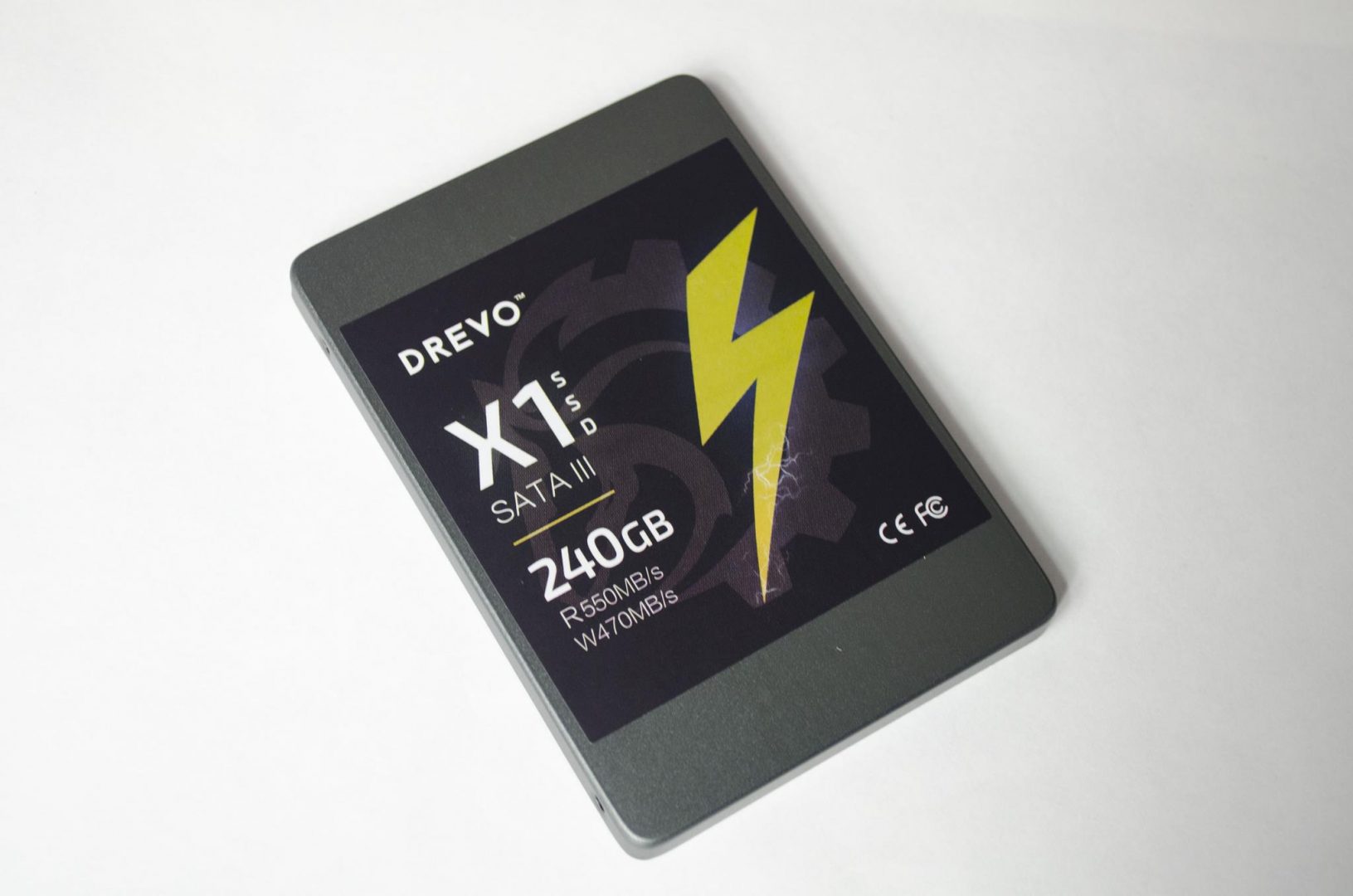 On the back as some of the specifications and features of the drive. This information here is probably the most info you will find on this drive, even checking the Drevo website doesn't turn up as much info as this sticker on the backside of the drive.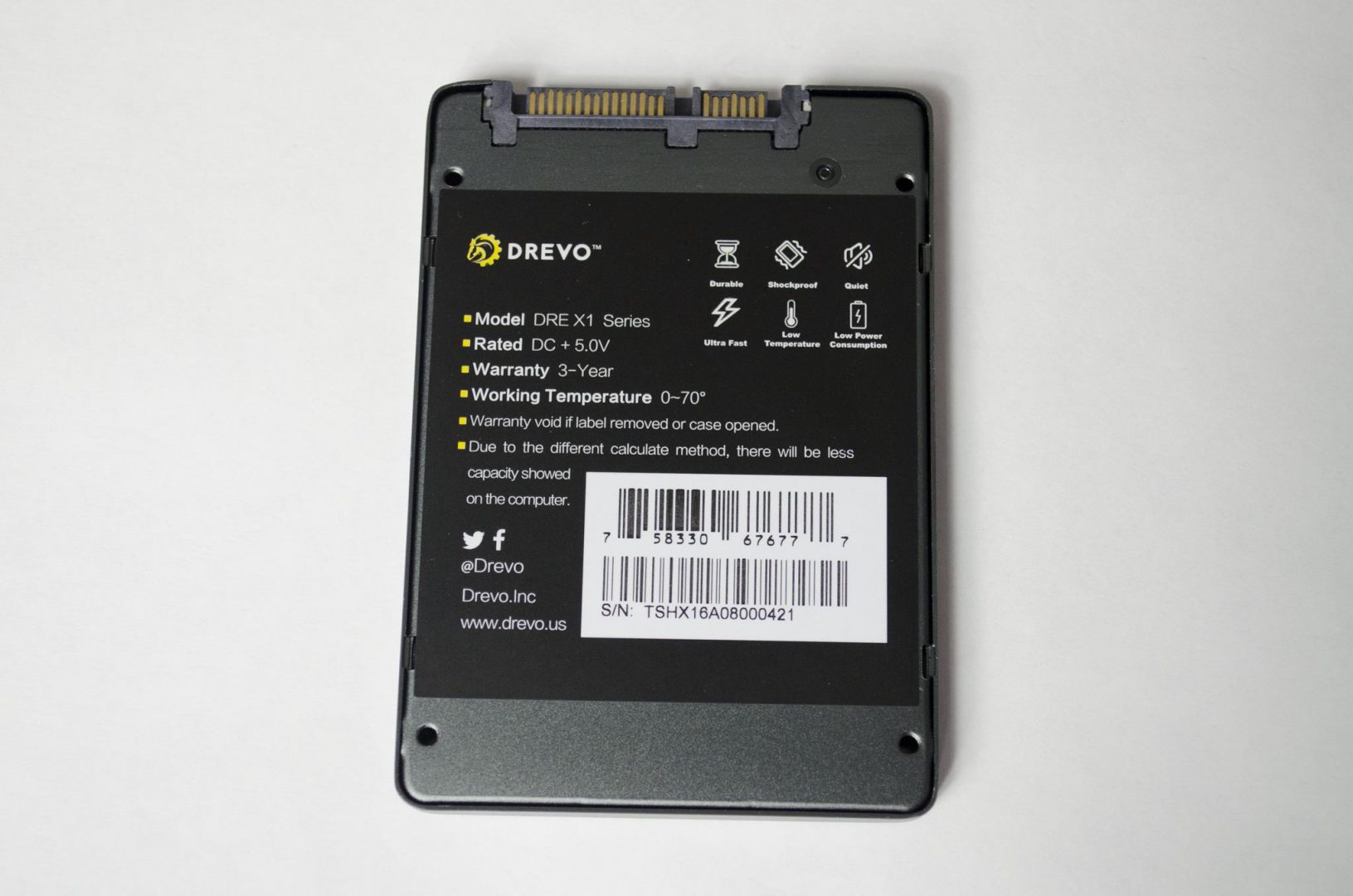 Opening the drive up and we can see the actual board is quite a bit smaller than the casing it comes housed in. This isn't anything to be weary of, just something to take note of.
Having a closer look at the chips on the drive and we have what appears to be to SK hynix memory chips and 2Gb of DDR3(L) SDRam.
Flipping the drive over and we can get a look at the Silicon Motion SM2256K controller. This same controller can also be found in Various Transcend SSDs.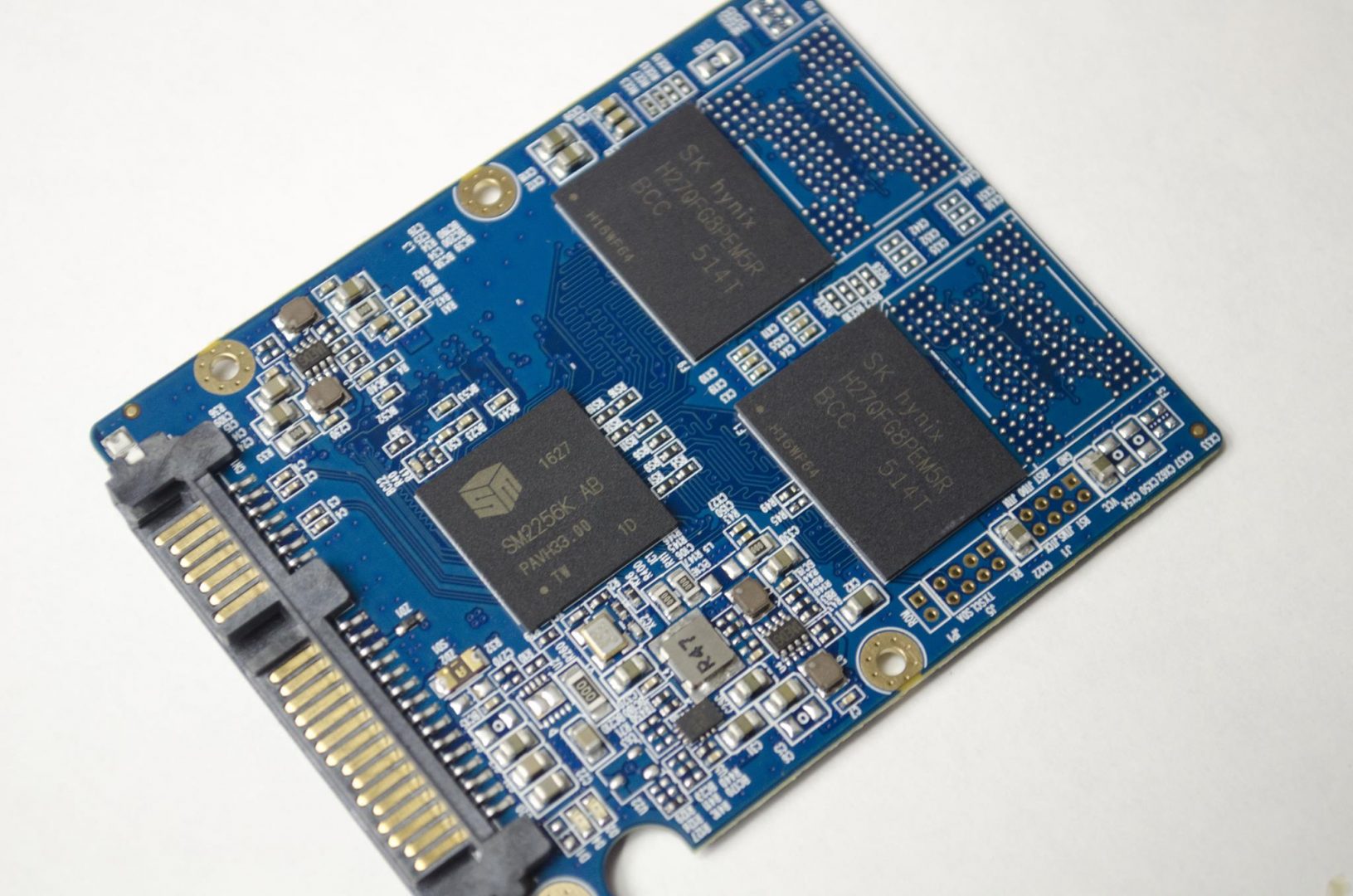 It's a shame that Drevo hasn't listed more information regarding the individual specifications of the components that make up their X1 SSD but at least it looks like they have gone with well-known companies!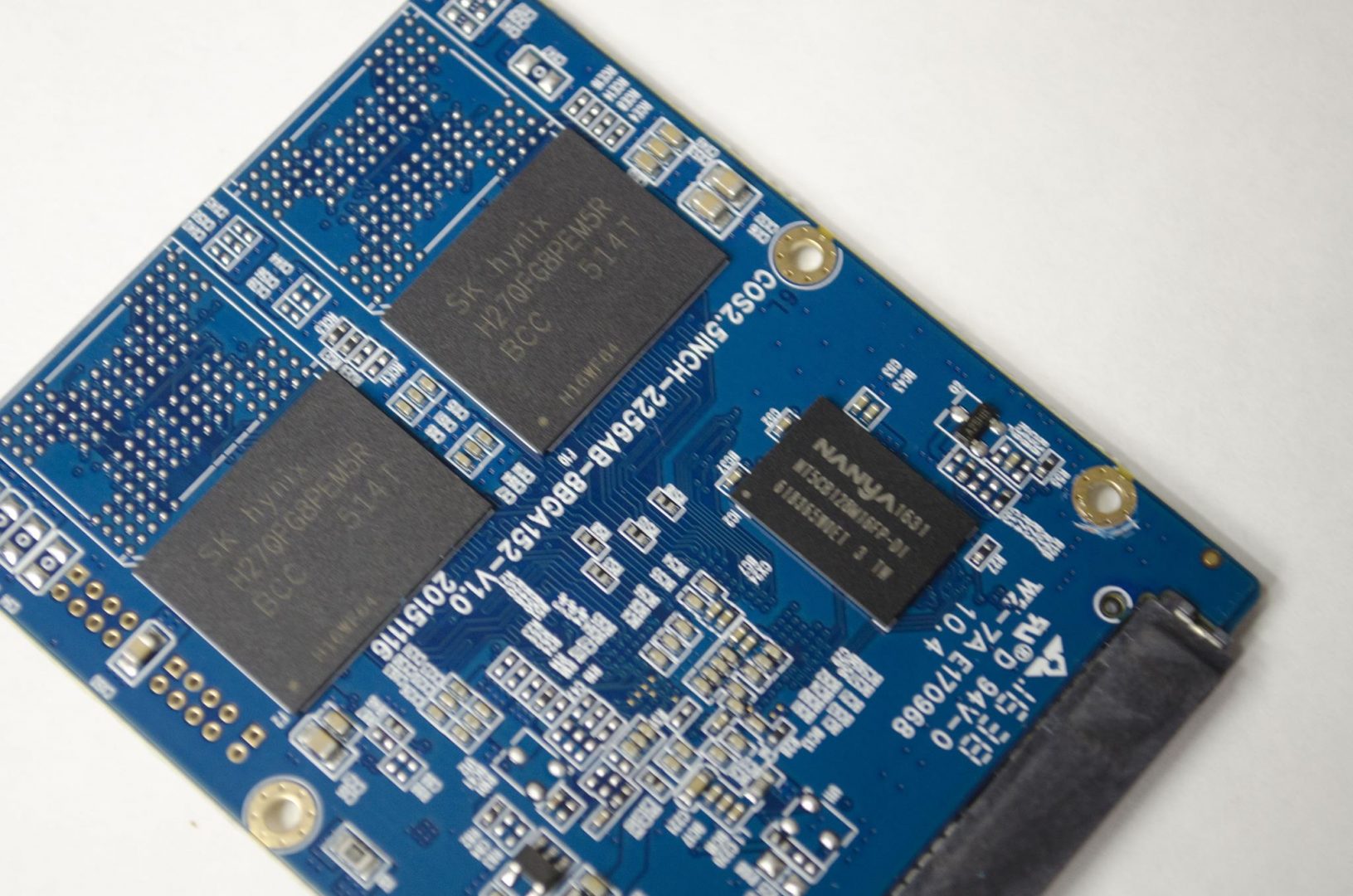 Anvil
AS SSD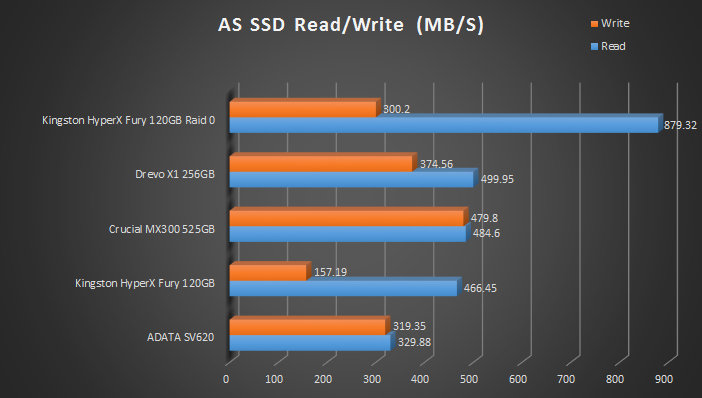 CrystalDiskMark
Performance
While the read speeds were a bit closer to hitting their stated speeds, unfortunately, the write speeds let us down a bit. Even taking our best result, we were still about 90MB/s away from achieving the stated write speed which just isn't something we had wanted to see. However, 380MB/s a second is still fairly fast if coming from a mechanical drive, though if you are coming from another SSD to this, you may be a tad bit disappointed. Generally speaking, I can be happy with a 20-30MB/s difference between real world and what is stated, but 90 MB/s is just a tad bit much for my liking.
Design
While there isn't a whole lot of information readily available, it does seem as if Drevo has at least used some quality components to make up their X1 SSD. Alongside the Sk hynix memory chips, we also saw a 2GB DDR3(L) SDRAM chip all of which is controlled by the SM2256k controller. While I still am a bit upset about not being able to achieve the stated write speed, at least we know the X1 is comprised of decent components.
Value
Since I started this review, the price of the drive has now come up around £13 from what it originally was which puts it in a much more competitive area of the market. When it was a Sub £55 drive, the hiccup with achieving the write speed wasn't the biggest of deals as the drive was a fair bit cheaper than most others. However, with the recent price bump of this drive is going to need to be able to do exactly what it says in its specifications if it wants to be worth of its price tag.
"When all is said and done, the Drevo X1 is still a Useful drive. The only thing holding it back is the fact we were not able to obtain a close enough result to the given write speeds."
Many thanks to Drevo for supplying us with their X1 SSD for this review.