INTRODUCTION
In recent weeks and months, storage products have started to drop to an almost normal price. Yes, storage products are just about affordable and we are seeing some great deals on products, such as the Netac NV7000-T 2TB NVMe SSD that is on review today. Netac may not be a name that many have heard of, but they are definitely hitting the ground running with their latest products.
The NV7000-T 2TB NVMe SSD comes with a 3D NAND FLASH, read/write speeds of up to 7300/6700MBs, and supports S.M.A.R.T/TRIM Command/NCQ all while being backed by a 5-year limited warranty.
The NV7000 is compatible with Laptops, Desktops, and even the PS5. Should you go for the 2TB model, it features a TBW (Total Bytes Written) of 1280 which should be enough for most users.
Currently, the NV7000-T 2TB NVMe SSD is available on Amazon UK for £101.99 though there is also a 10% voucher currently available for some, further lowering the price.
On Amazon US, the 1TB model is $70.99 and has a $15 off voucher while the 2TB is currently $112.99

Netac NV7000-t CLOSER LOOK
The NV7000-T packaging has a nice rainbow effect to it when the light hits it. This doesn't make any difference to the performance but if you were shopping in a brick-and-mortar store, it would definitely help it stick out a bit.
On the front is a nice image of what the SSD will look like and we can see that we have the 2TB model.
Getting everything out of the box and we have the installation instructions, a couple of mounting screws, a heatsink/cover, and the drive itself.
It is nice to see the heatsink not being applied as a lot of motherboards are now coming with their own heatsinks. This means any pre applied M.2 heatsinks will normally be removed to make full use of the motherboard heatsink. However, having it included is a nice touch for those that will want to use it as it only takes a couple of seconds to apply to the drive.
The good thing about NVMe drives is there are normally hidden out of the way so it really doesn't matter much what they look like.
The image below shows what the side of the drive that will be up against the motherboard in most scenarios looks like. We can see the model, size, and serial number.

TEST SYSTEM AND PERFORMANCE
TEST SYSTEM
Motherboard – ASUS ROX Strix Z690-E Gaming WiFi
CPU – Intel 12600K
RAM – OCPC PISTA DDR5 5600Mhz 16GB (2x8GB)
SSD – Netac NV7000-T 2TB NVMe
Graphics – Zotac 3060
Power Supply – be quiet! Dark Power 12 750W
BENCHMARKS
To test the performance, I ran a few of the more standard benchmark programs used for testing storage devices.
AS SSD – Test the sequential or random read/write 

performance

 without using the cache. AS SSD Benchmark reads/writes a 1 GByte file as well as randomly chosen 4K blocks. Additionally, it performs the tests using 1 or 64 threads and determines the SSD's access time.
Anvil – Anvil's Storage Utilities is a powerful tool that was designed to provide you with a simple means of assessing the read and writer performance of your Solid State Drive or Hard Disk Drive. The benchmark tool helps you monitor and check the response time of your unit as well as view the system information collected using Windows Management Instrumentation (WMI).
ATTO – As the industry's leading provider of high-performance storage & network connectivity products, ATTO has created a widely-accepted Disk Benchmark freeware utility to help measure storage system performance. As one of the top tools utilized in the industry, Disk Benchmark identifies performance in hard drives, solid state drives, RAID arrays as well as the host connection to attached storage. Top drive manufacturers, like Hitachi, build and test every drive using the ATTO Disk Benchmark.
CrystalDiskMark – Another benchmark program designed to measure the read and write speeds of storage drives.
AS SSD
ANVIL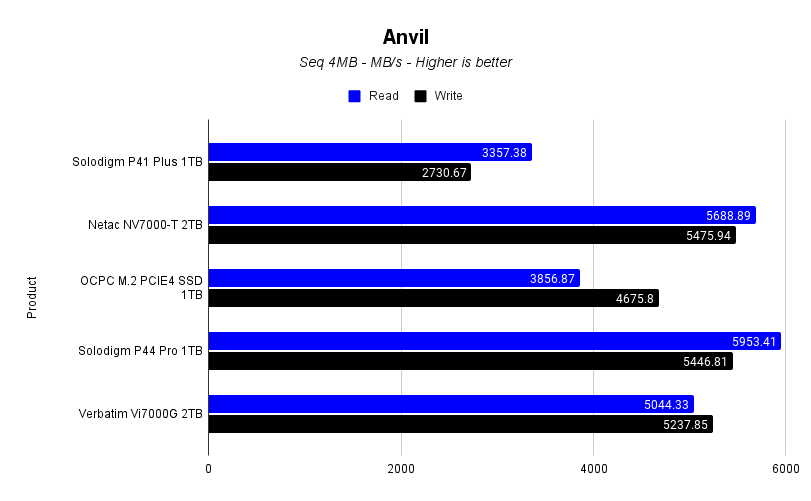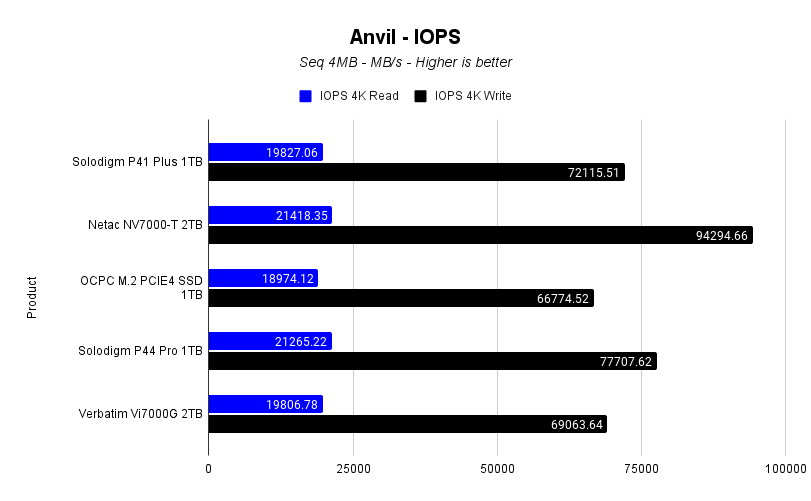 ATTO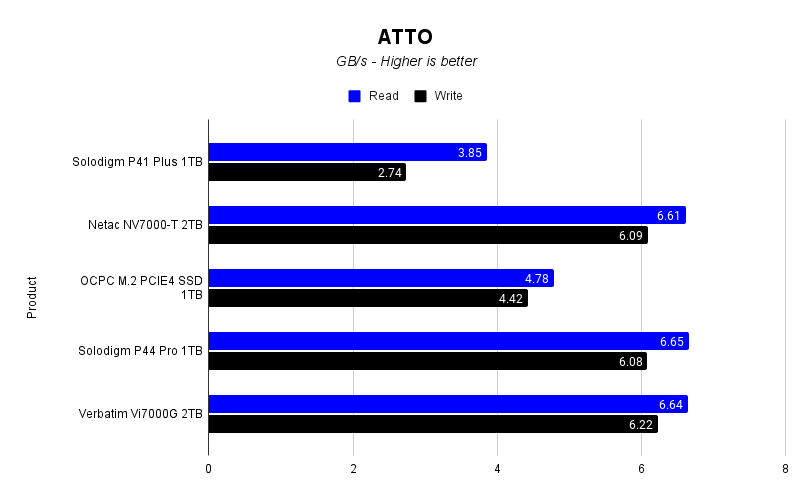 CRYSTALDISKMARK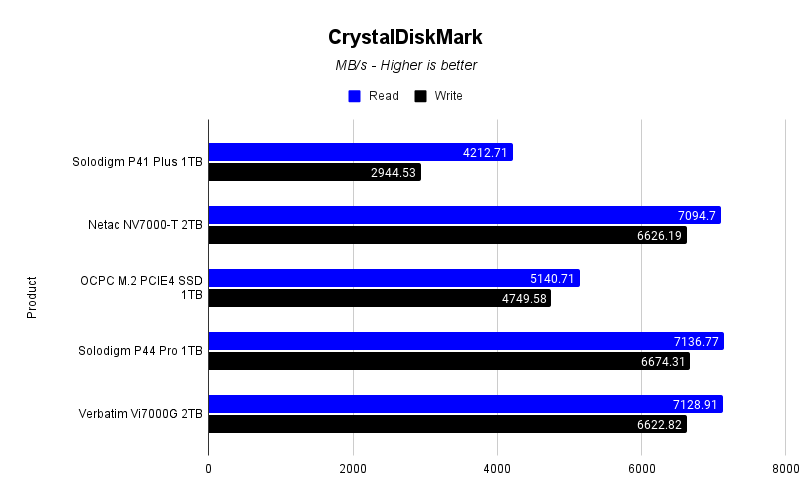 FINAL WORDS
VALUE
Compared to other similar drives on the market and the NV7000 seems to be fairly priced. It is on the higher-end performance-wise for Gen4 drives so it is not the cheapest. However, as mentioned compared to similar performing drives and the price is right on the mark. Currently around £/$100 the NC7000 is worth the money, especially when you consider it is backed by a 5-year warranty.
PERFORMANCE
Looking at our performance graphs and the Netac NV7000-T 2TB drive is one of the better-performing drivers. In CDM, it is right on the mark with two other drives, all pushing past the 7000MB/s read speeds and hitting over 6600MB/s write speeds. The difference in speeds wouldn't even be noticeable across these drives and on another day, could really go either way.
Where the NV700 really shines is in the IOPs performance. It was the fastest in both read/write with the write speeds beating out the competition by a good margin. The IOPs are important as they allow for faster transfers of data to and from the drive, essentially meaning the task you are executing on the PC should be quicker than if the IOPs were lower. For more info on IOPs, please check this article on What IOPs Really Are.