Introduction
Genesis has been releasing a lot of new products lately and today, we are taking a look at the Xenon 800 Ultralight Gaming Mouse. The last mouse we saw from Genesis was the Krypton 550 and while it was similar, the Xenon 800 is looking to show it up a bit and take the crown as being their best gaming mouse currently available. It features a PMW 3389 sensor with up to 16,000 DPI. It also has an easy to change polling rate which can be controlled directly from the mouse and multiple RGB zones. Genesis has gone with a kind of honeycomb design to allow the Xenon 800 mouse to be ultralight but it still has a very sturdy feel to it. We all know someone that can rage a bit and maybe be a bit rough with their mice but when it comes to the Xenon 800 you shouldn't have to worry as it is designed to last and while you can't smash it through a wall, a couple of taps onto the desk isn't going to break it! As mentioned Genesis has been releasing lots of peripherals lately so one would hope they know what they are doing! With that being said, let's get into it and take a closer look at what the Xenon 800 from Genesis has to offer.
Specifications
Closer Look
On the front of the box, we have a nice image of the Xenon 800 itself. We also have a couple of small logotype areas to let us know this mouse has RGB, is ultralight and uses the Pixart PMW 3389 sensor.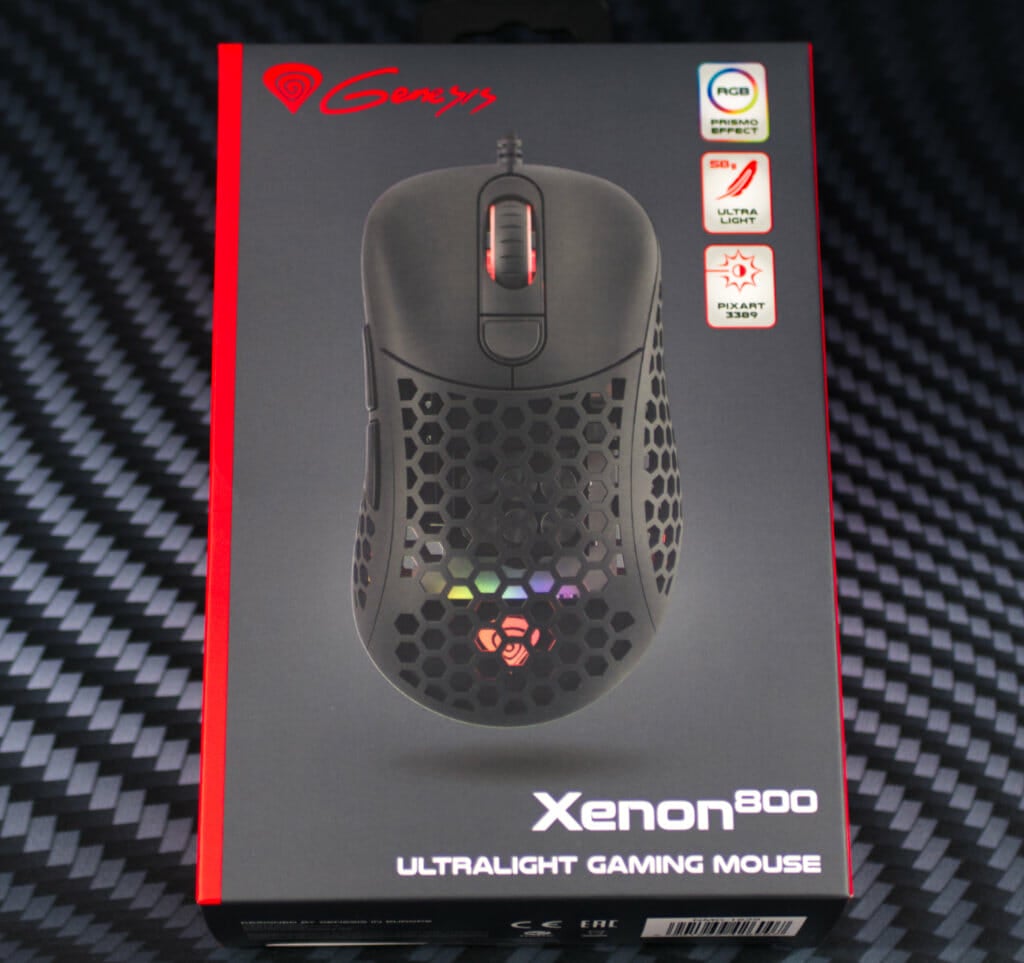 On to the back of the box and we can see a nice breakdown of how the mouse comes apart. There are a few pieces to the Xenon 800 and all of them are quite useful. It comes with 2 changeable top covers, weights, multi-level DPI switch and many more things that we will look at in more detail very soon.
Everything comes nicely package inside the box and there are even some spare feet so you can make sure your Xenon 800 glides as smooth as possible.
The honeycomb design lets you see into the insides of the mouse from the sides and back of the mouse. This also allows for the small Genesis logo you see to be visible and which is why they have added RGB to it.
As we saw with the packaging, there are two different backs for the Xenon 800 and they are easily changed. You simply just lift them off and click them back into place and shouldn't take more than a couple of seconds. Being able to change the backs also gives you access to the weight tray.
This small tray with its clever saying is going to hold the extra weights that are included in the box with the Xenon 800. Simply slot them in and you are good to go! This will add a little more weight to the mouse for those of you who think it is just a bit too light.
The weight tray has 12 individual weights on it and they can all be removed with ease. This is going to give the end-user as much control and customisation of their Xenon 800 as possible.
Once the weights are in properly, they will click into place to make sure they don't move around or fall out when using the mouse. At this point, you can go ahead and put your preferred back on and get to making the most of your Xenon 800 by using it in your favourite game.
The Xenon 800 is designed for people who hold the mouse in their right hand and during my testing, I found it quite comfortable as it fits right into my hand.
There are 6 main programmable buttons on the Xenon 800. All buttons are fully customizable VIA the Genesis software and that even includes the scroll wheel up and down.
The front buttons can even be removed which is going to allow you to change the DPI button and even have a little peek at the OMRON switches and other internals of the mouse. Would have been amazing to see changeable switches as well but I can appreciate that this would have made the mouse much more expensive. However, it still would be a nice addition as everything else is there, the mouse comes apart so easily and most anyone would be able to changes the switches.
The OMRON switches guarantee an instant click response and have a lifetime click rate of 20 million clicks. We really should see if there is some software out there that will count mouse clicks as we use a mouse for a week or so. It's all well and good saying it'll last 20 million clicks but we need to be able to put that into a timeline that people can more easily understand. This is nothing to do with the Xenon 800 in particular, just a thought I had while writing up the review.
The Pixart PMW 3389 sensor is known to be one of the best sensors our their for Gaming mice and has been for some time. The 3389 comes with up to 16,000 DPI, 50G acceleration and a tracking speed up to 400 IPS. While this might sound like a load of nonsense to some, it defines the parameters of what this mouse is capable of and is quite impressive. This sensor is also used in gaming mice from companies liked EndGear, Cooler Master and many more!
The USB is a nice black braided cable that we have all come to know and love these days. It also comes with a rubber zip tie so if you don't need all of the cable, you can tie some up and keep things nice and neat.
There are three RGB zones on the Xenon 800, one of which is in the scroll wheel. They are all fully controllable by the Genesis software that can be download from the bottom of the Xenon 800 Product Page.
I am personally a big fan of RGB and love using it. For reviews, I normally leave the rainbow settings on that most default to but when it comes to my own, I like to keep things mostly blue. However, I have been known to change the colours based on the current holiday season at the time which is always good fun as well!
Do love a nice rainbow setup though! looks quite nice if you ask me! Like Christmas all year round!
Final Words
Value and Price
While not currently available in the UK, the Genesis Xenon 800 can be had for €63.96 direct from their website wherever able to purchase. For my pricing, I always use the French version of their site as it just seems to work nice and easy. This is starting to get into the higher end price bracket and rightly so. The Xenon 800 has a lot and I mean a lot going for it! From the ultralightweight, honeycomb design, RGB, PMW 3389 optical and more, the Xenon 800 is well worth your hard-earned pennies.
Performance and Design
The Xenon 800 features one of the best optical mouse sensors on the market, is sturdy and even has interchangeable backs depending on your preference. It's hard to equate mouse performance into words for others to understand but this mouse is good. I used it to play all my favourite games from CS:GO to APEX and even some COD:MW and a bit of Quake Live Rocket Arena and it help up brilliantly. For me, using the same mouse to jump from CS:GO to quake live can be an instant telltale of whether it is good or not and well, this one held up fine. A small change to DPI in between games was all that was needed to keep my tracking very accurate from the slower to faster-paced settings. If you saw the video, you will have seen me bang it on my desk, let's just say that wasn't the first time that happened and that was why I was comfortable to show you how sturdy it is, even with its honeycomb design!
The bottom line is that the Xenon 800 is a great gaming mouse should you not require a load of extra buttons. If you are looking for something with good tracking and accuracy that also looks nice, the Xenon 800 is worth your time considering.
Many thanks to Genesis for sending in a sample of their Xenon 800 ultralightweight gaming mouse.