Up on the review chopping block today is the MIONIX Castor Optical Gaming Mouse. As with all peripherals, the shape and size of a mouse are very subjective. However, what is not subjective is the components that make up a mouse and the performance they have to offer. As with the higher end gaming keyboards featuring Cherry MX switches a lot of the time, many mice feature an AVAGO sensor of some sort and maybe even some OMRON switches to increase longevity. We are now also seeing mice and other peripherals come with ARM processors in them to help them allow for better performance and more features. Another thing to consider when purchasing any new mouse for gaming is your grip type as not all mice are designed to be comfortable for all grip types.
The MIONIX Castor is a right-handed ergonomic mouse that supports palm, claw and even fingertip grips. For performance, the Castor is packing a PMW – 3310 IT-LED optical sensor that has a max DPI of up to 10,000, has an adjustable lift of distance and no positive or negative hardware acceleration. To help boost the performance and keep users happy, it is also sporting a 32bit ARM processor running at 32Mhz that keeps the performance in tip top shape. For fun and customization, the Castor also features two integrated LED zones and RGB functionality that can be controlled VIA the software. Speaking of the software, there are a lot more options that will allow users to customize the Castor to their desired needs with ease.
Before we hop into the closer look of the MIONIX Castor, let's take a quick look at the detailed specifications for this mouse.
Mionix Castor Technical Specifications
32bit ARM Processor running at 32Mhz
Right handed truly ergonomic design
Supports palm, claw and fingertip grip
Grip friendly soft touch rubber coating (4 layers)
6 fully programmable buttons
3 steps in-game DPI adjustment
2 integrated LEDs in 2 colour zones
Up to 16.8 Million LED colour options
Color shift, Solid, Blinking, Pulsating and Breathing effects
On-Board memory 128 kb built-in memory
Large black PTFE mouse feet
Gold Plated, Full speed USB 2.0 connection with Plug and Play
Cable 2m long PVC cable with cable reinforcer
Sensor Specification
PMW – 3310 gaming grade IR-LED optical sensor
Up to 10000DPI
MAX tracking speed of at least 5.45m/sec (215 IPS)
No positive or negative hardware acceleration
Adjustable Lift Off Distance
Software Features
Up to 5 Profiles saved to the in-built memory
Adjustable X / Y Axis
Polling rate adjustable in four steps up to 1000Hz
Live record macro manager
Up to 16.8 million color LED options
Customize RGB manger
Pulsating, Blinking and Breathing LED effects
Color Shift lighting mode
Angle Snapping adjustable in 15 steps
Angle Tuning adjustable from -30 to 30 degrees
LOD Calibration tool
S.Q.A.T™ – Surface Quality Analyzer Tool
Lift-off distance (LOD) Calibration feature
Dimensions & Weight
122.46×70.42×40.16 mm / 4.82×2.77×1.58 in
Netto (w/o cable): 93.8 gr
Netto (cable incl.): 141.5 gr
The packaging of the Castor reflects the quality of the mouse inside, which is nice to see. You will also see a small note inside the box from the CEO saying " Congratulations! You have purchased a fine piece of craftsmanship." alongside his signature.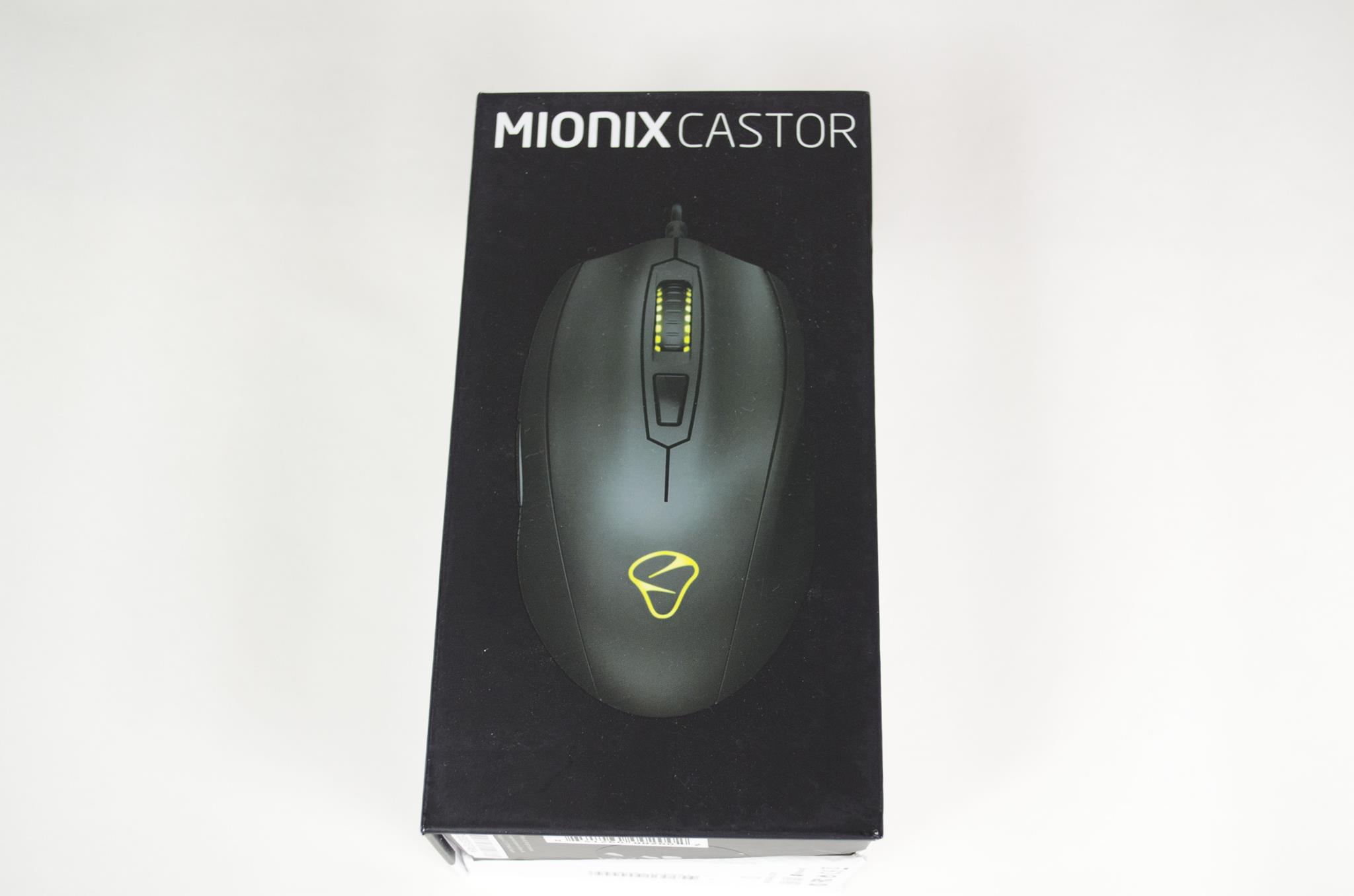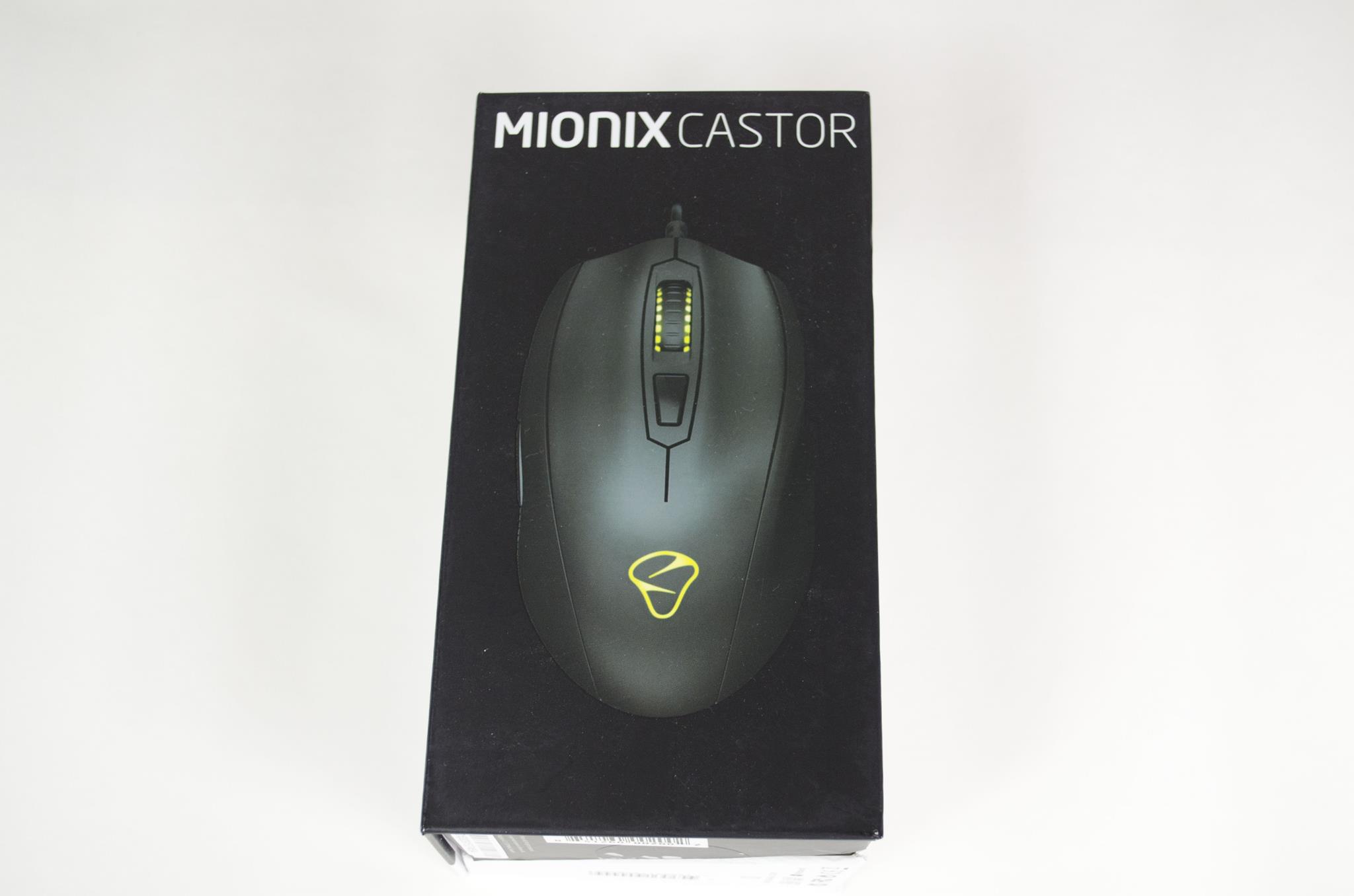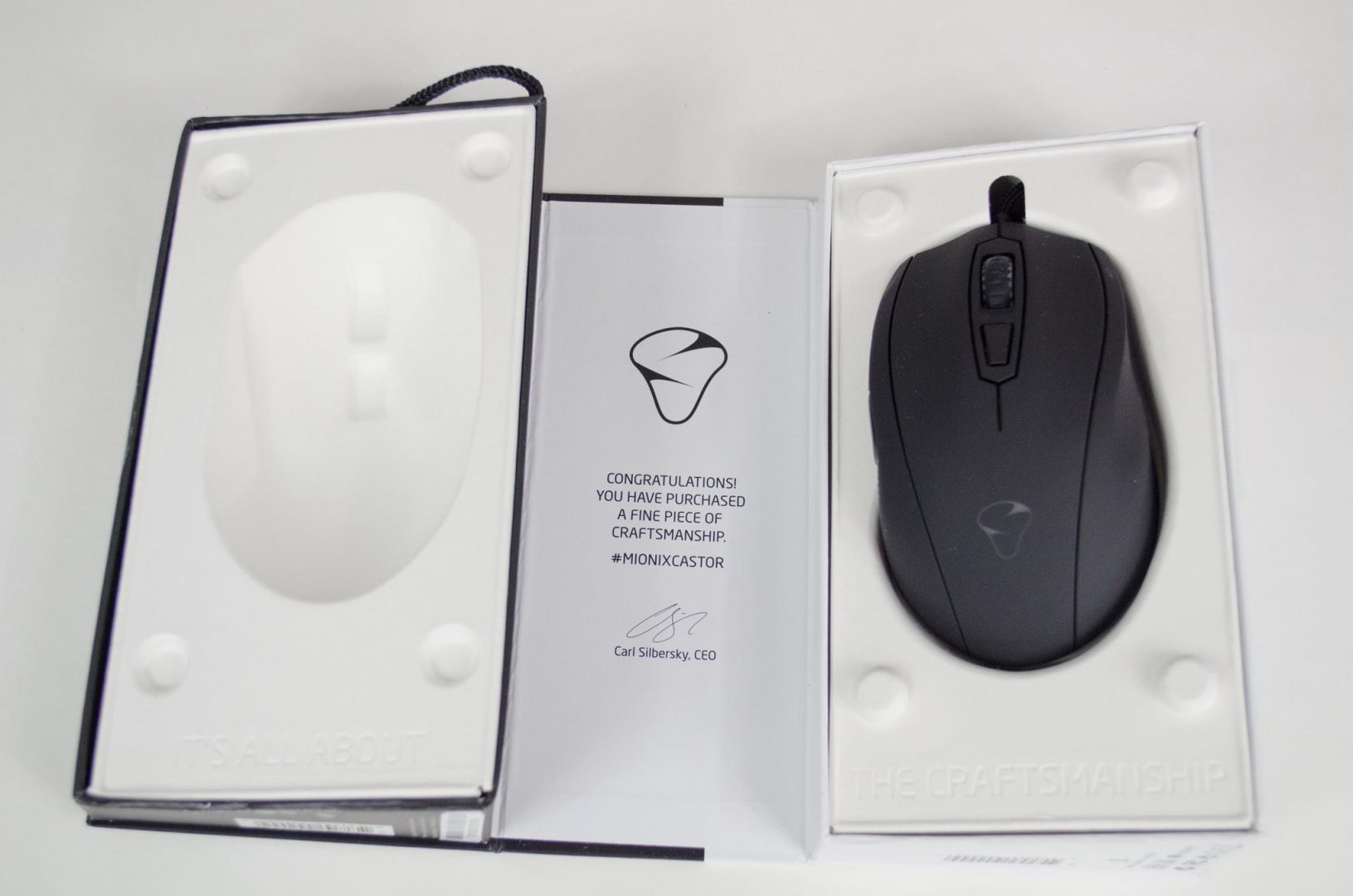 For accessories or extras inside the box, MIONIX has included their quick start guide/ warranty information booklet and a nice sheet of stickers.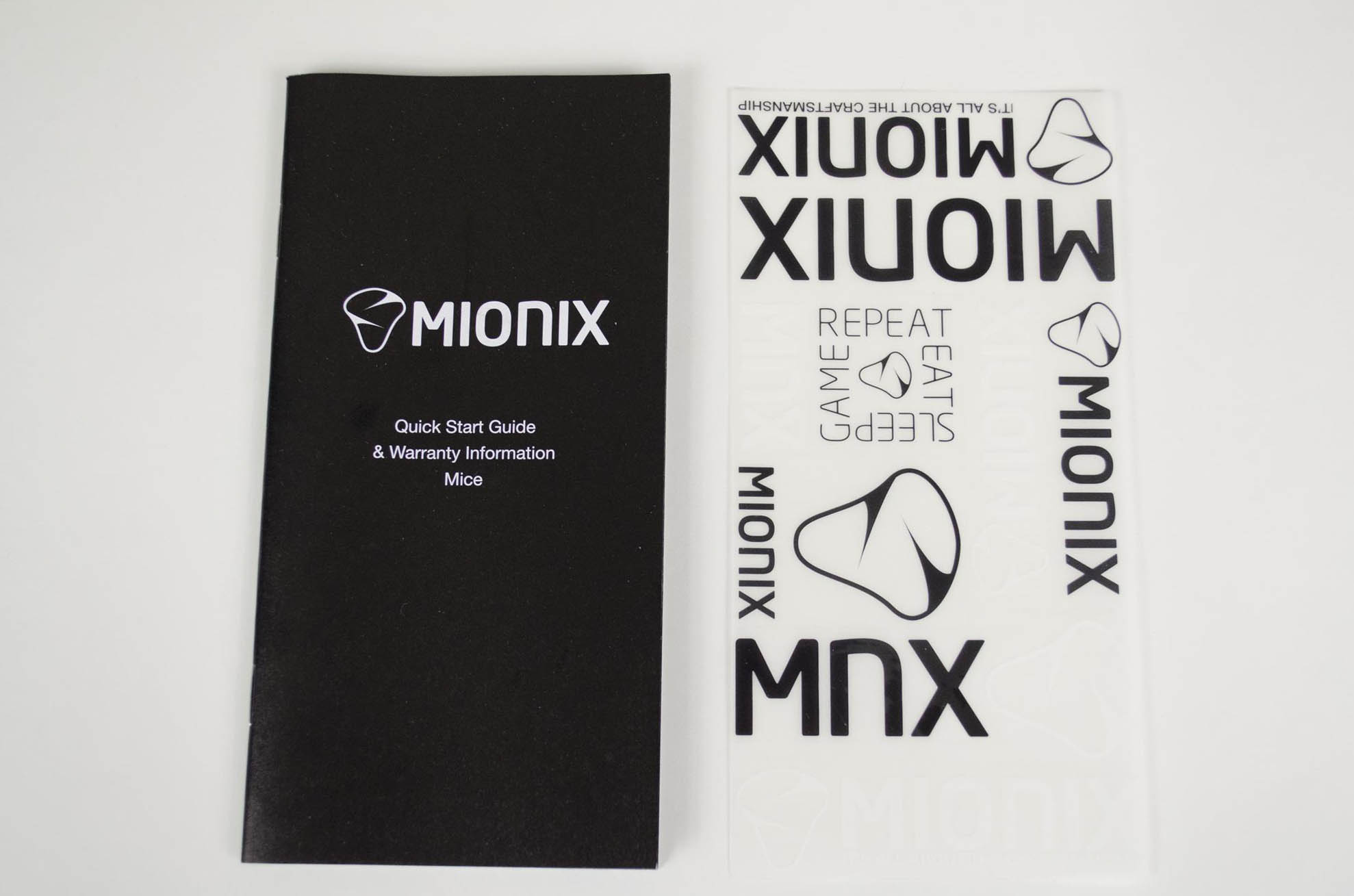 The Castor is a 6-button mouse that features a 4-layer soft touch rubber coating which allows for a smooth and comfortable grip. On the top, there are the left/right mouse buttons, scroll wheel which can also be clicked down for the mouse 3 button and the DPI button that is located right beneath the scroll wheel. The DPI buttons allow users to switch between 3-preset DPI levels on the fly that are configured in the software.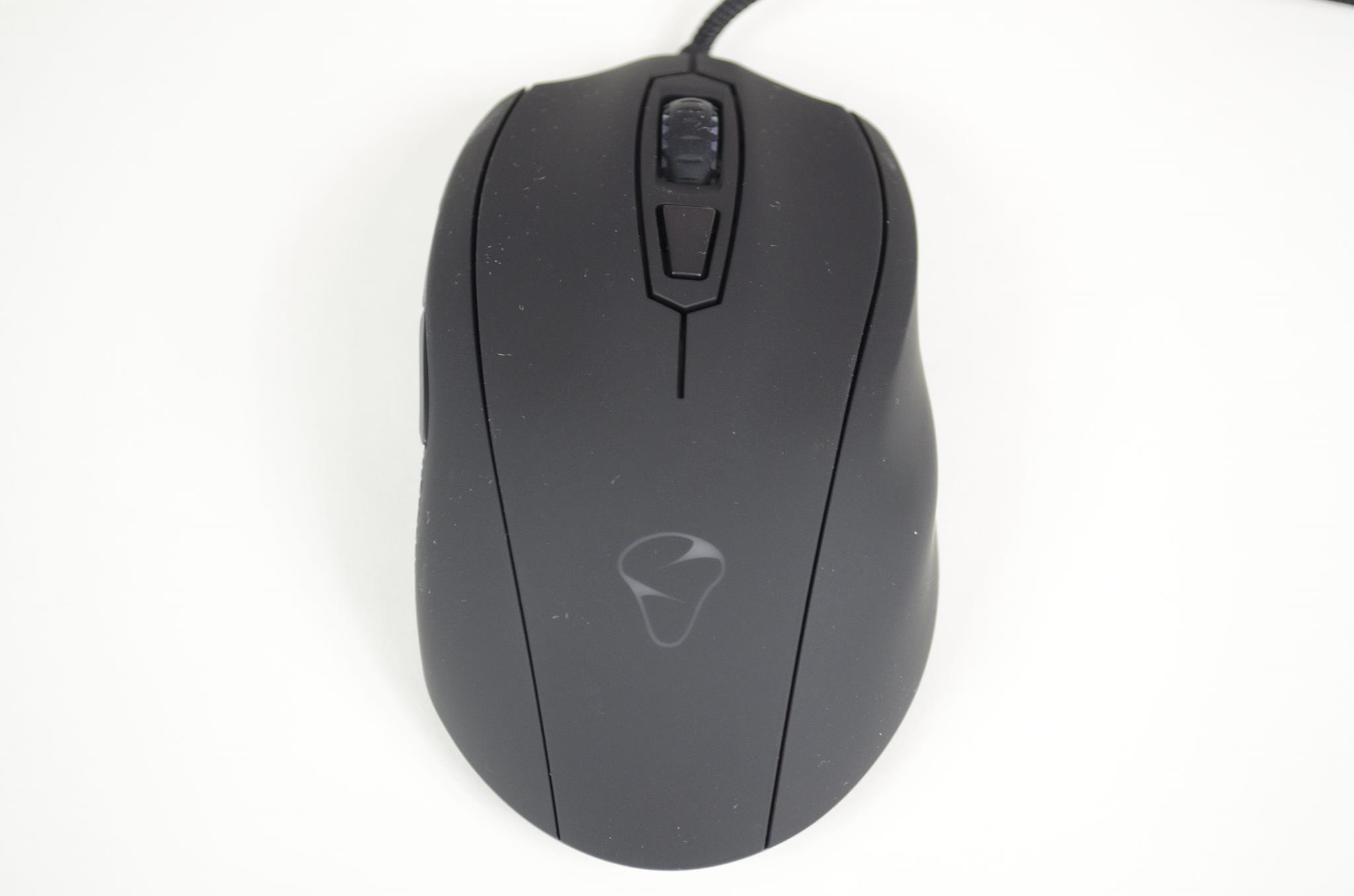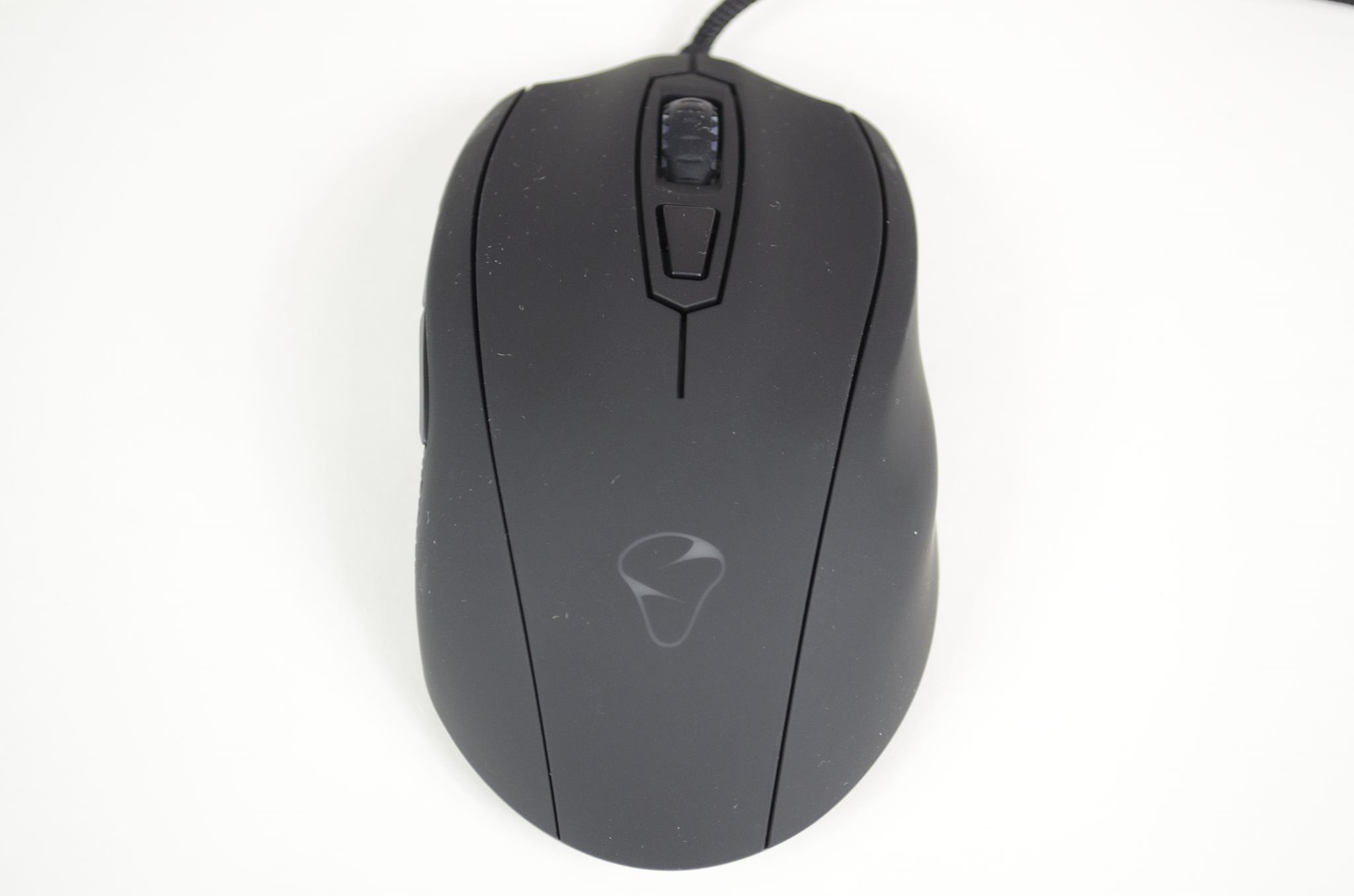 On the left-hand side, where your thumb will rest, there is a pair of buttons (mouse 5/6). These buttons are configured as forward and backwards buttons by default but can, of course, be changed if need be. Below the buttons is a nice textured rubber grip area so when your thumb is just resting there, it shouldn't slip off from the mouse.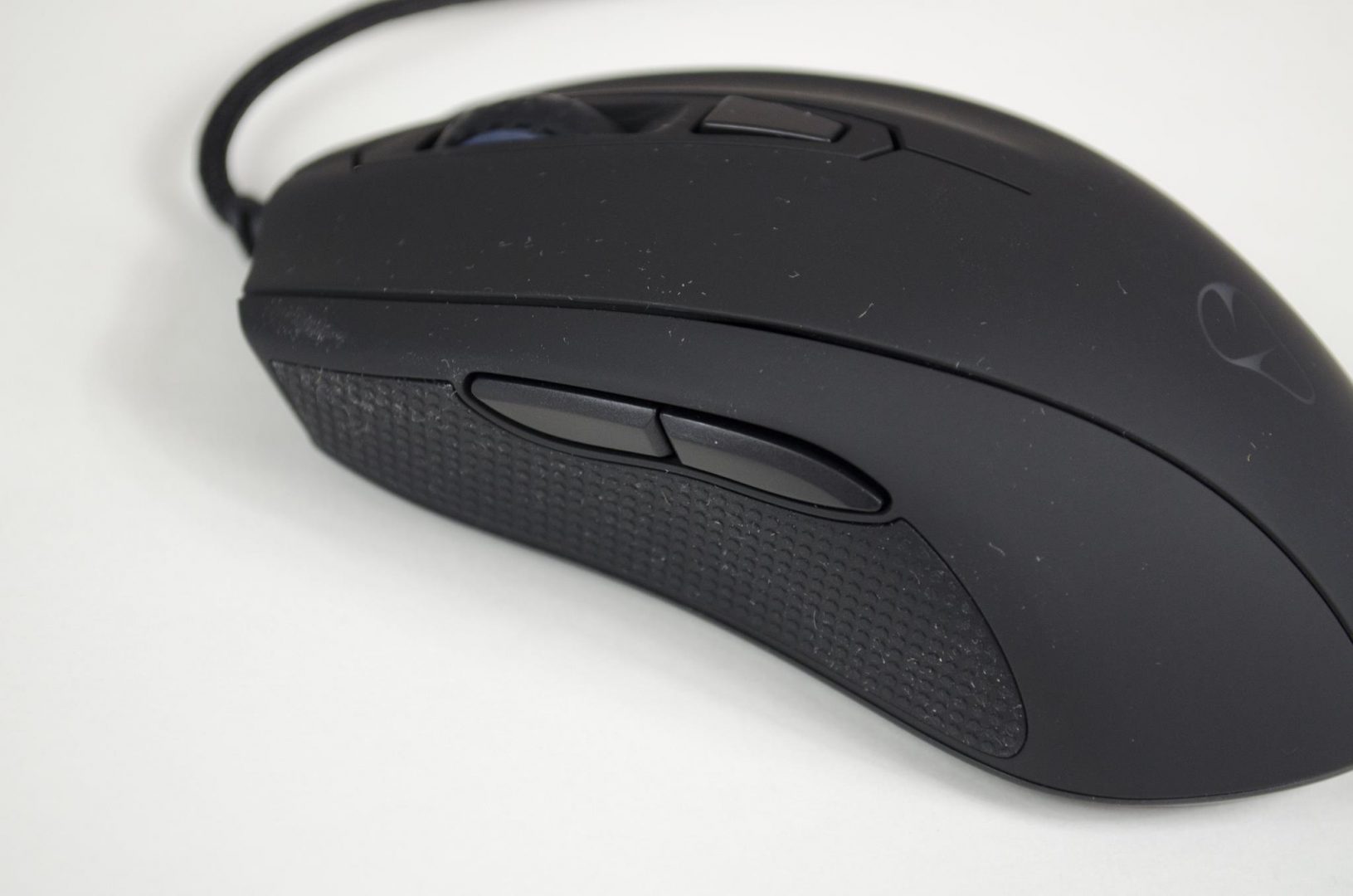 Over on the right side of the mouse is a nice curved area design to give your ring and pinky fingers a nice place to rest while using the mouse. As we know, the Castor is ergonomic but MIONIX have done a great job at not making it overly big or bulky, they have made it just the right size, in my opinion, to allow it to be both comfortable and stylish.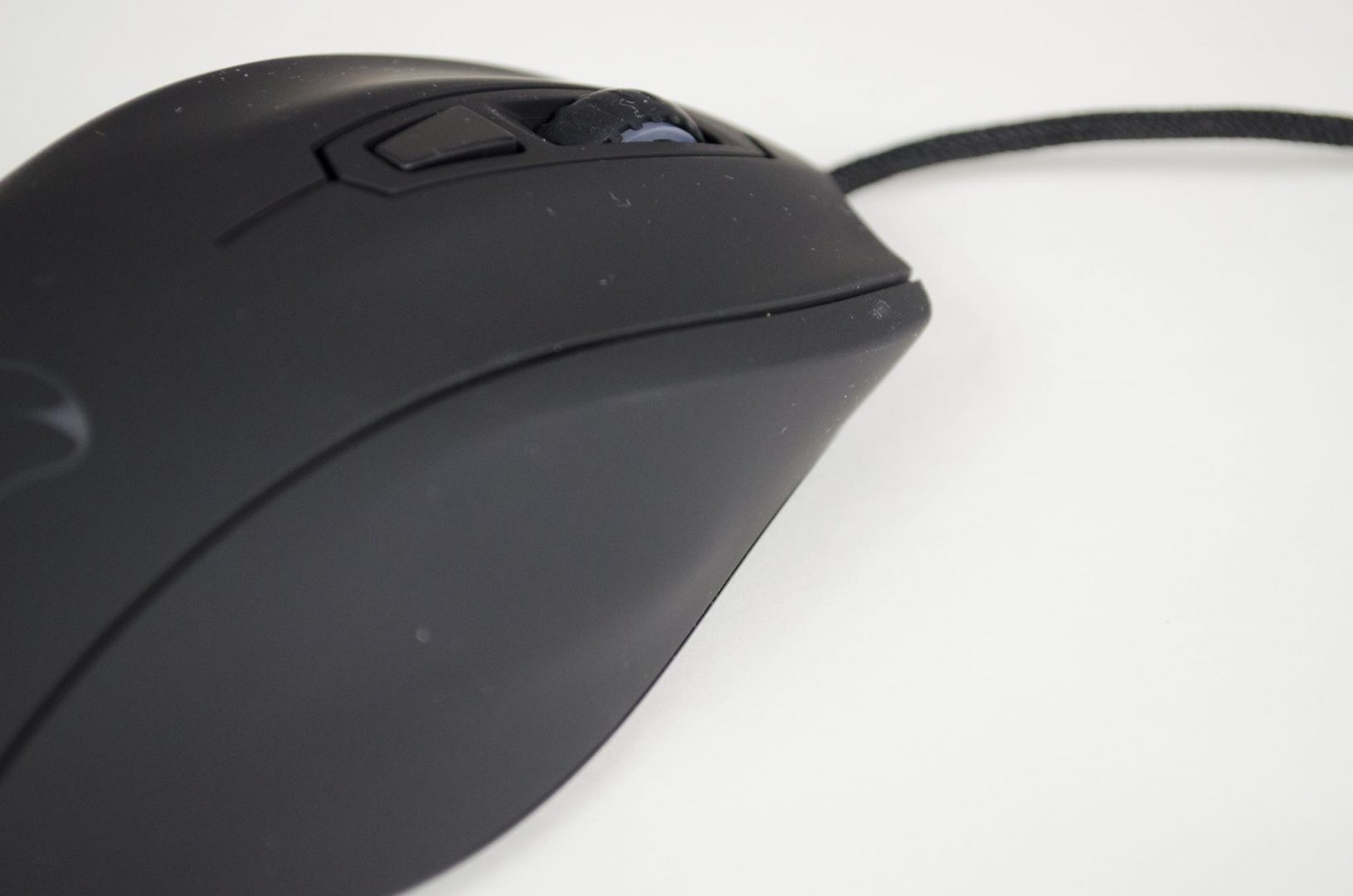 On the bottom, we have two big slide pads so the mouse will glide smoothly across your given surface. The MIONIX logo can be found around the PMW – 3310 Optical sensor and we can also see MIONIX's tagline, "It's all about the craftsmanship".
MIONIX have gone with the favoured braided cable and have even added an extra plastic piece towards the end to help reinforce and make sure the cable doesn't break over time.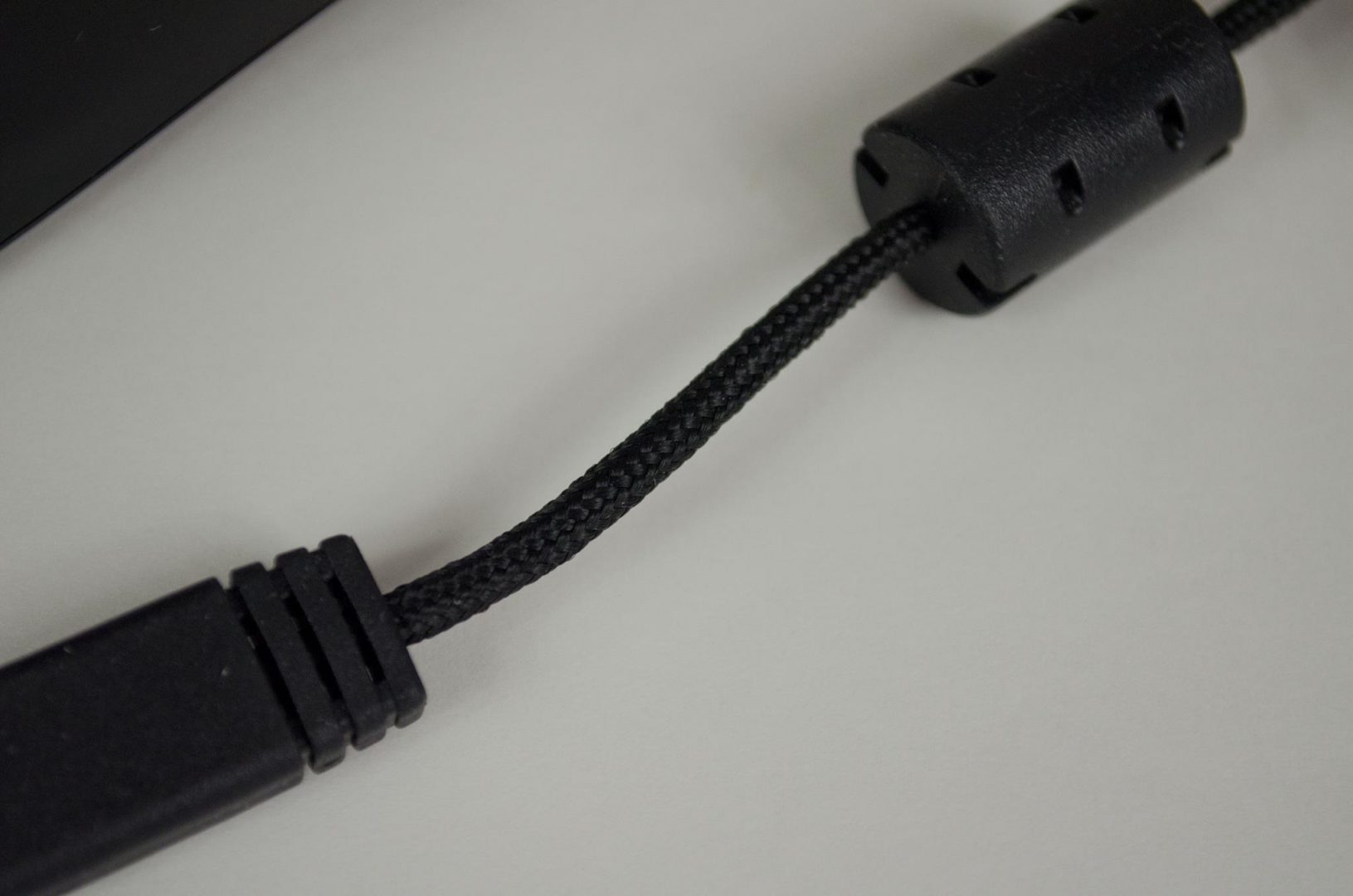 As mentioned, there are two integrated LED zones, one of which is the scroll wheel and the other is actually the MIONIX logo on the top side of the mouse where your palm will rest. As you can see, these are customizable VIA the software and can be set to virtually any colour you would like.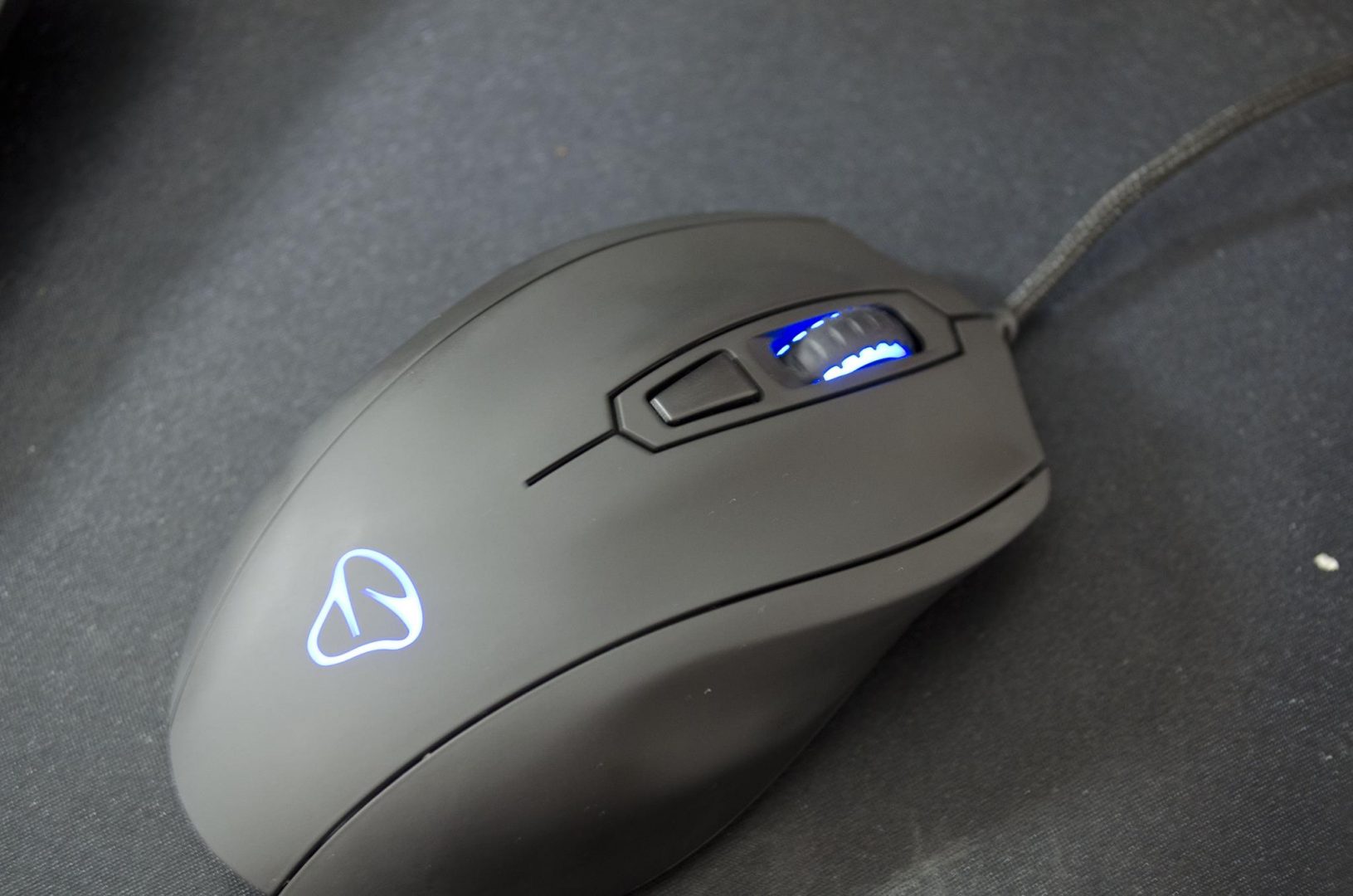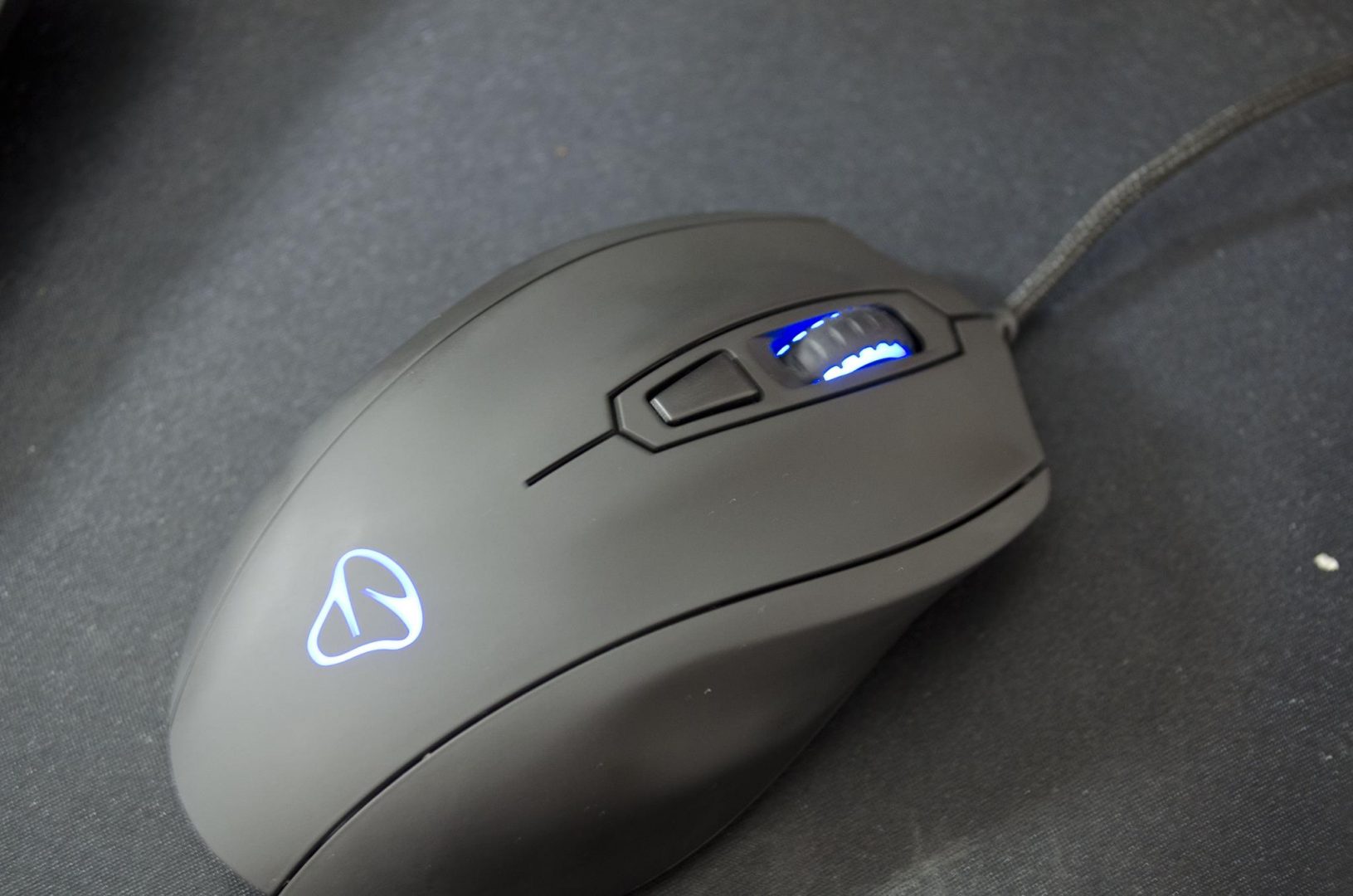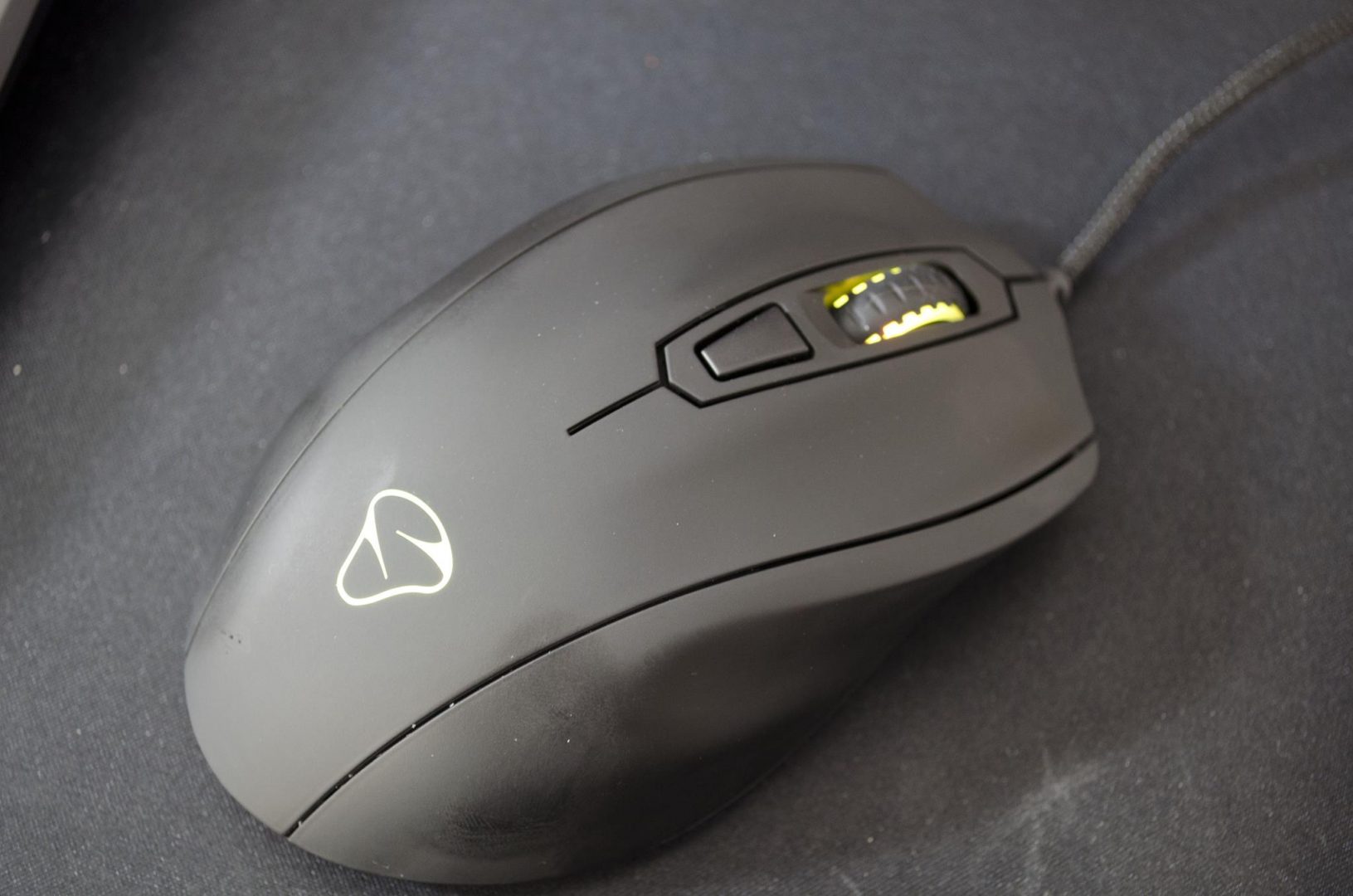 Performance
I am primarily a FPS gamer which is great for testing these type of mice such as the Castor. For my testing I actually load up a few different games such as Battlefield 4, Call of Duty: Black Ops 3, Counter Strike: Global Offense and throw in a bit of Dirty Bomb as well. While all FPS, these games offer very different gameplay styles to each other and let me get a good overall aspect of the performance of the mouse I am testing. I normally try to log a few hours in each game to try and get the best feel for the mouse I can and I have to say, the MIONIX Castor held up well. Not only did it offer great precision and tracking, it was also comfortable enough that it didn't cause me any fatigue. Sometimes I get a bit of discomfort in my pinky depending on the shape of the mouse but this was not an issue with the Castor which was great! All of the buttons offer great feedback and whether I was sneaking around a corner, changing weapons or running and gunning, I never felt as it there was any lag between me pressing a button and it responding.
For general use, the Castor is just as good. The two included side buttons which are preset to be forward and backwards button come in handy, especially if you browse folders or the internet a lot. Again the comfort of the mouse wasn't an issue, as it is ergonomic it pretty much allows your hand to conform right around it. While you can adjust them, the double click and scroll speeds seem to be very nice at the stock settings and the Castor really does offer an enjoyable experience all around.
Software
The software for the MIONIX Castor is quite extensive compared to other mice and allows you to customize just about every aspect of the mouse, except for its size. Using the software you can change the bind for each key, adjust double click and scroll speeds, change the polling rate and more. As for the sensor, you can change the X and Y axis DPI's individually and also adjust the lift off distance which is a handy feature to offer. If you are just looking to have a bit of fun and change the colours of the integrated LED zones, this can easily be done in the color settings tab of the software. Not only can you change the colour of the zones, you can also change the effects on the LEDs, giving you full control of the mouse.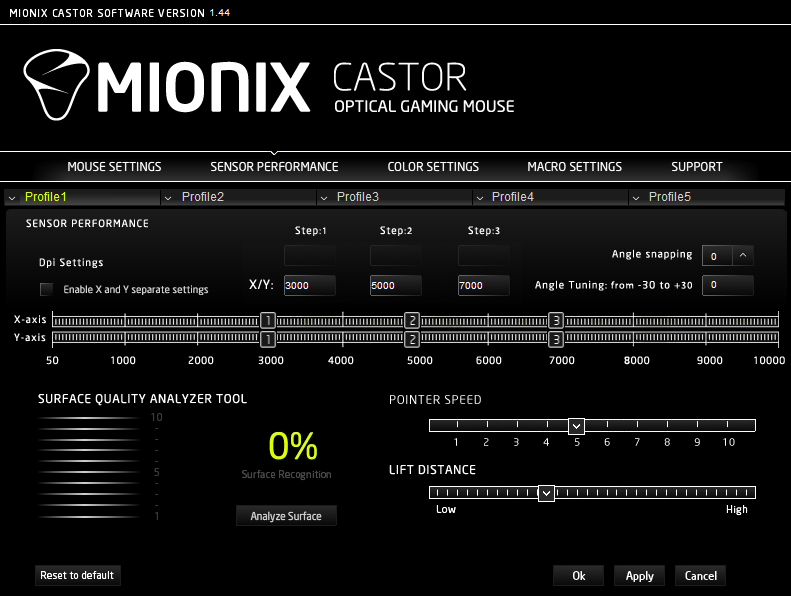 I enjoyed my time with the MIONIX castor and as it was my first proper peripheral I have tested from them, I was quite pleased with it and would love to see more from them in the future. Overall, MIONIX doesn't have a massive catalogue of products as some manufacturers do, though they do offer a nice handful of different mice which seems to be working for them. MIONIX is at the forefront of optimizing gaming mice to be able to help take gamers to the next level by monitoring their vital signs. As all good things come to and end, let's go ahead and get my final thoughts on the MIONIX Castor!
Performance
I have to say, I have been spoiled and gotten real used to using Avago sensors in most of my mice as of recent. The Castor features a PMW  – 3310 gaming grade IR-LED optical sensor which held up great during all my gaming based testing. Not only was the sensor precise, the buttons also offered a great feedback to them and were very responsive. Both of these aspects are very important in a gaming mouse and I can't recall one time where I felt as if it was the mouse that let me down and not just me being a noob. MIONIX have done a great job at making sure the performance of the Castor is on point and it really shows when using it. Also, if at any time you feel it's not performing quite right, there are plenty of options in the software that can be changed that can make a world of difference.
Design
The design of the Castor is a favourable one. Not only is it ergonomic and comfortable, it is also still sleek and stylish. the Castor is encased in 4-layers of soft-touch rubber coating that allows users to get a firm yet comfortable grip of the mouse. As far as aesthetics are concerned, let's also not forget this mouse does feature two integrated LED zones which can be controlled by the software and set to virtually any colour you wish. The LED zones are nice as they are really quite subtle but do offer a nice bit of extra flare to the Castor. From a technical aspect, MIONIX has done a great job with the engineering of the Castor and designed it using all quality components that perform well and should last a good while.
Value
The MIONIX Castor is a bit more expensive than some gaming mice, but rightfully so. The Castor offers a premium feel and look to it from the second you see the packaging it comes in. While we can always argue the price could be better, the fact is you pay for quality, which the Castor has proven it represents. Not only does it look great and perform equally as good, it just feels like quality when you are using it. When gripping the mouse tightly, it feels very sturdy and gives you the feeling that it will be able to withstand a couple of rage sessions should you get your butt handed to you in-game. I'm not saying to go and bash it off your desk, just saying that should you grip it a little hard or knock it about, you won't have to worry about it falling apart.
When all is said and done, the MIONIX Castor is a very pleasing mouse. It has looks and performance and while the price may be a bit high for some, it is worth it if you want a mouse you can trust.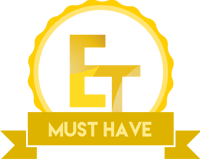 Major thanks to MIONIX for sending the Castor in for review.