Introduction
HAPPYGAME chairs are one of those new chair companies that I have not heard of until recently. Gaming chairs are becoming a larger and larger market and there is a lot to choose from. Things to consider are the comfort, looks and price and HAPPYGAME has slapped their logo on a good choice of a chair here for the asking price. Let's take a closer look at the chair they sent over.
Specification
Tilt Locking mechanism 90-155 degrees angle adjuster
Height-adjustable gas spring cylinder
Sturdy five star base for good support
Easy to move with lockable caster wheels
Ergonomically designed
Breathable and soft fabric
3D armrests can be adjusted up and down / right and left
Headrest pillow and lumbar cushion are included which could be detachable
Load capacity up to 400 lbs
Dimension
Overall Size: 28.5 x 21.3 x 50.6 – 53.3 inches (W x D x H)
Seat Area: 22 x 20.7 inches (W x D)
Backrest Size: 24.8 x 32.9 inches (W x H)
Closer Look
The design of the stitching and minimal colors is pleasing, it is a racing style gaming chair without being too bright in the process. Overall it carries a clean black base color with red stitching and low profile logos highlighting the design.
The soft breathable cloth over the chair is pleasant to sit on even in long durations. Never felt like I was overheating in the bum so to speak lol.
Included is a lumbar pillow that can be added or removed with two clips at the end of elastic straps. This allows easy installation and the ability to move up and down on the back of the chair as well as staying in place rather well when you get up or sit down.
Another nice feature added to this chair is a neck pillow, and this is nice to have for those long gaming sessions. This can also be added or removed with a small clip on the end of an elastic band.
Around on the back of the chair is a nice clean logo and where the straps for both the neck and lumbar pillows come through.
Here on the back again you can see the full-back with both the straps for the lumbar and neck support pillows installed. Other than that there is not a lot going on around the back.

This little lever under the armrest is used to raise or lower the armrest which also happens to twist about 35 degrees to both the left and right.
You can easily take a nap by pulling this side lever and leaning back in the chair.
Here I am showing just how big this chair is. Normally my 6′ 6″ (1.98m) frame does not fit comfortably into most chairs. Here you can see that even when laid back there is still plenty of room for a much taller person.
Here is the lever used to raise and lower the seat itself, as usual, it is on the right underside side of the chair. The knob behind the height adjustment lever with a twist in either direction can make it harder or easier to rock the chair back and forth.
Here is where your armrests will attach on either side. If you desire a wider armrest then simply move these out before tightening the two screws down.
There is a solid 5-star base making the chair very stable, leaving you free of the worry of tipping over during intense gaming moments. The large double wheel casters are very nice for moving around and do a good job of not getting tangled in anything they have managed to run over so far.
Conclusion
Performance and Design
I have spent the last few weeks sitting in the HAPPYGAME Multifunctional Computer Gaming Chair and I am happy to report back that overall the chair is comfortable enough to allow long sessions of gaming or writing. I would give this chair an overall 8.5 out of 10. The only place it loses points in this price category is in comfort, being it is a little stiff to sit on. Outside that the large 400lbs capacity and fully loaded feature set makes this a hard to pass up budget option for a durable racing-style chair. It has all the features you would want from a racing style gaming chair and does it at a really low cost while maintaining good build quality.
Value
The Multifunctional Computer Gaming Chair is an outstanding value for a gaming chair in today's market where they can easily run double or triple the cost. The seat is a little stiff to sit in, not a deal-breaker by any means but food for thought on what you are getting for a $120 gaming chair. Overall for the price, this is a really solid deal for anyone looking for a racing-style chair that hits the aesthetics of the said style of chair home while maintaining a decent level of comfort in the process. Not short on ergonomic features like lumbar and neck support pillows, as well as full recline, armrest mobility and 400lbs load capacity for us larger guys this is one solid deal.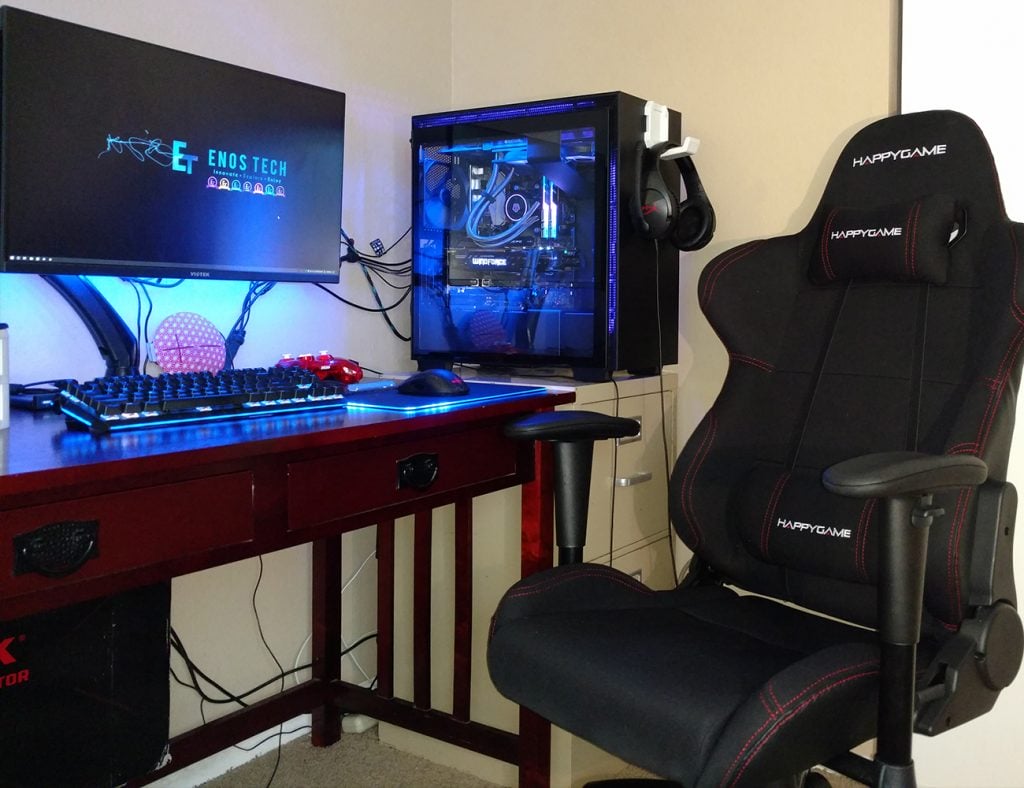 "To tie all of this up neatly, if you are looking for your first gaming chair and do not want to break the bank then look no further, the HAPPYGAME Multifunctional Computer Gaming Chair hits all the feature points you would want in a gaming chair at a reasonable price. For this, I give it the Value award for delivering really good value in the product you are spending your money on."
I want to thank HAPPYGAME for sending over the sample chair for review.