Introduction
Manufacturer: Nitro Concepts
Product Page: S300
Purchase: £229.99 At the time of review
Nitro Concepts offer good Mid-Range Gaming chairs for those who want something a bit nicer without spending crazy amounts of money. Previously, we have reviewed their C80 Motion Series Gaming Chair and it won our Value Award. Today we will be taking a look at their latest offer by way of their S300 series. We've opted for the stealth black version though as you can imagine, they do also come with some other colours. Unlike a lot of other gaming chairs, the S300 is covered in fabric instead of leather which was something I was interested in seeing. Aside from that, the S300 looks like a good chair on paper and hopefully, it will live up to our expectations.
Alongside RGB, Gaming Chairs are currently all the rage within the PC Gaming Community. While a lot will argue there are better and more ergonomic chairs out there, Gamer's seem to have taken a liking to these racing style chairs. I have personally had my fair share of gaming chairs come through for review and must say, while they all have a slight difference, I find most of them quite comfortable. Whether you're a fan or not, it is easy to see why so many PC Gaming and Components companies have started to sell their own brand of gaming chairs.
Closer Look
This chair is definitely stealthy and looks amazing! While I would have loved one of the ones with a bit of the colour accenting, I am happy I went all black! Not only that, but the fabric looks nice as well and is a nice change from the PU leather most Gaming Chairs are covered in these days. As you can see in the image below, this is still a racing style chair and should be big enough to offer comfort to most people.
Nitro Concepts have added a pair of pillows/cushions for neck and lumbar support. As we see most of the time, these are also easily removable by unclipping them and just taking them off. This pillows to really offer a great amount of support if used right and can surely help to make you sit up straight. Good posture is a necessity if you are going to be spending a decent amount of time sitting in a chair, especially at a computer. I used this chair for a good few weeks and the cushions really did make a difference, especially in how my back felt after prolonged times of sitting down.
Just a quick view of the backside of the chair so you can see how easily the cushions can be removed. Simply unclip and take them off and voila, all done!
The Nitro Concepts S300 doesn't recline back as far other chairs but it reclines back far enough to enjoy when you want to 'relax' for a few minutes. This is actually much more comfortable than the chairs that go back all the way if you ask me. This is good for when you just need to close your eyes for a few seconds in between rounds of your favourite game.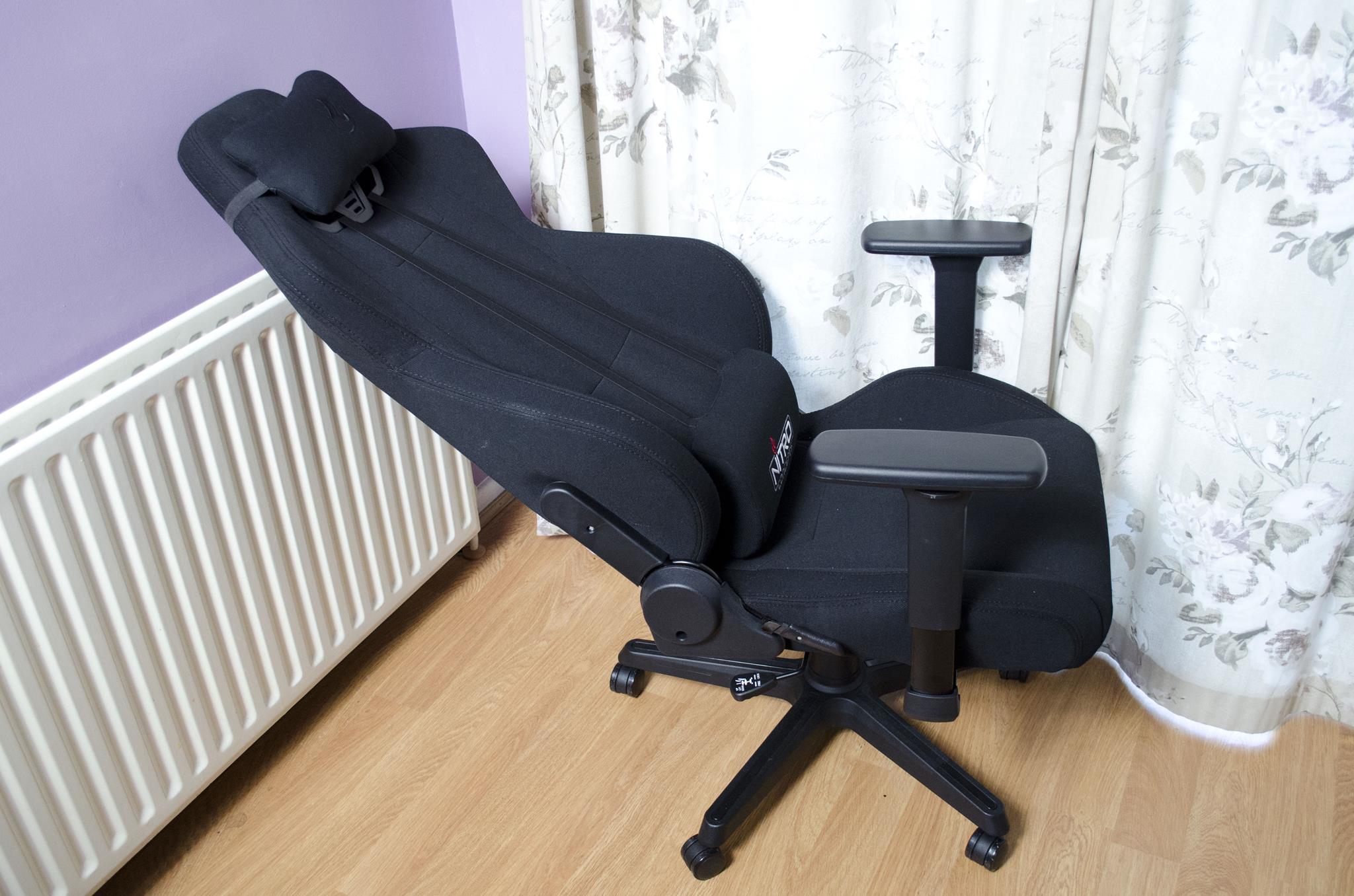 The 5-point base is sturdy and the casters offer a smooth glide across most floors.
Using the small button which just pulls up under the armrest, users can get the armrest positioned to their liking. While this button allows you to move the whole armrest up and down, you can also turn the armrests right/left and even move the forward/backward to help make sure they are in the most comfortable position possible for your individual needs.
On the right side of the seat are two levers. the one with no writing on it is what will allow you to recline the chair back and raise the back up when you want to sit up straight again. The lever with the imagery and text on it will allow you to raise the base of the chair up and down with the gas lift and you can also lock or unlock the tilt feature. I am a bit fan of being able to tilt the chair back a bit when sitting in it when I just need a second to refocus, but I also like being able to lock it when my kids are in it so they don't keep rocking back and forth for fun!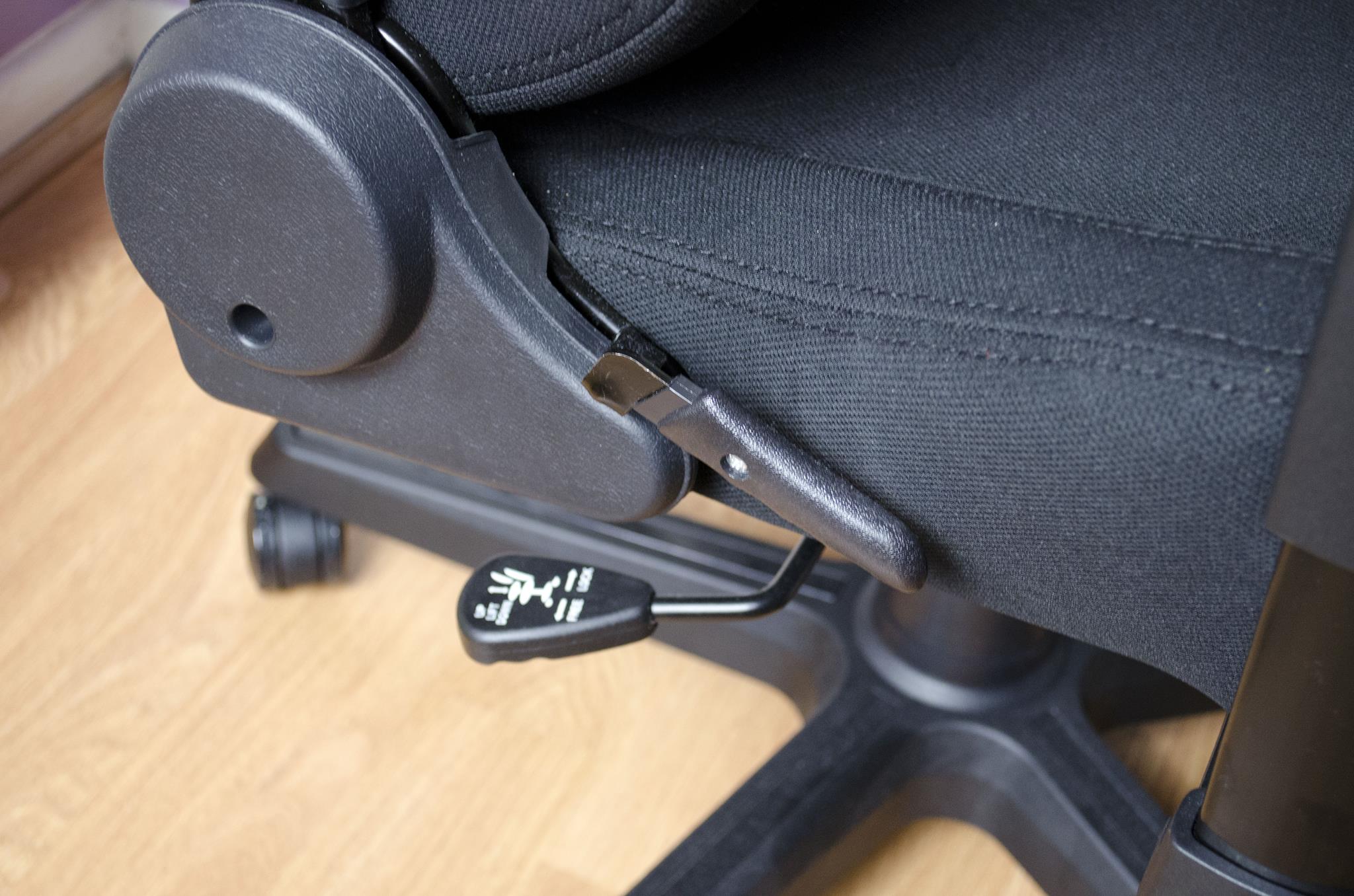 What is a good gaming chair without an amazing logo? Well, Nitro Concepts have come through and as you've probably noticed by now, there are a couple of their flame logos to be found on the S300!
Conclusion
The Nitro Concepts S300 was a well-welcomed change from the normal array of gaming chairs we have seen here at Enos Tech. The Fabric covering is a nice change from the norm and while it surely isn't as easy to clean as leather, it does have it's upsides. The biggest one I can think of is not being freezing cold when I first come downstairs in the morning and have only just turned the heat on. Also, when summertime comes around I won't have to worry about getting all sweaty and sticking to the chair like I would if it was leather.
Nitro Concepts have done a great job of incorporating the most important features in their S300 Gaming Chair. The S300 is made from all quality components and looks as good as it feels to sit in it. The adjustable armrests have just enough functionality to them without going completely overboard to ensure everyone should be able to find a comfortable position to use them. Reclining the chair is easy as we would imagine and the fact the chair doesn't go flat back is a great idea to me. Not reclining all the way back is much more comfortable in my opinion than trying to lay flat on your back in a chair. Nitro Concepts have also included the easily removable neck and lumbar support pillows we see on so many gaming chairs. While they are not for everyone, I do recommend giving them a try as they do help once you find the comfy sport for yourself.
Coming in at around £230 currently, this chair is a great mid-range offering. I would have to say that this chair is very solid all around but the major thing going for it is its fabric covering. This is a great break from the normal fake leathers we see on most chairs and surely has a couple of great benefits. Fabric aside, the S300 has all of the features we would expect to see in a chair of this price and is compromised of those quality components we have mentioned. For the price, you are getting a great gaming chair that that offers great functionality and performance while remaining aesthetically pleasing and won't break the bank! If you are considering getting a new gaming chair, I would highly recommend adding the S300 to your comparison as I can assure you, you won't be disappointed.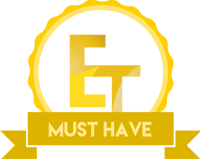 Many thanks to Nitro Concepts for sending in one of their S300 Gaming Chairs for this review!