AndaSeat Jungle Gaming Chair Introduction
I remember when gaming chairs were all the new rage a few years back. The chairs look like Racecar chairs and everyone wanted one! Fast forward to 2022 and most everyone makes/sells their own gaming chairs. However, AndaSeat is a company that only sells gaming chairs, so they have been one of the few companies at the forefront of the gaming chair revolution.
Now, there is still a lot of debate on if gaming chairs are actually worth the money or not and while this is always debatable when they are as cheap as this Jungle Gaming Chair currently is, you can't pass them up. Currently, The AndaSeat Jungle Gaming Chair is only £113.19 directly on the AndaSeat website. This is an absolutely amazing price, especially for this type of gaming chair!
With that being said, let's go ahead and take a look at just what the AndaSeat Jungle Gaming chair has to offer!
AndaSeat Jungle Gaming Chair Closer Look
I took the liberty of taking everything out of the box but as you can see, it is all well protected. Everything is wrapped in plastic and there was some extra foam in between all the parts to make sure nothing got damaged. This chair showed up in 100% the best condition it could.
I won't walk you through setting it up as it is pretty straightforward and should only take about 10-15min. Once it is all done, it should look something like the image below. As you can see it also comes with lumbar and beck pillows, which is quite common in most gaming chairs.
The back of the chair also features a small about of AndaSeat branding. You will also see the straps for the lumbar and neck support pillows. The pillows are very easy to put in place or remove depending on what your personal preference is.
The next pillow is in a good position and it has a nice curve to it. This curve actually cradles your head and offers good support and while I generally don't sit back far enough to make use of it, it does come in handy.
While the lumbar support can take some getting used to if you have never sat in a gaming chair such as this, it does help to remind you to sit up straight if nothing else. This is a pretty common feature on most gaming chairs now and does help a bit with your overall posture when in the chair.
The armrests are adjustable, the chair reclines and it can also be moved up and down. All of these things are quite easy to do using the correct button or lever.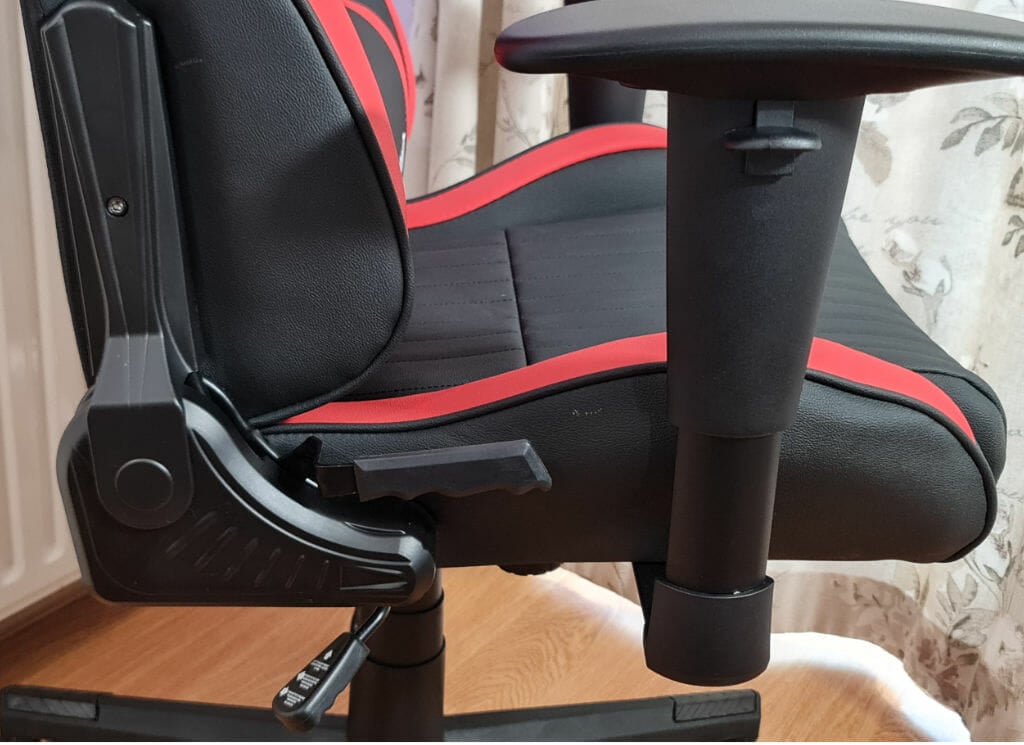 When in its full upright position the chair is at 90 ° but when you recline it, it goes to 160 ° which is almost straight back.
The first time you recline a chair like this all the way back while sitting in it can be a bit scary. It feels like you will keep going and tip right over, but you won't. In fact, when testing The AndaSeat Jungle Gaming Chair, I managed to kind of jump up in down in it while fully reclined and it never fell over. However, while the balance is good, if you recline back to fast, you may tip over so just be careful.
Taking a quick look at the bottom there is something rather interesting here. If you look closely enough you will see 4x screws on each side of the Front sticker. These screws will actually allow you to move the arm rests in/out to give more room and make the chair a bit wider when sitting in it. While this won't offer loads of extra space, every little bit helps when needed!
The turn knob we can see under the chair is going to make it more resistant to leaning back in it or make it less resistant depending on your preference. This is for when you are sitting in the chair and want to lean back a bit without reclining just the back.
The 5-star base is a staple when it comes to PC Gaming Chairs and rightly so. It offers the most support and this one on the AndaSeat Jungle even has little grippy bits to put your feet on if you don't want them touching the floor. A nice little touch if I may say so myself.
AndaSeat Jungle Gaming Chair Final Thoughts
So I have been using this chair for a good while now and am very happy with it! It still remains as comfortable as it was the day I set it up and it looks just as good. I would however say this chair is best suited for smaller adults, if you are big or tall, you may be best off looking at one of the other chairs that AndaSeat has to offer.
In terms of price, this thing is going to be hard to beat coming in at around £130 currently in The UK! This allows the Jungle Gaming Chairs to offer great value for money and will give you an amazing chair for the price. With these gaming chairs priced as such, there really is no need to try your luck with one of those cheap eBay or Amazon chairs that you already know won't last that long.
The AndaSeat Jungle gaming chair will offer hours of comfort on end for those long gaming or studying sessions. If streaming, it also offers a stylish accessory in the background and will be a good talking point with whoever is watching your stream! It will also just be a nice addition to your current PC or gaming setup!
When all is said and done I have absolutely no problem recommending that AndaSeat Jungle Gaming Chair for people, especially those that spend a lot of time at their computers. It is both comfortable and affordable so should definitely be on your list to consider should you be looking for a new gaming chair!