Fans, do you really need them and are the expensive ones better than the cheap ones? Simply put, yes and yes! Fans play a crucial part in cooling your PC components and are essential to every PC build, even those who use water cooling still need fans to help cool things down. These days, most cases come with pre-installed fans but a lot of the time these are not the best fans out there. Depending on the case you buy, some manufacturers just throw fairly cheap fans in so they can say, at least, it has some fans included. However, some of the higher tier cases come with pretty decent fans. Either way, there are a number of other companies out there who make and distribute PC fans, one of which is Noctua. Noctua is known for having some amazing products and as I always say, a very questionable colour scheme for their original fans.
Manufacturer Website: Noctua
Product Page: Redux Fan Range
Purchase on Amazon UK: £8.49 – £12.49+ At the time of review
Purchase on Amazon US: $9.95 – $17.99+ At the time of review
Today we will be taking a look at the Redux range of fans from Noctua. These were brought out after years of fans complaining and begging for a new colour scheme and they were originally released alongside the industrialPPC range of fans. The Redux fans feature a grey on grey colour scheme and have some uniquely shaped fan blades to provide some great airflow. The Redux range comes in different sizes ranging from 80mm up to 140mm and every different size has a few different models available depending on your exact needs. All sizes come with 3-pin and 4-pin models and RPM's range from as low as 700 all the way up to 1800, depending on the size of the fan. Noctua has done a great job with trying to make sure there is something here for everyone, there is no denying that, so why don't we have a look at the specifications followed by some actual images of the fans themselves.
Specifications
140mm

PRODUCT

mm

RPM

dB/A

mm H2O

140x140x25

1500

25,8

133,7

1,91

4-Pin PWM

140x140x25

1200

19,6

110,3

1,29

4-Pin PWM

140x140x25

1200

19,6

110,3

1,29

3-Pin

140x140x25

900

13,2

83,7

0,77

3-Pin

140x140x25

1500

25,8

133,7

1,91

4-Pin PWM
120mm

PRODUCT

mm

RPM

dB/A

mm H2O

120x120x25

1200

18,1

100,6

1,31

4-Pin PWM

120x120x25

1200

18,1

100,6

1,31

3-Pin

120x120x25

700

6,8

56,9

0,44

3-Pin
92mm

PRODUCT

mm

RPM

dB/A

mm H2O

92x92x25

1600

17,6

64,3

1,61

4-Pin PWM

92x92x25

1600

17,6

64,3

1,61

3-Pin
80mm

PRODUCT

mm

RPM

dB/A

mm H2O

80x80x25

1800

17,1

53,3

1,41

4-Pin PWM

80x80x25

1800

17,1

53,3

1,41

3-Pin

80x80x25

1200

9,1

35,8

0,67

3-Pin
Inside the box, users will find nothing but the fan itself and a pack containing the 4x installation screws.  It is worth noting that Noctua do have a wide range of accessories available for their fans, please CLICK HERE to see them on Noctua's website
One of the things that I was quite impressed with was the fact that Noctua has created their 140mm versions of the Redux fan in both a square and round frame, this simple detail just gives users that much more control and customization over their build. Notice how the blades have the same markings so it is just the frames that are different.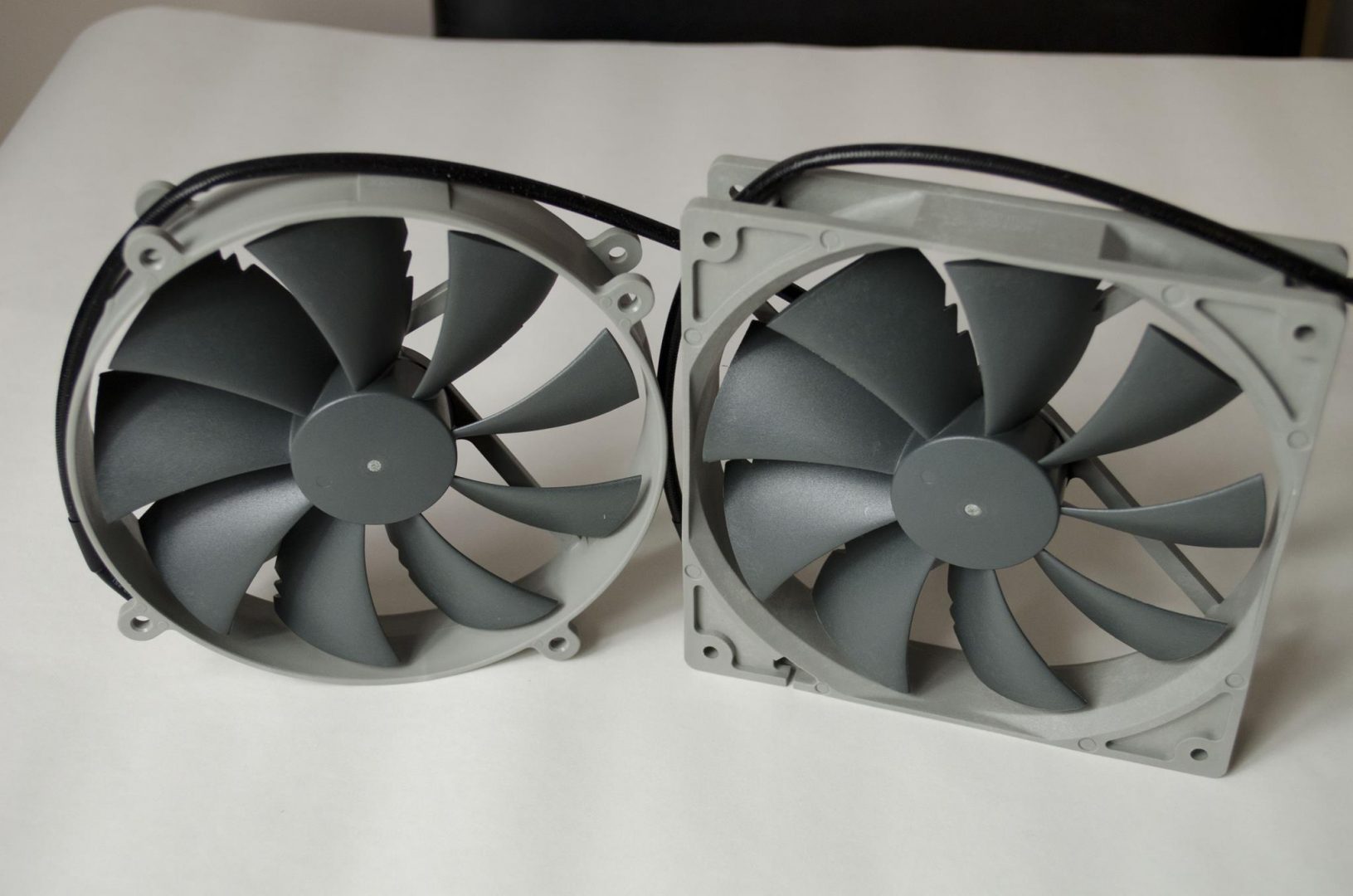 The 80/92/120mm variants all only come with square frames. However, if you look closely enough you will notice they all have different shaped blades and we know this is to help allow the best airflow possible for each individual size of fan. Again, all the sizes come with at least 2x separate models available which will offer either a 3 or 4 pin connection.
The grey on grey colour scheme is definitely a nice touch and still very unique which is what I would imagine Noctua was ultimately going for. While they want to please their fans, they also want to remain one of a kind, which they have succeeded in if you ask me.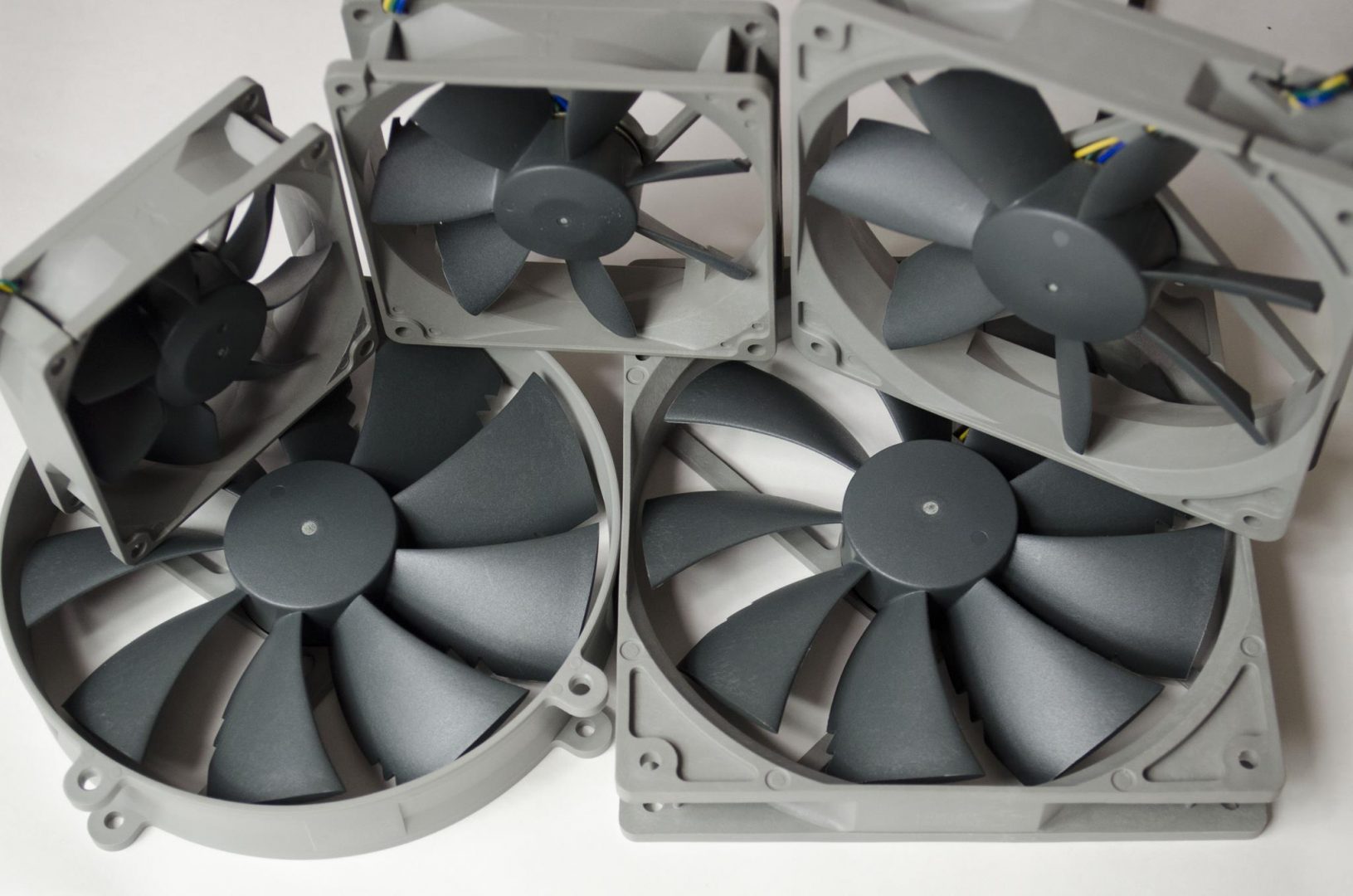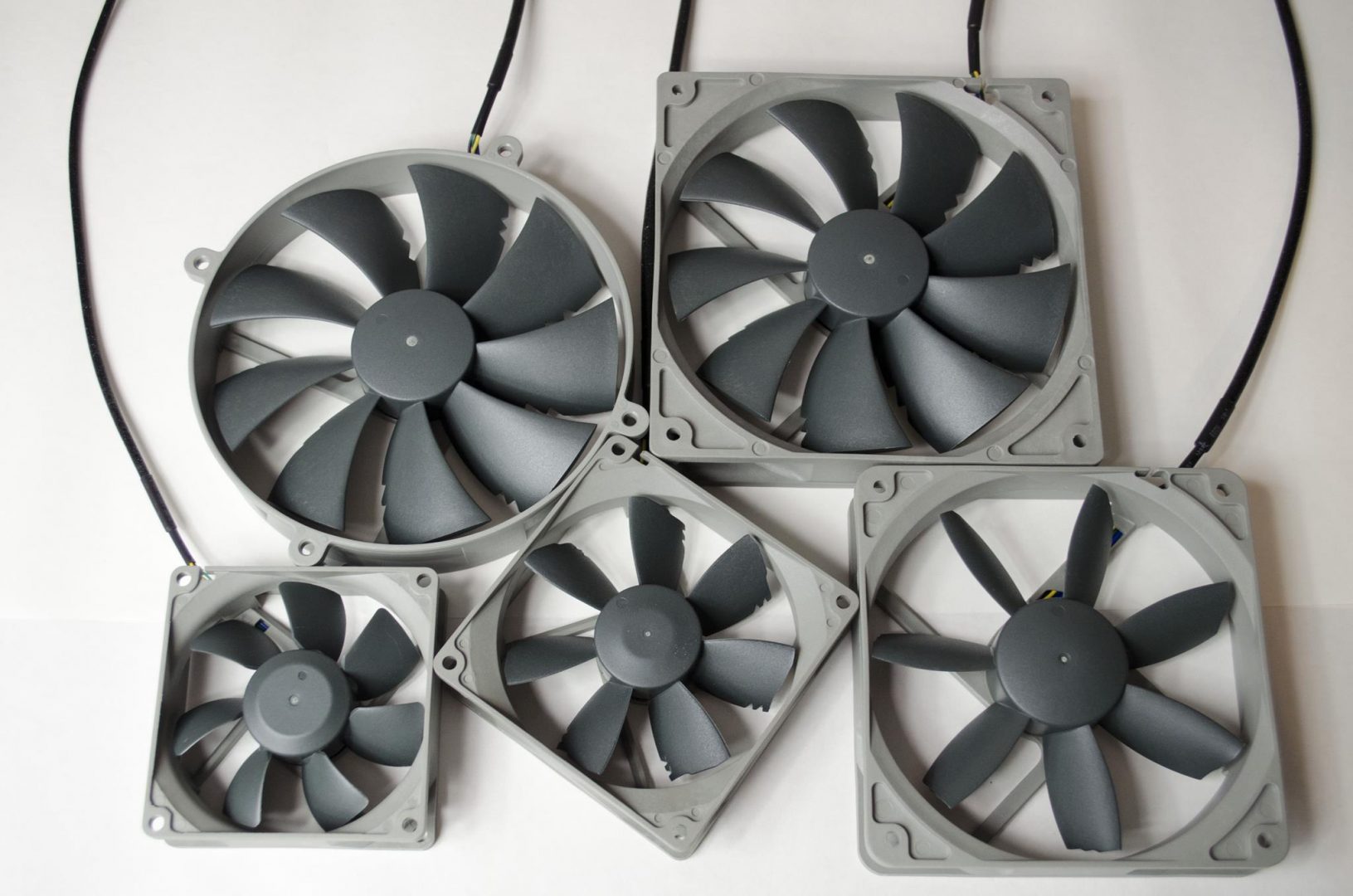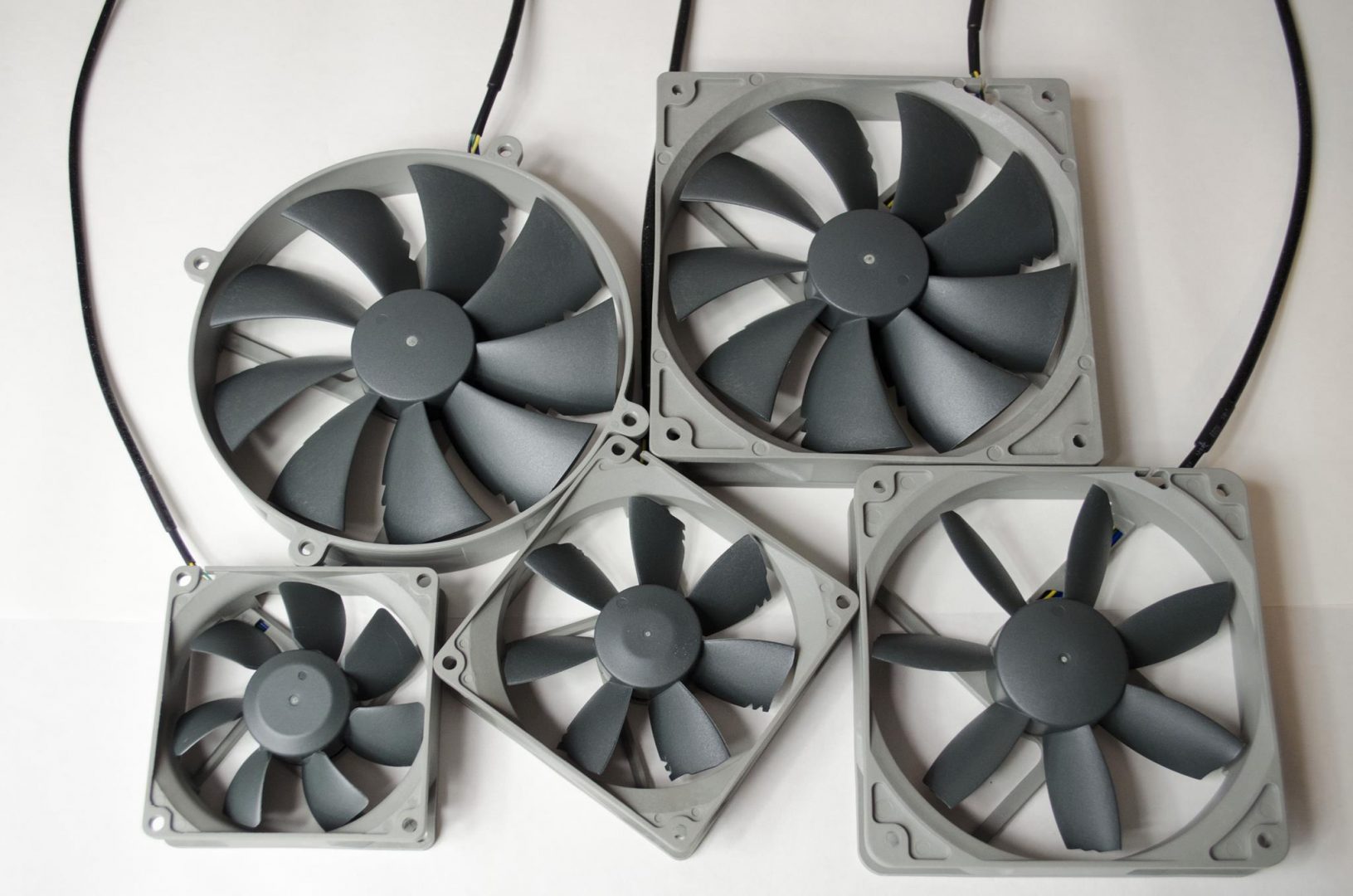 As mentioned, all of the fans blades have their own unique designs and with this comes little cutouts that are ultimately designed to help give the best airflow possible while remaining and quiet as possible. Each size of fan has a different RPM and a different cutout on the blades, Noctua have surely spent their time designing this to be as efficient as possible.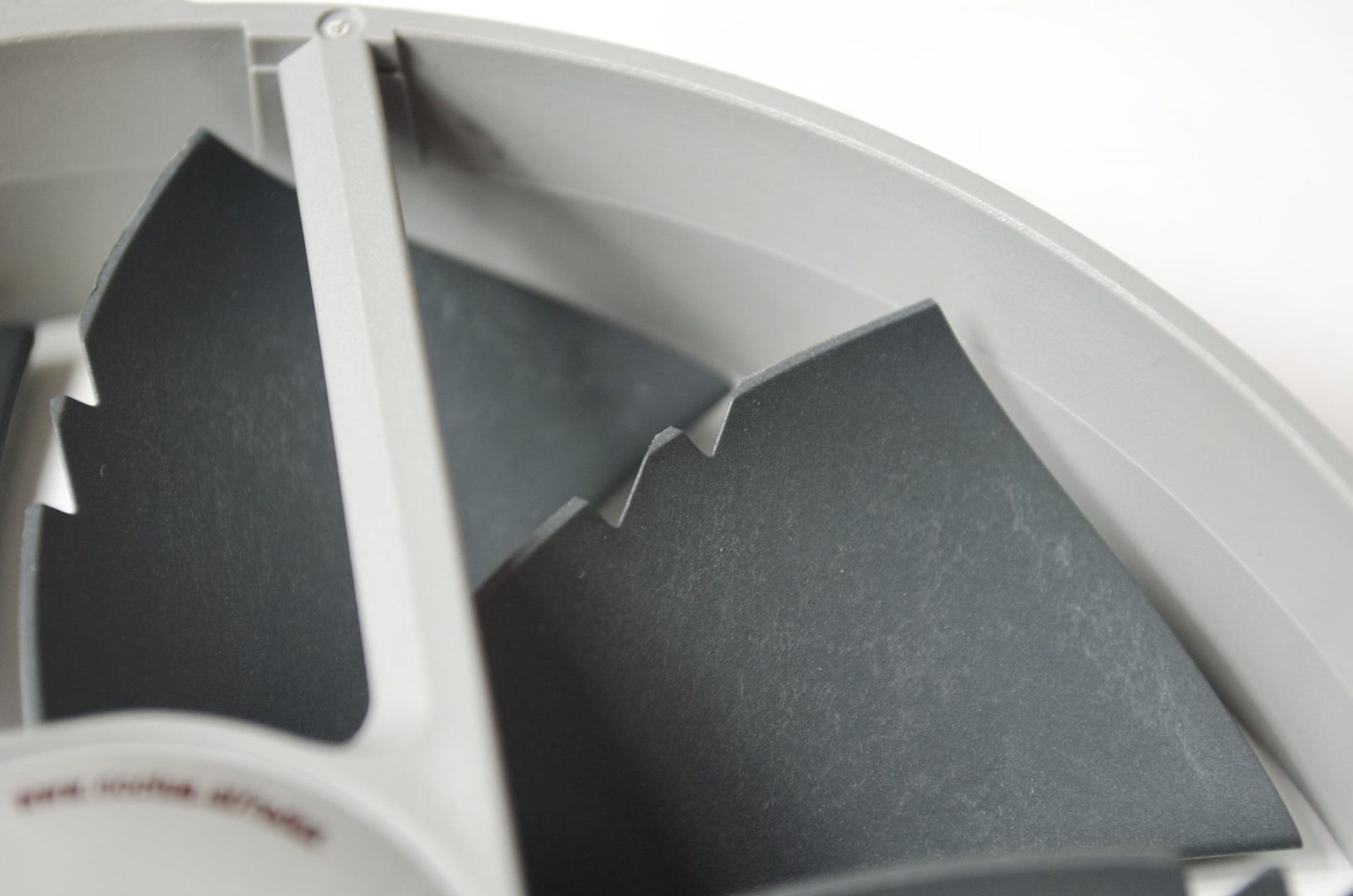 Whether you get the 3-pin or 4-pin version, all of the Redux fans come with a nice rubber-type braided cable that looks quite nice.
There is no denying that the Noctua Redux range of fans has a unique look to them, both in colour and the shape of the fan blades. Noctua has long been known to offer some of the best cooling products on the market and they have not let us down with their Redux offerings.
Performance
The Redux range of fans aims to have something available for everyone. They come in multiple sizes, all with 3-pin and 4-pin options and their unique design allows them to offer a great deal of airflows with the least amount of noise they can. Obviously, the higher the RPM, the noisier the fan will be but unfortunately for us, smaller fans will need this to output a sufficient amount of air. The Redux range is also designed to help cool cases and/or radiators thanks to their unique design. During my testing, I was blown away by the amount of airflow they created and the 120/140mm fans while audible, weren't overly noisy or irritating. Noctua is known for performance and the Redux range is nothing short of Noctua's reputation.
Design
Noctua took fans concerns over their original colour scheme into mind and as such, the consumer market was offered the Redux range of fans which as we have seen, are grey on grey and come in multiple sizes. One of the things I was happy to see was a round version of the 140mm and while it would have been nice to see something similar in the smaller sizes, it's understandable why Noctua didn't make those as well. The Redux range is designed to Noctua's high-standards and come backed by a 6-year warranty if you had any concerns about Noctua's engineering.
Value
These are definitely not the cheapest fans on the market and we wouldn't want them to be. When you make cheaper more budget stuff, something has to get cut somewhere and it is normally the quality of the product. Noctua products offer good value for the money through their amazing performance, which again, is backed by a 6-year warranty. Value is very subjective as I always say, but as long as you don't take it to mean budget than the Noctua Redux fans offer great value, plain and simple.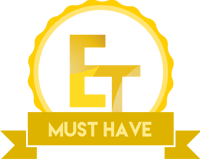 I would like to thank Noctua for sending in their Redux range of fans for review.