Introduction
In this article, we are taking a spin of the AIGO AT360 Black liquid cooler. As the name suggests this is a 360mm size AIO from AIGO. We got this cooler from a local seller who also sent DarkFlash DC240 Radiant for testing.
Key features include:
Independent Pump Desing
Micro Water Channel Design
FDB Bearing Fans
Ceramic Bearing Pump
A-RGB Lighting Effects
Compatible for Intel:LGA 115X/1200/20XX,AMD:TR4/AM4/AM3+/AM3
Price:                    USD 160 [AIGO Website price at the time of this writing]
Specifications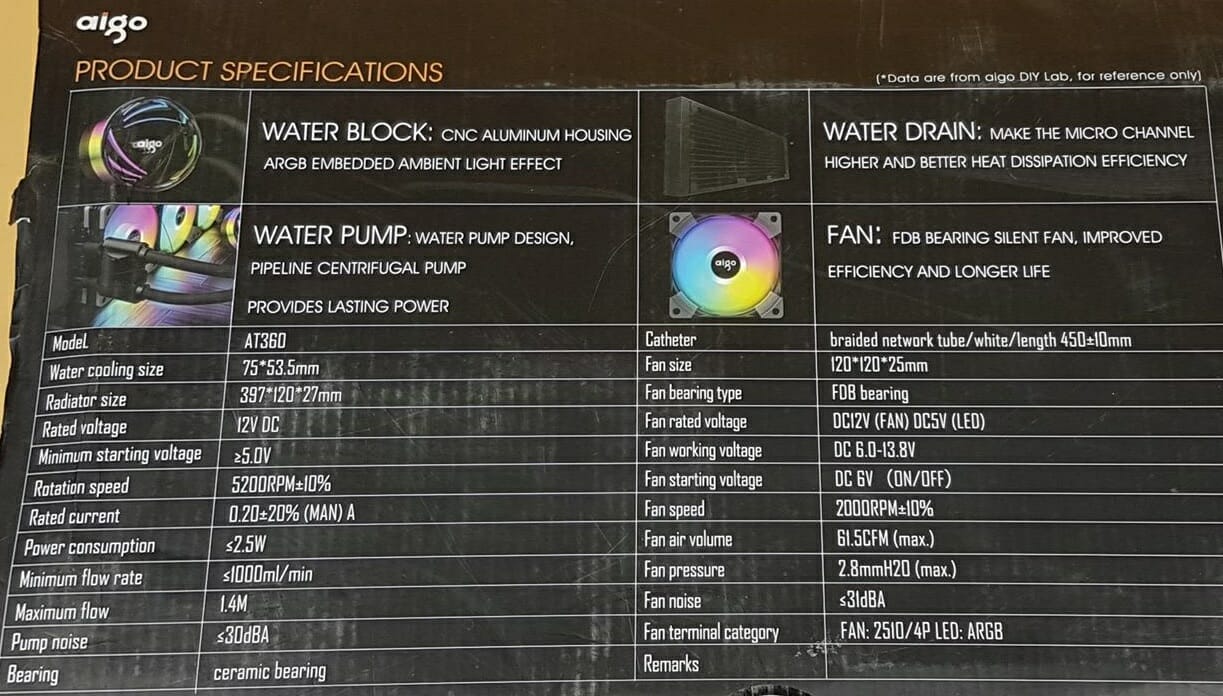 Packaging and Unboxing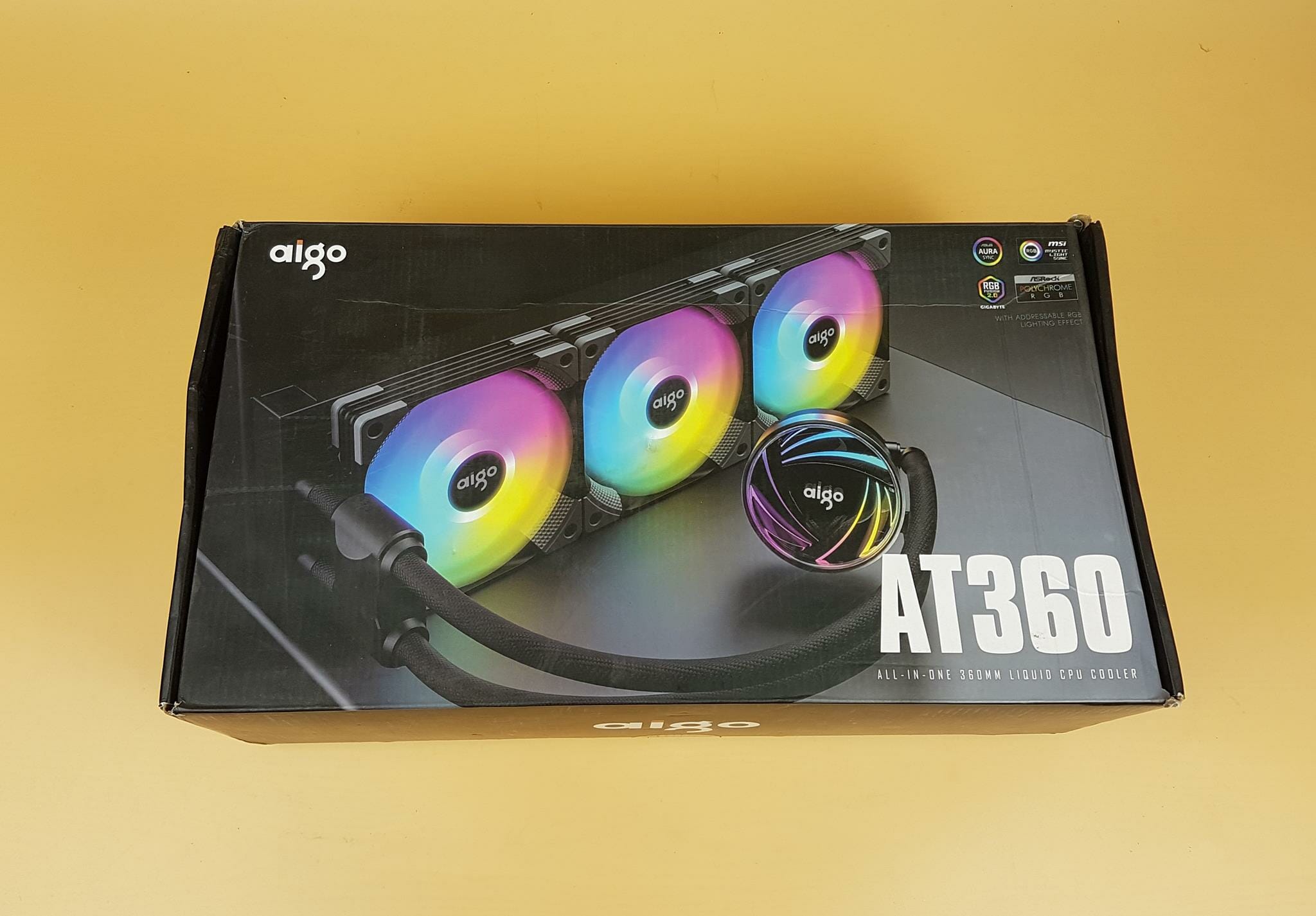 This unit comes inside a cardboard box. Nothing particular is mentioned here on the packing box except the compatibility with the RGB sync technologies of various motherboard manufacturers.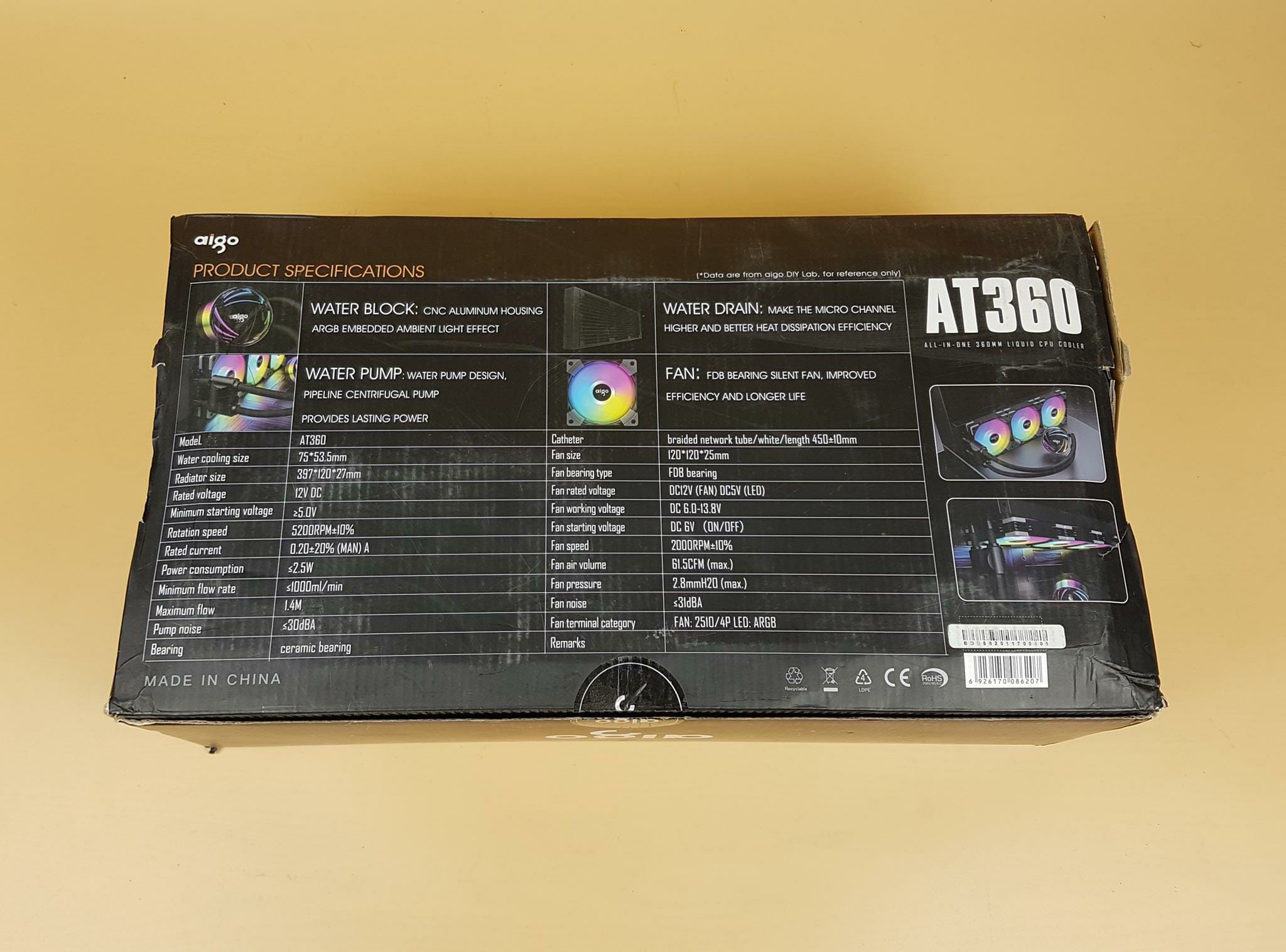 Specifications are printed over the backside of the packing box. Specifications and other information about this model are hard to find and even understand on the AIGO website.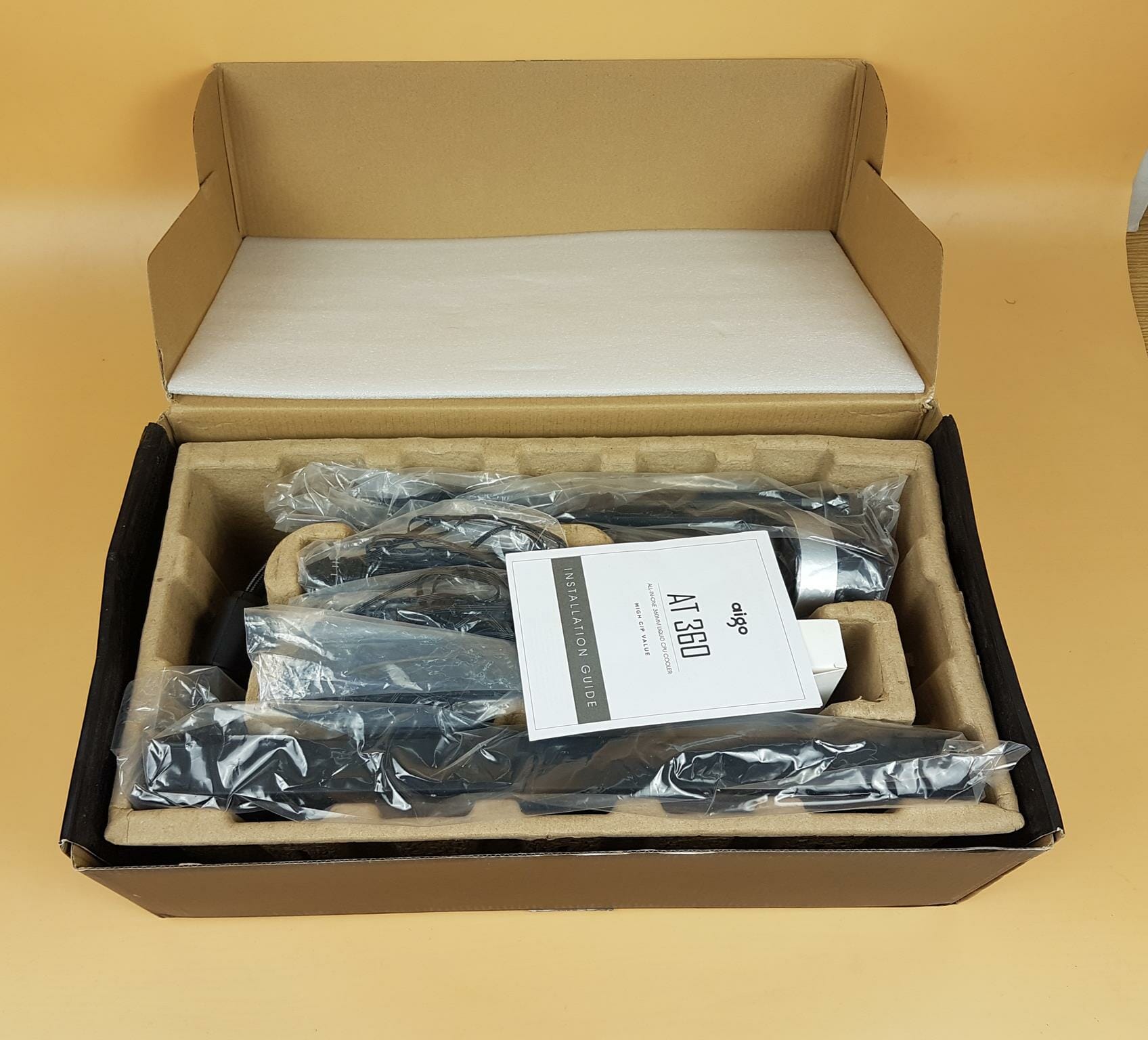 Looking inside the box, the contents are placed inside an egged carton.
Accessories
It is time to see what is provided.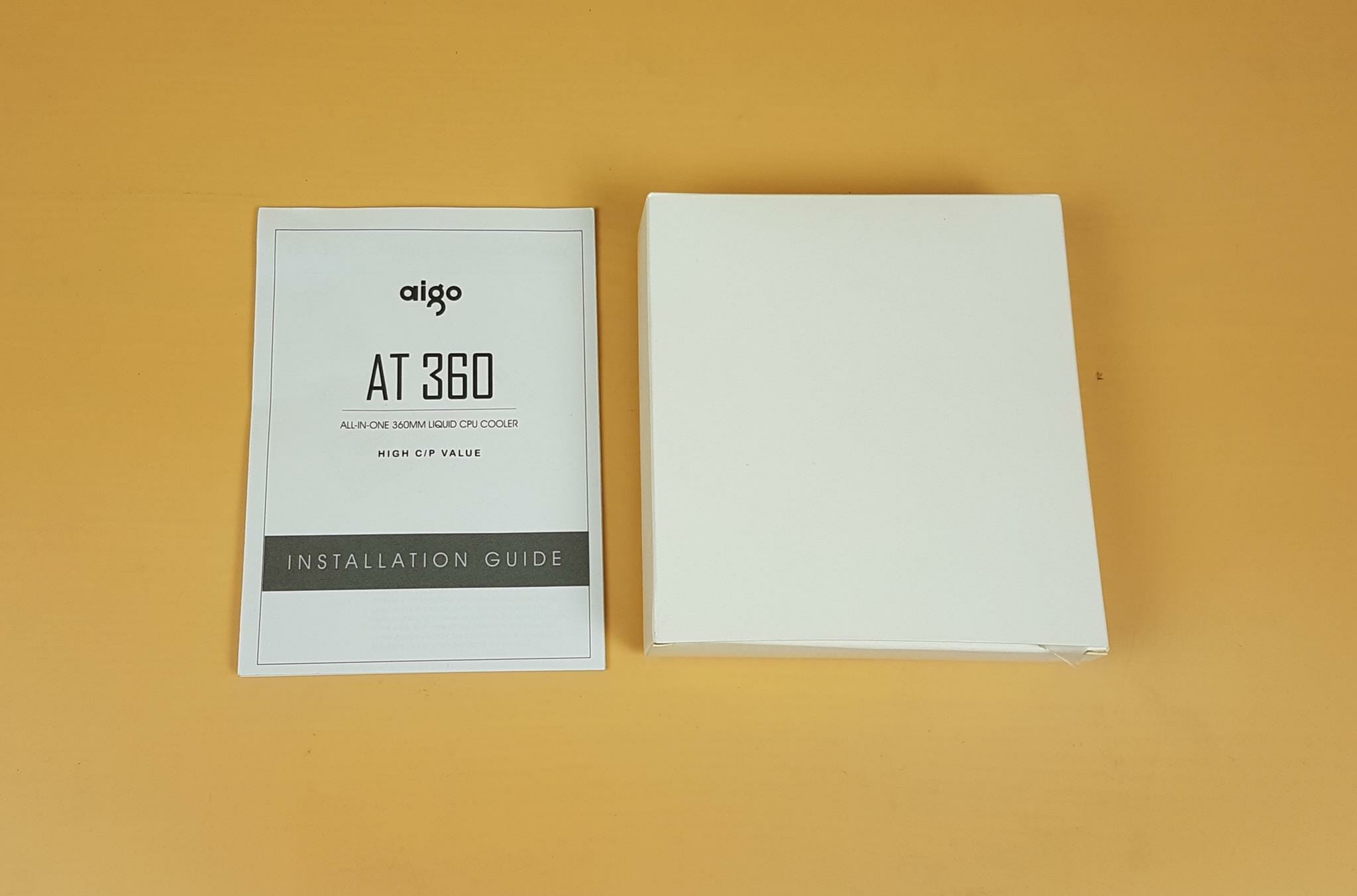 There is a printed user guide and a white color accessory box.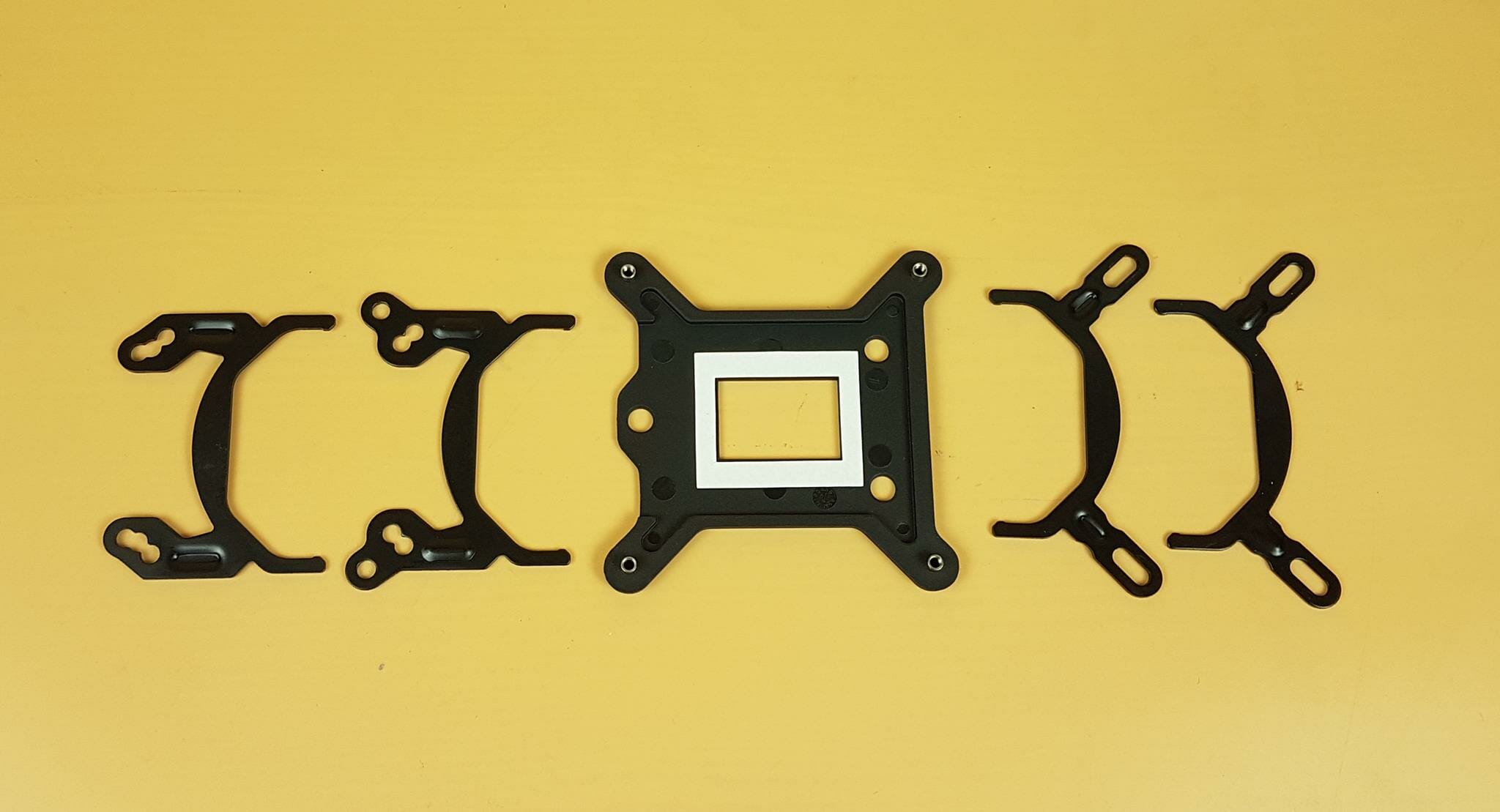 There are:
Backplate for Intel Sockets
Bracket for Intel Platform
Bracket for AMD Platform
There are:
4x AMD AM4 Spring-Loaded Screws
4x Intel LGA20xx Spring-Loaded Screws
4x Intel LGA1200/15xx Spring-Loaded Screws
4x AMD TR4 Spring-Loaded Screws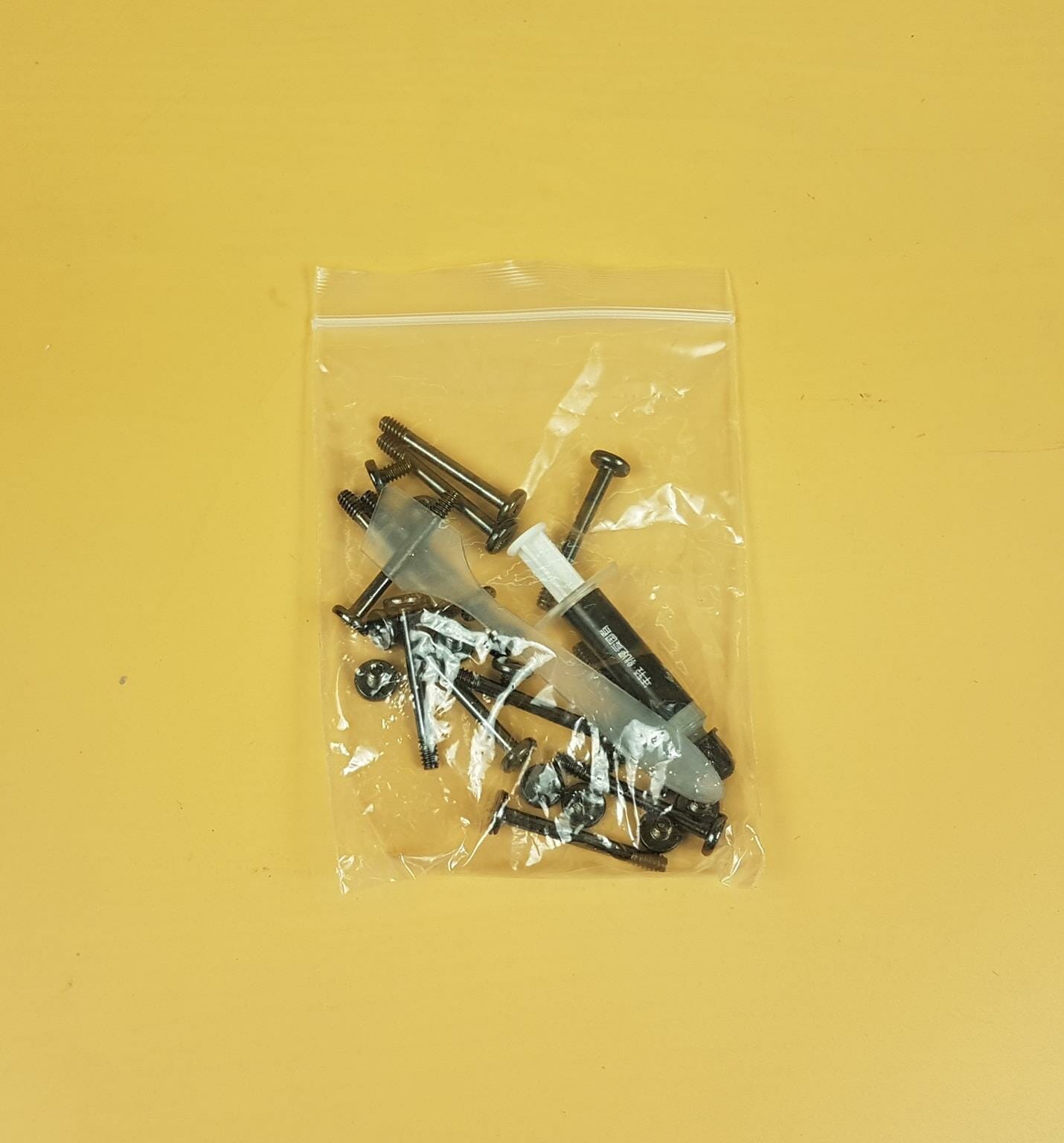 There are:
12x Fan Screws
12x Radiator Screws
1x Thermal Paste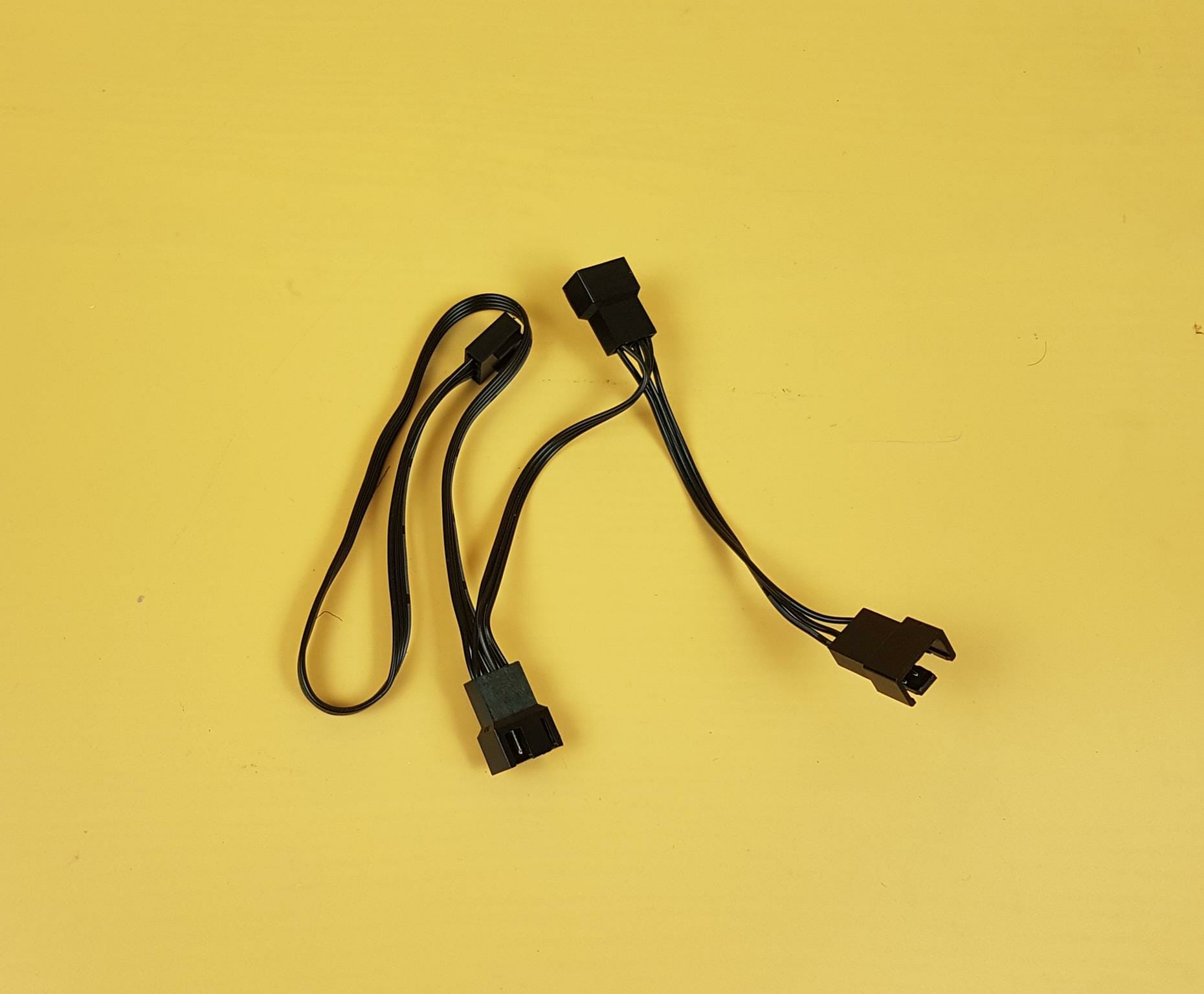 There is a 3-way PWM Splitter cable.
AIGO has provided a dedicated A-RGB controller with this cooler. There is a single button labeled MODE to change the lighting modes. There are four ports and they are labeled in numbers. There is another port labeled SW.
We are showing A-RGB ports labeled 1 and 2.
There is a 2-pin port labeled as SW. I think the user can connect the system panel's 2-pin connector to this port and control the lighting using the Reset button of the PC Case.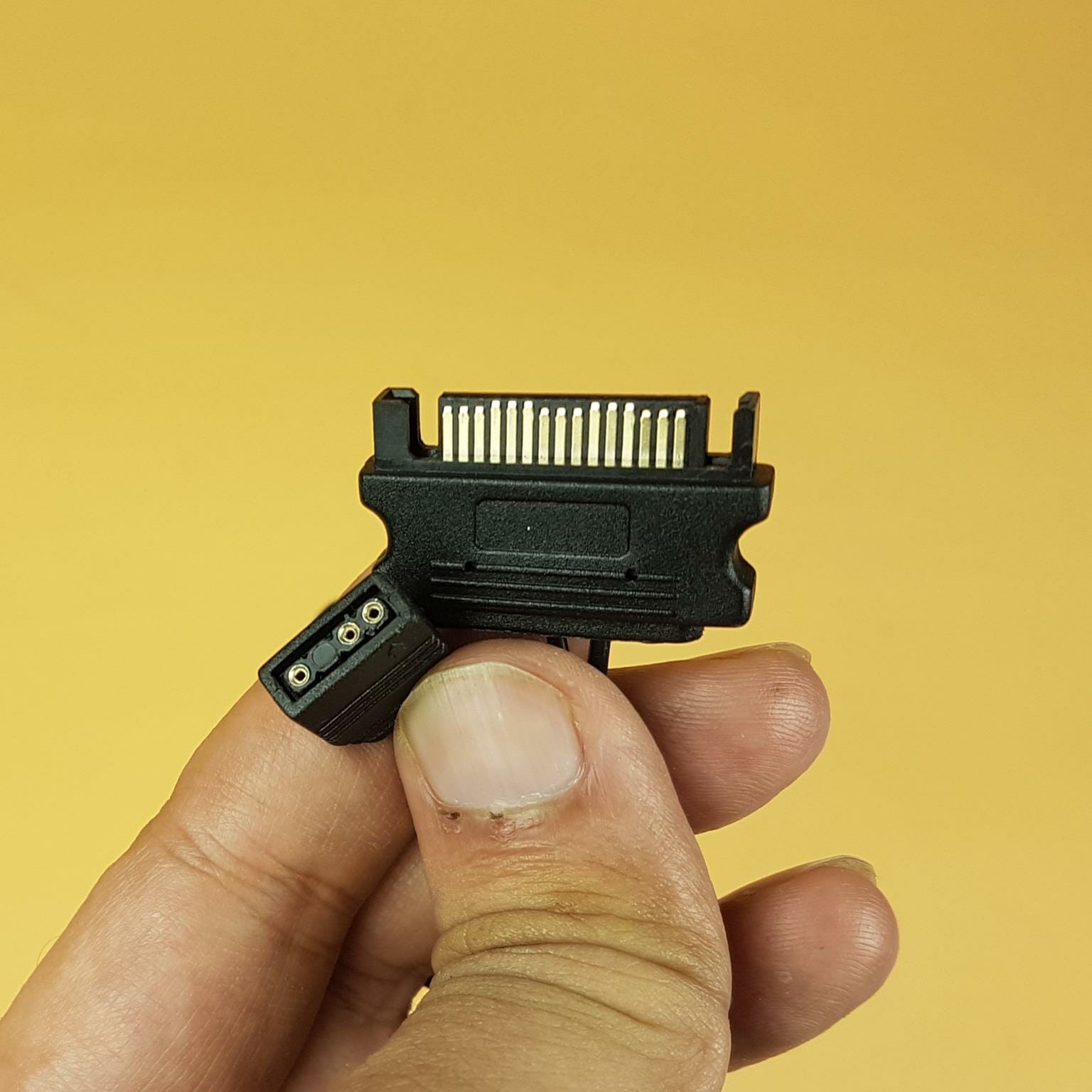 This controller is SATA powered and there is a standard RGB connector that can be connected to the motherboard to hand over the lighting control to the motherboard's header and software.
Closer Look
Let's take a look at the unit starting with the radiator.
The radiator of this unit is black color coated and it has 12 channels for coolant flow which AIGO refers to micro water channel. There is nothing special about it as it is just a fancy name from the manufacturer. The radiator has a dimension of 397x120x27mm. Adding 120x25mm fans would increase the overall height of this unit to 53mm approximately. FPI count of fins density is 20. There is a standard gap of 105mm between two opposing mounting holes and 15mm between two adjacent mounting holes.
Far end of this radiator has a rectangular layout and no branding is on it.
Looking at the tube side of the radiator, we can see a serial number label. The tube and fitting connections are covered using metallic black color clamps. There is a cable visible in the picture. We will come to it shortly.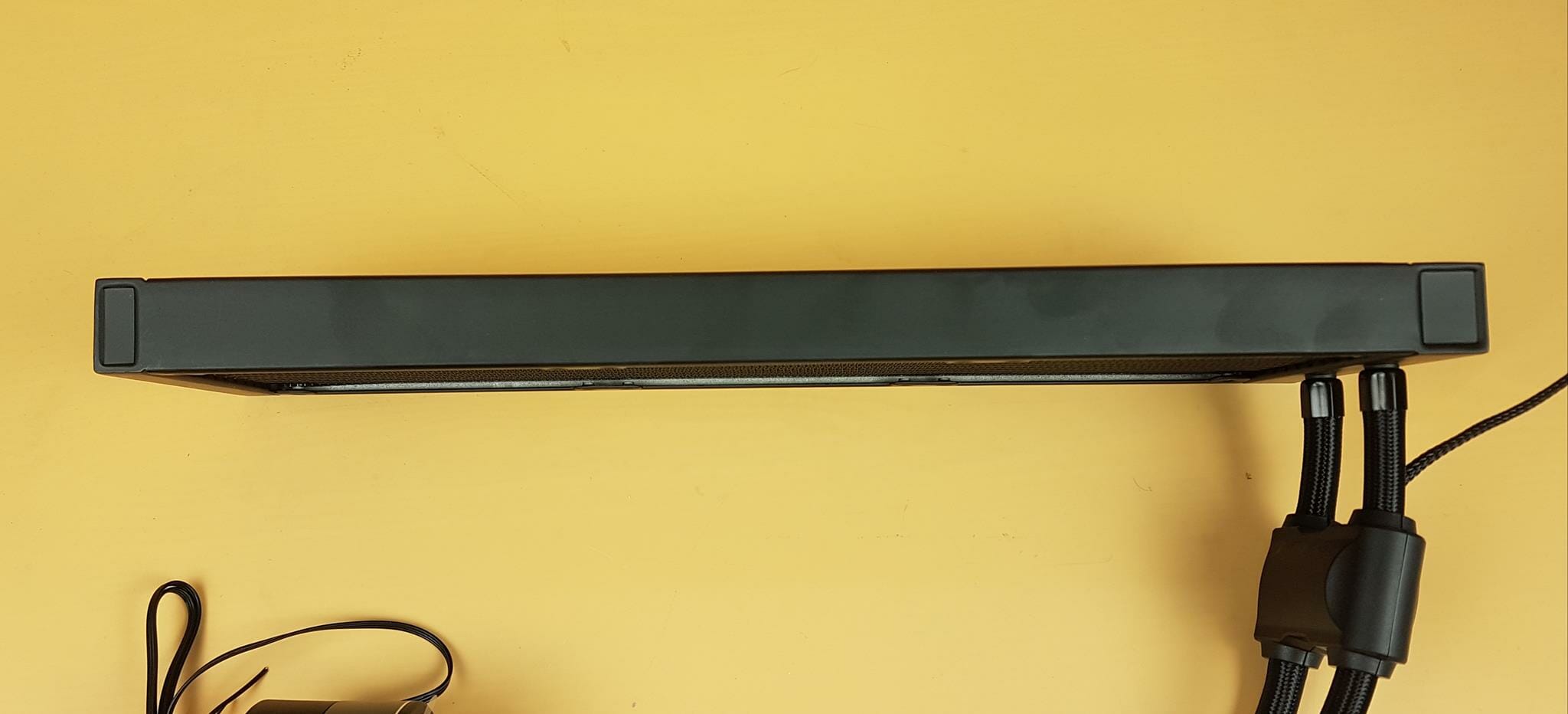 There is no branding on the side frame of this radiator.
The fins are in a traditional v shape design and AIGO has done a nice job in fin stacking since there is no bend or broken fin.
There is a gap between the side frame and the actual fin stack. This would mean the actual thickness of the fin stack is less than 27mm. Only CORSAIR AIOs provide full thickness as per specifications in our experience.
AIGO is using rubber tubes having nylon braided mesh sleeves in black color for aesthetics. These tubes have a length of 400mm. These tubes are not that flexible.
There is a housing integrated into the tubes of this unit. The pump is provided in this housing. This is the same design that we saw on the be quiet! Pure Loop series coolers and Thermalright Frozen Magic 360 Scenic V2 cooler. Possibly, this is to bypass the soon ending ASETEK patent in US region by removing the pump from the block.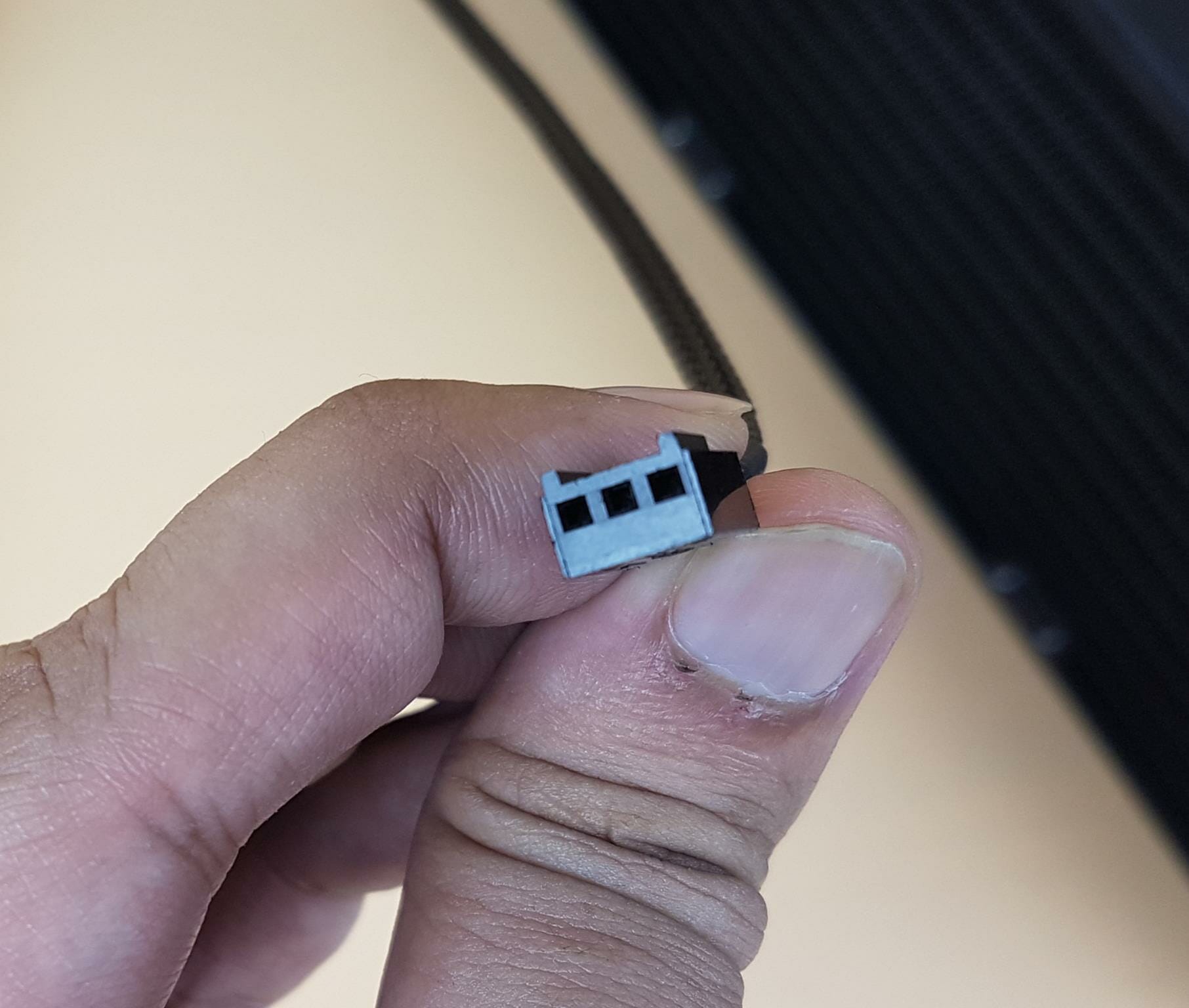 Pump is powered by a 3-pin connector cable. It is not PWM controlled. The power consumption of this pump is mentioned as less than 2.5W at 12VDC. Its maximum speed is 5200 ±10% RPM. The current rating is 0.2A ±20%. Starting voltage is mentioned as a minimum of 5V. Flow rate is mentioned as <1000ml/min with a pump head rating of 1.4M. Noise rating is mentioned as <30 dBA.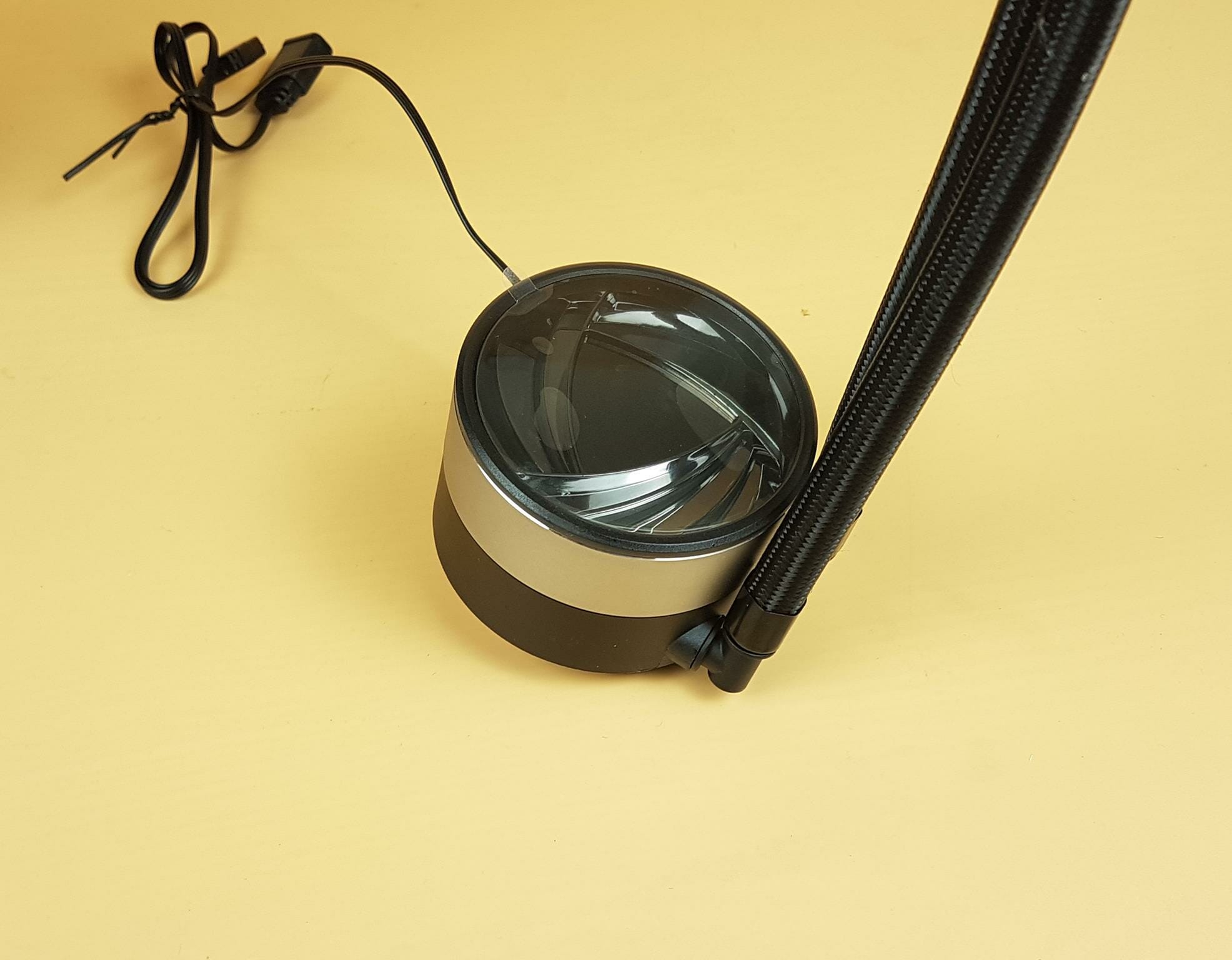 The block housing has a dimension of 75*53.5mm. Despite removing the pump from this block, it has relatively a large size block. The top section of this housing has an aluminum cover. There is a stylish top cover with an infinity mirror effect along with a geometrical design that looks good in person. However, there is a catch. This cover is not rotatable which would mean we are limited in terms of the AIGO logo's orientation inside this housing. The lower half material of this housing is made of plastic.
None of this housing's sides has any branding. We can see a flat cable coming out from this end.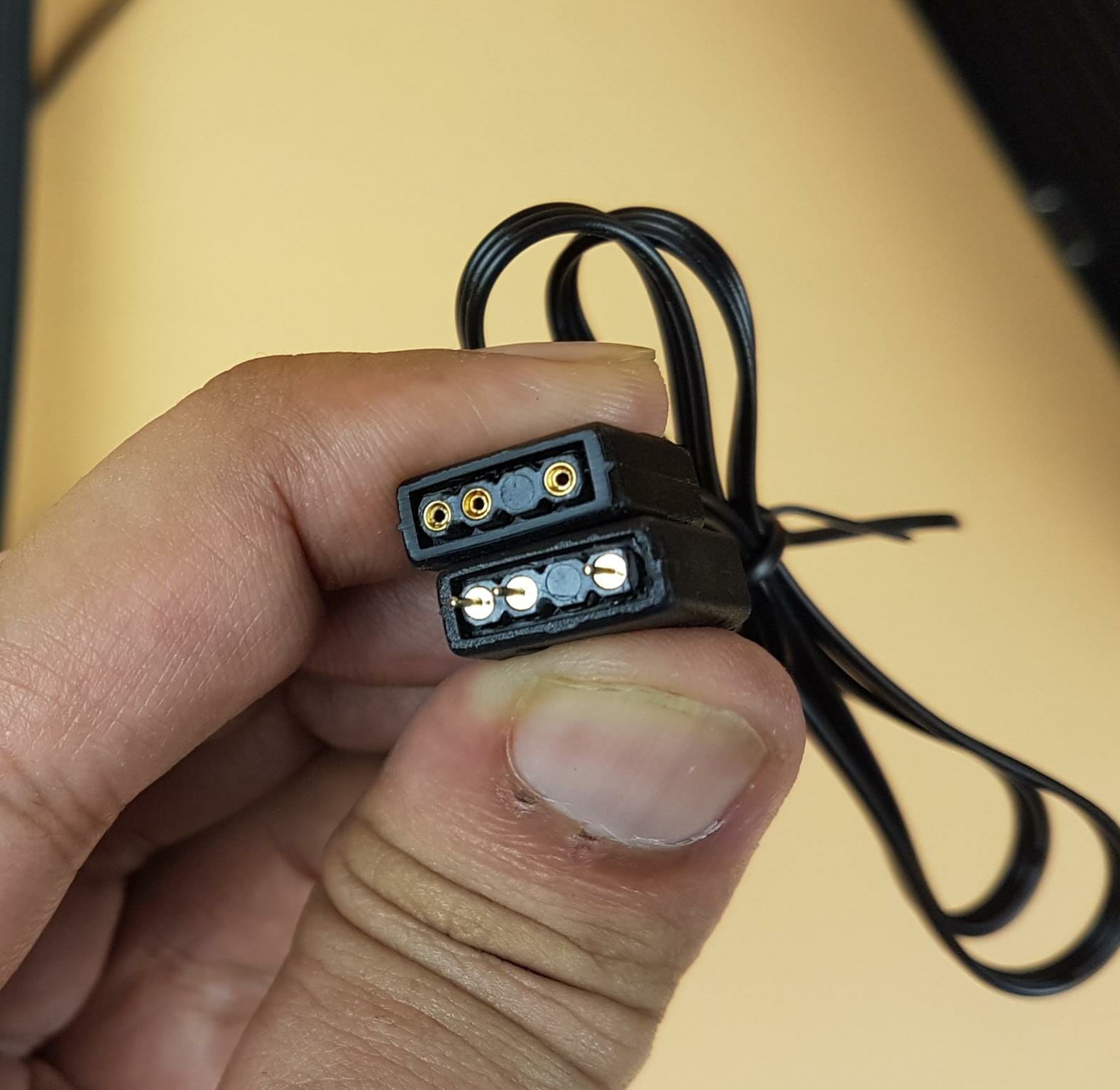 The above-mentioned cable has standard RGB connectors.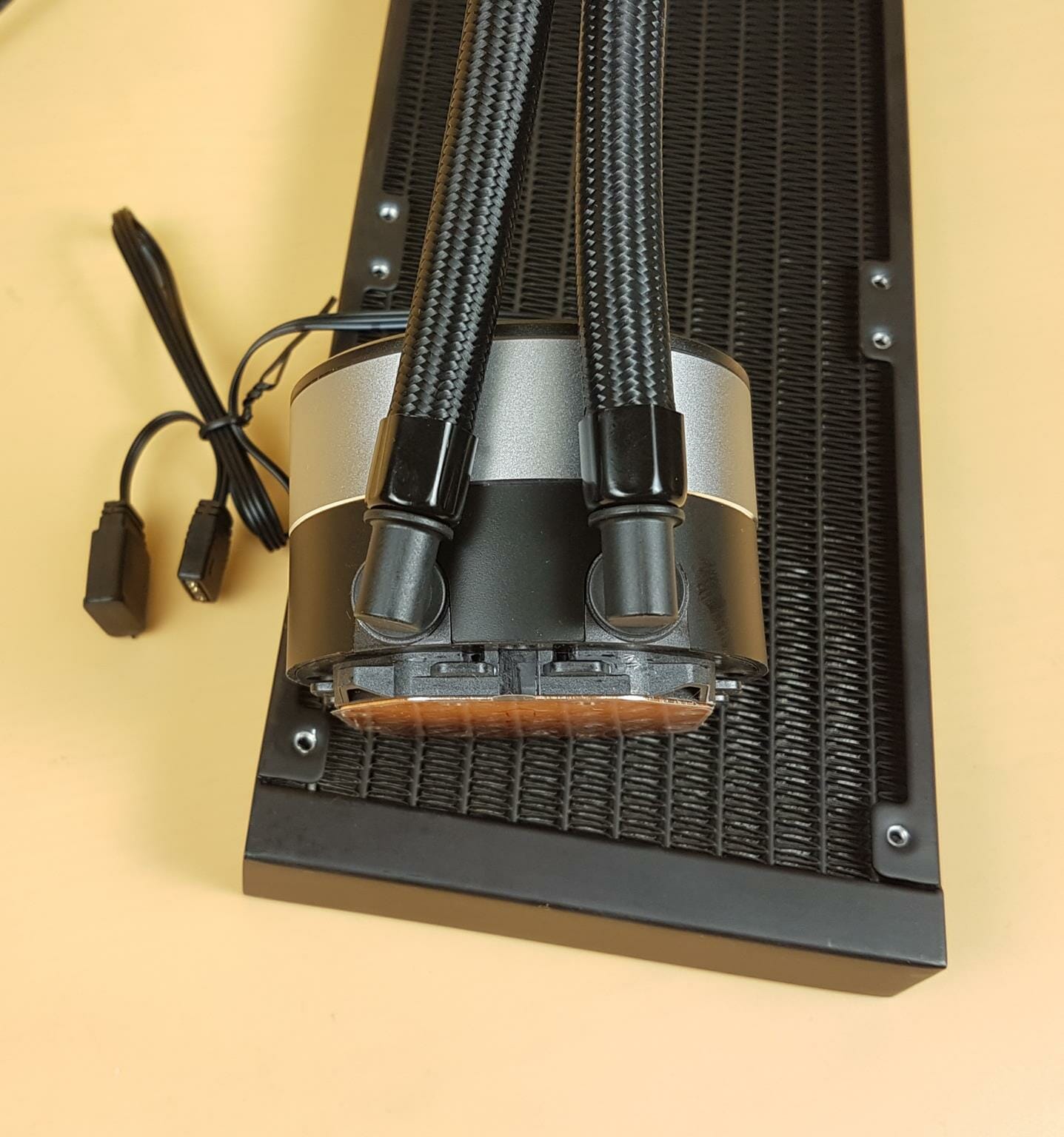 The backside of this housing has 90° right-angled fittings on which the tubes are connected. They can be moved towards the right and left depending on the requirement.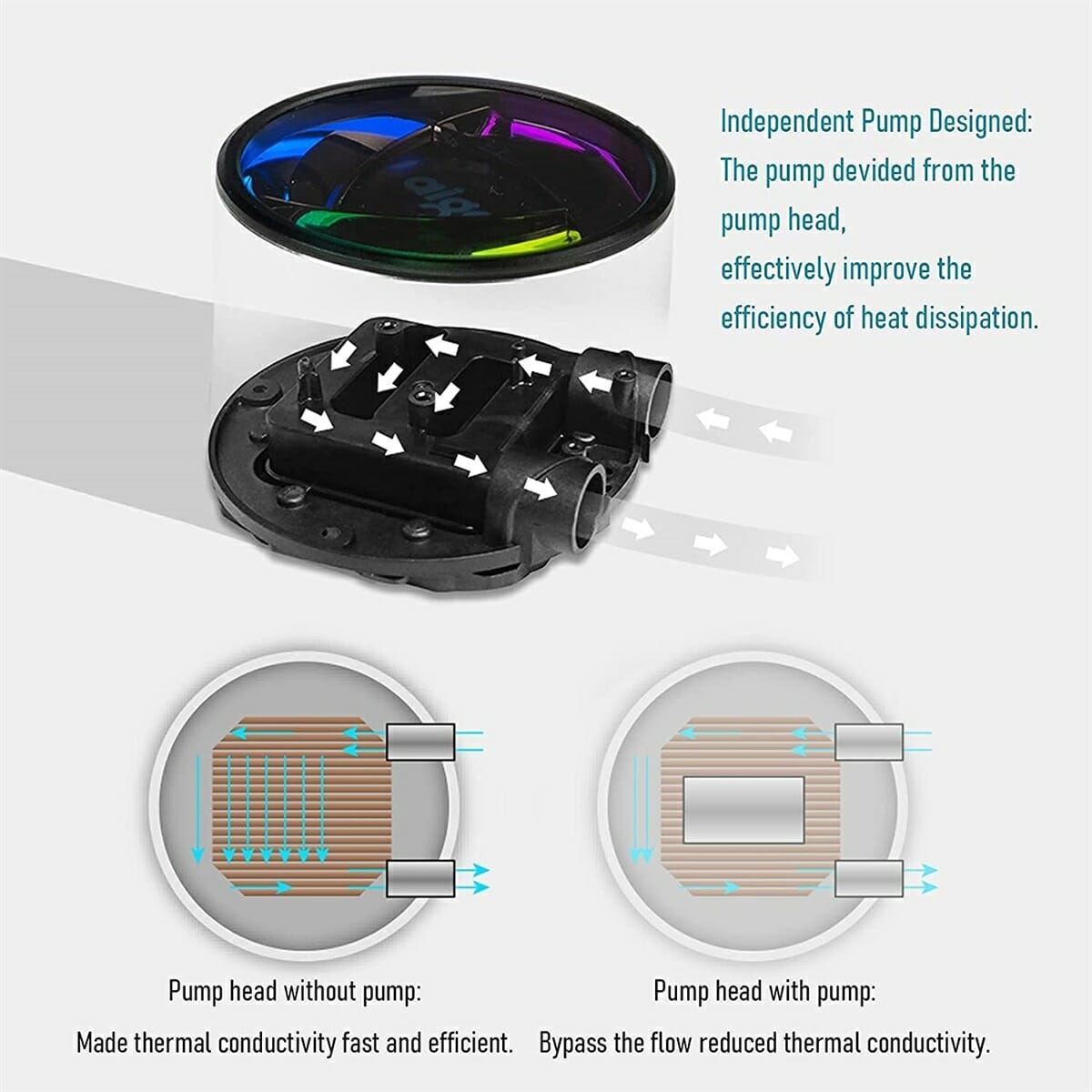 The above picture is as confusing as it can be since they have mixed up some terminologies. Anyhow, according to AIGO removing the pump from the block will improve efficiency as it makes thermal conductivity fast compared to integrated pumps in the housing. This is not necessarily true, AIGO.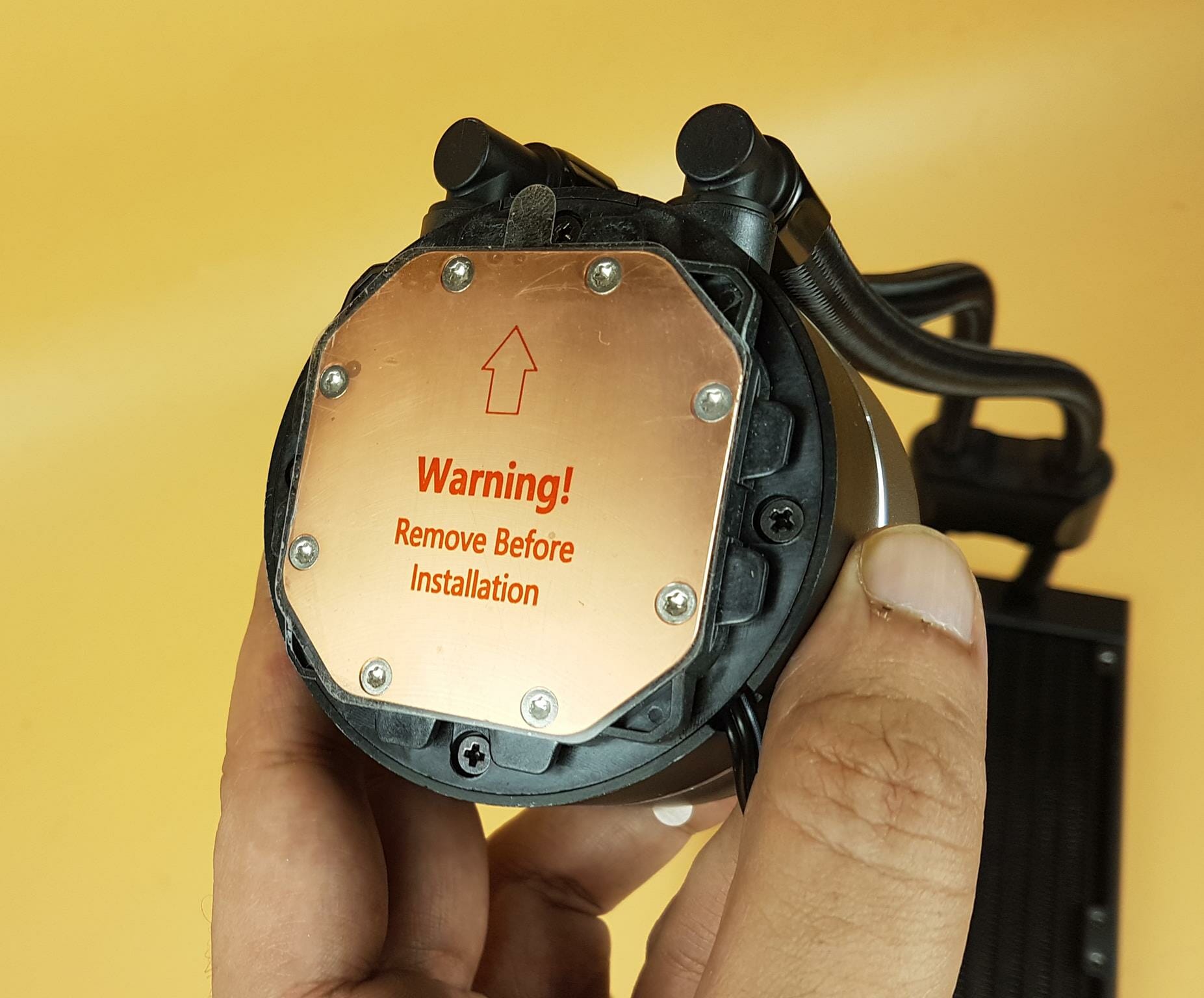 There is a copper base on this unit measuring 54x54mm. The above picture also shows surrounding black color housing near the copper base. The mounting brackets are clamped inside the protruded notches. Refer to user manual for more details.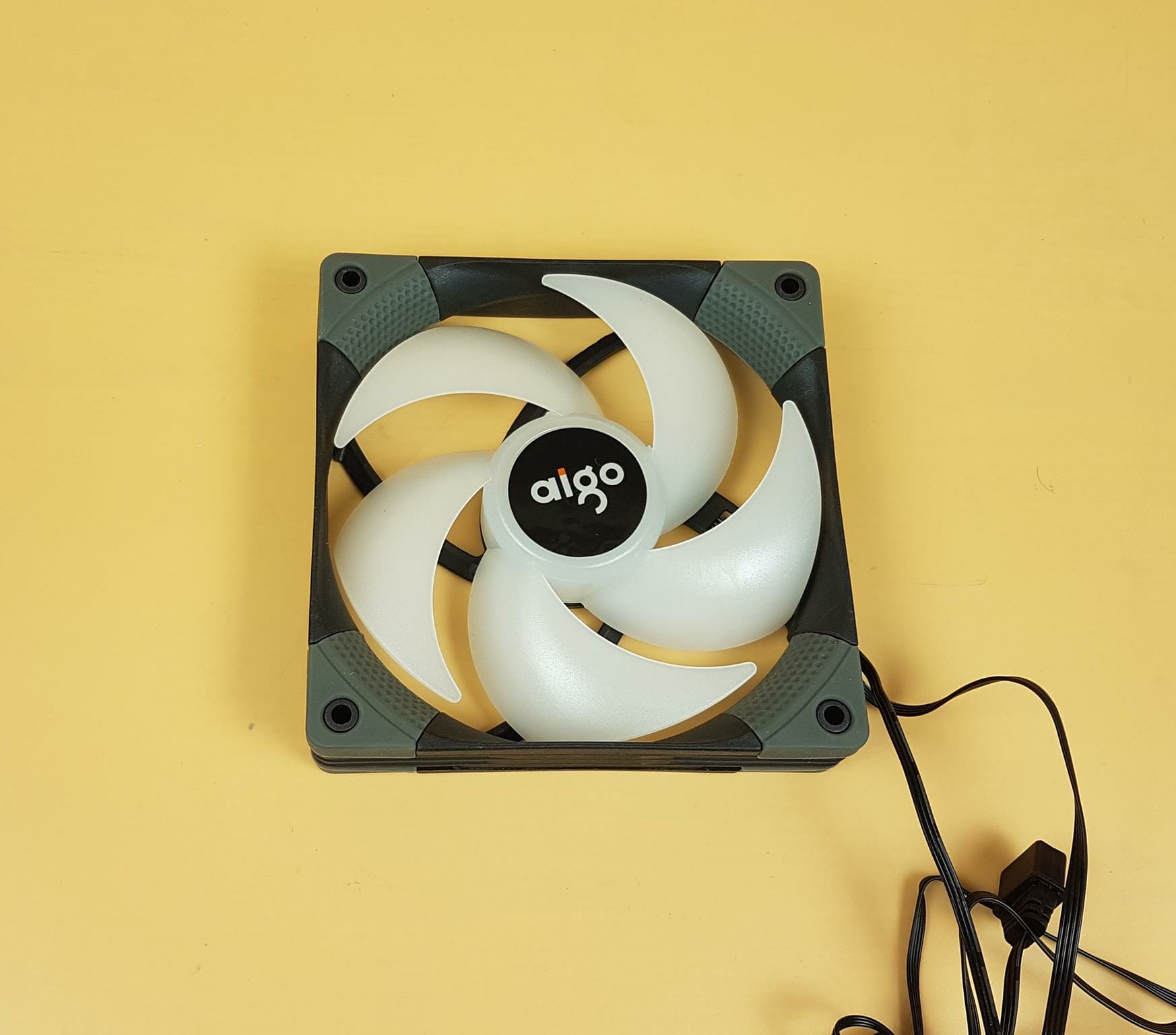 AIGO has provided 3x fans with this unit that is A-RGB enabled. Each fan has a 5-blade design that resembles ARCTIC P12 fans. The hub has A-RGB LEDs. There is an AIGO branded sticker on the hub as well. Each mounting corner has an anti-vibration pad that actually runs to both ends from inside the frame. There is a ribbed design on the surface facing the blades.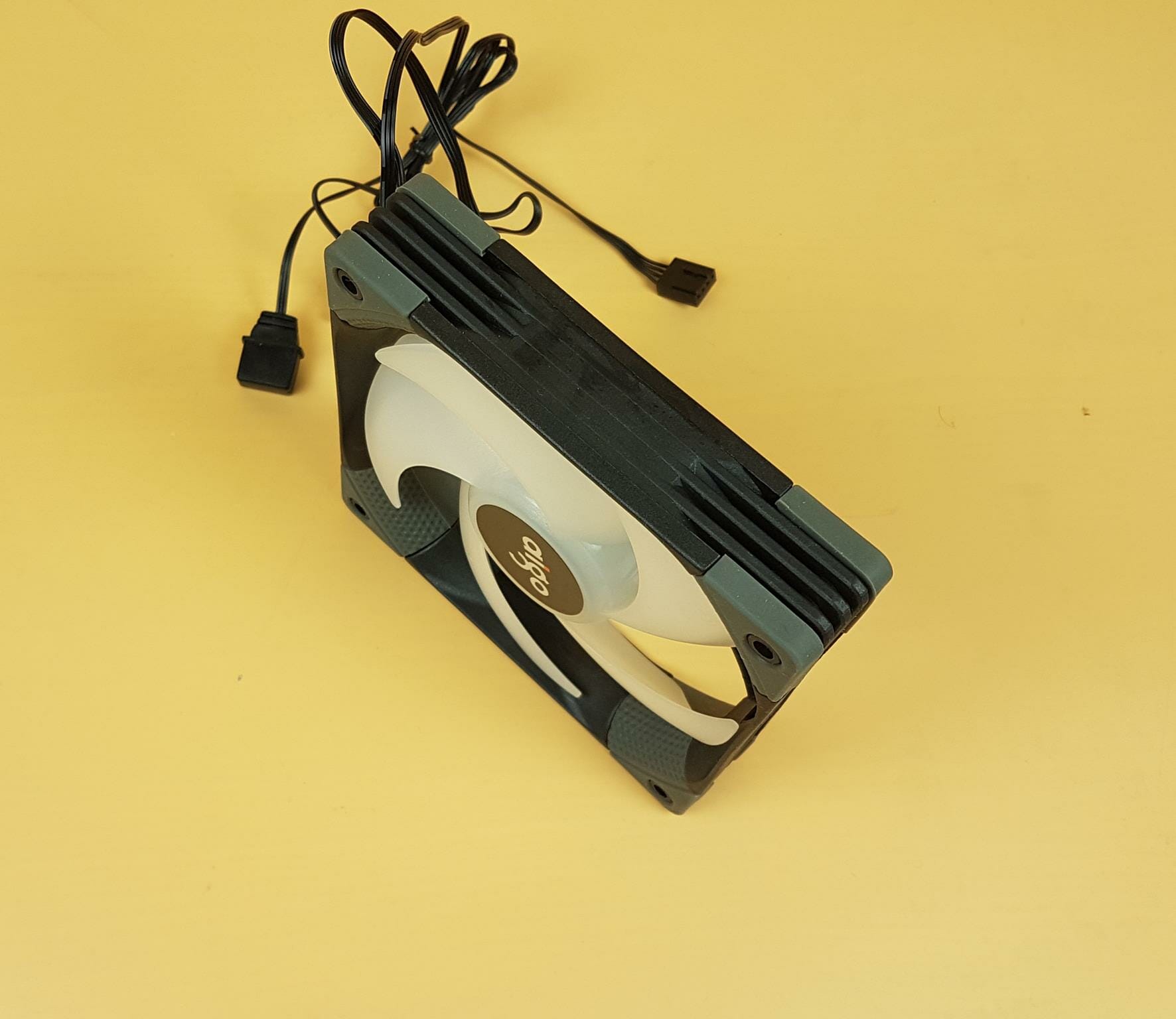 The black color frame is sturdy and it has line pattern for aesthetics. We could not see any arrow marking that shows the direction of airflow and direction in which the blades spin for novice users.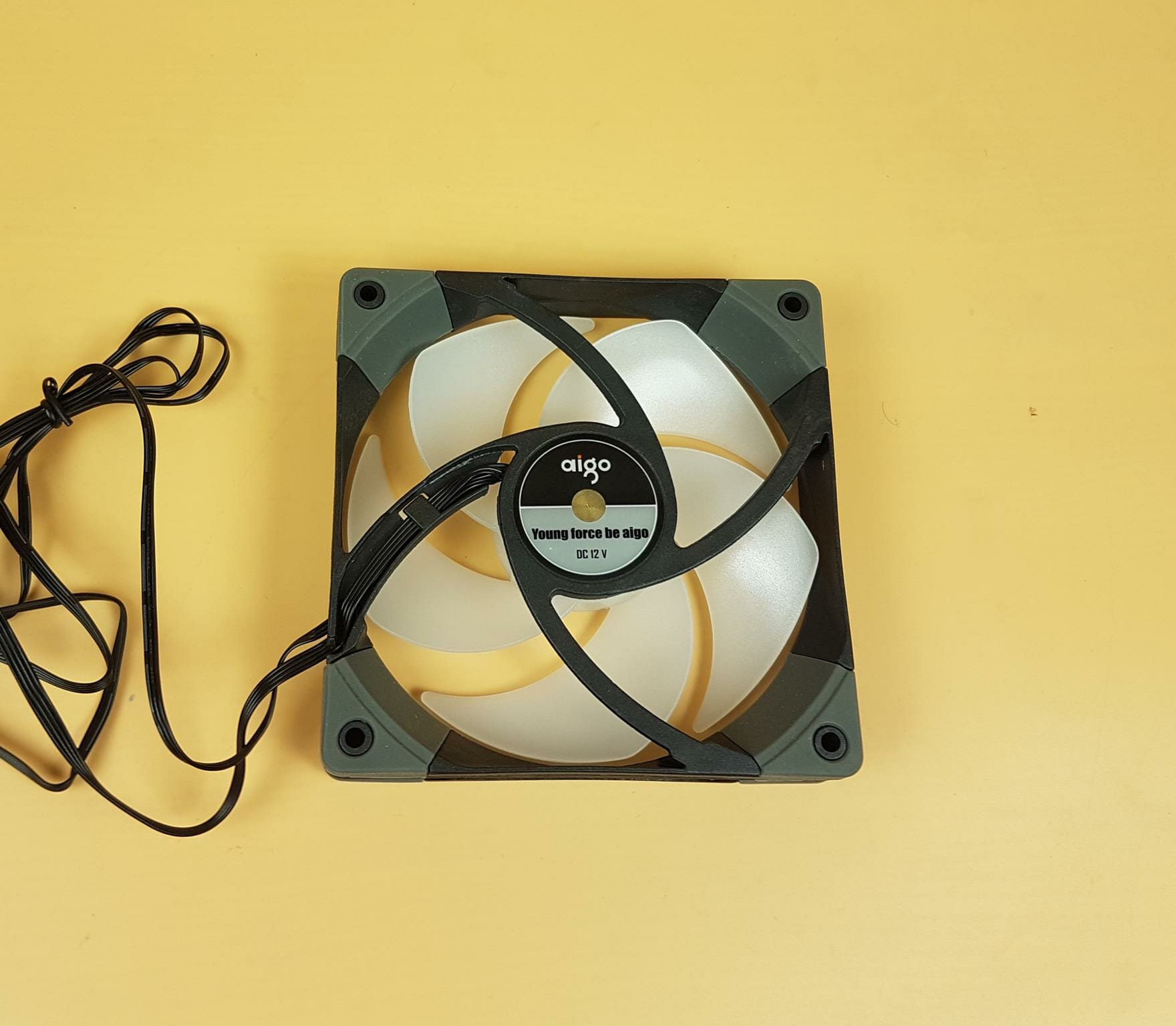 There is a 4-arms assembly on the backside and a quick look at the center tells us that AIGO is using a metal-reinforced bearing shell which is a nice touch as it provides longevity. There is a sticker on the center as well though it does not tell much about these fans. These fans are using Fluid Dynamic Bearings.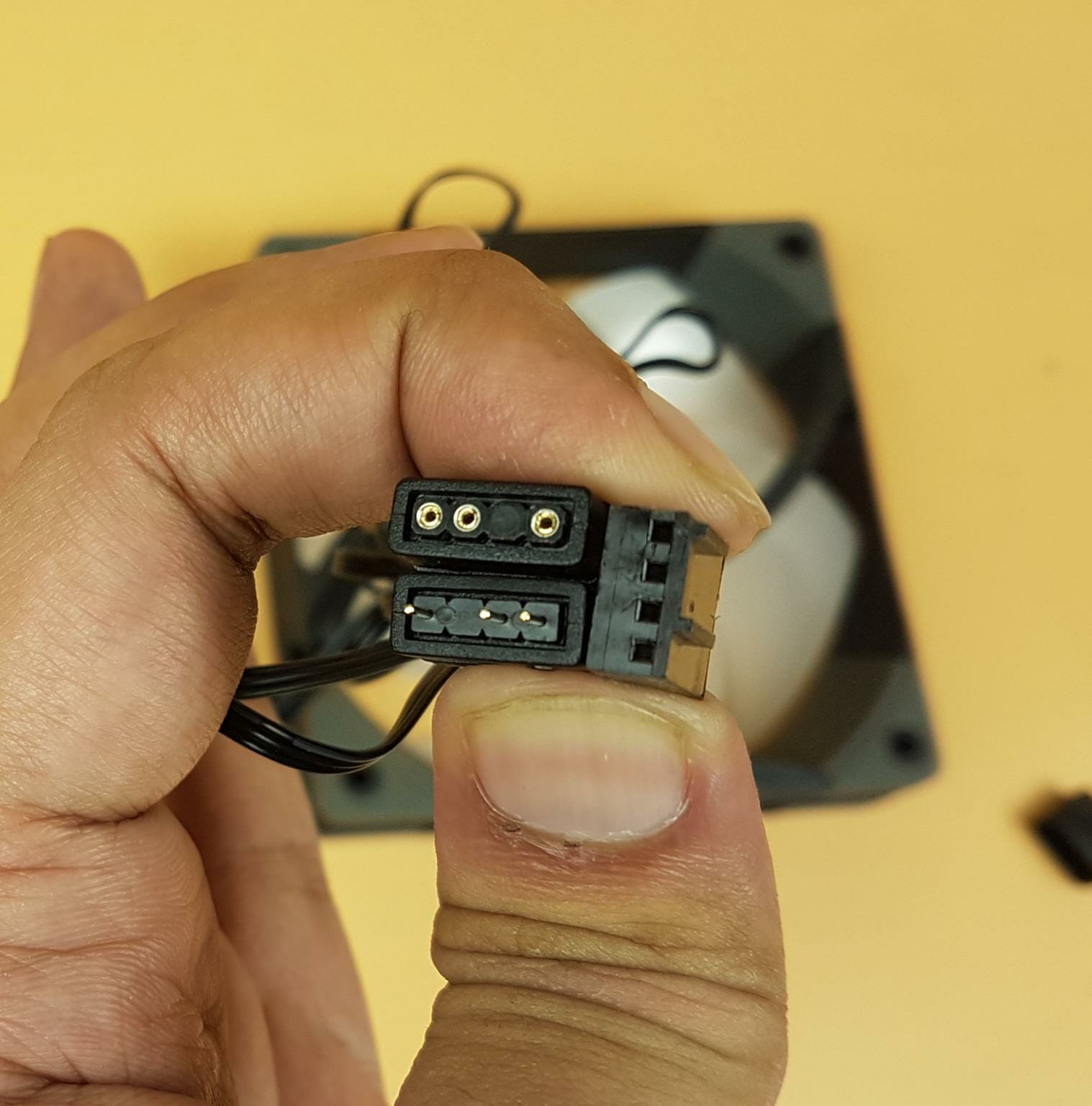 Each fan has two flat cables in white color. One cable has a 4-pin PWM connector to power the fan's motor. The other cable has standard RGB connectors.
Salient specifications are:
| | |
| --- | --- |
| Dimension | 120x120x25mm (LxWxD) |
| Speed | 2000 ±10% RPM |
| Noise Level | <31 dBA |
| Voltage Range | 6.0 ~ 13.8 VDC |
| Starting Voltage | 6VDC |
| Maximum Airflow | 61.5 CFM |
| Pressure | 2.8mmH₂O |
| Connector | 4-pin PWM |
Installation
We are not covering the details of installation. Please refer to the online user guide for detailed instructions about installing this cooler. Installation can be a bit tricky since we have to hold the block on CPU and use other hand to pass the spring-loaded screws for the installation. We did not notice any particular issue with the installation. We have used retrofit mounting from the CORSAIR iCUE H100i CAPELLIX XT cooler to install this cooler on the Intel LGA1700 socket and it was a proper fit with even pressured contact.
RGB Lighting
Since AIGO is using standard RGB connectors, the A-RGB lighting is compatible with the RGB sync technologies of motherboard manufacturers. We have tested on GIGABYTE Z690 AERO G motherboard using RGB FUSION 2.0 app and it was found working fine. The lighting solution is compatible with:
ASUS AURA SYNC
ASRock POLYCHROME SYNC
GIGABYTE RGB FUSION 2.0
MSI MYSTIC LIGHTING SYNC
Here are a few pictures: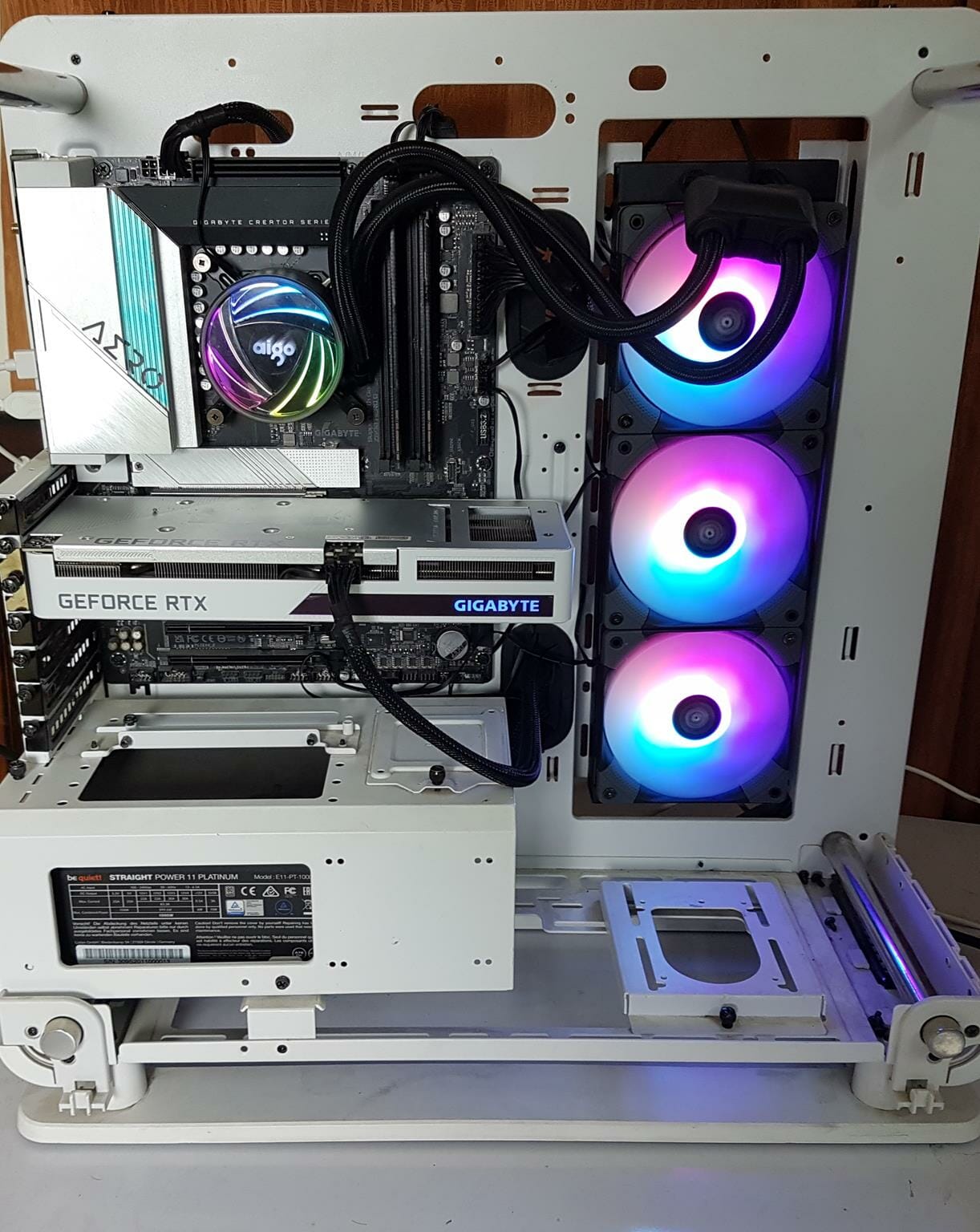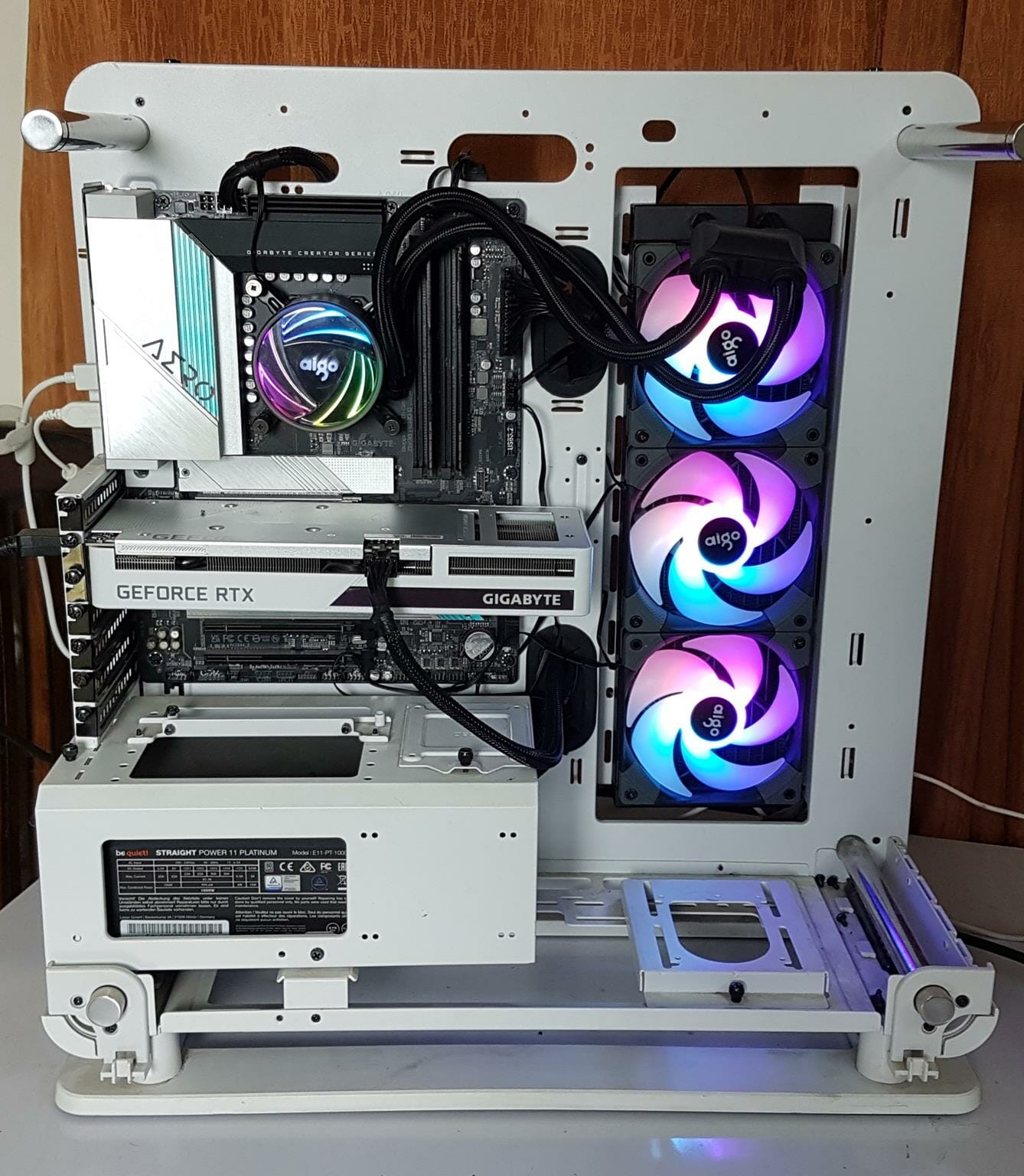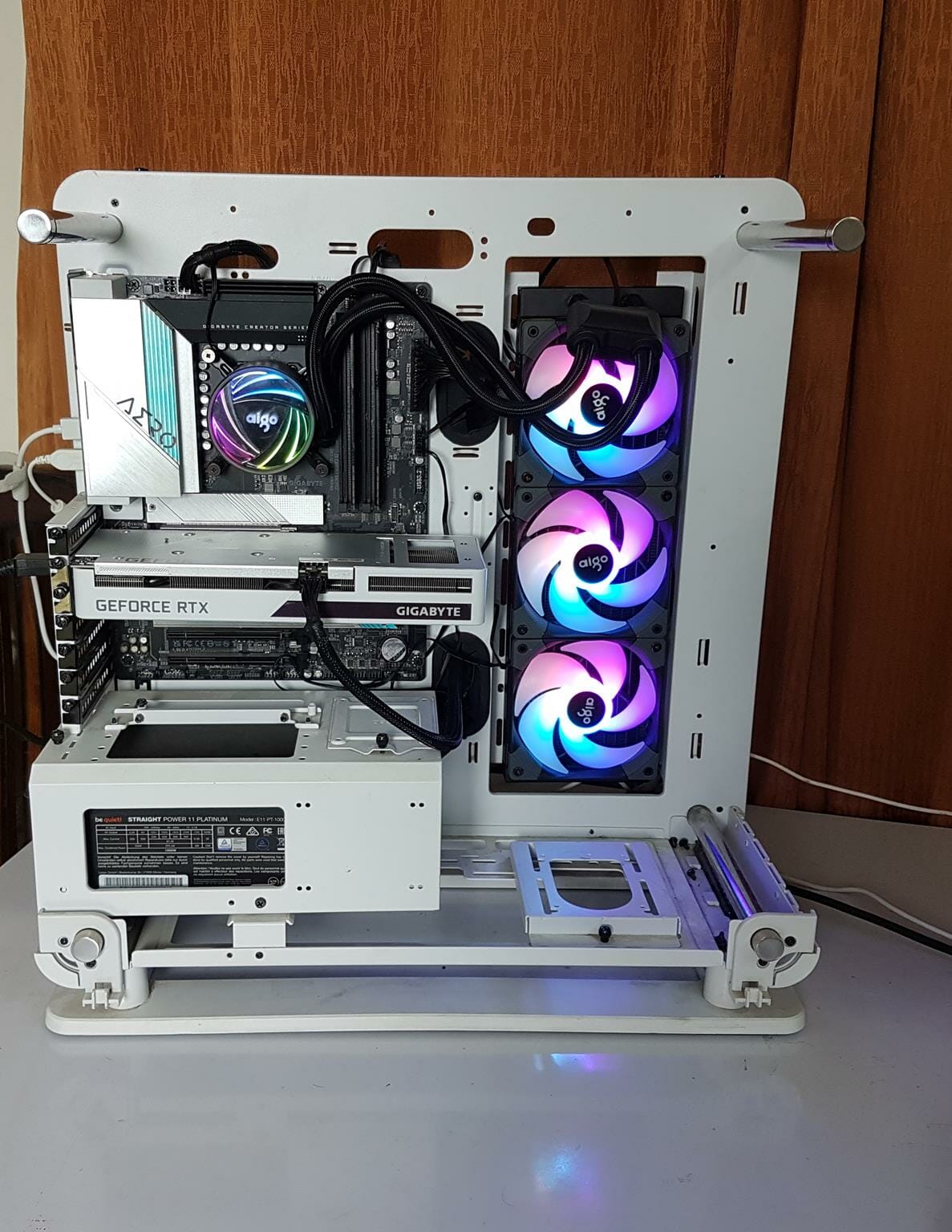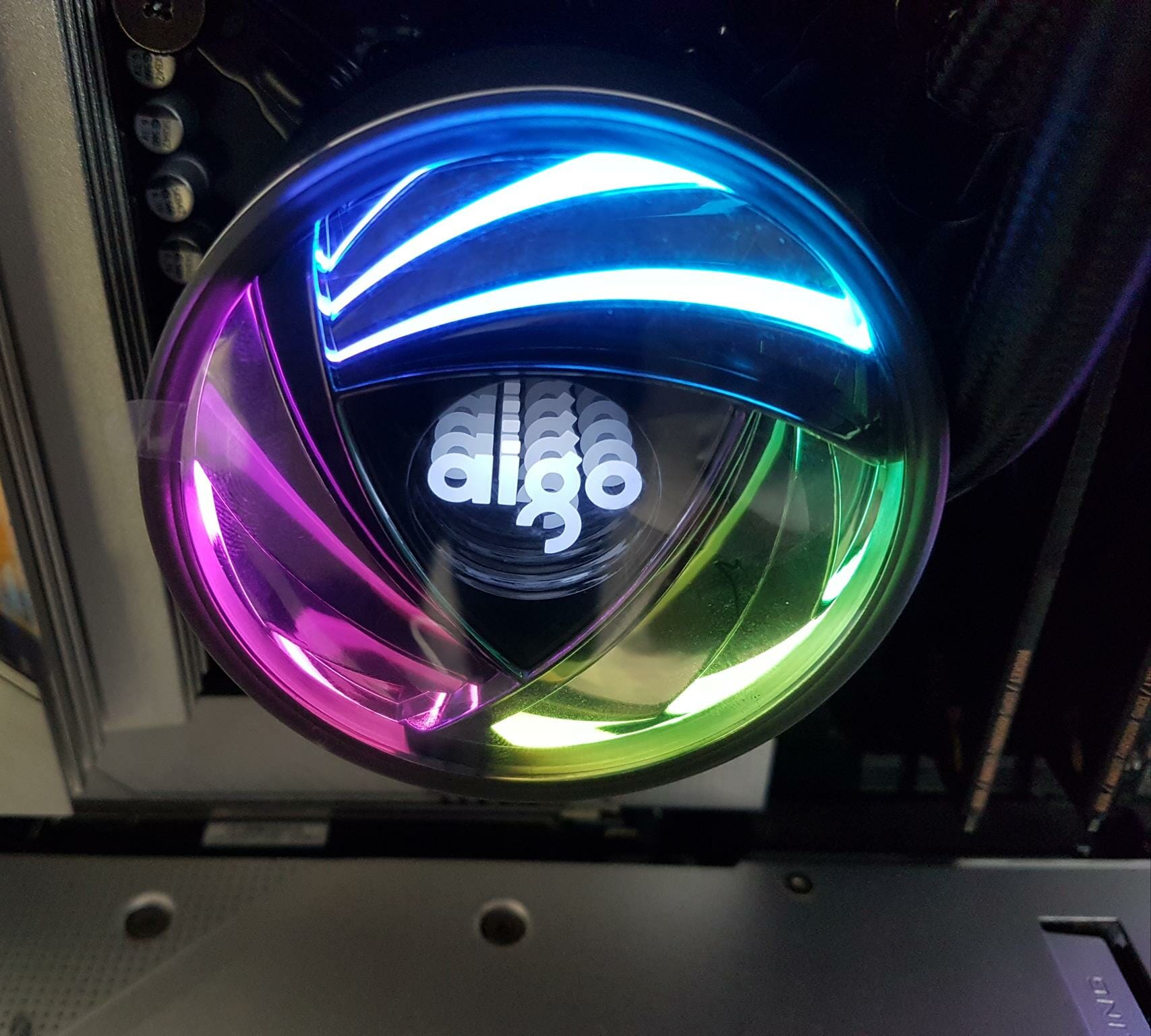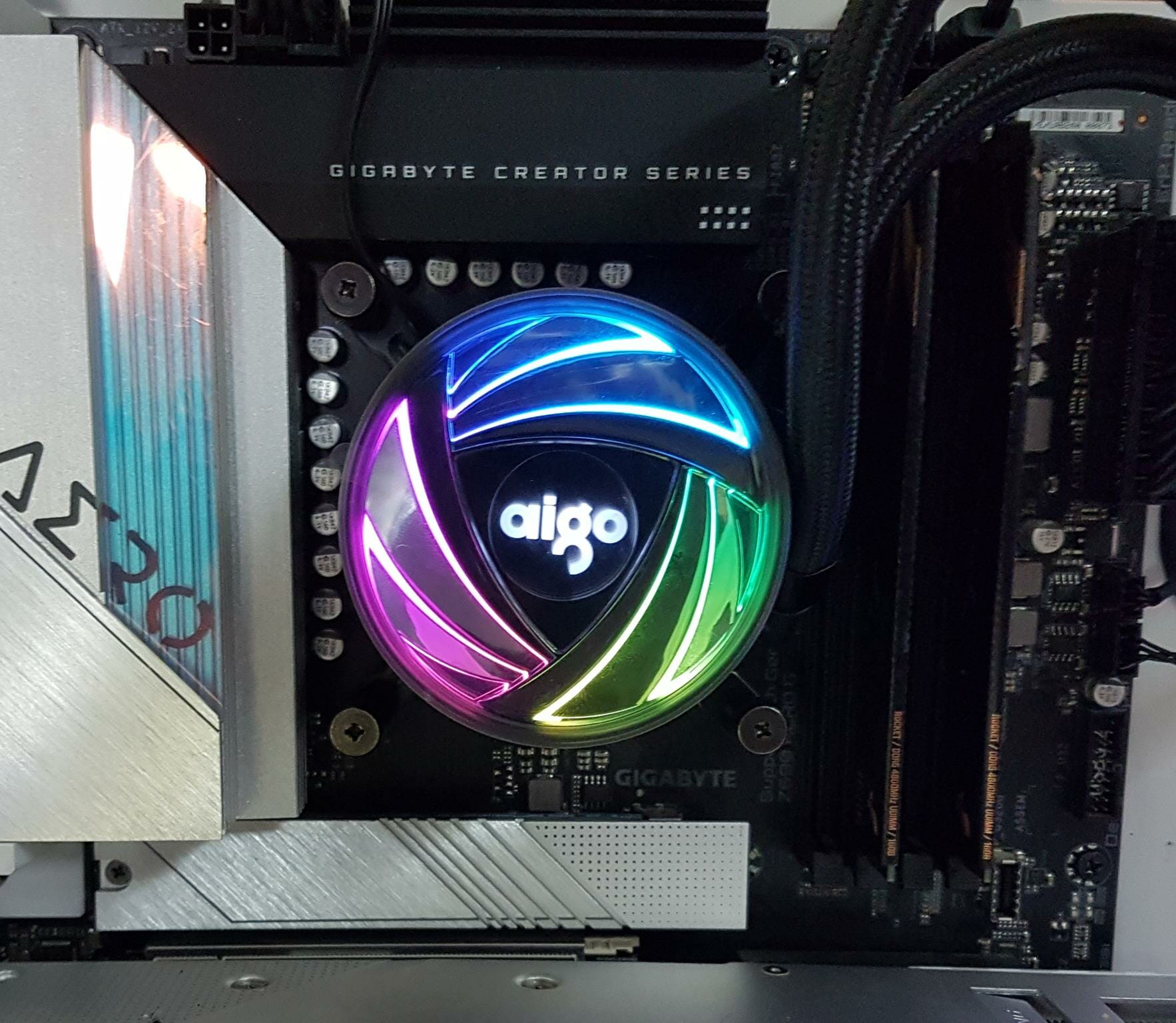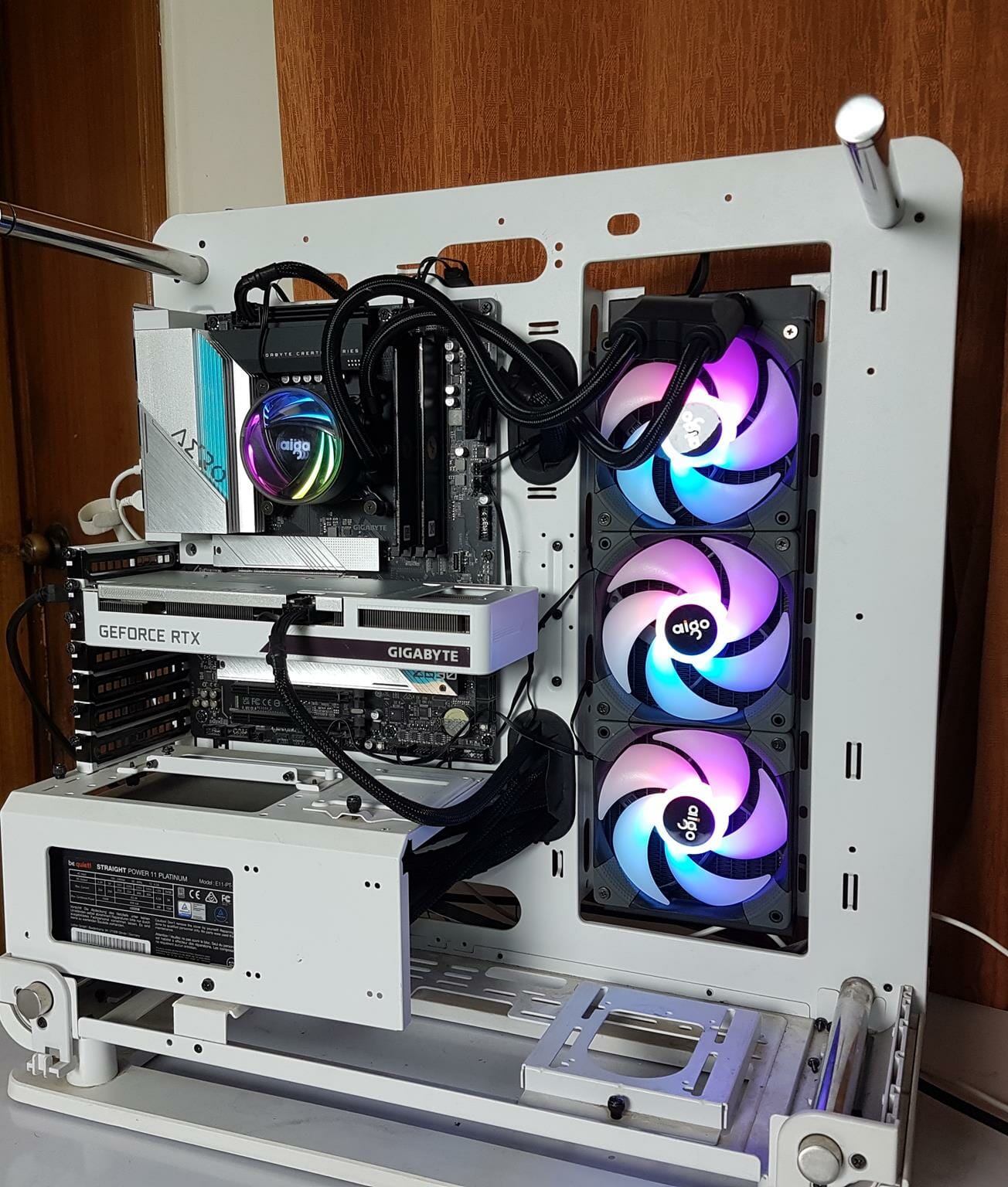 Testing
We have used following configurations for testing:
Intel core i7 12700k
GIGABYTE Z690 AERO G D5
Sabrent Rocket 32GB DDR5 Kit @ 4800MHz CAS 40
GIGABYTE GeForce RTX 3060 VISION OC
Sabrent Rocket Q 500GB NVMe SSD [For OS]
Be quiet! Straight Power 11 850W Platinum PSU
Thermaltake Core P6 TG Snow Edition in an open frame layout
Test table is:
Clocks
P-Cores 4.8GHz

E-Core 3.8GHz

Voltage
1.20V
C-States
Disabled
Speed Step
Disabled
Rest of settings
Stock, Auto
XMP
XMP Loaded where available
Thermal Paste
Noctua NT-H1
Thermal Paste Application
X lines method
Headers
CPU_FAN, CPU_OPT, and PUMP Headers
Stress Software
CINEBENCH R23.2
Stress Run Time
30 minutes
PC Idle Time
5 minutes
Monitoring Software
HWInfo64
OC Tool
Intel XTU
A bit of note about the new platforms. We have seen AMD AM5 and Intel Alder Lake S CPUs taking more power and this time both sides have aimed at reaching the maximum clocks regardless of thermal limit. In fact, the AM5 SKUs will run into thermal limits right away depending on the cooling solution and the clocks being used. This has made testing of CPU coolers challenging because viewers/readers are not used to a new nomenclature which is what clocks are sustained under a given load using a particular cooler. That is if the cooler is capable of providing enough cooling head to sustain the high frequencies. Traditionally we are used to going the other way around that is which cooler is better in terms of thermal capacity. Despite this, we are using temperatures as a base for measuring this unit. Among other reasons is the high thermal density of these new CPUs.
The ambient temperature was in the range of 25°C to 25.5°C. Since the variation in the ambient temperature is within 1°C, we are reporting absolute temperatures in the graph. The testing is done on an open-air bench system. Once inside the chassis, the temperatures are expected to rise and would largely depend upon the optimal airflow inside the chassis.
Disclaimer: Every silicon is different hence no two same SKUs are likely to take same voltage to yield same performance at same thermals per se but margin would be close. Not every stress test run may yield the same result which could be due to various reasons like thermal paste application, ambient temperature variation, mounting pressure of the cooler, etc. This is very why we have listed our variables and their settings. Let's take a look at the results.
Result
The results are self-explanatory. The AIGO AT360 sits at the lowest of tested 360mm AIOs in this graph. This is still a nice performance from this cooler as it has thermal headroom for overclocking requirements and it can handle high-end SKUs.
Noise
Our sound meter shows this unit making a sound output of 52 dB(A) at an ambient of 32 dB(A).
Conclusion
We have tested AIGO AT360 liquid cooler. I am sure I am taking a break after this content as I have been doing 360mm AIO testing and writing in recent times in preparation for our 360mm AIO round-up content. The AIOG AT360 was probably released in 2020 or so but I am not sure and their own website is not that helpful to gain some useful information or data either. This unit is compatible with Intel: LGA 115X/1200/20XX, and AMD: TR4/AM4/AM3+/AM3 sockets. This unit is not  compatible with Intel LGA1700 socket and AIGO did not reply to our message asking about LGA1700 socket's mounting hardware or V2 of this version. Anyhow, based on our testing, you can use retrofitting mounting from CORSAIR's supported coolers on LGA1700 or DarkFlash DC series coolers.
The radiator of this unit has a dimension of 397x120x27mm. It is made of aluminum material like majority of other AIOs in the market. It has an FPI count of 20 and 12 channels for coolant flow. Don't fall for marketing taglines used by AIGO on this unit. The complete assembly is black color coated. The fin stacking job is done nicely. The connections are well concealed though this would only serve the aesthetic requirement. AIGO is using rubber tubes having black color nylon braided mesh sleeves. These tubes run to 400mm in length.
The pump is integrated on the tubes. This is the same design we saw on Thermalright Frozen Magic 360 Scenic V2 and be quiet! Pure Loop 2 FX 360 coolers. In my opinion, this is done to bypass the soon ending ASETEK patent in US region though brands have been emphasizing that this is done to remove vibration from the CPU socket. Call it whatever, it is what it is. The pump is powered by a 3-pin connector cable. We have found following performance metrics about this pump:
| | |
| --- | --- |
| Power Consumption | < 2.5W |
| Voltage | 12VDC |
| Current | 0.20A ± 20% |
| Bearing | Ceramic |
| Flow Rate | <1000ml/minute |
| Pump Head | 1.4M |
| Noise | <30 dBA |
| Speed | 5200 ±10% RPM |
Despite removing the pump from the block housing, that housing stands at 75*53.5mm. The top of this housing features a stunning geometrical design with AIGO branding along with an infinity mirror design. The upper part of this housing is using aluminum material whereas the lower portion is made of plastic material. The copper base has a dimension of 54x54mm.
AIGO has provided 3x 120mm A-RGB fans. These fans have same blade design that we saw on ARCTIC P12 fans. Despite that, these fans are loud! These fans have Fluid Dynamic Bearing. These fans also use metal-reinforced bearing shell. These are powered by 4-pin PWM connectors. The A-RGB LEDs are powered by standard RGB connectors. These fans have a dimension of 120x120x25mm. They have a maximum speed of 2000 ± 10% RPM with a maximum of 61.5 CFM airflow at 2.80mmH₂O static pressure. The noise level is rated at <31 dBA.
AIGO has provided a SATA powered A-RGB controller. Users can connect up to 4x A-RGB devices to this controller. There is also a provision of connecting PC Case' reset cable to this controller and control RGB lighting using Reset switch. Alternatively, this controller can be connected to the motherboard's RGB header (5V) and switch control to the motherboard for RGB lighting control. AIGO is using standard RGB connectors which makes this unit compatible with RGB sync technologies of various motherboard manufacturers.
Speaking of the installation, you will have to hold the block on CPU and at the same time use the other hand to pass the spring-loaded screws through the mounting bracket toward the socket's standoffs. This might be nothing for experienced users but novice users may find it somewhat challenging. Installation on Intel platform would require a total of 7 items.
The online listed price of AIGO AT360 Black on the manufacturer's website is USD 160.99/- We are not sure about the warranty of this unit. This unit has performed quite well in our testing and comes closer to the be quiet! Pure Loop 2 FX 360 cooler. The fans are loud and you can use a custom fan curve to adjust the speed as per the load which would lower the noise. The build quality is fine as well. We contacted customer support online and guess what, there has been no reply yet. If this is so, then I have a big question mark about their warranty claim process. It is not the product but the customer service that makes or breaks the brand. That is simple and so far this Chinese brand is disappointing from this perspective.
Pros:
Decent Thermal Performance
Infinity Mirror Design
A-RGB Lighting Effects
Dedicated A-RGB Controller
Standard RGB Connectors
Metal-Reinforced Bearing Shell
Price
Cons:
Block Top is not Rotatable
No response from Customer Support