Introduction
Manufacturer: Thermaltake 
Product: WaterRam RGB Liquid Cooling Memory DDR4 3200MHz 32GB (8GB x 4)
With CES being in full effect, it's that time of year again where we start to see the new products companies will soon be releasing. Today, our friends at Thermaltake have blessed us with one of their newest products by way of their WaterRam! The WaterRam is DDR4 memory that comes in 8GB modules in either 16GB or 32GB kits. Now as the name would suggest, these bad boys are designed to be Watercooled. But what's better than watercooled RAM? How about RGB watercooled RAM!?!? That's right, Thermaltake have only gone and done it! 2019 is only just starting and Thermaltake is making sure everyone knows that they aren't going anywhere!
Specifications
P/N
CL-W252-CA00SW-A
Package Content
4 x 8 GB Memory Modules
1 x Memory Water Block
4 x Memory Heat Sink Modules
1 x Controller
Memory Specifications
Module Type: Unbuffered DIMM
Memory Type: DDR4
Pin Number: 288
Capacity: 8G
Speed: 3200 MHz
Tested Latency: 16-18-18-38
Voltage: 1.35 V
Performance Profile: XMP 2.0
Compatibility: Intel X299 , 300 , 200 , 100 Series
LCS Kit Specifications
Dimension: 53.8 x 37 x 133.8 mm
Software Interface: USB 2.0 connectors (9 Pin)
System compatibility: Windows 7 / 8 / 8.1 / 10
Rated Voltage: 5V
Rated Current: 0.48 A
Power Input: 2.4 W
Weight: 550 g
Closer Look
Now, I didn't have much time with this kit of memory, literally only had the one night but I did manage to do a little tasting and take a few pics of it all. As you will soon see, even without the RGB watercooling block, these modules look quite nice. It will be interesting to see if in the future Thermaltake release a standard set of these for those who aren't into watercooling.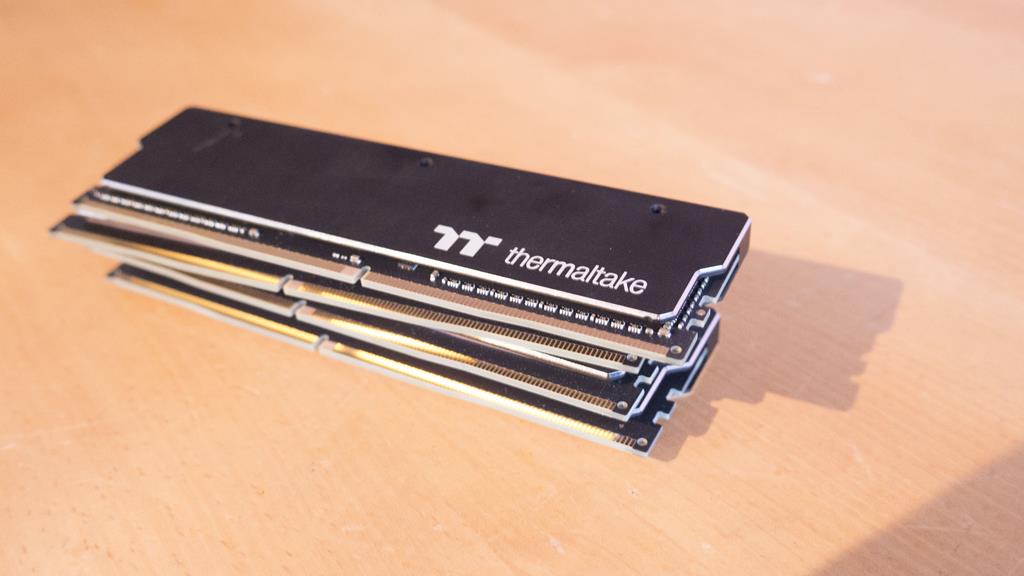 The heat spreaders are black and feature the Thermaltake premium logo on them. These are also easily removed should the need ever arise.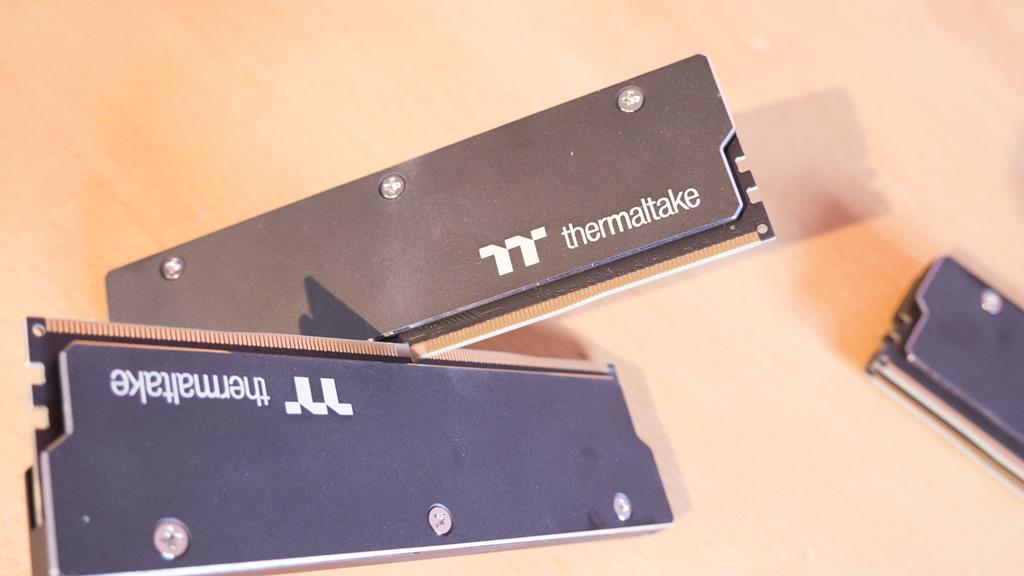 As mentioned they currently only come in 8GB modules and you can buy 16GB or 32GB kits depending on your needs.
The black PCB with the Black heat spreader really does make these good, even on their own without the RGB watercooling.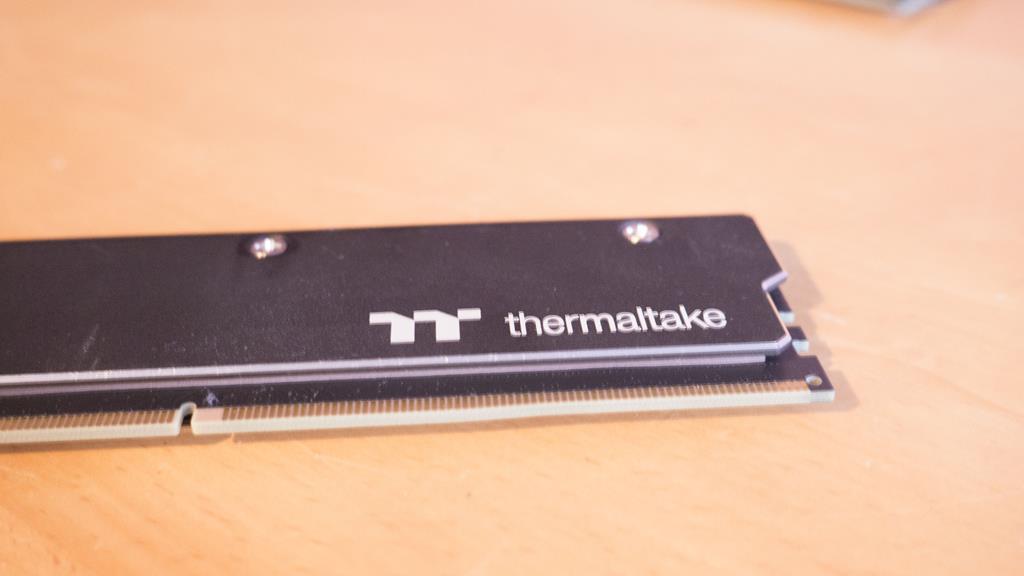 On top of each module is two holes and this is where the water block will screw into the ram to hold itself into place. Installation is very easy and only takes a couple of minutes to get these bad boys installed and working.
The RGB block is designed to fit on top of four of the RAM Modules but can be used with just two modules as well. There are in/out flow ports on the top and the block itself only has one wire coming from it to connect the RGB lighting.
Looking at the side, the acrylic almost allows us to see inside. This will also allow for some great looking lighting effects.
The base of the block is made anti-corrosive nickel-plating and features a thin piece of copper to help and dissipate as much heat as possible away from the memory modules.
There are plenty of connectors to get the WaterRam hooked up and working on a number of different motherboards/platforms.
The controller looks similar to those we have seen in the past from Thermaltake with some of their RGB fans. While there are extra ports on this controller, I have not yet tried them with any of the Thermaltake RGB fans and would advise you to be very careful if you are thinking of this. As mentioned, I didn't have too much time with the WaterRam and a full-on review will be coming when I can get my hands on it all again and have a better play and test of it all.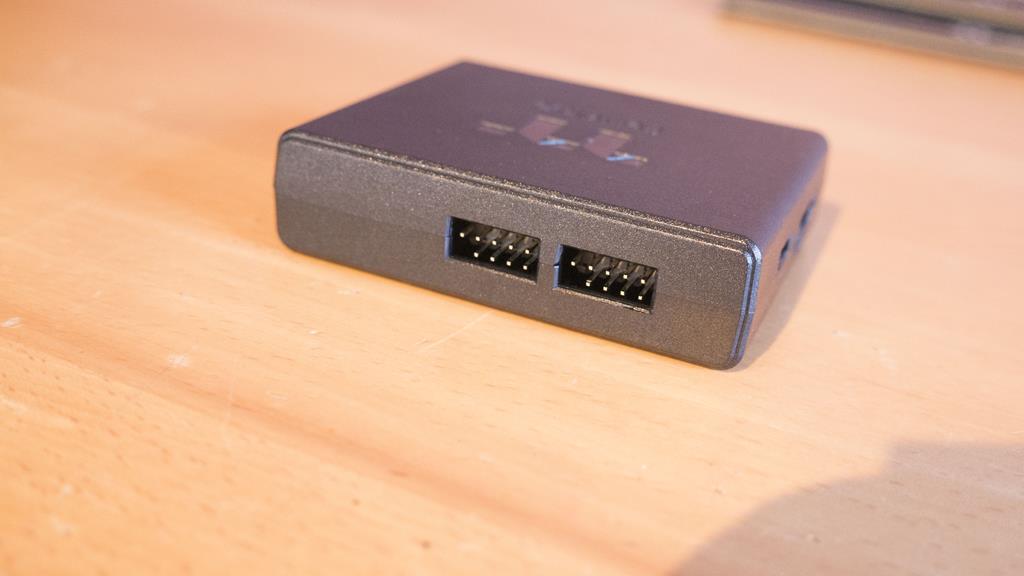 The RAM looks quite nice once installed, even on it's on. The black heatspreaders should fit in with loads of builds so don't worry if you are thinking of getting this before your watercooling loop is complete, it will still work fine.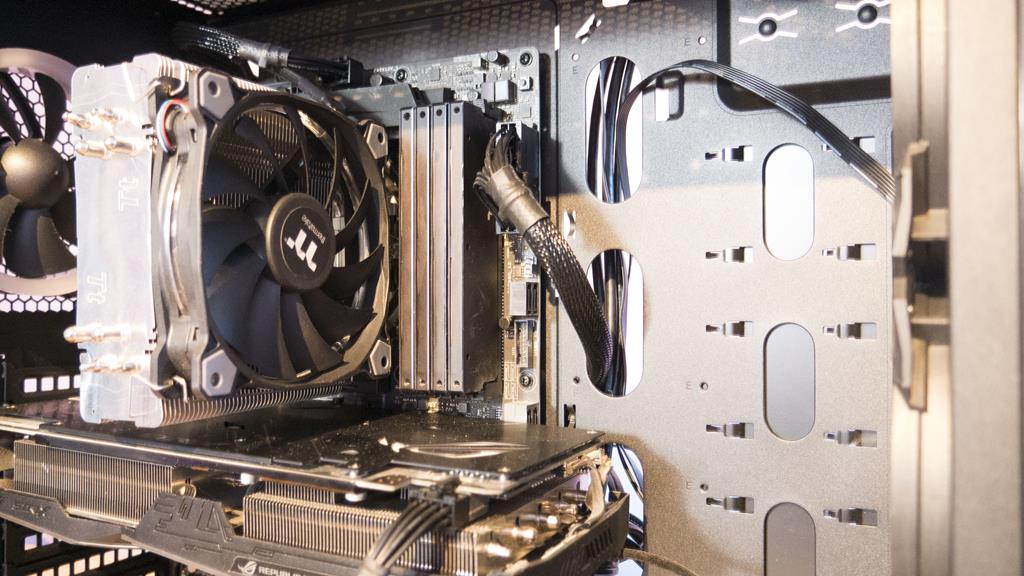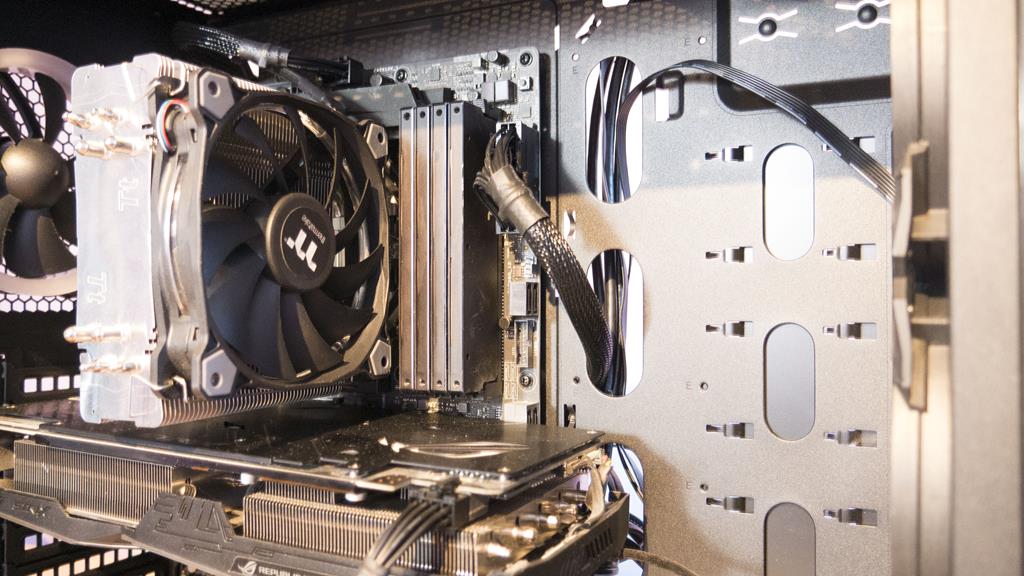 Once you get the block installed though it looks amazing! I am a bit fan of LEDs and there is no denying how good this looks once up and running.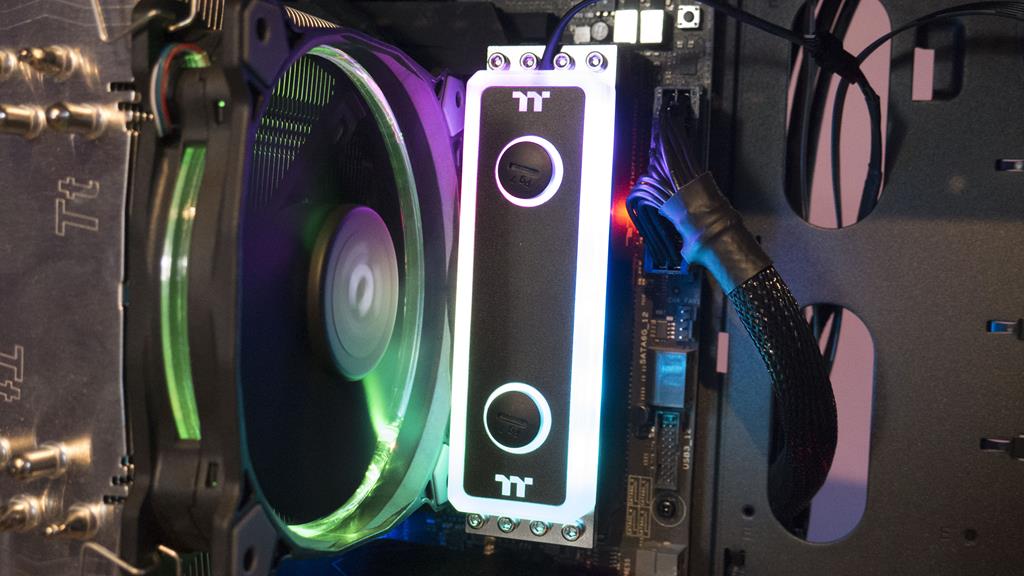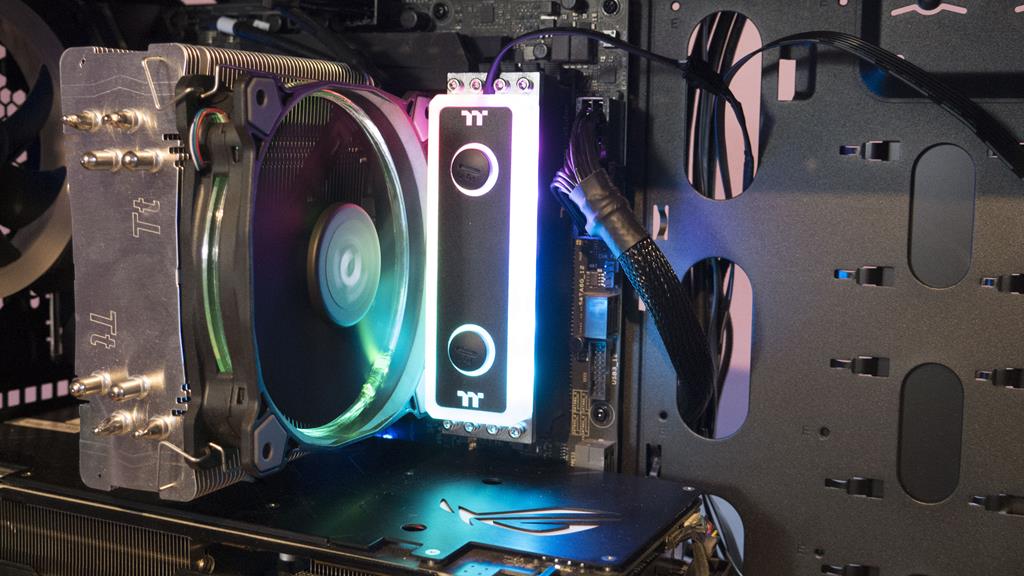 RGB Lighting
Below is an official video from Thermaltake on the lighting effects that can be achieved using the WaterRam followed by a few more of my images for good measures!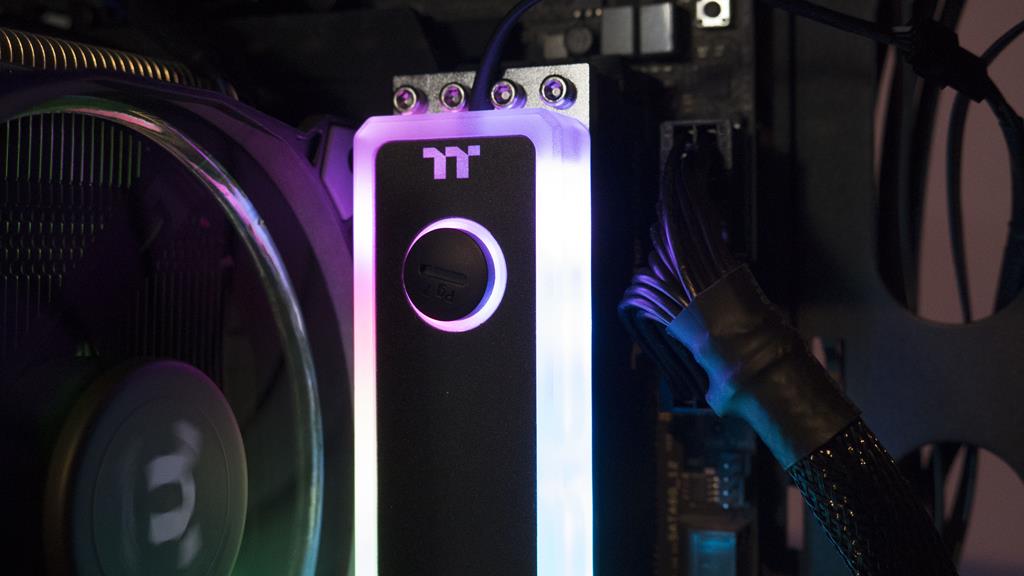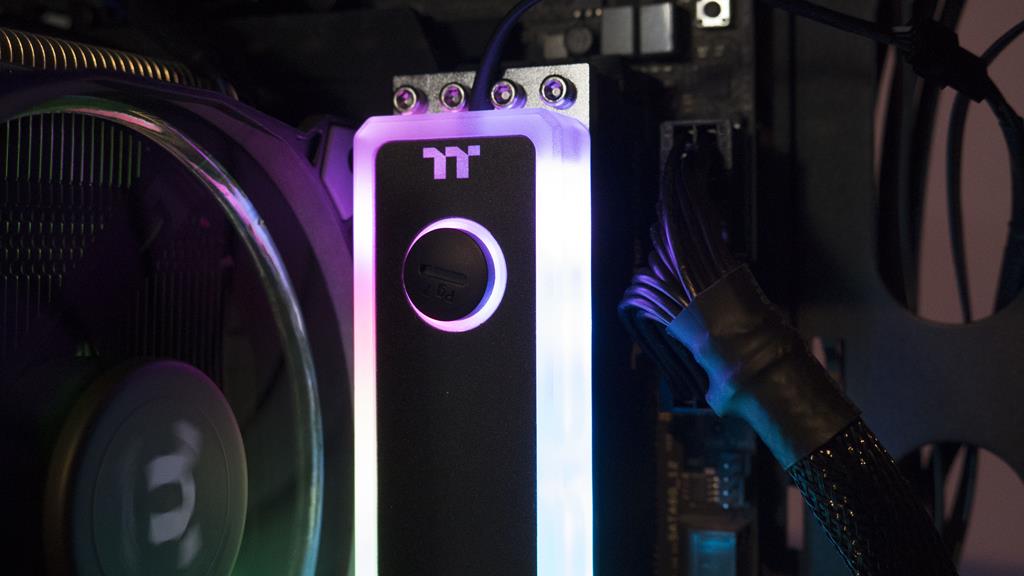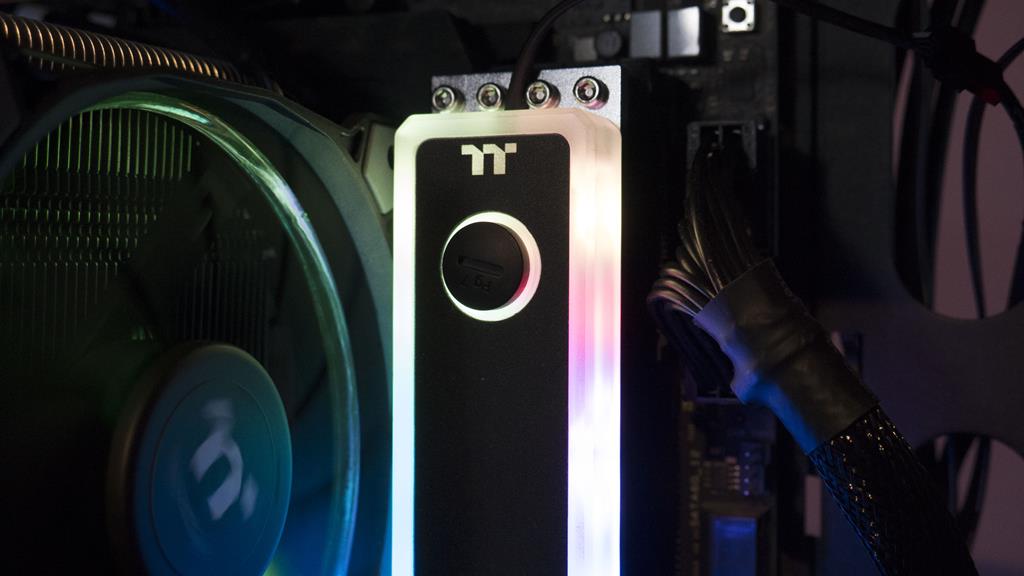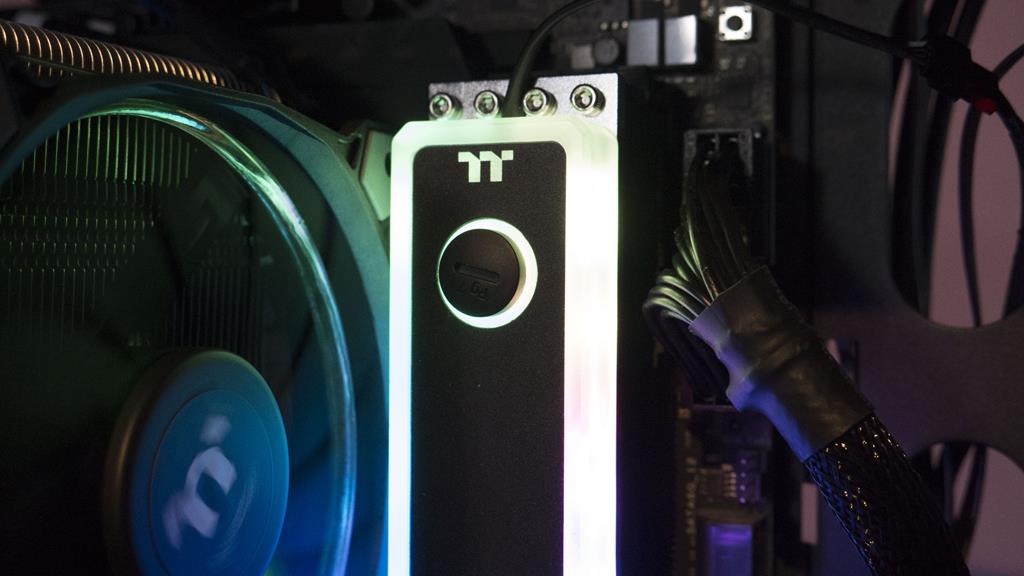 Final Thoughts
There's no denying that the WaterRam from Thermaltake looks amazing but is the performance any good? Well, I didn't have a whole lot of time with them but I did manage to run a couple quick benchmarks and can confirm they are on par with similar kits. Those looking to have a bit of fun with them will also be happy to know that they do overclock a bit, even right out of the box without messing with any voltages or timings. I won't speak on my findings until I have more time to put them through their paces but for a 3200MHz kit, there is no issues performance wise.
The real point of discussion is going to be the price! This is what is going to put a lot of people off and even make the WaterRam unaffordable for some. However, it is worth remembering this is designed to be an enthusiast grade product and allow users another entry into the Thermaltake RGN/Watercooling ecosystems. There's no denying that you can find similarly specced kits for much cheaper. However, they will not have the aesthetically pleasing looks of the WaterRam.
When it comes down to it, this is for those who want a complete RGB watercooled build. The WaterRam is not currently for everyone and maybe at some point in the future Thermaltake may release something a bit more friendly on our wallets but at this time, this is for enthusiasts and the RGB PCMR. Watercooling RAM, while not a new concept is widely accepted and the fact that you can now get the RAM and cooling from the same company is going to be a game changer. Thermaltake is taking 2019 by storm and we are only two weeks in! It will be interesting to see what else Thermaltake release at CES and throughout the year and also, please make sure to check back for the full review on this kit of memory closer to the release date.
We will hold off on any awards until the full review but would still like to thank Thermaltake for letting us get our hands on their new WaterRam.