INTRODUCTION
Following on with our storage reviews this week and today, we have the OCPC MBL-400 1TB NVMe drive. OCPC or OCPC Gaming as they are also known is another of those brands that may not be as widely known as they should be. While they are fully established in America and other countries, they are only now in the process of making their way to the United Kingdom.
OCPC has a wide range of products including both memory and storage. They also offer peripherals, chairs, desks, cases, coolers, fans, and more!
We worked with OCPC back in 2019 but recently just linked back with them at this year's Computex 2023! It was great to chat with them face to face, hear their upcoming plans and, of course, talk them into sending us some samples to test. We will soon also be taking a look at one of their kits of DDR5 RAM in the coming weeks.
OCPC MBL-400 CLOSER LOOK
This SSD is listed as their black-label NVMe drive. This is due to the heatsink it comes with. While thin, it adds an extra layer of heat dissipation to the MBL-400 NVMe drive.
The drive has all the chips on one side. The other side is completely bare with just a small sticker. This sticker confirms the size, model, and part/serial numbers.

Taking the heatsink off reveals all the chips. We can see the controller and 4x storage chips. As this is a 1TB drive, we can guess that each storage chip is 256GB in size.
OCPC has gone with the InnoGrit IG5220 (RainerQX). The IG5220 is based on a 12nm FinFET CMOS process. It features a DRAM-less architecture with full support for the HMB function.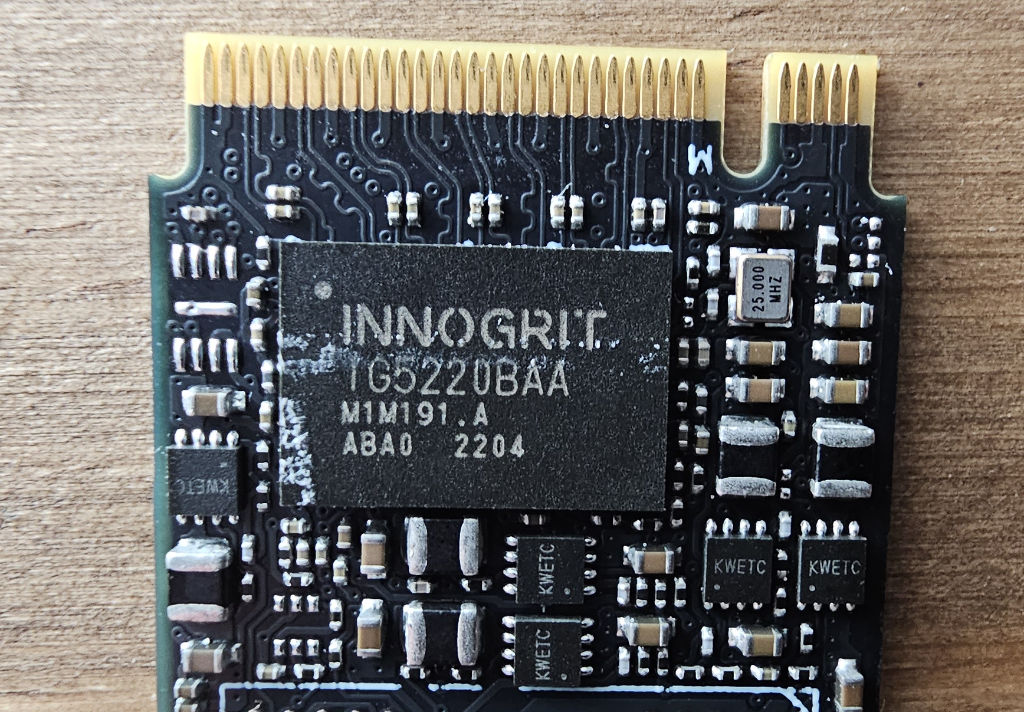 The MBL-400 comes with what appears to be 4x 256GB YMTC SYMN09TC1B1HC6C 128-layer chips.
TEST SYSTEM AND PERFORMANCE
TEST SYSTEM
Motherboard – ASUS ROX Strix Z69-E Gaming WiFi
CPU – Intel 12600K
RAM – OCPC PISTA DDR5 5600Mhz 16GB (2x8GB)
SSD – OCPC 1TB MBL-400 NVMe
Graphics – Zotac 3060
Power Supply – be quiet! Dark Power 12 750W
BENCHMARKS
To test the performance, I ran a few of the more standard benchmark programs used for testing storage devices.
AS SSD – Test the sequential or random read/write 

performance

 without using the cache. AS SSD Benchmark reads/writes a 1 GByte file as well as randomly chosen 4K blocks. Additionally, it performs the tests using 1 or 64 threads and determines the SSD's access time.
Anvil – Anvil's Storage Utilities is a powerful tool that was designed to provide you with a simple means of assessing the read and writer performance of your Solid State Drive or Hard Disk Drive. The benchmark tool helps you monitor and check the response time of your unit as well as view the system information collected using Windows Management Instrumentation (WMI).
ATTO – As the industry's leading provider of high-performance storage & network connectivity products, ATTO has created a widely accepted Disk Benchmark freeware utility to help measure storage system performance. As one of the top tools utilized in the industry, Disk Benchmark identifies performance in hard drives, solid-state drives, RAID arrays as well as the host connection to attached storage. Top drive manufacturers, like Hitachi, build and test every drive using the ATTO Disk Benchmark.
CrystalDiskMark – Another benchmark program designed to measure the read and write speeds of storage drives.
AS SSD
ANVIL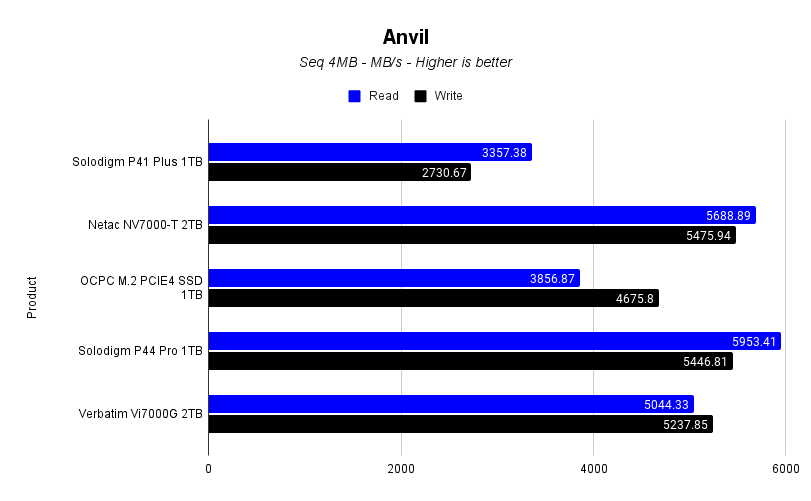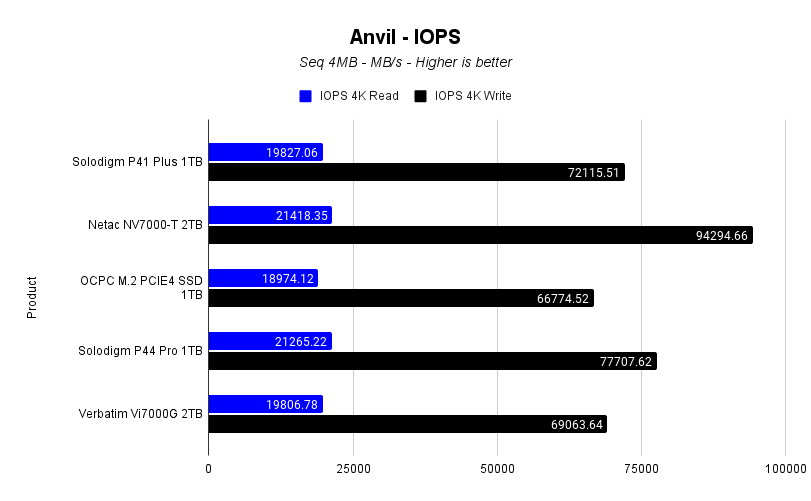 ATTO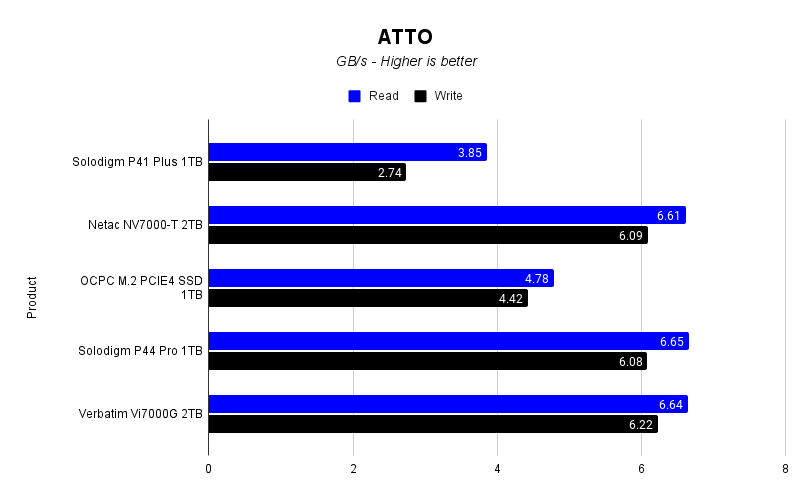 CRYSTALDISKMARK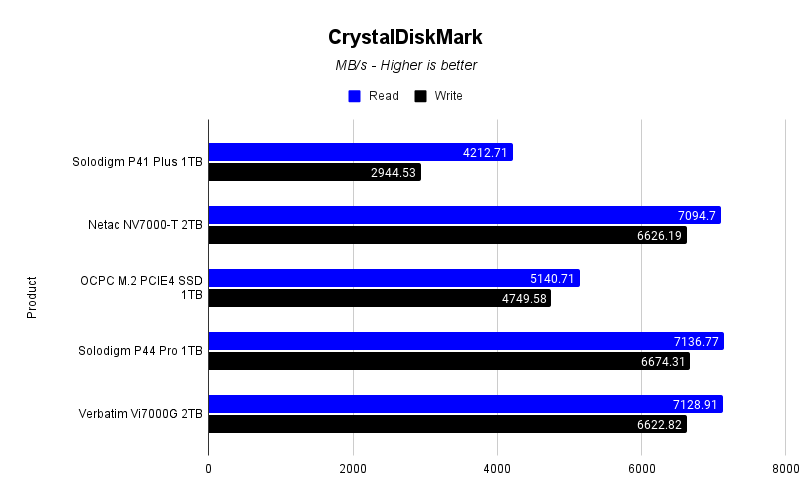 FINAL WORDS
The OCPC MBL-400 does what it says on the tin. According to the specs page, it offers read speeds of up to 5000 MB/s and write speeds of up to 4600 MB/s. In our in-house testing, we were able to surpass both the read and write speeds at 100+ MB/s. This slight extra performance is going to allow this drive to offer more performance for the money, making it a more viable option.
The MBL-400 comes back with a 3-year warranty, is compatible with Windows, Linux, and MAC operating systems, and is available in multiple capacities. The MBL-400 is a more than capable drive from OCPC. We wish them the best in the ventures of coming to the UK and can't wait to see what products they come out with next.