On the Chopping block today, we have the KOVA from ROCCAT. Following on from our KIRO review, it will be interesting how the KOVA matches up. ROCCAT products definitely have a unique and tell-tale design to them that helps them to stand out from the rest of the market. ROCCAT's arsenal includes a great line of peripherals which includes the RYOS MK FX keyboard and the newly released RENGA headset. If you have yet to try out any ROCCAT peripherals, I highly recommend you do as they are all very well built and consist of top of the line components.
As Mentioned, today we are taking a look at the ROCCAT KOVA Gaming Mouse. The KOVA features a Pro-Optic R6 sensor with a normal DPI of 3500, or you can go into Overdrive mode which essentially doubles the DPI up to 7,000! The KOVA Comes in two colours, grey, and white and can also make use of ROCCAT's Easy-Shift+ which when combined with the Smart Cast function, this allows users to easily have each button have two functions for a total of 22 different functions across the 11 buttons the KOVA features. For users looking for a bit more flash on their mouse, the KOVA also features two individually controlled RGB LED areas allowing users to customize them to their tastes.
Specifications
Pro-Optic Sensor R6 with up to 3500dpi
Up to 7000dpi with Overdrive Mode
1000Hz polling rate
1ms response time
20G acceleration
12-bit data channel
50MHz Turbo Core V2 32-bit Arm based MCU
512kB onboard memory
1.8m braided USB cable
While the KOVA does feature 11 different buttons, it has a fairly simple and not over the top design to it. Following in the footsteps of its predecessor, it is an ambidextrous mouse that is designed for hardcore gamers. The model we have in features a mostly grey soft touch surface which not only allows for good controllability, it also lets the user have a comfortable gaming experience.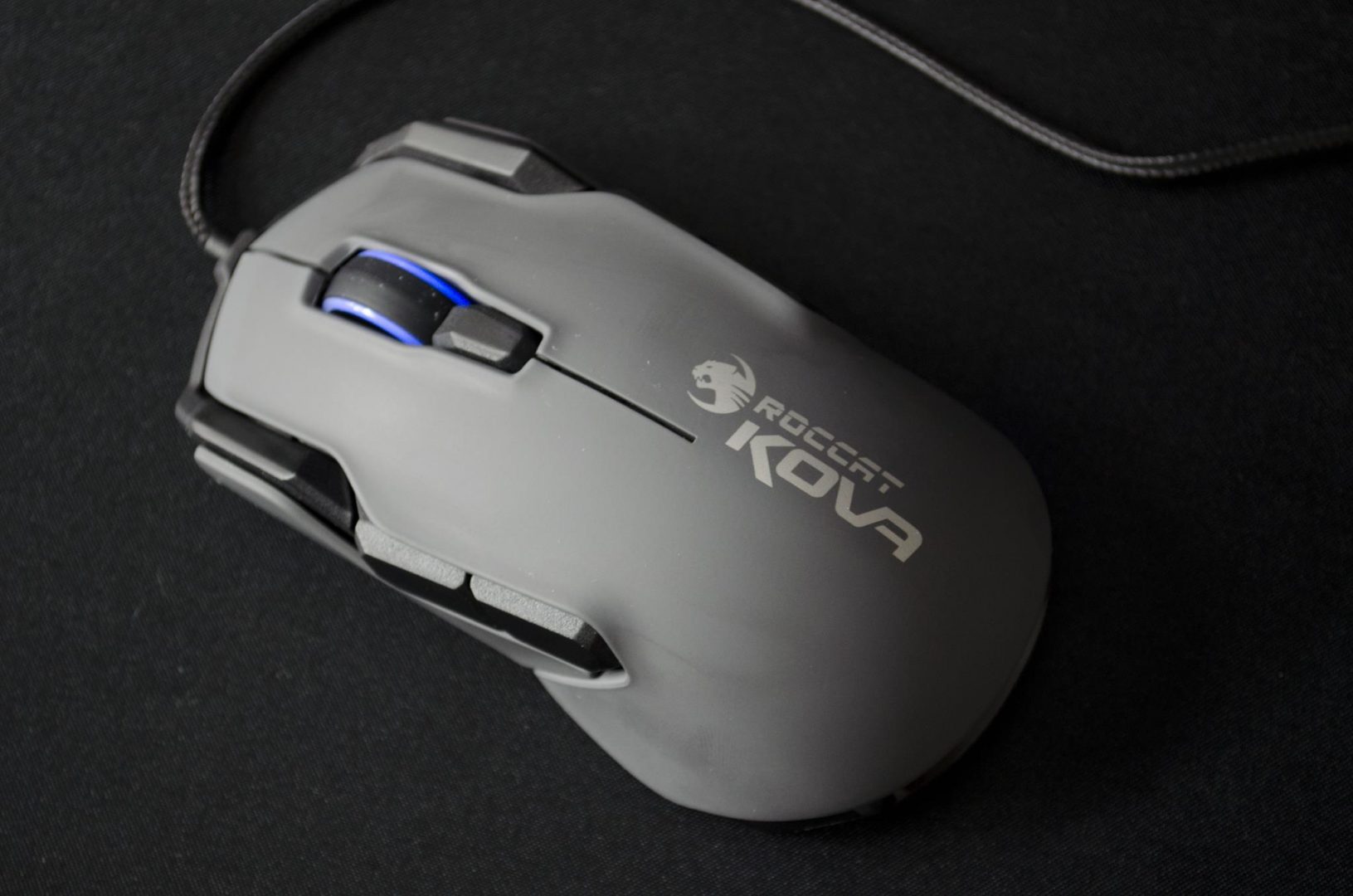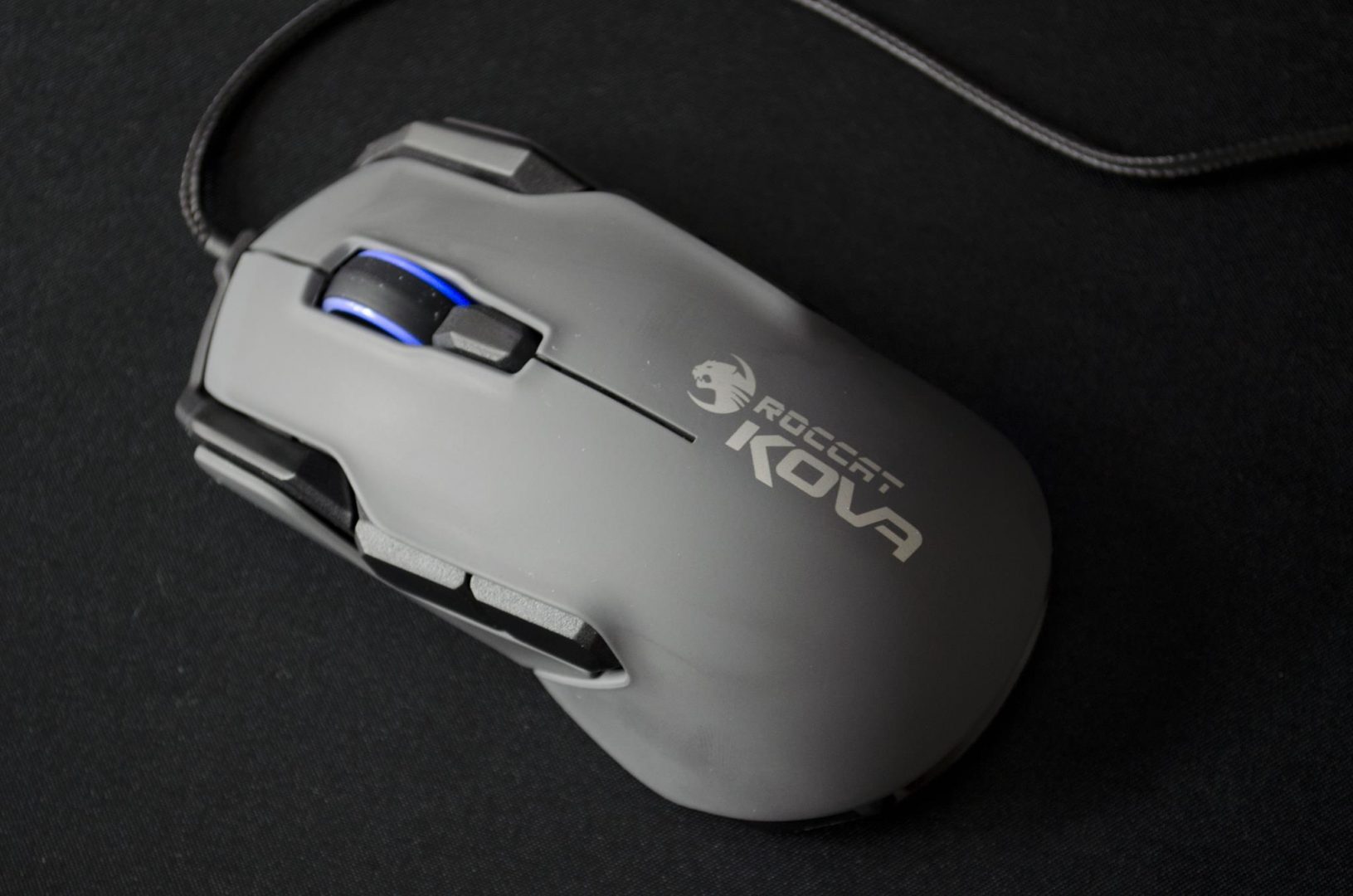 As it is ambidextrous, it features the same buttons on each side of the mouse. These buttons are generally geared towards being thumb buttons, but as they are on both sides, you will be able to use your thumb on one side and your ring finger on the other to allow quick access to 4 buttons, 2 on each side of the mouse.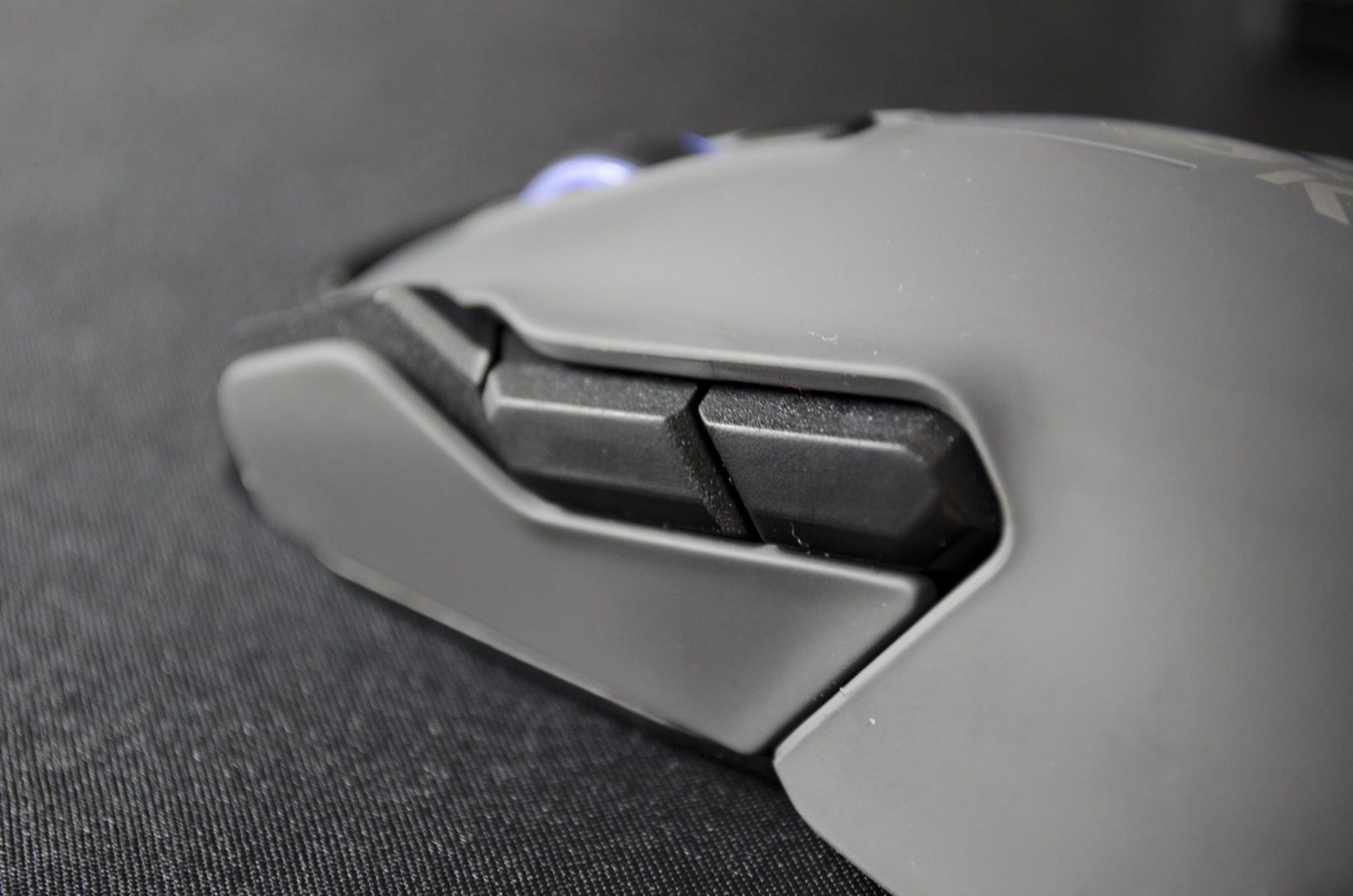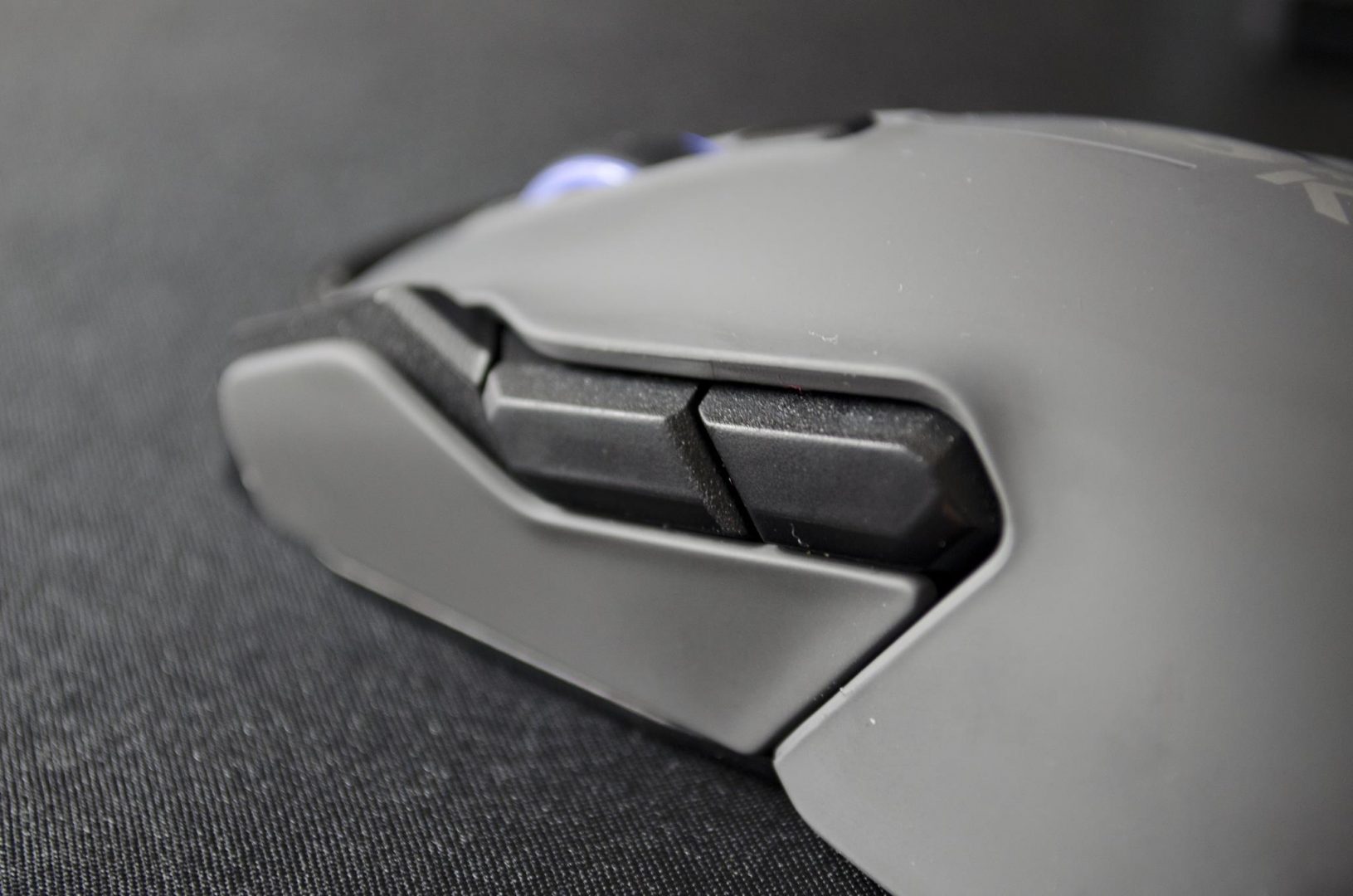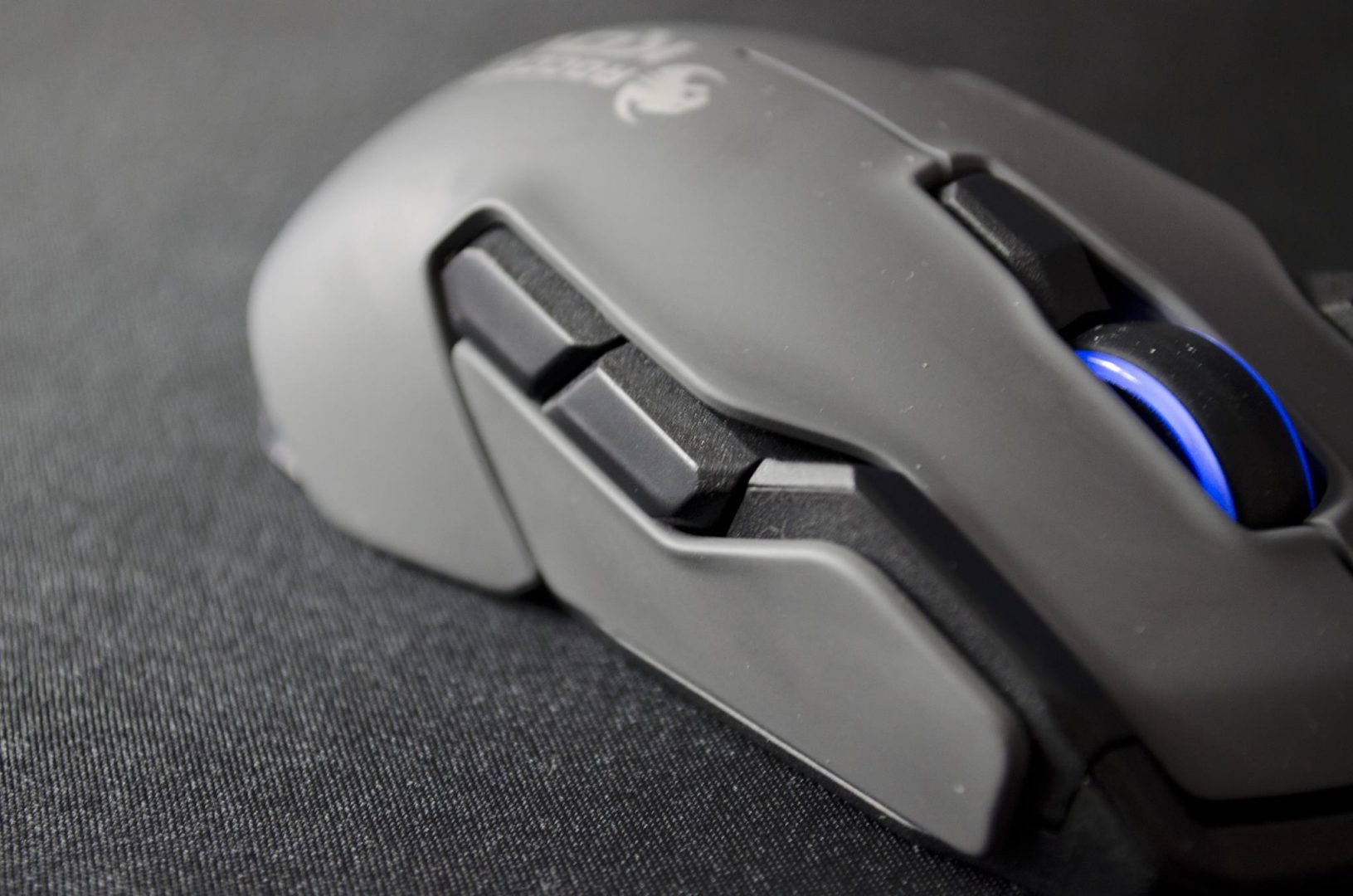 Thanks to the Smart Cast technology, the standard mouse 1 & 2 buttons have a couple of friends at the front of the mouse. ROCCAT has gone with a unique layout and added a button on the outside of each the mouse 1 & 2 buttons. A lot of times, when you see a mouse with this many buttons on it, they are all by where you thumb will rest more times than not and while this may be all fine and dandy, ROCCAT has hopped outside of the box and created an amazingly unique layout that is highly functional. A lot of mice with this many buttons are either designed for left or right handed people due to the button layout but ROCCAT has done a great job at creating an ambidextrous mouse that offers users extra buttons over standard gaming mice.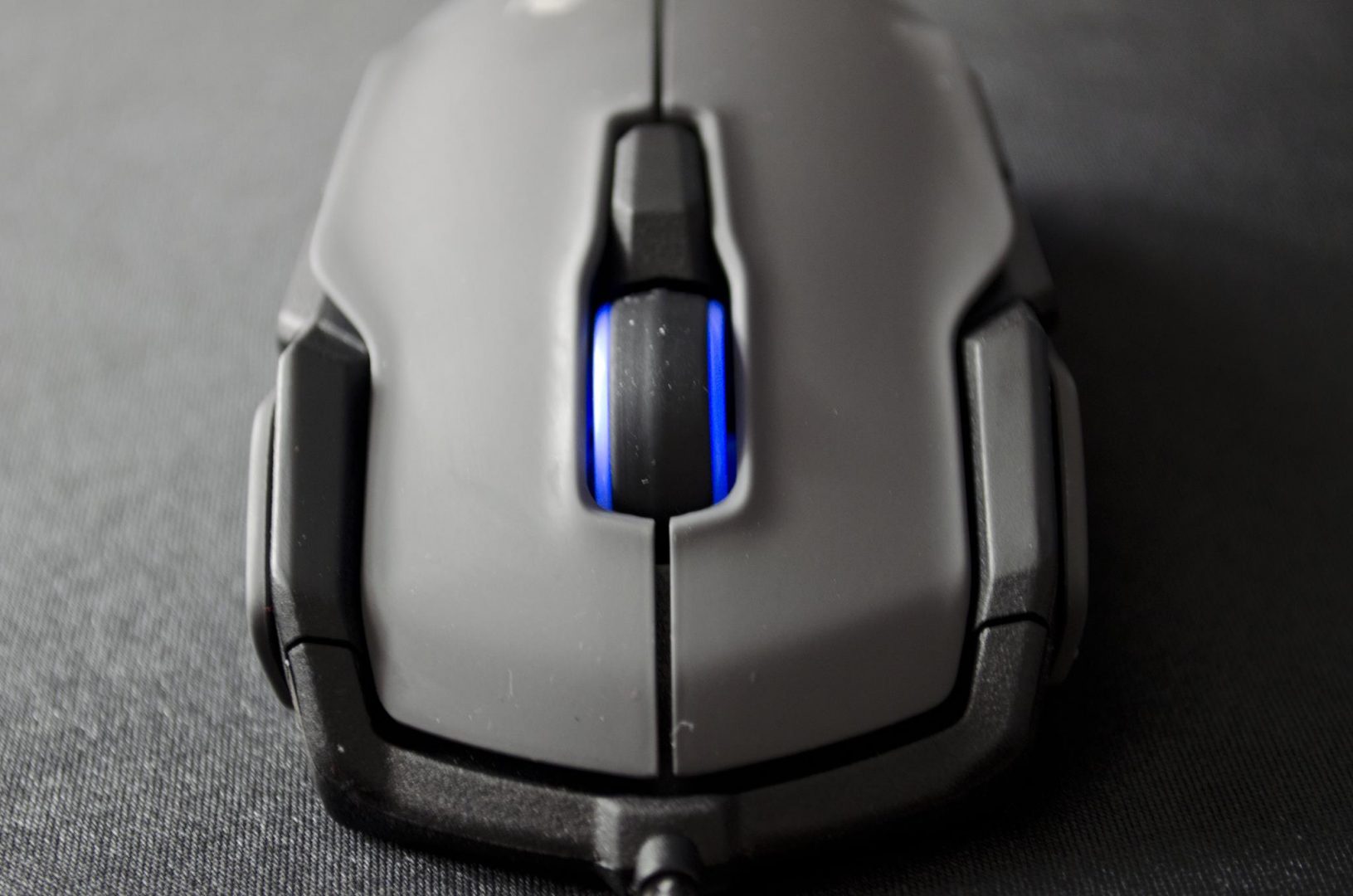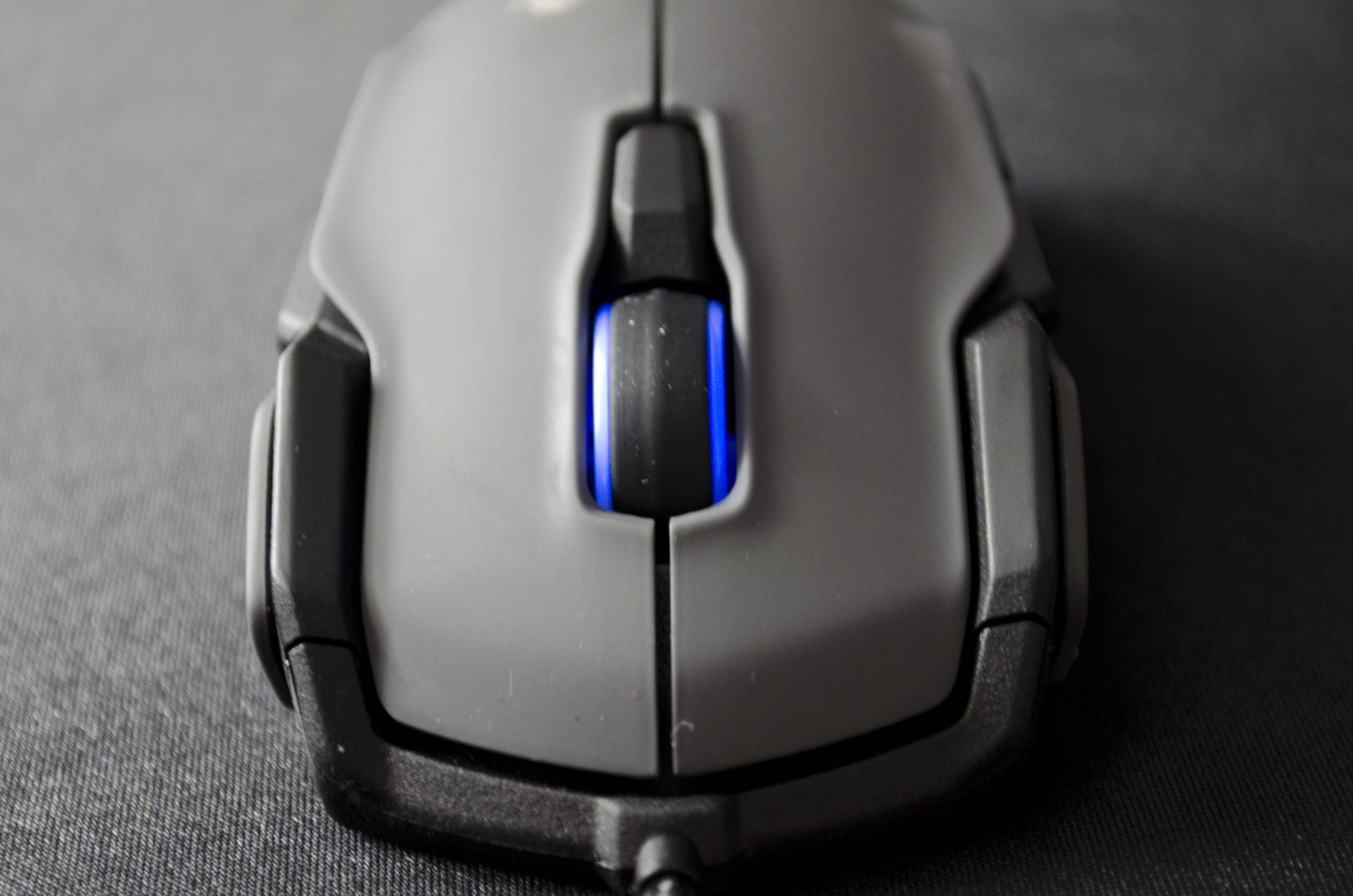 The KOVA features a 1.8m braided USB cable as standard which should be appealing to the masses.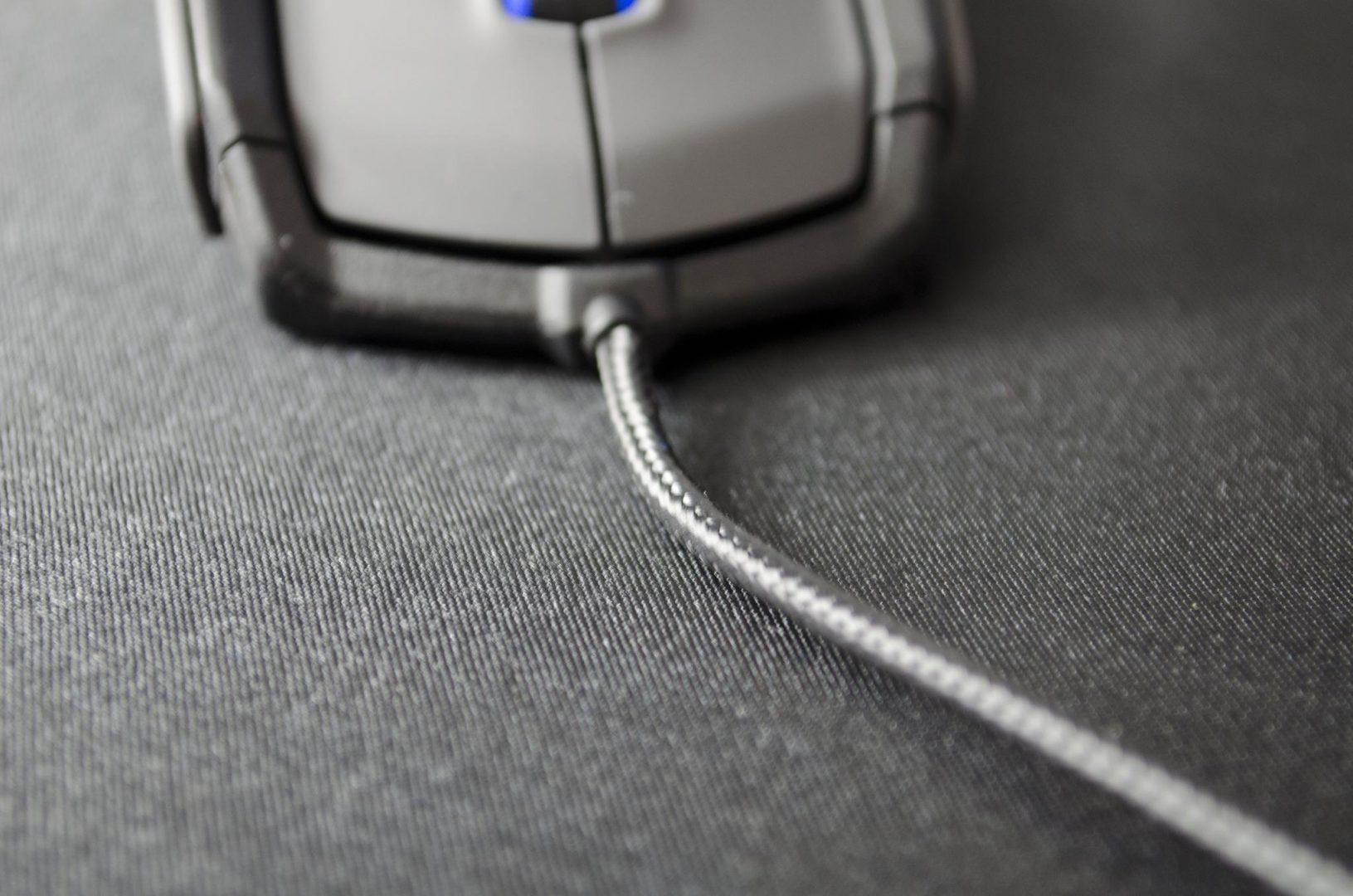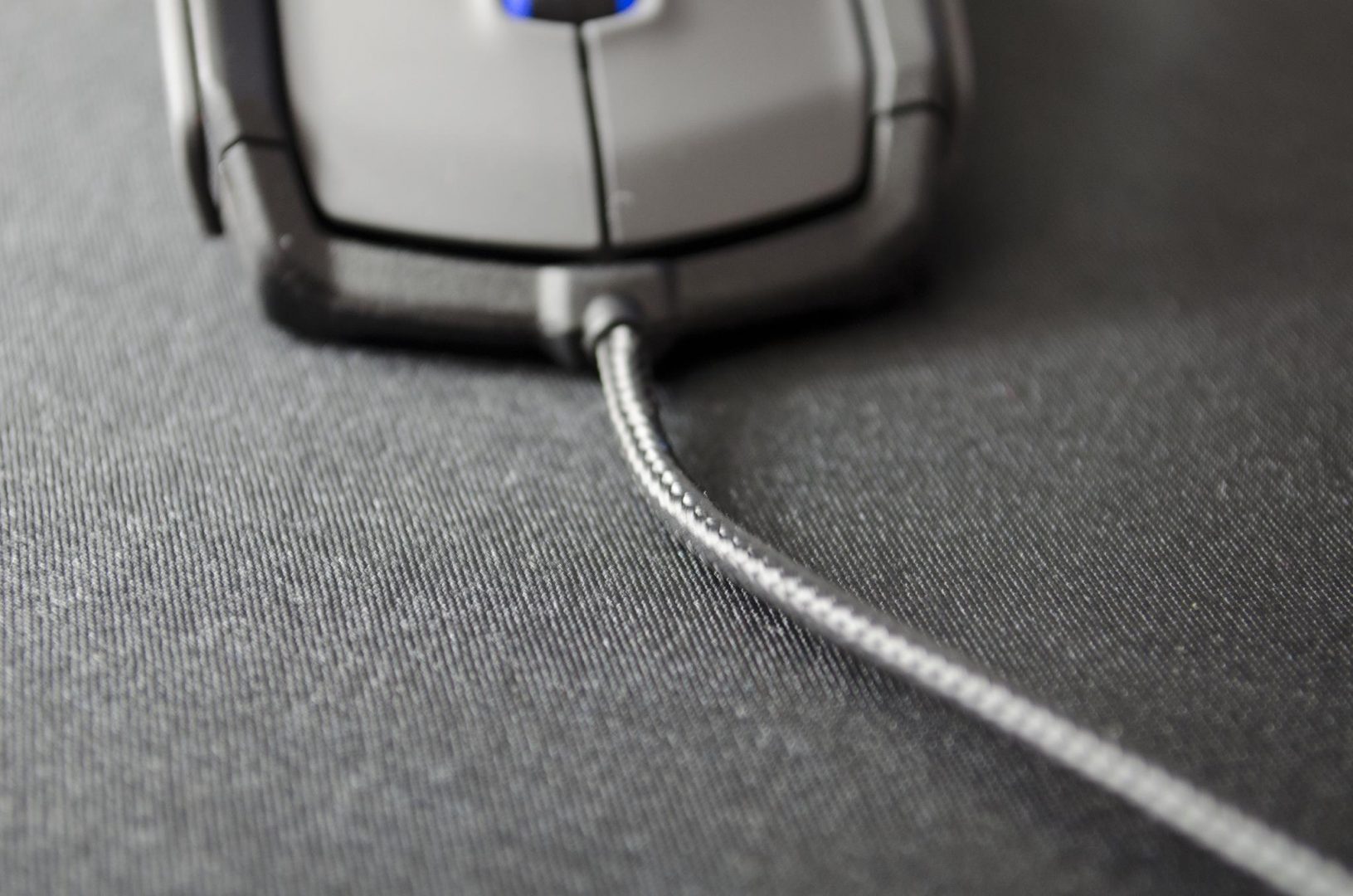 Not much going on with the underside of the mouse, there are a few glide pads and some information including the PN/SN and address of the ROCCAT office in Germany where the KOVA was designed.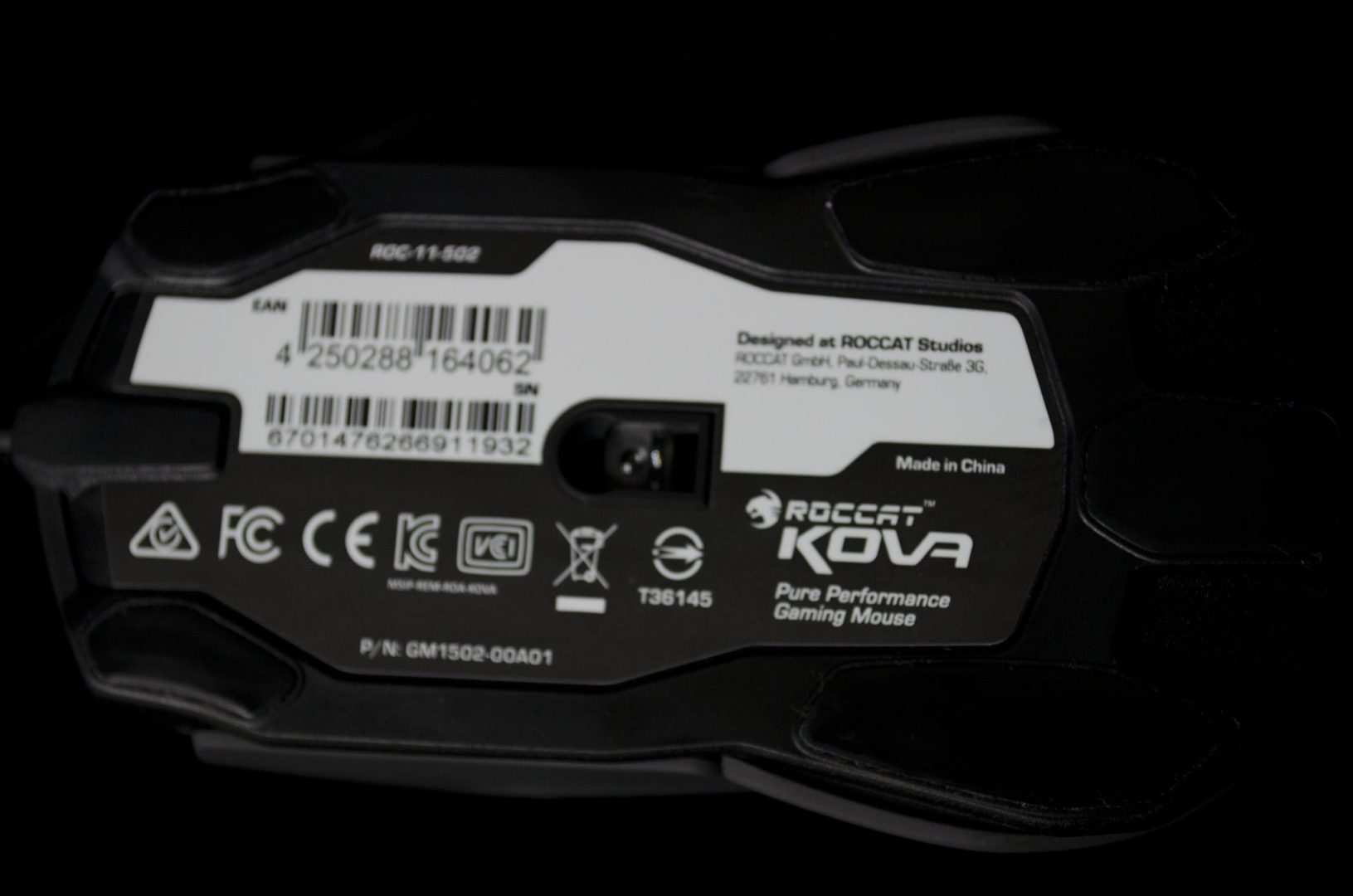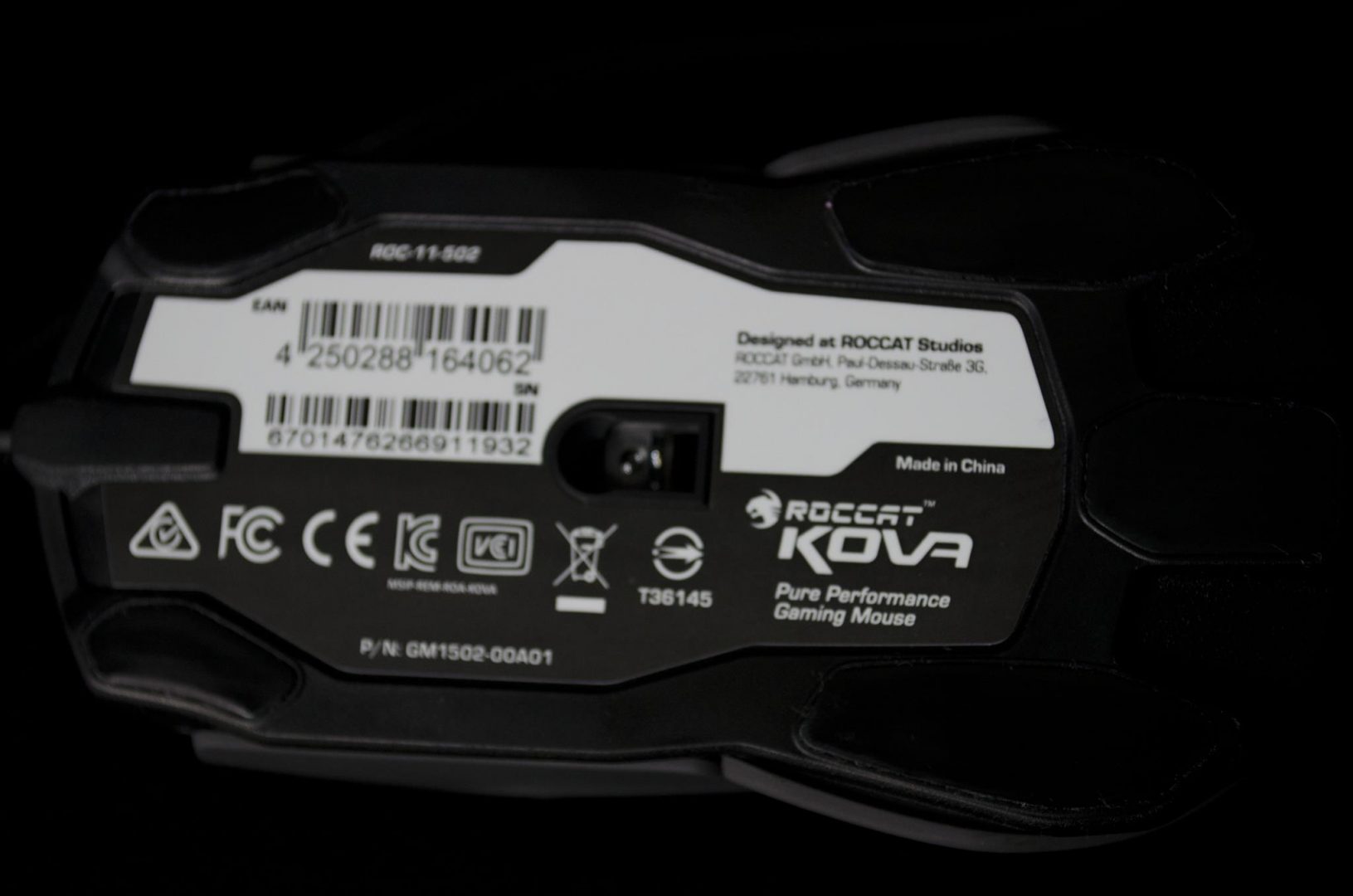 As mentioned, there are two separate LED zones that can be configured individually using the ROCCAT SWARM software which is easily downloaded from their site. The LEDs are located on the sides of the scroll wheel and on the butt of the mouse. Not only do these areas offer that little bit of extra customization for the users, the also add a subtle bit of lighting which can be very aesthetically pleasing.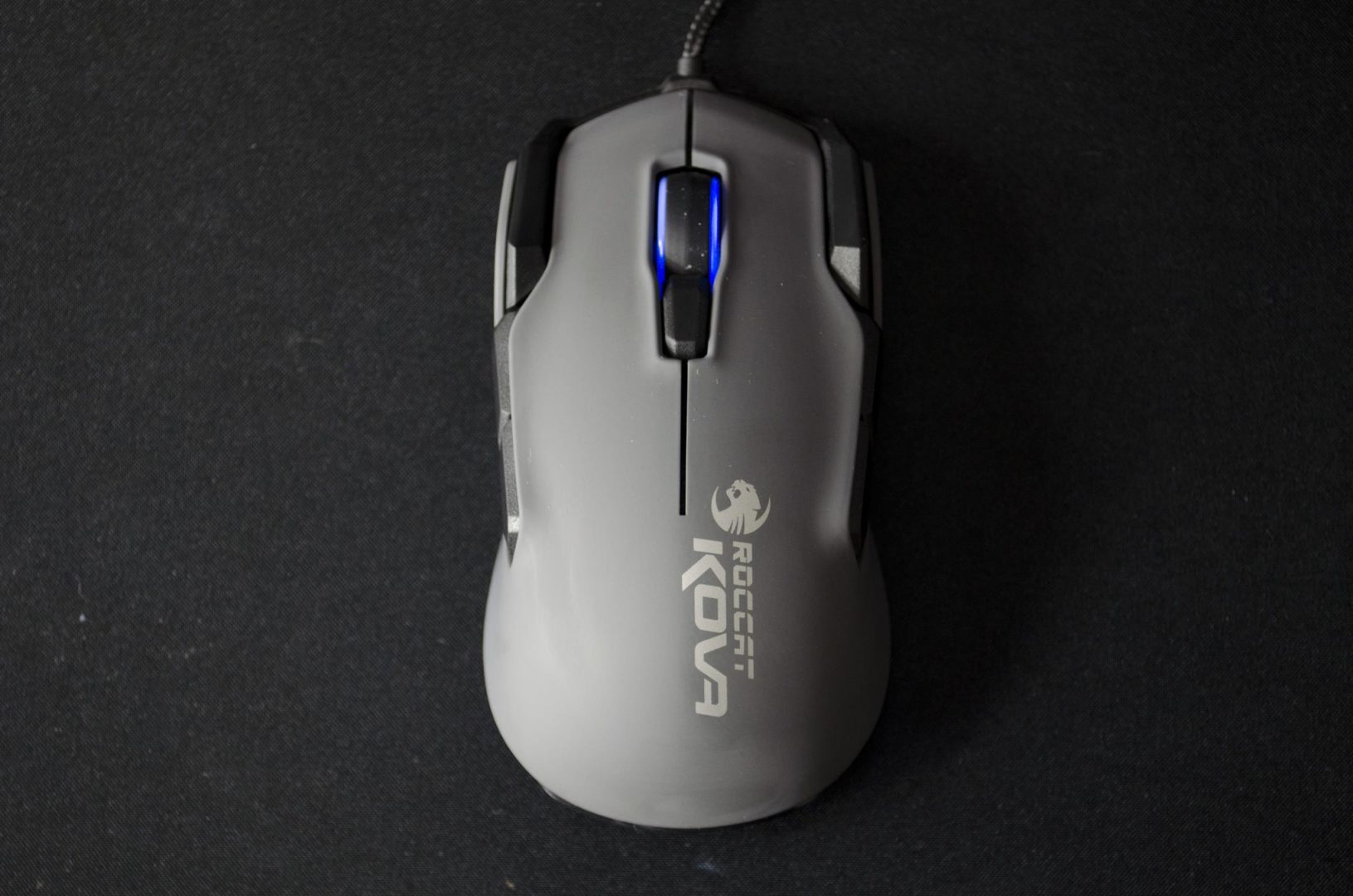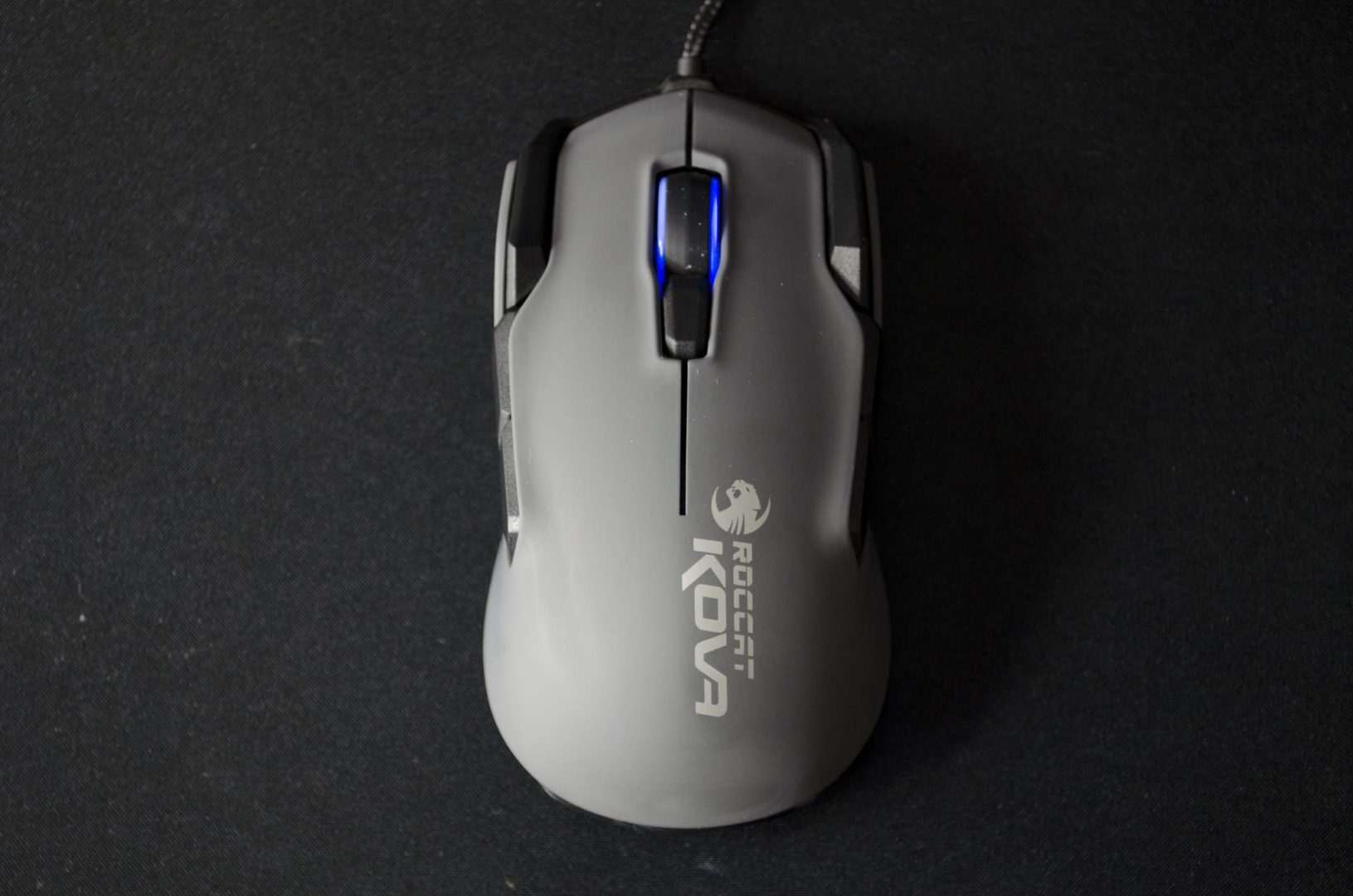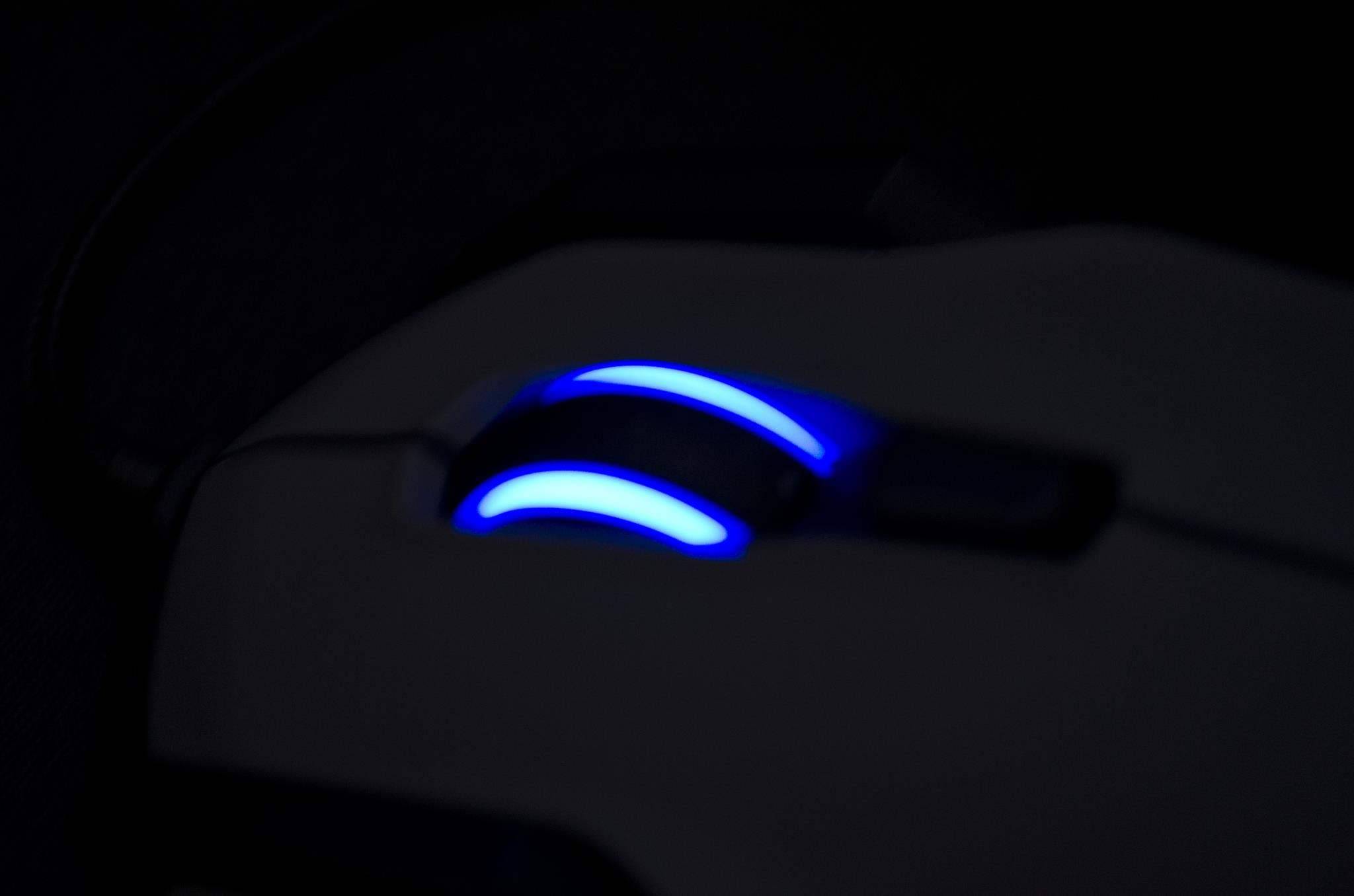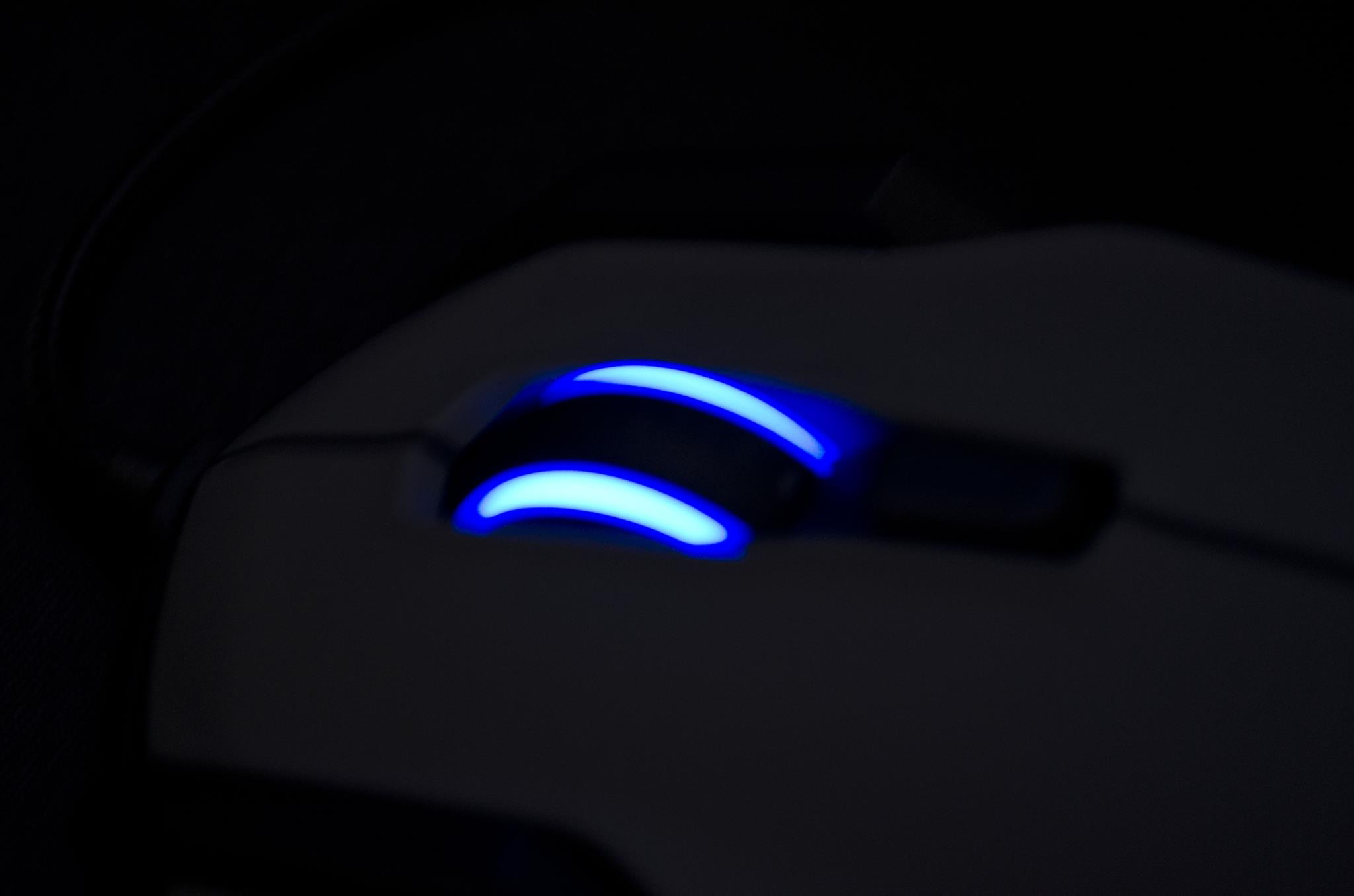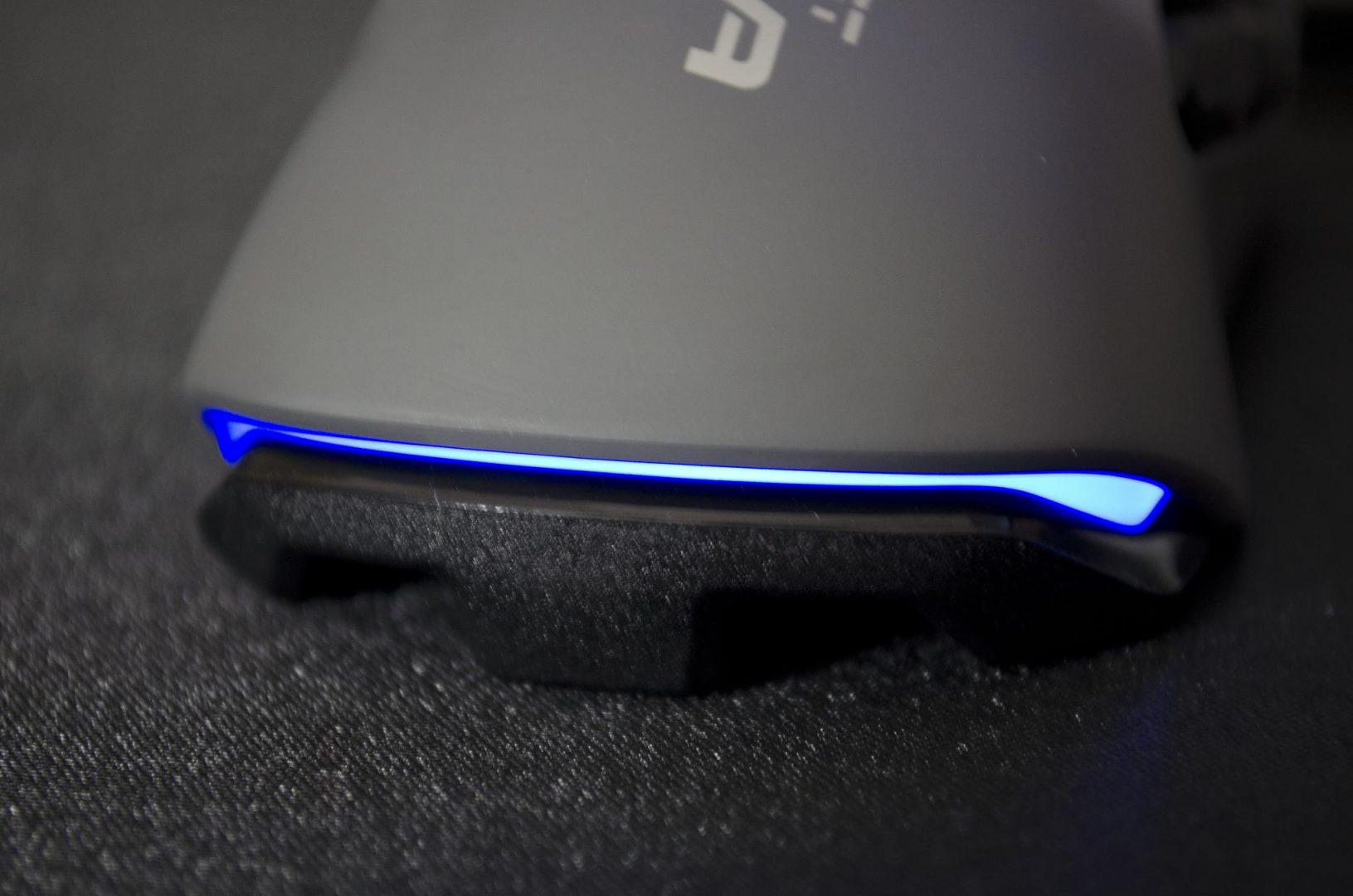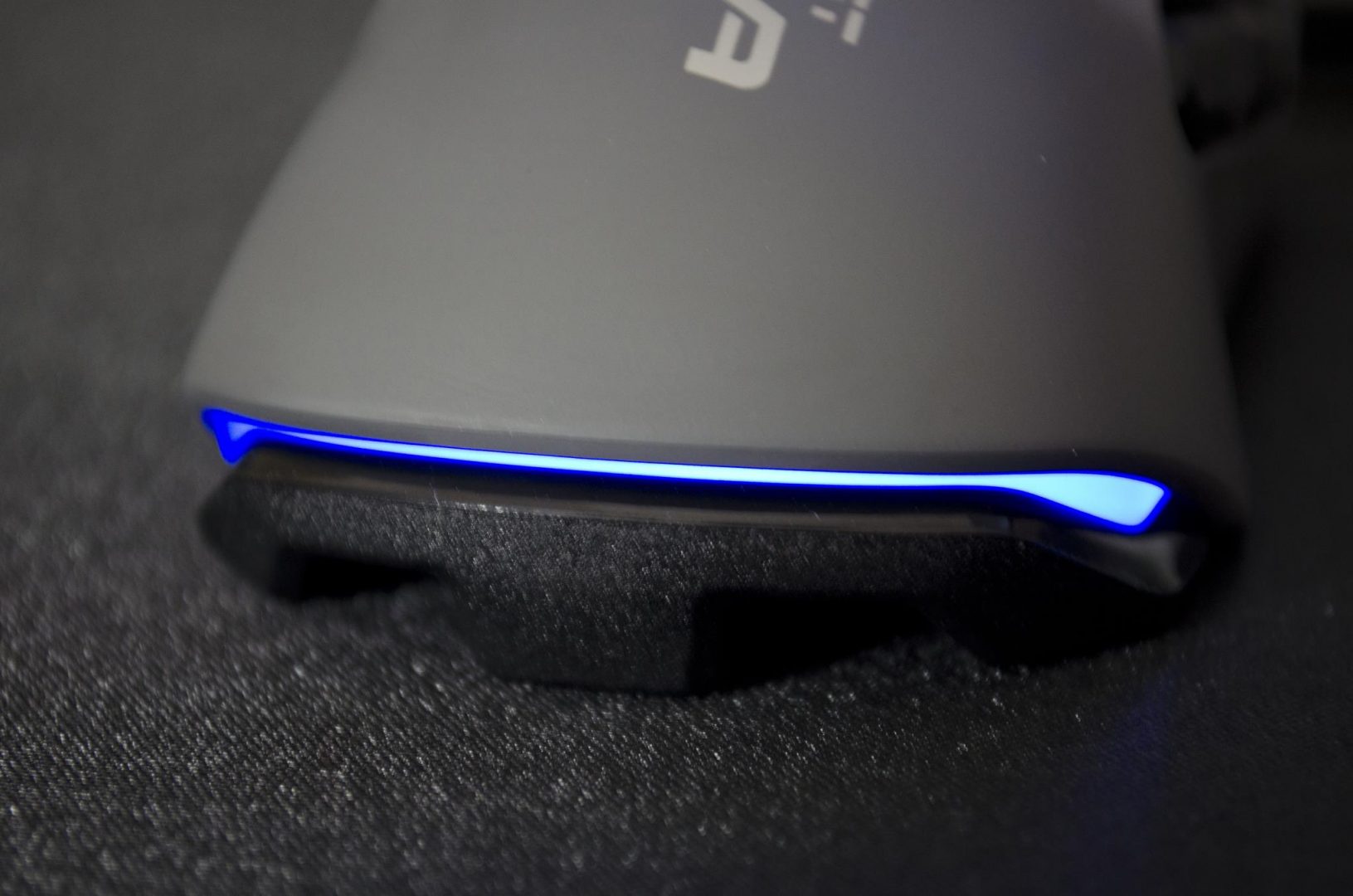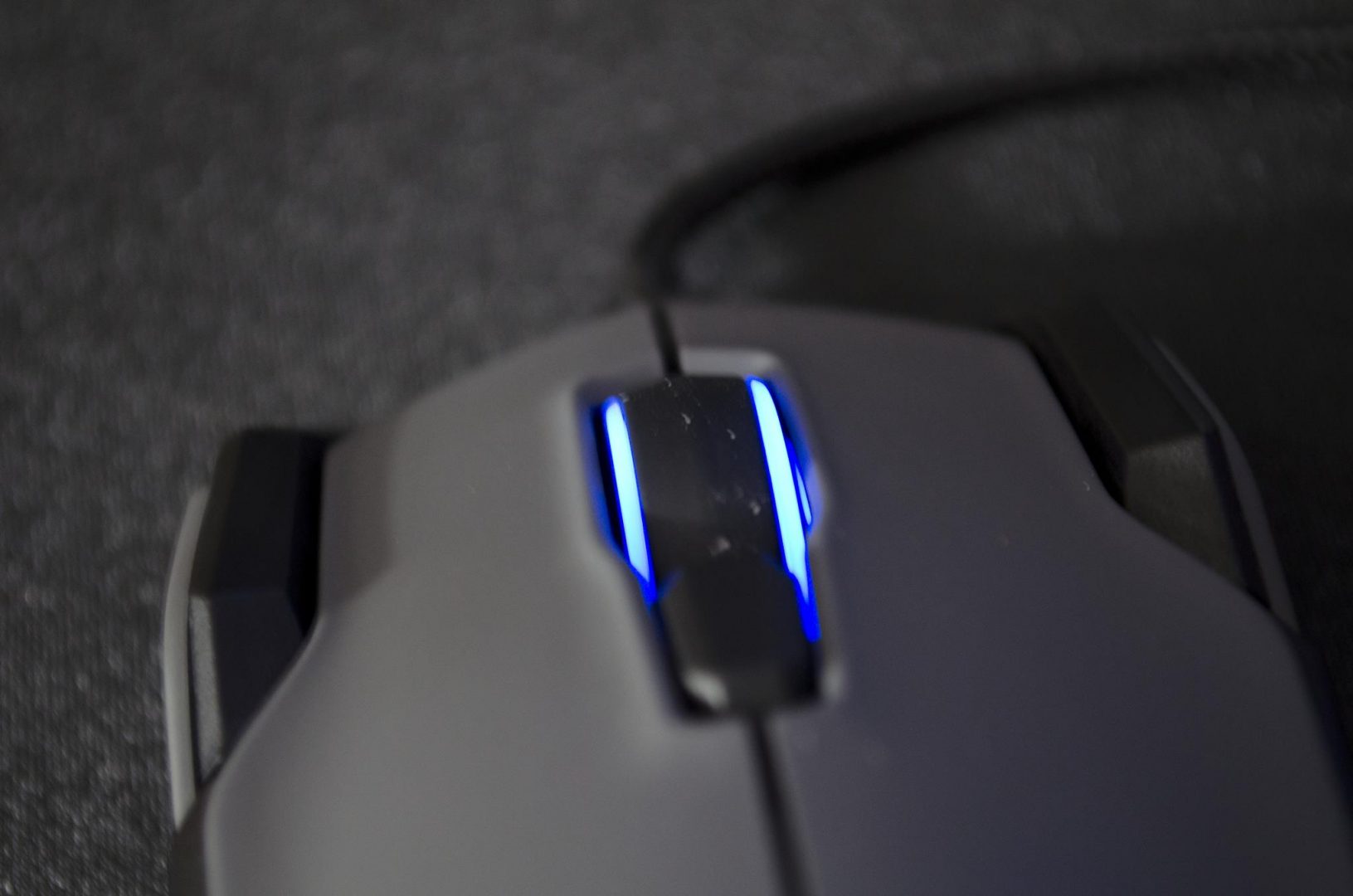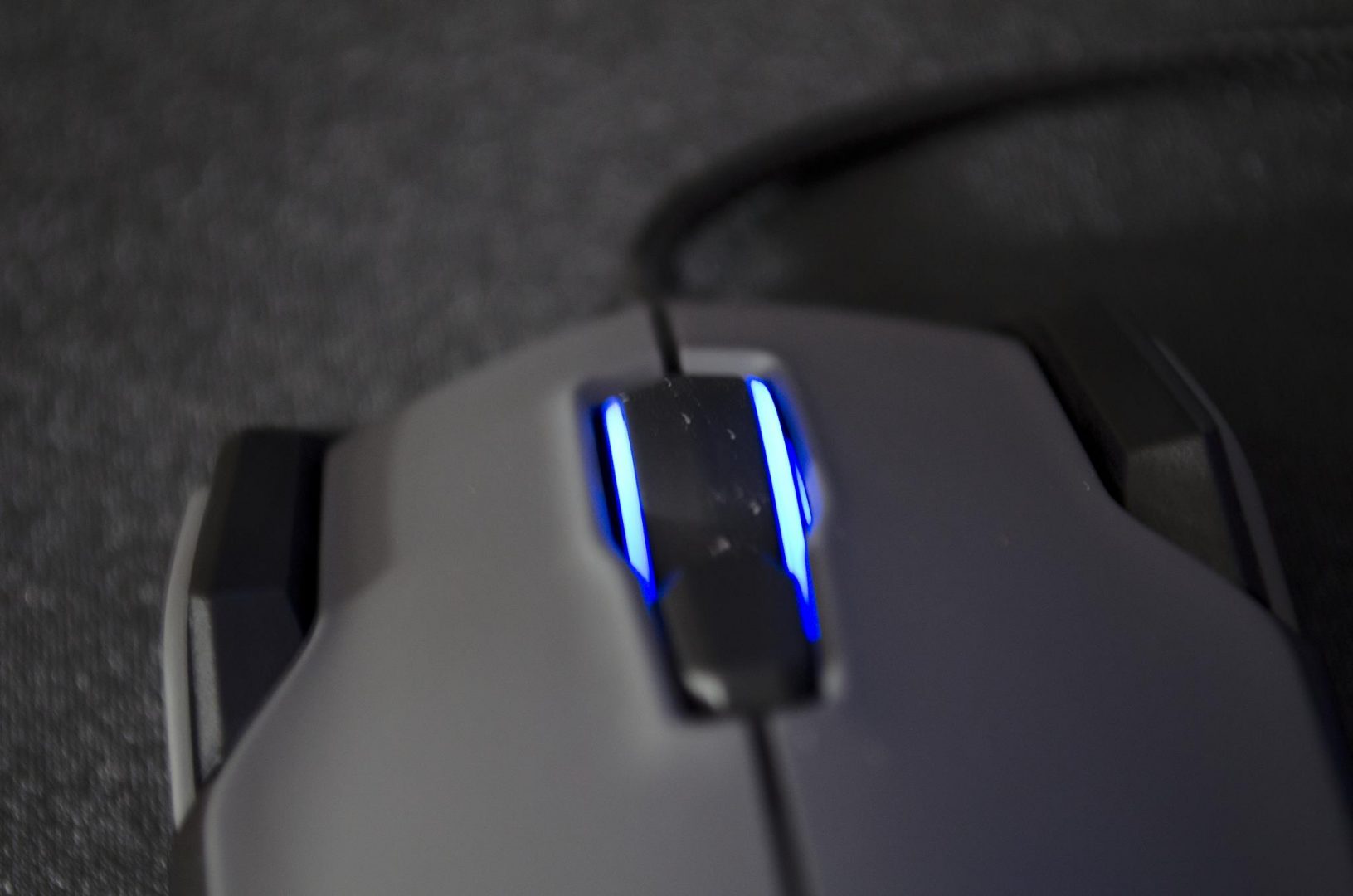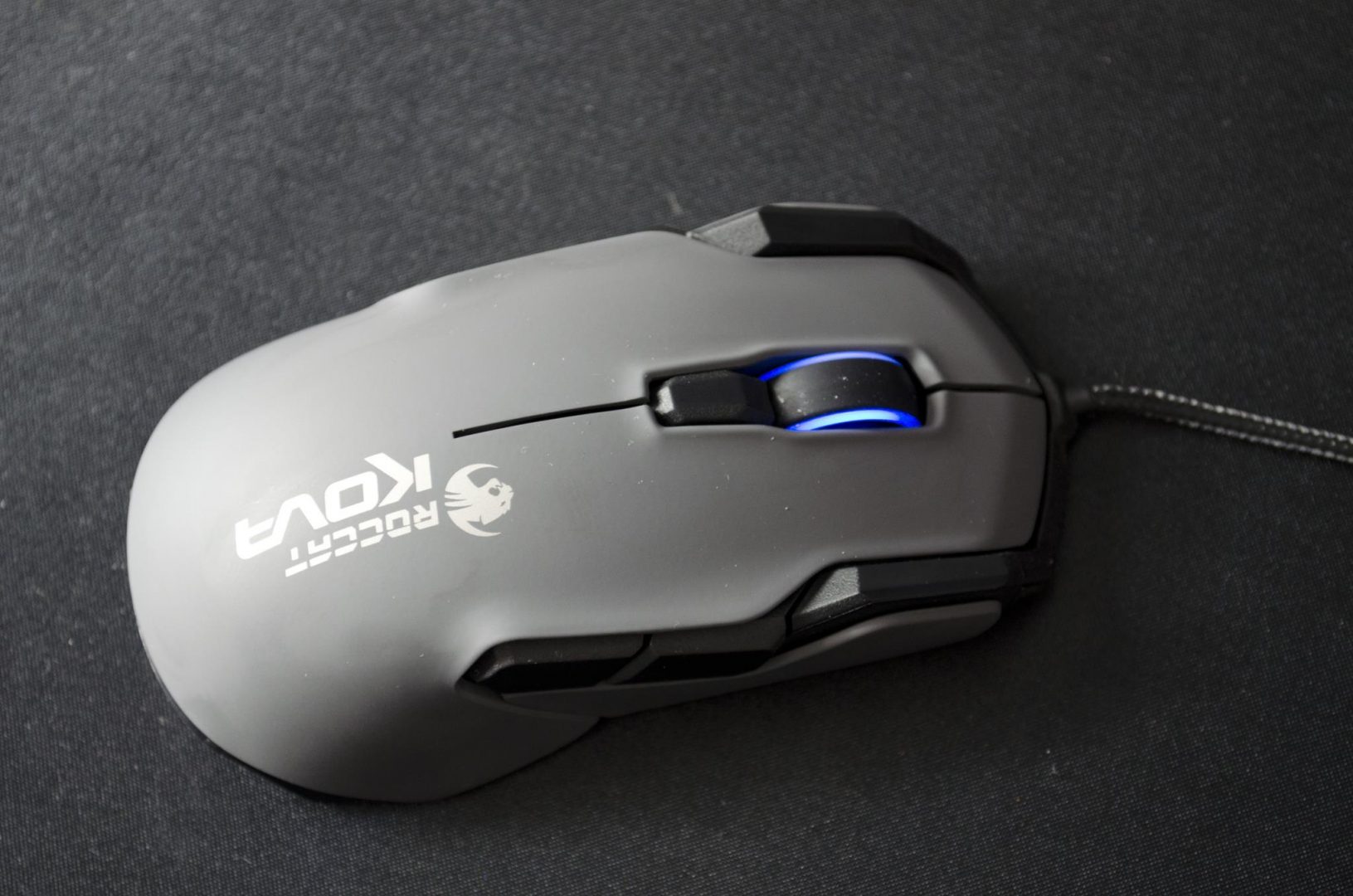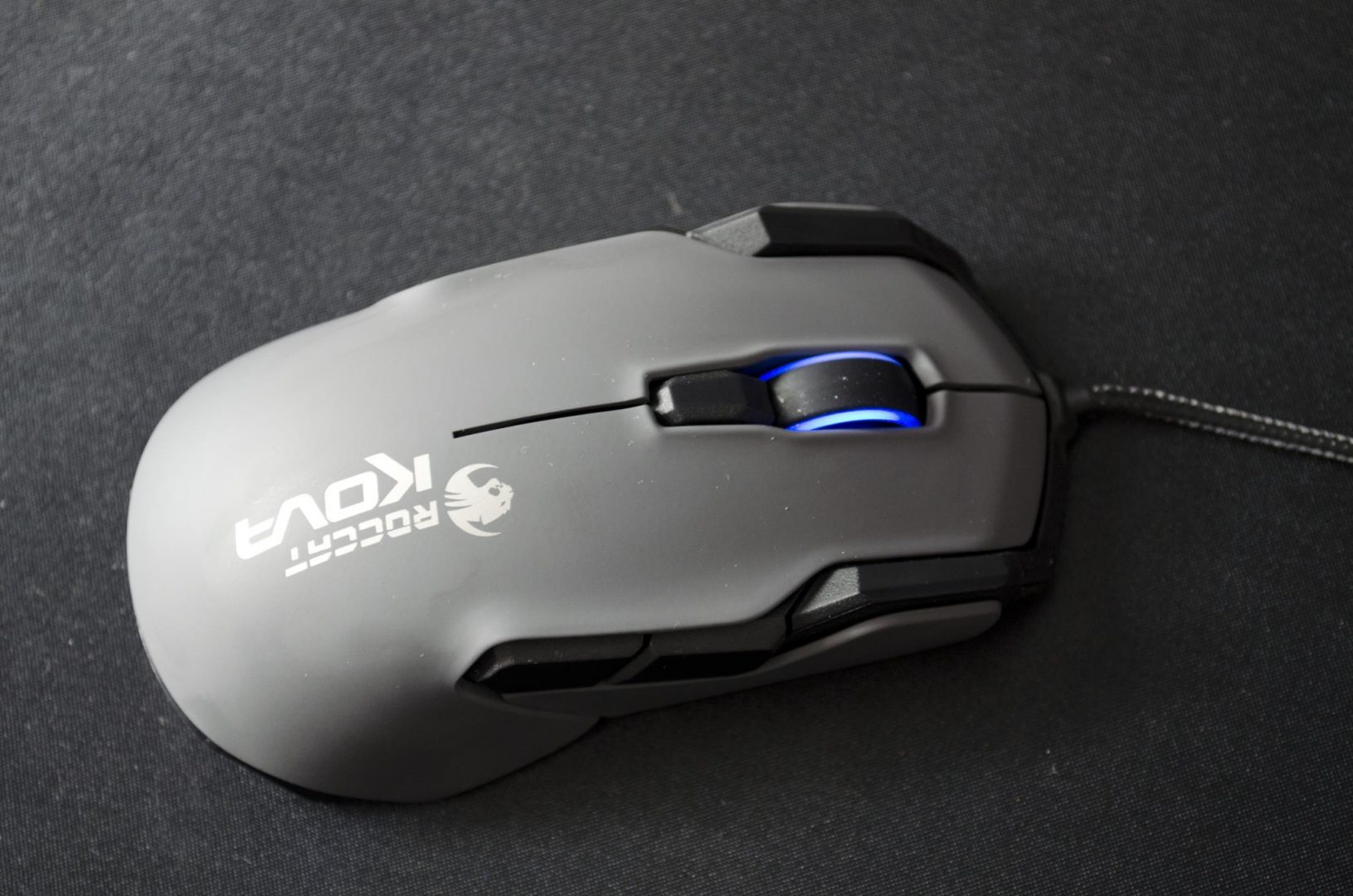 Performance
Call my crazy, but I'm a fan of higher DPI's so I turned the overdrive mode on cranked the DPI up to the 7,000 maximum for all my testing. The KOVA is a great gaming mouse and worked a real treat during my normal lineup of FPS testing. What was instantly my favourite feature was all the extra buttons and their placements. Using the KOVA I was able to make it so the only buttons I needed to use on the keyboard were for movement. While this may not be the case for all game genres, it definitely worked out for me in all of my FPS games which include the likes of Call of Duty: Black Ops 3, Battlefield 4, Counter-Strike: Global Offense, Dirty Bomb and I am sure there were a couple more I played with it as well. Not only do the extra buttons come in handy, but the tracking and accuracy of the KOVA are what we would expect from a higher-end gaming mouse and again, everything can easily be configured to your own individual needs VIA the sWARM software.
When it comes to general performance the mouse is equally as impressive and I must say, those extra buttons make a great impact when it comes to things such as editing. While I don't do anything too fancy, I do regularly edit a large number of photos on an almost daily basis and the EASY SHIFT+ feature definitely comes in handy. Again, allowing for more shortcuts on the mouse itself relieves you from having to rely on the keyboard as much which is amazing. The functions I probably used the most though were the media control functions that came as standard on the KOVA when using the EASY SHIFT+ button as not only do I edit loads of photos, I listen to music all throughout the day and being able to skip songs and turn the volume up and down right from the mouse actually proved to be very helpful to me.
Software
THE SWARM software from ROCCAT is one of the most extensive suites I have seen to date, it literally allows you to customize every aspect of whatever compatible peripheral you have at hand. VIA the software, users will be able to map and change buttons minds, including setting up the KOVA's EASY SHIFT secondary button functions. The mouse has 512kb of onboard memory so users will be able to create and save up to 5 profiles with ease.
Those looking to take their performance to the max will also be able to control things such as the vertical scroll speed, tilt speed, double-click speed, DPI , Pooling Rate and more! You can also let the mouse know if you are right or left handed and, as mentioned, control the RGB of the two zones separately which includes changing their colours or turning them completely off if you like. The SWARM software is a great bit of kit and will definitely help you get the most performance out of your KOVA or any compatible peripheral.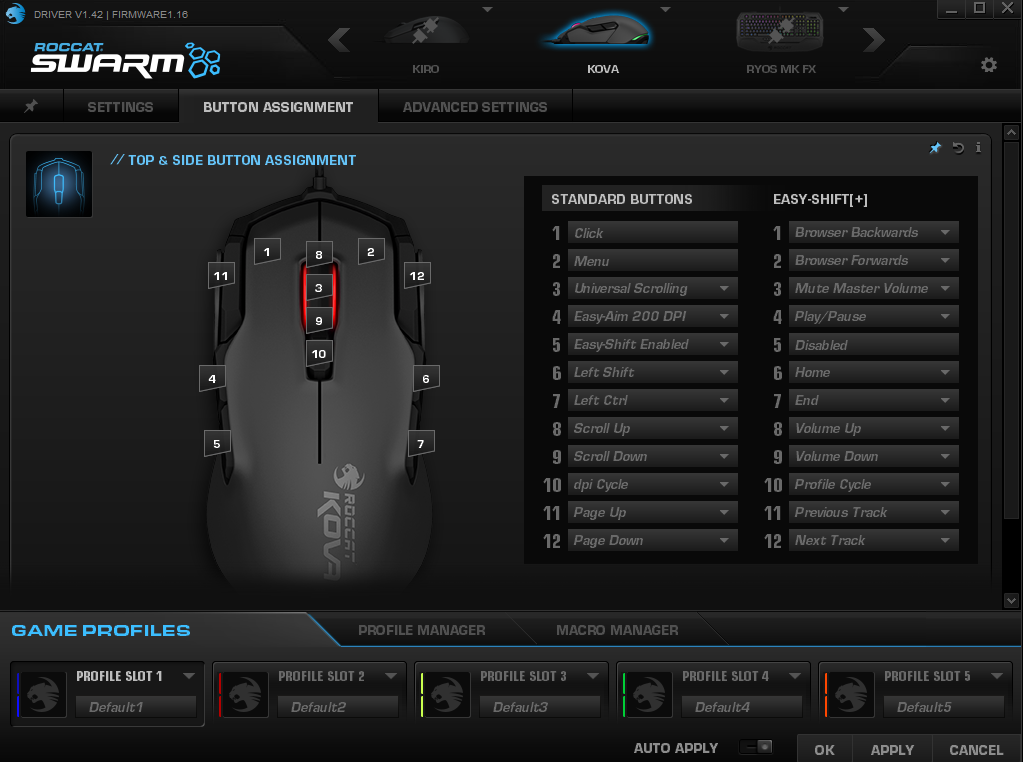 As always, I had a good time testing out the ROCCAT KOVA Gaming Mouse. Overall, as long as they are half decent I really do enjoy testing out all kinds of new peripherals. ROCCAT definitely has a unique design to their products and whether they may be your cup of tea or not, there is one thing we can all agree on. The ROCCAT SWARM software is very extensive and really does give users complete control over any compatible peripheral, such as the KOVA. I myself do like ROCCAT's take on peripherals and the extra buttons on the KOVA proved to be very helpful and with that being said, let's wrap this review up!
Performance
The KOVA featured a Pro-Optic R6 sensor which featured a DPI up to 3,500 on it owns, user's look for a higher DPI can kick in overdrive mode and essentially give the KOVA a 7,000 DPI. As far as tracking and precision are concerned, I can not fault the KOVA or the R6 sensor at all, the mouse pointer or crosshair was always where I told it to be. The 1ms response time won't let you down, especially when combined with the 1000Hz polling rate and all those extra buttons are just great. The KOVA features 11 buttons but thanks to the ROCCAT EASY SHIFT+ technology most of those can have a secondary function, essentially allowing the KOVA to feel as if there are around 22 buttons in it. These buttons and EASY SHIFT+ really do add a whole new level to PC Gaming as are just as valuable when it comes to saving time when doing more day to day type tasks.
Design
Whoever ROCCAT has locked down in the basement in their Germany office sure knows a thing or two about engineering top-grade gaming peripherals. ROCCAT's bold design choices offer both form and function without breaking the banks. Most mice with as many buttons as the KOVA would have a bunch of buttons all in close proximity near where you thumb would rest. Now, not only can this make it harder to hit the right one without looking, it also means those mice would be designed for either left or right-handed people, not both. ROCCAT took the KOVA one step further than the competition and instead of bunching all the buttons up, they spread them out and made the mouse ambidextrous so it will appeal to a wider variety of people, also, the extra buttons are more easily accessible which is the most important part.
Value
Coming in at around £43 the KOVA is a higher-priced mouse, but it is not at the top of the price chart. For the money, the KOVA offers good performance and plenty of features. For users looking to have some extra buttons on their mouse, but not sure about those that bunch all the keys by where the thumb will rest, the KOVA offers a breath of fresh air with its ambidextrous design and spaced out buttons. The SWARM software is also a crucial part of the KOVA experience and not only does it allow you to change the colours of the LEDs, it gives you control over the whole mouse so you can customize it exactly to your individual needs.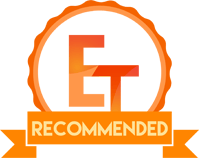 As always, I would like to thank ROCCAT for sending in today's review sample by way of the KOVA Pure Performance Gaming Mouse.