Today we will be taking a look at something a bit different by way of the Cooler Master Pitch Pro Gaming Earphones. Now, normally one would not think of in-ear headphones to be gaming related, but Cooler Master have gone and given it their best shot. With gaming and more specifically, PC gaming getting bigger by the day, manufacturers are doing everything they can to stay ahead of the curve while trying to over innovative products that offer great performance. With that being said, there really is only so much that can be done with in-ear headphones due to size limitations, but it will still be interesting to see how well design the Pitch Pro Gaming Earphones are.
Manufacturer Website: CM Storm
Product Page: Pitch Pro
Purchase on box.co.uk: £24.99 At the time of review
The Pitch Pro's features a 10mm as do a lot of in-ear headphones. The also come with a 1.2m cable which is ridiculously short, especially for something that is considered a gaming based product. I have my PC on the floor in front of my feet and these barely reached my ears, so maybe they are aimed at Laptop gamers? Either way, as Cooler Master mentioned on their website, Gamer's love to travel and as these are compatible with PC, laptop and mobile, they are sure to come in handy. The also feature a microphone with inline remote so you will still be able to yell at all those noobs online when you are playing your favourite game on your favourite device. All in all, they look quite nice so let's get this review started and see how well they hold up.
Specifications
| | |
| --- | --- |
| Model Number | SGH-2060-KKTI2 |
| Driver | 10mm driver |
| Frequency Response | 10Hz-20KHz |
| Impedance | 16Ω |
| Sensitivity | 106±3db (at 1KHz, 1V/PA) |
| Max out-put Power | 15 mW |
| Pick-up Pattern | Omni-Directional |
| Microphone Frequency Response | 70 Hz – 10000 Hz |
| Microphone Sensitivity | -42 ±2dB (0db = 1V/pa.1KHz) |
| Signal to Noise Ratio | 58dB or more |
| Cable Length | 1.2m |
| Connector | 3.5mm Golden-Plated Headphone Jack |
The packaging gives us our first look at the headphones and all the included accessories. The front of the box is a flap that opens up and reveals a nice small carrying pouch to keep the headphones and all the accessories in when travelling.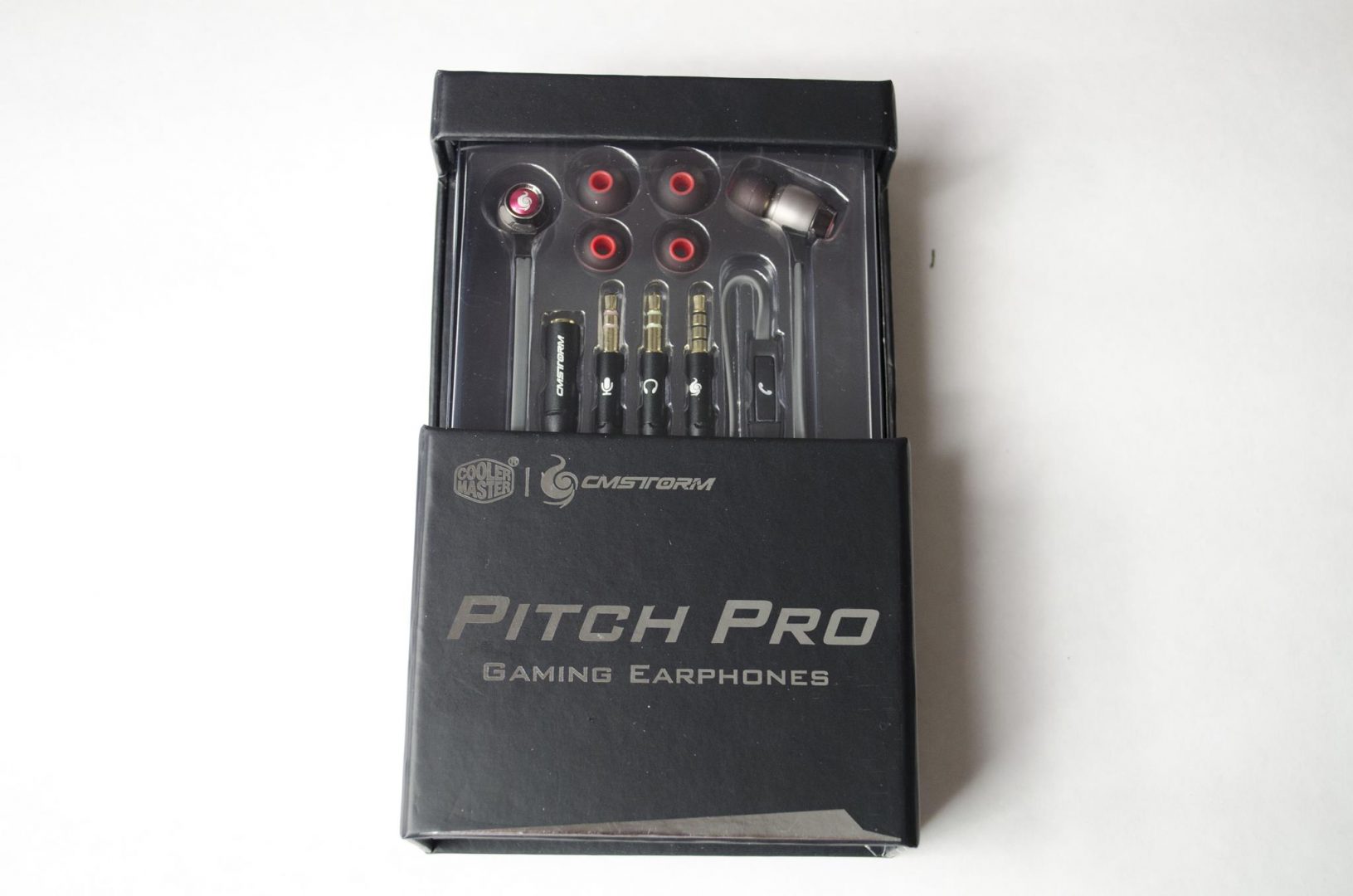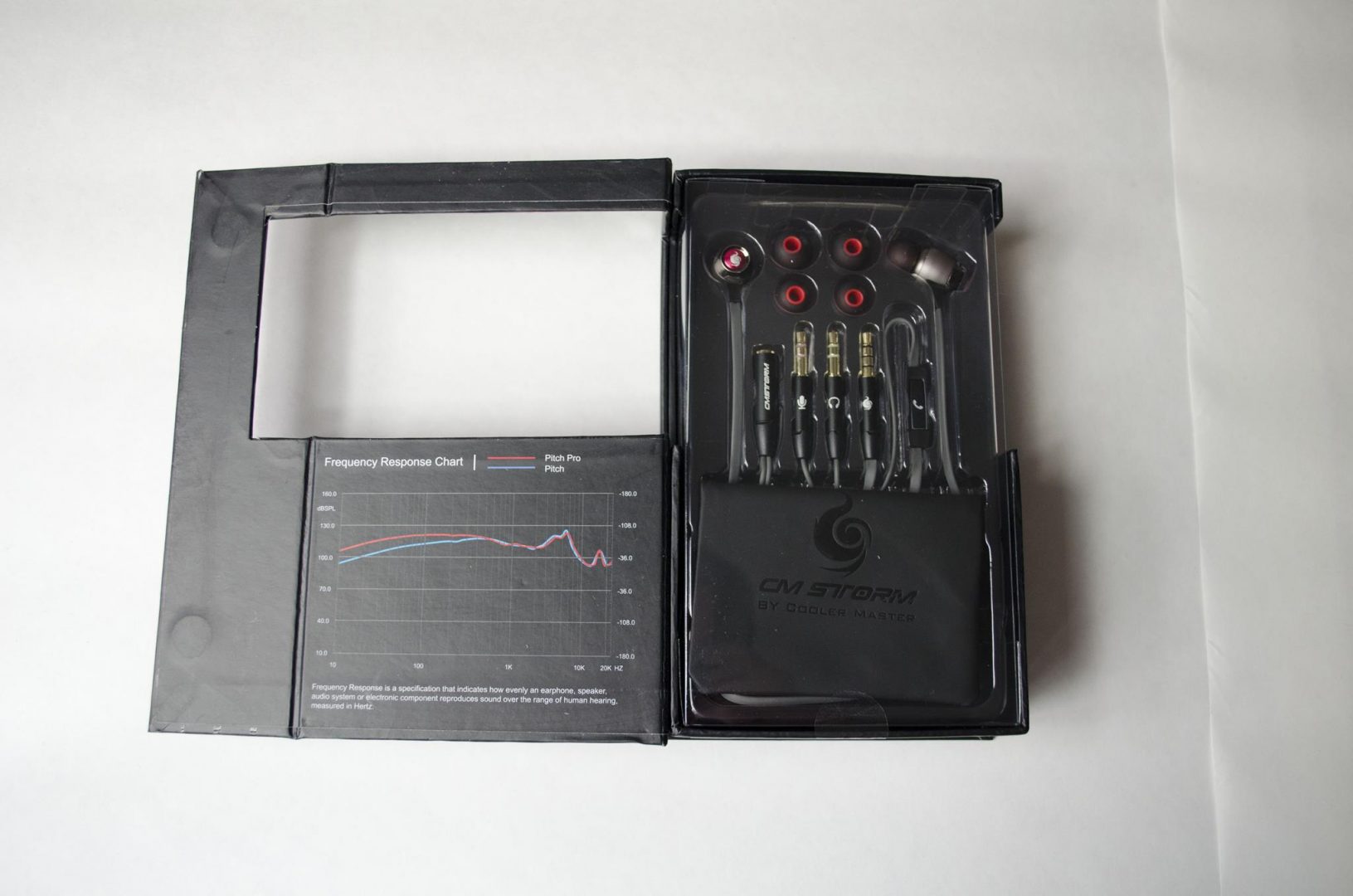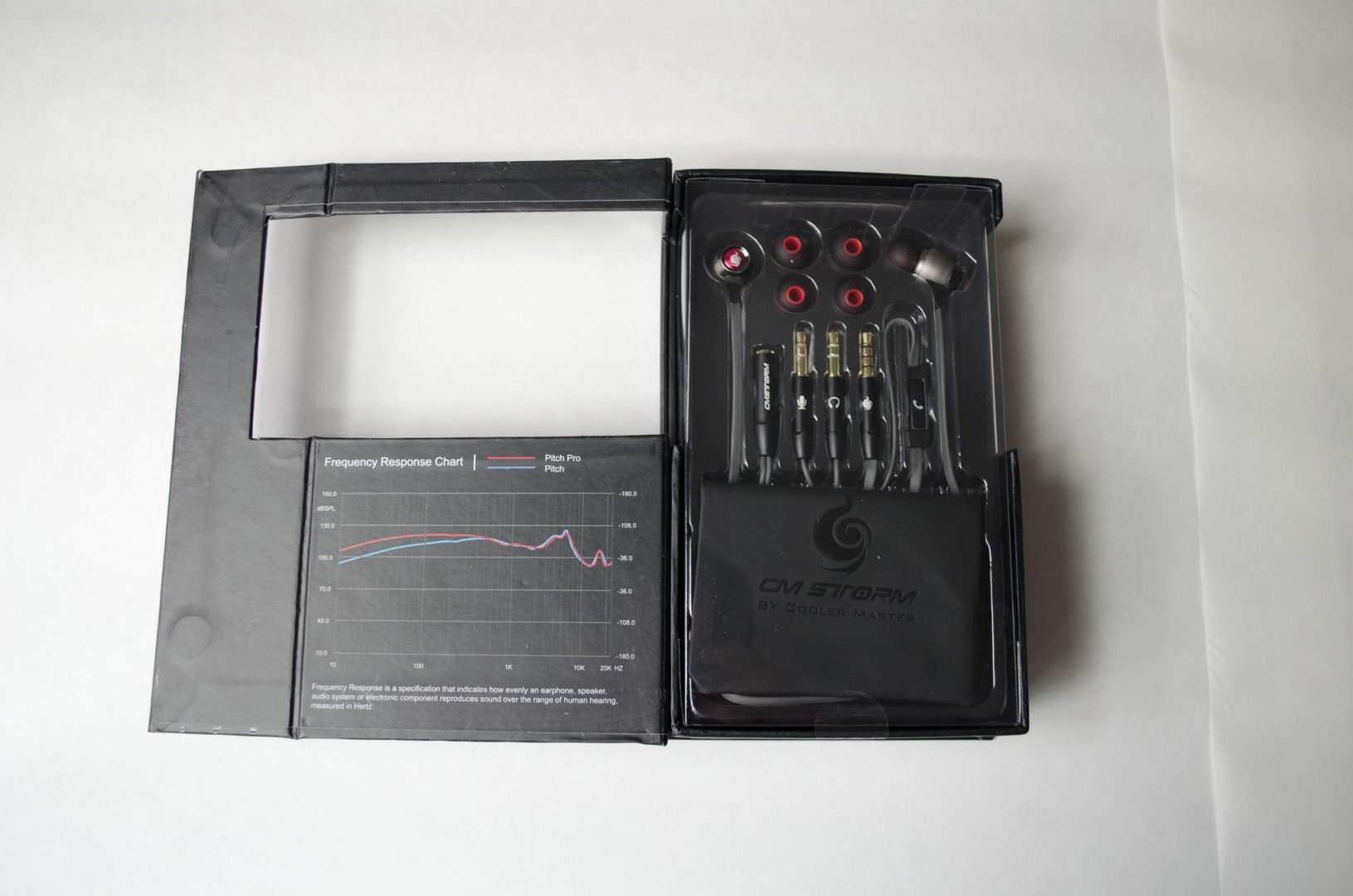 Getting everything out of the box and we have the earphones, extra ear tips, airplane adapter, headphone/mic splitter and the nice soft carry pouch. The pouch is big enough to carry the earphones and all of the accessories at the same time and is a great way to keep track of it all. The extra ear tips are also different sizes so if the ones that come on the Pitch Pro's don't seem right for you, try changing them out for a pair of the extras until they are more comfortable and fit better.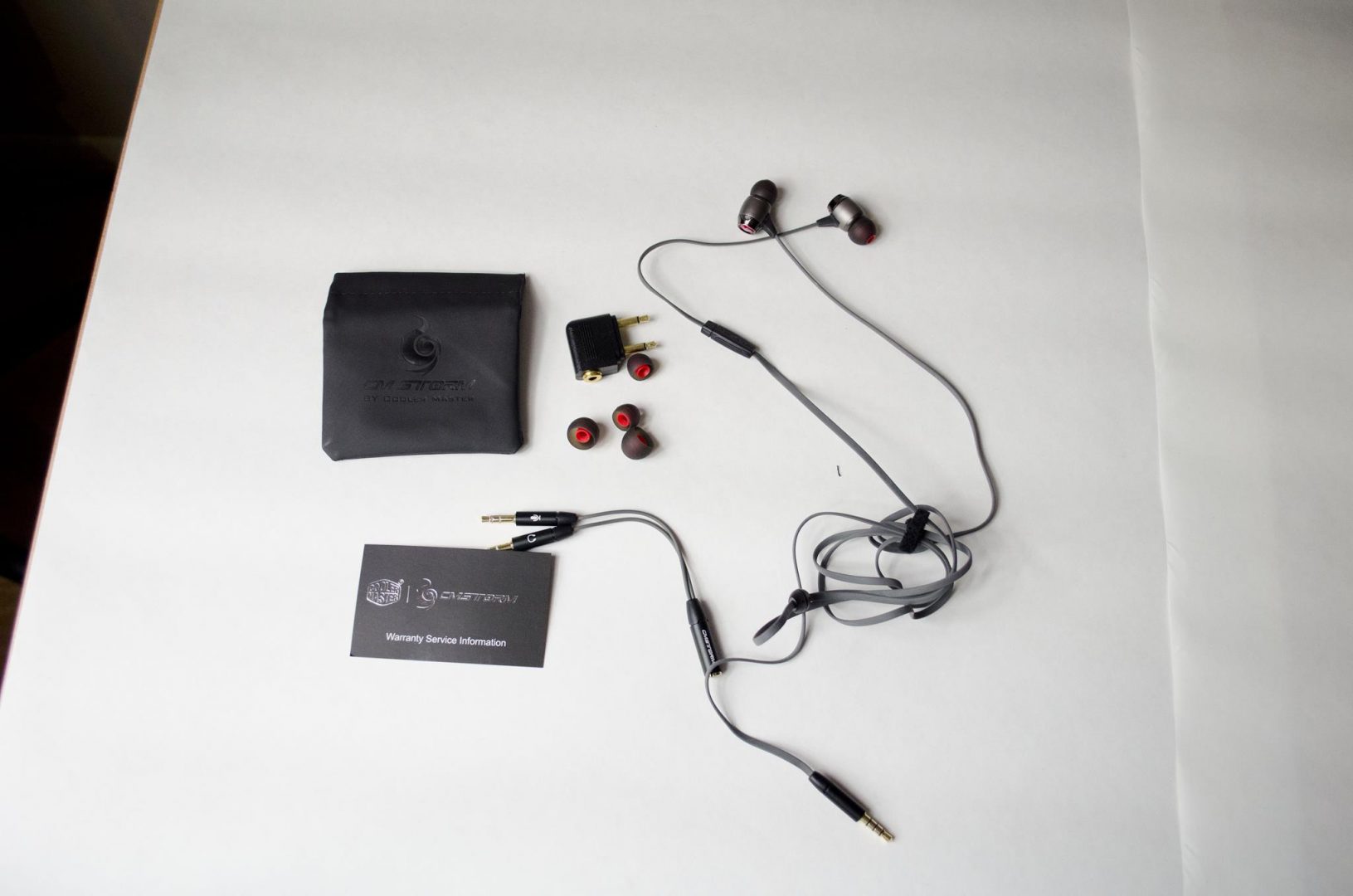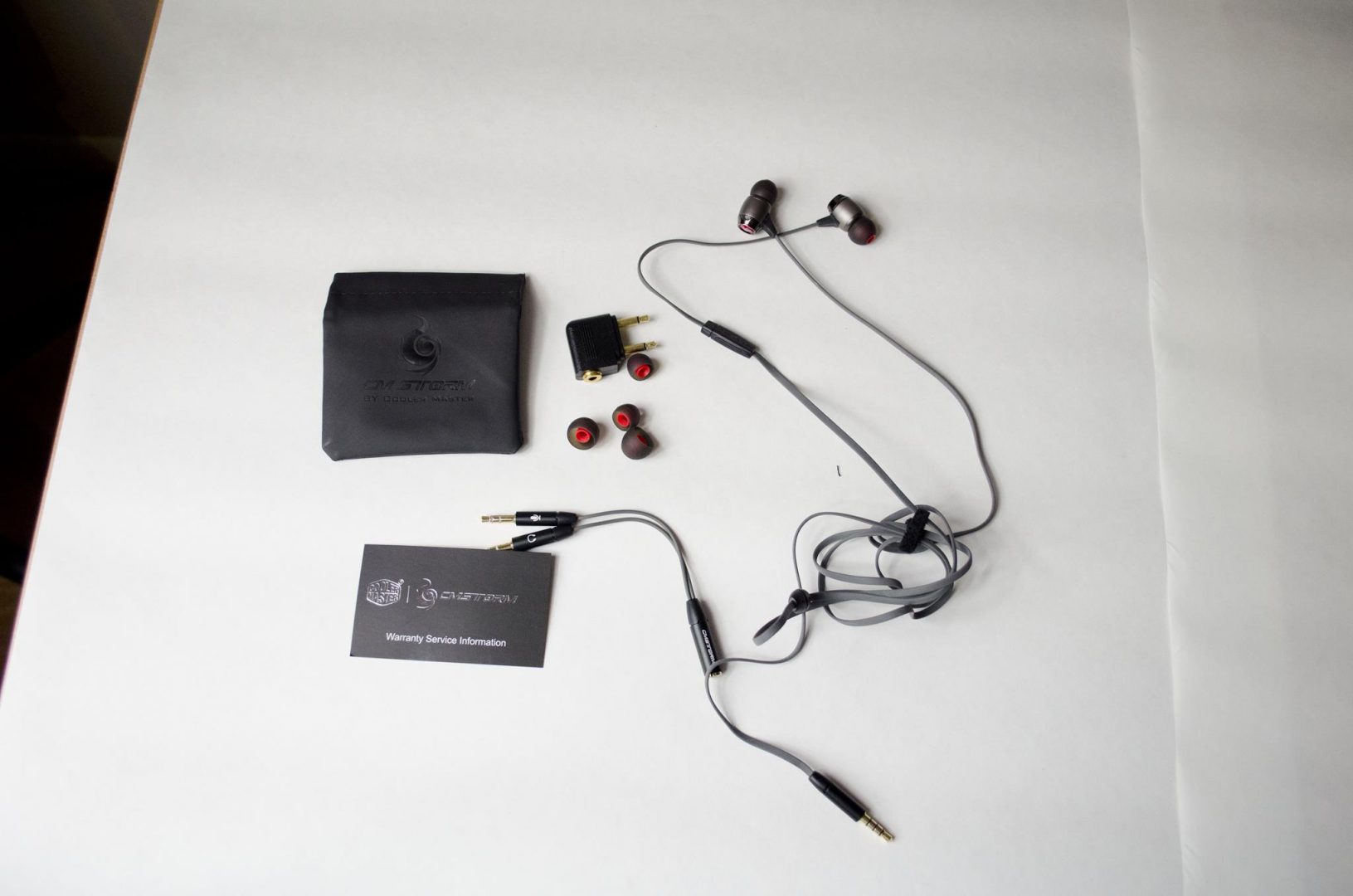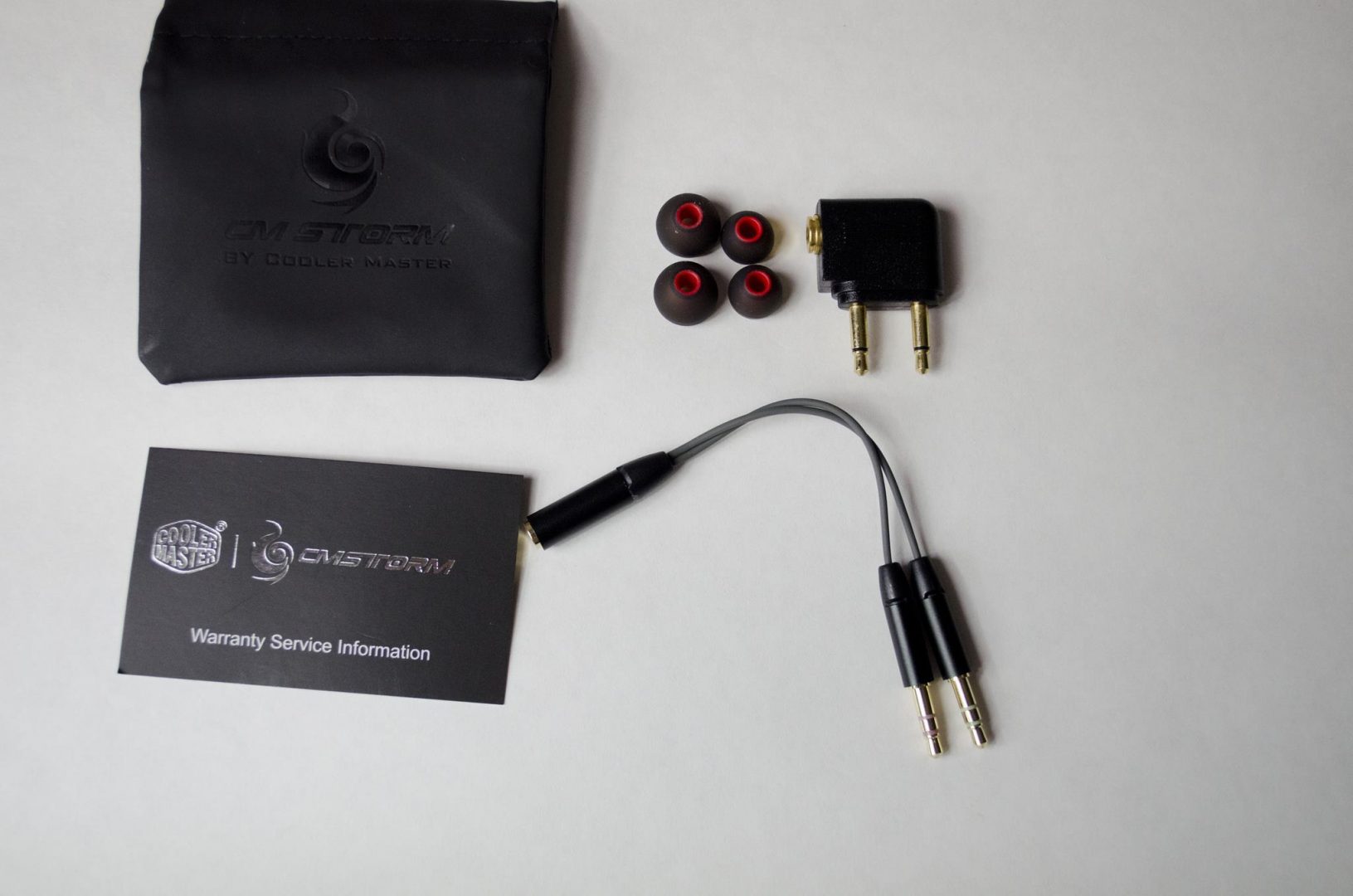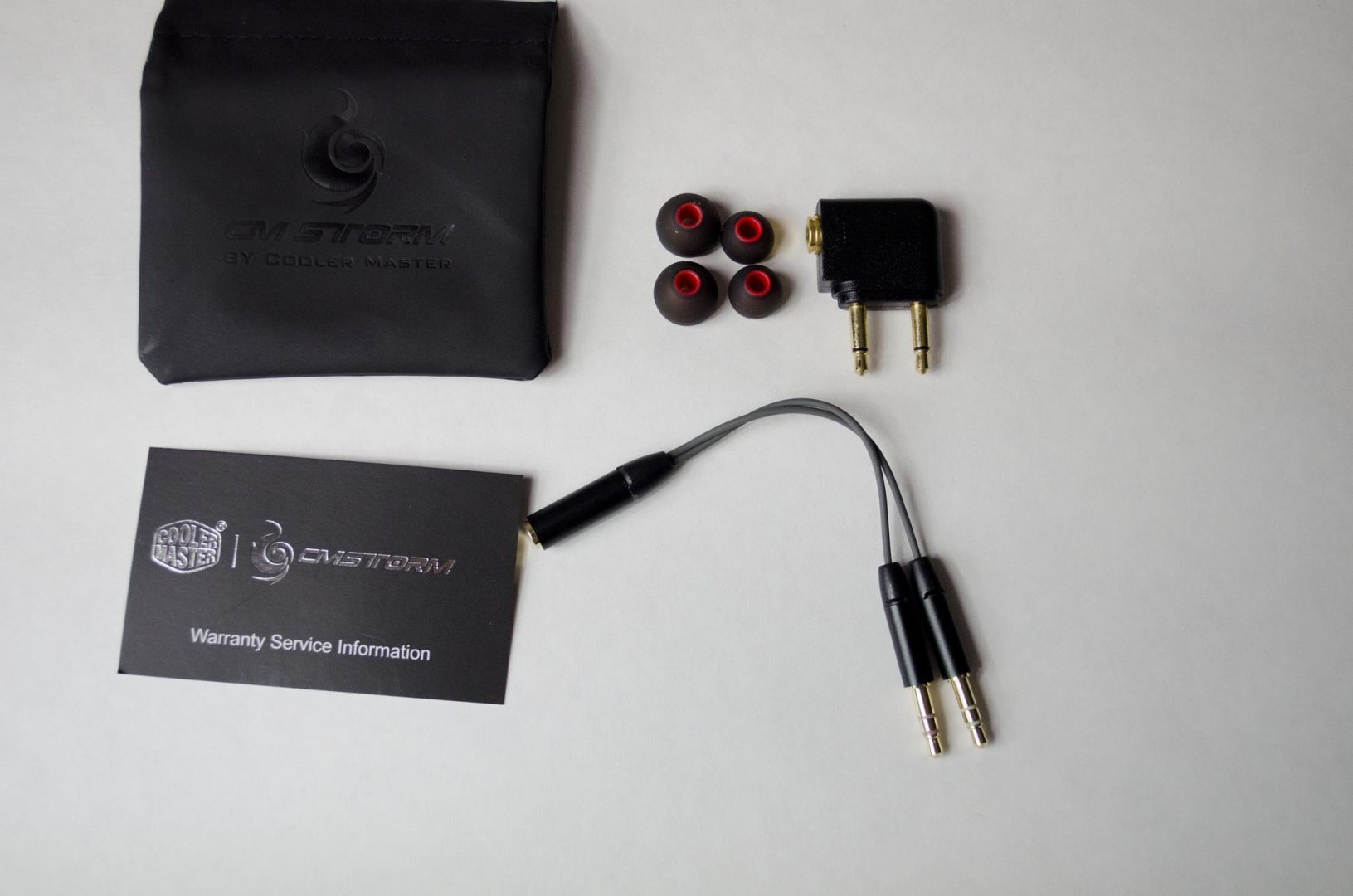 Having a closer look at the earphones themselves and we can see there is a small Cooler Master Gaming logo on the end of each earphone. This is the end that will be on display when they are inserted in your ear. Other than that, there is a nice grey aluminium chamber and a nice black protective cover. While we can't see it, there is also a lot going on inside the earphones and the are made of lots of individual parts such as a frame, magnet, voice coil, diaphragm and more.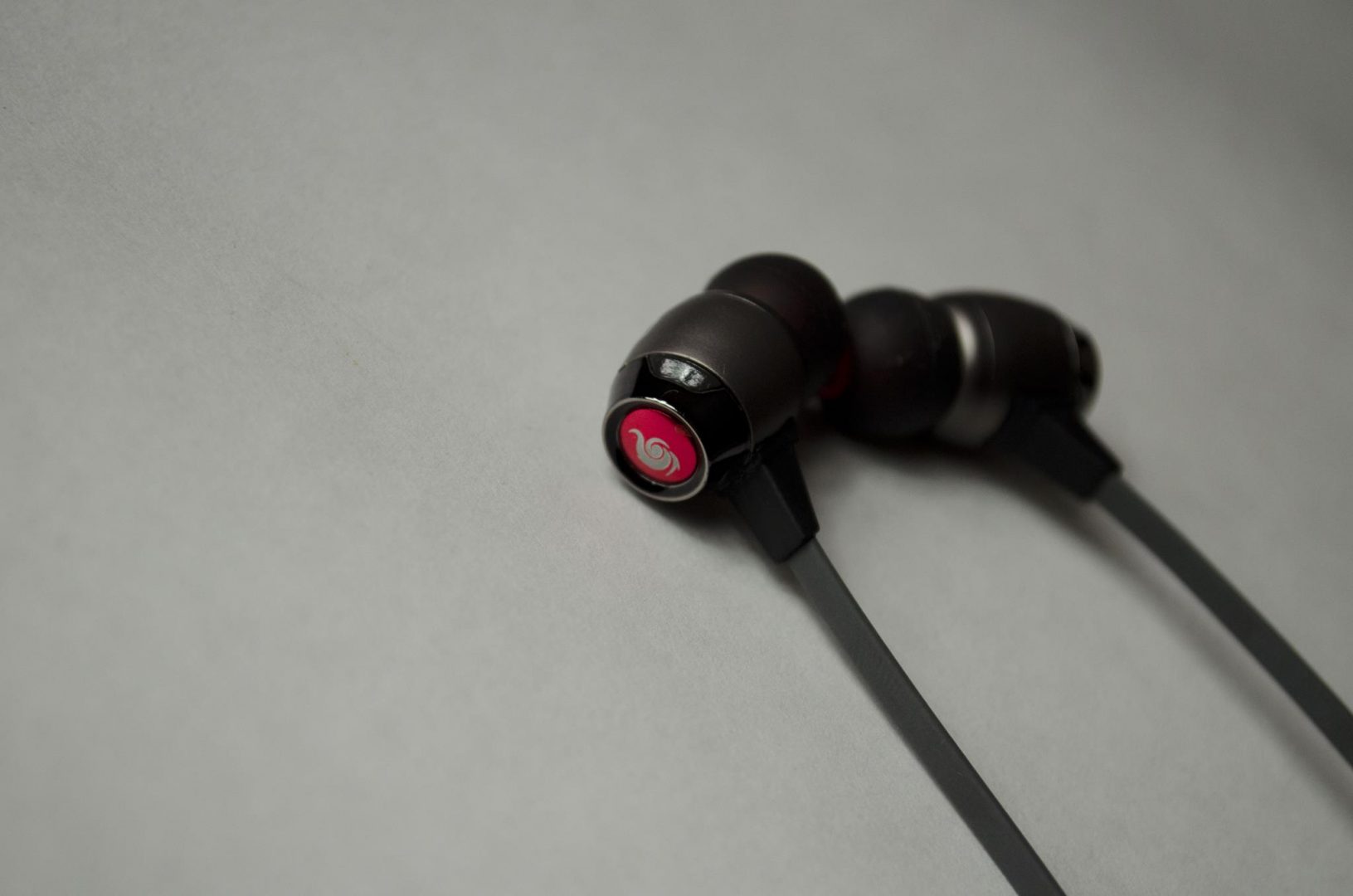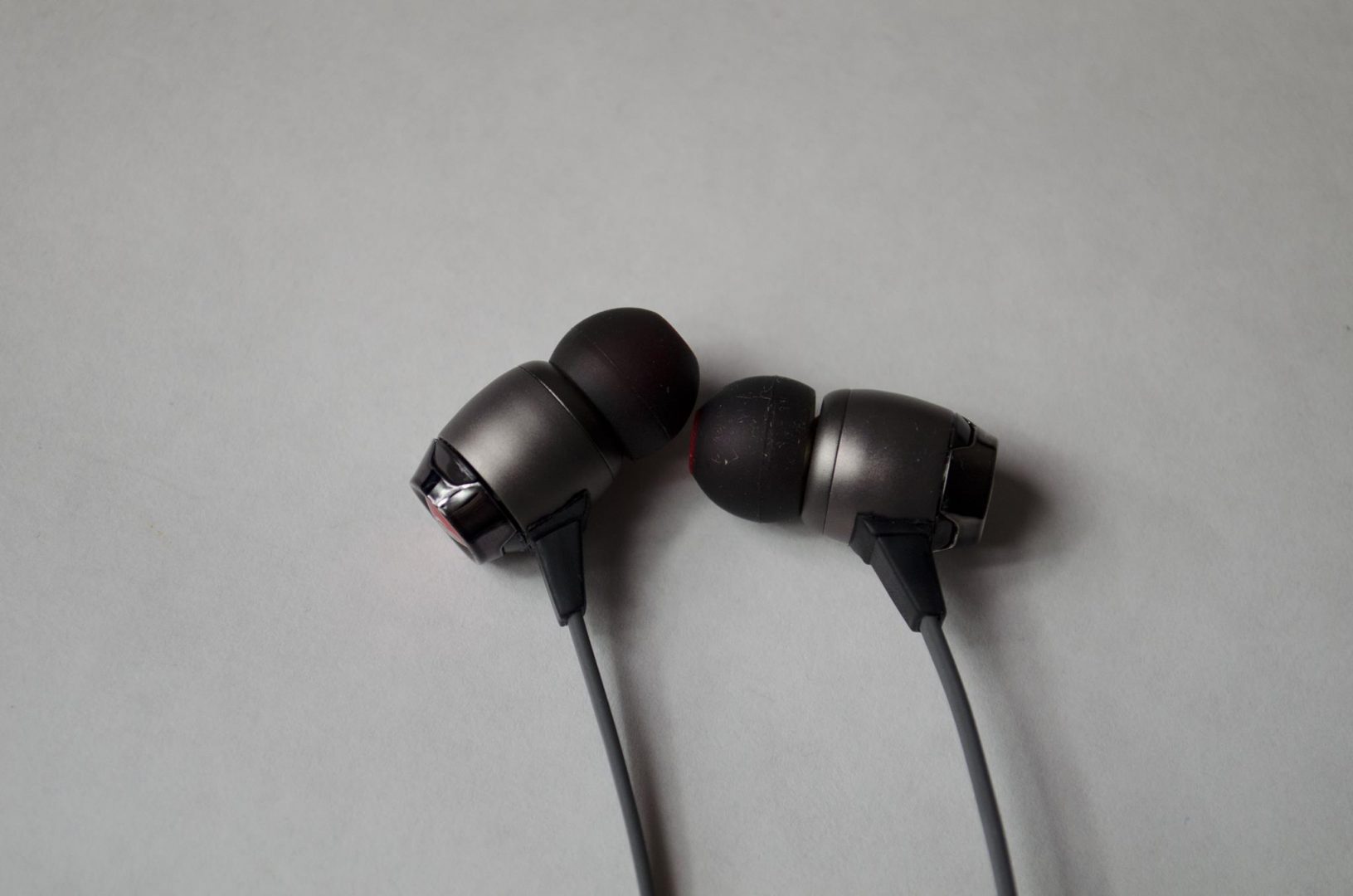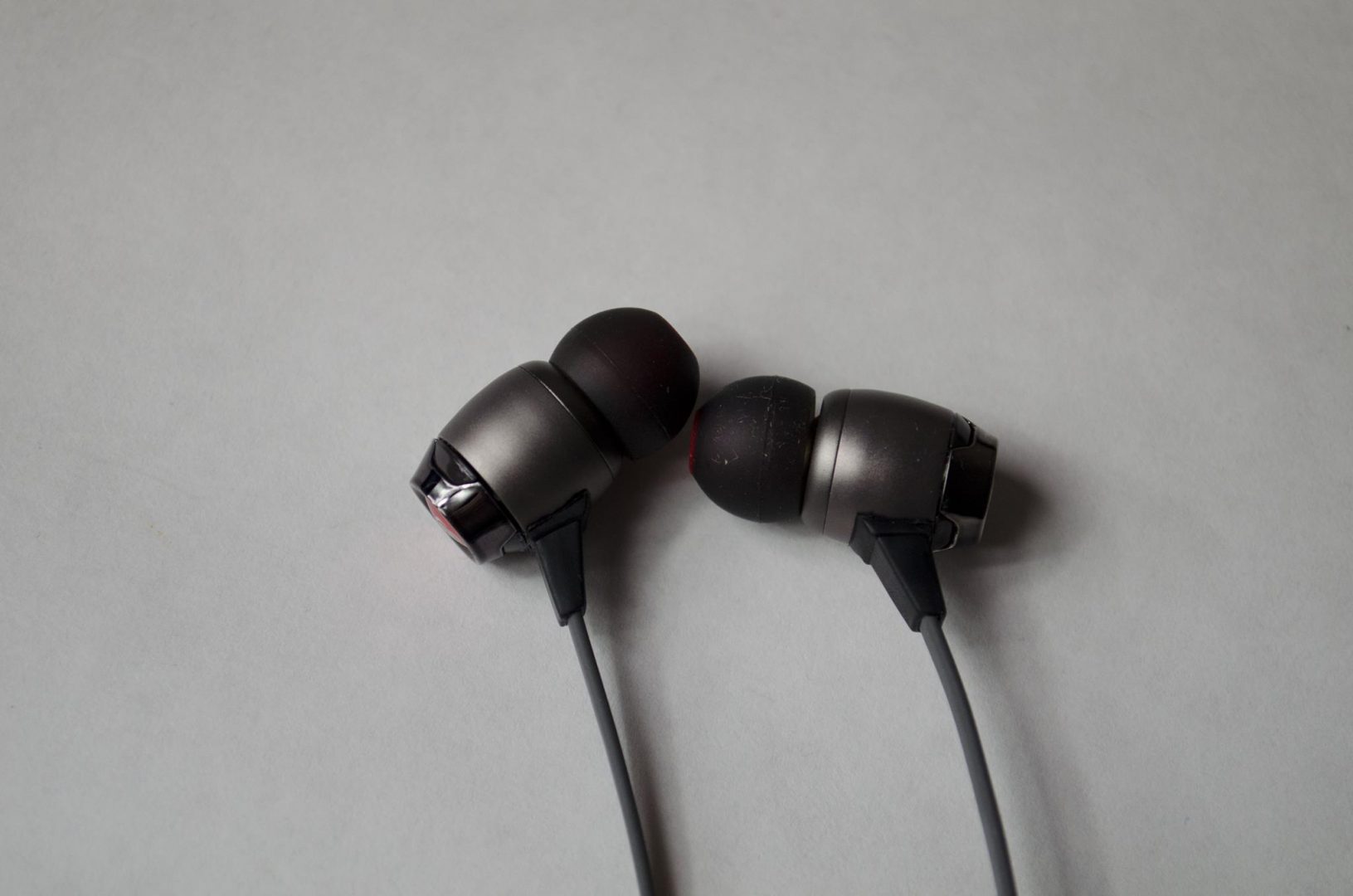 The Pitch Pro Earphones also feature a microphone with inline remote. This button will allow you to control your media and also answer your phone calls so if you happen to be using them on mobile and a call comes through, you're covered.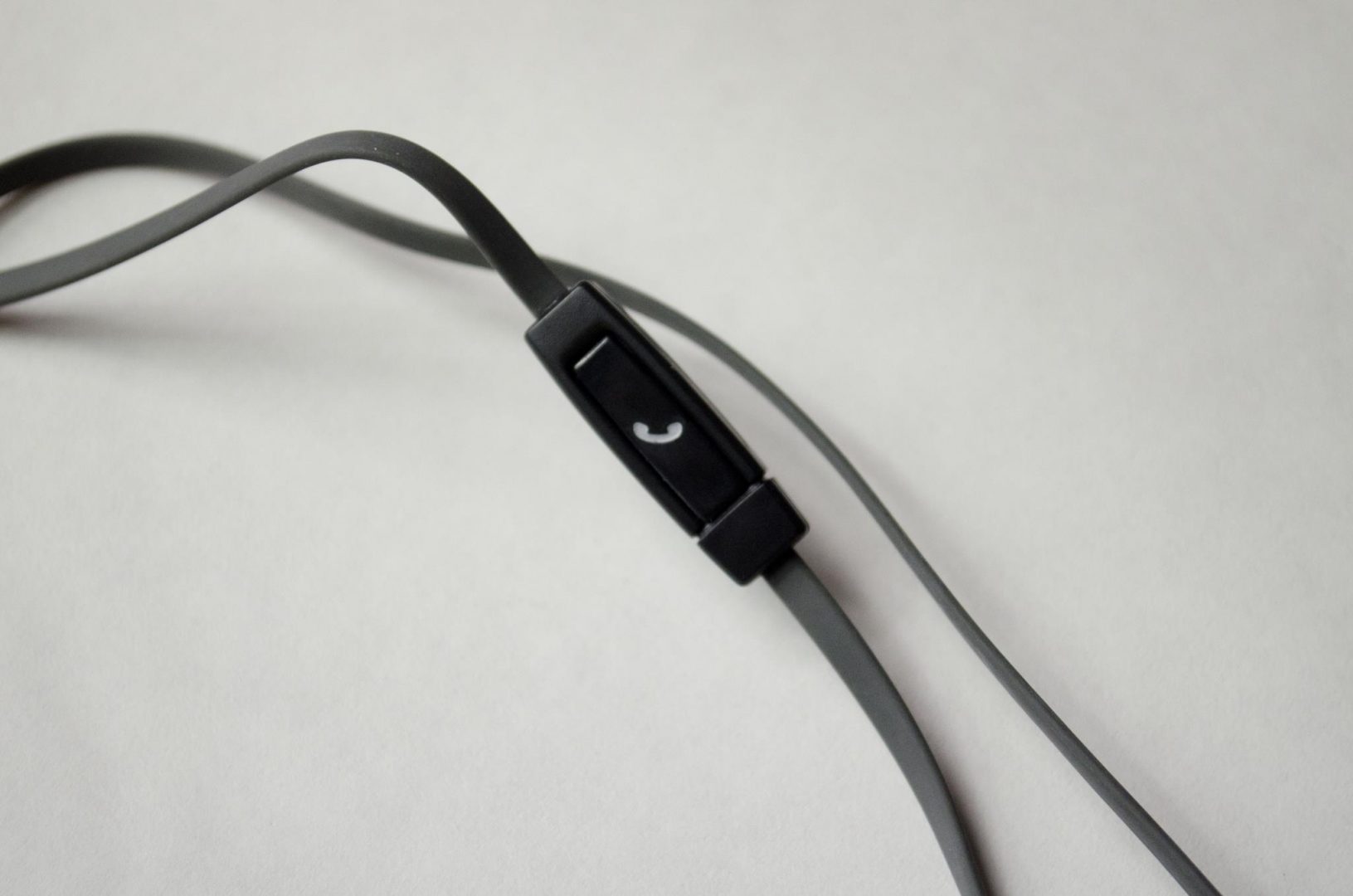 As standard, the Pitch Pro features a single 3.5mm jack. However, as we saw there is a mic/headphone splitter and even an airplane connector so you can make use of these earphones in more scenarios.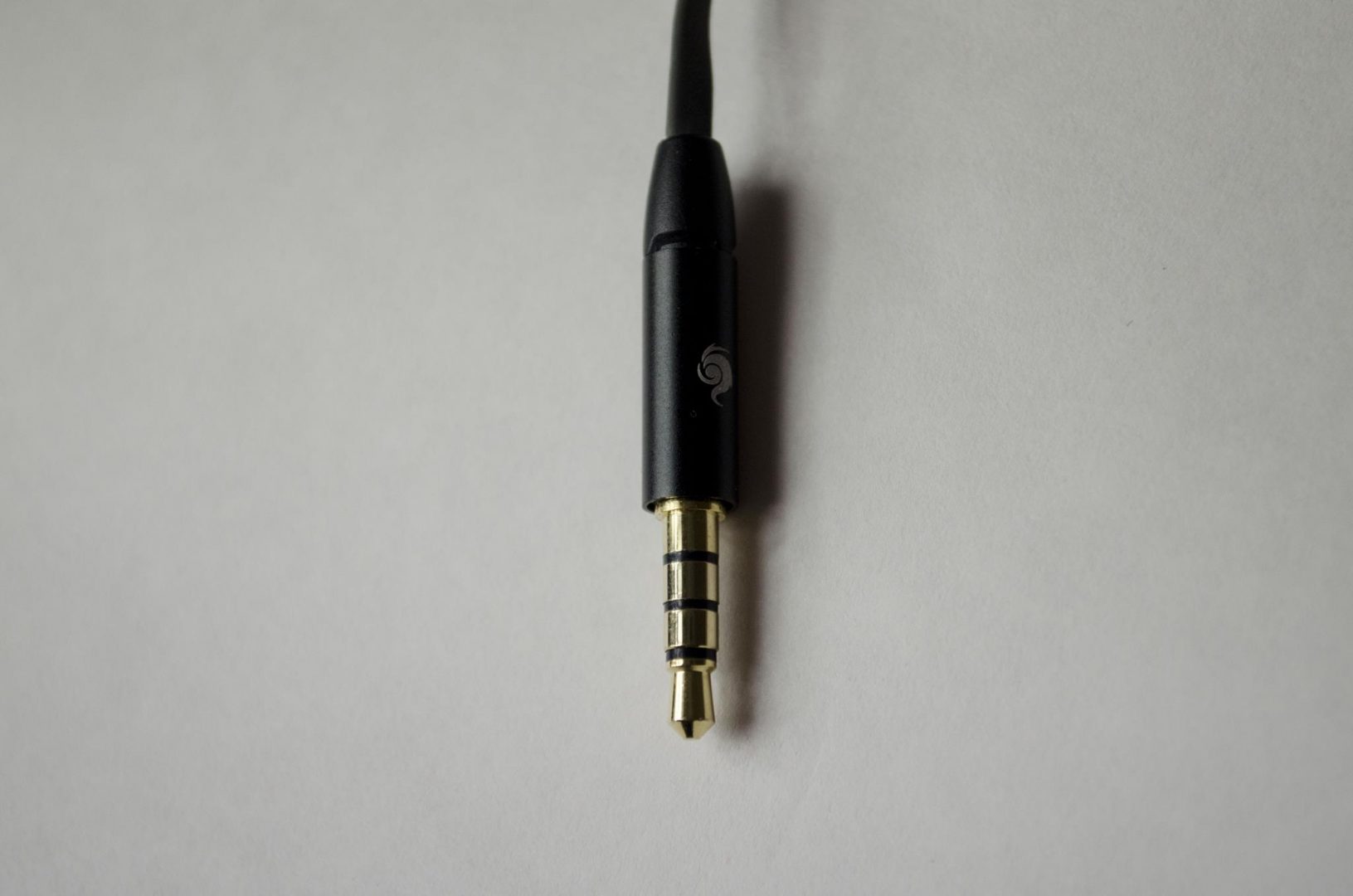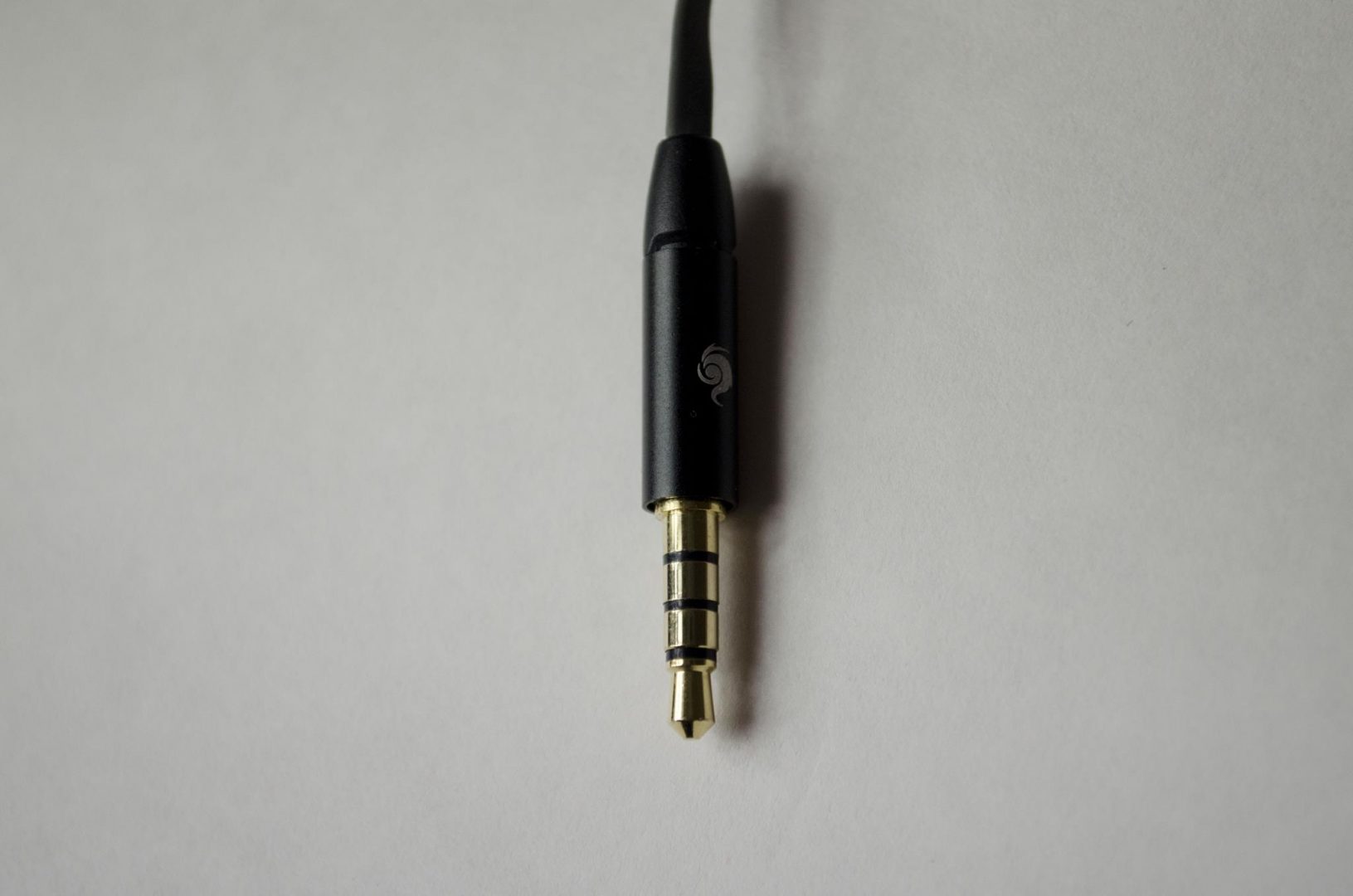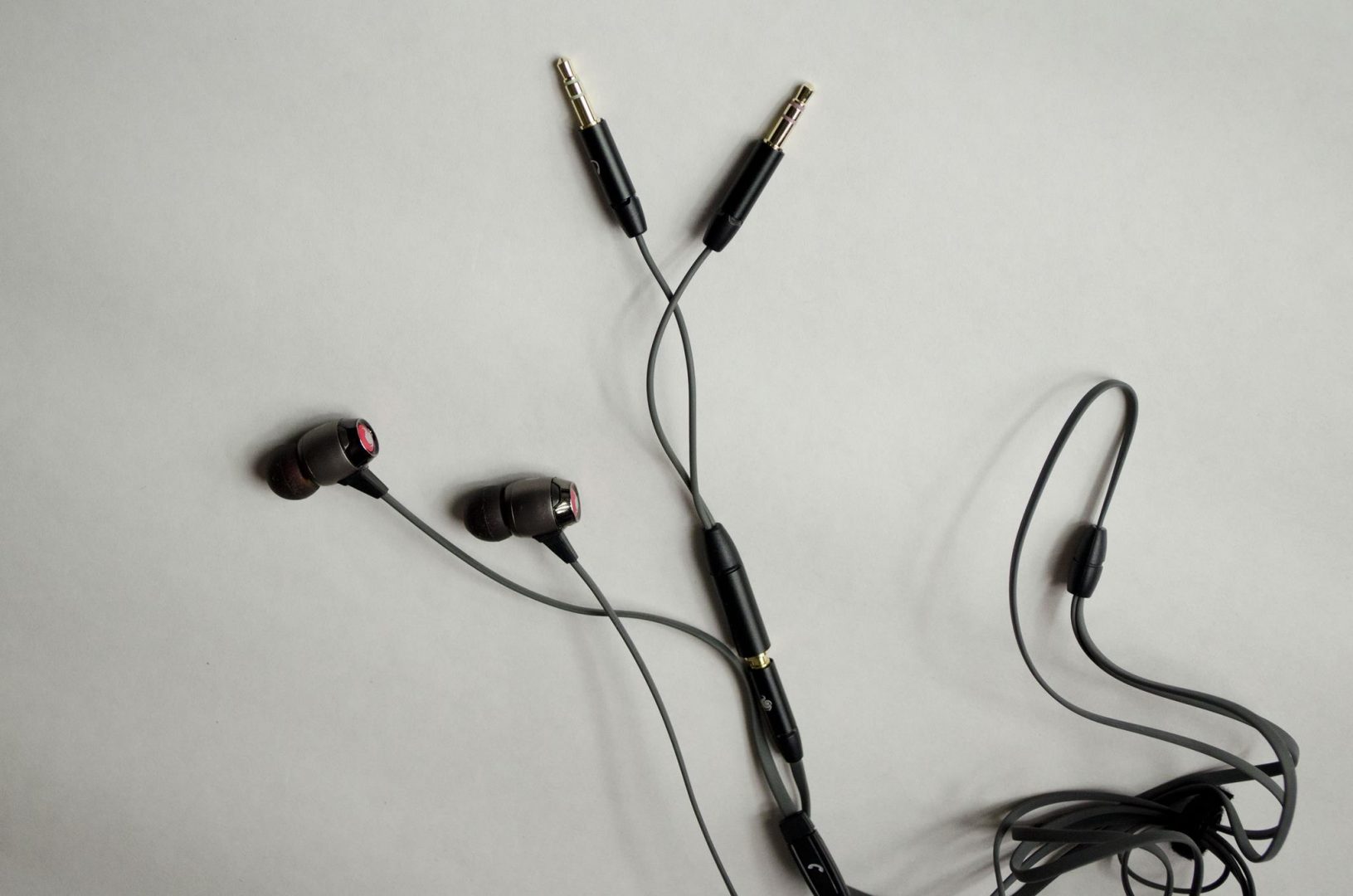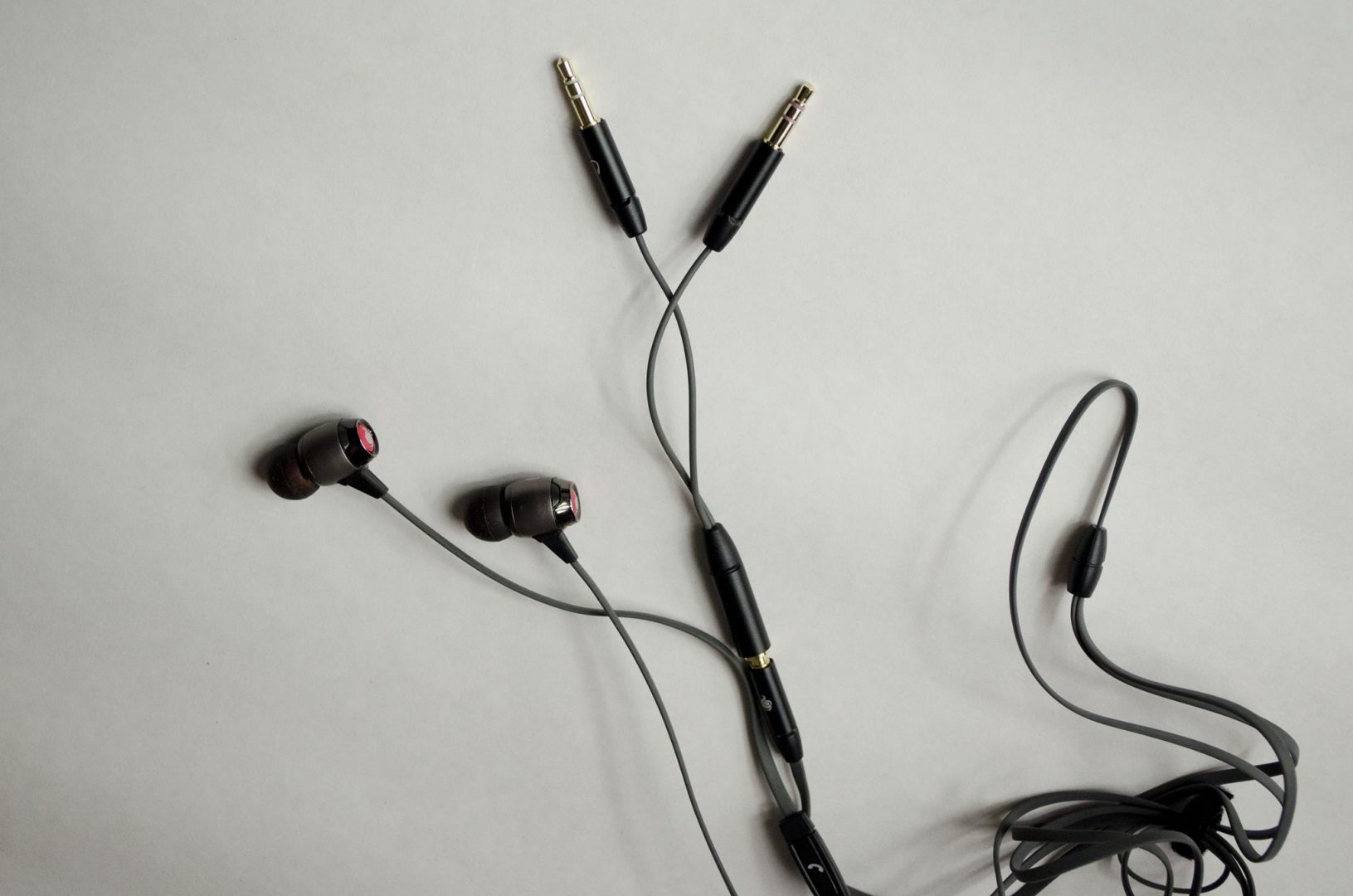 I've put the Pitch Pro earphones through their passes and am ready to give my final thoughts on them. I've used them for just over 2 weeks with both my mobile phone and PC. I've listened to music and did a bit of gaming on both mobile and PC and while I feel they are better sorted for mobile use, they weren't all bad when using them on PC.
Performance
The first thing I noticed was these are definitely not the loudest of earphones you will ever hear. The bass seems to be fairly decent in most circumstances, though they seem to be a more balanced pair of headphones. The mids and highs are also fairly decent and the clarity isn't too bad. Overall, I would say the Pitch Pro's are a pair of earphones that offer a decent all-around sound, rather that focusing on one main area. Also, they come with an OK microphone that seems to work well on both PC and mobile which is a good plus point for them.
Design
There is really only so much that can be done with in-ear headphones but Cooler Master have done a good job with their Pitch Pro earphones. They feature a nice flat cable and while it's not very long, it shouldn't get tangled up which is always a major concern when using in-ear headphones. The interchangeable ear tips also offer a bit of a noise-isolation feature which should help you listen to them at almost 100% volume without anyone else being able to hear them. One of the tings I was happy to see was the inclusion of the mic/headphone splitter and the airplane connector as this lets them be a bit more versatile and really be a decent all around pair of in-ear headphones.
Value
For £25, it's hard to go wrong with the Pitch Pro. For this type of money, you won't be expecting the world and one of the biggest concerns are going to be the quality of the product, which the Pitch Pro are composed of good quality components. As mentioned, they come with a few nice accessories which will allow you to use them in more scenarios which will allow you to get your money worth from them more easily. For the money, they are a good all-around set of earphones that don't seem to focus on one aspect too much and rather offer a good all-around performance and experience.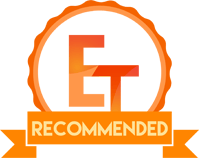 I would like to thank Cooler Master for sending in their Pitch Pro Gaming Earphones for review.