SIHOO may be a name you've not heard of before, but they are quickly making a name for themselves. They are a Chinese manufacturer of chairs and today, we are taking a look at their DORO-C300 Ergonomic Office chair. This chair has an insane amount of features and while it is our first ergonomic chair here at Enos Tech, we are loving it. There is no denying that Gaming Chairs look amazing, but Ergonomics is where it is at, especially if you spend lots of time sitting down.
The SIHOO DORO-C300 can be purchased directly from their website. It is currently on sale for $299.99.
SIHOO Doro-C300 Unboxing
So instead of showing you the actual box as it is massive, I have taken everything out. Everything comes very well packed and protected and luckily the box is heavy so you shouldn't have to worry about delivery drivers throwing it about causing damage.
When you first take things out, you may be a bit overwhelmed as there are a lot of pieces to put together. However, don't stress too much as it is fairly easy.
One thing I have not seen before is the base was not put together and instead, came with five individual legs and a central hub to connect them all to. Also, the armrests came in two pieces. Neither of these are an issue, just not something I had seen before with gaming chairs.
Of course, we also have the fice wheels, one for each leg of the base. The chair mechanism that is going to allow us to lock the chair and raise it up and down is heavy and feels sturdy.
Instead of a cheap fallen key, SIHOO have actually included an fallen key with a handle that makes assembly so much easier and is a welcome addition.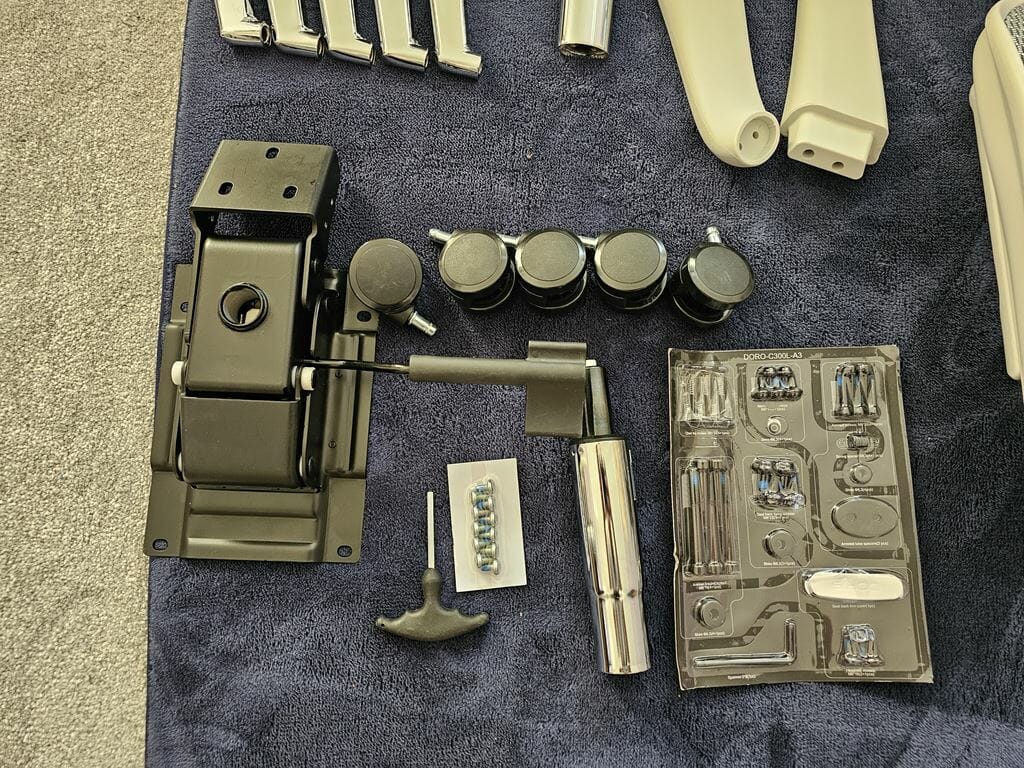 Another thing I liked was the fact that the screw pack was labeled properly, not just with the sizes of the screws but where they would go as well. This will further help to make building the Doro-C300 as easy as possible.
Building The Doro-C300
First off, you will want to find the legs and insert them into the central base. Each leg is secured with two screws.
Once you have done this, you can add the wheels. The wheels require a bit of force but you should feel them kind of pop into place once they are fully inserted.
Next, you will want to put the mechanism onto the bottom of the chair. Again, all the screws are labeled so it is easy to find the ones you need. The handle on the fallen key surely does come in handy for getting all these screws tightened a bit quicker and easier.
After the mechanism is secured to the bottom of the seat, you can put the arm rests together. Two screws will hold these together as well.
Now, you can install the gas pump into the 5-star base and set the base of the seat on top.
You will then want to slot the backrest into the base of the chair and screw it into place. After that, you can install the armrests.
When you first get the chair, this SIHOO logo will not be attached to the chair. This is so you can install the headrest and tighten it into place with the two included screws.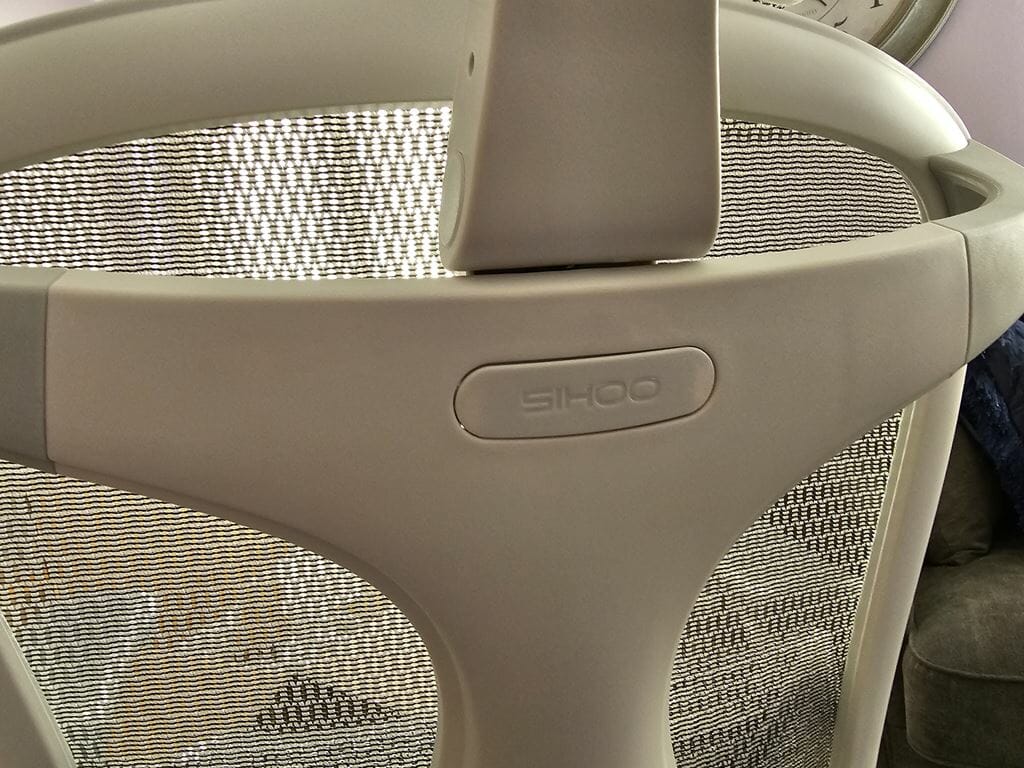 Finished Build and Features
Now, that the chair is all built, it is most certainly time to have a seat in it and try it out.
One of the first things you will likely notice when you sit in it is the lumbar support. This isn't your standard lumbar support and instead, will follow you as you move. It takes a second to get used to, but once you do you will wonder how you ever sat in a chair that didn't have one.
As you move side to side, it moves with you offering more support than standard lumbar supports/pillows as we normally see on Gaming Chairs.
The headrest is probably the best feature of the chair. When you are sitting straight up, it doesn't offer much, but as soon as you lay back to relax a bit, its range of movement is superb.
Not only can the whole headrest be moved forward or backward, but it can also be moved up or down, making it easy to find just the right position for each individual user.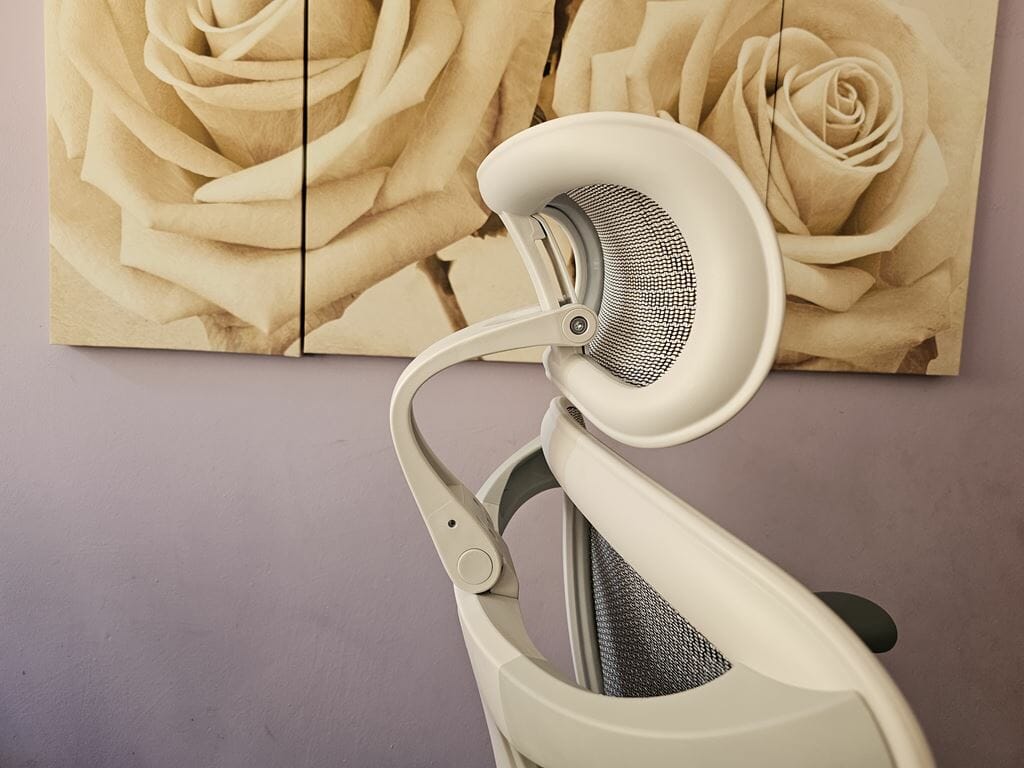 The armrests are probably the biggest letdown of the Doro-C300, unfortunately. While they offer plenty of movement, height, and positional options, they move too easily.
What starts out seeming like a good feature, quickly becomes one of the most annoying features of the chair. All of the moveable parts don't really lock into place. Instead, you have to listen to them click to find where you want them and if you go to far, they just reset back to their original position.
This is fine for most of the chairs but for the armrests is rather annoying as every time you elbow them or go to move in the chair, they change positions. Hopefully Sihoo can update the chair and offer armrests that lock into place and maybe need a button to move them, similar to what we see on gaming chairs.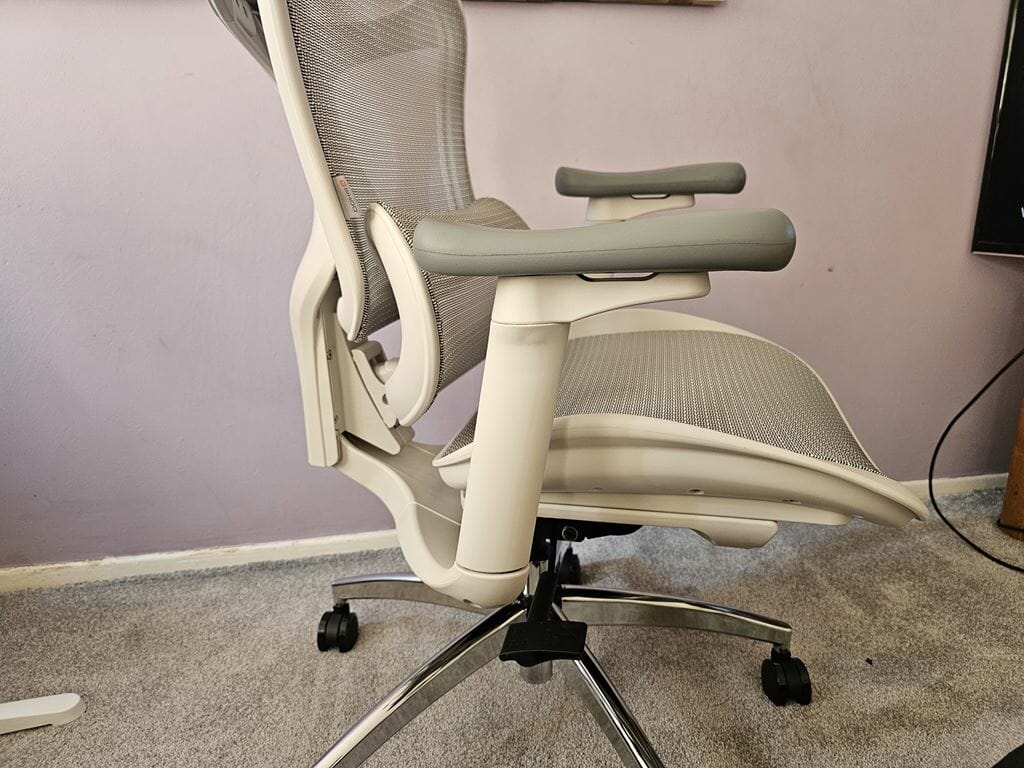 The armrest does offer an incredible amount of movement but again, until they can be locked into place they can become rather annoying.
SIHOO Doro-C300 Final Words
The SIHOO Doro-C300 is currently available in the US market for $299.99 by visiting their site HERE. However, users in the UK can currently preorder the chair for £240 if they spend £3.99 to confirm their order on the UK site HERE.
For the price, the chair does have a couple of minor issues, that depending on the individual user may or may not be a big deal. As mentioned it does take some time to get used to the lumbar support, especially if coming from a gaming chair. Also, the armrests are a bit of a pain and if they are something you use quite a bit and rely on, can be more troublesome than helpful.
Overall the chair is nice and is definitely sturdy to sit in. The ease of customizing the chair is probably one of the bigger selling points, but can also be one of the downfalls of the chair as well. Coming in at around 5'10, I find the chair comfortable and would say it suits me well. However, I can imagine for bigger users that it may not be quite as comfortable. As always, I would personally recommend sitting in the chair, or something similar to it before purchasing. I know this isn't always possible but if you can, it's well worth it.
I have been using the chair for 3-weeks now and will continue to use it on my personal PC for the time being. I do not personally, use the armrests much so the fact they are so easily moved doesn't particularly bother me, it is just something that had to be mentioned in the review. Using the chair for a good few hours a day and I must say it is much more comfortable than the cheaper office-style chair I was using previously.
If SIHOO can sort the armrests out, this chair will be a much better option. Not much is needed to be done, just something so they actually lock into place and don't move so much, that's it. Aside from this, I can recommend this chair to anyone looking for something ergonomic and in all honesty, I think I may be switching from gaming chairs to ergonomic chairs for my daily drivers.
Pros:
Comfort
Headrest
Sturdy Base
Cons:
Armrests move to easy
Nothing locks into place