Introduction
Manufacturer: Thermaltake
Product: Riing Plus 12 Radiator Fan
RGB is currently taking over the PC market and while some may hate it, companies like Thermaltake are making sure we have all the RGB goodness we could ever want. Thermaltake is a worldwide leader and manufacturer in the PC market and with their wide array of products, they are making sure we can have almost anything in RGB we could want. The great thing about RGB is if you don't want your PC to look like a unicorn on a rainbow, you can generally turn the LEDs off, or, set them to a single colour to match the rest of your build or room. You can hate on RGB all you want but there is no denying the definite impact it is currently having on the market as a whole.
Following on from our review of their Level 20VT, today, we will be taking a look at Thermaltake's Riing Plus 12 RGB Fan 3-pack. Not only do these fans feature RGB lighting as the name would suggest, they are designed specifically for radiators. The wider blades on these fans are going to allow for better static pressure which in turn, should allow for more airflow to be pushed through a radiator. While this may not make sense to all, it basically just means that more air pushed through the radiator will help to dissipate the hot air from the from the system. The fans we have on review today come in a 3-pack but the controller inside the box can actually handle up to 5x fans so don't worry if you want to add a couple more to your system.
Specification
P/N
CL-F053-PL12SW-A (Fan x3, Controller x1)
Fan Dimension
120 x 120 x 25 mm
Interface
USB 2.0 connectors (9 Pin)
System compatibility
Windows 7 / 8 / 8.1 / 10
Fan Started Voltage
9.0 V
Fan Rated Voltage
12 V & 5V
Rated Current
Fan 0.15 A (one fan)
Power Input
12V – 5.4 W . 5V – 9.5W (Fan*3)
12V – 9 W . 5V – 14.5W (Fan*5)
Fan Speed
500 ~ 1500 R.P.M
Max. Air Pressure
1.54mm-H2O
Max. Air Flow
48.34 CFM
Noise
24.7 dB-A
Bearing Type
Hydraulic Bearing
Life Expectation
40,000 hrs,25℃
Weight
730 g
Closer Look
Starting off with the packaging and it's quite busy! On the front, we can see an image of the fan alongside quite a bit of information. This information lets us know that we have the Riing Plus 12 Radiator Fan and that it is the PWM and RGB version and is controlled by software. This particular version has 12 single LEDs in it which will put out some amazing lighting effects.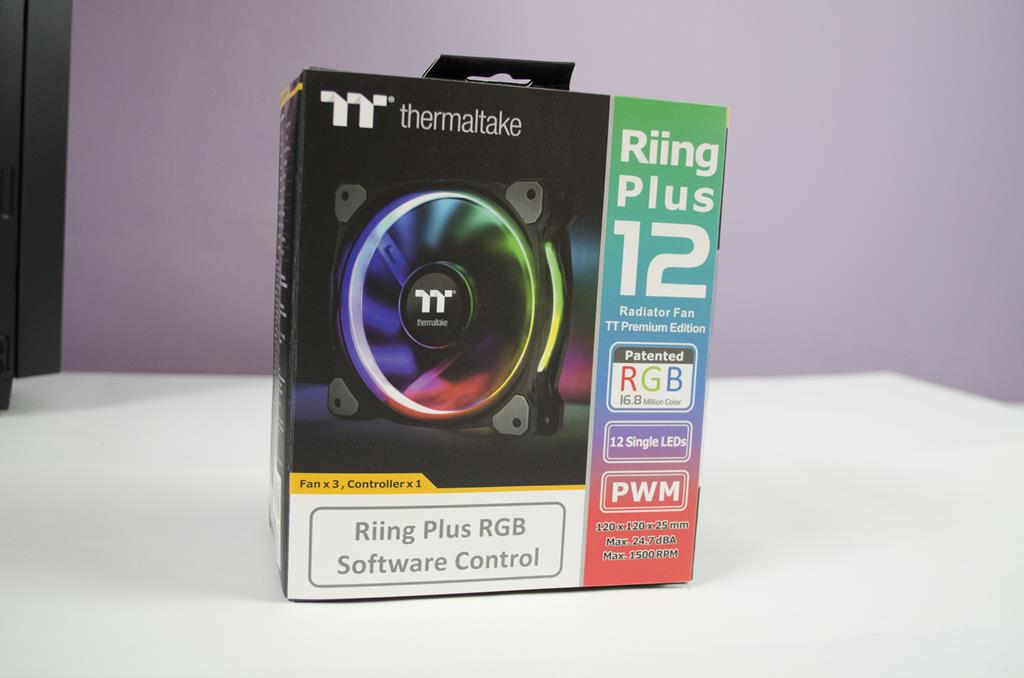 Opening up the front flap and we can get a first-hand look at the fan itself. To the left, we can see a few images of the RGB modes the Riing Plus 12 Radiator fans have to offer.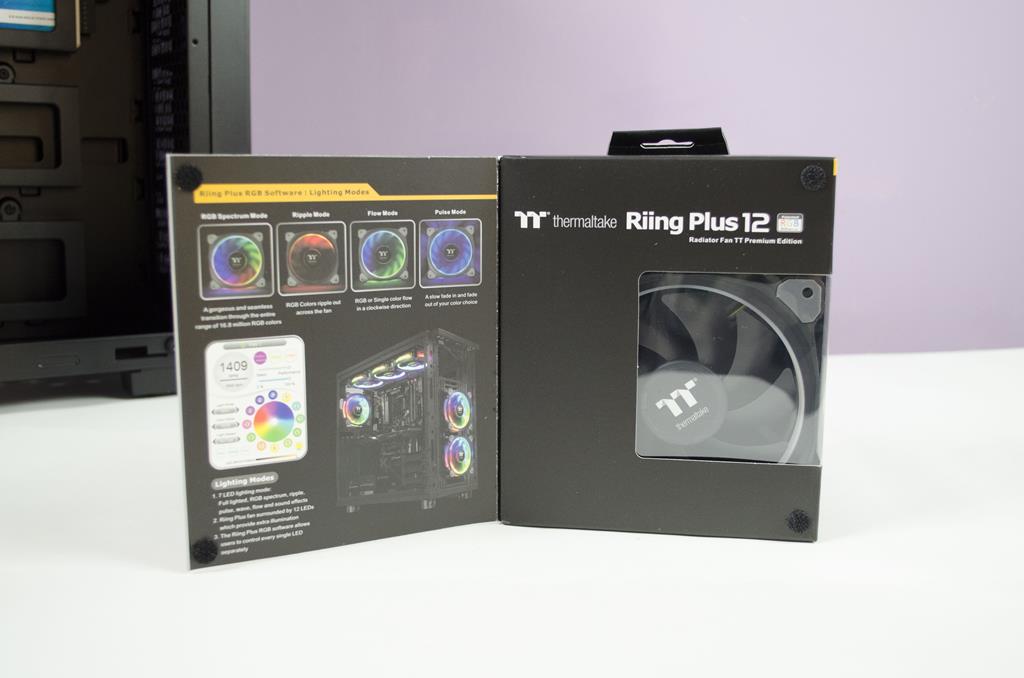 On the back of the box, we get a little look at some of the software features/functions as well as a features list for the fans themselves.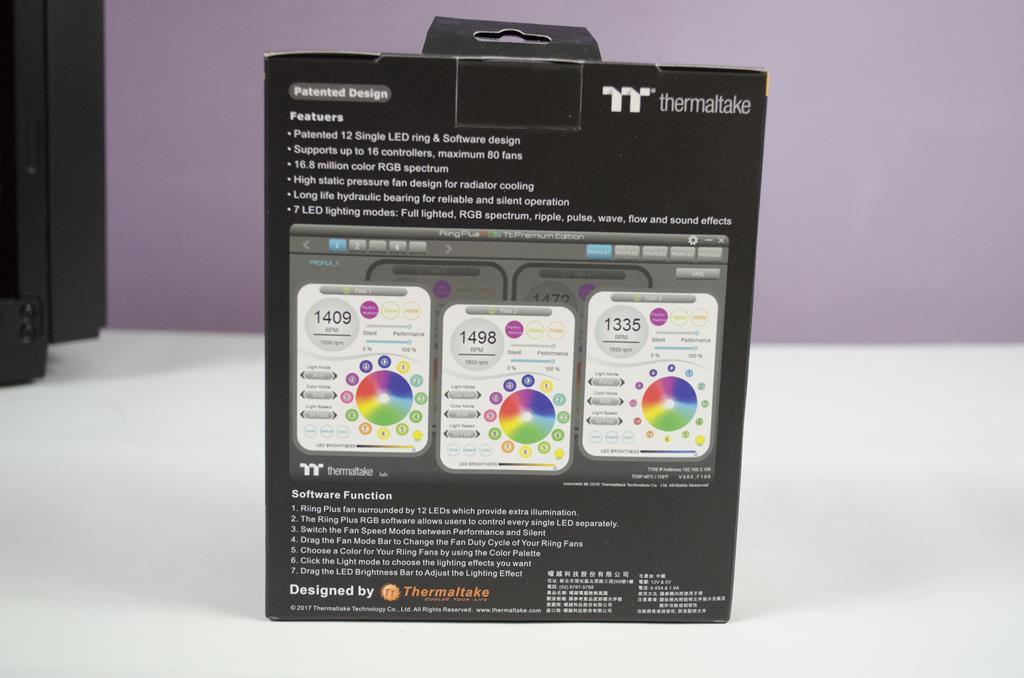 Inside the box, you will find the user manuals, 3x fans/ controller and all the wires and screws you will need to get these installed. The controller can accommodate up to 5x fans, so should you want to add another to your system you can do so without the need of adding a second controller.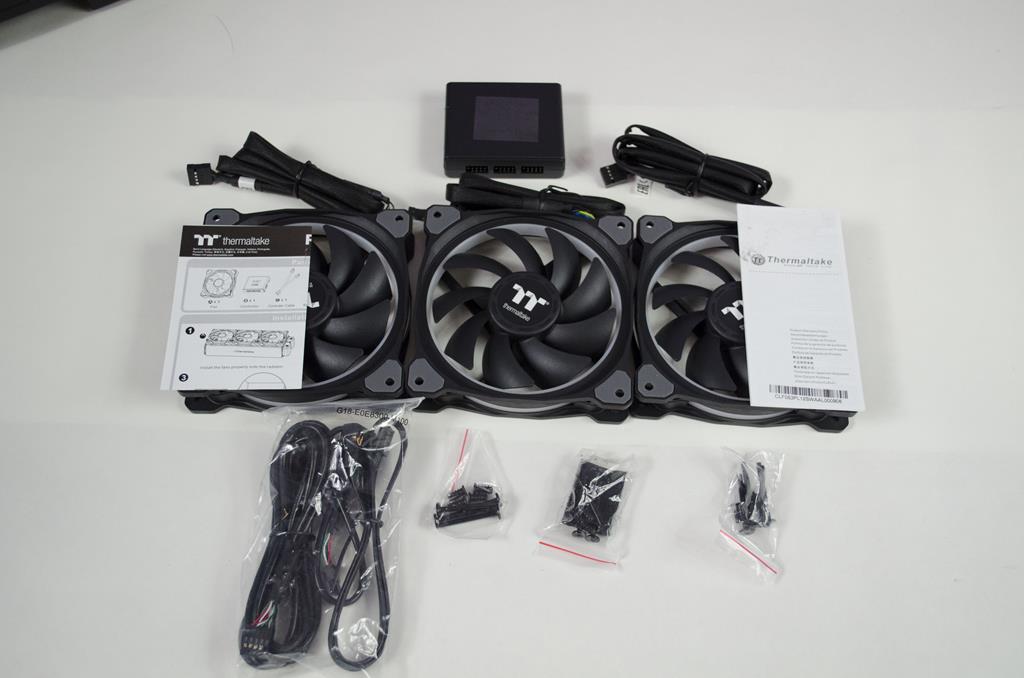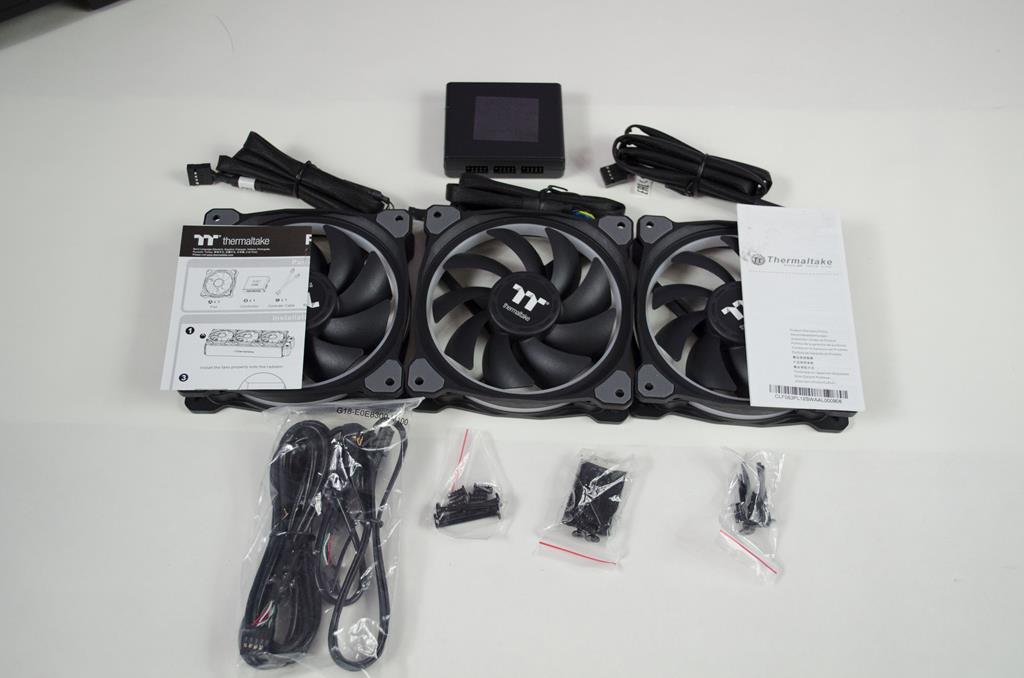 The fans look quite nice, even without the LEDs on. They feature black frames and black blades with a white TT Premium logo in the centre of the blades. You will find rubberized mounts on these fans which come pre-installed. This makes them easier to manage and also means that you shouldn't have any unwanted noise from vibrations as the rubber mounts will absorb this.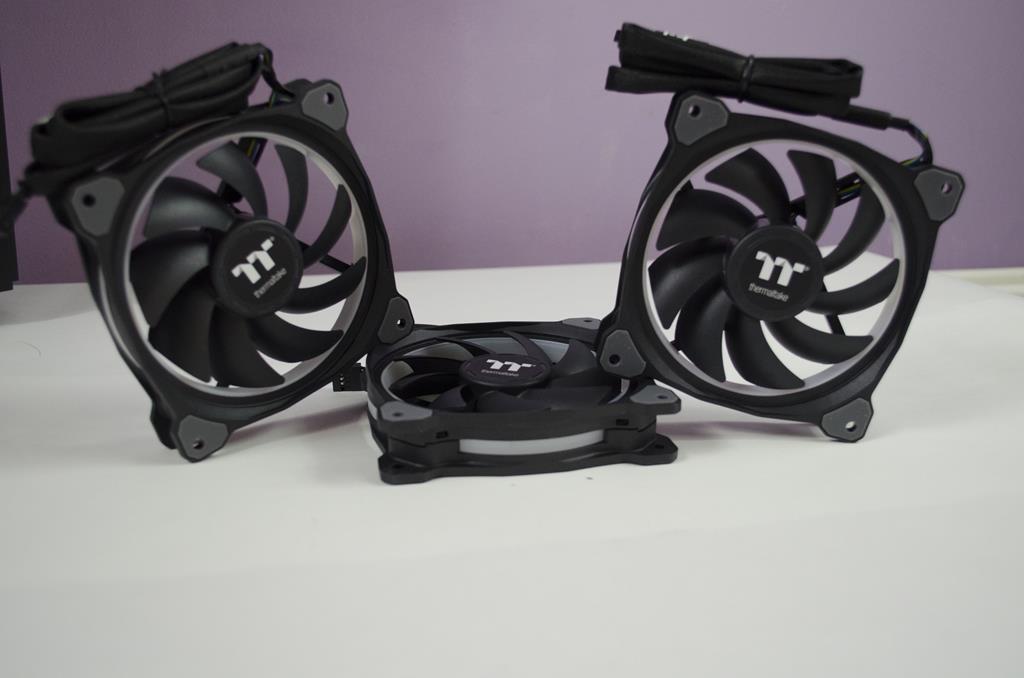 The LEDs are hidden behind a plastic ring which is where the fans most likely get their 'Riing' name from. This ring is also what lets the LEDs give off the cool effects that they do and helps the lighting to look clean and smooth.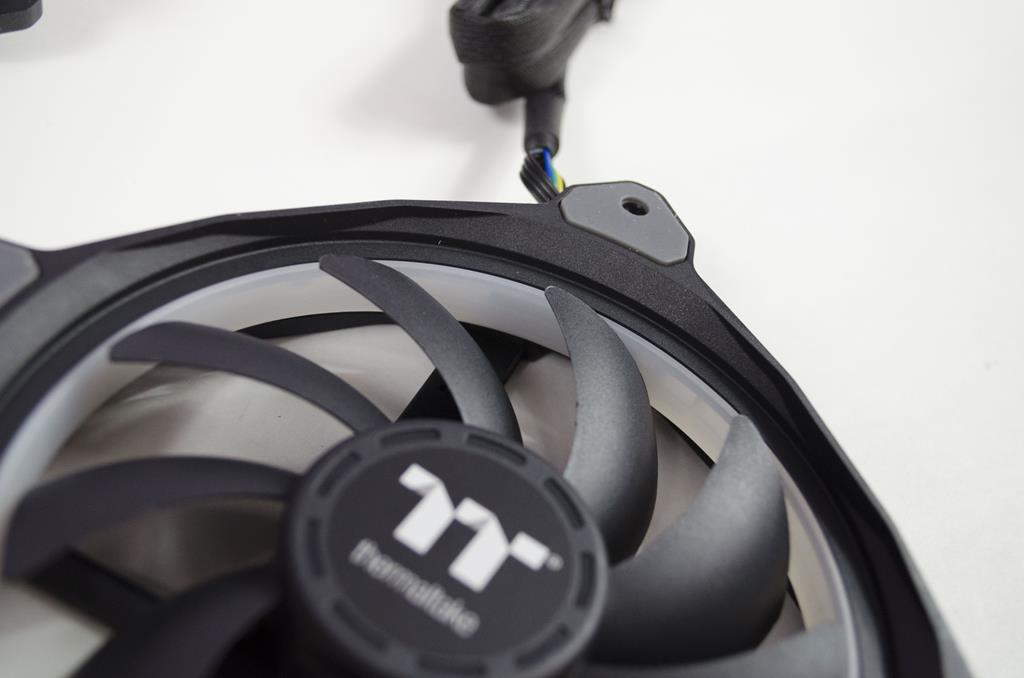 Not much going on around the back. We have another sticker which lets us know these fans are patented, use a brushless motor and are DC 12v.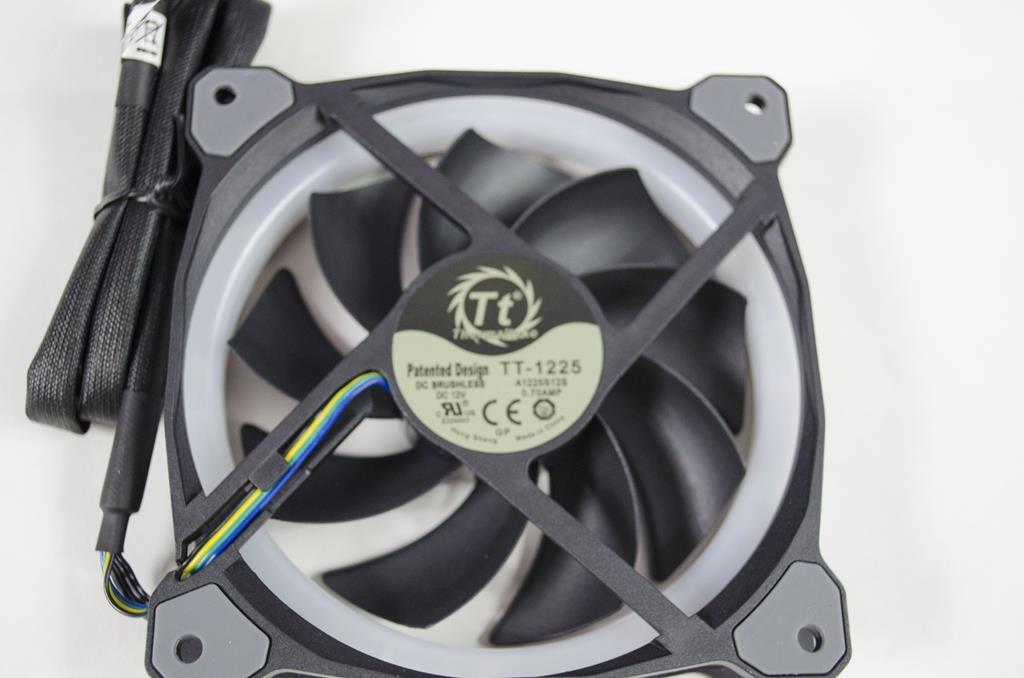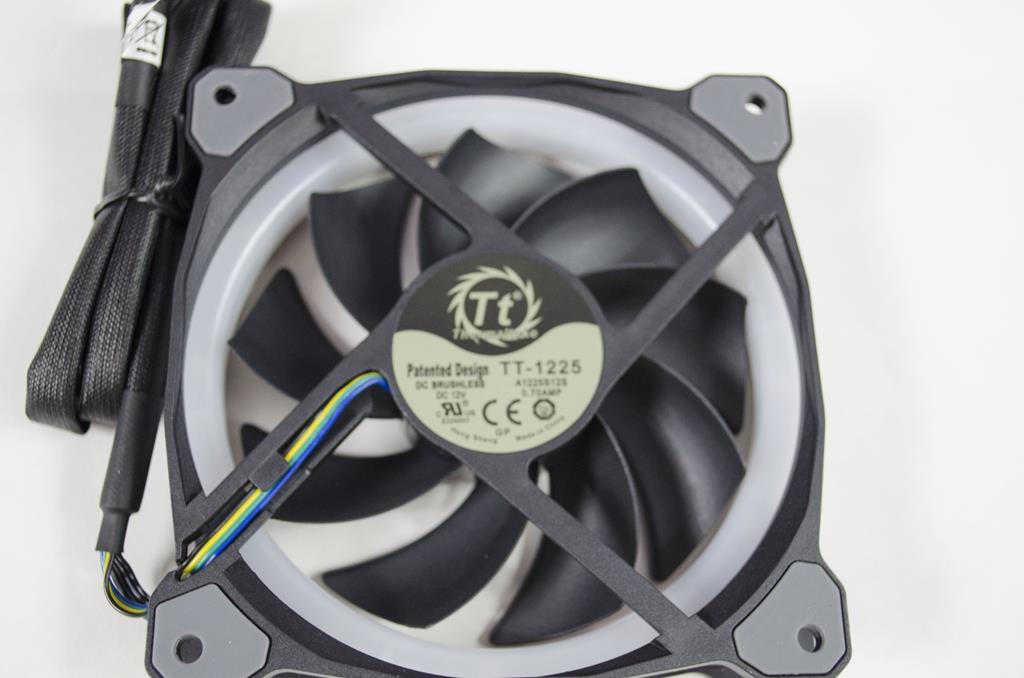 The cables are wrapped in a rubber sleeve which is almost designed to look like a custom sleeve for PSU cables. I would love to know why they chose to make this look like a normal sleeved cable and not just a flat rubber one. My guess would be that they know how well custom sleeved cables are loved and wanted to try and keeps things similar where possible.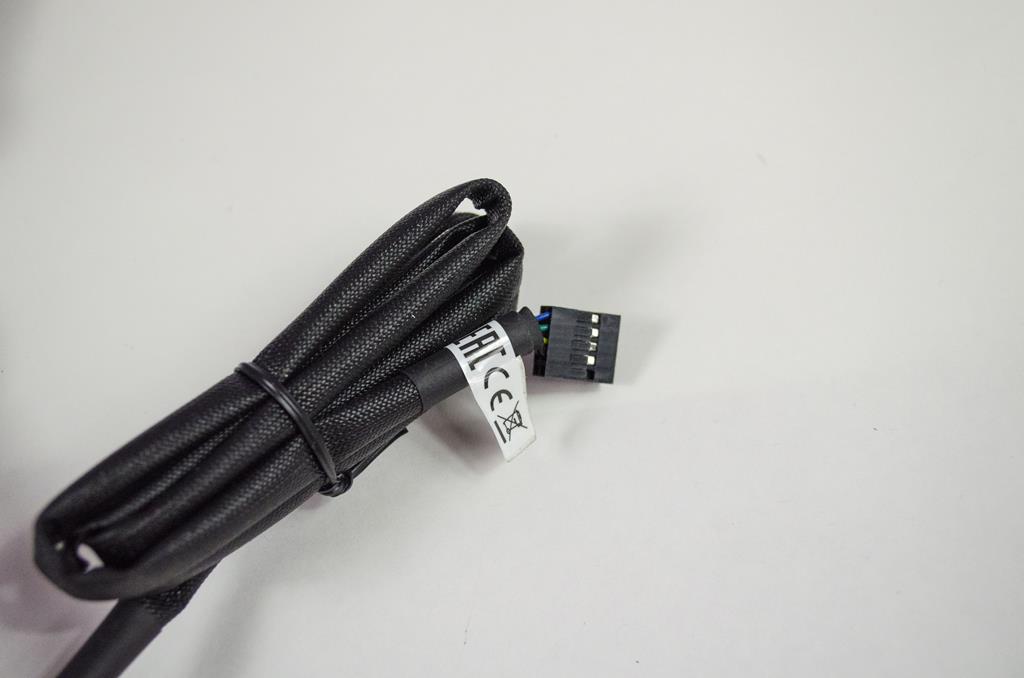 RGB Effects
Please watch the below video from Thermaltake themselves to see the RGB effects the Riing Plus 123 RGB Radiator Fans have to offer.
Final Thoughts
While I don't currently have a custom water cooling loop to test the Riing Plus RGB Radiator fans to the best of their ability, I did have a good play with them. What I did have to hand was an old 240mm radiator and I hooked the Riing fans up to that and used a piece of paper to see how much air they were pushing through. Yes, I know, this is some highly technical testing and yes, they did manage to push a good amount of airflow through the radiator. RGB aside, these fans are still very competent in what they set out to do and that is to keep your system cool.
To control these fans you can download the TT RGB PLUS Software for your PC and you can also download it on compatible Android and IOS mobile devices. There are loads of different features and modes that can be set. One of the coolest features is that you can use your voice to control these Riing fans! Yes, you heard me right. From the Riing Plus RGB Radiator Fan product page "Talking to TT RGB PLUS App is an easier, faster way to set lights for your systems. You can ask it to turn the lights on or off, switch lights modes, dim the lights, change light colors, or adjust lights speeds or fan speeds. Choose a video from below to see how it works."
Coming in at £86.99 on Amazon UK, these fans are definitely quite pricey. While they do offer good performance and come jam-packed with plenty of features, the price will ultimately be the reason why most people decide to pass on these fans. It is easy to see why they cost so much and when compared to the costs of a fully water cooled system, the price doesn't seem so bad but if you need more than three, you are looking to spend a pretty penny on the fans alone. When it all boils down to it, these fans are fantastic but they are a bit expensive even if justified.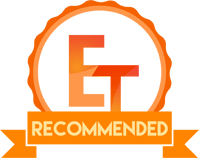 Many thanks to Thermaltake for sending in a sample of their Riing Plus 12 RGB Radiator Fans.