Las Vegas, United States-January 5th 2016-Thermaltake is proud to announce at CES 2016, the world's first patented LED RGB 256 colors designed green power supply, the Toughpower DPS G RGB 1250W, an 80 PLUS Titanium certified digitally-controlled power supply. The Toughpower DPS G RGB PSU is compatible with the Smart Power Management (SPM) Platform. This PSU series utilize the highest quality components for unbeatable performance, which is vital to the current high-end system market. Through the SPM platform (DPS G PC APP 2.0, DPS G Smart Power Management Cloud 1.0 and DPS G Mobile APP 1.0), users can monitor and record power consumption, voltage distribution, and electricity cost for advance usage.
Thermaltake is aware of its corporate social responsibility, and strives to help users save energy, reduce CO2 emissions and whereby protect the environment through the Energy Saving Report in the Smart Power Management Platform. Power usage reminders and a daily energy consumption report will be sent by email and mobile push-mail whenever the users want to monitor their system.
The new Thermaltake Toughpower DPS G RGB 1250W product is now available in the USA (Amazon/Newegg) and Germany (Alternate). Further information from Thermaltake at CES 2016 is available on our dedicated CES 2016 website: http://ces2016.thermaltake.com
In mid-December the United Nations wrapped up negotiations on the "Paris Agreement"- a climate change deal that governs global carbon dioxide measures. One of the most significant aims of this agreement is to hold the average global temperature increase to under 2℃, and to limit the temperature increase to 1.5℃. Thermaltake through the SPM Platform, fully supports the "Paris Agreement", and will work hard toward the goal of slowing global warming and creating a greener tomorrow.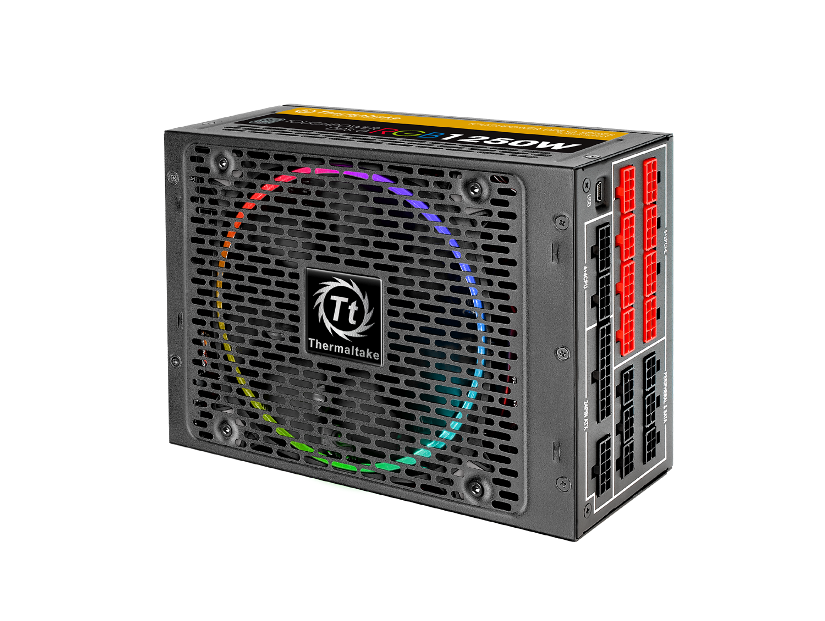 What is Smart Power Management (SPM)?
Thermaltake would like to raise the awareness on the global warming issue to all PC DIY/ PC users through Smart Power Management (SPM) platform. SPM is a cloud computing platform that tracks and analyzes PC electricity consumption, allows user to observe and learn their own energy consumption whereby alter their behaviour to achieve the goal of reducing CO2 emission together to contribute to slowing global warming.
The Latest Functions of Smart Power Management Platform:
Energy Saving Plan
Through the energy saving plan, users can set a goal for wattage consumption in a specific time period. Hence, users can save money on their electricity bill in a more efficient way. In addition,   the usage reminder and daily energy consumption report will be sent to users via email and mobile App. With the aid of this notification service, users can achieve their energy saving goal more easily by using a simpler method to reduce electricity cost, and eventually protect the earth.
Warning Alert
Beside the real-time fan and temperature monitoring systems, the voltage alert is the latest function of DPS G PC APP 2.0. When the voltage is over or under 5% of the normal voltage level, the system will automatically send you a warning message via Mobile App and PC App which alerts you about the abnormal voltage level and minimizes the chances of burning the internal components of your computer.
Features of the Thermaltake Toughpower DPS G RGB 1250W Titanium:
Quantitative Data Management
The DPS G Software enables users to monitor the system's power consumption, voltage distribution and the efficiency while engaging in different activities, such as playing games, browsing the internet, checking email, and so on. Users can also organize and save the record of personal usage pattern in detail on the platform for future review or further analysis. Each saved data can record up to six hours of usage.
Calculate the Electricity Cost
The DPS G Software digitally calculates the PC's electricity cost. This can be helpful as an expense control and management tool.
Sharing in the Cloud
The DPS G Software provides users an impeccable way to share the power usage results with their friends and colleagues through social networking sites such as Facebook, Twitter, and Weibo, or via e-mail.
Ultra-Quiet RGB Fan with Digital Fan Control
Through the DPS G Software, users can set any single fan colour they want, switching between LED ON and COLORFUL mode. The fan colour cycles through 256 colours under COLORFUL mode. LED brightness can be adjusted as well. The display colour remains unchanged even after the PC is turned off or rebooted. The software also allows users to monitor and adjust the fan speed of the built-in 140mm fan in either silent or performance mode.
Core Component: MCU
Toughpower DPS G RGB Series comes with a 32Bit Microcontroller Unit (MCU) from Microchip Technology. The 32Bit MCU is a small computer on a single integrated circuit containing a processor core, memory, and programmable input/output peripherals. MCU can digitally control devices and processes, such as automobile engine control systems and office machines.
80 PLUS Titanium-Certified with a 10 Year Warranty
Toughpower DPS G RGB 1250W Titanium Power Supply with DPS G software delivers up to 94% efficiency under real-world load conditions, promising the lowest power losses. Additionally, the Toughpower DPS G RGB 1250W Titanium has been optimized to work with Intel's new, fourth-generation Haswell processors to achieve maximum energy savings. Moreover, there is a 10 year product warranty.
Fully Modular Cable Design
Fully modular power supply offers cable selection for users while powering the system at an advantageous voltage. All new flat and sleeved cables make cable management easier, reduce clutter and increase airflow inside the chassis.
100% High Quality Japanese Capacitors
Toughpower DPS G RGB 1250W Titanium features 100% high quality Japanese brand capacitors, which greatly improve the durability and offer the highest stability and reliability.
Massive and Dedicated +12V Output
Toughpower DPS G RGB 1250W Titanium is equipped with a powerful single +12V rail. 
For more details on Thermaltake Toughpower DPS G RGB 1250W Titanium please visit:
Toughpower DPS G RGB 1250W Titanium – http://www.thermaltake.com/products-model.aspx?id=C_00002785
Smart Power Management (SPM) Platform – http://dps.thermaltake.com
SPM Introduction – http://www.thermaltake.com/products-model.aspx?id=C_00002578#tab1
SPM Guided Tours – https://dps.thermaltake.com/en/video