Introduction
Manufacturer: Thermaltake
Product: Level 20VT
Purchase: £98.99 At the time of review on Scan.co.uk
The folks over at Thermaltake have always been very kind to us at Enos Tech. Always making sure we get in some of their latest products for review which is greatly appreciated. Today, following on from the last chassis of theirs we reviewed, the View 32 Tempered Glass RGB Case, we will be taking a look at their newly anticipated Level 20VT. Thermaltake have recently released a few new Level 20 cases with the VT being the smallest one and geared towards M-ATX motherboards. All of the new Level 20 cases offer multiple tempered glass panels and have plenty of room for customization and some pretty impressive system to be built inside them. If you'd like to see more of what the Level 20 range has to offer CLICK HERE.
Thermaltake offers a wide variety of products from their PSUs such as the Smart RGB Series, Peripherals, Accessories, AIO coolers such as the Water 3.0 Series and much, much more. Thermaltake generally has products to cater for all budgets from those looking for something cheap that offers good performance to those who are looking for the more higher-end products. With their headquarters in Taiwan, Thermaltake has set up shops and distribution centres in numerous countries and are a truly global company.
Specification
Model
Level 20 VT
P/N
CA-1L2-00S1WN-00
Case Type
Micro Case
Dimension (H x W x D)
348 x 330 x 430 mm
(13.7 x 13 x 16.9 inch)
Net Weight
8.66 kg / 19.09 lb
Side Panel
4mm Tempered Glass x 4(Left & Right & Front & Top)
Color
Exterior & Interior : Black
Material
SPCC
Cooling System
Front (intake) :
200 x 200 x 30 mm fan (800rpm, 13dBA)
Drive Bays
-Accessible
-Hidden
3.5'' or 2.5" x 3 , 2.5'' x 3
Expansion Slots
5
Motherboards
6.7" x 6.7" (Mini ITX) , 9.6" x 9.6" (Micro ATX)
I/O Port
USB 3.0 x 2,USB 2.0 x 2, HD Audio x 1
PSU
Standard PS2 PSU (optional)
Fan Support
Front:
2 x 120mm, 2 x 140mm, 1 x 200mm
Top:
4 x 120mm, 2 x 140mm
Rear:
1 x 120mm, 1 x 140mm
Bottom:
2 x 120mm
Radiator Support
Front:
1 x 240mm, 1 x 140mm, 1 x 180mm(200mm series)
Top:
2 x 240mm, 1 x 280mm, 1 x 180mm(200mm series)
Rear:
1 x 120mm
Clearance
CPU cooler height limitation: 185mm
VGA length limitation: 350mm
PSU length limitation: 200mm (With Bottom Fan)
Closer Look
When they said this bad boy comes with 4x tempered glass (TG) panels, they damn sure meant it! The 4x TG panels are full-sized for what this case is and allow you to pretty much see in the case from any angle. This case is going to allow users to show off some amazing builds and I can't wait to see what people come up with.
The front IO is on the top side of the case and from left to right, features the audio inputs, 2x USB 3.0, 2x USB 2.0 and the reset and power buttons. It's unfortunate that we still live in a day where not everyone has access to USB 3.0 headers on their motherboard and is easy to understand why Thermaltake has also decided to include the 2.0 ports. The power button is rather large so you hopefully won't run into any issue turning your beloved PC on when the time comes!
The 2x side TG panels are also basically full-sized and will allow you to see every component in the case. One thing I found really cool about this case is the fact that all 4x TG panels are easily removed so you can access it from all angles when building. While this may not sound all that helpful it will definitely help when it comes time to route those cables. To take the side panels off, there are 2x thumbscrews on the backside of the case per panel.
The back of the case is the only outside panel that doesn't come off. That's right, there are 6x sides to this case, 5x of which come off and 4x of those featured tempered glass panels. On the back, alongside our standard motherboard and PSU cutouts, we have 5x PCI bays and a grommeted hole that will allow users to pass cables/tubes from the inside of the case to the outside. Why has Thermaltake put this here? Well, I reckon we shall soon find out when the builds in these bad boys start rolling in.
The underside of the case has a nice dust filter over the ventilated area to allow the PSU to grab air in to keep itself cool. There is also a 2nd and a much larger ventilated area which will helpfully allow the rest of the system to pull in some air to cool things down. The cool thing about the bottom of the case is that this panel is also removable and when it comes to building in this system, especially installing the PSU and routing cables, you will spend a lot of time with this panel off! Sounded like crazy talk to me as well until I just left it off and got to work and it made my life so much easier.
While the front TG panel does, in fact, come off, it still leaves a standard panel with a massive preinstalled 200mm intake fan. This fan will pull in some pretty impressive airflow and the 200mm size of it will allow it remain fairly quiet while doing so. However, should you want to change it, you can install 2x 120mm or 140mm fans in its place.
Working our way to the inside and this beauty is like a blank canvas. There is so much space for a wide variety of products and cooling gear it's hard to believe the Level 20VT is designed to house a M-ATX motherboard. As the motherboard will be laying down inside the case, this also means that the GPU will be on display in a vertical position without the need for a special mount. Depending on the GPU used, it may be the main focal point on that side of the case.
Those who still like to utilize 3.5″ will be happy to know that there is 3x of them hidden under the motherboard tray in the bottom chamber. These bays can also be used to have 2.5″ drives as well so no need to worry there.
Speaking of 2.5″ drives, on the other side of the case are 3x caddies designed specifically to house 2.5″ drive bays. This will be a great way for you to show off the SSDs in your system and really make them stand out! These caddies are also easily removable without causing any eyesores so if you can't fill them all up, just take them out and store them away until you can.
The top of the case features some pretty unique and cool brackets. While these can be removed, they will also allow you to install a nice pair of radiators or a host of fans, depending on your needs. Either way, this is going to allow for the end user to make sure their Level 20VT stays plenty cool.
Final Build
As mentioned, you will spend a good amount of time with the bottom panel off. Not only is this needed so you can install the PSU, you will likely also find it much easier to route the PSU cables to where they need to go this way as it offers a bit more room. Personally, I left this off the whole time I was building and only put it back on once the build was complete.
I had to use an ITX board for this review and as you can see, even so, the GPU pretty much takes up that whole side of the case. Imagine if you have a M-ATX board and the GPU was right up against the TG panel, that would look absolutely amazing.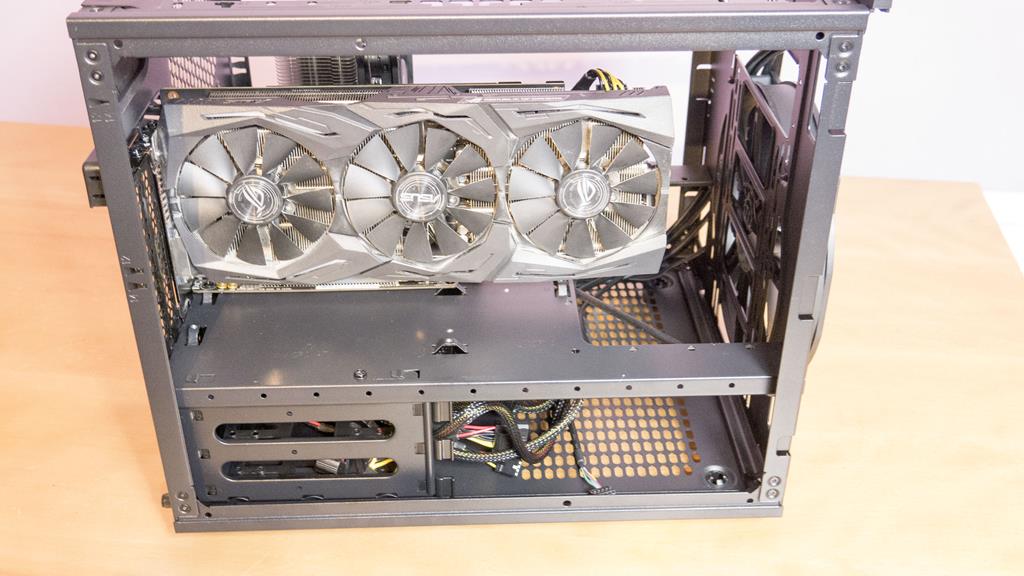 Taking a look in from the other side and due to the motherboard used, this is where all the cables have ended up. One thing I am thankful for is while this is designed for M-ATX motherboard, they have thought about those using an ITX board and have included cable routing options for the ITX users as well.
Overall, building in the case was rather easy and it would be the same even if we would've had a M-ATX board. Thermaltake have done a good job at designing this case and there is more than enough room for most anything you should need. Users who are just planning on using an IAO or standard air cooler will find there's much more room then one may think. This case is designed with full-on water cooling loops in mind and it shows. The Level 20VT has a lot to offer and is surely fun to build in, especially if you've got the hardware to fill it up.
Final Thoughts
Performance and Design
What is there to say really? This case was well-thought out and has a lot to offer. The amount of room inside is absolutely amazing and thanks to it dual chamber design, you will be able to hide most of the cables and others bits you may not want to have on view. This will leave you with a very clean looking build showcasing all your hardware. Those looking to go the water cooling route will be happy to know that you can fit a nice pair of 240mm/280mm radiators on the top. This should provide sufficient cooling for most components that will be installed but should it not, you can install another radiator onto the front and/or back for the extra cooling performance. Or, maybe you'd just prefer to go all out with fans? Well then, you can fit a total of 7x fans in this beast for maximum airflow and RGB! Cooling aside, there is also room for up to 3x 3.5″ HDD and 3x 2.5″ SSD or a total of 6x 2.5″ SSDs which should see most peoples storage needs to be met. Also, the location of the drive bays/caddies with help of the dual chamber design means that not only can you show off just the components you want but the airflow inside the case should be rather good.
Value
Coming in just under £100 here in the U.K. at the time of review, the Level 20VT is a very good M-ATX case. For the price you are getting a case with plenty of room and style and should you be looking to go with a full on custom water cooling loop, this case is chalk full of room and brackets to allow you to make the most of it. Let us also remember that it comes with 5x removable panel which includes the bottom panel and that 4x of those features tempered glass. Tempered glass is currently taking the market by storm and it's easy to see why when we have Thermaltake offering us cases like the Level 20VT. All in all, it'd definitely worth the money if this is the style of case you're after.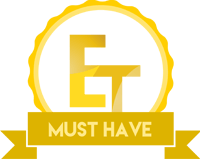 Many thanks to Thermaltake for sending in a sample of their Level 20VT for this review.