Introduction
Thermaltake's TOUGHFAN 14 Pro is set to be the new big boy on the block! These are high static pressure PWM fans so there are going to be best utilized when mounted on a radiator. However, if you are trying to keep all the same fans in your build, they will still move plenty of air so can be used almost anywhere you would need them.
As we have seen Thermaltake is stepping things up and offering more quality products, especially when it comes to the PC cooling side of things. In today's review, we are going to put these fans to the test and see just what they are made of. Our testing procedures need some updating, but this will have to come in the future. For now, if nothing else our testing methodology will remain consistent until we can get the tools we need. So, let's get into it and see what these TOUGHFAN 14 Pros have to offer!
Pricing and Availability
The TOUGHFAN 14 Pro can currently be purchased for £27.98 from SCAN UK. Click Here to go to the SCAN UK Website.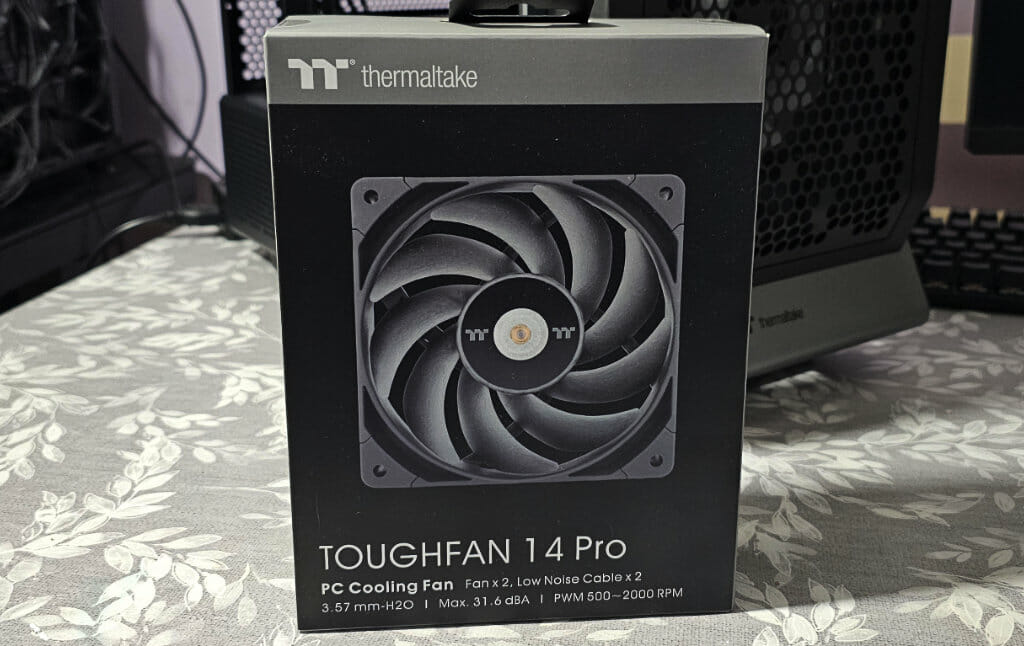 TOUGHFAN 14 Pro Specifications
Accessories
Along with the fans, Thermaltake has included a low-noise cable and a pack of screws for each fan. You will notice that each bag of screws has four radiator mounting screws and four case mounting screws.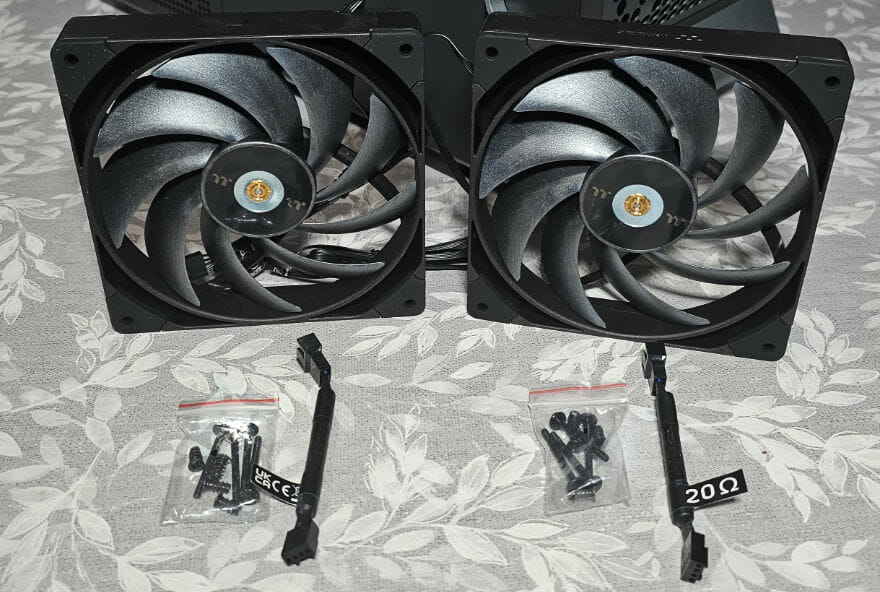 Thermaltake TOUGHFAN 14 Pro Closer Look
The TOUGHFAN 14 Pro has a rugged industrial look to it which is quite fitting. Thermaltake has put a lot of time into the design of this fan and it shows. From its square frame to the newly engineered fan blades.
The 9 fan blades have been extended and widened to offer better airflow and pressure. As they call it, the extreme-tight tip clearance means there is only a 6mm gap between the fan blades and the frame which is said to reduce airflow leakage while also improving efficiency.
The TOUGHFAN 14 Pro features a 2nd generation hydraulic bearing which has a new shaft design. The new shaft is designed to help preserve lubricant on both sides and reduce noise while being used.
Around to the back of the fan and nothing much to see here. We can see this is a DC Brushless fan that operates at 12v at 0.70AMP.
This will likely seem hilarious to some, but for those who may be building their first PC, this could be the deciding factor in making sure the fan is facing the right direction.
These two arrows are going to let you know which way the fan blades spin and which way the air will flow. Again, most will know this but if it's your first time, this could be helpful.
Thermaltake has implemented an anti-vibration mounting system on their TOUGHFAN 14 Pros. This will dampen the vibration of the fan which will allow it to spin at a higher RPM without compromising noise levels.
Thermaltake has gone and added its logo to three sides of the TOUGHFAN 14 Pro. This will likely go unnoticed on most builds but if you have a top-mounted rad with these fans on it, you may be able to see it. A small bit of branding never hurts!

Testing
So, our testing methodology isn't the best and it will be getting updated very shortly so we can better test fans out and have more accurate results.
However, we did the best with what we had on hand! For our testing, we placed the Anemometer 15CM away from the dan and the Decibel Meter 30CM away.
Doing this in an open area is not the best but at least this way we can consistently test fans and compare the results.
We will soon be looking into getting a wind tunnel for fan testing. We will also be asking for some radiators so we can better test the high static pressure fans as well similar to how they would be used.
For this review, we tested the fans at three speeds, 0%(500RPM), 50%(1000RPM), and 100%(2000RPM), and measured their dB and CFM. This should give us a decent starting place when it comes to comparing the TOUGHFAN 14 Pro VS other fans in the future.
At 0%(500RPM) we had a CFM of TBC and a dB of 33.6.
At 50%(1000RPM) we had a CFM of TBC and a dB of 35.5.
at 100%(2000RPM) we had a CFM of TBC and a dB of 52.3.
Please take these results with a pinch of salt as they are a bit higher than the listed results from Thermaltake. Of course, this would be due to our testing environment being much different than there's. As mentioned, this is just the start so we have a clear setup for comparing other fans to these results shortly.
One thing I can say is that the fans were near inaudible at both 500 and 1000RPM and it wasn't until the 2000RPM kicked in that I could hear them!
* Full disclosure, I may have had the wrong CFM settings on my Anemometer which is why the numbers are so high. Will get this sorted ASAP. As such, the results have been removed and new ones will be updated shortly. 
Conclusion
Performance
It is hard to fault the TOUGHFAN 14 Pro at all. The performance it has to offer is amazing. While our testing results aren't the best, using the fans in person I got a really good feel for what they had to offer. They are nice and quiet until you get to well over 50% speed and at that point, you would be more concerned about the cooling performance over any noise output.
Design
Thermaltake has stepped their game up with this. They have tried to cover all the bases and it shows. From the noise-dampening mounts to the improved structure and frame, these fans are designed to be top-notch. The 2nd generation hydraulic bearing looks amazing and not only does it help to reduce noise, it should also increase the longevity of the TOUGHFAN 14 Pro which is a great feature to see.
Value
I do hate this part of the review! Value is susceptible to your circumstances and needs. Some may think that paying £27.98 for a single fan is a joke and way too expensive. However, if you are new to PC building and only just joining the market, this is more the norm these days. For what these fans have to offer, they are currently priced right around where they should be. I will also say this, they aren't the most expensive fans out there, in fact far from it so just keep that in mind.