Introduction
Tt eSPORTS has come a long way in the last few years. I have been working with them for around 4 years and it's quite amazing to see where they are at these days. Not only do they offer some great budget-related gaming peripherals, they are starting some top of the line products as well. Previously, I have reviewed their GT Comfort Gaming Chair.  The GT Comfort won our must have award and still to this day, is one of the better chairs we have seen here at Enos Tech. Today, we will be taking a look at the Shock Pro gaming headset which features some cool RGB effects at a more than affordable price! Tt eSPORTS have also stated that this headset is compatible with PC, PS4, Xbox One and Mobile Devices! This is great to see from a headset as it just means you can have one headset for all your needs instead of need multiple. However, as you can imagine I will be testing it out PC.
The Shock Pro RGB features 40mm Neodymium drivers which are currently very popular in the market. Recently, I have had a few headsets come through with 40mm Neodymium drivers which begs to ask, can one of them really be better than the others? Well, the answer is quite subjective and also comes down to the other features and price that they offer. Tt eSPORTS knows what it takes to make it in this market and they have hit us with a very attractive price point on the Shock Pro RGB. Will it be enough though to make them a worthy purchase? Well, let's have a look at find out for ourselves!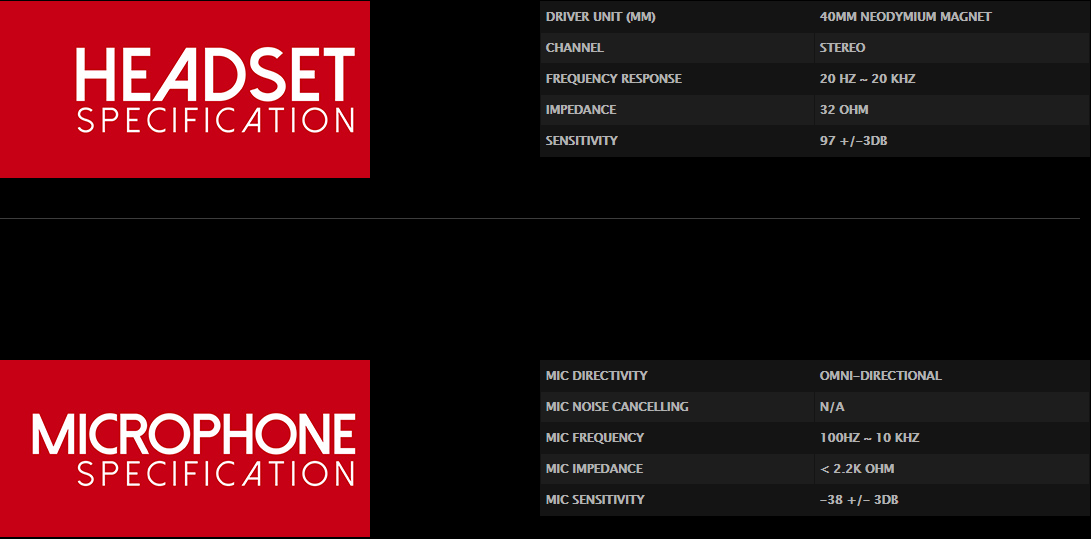 Closer Look
Starting off with the box and on the front, we can see a nice image of the colours offered by the RGB control on the Shock Pro headset. We can also see a list of compatible devices which is most of them of any importance these days!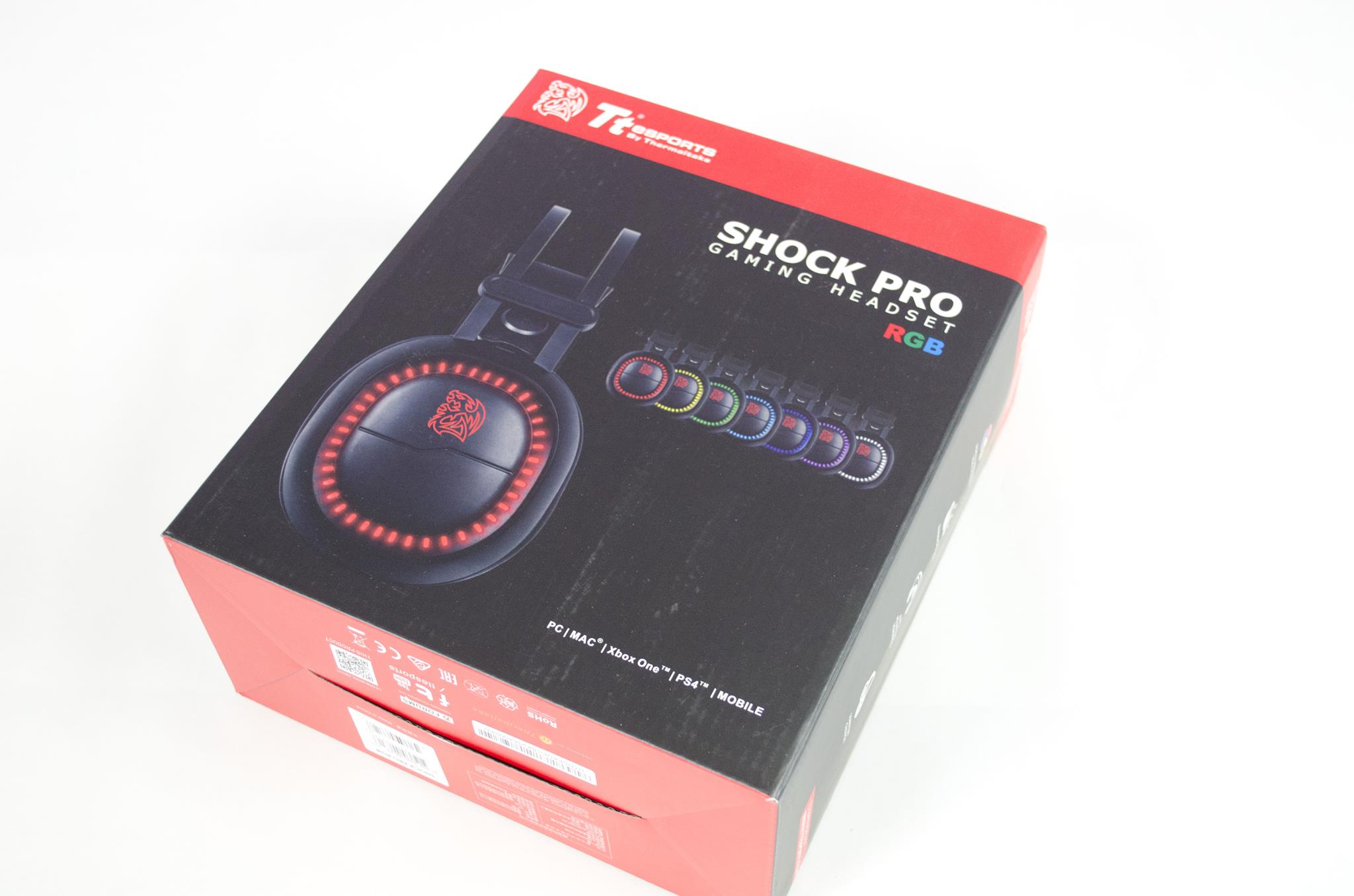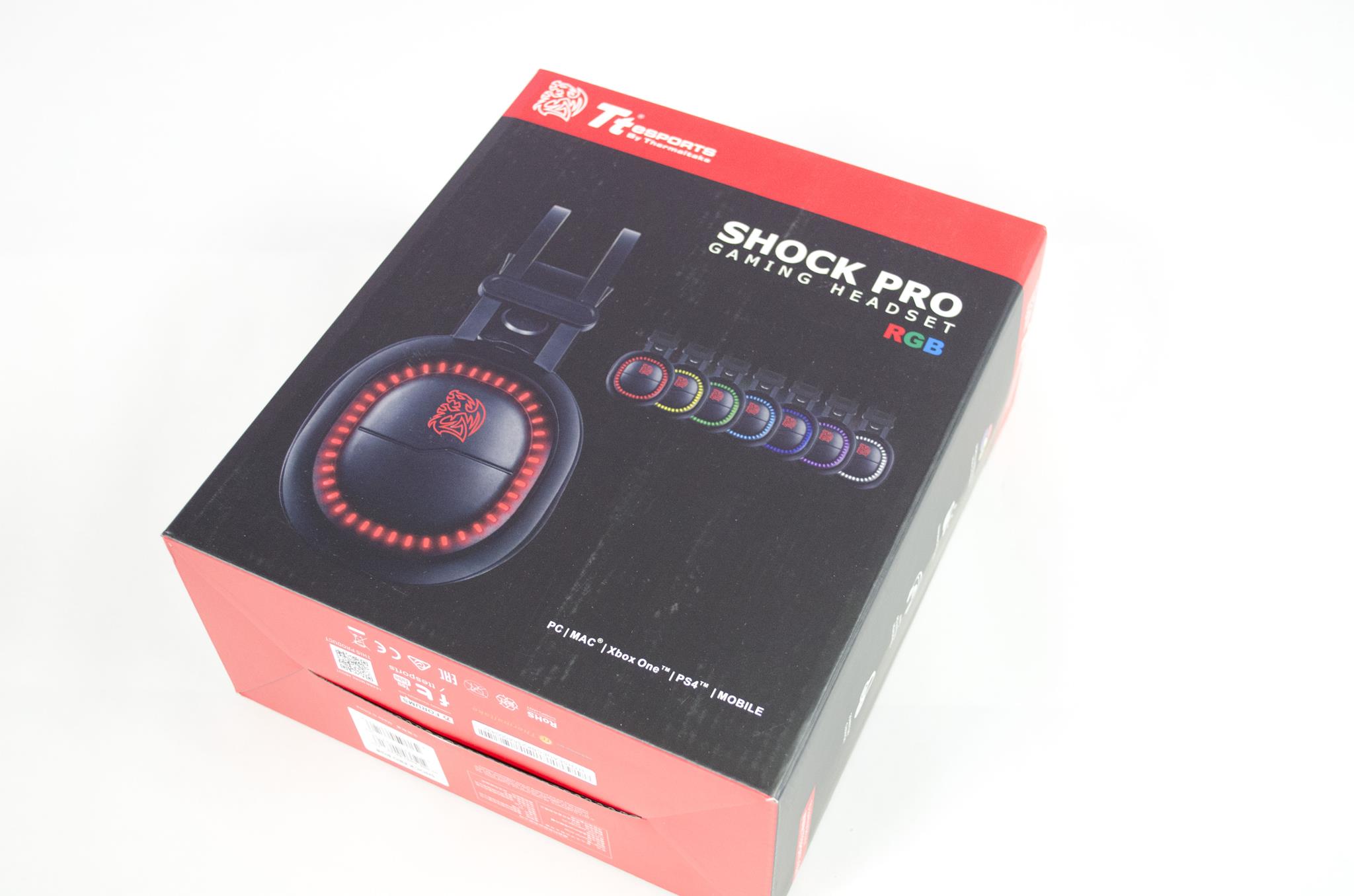 On the back of the box is where all the technical information is. Here we can see the headphone and microphone specs alongside some of the features of the headset itself. The left earcup has a lot going on, it features the pivotable and hideable microphone on the front and on the back are the RGB LED control button, microphone mute switch and volume control. The picture on the back also lets us see this is a very lightweight headset which should hopefully provide hours of comfort.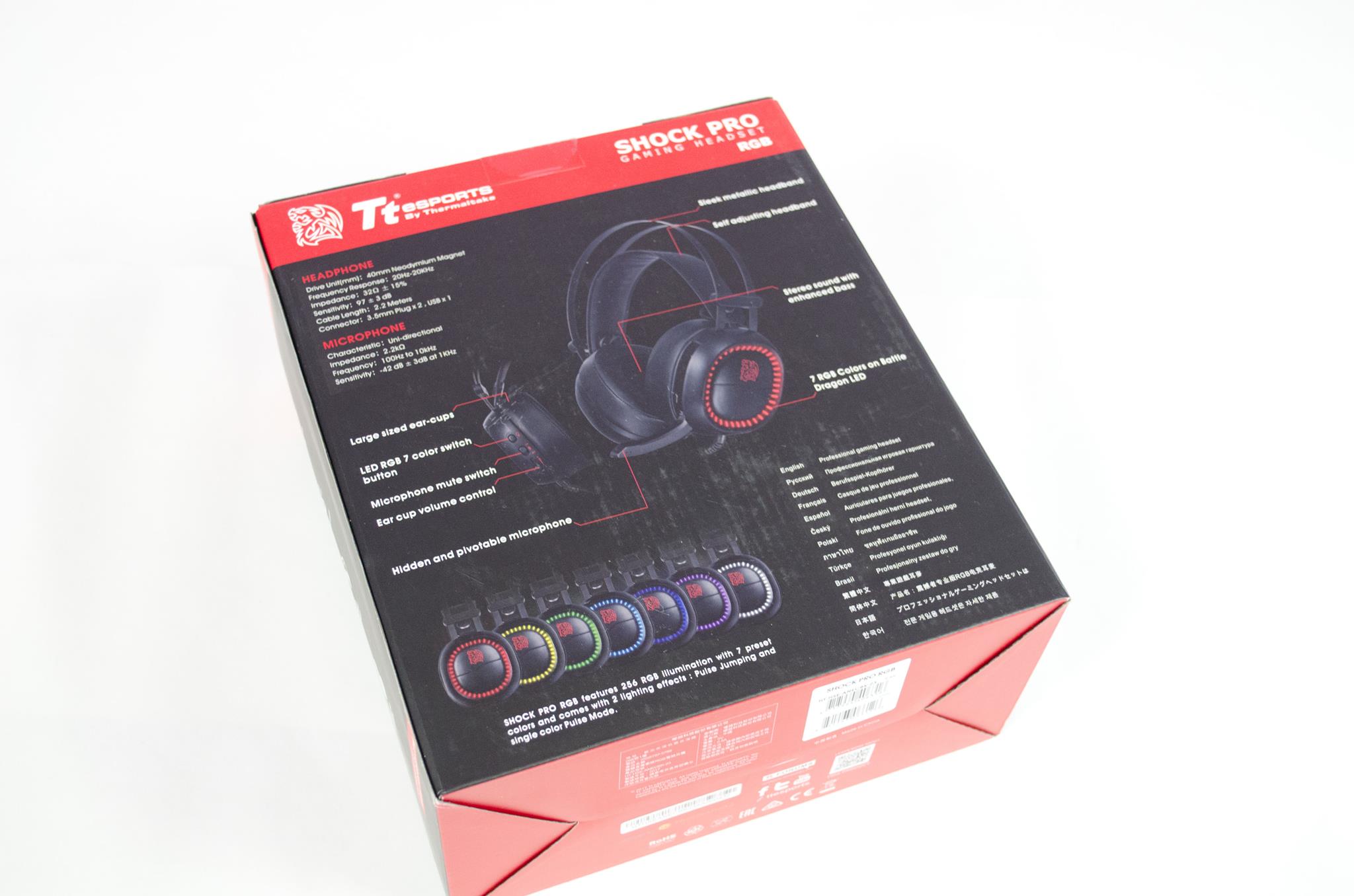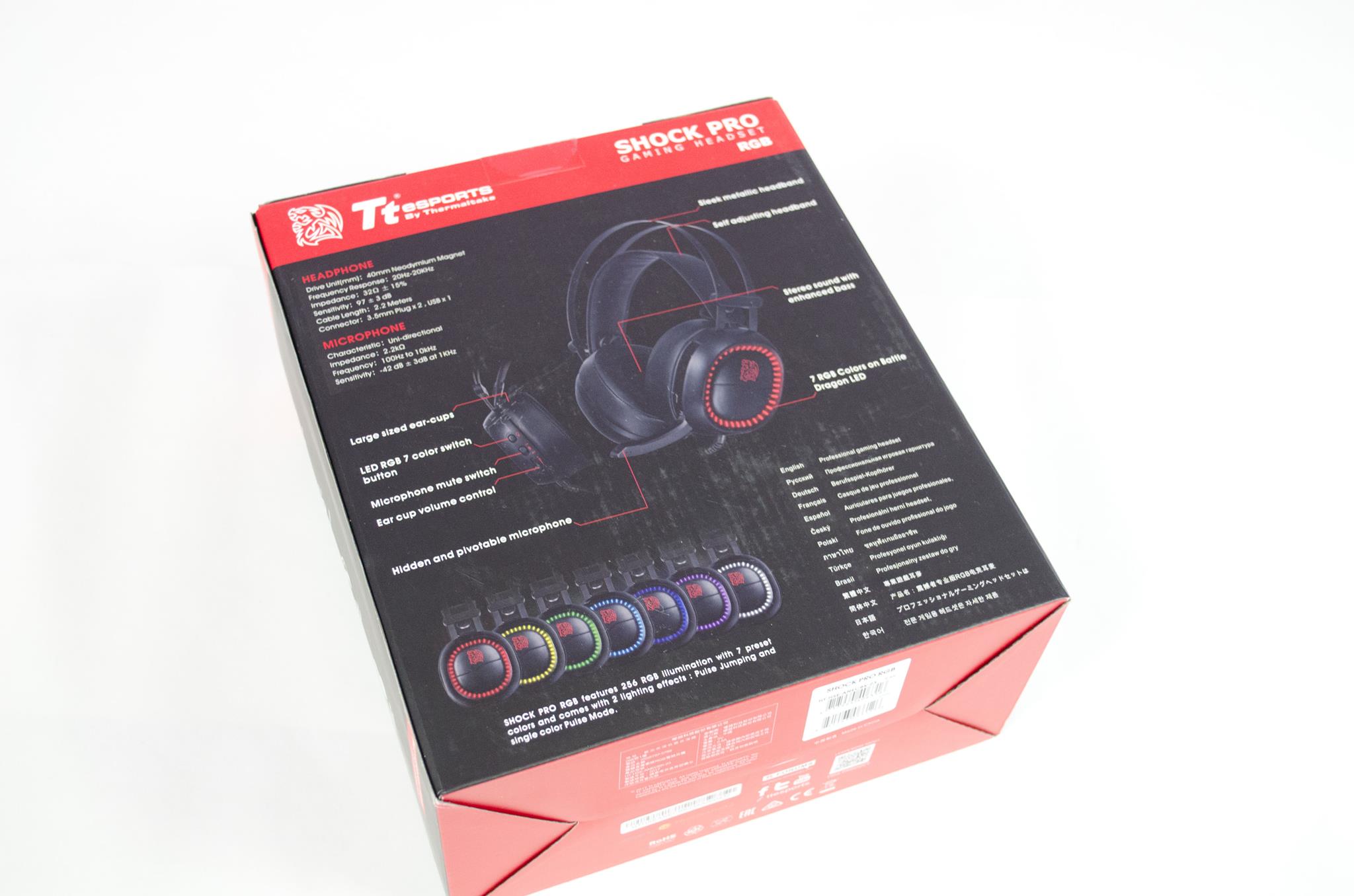 Inside the box are the headset, quick installation and warranty guides and a cable that will combine the microphone/headphone jacks into a single jack so you can use it with a mobile device. Tt eSPORTS have even gone ahead and made sure that the main cables that are connected to the Shock Pro Headset are braided. Braided cables are always a plus in my book as this look nicer and are a bit tougher than standard cables.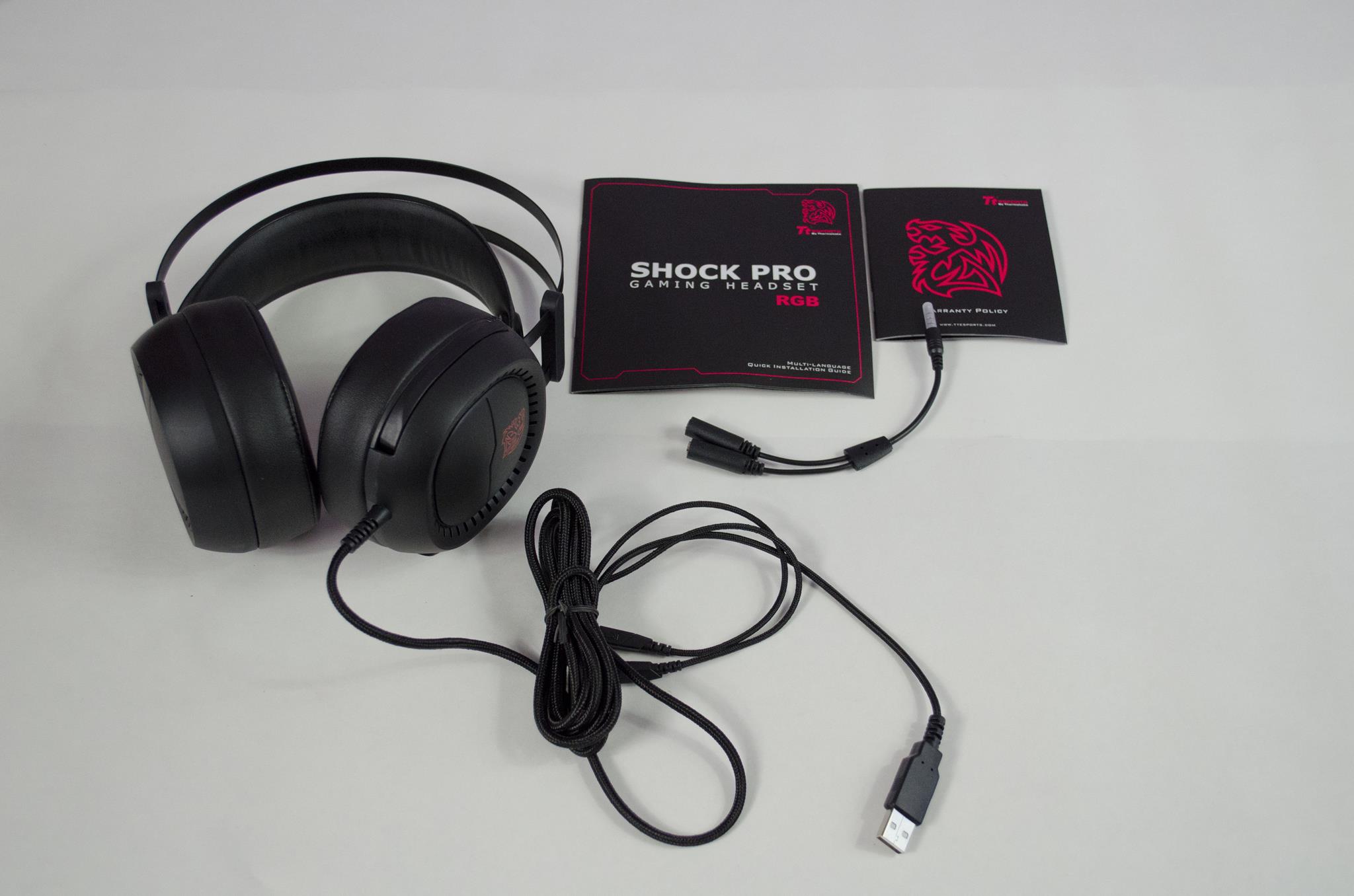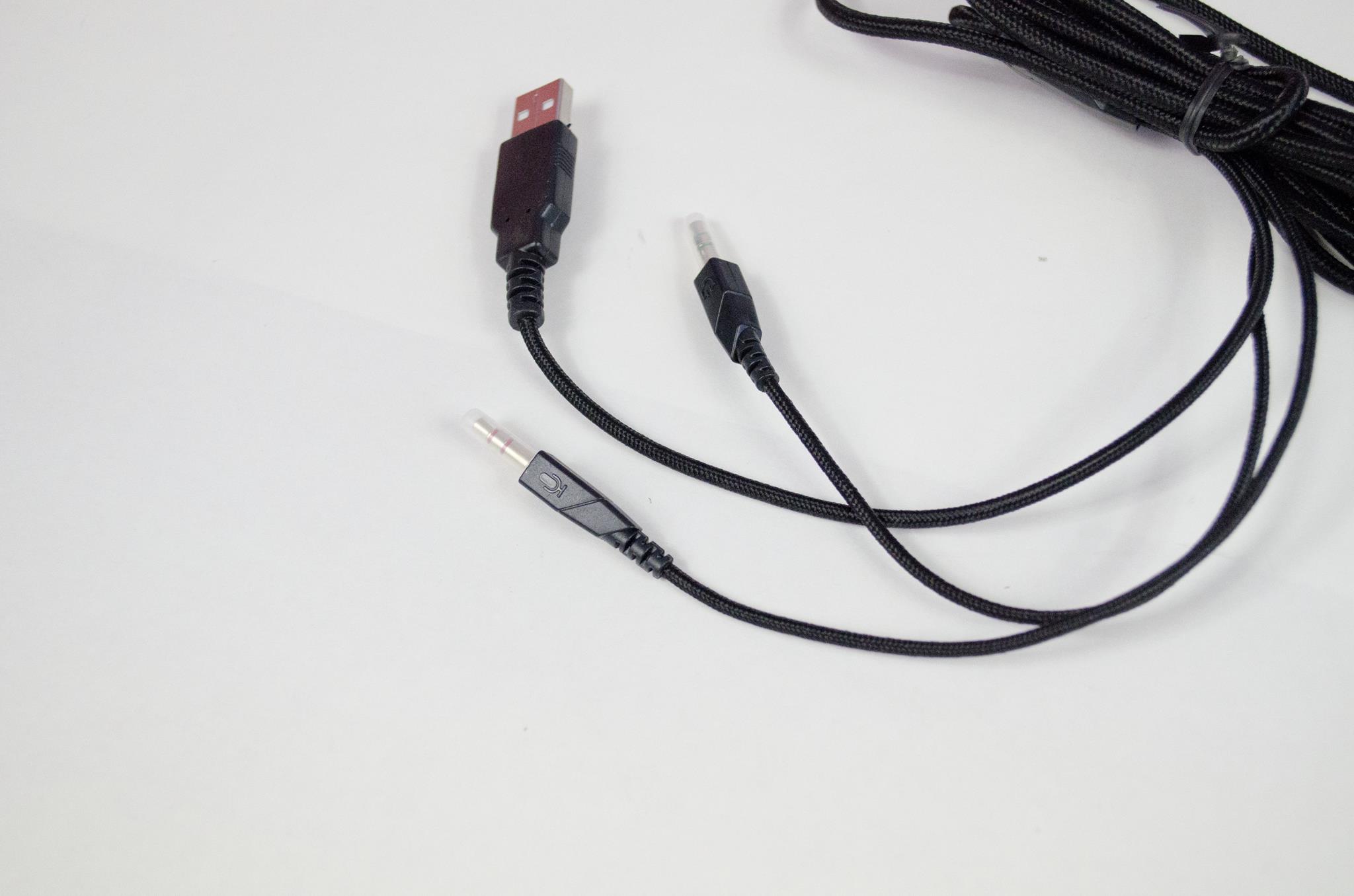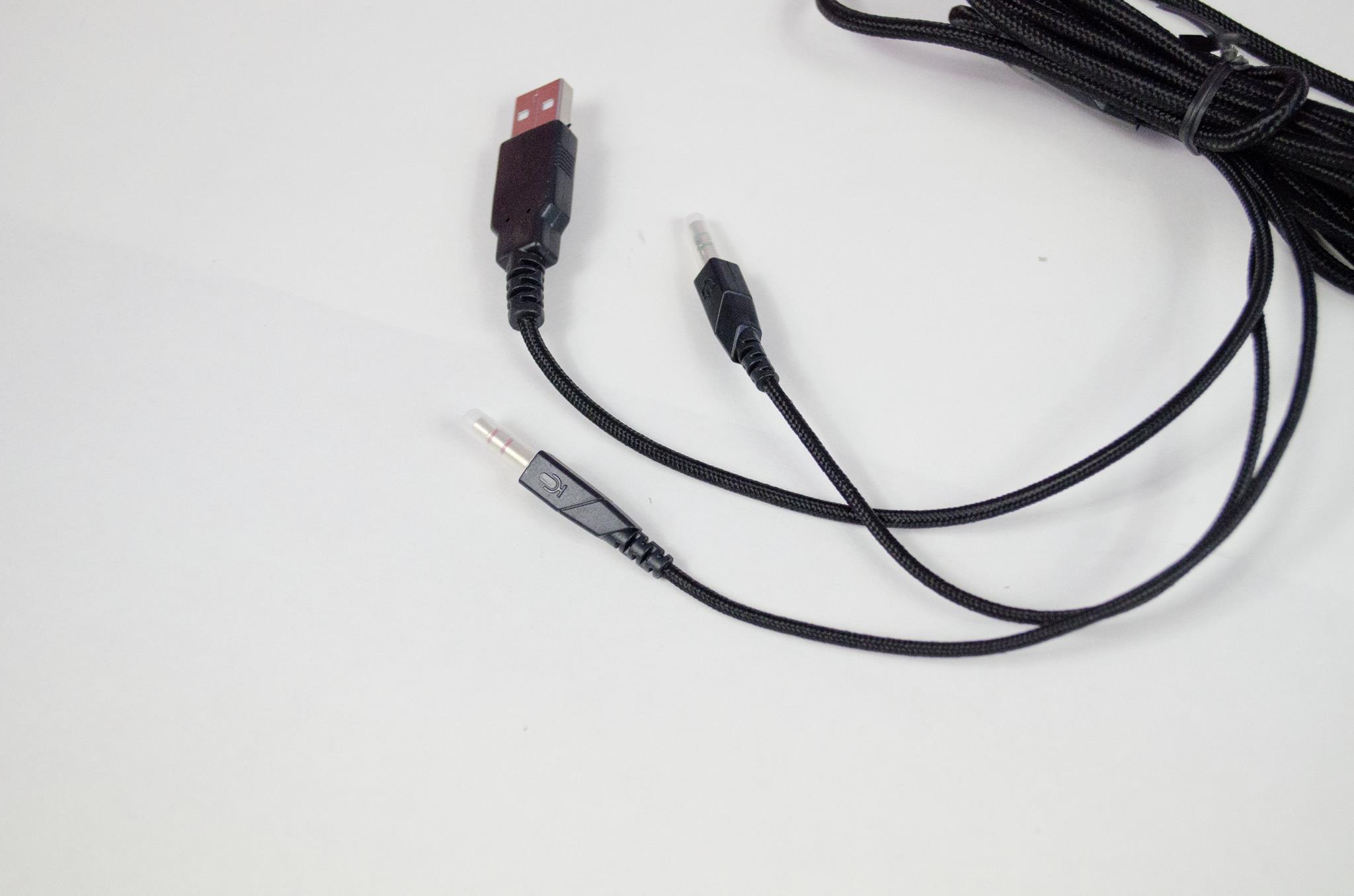 The outside of each earcup features a Tt eSPORTS dragon logo as well as what appear to be quite a few little holes. These holes are actually going to be where the RGB LEDs shine through and we will look at this shortly.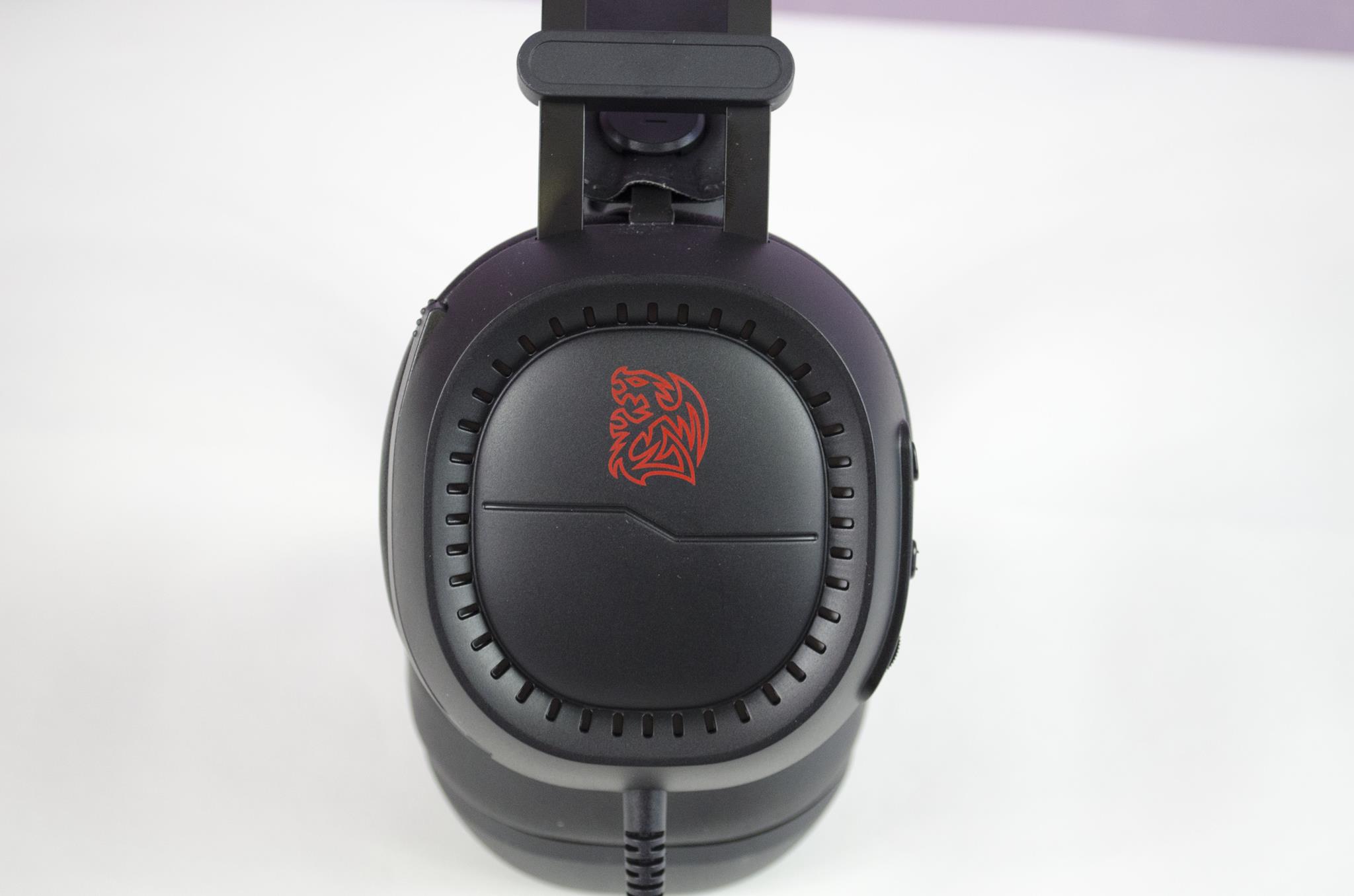 As mentioned, on the back side of the left earcup are the RGB LED control button, mic on/off switch and the volume switch. These buttons are all easily accessible while wearing the headset and this is what they are designed for so you can adjust the basic settings of the Shock Pro RGB even when wearing them.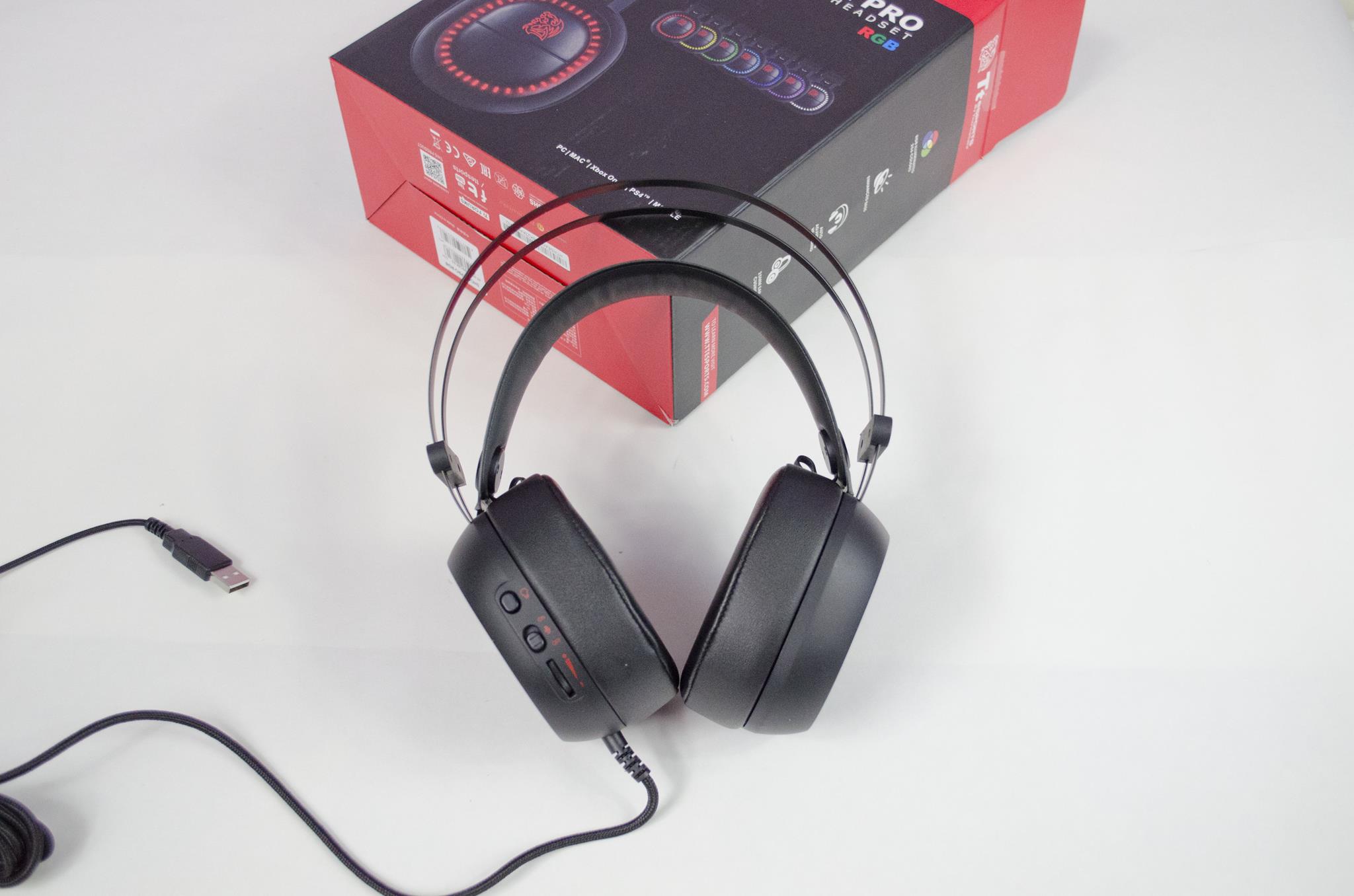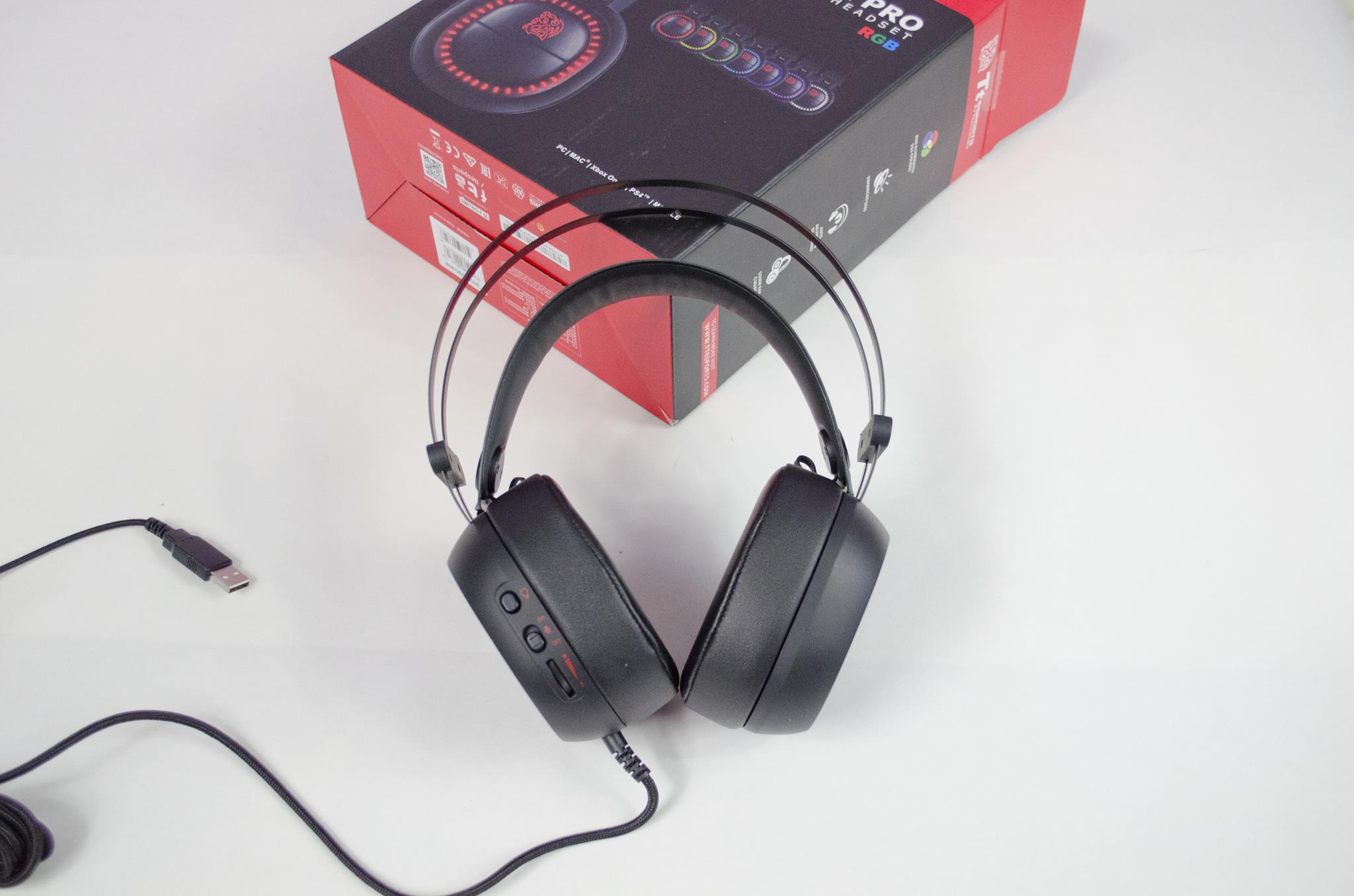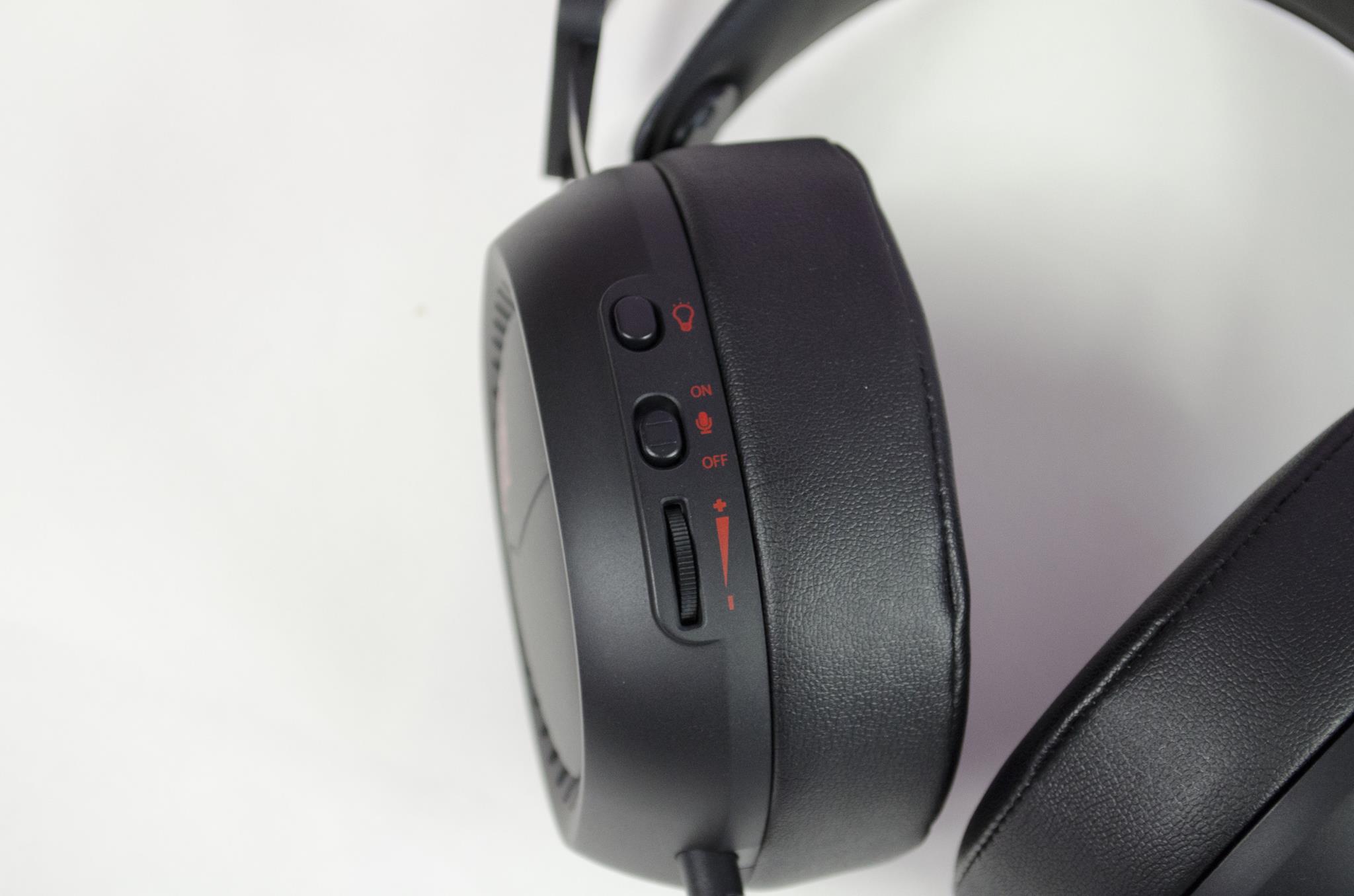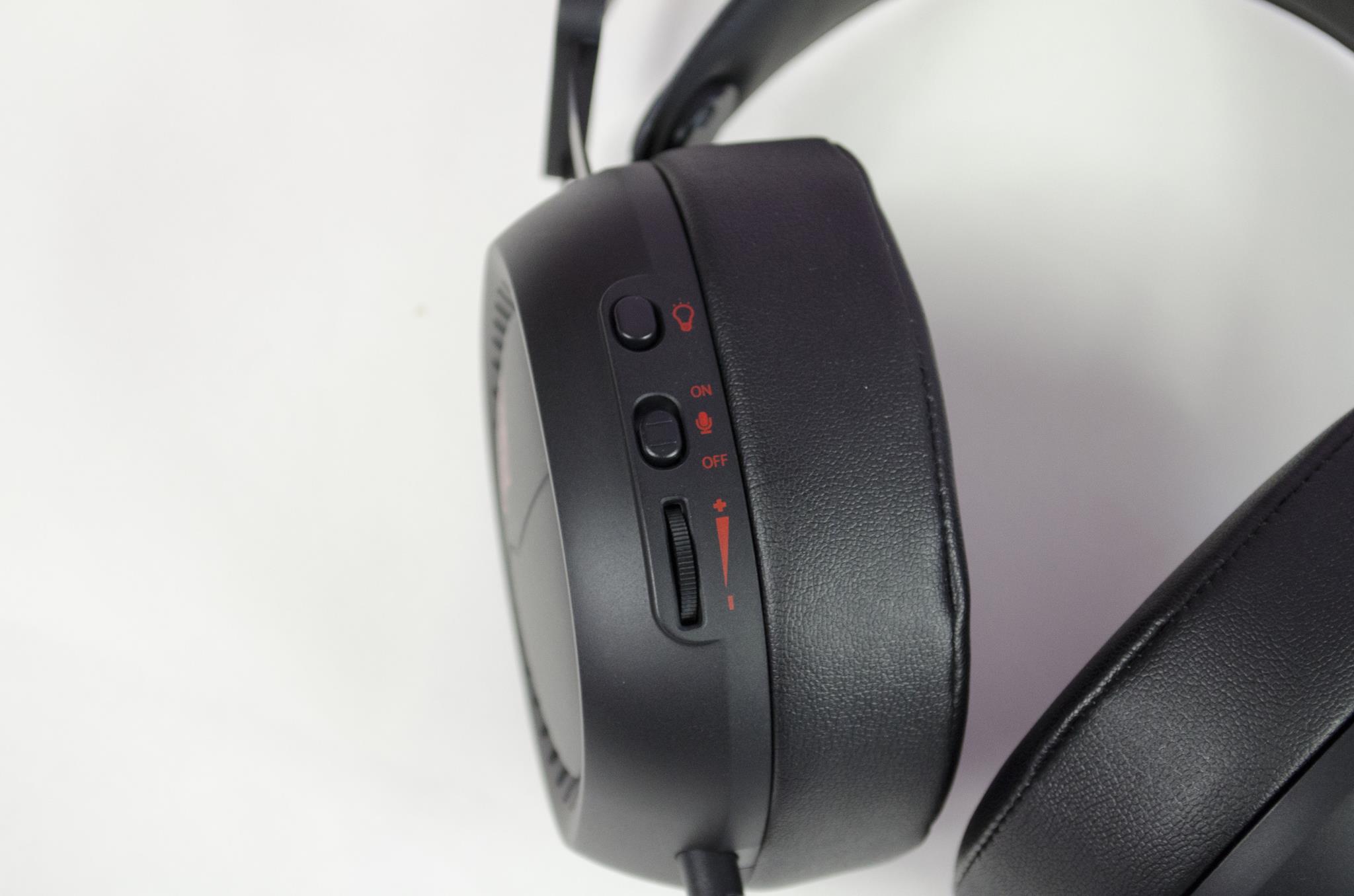 When needed, the mic simply folds down from the earcup. While the mic isn't bendable, it still does a decent enough job at picking up your voice and making sure your friends can hear you clearly.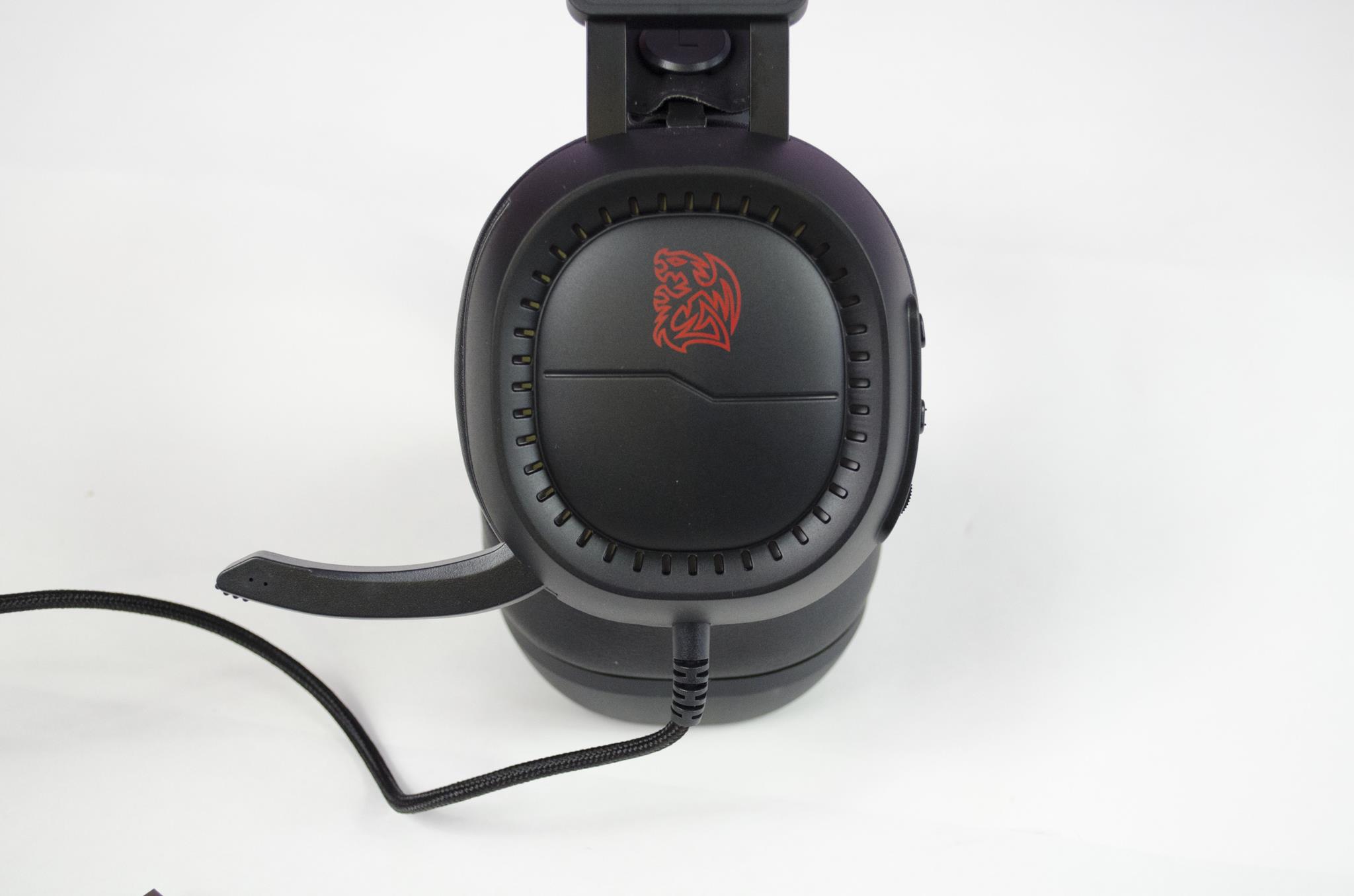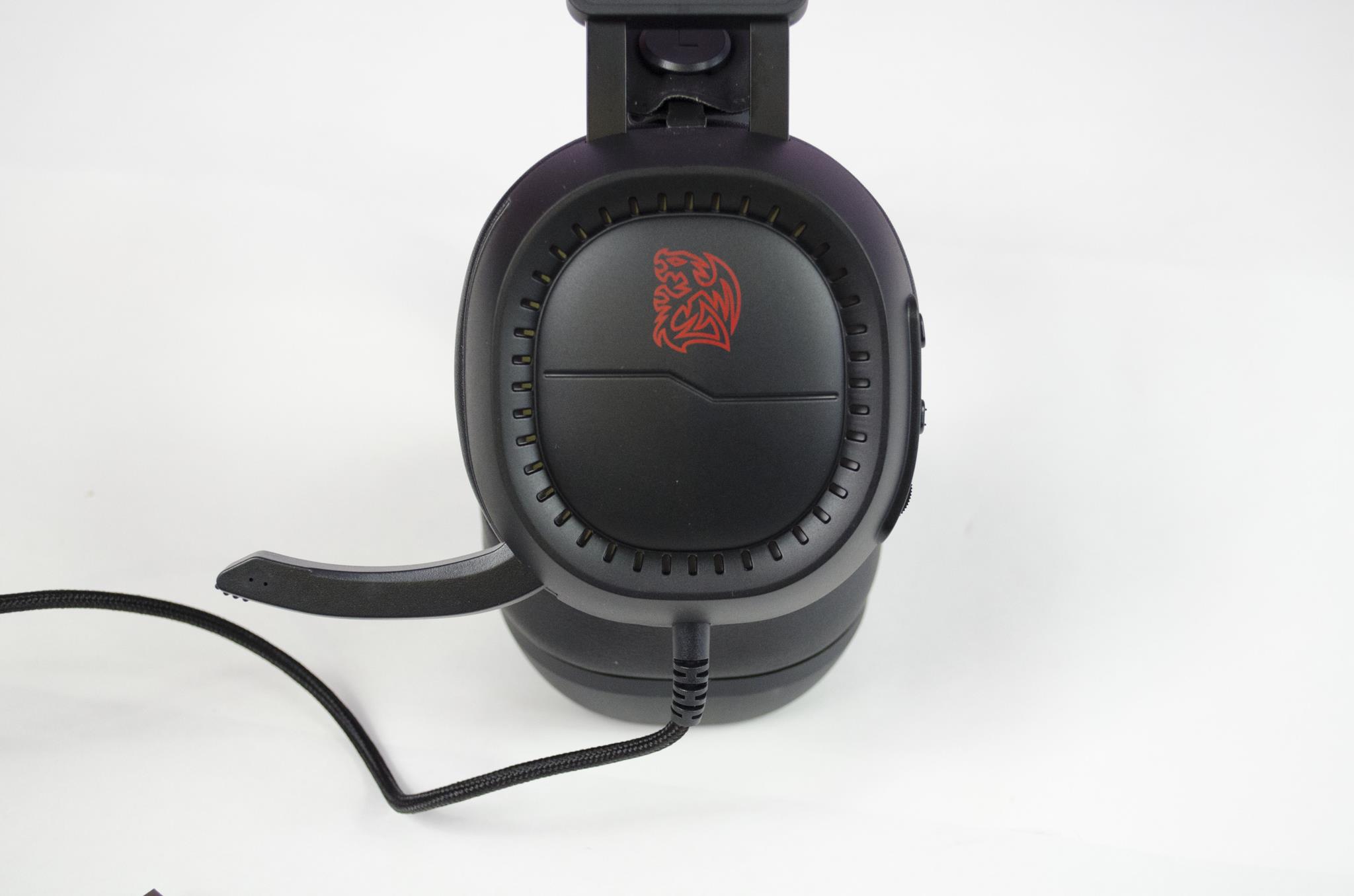 The dual-band self adjusting headband works wonders on the Shock Pro RGB Headset. Not only is it ridiculously comfortable, it also looks quite nice and has a good sized Tt eSPORTS logo on the top.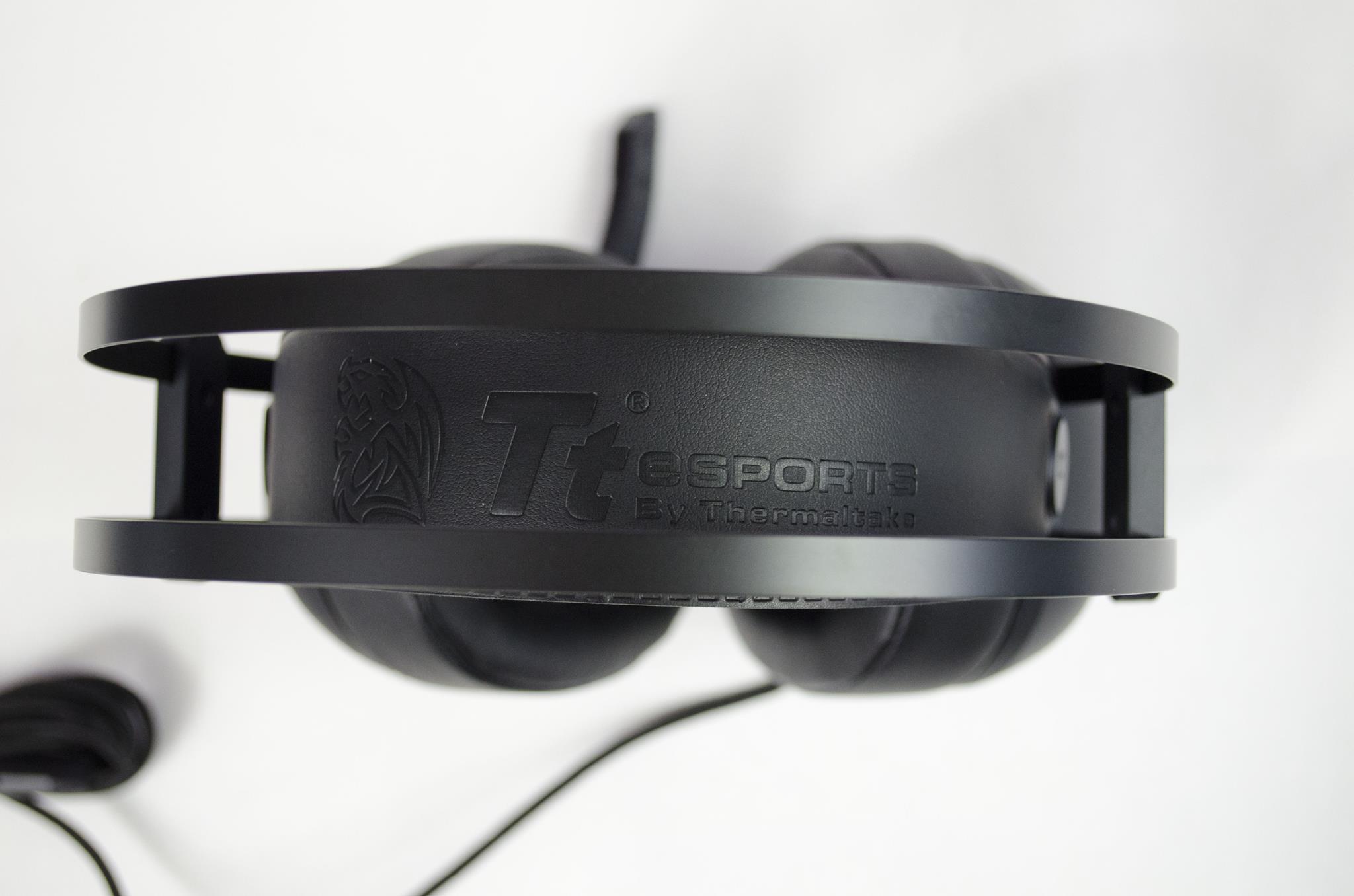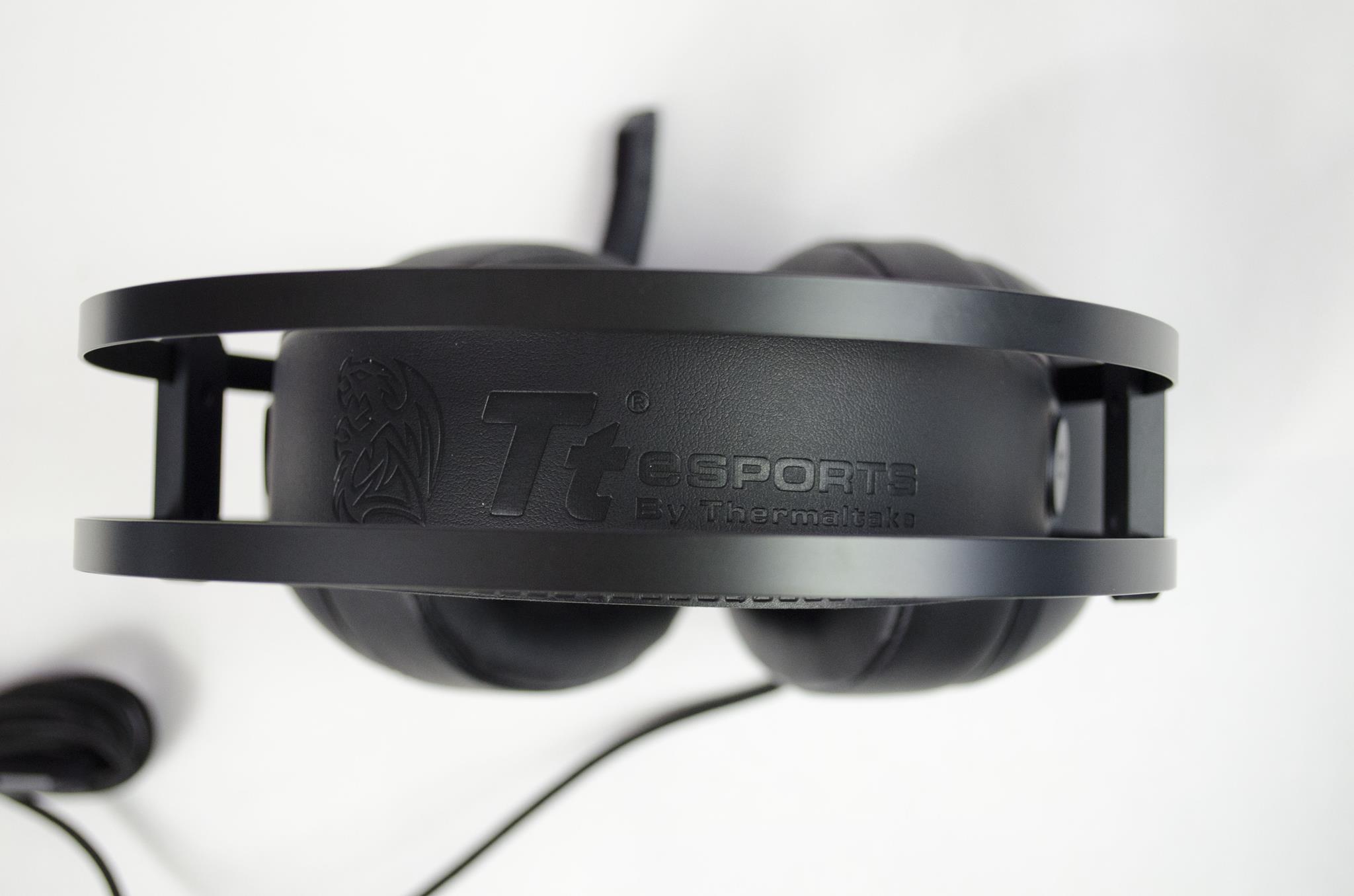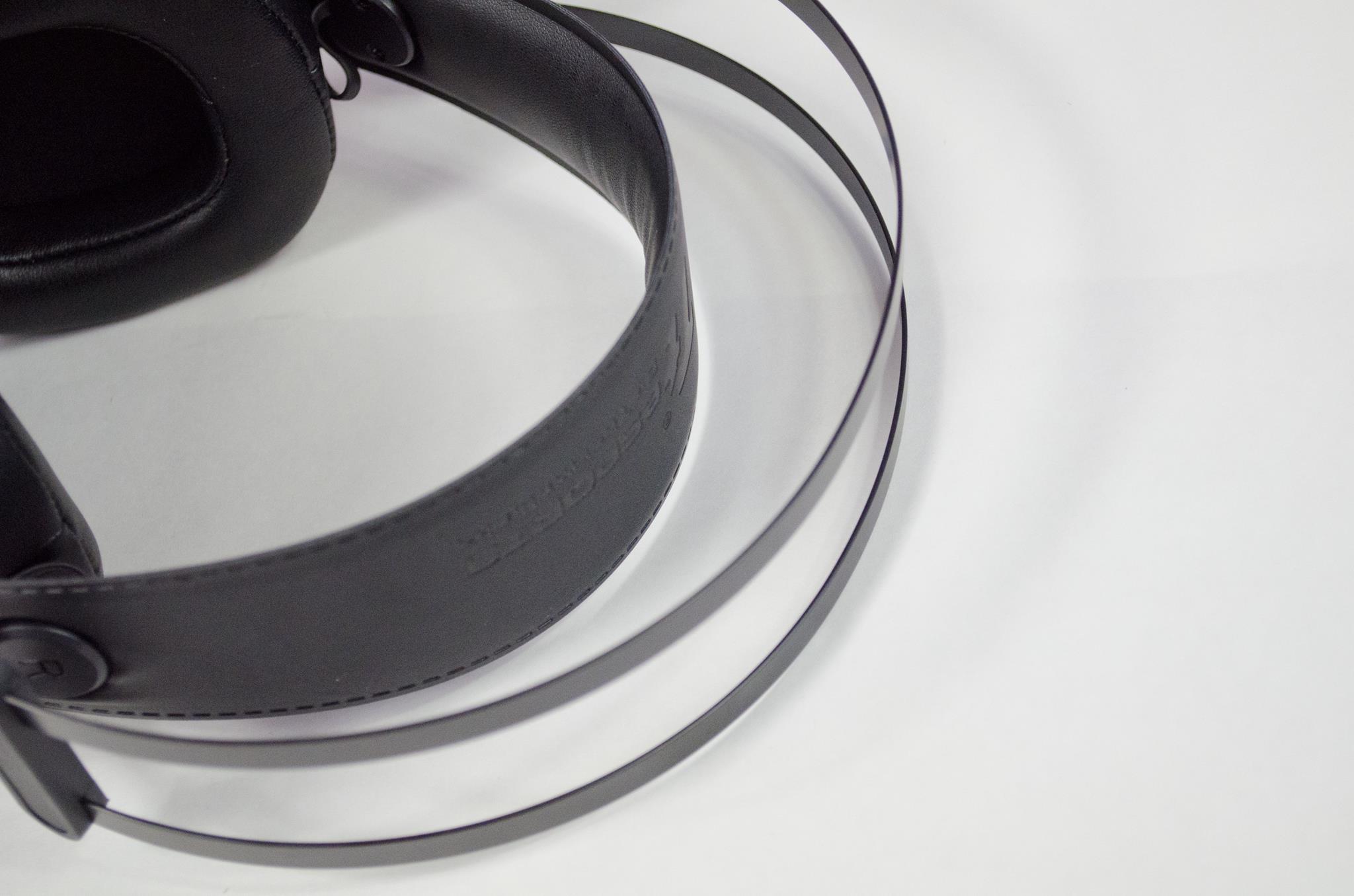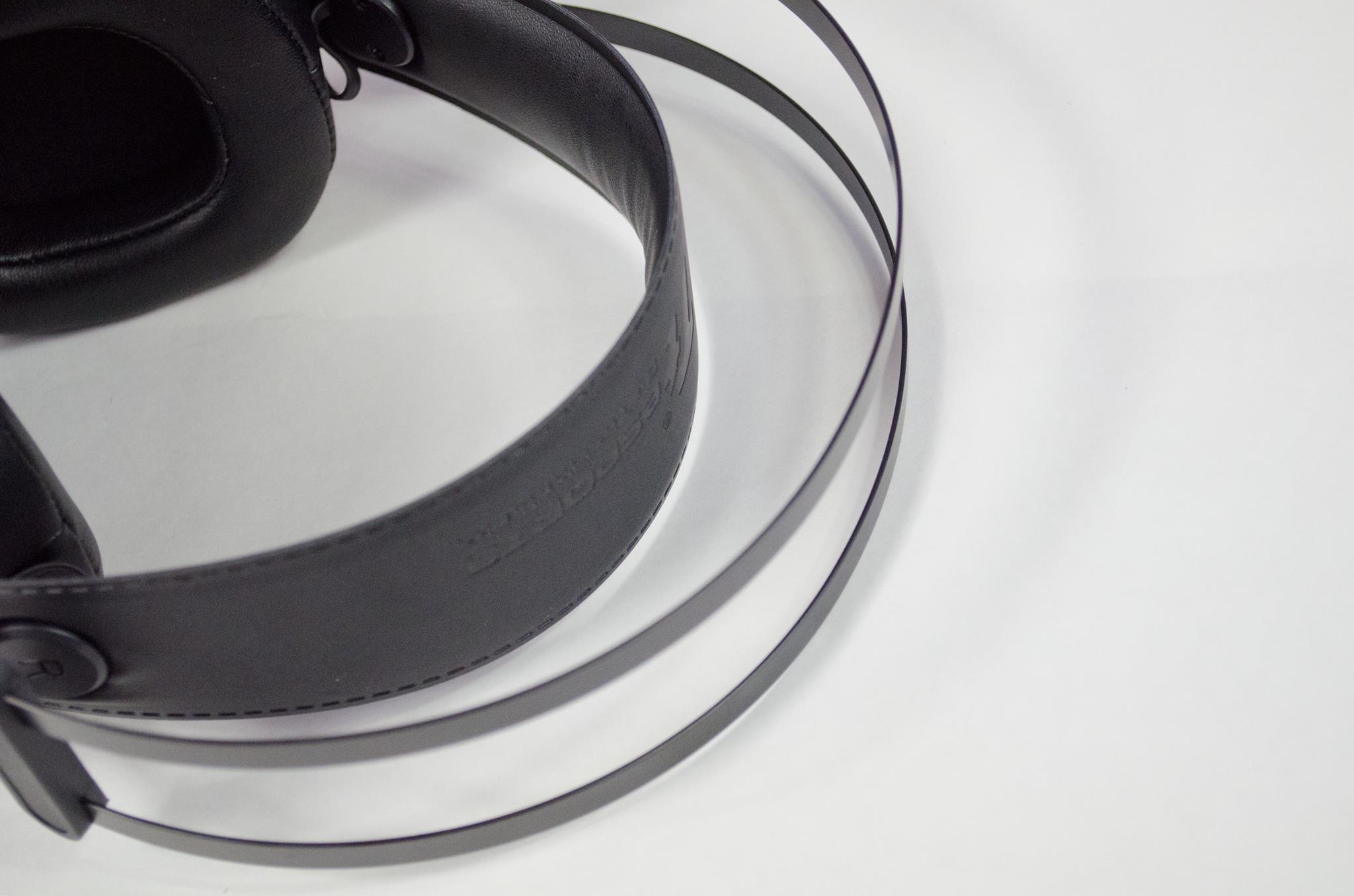 To go along with the comfy headband, the earcups have a load of padding on them. This headset is up there with the most comfortable I have ever worn and for good reason. Tt eSPORTS kitted this bad boy out to be comfortable and affordable and boy, they have done an excellent job.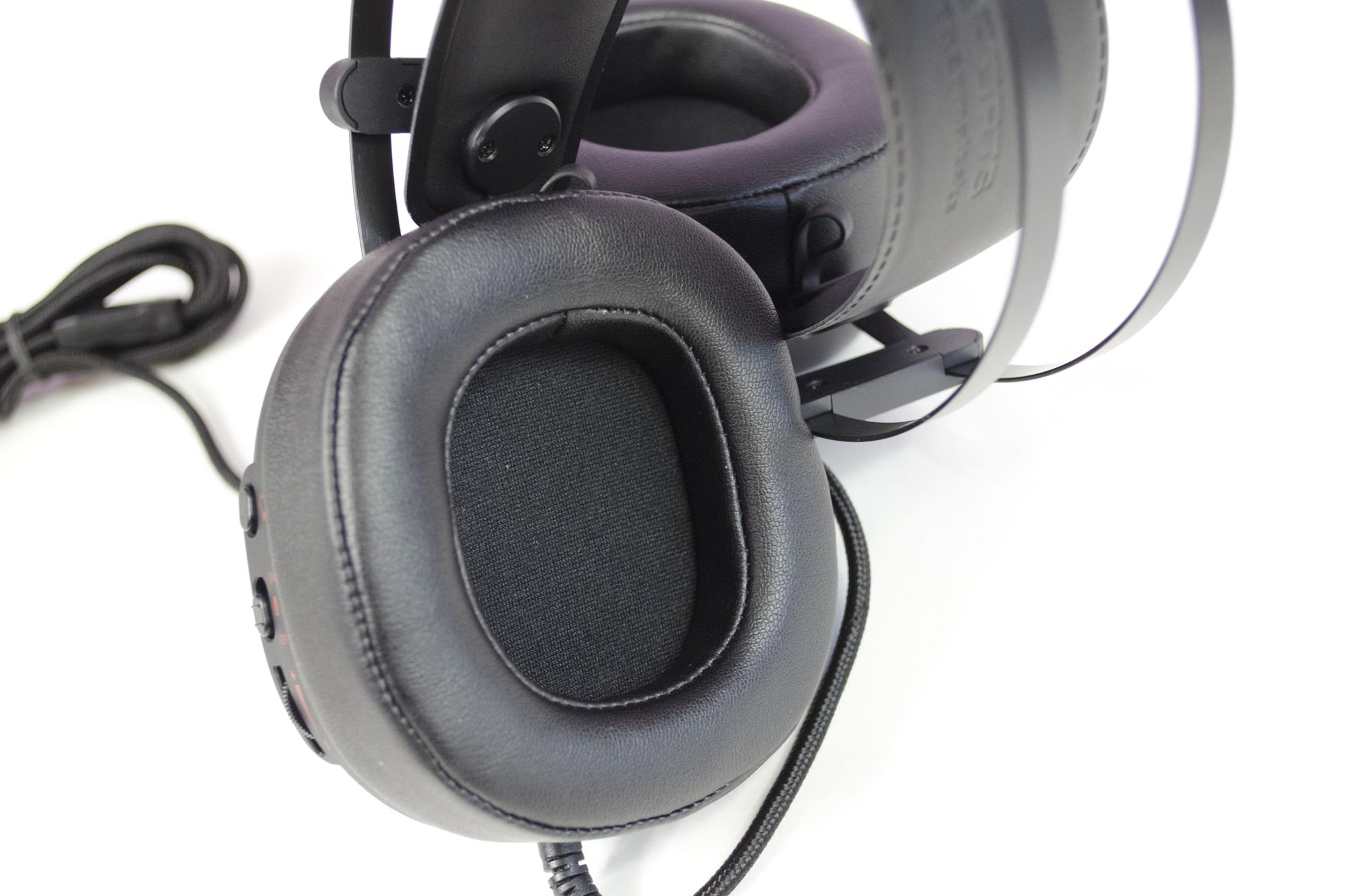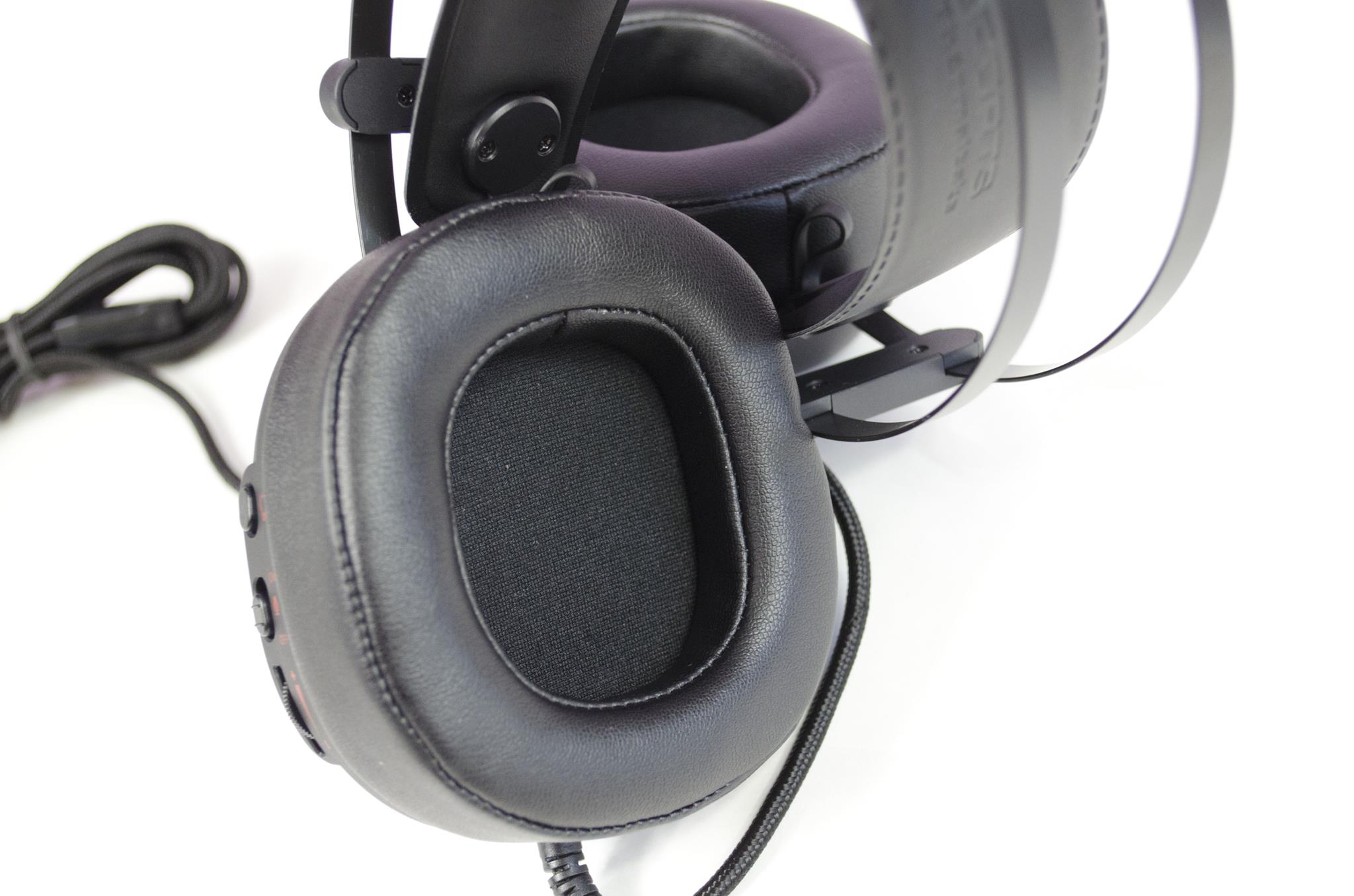 The Tt eSPORTS Shock Pro has two LED modes, pulse jumping and single pulse mode. There are all the main colours and as you can kind of see below, they do look nice and vibrant but not overly done. While the LEDs are easy to see they aren't too bright as to overpower anything else or light the room up.



Conclusion
Performance
Tt eSPORTS has a great headset on their hands with the Shock Pro RGB! Not only does this headset come featuring 40 Neodymium drivers, it has some nice RGB LEDs and is crazy comfortable. Even after using this headset for hours on end, I was still able to enjoy the sound it had. From gaming to listening to music to doing both at the same time, the Shock Pro RGB never let me down. I play a lot of overwatch and I like to listen to my music while I play and I can still hear what is going on around the map with ease. When Junkrat rolls out his RIP-Tire, I can hear it the whole time no matter where it is on the map. When Pharah, "Let's it reign from above", I can hear my enemies falling to the ground. Jumping into Battlefield 1 and I can hear all the different sounds from bullets, planes, tanks and what have you. Battlefield 1 has become a favourite of mine for headset testing as there are so many unique sounds going on at the same time all over the map. The 40mm Neodymium drivers don't offer overly powerful bass, but they do offer a good amount and the highs are crisp and clear at all times. Overall, I can't fault the performance of the Tt eSPORTS Shock Pro RGB. The only small downside is that the mic can't be positioned in front of your mouth, instead, it's just to the side. While this doesn't render it totally useless, I do feel it would be a bit nicer if the mic was closer to your mouth when you speak.
Design
Aside from the mic not being able to be moved in front of your mouth, the design is quite pleasing. Not only is this headset comfortable, it looks nice as well. Also, while the price is very reasonable, this isn't just some rubbish cheap headset that is going to break after a few days, oh no! The extra thick padding on the earcups compliments the self-adjusting headband great and allows this headset to provide hours of gaming fun. While there is a bit of RGB lighting, which I am a personal fan of, it can easily be turned off leaving you without any LEDs at all.
Value
This is probably the best part of the headset, the value it has to offer. Coming in at £45, the Shock Pro RGB has a lot going on for it. From good performance thanks to its 40mm Neodymium drivers to RGB and comfortability, you really can't ask for much more from a headset of this price. Those of you in the States will be happy to know the Shock Pro RGB retails for around $40 which is absolutely amazing. Let us also not forget this headset is compatible across multiple devices, which just adds to the value it has to offer!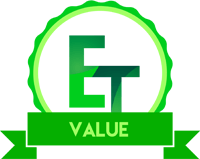 Many thanks to Tt eSPORTS for sending in their Shock Pro RGB for this review.