Design Driven Mid-Tower Case with LED illumination and Tempered Glass
P7-C1: Build a Rig your Friends Envy
Project 7 to expand into PSU, Cooler, Fans and more
TAIPEI, Taiwan – Aerocool Advanced Technologies Corp., a leading PC gaming hardware and accessories design company, announced today the new Project 7-Chassis 1 (P7-C1) to be available from Oct. 10th at a store near you. The all new P7-C1 is a mid-tower chassis that radiates eight different colors including three modes – always on, breathing and pulsating to suit your mood. The Project 7 family will be launched in collaboration with various partners across the industry which also includes a Power Supply, liquid cooler and LED fans to be released in the future.
At Home or At Work: Aesthetics meets Market-leading Technology
During the development process, Aerocool's design team ensured the P7-C1 would be both technically advanced and universally appealing. A feature rich case, the P7-C1 offers Aerocool's unique PWM hub, 8-color illumination, support of liquid cooling systems with 360 mm radiators and smart cable management options. For the first time, Aerocool offers users a choice between a beautifully crafted dark tempered glass for the enthusiasts or a regular window-side panel version for the uninitiated. The P7-C1 chassis is available in two colors – black and white.
The black P7-C1 targets Gamers and Enthusiasts with an eye-catching design, whereas the white version feels much more elegant targeting the design work space. P7-C1 offers a new LED illumination system in the front-panel with a choice of eight colors and three lighting modes to choose from. The pre-installed PWM fan hub can control up to five fans using either the motherboard's PWM fan control or the two individual fan speed control modes at 100% and 60% speed. User friendly and hassle-free cable management is achieved thanks to a new design of the mainboard-tray, allowing direct routing of cables from the side and the top of the motherboard.
Smart Interior Design for Improved Airflow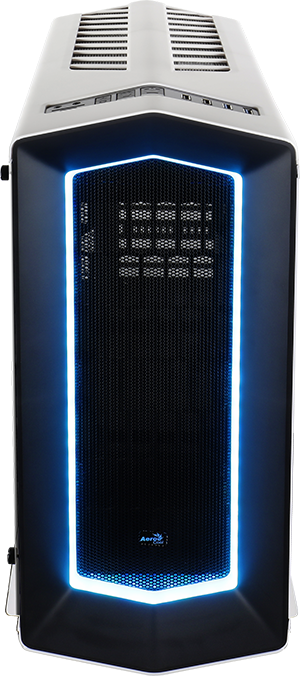 The compartmentalized space for the power supply unit, hard drives and main components, combined with the big air intake-area in the front offers superb airflow guidance. This layout allows users to install VGA cards with lengths of up to 375 mm (400 mm without case fans in the front) and CPU coolers with height of up to 165 mm. The P7-C1 offers several options for mounting radiators of high-end liquid-cooling systems. The front easily fits 240, 280 and 360 mm radiators or alternatively three 120 mm or two 140 mm fans. The extension in the top cover is designed to mount a 240 mm radiator or two 120 mm fans. The P7-C1 comes with a pre-installed 120 mm fan in the rear. Superb airflow is assured thanks to the huge intake area in the front, which is protected by a removable dust filter. Another dust filter is available under the PSU compartment. The I/O panel in the top offers a card reader for SD, SDHC, microSD and microSDXC cards, two USB 2.0 and two USB 3.0 ports as well as buttons to adjust the LED illumination of the P7-C1 and start or reset the system.
Availability: October 2016
The P7-C1 is available from e-tailers and retailers starting this week in EU and N. America. MSRP starts at 99,95 EUR, and USD $100 respectively.
Useful Links:
Project 7-C1 high resolution images
Aerocool is a Taipei-based, global computer components company with an outstanding record in product design and innovation. Driven by the mantra 'Be Cool, Be Aerocool' we strive to provide innovation in design yet deliver an affordable solution to PC users worldwide. Our most recent success in innovation is our groundbreaking open frame design – the Dream Box – awarded 'Best Design' at Computex 2016. For more information on Aerocool, please visit www.aerocool.com.tw or follow us on Facebook