Introduction
We have earlier tested DC Radiant 240 from darkFlash and this budget cooler got our praise. This time we are taking a look at the Twister 2.6 DC36 White edition from the same manufacturer. This is a 360mm version and this version is compatible with Intel LGA1700 and AMD AM5 sockets. We have got a white color edition which looks quite pleasing.
Key features include:
Redesign water pump infinity mirror with 360-degree rotation
Dense liquid channels for a better cooling effect.
Supports both Intel and AMD
TDP: 285W
I am a bit surprised to see that darkFlash rated the 240mm version for 270W TDP and this 360mm version is rated for a mere 285W. This makes me think that DC Radiant is actually their new generation compared to Twister.
Item:                     Twister DX360 V2.6 White
Price:                    PKR 25000
Twister DX360 V2.6 Specifications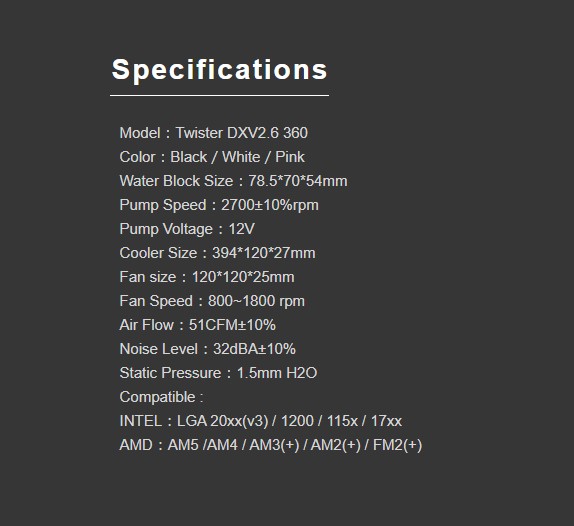 Packaging and Unboxing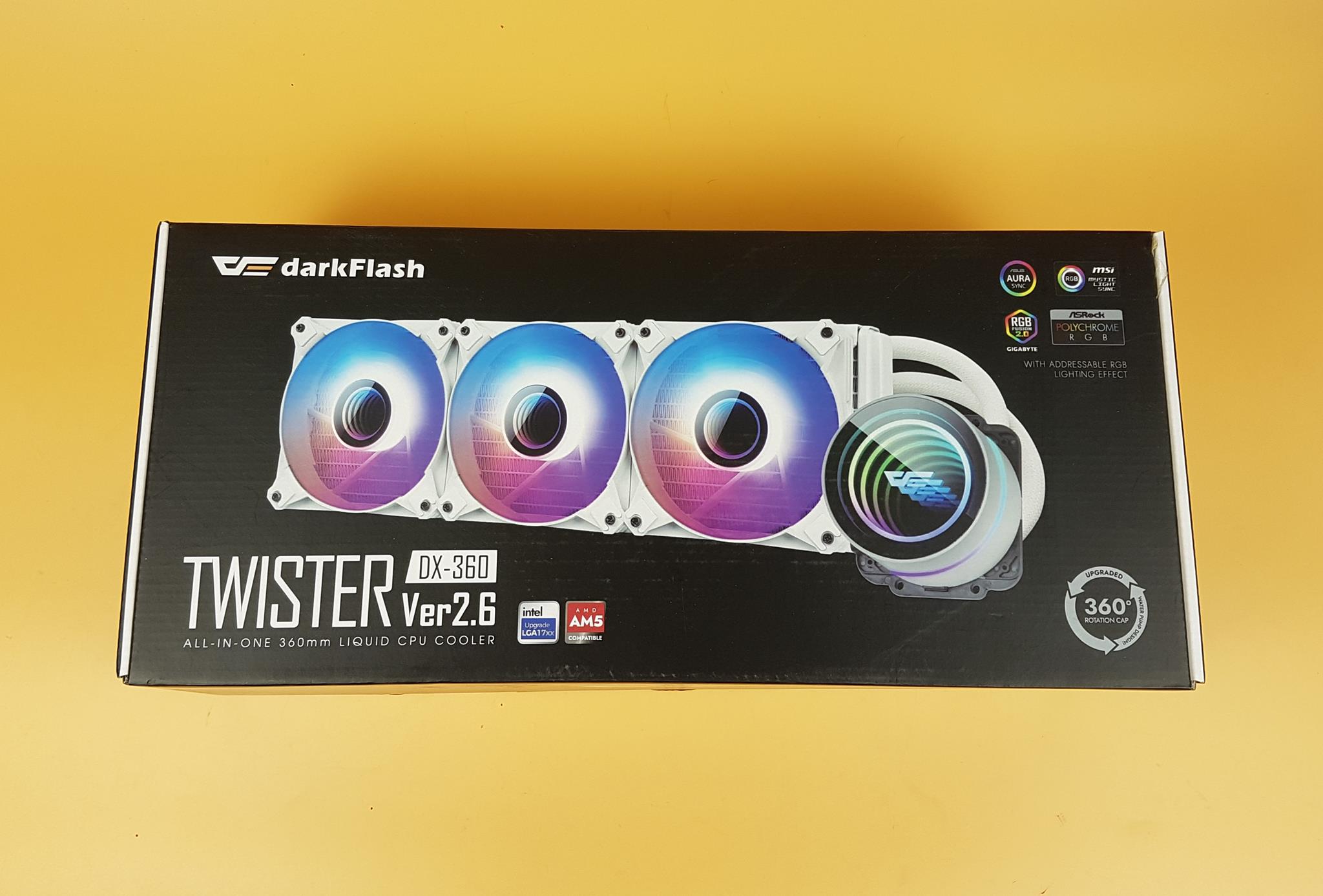 The cooler is shipped inside a cardboard packing box. darkFlash has emphasized two key changes over here. One is the compatibility with the Intel LGA1700 and the AMD AM5 sockets. The second is a rotatable pump top in 360° rotation so that the darkFlash logo remains upright.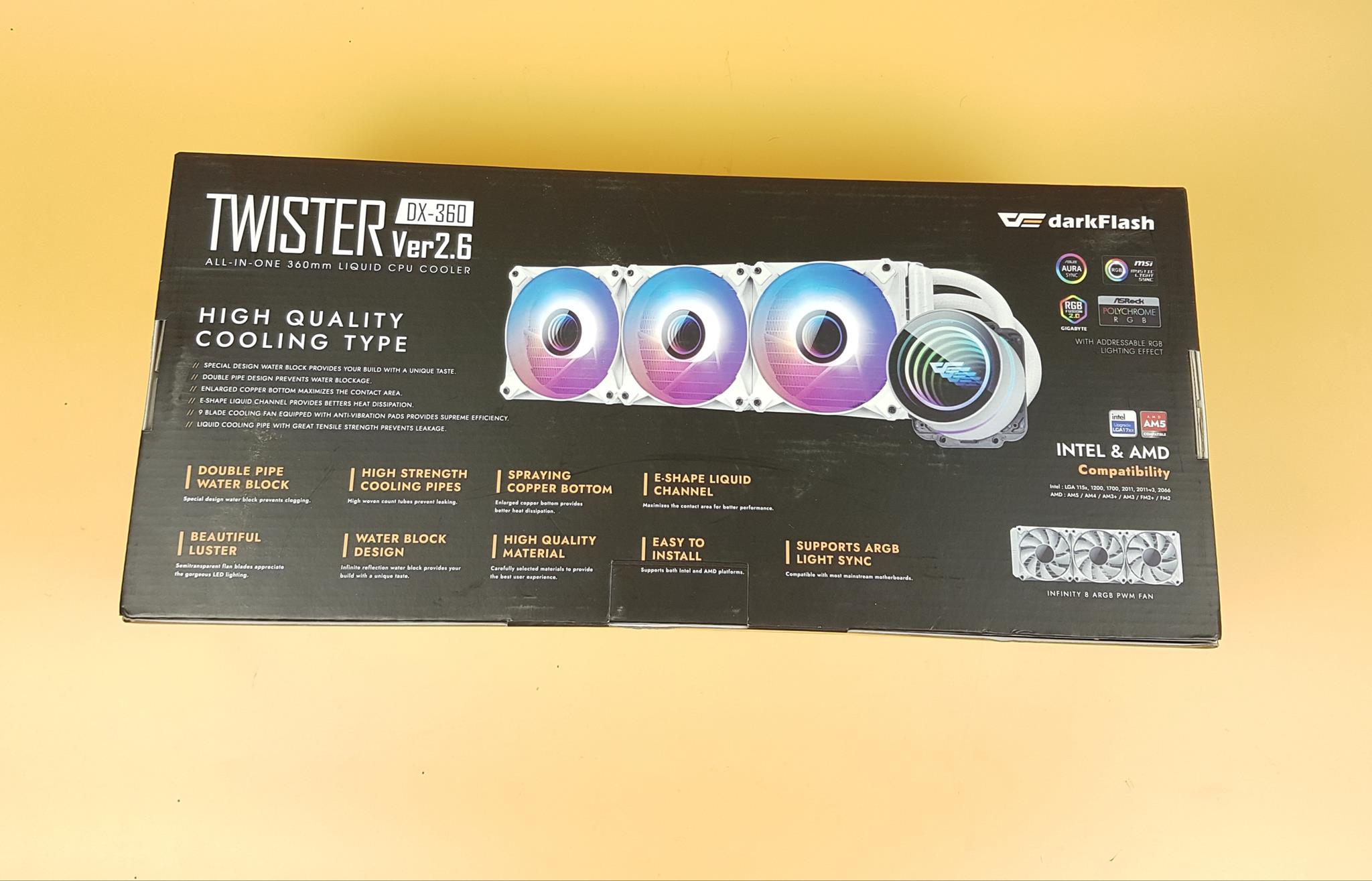 Infinity 8 ARGB PWM Fans caught my attention while I was looking at the backside. What is Infinity 8? I don't know. What I know is that there is an infinity mirror effect on the center of these fans which gives quite a cool look to the unit. darkFlash has listed more features of the unit over here.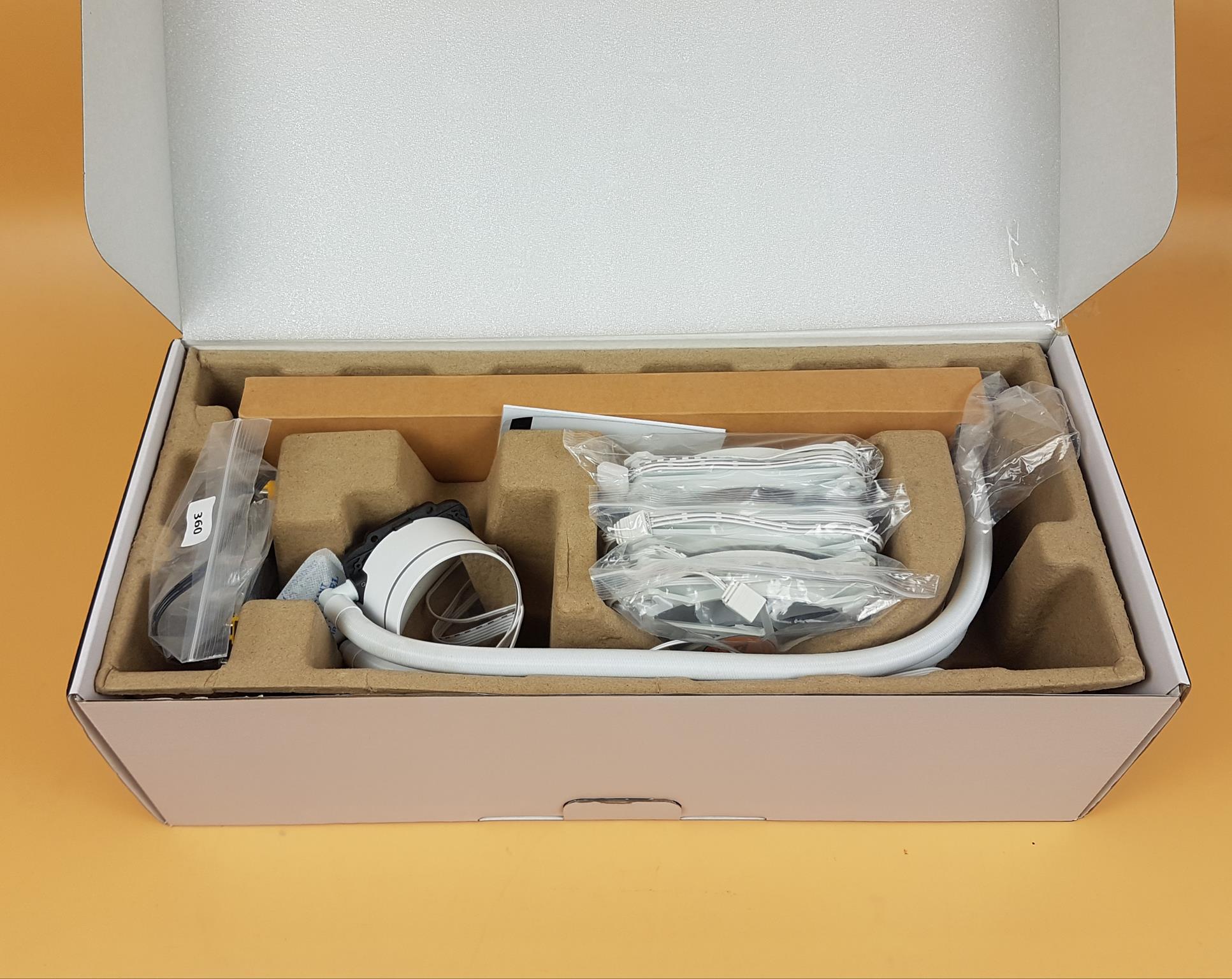 There is another container inside the main box. The main cooler and the contents are placed in this container for safe and sound shipping.
Accessories
Let's see what accessories are provided.
There is a printed user guide. I did not check it since the mounting mechanism of this cooler is the same as is on the DC Radiant 240.
The mounting hardware is provided inside a transparent container. 360 is labeled on top of this container indicating that it is for the 360mm size cooler.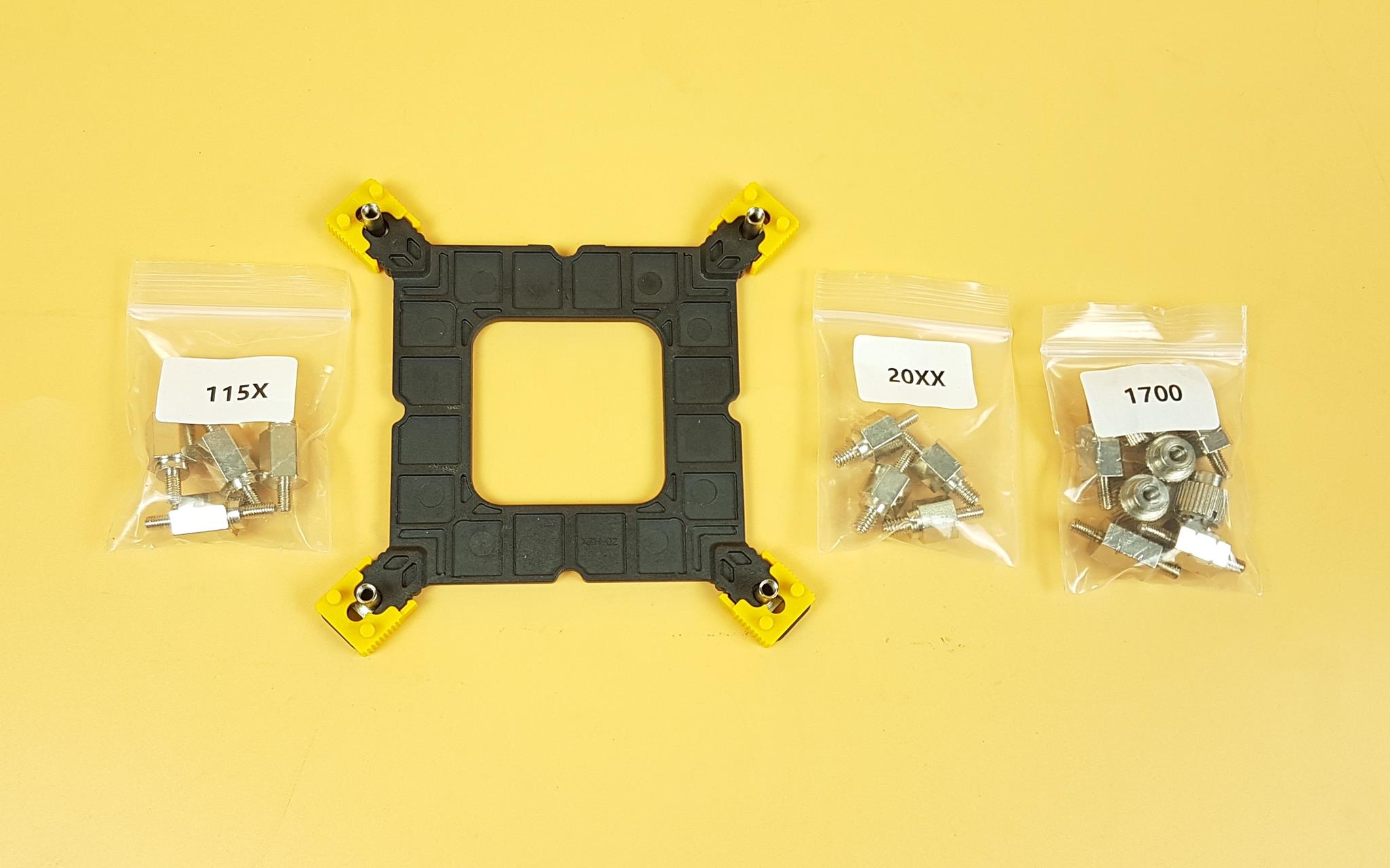 There are:
4x Intel LGA 115x Standoff Screws
1x Intel Backplate
4x Intel Thumb Nuts
4x Intel LGA1700 Standoff Screws
4x Intel LGA20xx Standoff Screws
4x Intel LGA1700 Washers (Not in the Picture)
There are two mounting brackets for the pump housing.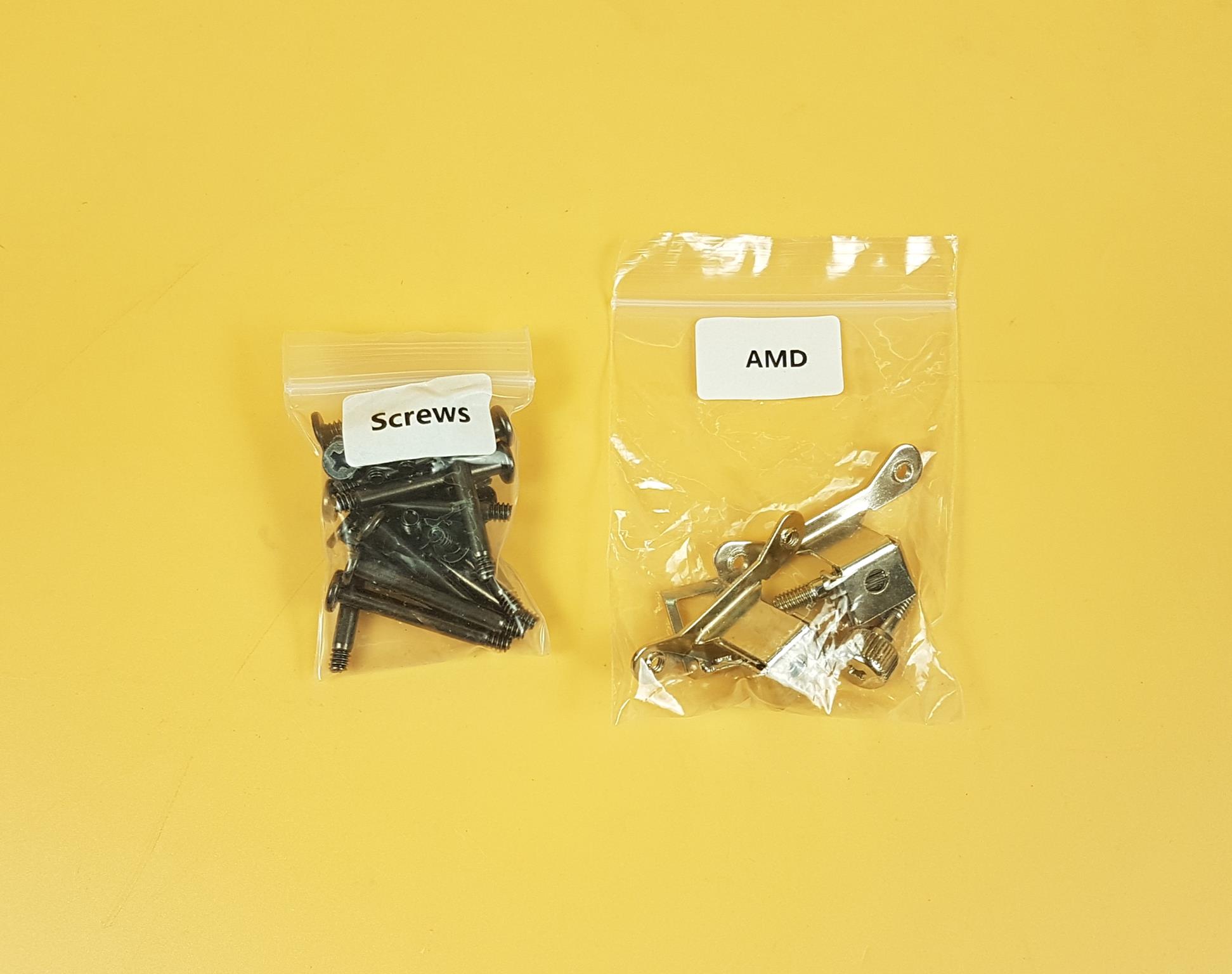 There are two AMD mounting brackets and two screws. There are 12x fan screws and 12 radiator screws.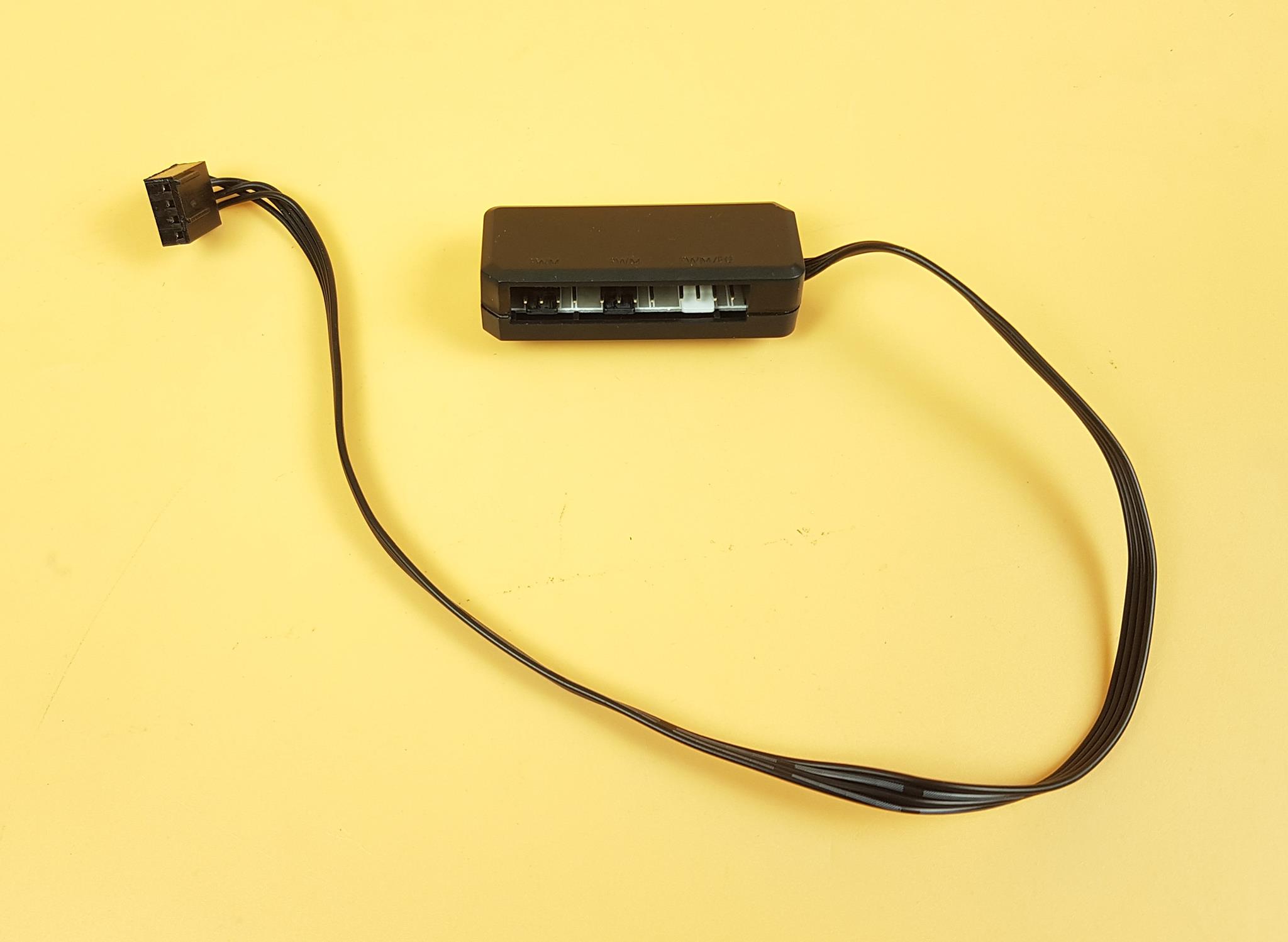 There is a 3-port fan hub included as well. This port has 3x 4-pin PWM ports.
Closer Look
Let's take a look at the unit starting with the radiator.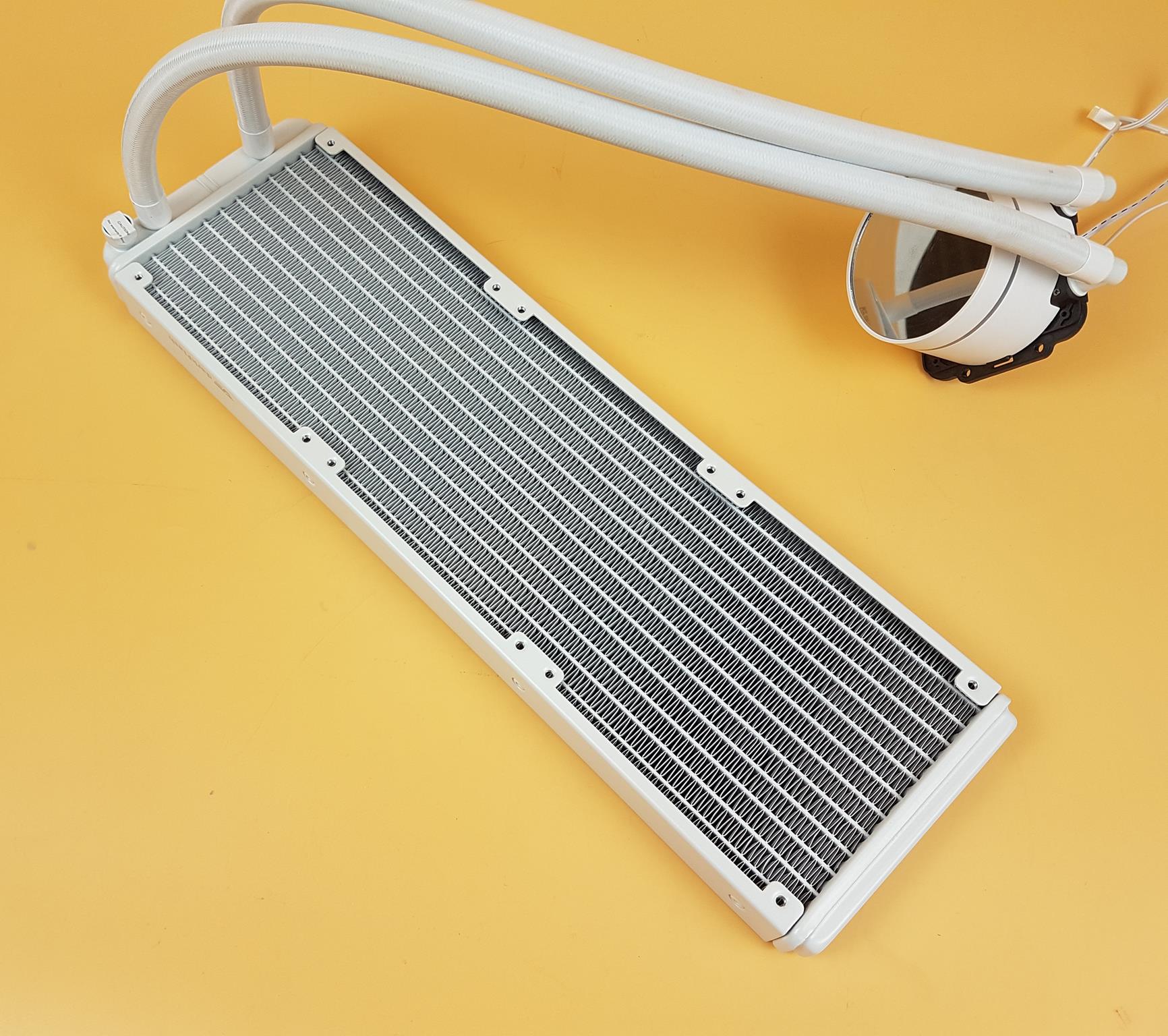 This cooler has a 360mm size and comes with a radiator having a dimension of 394x120x27mm. Here 27mm is the thickness of this unit. Installing a 120x25mm fan would make this thickness 53mm or so including the thickness of the screw head. The complete assembly is white color coated. The fin density is 20 FPI. There are 12 channels for coolant flow. There is a gap of 105mm between two mounting holes at opposite ends. There is a gap of 15mm between two adjacent mounting holes.
The far end or block has rounded corners to my liking. It has a thin profile which is obvious and more of a standard design. There is no sticker or label of any sort over here.
The overall fin stacking job is satisfactory as we did not find any bend or broken fin.
Looking at the tube side of the radiator, we can see a serial number sticker or label however you name it. White color metallic covers hide the connections. There is a warranty void sticker over another port cover. Possibly this port is reserved for factory use and tampering with it may lose the vacuum pressure of the loop.

There is a darkFlash text in a white color on the side frame. This frame is riveted to the main housing. There is a gap between side frame and actual fin stack implying that thickness of fin stack is less than 27mm.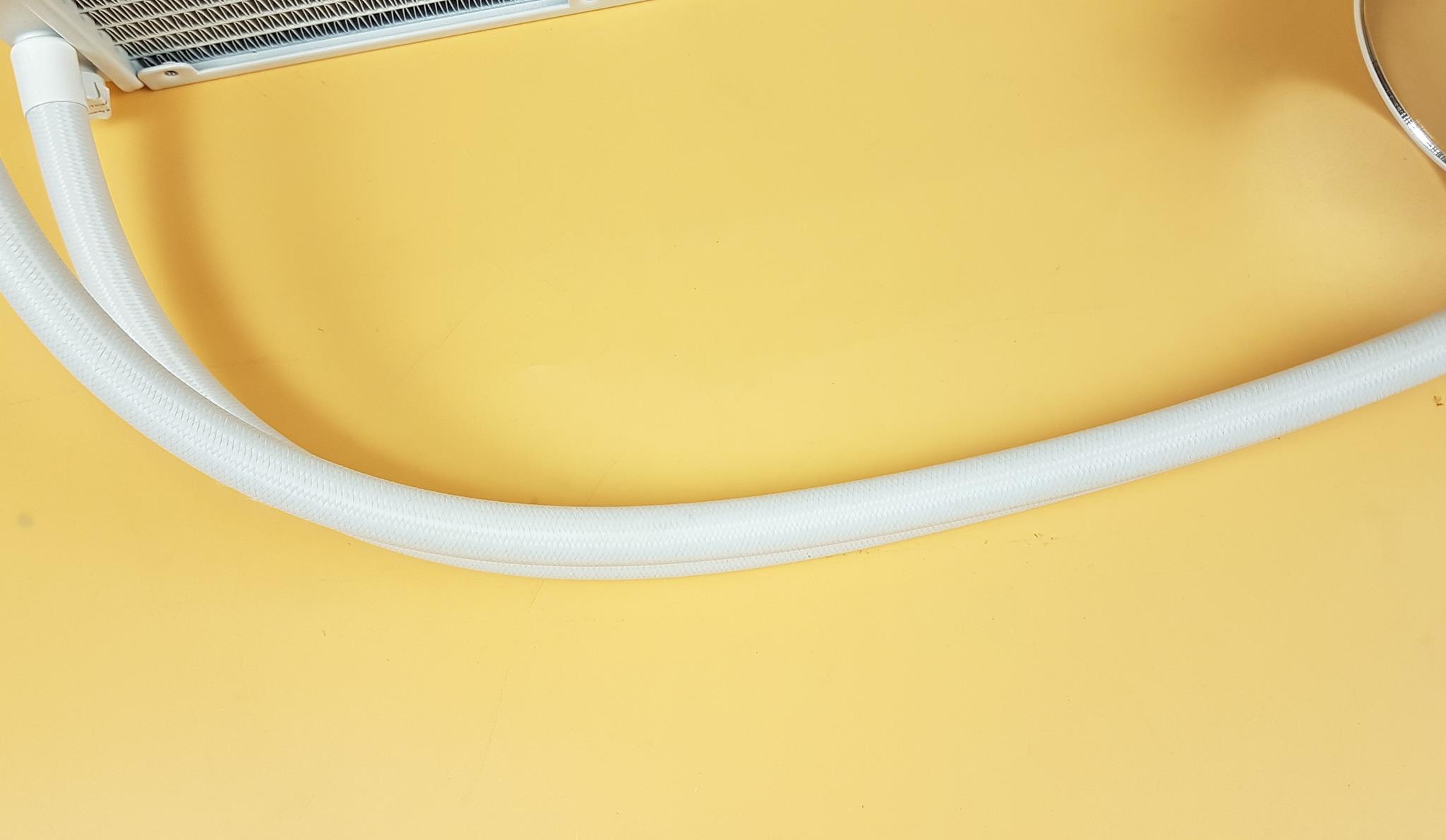 darkFlash uses rubber tubes. These have nylon braided mesh sleeves over them. These tubes have a length of 400mm. These tubes are not that flexible.
The pump housing is made of plastic material and it is in a ring or circular design. It has a dimension of 78.5x70x54mm. There is a dual-chamber sort of design. The top chamber can be rotated. There is a thick diffuser separating the top portion from the lower portion. The top portion has an infinity mirror effect with a darkFlash brand logo whereas the lower chamber has a pump and cooling block.
The above picture shows the top view of this block. It has a high glossy finish and is fingerprint magnet.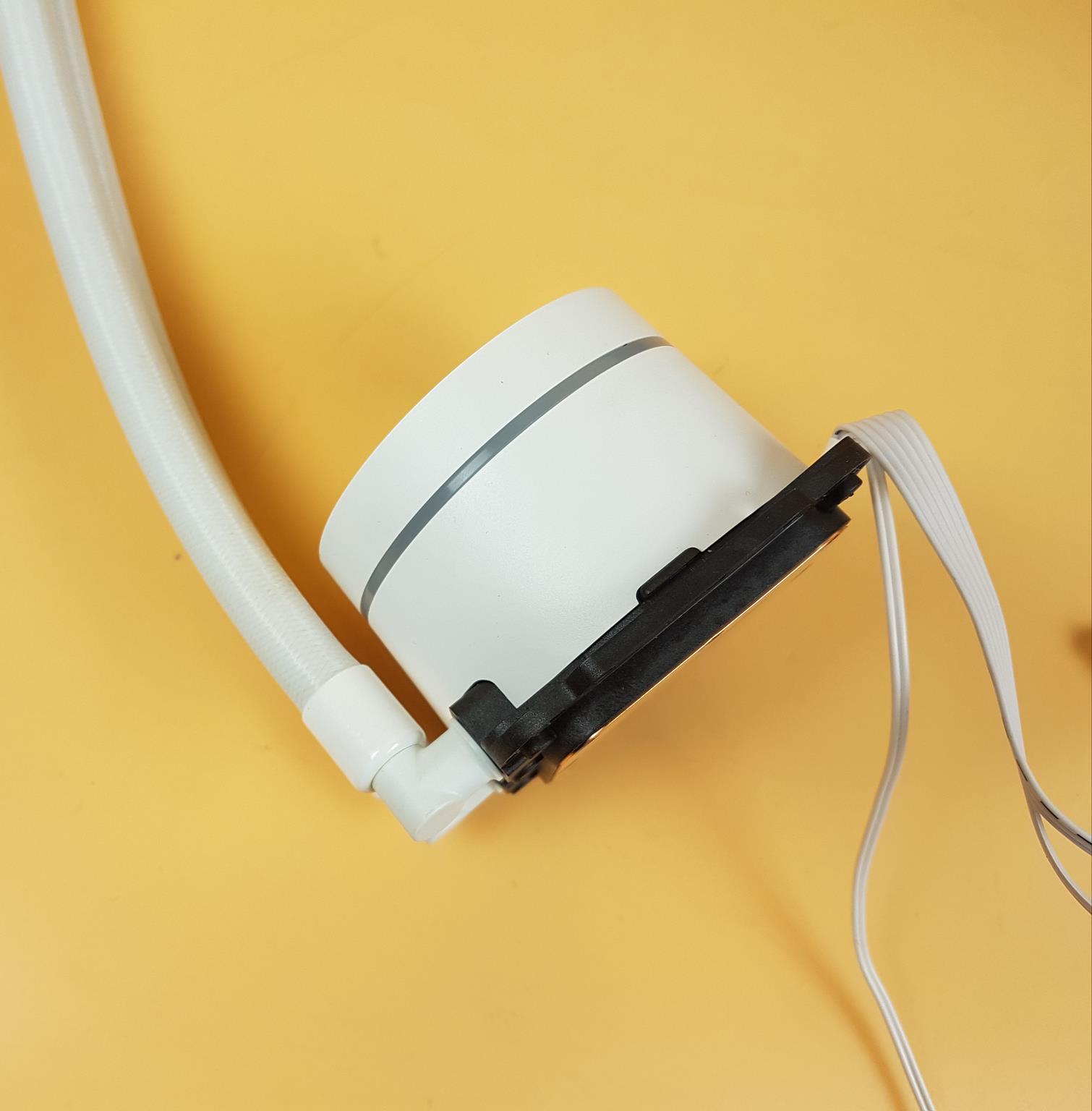 There is no branding or styling on any side of this housing.
Looking at the main frame from the front, we can see flat cables coming from the upper base. The majority of the AIOs have these cables coming out from the tube end of the block and that makes the cable management easier than this way.
There is a 3-pin connector on a cable powering the pump. There are standard 3-pin, 5V ARGB connectors for the ARGB LEDs. This makes the Twister DX360 V2.6 compatible with the RGB sync technology of major motherboard manufacturers. The pump is rated for 2700 ± 10% RPM. It is rated for 12VDC.
There are two more cables coming out from the base. One is the SATA connector and the other is the RESET SW label connector cable. Both are optional. These cables would be needed in case your motherboard does not have a 5V, 3-pin ARGB header, in which case you would have to sacrifice the reset connector on the front panel of your PC Case by connecting it to this connector and powering this connection using SATA. This will enable the pre-programmed ARGB modes allowing the users to still enjoy lighting effects.
The above picture is taken from darkFlash website and it highlights the same what we have described above.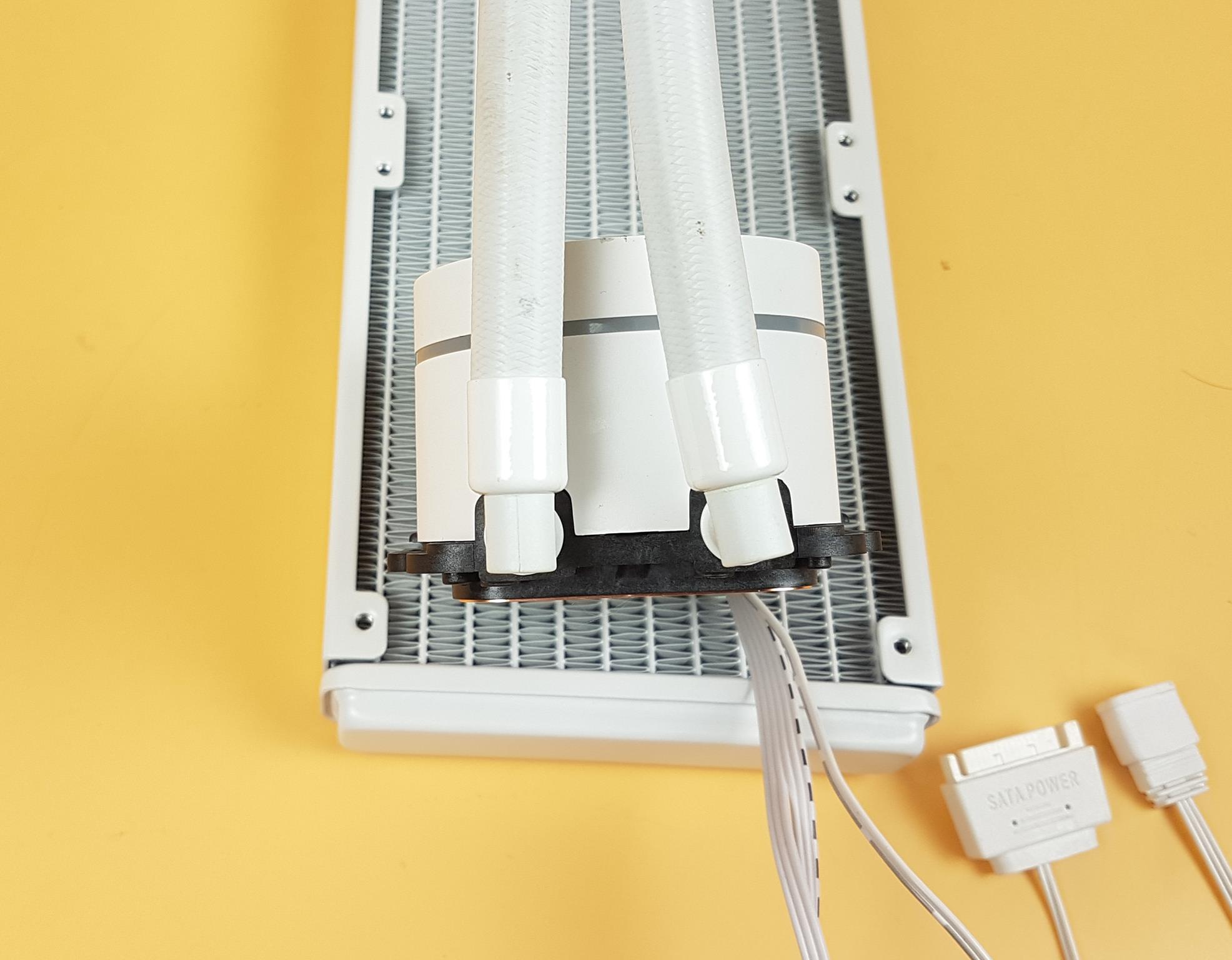 The backside of this housing has 90° right-angled fittings on which the tubes are connected. They can be moved towards the right and left depending on the requirement. darkFlash has used metallic clamps to conceal the connection. There is a copper base on this unit measuring 55x55mm. The mounting brackets are installed on the housing using 4x screws.
There are three 120mm A-RGB fans that come with this cooler. Unlike the DC Radiant cooler, these fans don't come pre-installed. Each fan has 9 blades. There is a darkFlash branding on the hub. Hub has a large size diameter because it has A-RGB LEDs and it has an infinity mirror design as well. This is something new to me. Overall, this cooler is quite something to look for. There are cut-to-size anti-vibration pads on the mounting corners.
We could not find the arrow symbols that help the novice user identify the direction in which the blades would spin and the direction of airflow through the fan. There is a stylish striped design on the sides.
There is a 6-arms assembly on the backside. There are two arms extended from one arm that catches the wires passing from the hub towards the frame. The fans are made in China. There is no power rating printed over here.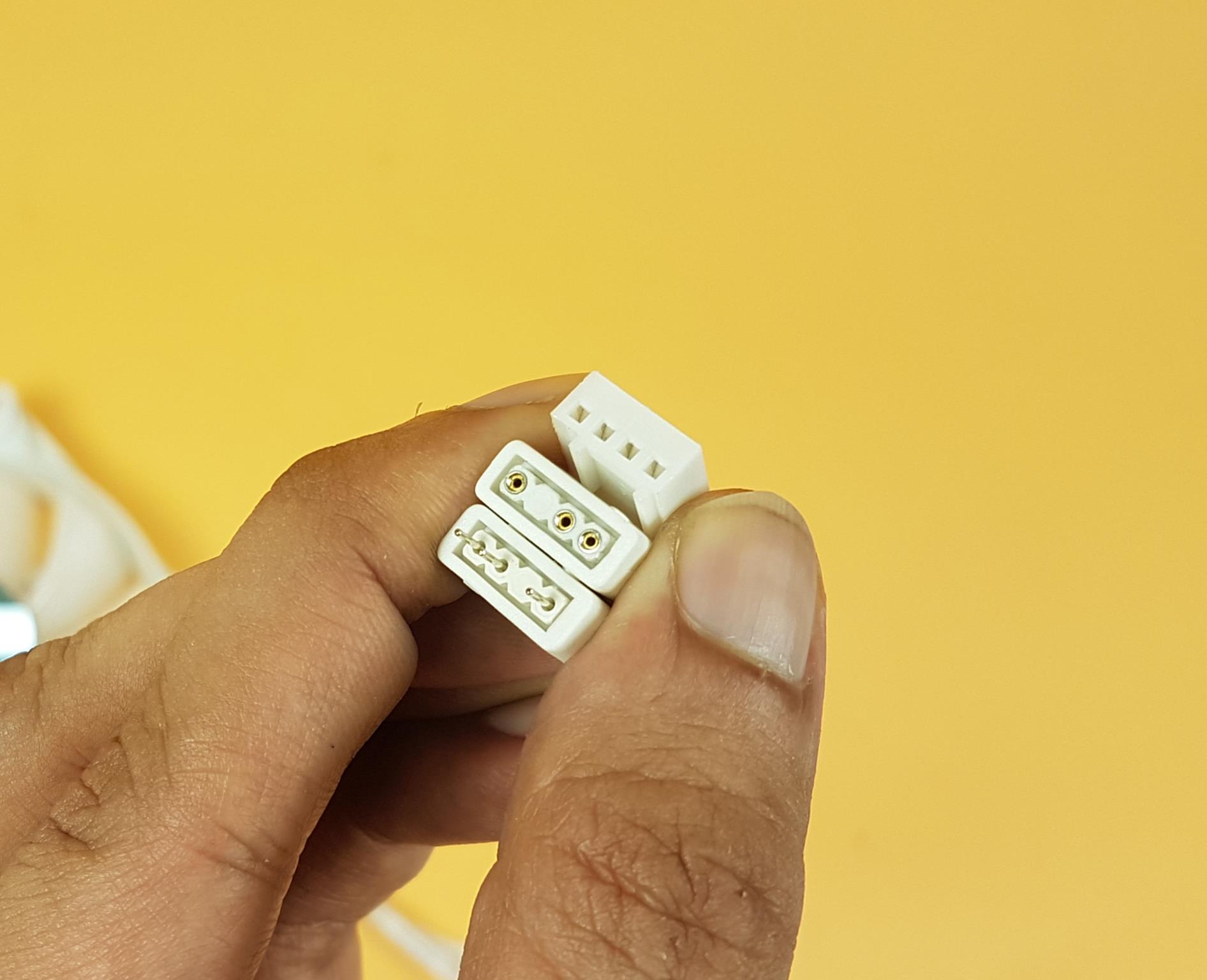 darkFlash is using standard ARGB connectors which is a wise move. The fan's power cable has a 4-pin PWM connector. Salient specifications are:
Installation
We are not covering the details of installation. Please refer to the online user guide for detailed instructions about installing this cooler. We did not notice any observation during the installation.
RGB Lighting
Since darkFlash is using standard RGB connectors, the A-RGB lighting is compatible with RGB sync technologies of motherboard manufacturers. We have tested on GIGABYTE Z790 AORUS ELITE AX motherboard using RGB FUSION 2.0 app and it was found working fine. The lighting solution is compatible with:
ASUS AURA SYNC
ASRock POLYCHROME SYNC
GIGABYTE RGB FUSION 2.0
MSI MYSTIC LIGHTING SYNC
Here are a few pictures: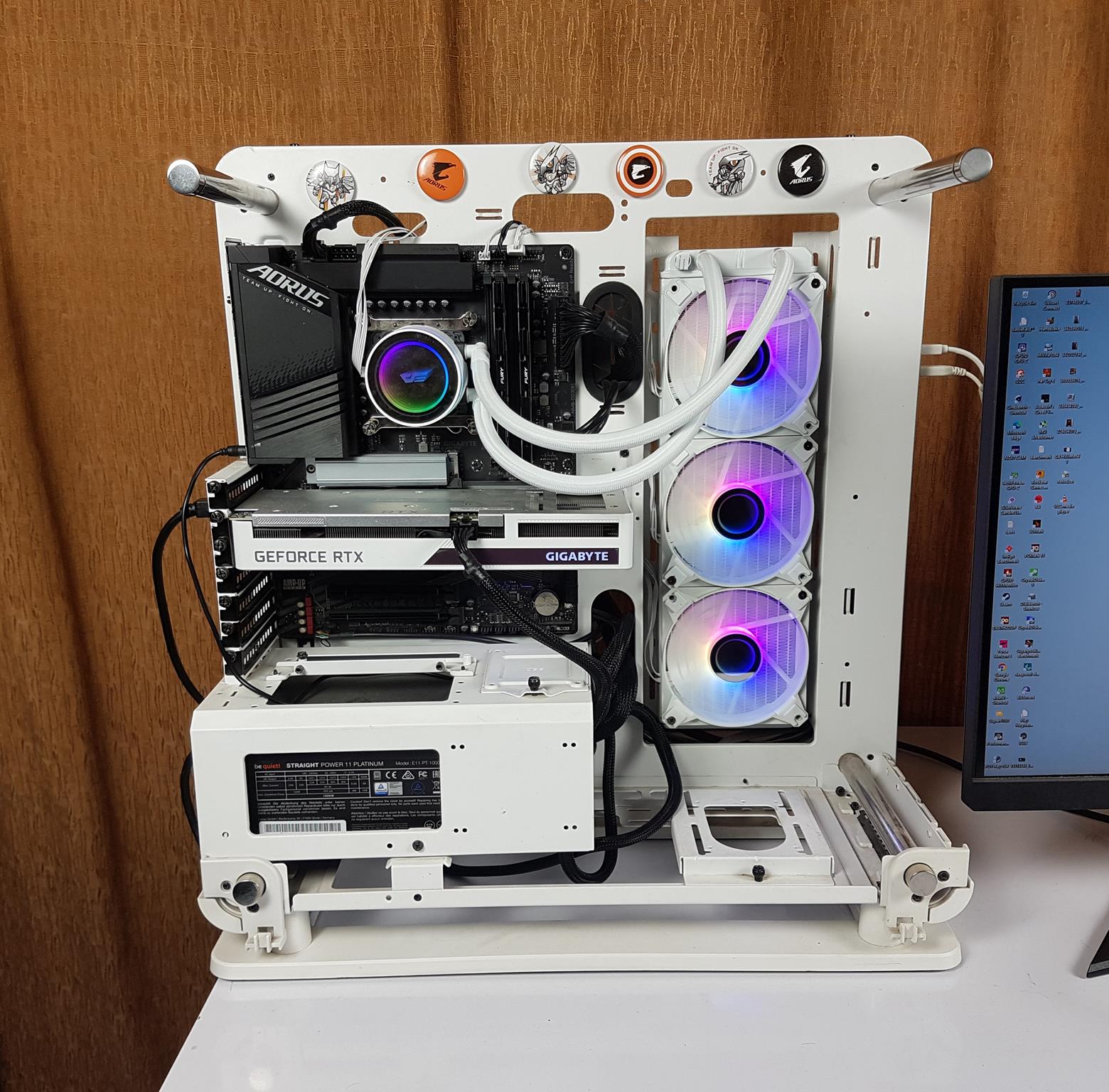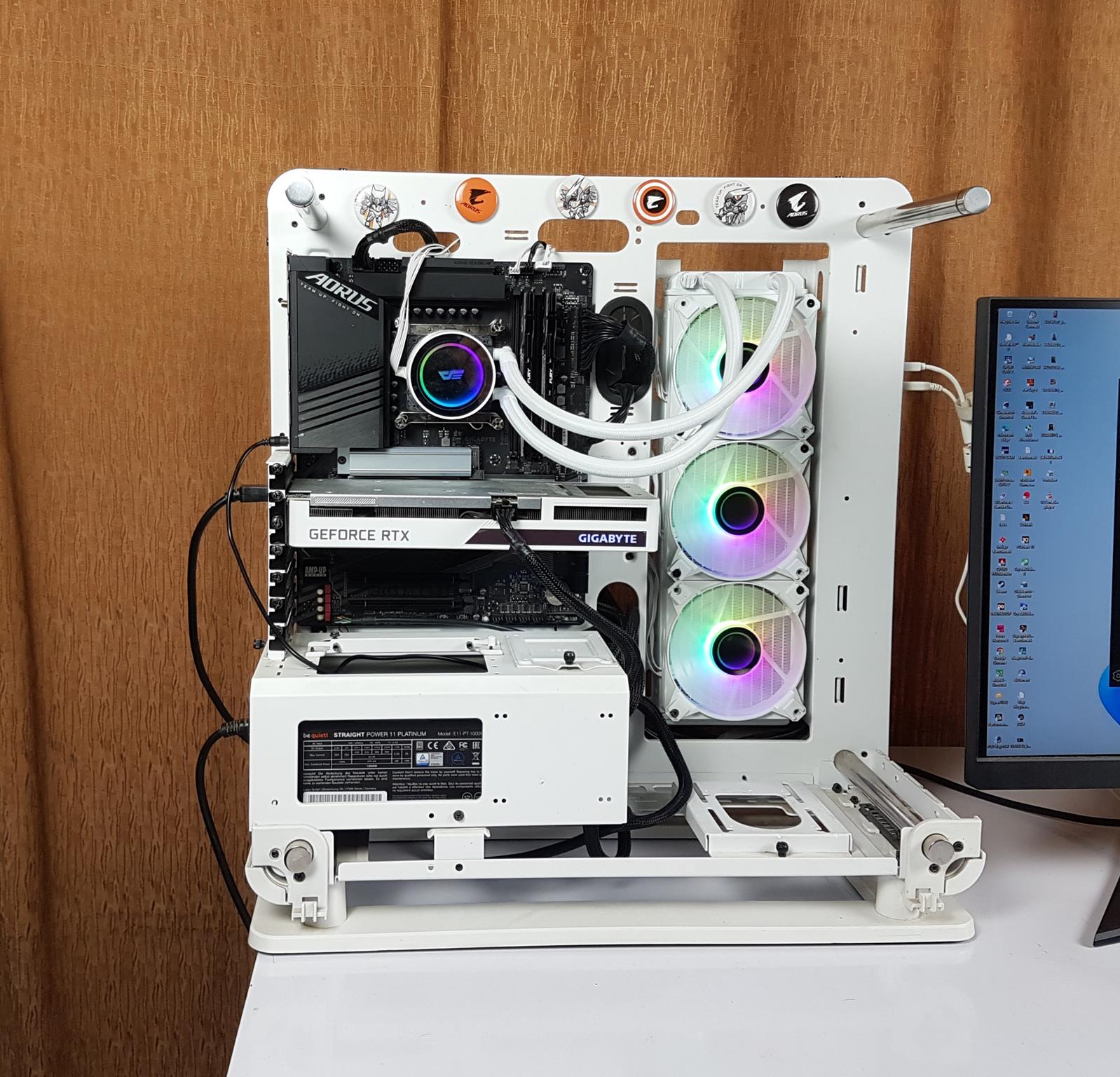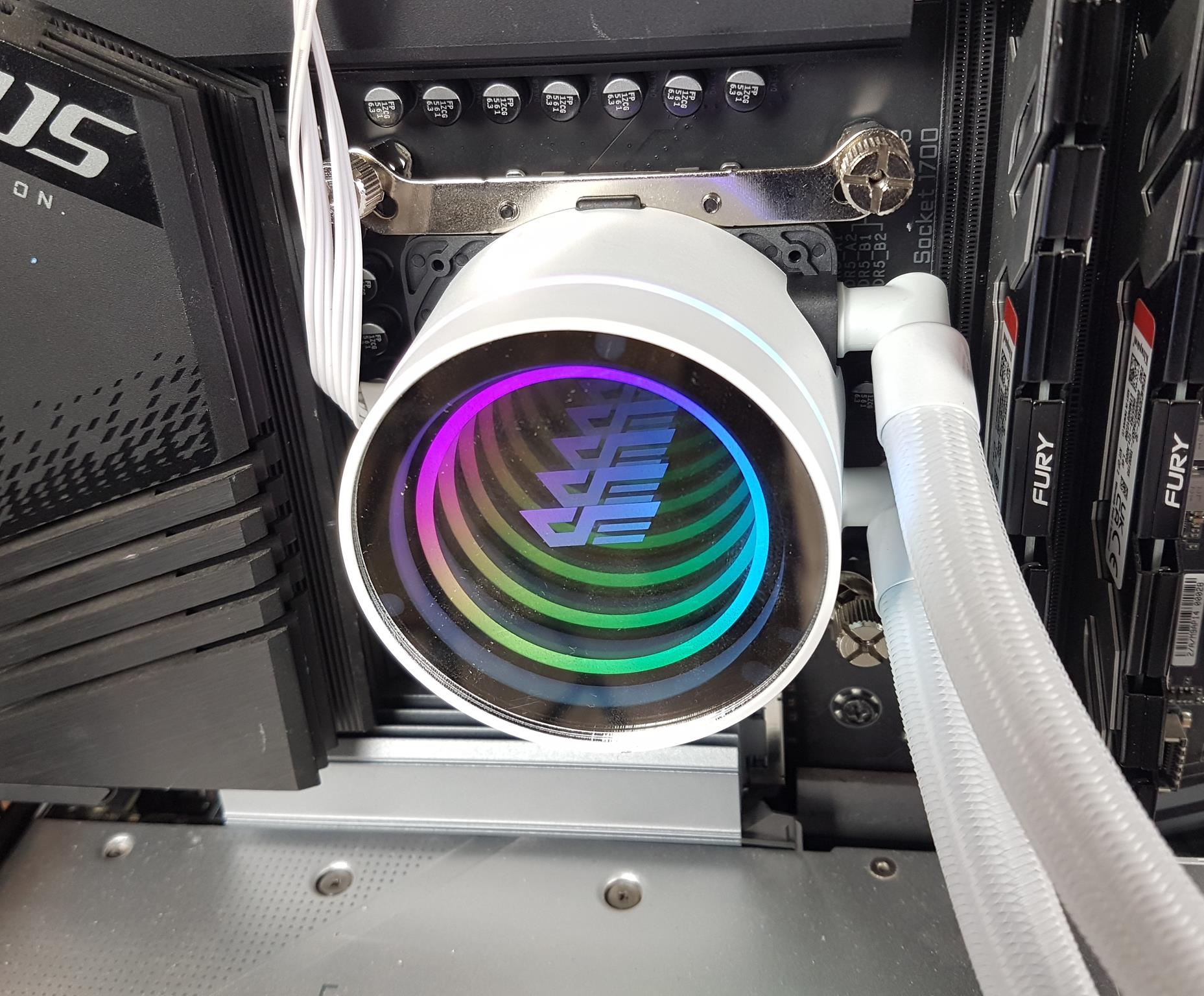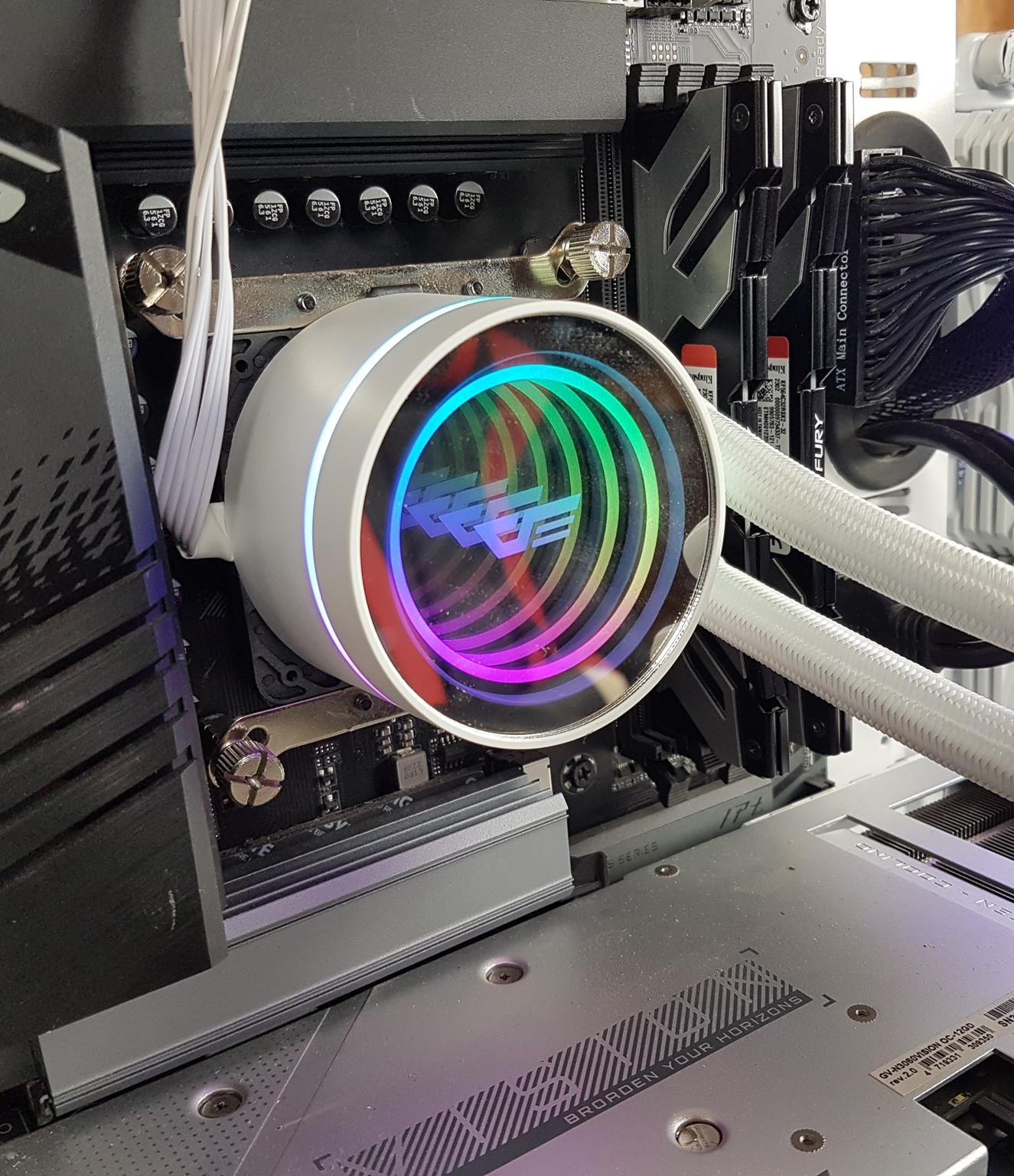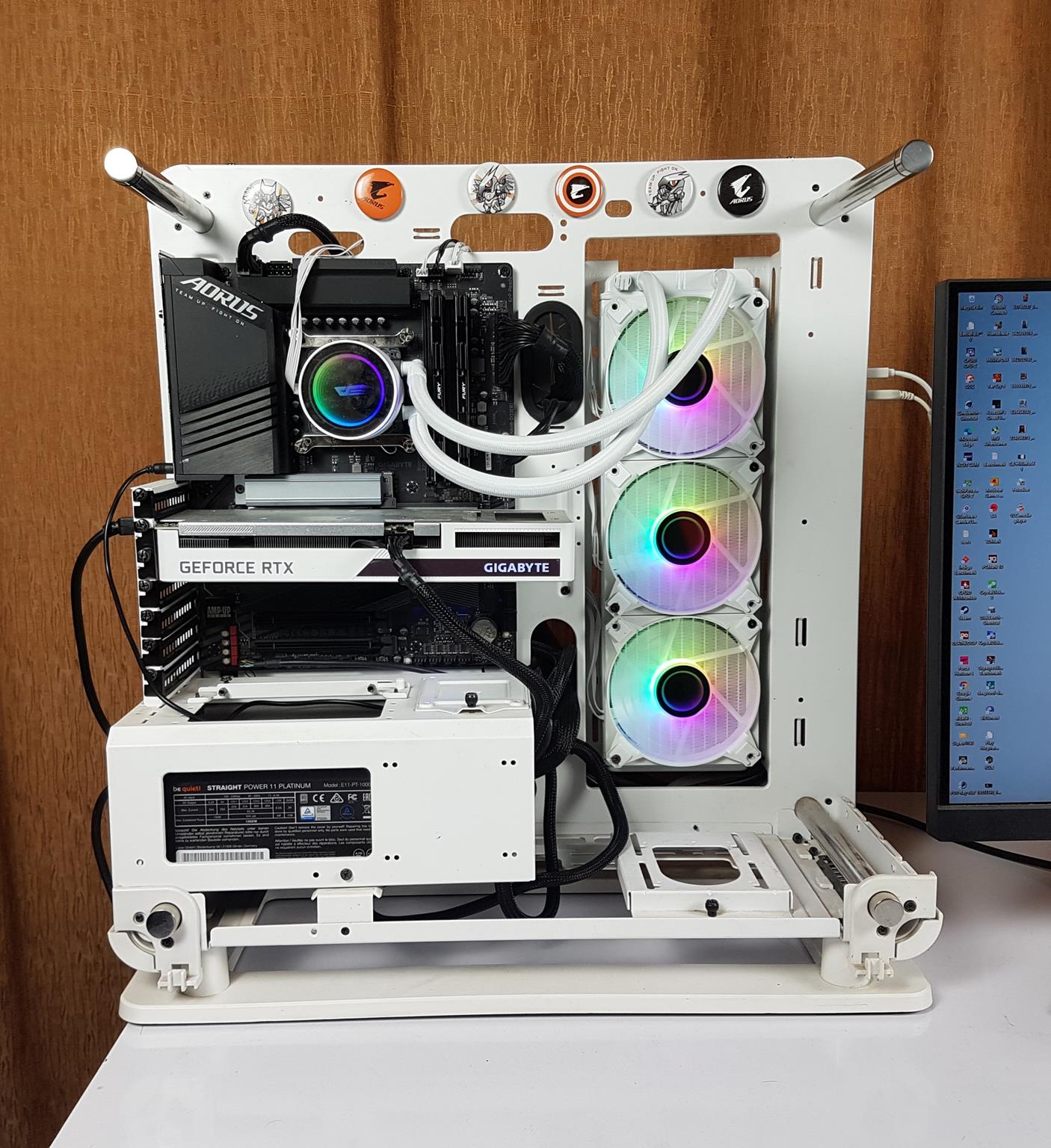 Thermal Testing
We have used the following configuration for testing:
Intel Core i7 13700k
GIGABYTE Z790 AORUS ELITE AX
Kingston Fury DDR5 32GB @ 6400MHz CAS 32
GIGABYTE GeForce RTX 3060 VISION OC
Be quiet! Straight Power 11 850W Platinum PSU
Thermaltake Core P6 TG Snow Edition in an open frame layout
The test table for Intel core i7 13700k is:
| | |
| --- | --- |
| Clocks | Auto, Stock |
| Voltage | Auto, Stock |
| Power Limits | Removed |
| C-States | Disabled |
| Speed Step | Disabled |
| Rest of settings | Stock, Auto |
| XMP | XMP Loaded where available |
| Thermal Paste | Alphacool Subzero |
| Thermal Paste Application | X pattern |
| Headers | CPU_FAN, CPU_OPT, and PUMP Headers |
| Stress Software | CINEBENCH R23.2 |
| Stress Run Time | 30 minutes |
| PC Idle Time | 5 minutes |
| Monitoring Software | HWInfo64 |
| OC Tool | Intel XTU |
We have seen AMD AM5 and Intel Alder Lake S CPUs taking more power and this time both sides have aimed at reaching the maximum clocks regardless of thermal limit. In fact, the AM5 SKUs will run into thermal limits right away depending on the cooling solution and the clocks being used. This has made testing of CPU coolers challenging because viewers/readers are not used to a new nomenclature which is what clocks are sustained under a given load using a particular cooler. That is if the cooler is capable of providing enough cooling head to sustain the high frequencies at high package power. Among other reasons is the high thermal density of these new CPUs. Traditionally we are used to going the other way around that is which cooler is better in terms of thermal capacity. Despite this, we are using temperatures as a base for measuring this unit.
The ambient temperature was 27°C. We are reporting absolute temperatures in the graph. The testing is done on an open-air bench system. Once inside the chassis, the temperatures are expected to rise and would largely depend upon the optimal airflow inside the chassis.
Disclaimer: Every silicon is different hence no two same SKUs are likely to take same voltage to yield same performance at same thermals per se but margin would be close. Not every stress test run may yield the same result which could be due to various reasons like thermal paste application, ambient temperature variation, mounting pressure of the cooler, etc. This is why we have listed our variables and their settings. Let's take a look at the results.
Result
The darkFlash Twister DX360 V2.6 has performed quite well beating the ID-COOLING DASHFLOW 360 XT LITE WHITE by 1°C though this is a marginal takeover. In fact, both coolers are in the same thermal performance range. This is where the darkFlash cooler has a distinct advantage because of its price. It is retailing at PKR 25,000/- whereas the ID-COOLING cooler will be released at 36,500/-.
Noise
This cooler was loud making 55 dB(A) at an ambient of 32 dB(A).
Conclusion
We have tested a 360mm cooler from darkFlash named Twister DX360 V2.6. The version 2.6 is latest and supports Intel LGA1700 and AMD AM5. In addition to this support, the block of this cooler has a rotatable top cover which is a wise decision by the manufacturer. The radiator is made of aluminum material and has a dimension of 394x120x27mm. The total thickness of this unit would be near 53mm or so including the thickness of the fan screw head. Since this is a white edition, the complete assembly is spray color coated in white color.  There are 12 coolant flow channels and fin density stands at 20 FPI. The connections are concealed using white color clamps. The rubber tubes have nylon braided sleeves that run to 400mm in length.
The block has a circular design with a dual chamber design. The top portion houses ARGB LEDs and an infinity mirror finish with a darkFalsh logo on the top. Speaking of the top, it has a glossy finish. Handle it with care since it is a fingerprint magnet. There is a backlit diffuser running across the borderline between the top and the bottom chamber. The lower chamber has a pump and cold plate. We only know that the pump runs at a maximum of 2700 RPM ± 10% at 12VDC. I hope that the pump is using ceramic bearing but can't confirm since there is no data available. The copper base roughly measures 55×55. The pump is powered by a cable having a 3-pin connector. The ARGB LEDs are powered by standard 3-pin, 5V connectors that make this cooler compatible with the RGB sync technology of major motherboard manufacturers. There are two more cables as well. One is SATA and the other has a large-size connector. These are optional and would come in handy for users who have motherboards without ARGB headers. Those users can optionally sacrifice the reset functionality of their PC Case by connecting the front panel's reset connector to this header/connector of the cooler and powering it using the SATA cable. Using the pre-programmed RGB modes, one can still enjoy the lighting effects. I am not sure if this is a cost-effective measure or something but it is better than those dedicated ARGB controllers that need to be placed inside the case and there is no access to them. On the other hand, there is no alternative to a proper ARGB controller.
darkFlash has provided three 120mm ARGB fans in white color with this cooler. Each fan has 9 blades. These fans are using Rifle bearings. Their rated speed is between 800 and 1800 RPM generating airflow of 51 CFM ± 10% at a static pressure rating of 1.5 mmH₂O at 12VDC. These fans have a sound output rating of 32 dB(A) ± 10%. Their life span is 30,000 hours MTTF. They have a 4-pin PWM connector and standard 3-pin, 5V ARGB connectors for daisy-chaining. I appreciate the use of standard connectors. There is no 3-way PWM splitter cable. Instead, there is a fan hub included in the box. This is a fancy way of doing the same thing.
We have tested this cooler on the Intel platform on the LGA1700 socket. The installation on the LGA1700 socket is simple and it requires 15 items to complete the block's installation on the CPU. However, cable management would be challenging because cables are coming out of the pump housing from the front side. The top cover is rotatable hence the orientation of the installation is not an issue.
This cooler is retailing in the local market of Pakistan at a price of PKR 25,000 at the time of this writing. This is competitive and budget-friendly pricing. darkFlash is offering a 3-year warranty on this cooler. This cooler has actually managed to beat the expensive ID-COOLING DASHFLOW 360 XT LITE WHITE that is expected to be released at PKR 36500. The darkFlash Twister DX360 V2.6 white is an effective cooling solution in its price range competing quite well and comes recommended by us.