Introduction
The Asus Radeon R9 290X DirectCU II is probably one of the best 290X's on the market. The R9 290X GPUs offer great value for the money, especially now that the newer 300 series of cards are out. The 290X GPUs feature 4GB of GDDR5, are based on PCI Express 3.0 and can utilize Crossfire Support, Eyefinity and AMD HD3D technologies.
The ASUS DCII 290X  features a 4.7% faster game performance in games like Metro Last Light with its 1050MHz engine clock. The ASUS DCII can also achieve 20% lower temps and has DIGI+ VRM with 8-phase Super Alloy Power that delivers amazing efficiency, reliability and performance.
Specifications
Graphics Engine

AMD Radeon R9 290X

Bus Standard

PCI Express 3.0

Video Memory

GDDR5 4GB

Engine Clock

1050 MHz

Memory Clock

5400 MHz ( 1350 MHz GDDR5 )

Memory Interface

512-bit

Interface

DVI Output : Yes x 2 (DVI-D)
HDMI Output : Yes x 1
Display Port : Yes x 1 (Regular DP)
HDCP Support : Yes

Power Consumption

up to 300Wadditional 6+8 pin PCIe power required

Accessories

1 x Power cable
1 x Red metal sticker kit
1 x Gold metal sticker kit

Software

ASUS GPU Tweak & Driver

ASUS Features

DirectCU Series
OC Series
Super Alloy Power

Dimensions

11.3 " x 5.8 " x 1.6 " Inch
Closer Look
PACKAGING
The box itself looks quite familiar and is almost identical to the ASUS GeForce GTX 770 I had. On the front is a nice design used to grab the consumers attention, there is also a small image of the DCII cooler. On the back of the box is a bit more information about some of the features the ASUS Radeon 290X DirectCU II has. On the back, users will also be able to see what outputs the GPU has which include 2x DVI, 1x HDMI and 1X Display Port. One of the things I like about ASUS GPUs is the fact they don't include a bunch of unneeded accessories! The only real accessory per say is the dual 6-pin top 8-pin converter.
ACCESSORIES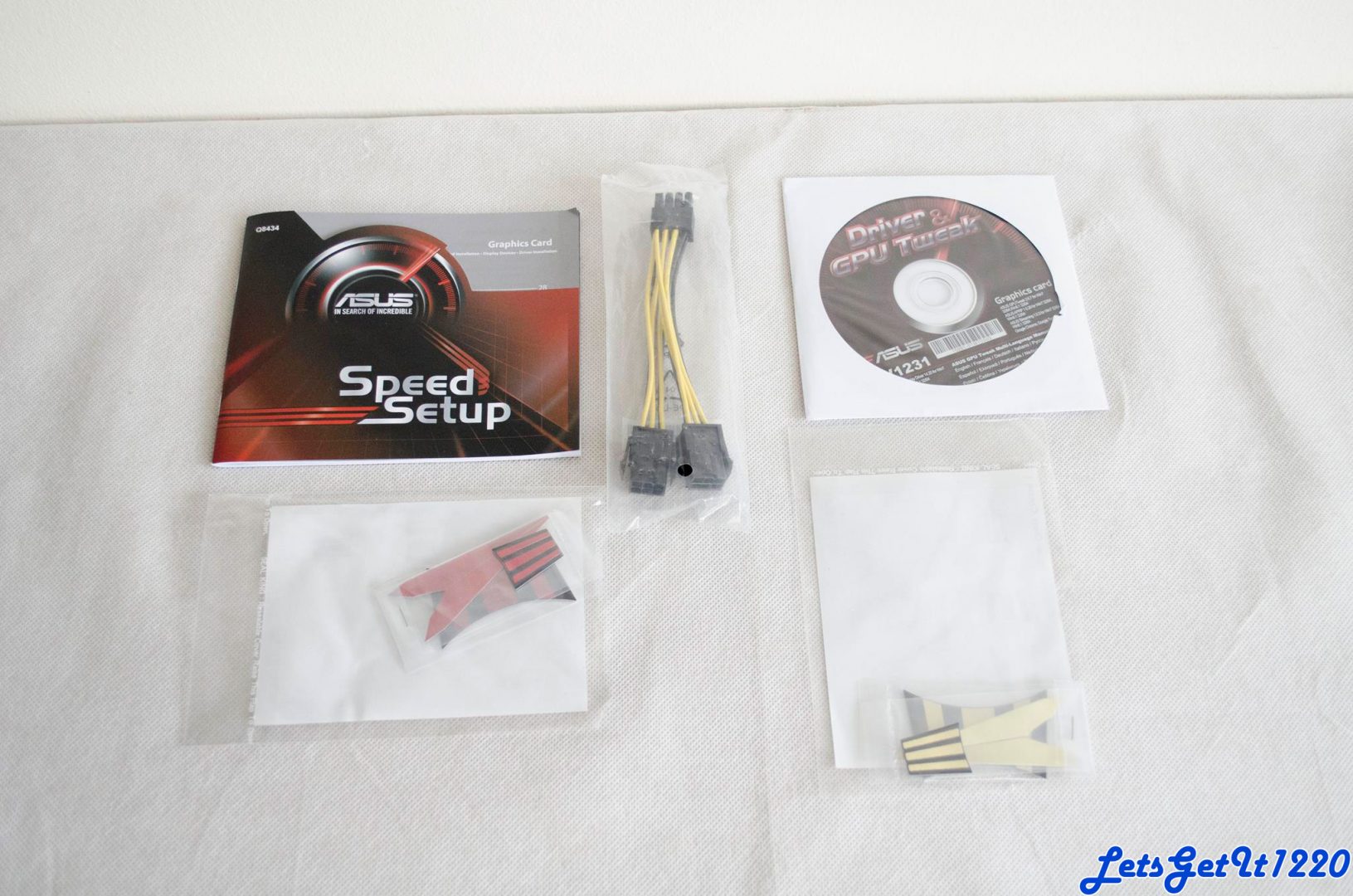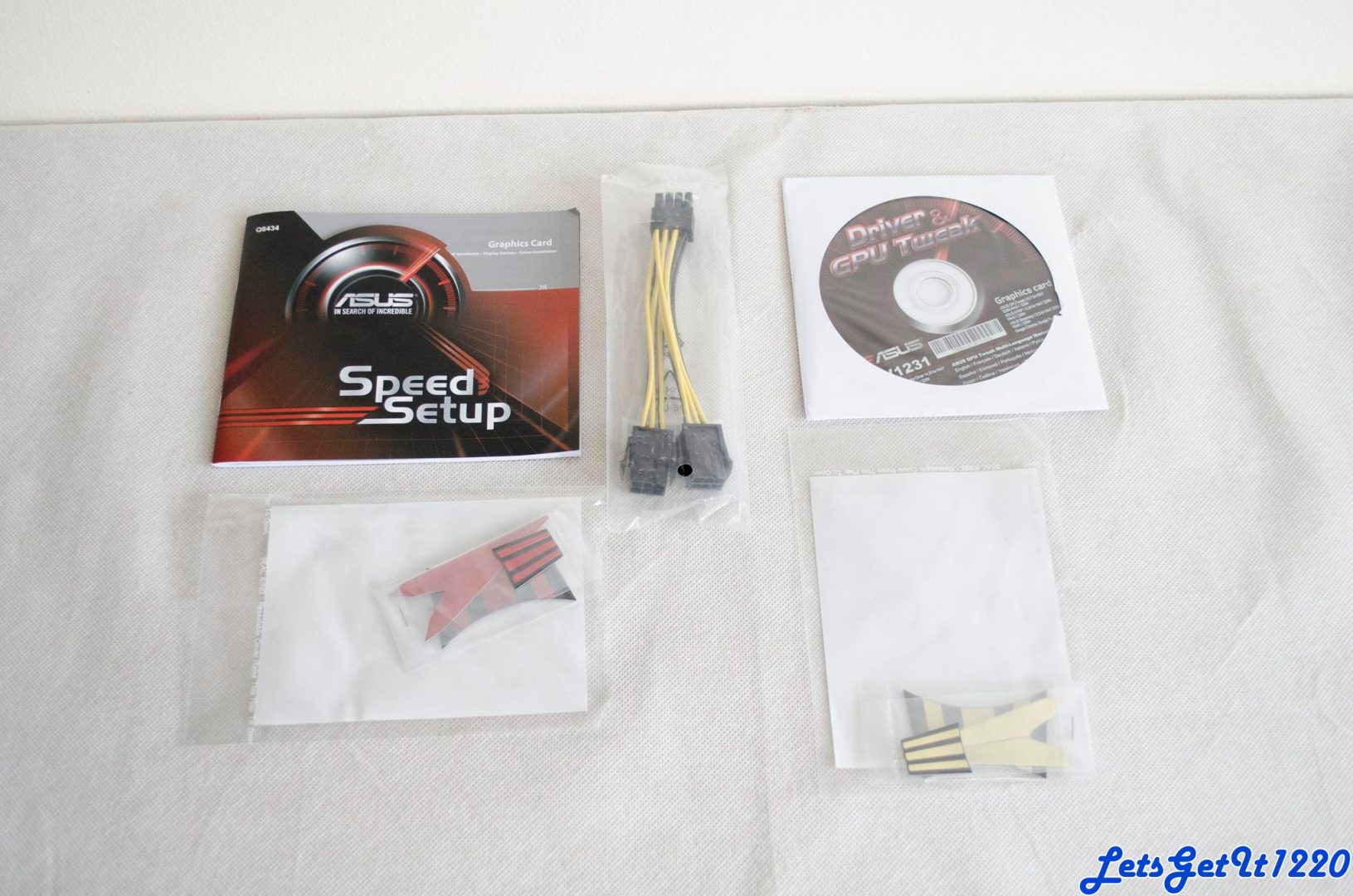 THE CARD
If you ask me, the bare card itself looks the best before you add any of the gold or red accent stickers to it. There is just something about the all black design that makes it really appealing and at the end of the day, will also make it easier to paint for those who want to make it fit in with a different coloured build.


Another of the things I really like is the fact that it comes with a pre-installed backplate! This really does help properly set the card off and gives it a better overall look, rather than just showing a bare PCB.

As mentioned, the ASUS Radeon R9 290X DirectCU II features 2x DVI, 1x HDMI and 1x Display Port outputs so users can make use of many different type of monitors and even use multi-monitor (Eyefinity) setups. 
Here are just a few more photos I took to showcase the looks of the card, including the DirectCU II cooler, power inputs and even a look at the card inside my case.
Final Words
The ASUS Radeon R9 290x DirectCU II is without a doubt the best card I have ever owned personally. It runs everything I throw at it on a single 1080P monitor on Ultra without any problems what so ever. I will be doing a more in-depth review on it in the future, for now I just wanted to share some pictures of it with you all. If you have any questions, or, any suggestions for what you would like to see in the full review please do get in contact! Hope you liked this quick overview and please check out some of the links below!
ASUS Website: CLICK HERE
ASUS R9 290X DirectCU II Product Page: CLICK HERE
ASUS Radeon R9 290X DirectCU II Overview http://t.co/SejTCA0Oll

— Ben Enos (@EnosTech) August 5, 2015

[js-disqus]