Patriots Computex Booth – Storage, Memory, and more!
Now that Computex is over, we can finally get to work on our content. After a lovely but tiring week in Taipei, we are ready to show you what the biggest companies in the PC tech scene had to offer. Up first, we are going to take a look at Patriot's booth!
Patriot has been around for some time and while they may not be the biggest company around, they are making strides to make sure everyone knows who they are. They currently have some of the best overclockable DDR5 memory around and their upcoming PCIe 5 NVMe SSD is nothing short of spectacular. So, with that being said, let's dive in a take a look at what they had on show!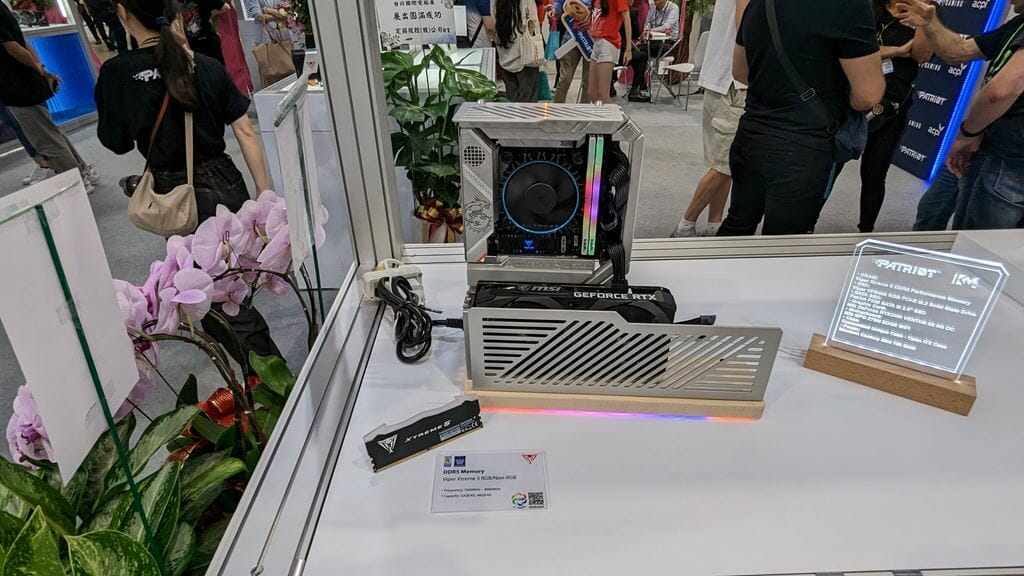 Memory
Patriot is well known for their memory and plenty of DDR4 and DDR5 on hand to show their complete lineup!
DDR4
The main attractions when it came to DDR4 were the Viper Steel and the Viper Steel RGB. This memory has been around for a while and we have even previously reviewed the RGB version. Make sure to check out our Viper Steel RGB DDR4 3600MHJZ Review to see just what we thought of it!
While DDR5 may be the new and faster kid on the block, there is no denying that DDR4 still has a massive place in the mainstream market and as such, Patriot has showcased the best of what they offer when it comes to the DDR4 memory.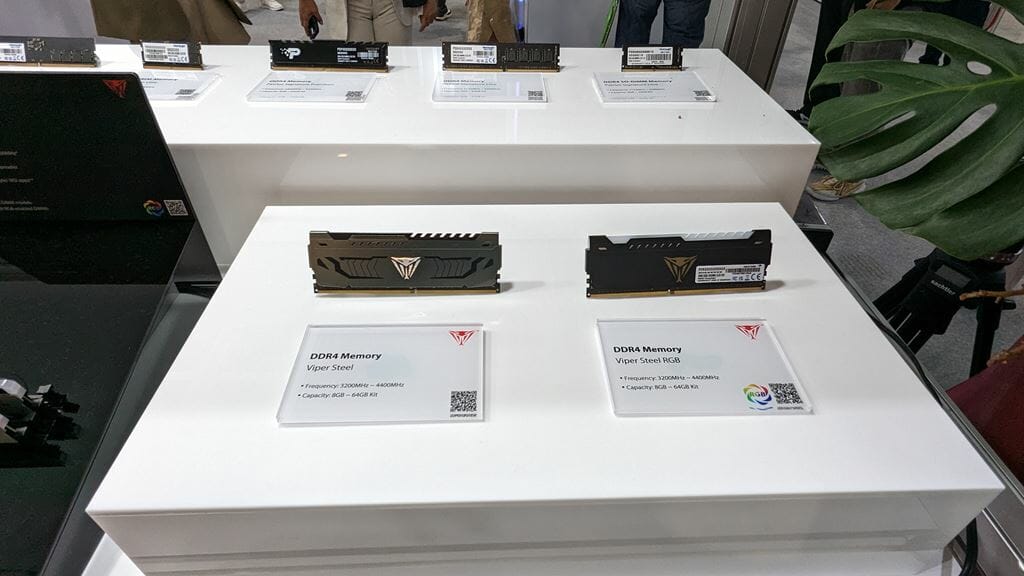 DDR5
Of course, the star of the show is Patriot's Xtreme 5! This DDR5 is currently one of the best overclockable kits of DDR5 on the market. As their flagship model, it comes in capacities up to 8000MHz, and comes with RGB (Though we are told a non-RGB version is on the way if we remember correctly). If you haven't yet had a chance to check this out, it is well worth looking into. Note, this kit really is for advanced users so if you're not sure if your system will run it fully, it likely won't so make sure to check first!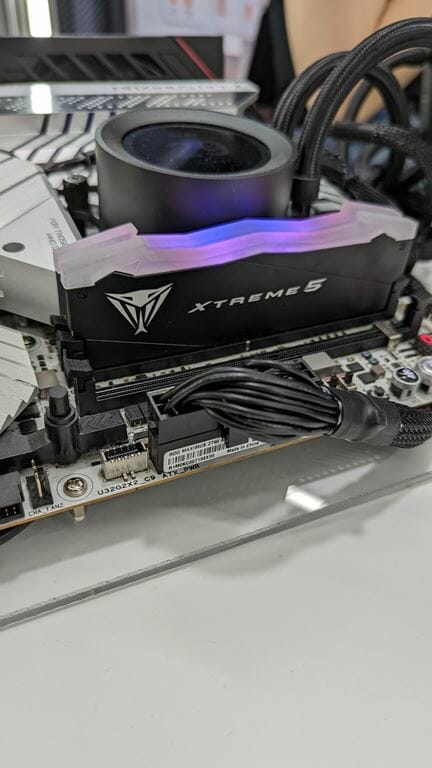 For our more everyday users, Patriot still has a lovely lineup for DDR5 that will offer much more compatibility with your more everyday systems.
The Viper Venom comes in both RGB and Non-RGB versions and can run at speeds of 5200-7400MHz and comes in sizes from 8-64GB!
The Viper Elite 5 as seen below was probably my favorite-looking kit of RAM on the Patriot booth. They really do need to be seen in person to be fully appreciated.
This kit comes in up to 96GB Kit Capacities with speeds between 5600-7000MHz making sure you are still getting all the performance you possibly can.
Next up is the Venom Viper kit which comes in sizes of 16-64GB (kit capacity) and speeds of 5200-7400Mhz.
As we can see, Patriot is really trying to push things along and offer some of the best memory products to go with current-gen Motherboards and CPUs.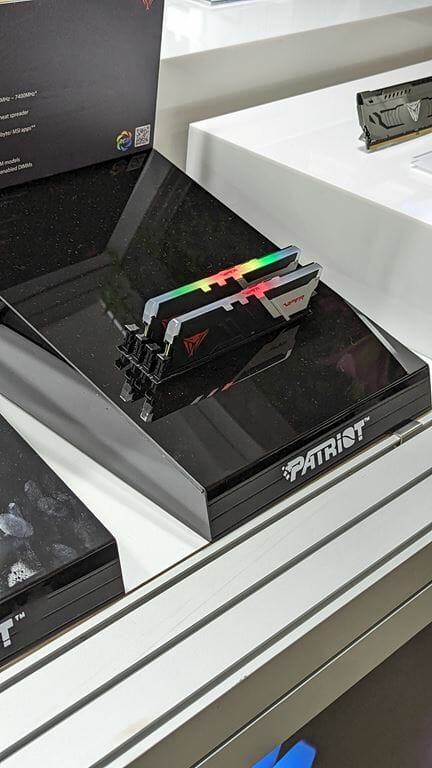 Storage
NVMe SSD
Alongside the amazingly fast Memory we have seen from Patriot, they also offer some blistering fast NVMe storage as well.
While the design is not 100% finalized, the Viper PV553 is going to offer speeds of up to 12,400MB/s Read and 11,800MB/s write! On top of this, it is going to come with a fan and heatsink assembly to make sure that it does not overheat even when topping out on those amazing speeds.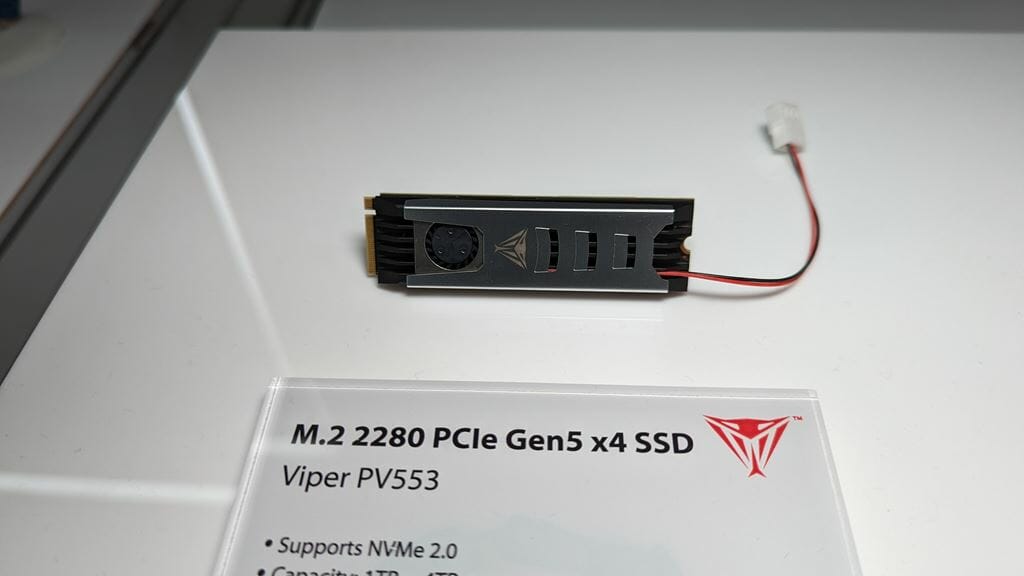 As we have seen PAtriot is pushing the envelope and offering some of the faster DRAM and Storage out there. However, they also like to make sure they have products for the everyday user as well.
The below NVMe SSDs are all based on GEN4 x4 spec and offer varying speeds and capacities based on your needs.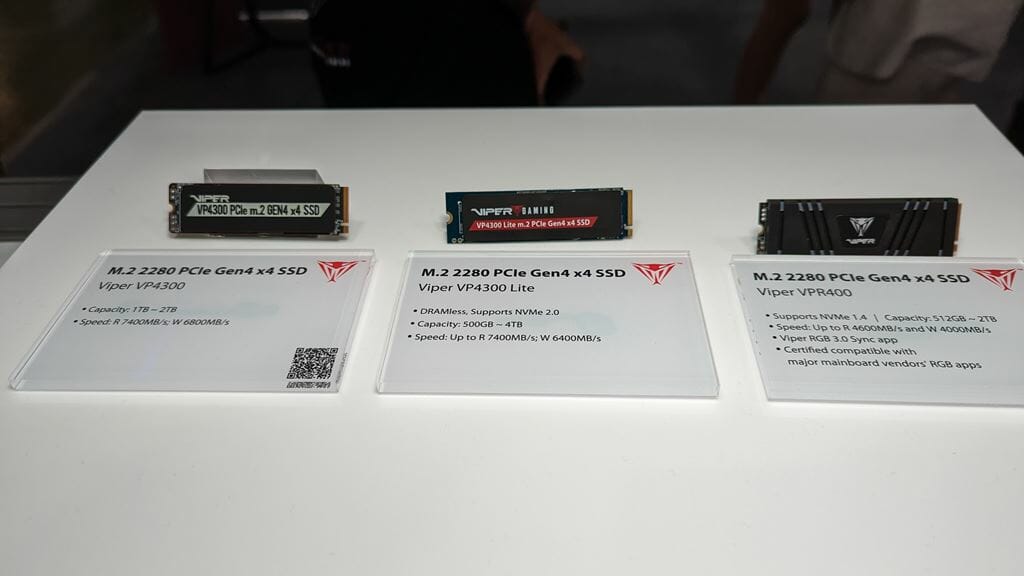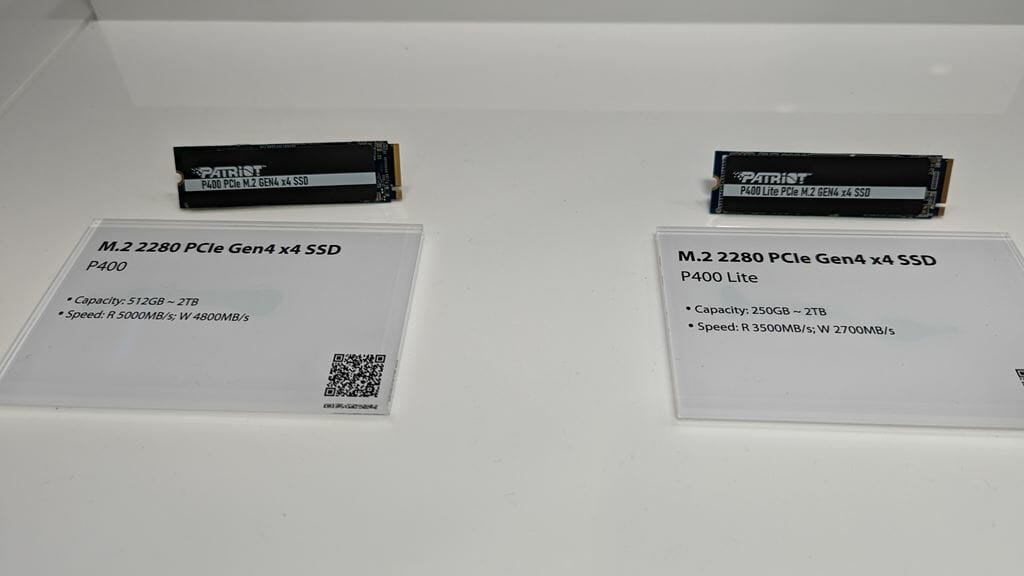 The VPN110 is a Gen3 x 4 SSD that offers slow speeds than the other drives we have seen but still comes in capacities up to 2TB. Generally, this should mean this drive is a bit cheaper than the others but would still be great for games and general storage and apps.
Patriot also showed off some slower Gen3 x4 SSDs and while these are not blistering fast when compared to everything else we have seen, they would still be a great upgrade from a SATA SSD or even a HDD. They also make great external drives as they are cheaper so you can get multiple of them for the same price to keep things separate when needed.
SATA SSD
Those that aren't quite ready for NVMe storage will be happy to know Patriot is still manufacturing SATA SSDs as well. We have come a long way since the standard hard drive and this is where it all started so it is nice to still see companies having SATA SSDs readily available for those who can make use of them but may not be ready for NVMe drives.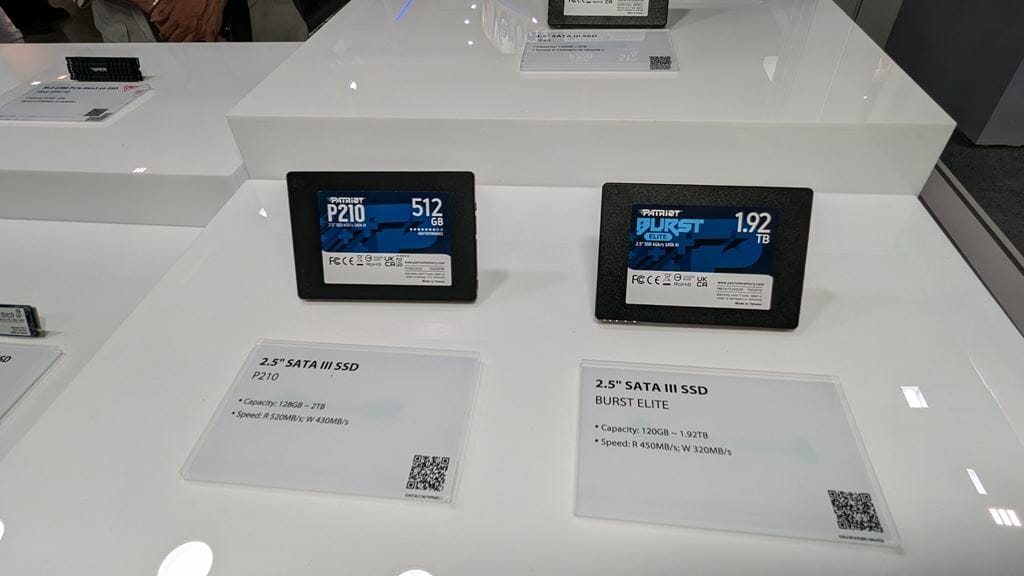 External
The Viper VXD is an external M.2 storage enclosure. Funny as it sounds, this is one of the main things I want to get my hands on as they just come in so much handy and offer better speeds than a standard USB drive.
USB and Media
For those who need them, Patriot also had a couple of USB storage drives and even some pretty fast camera memory cards. Again, nice to have storage products from a brand you can trust!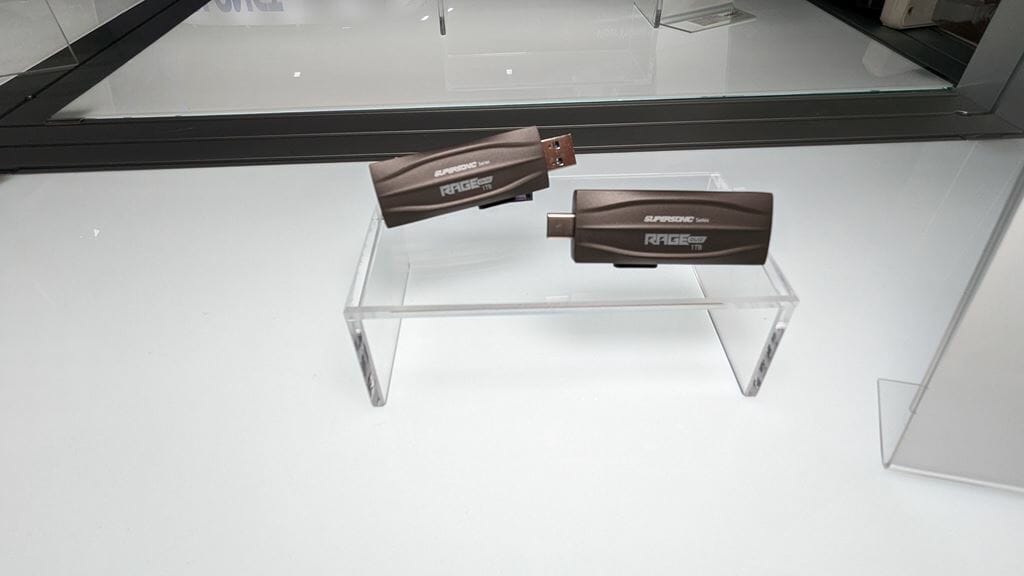 That about does it for our tour of the Patriot Booth at Computex 2023! We had a great time and many thanks to Shannon for showing us around and giving us the rundown on all the products they had on display!
If you have any questions or comments, please put them in the comment section and we will be sure to get back to you ASAP.
Please make sure to check for more of our Computex coverage in our EVENT COVERAGE which will be coming in the next couple of days!