ASUS ROG At Computex 2023 – Monitors, Graphics Cards, Motherboards, Peripherals, and more!
When it comes to events, ASUS ROG always puts on a great booth! With that being said, you know we had to stop by their booth at Computex 2023 and see what they had on display for gamers. Let me say this, they surely didn't disappoint.
I am really not sure what their centerpiece is supposed to resemble. However, there is no denying that it is eye-catching! Personally, it looks like some sort of LN2 cooling display, but at the same time, it doesn't!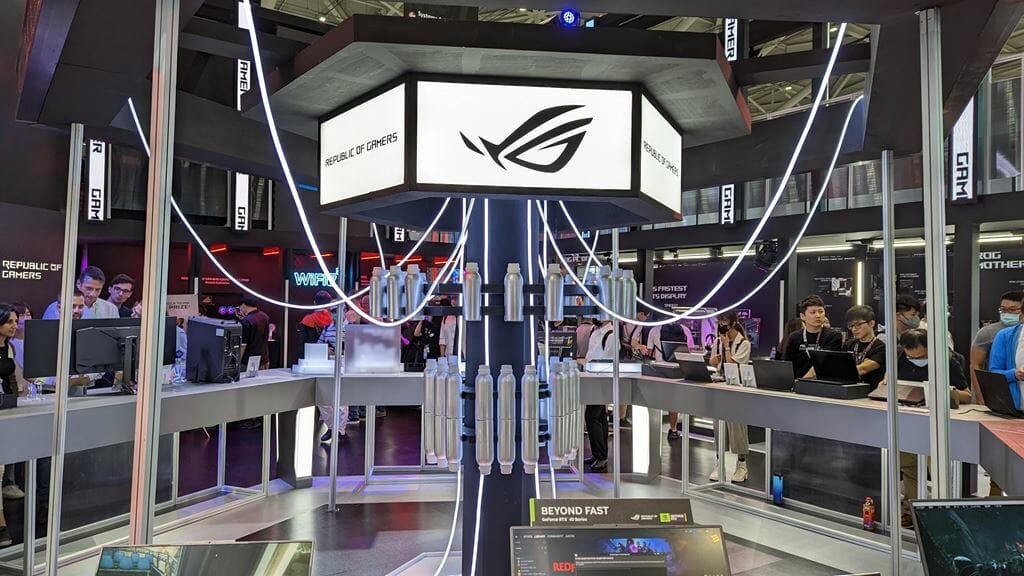 ROG Laptops
Around the centerpiece, they had quite a few products on display. They had their ROG STRIX G16 and G17 as well as a few others on display. These laptops are showcasing the latest and greatest hardware and really encapsulate what ROG wants to offer gamers.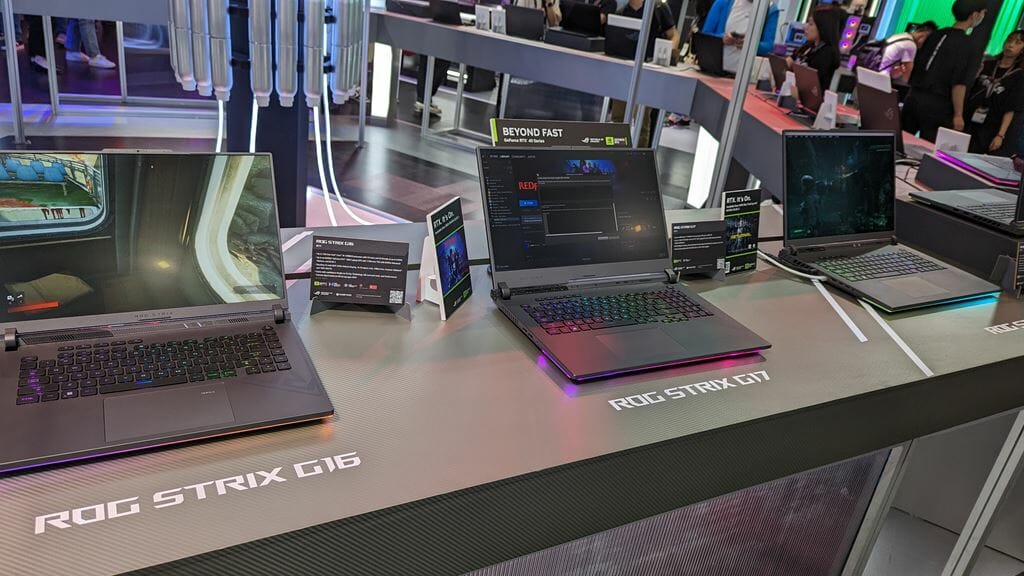 They also had their XG Mobile on display. This will add the power of an RTX 4090 to compatible laptops to give you that extra GPU boost for gaming, video editing, or anything else you may need a bit of extra GPU power for.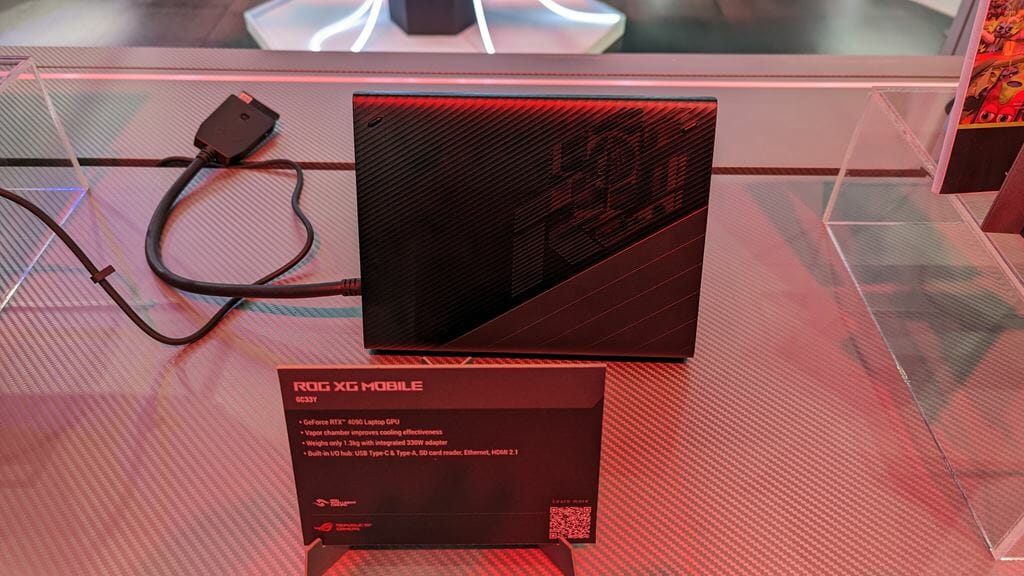 Cooling
The latest ROG RYUJIN III 360m ARGB AIO was also on display in both white and black. This AIO comes with a fully customizable 3.5″ full-color LED screen on the pump. The pump itself is an 8th GEN Asetek pump and it even encases a VRM fan as well to make sure things are as cool as possible.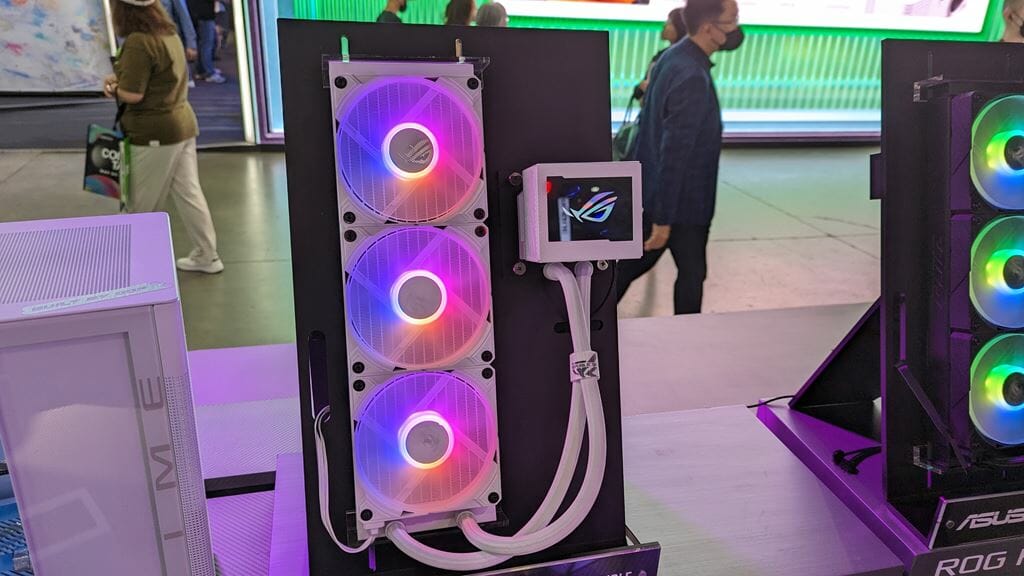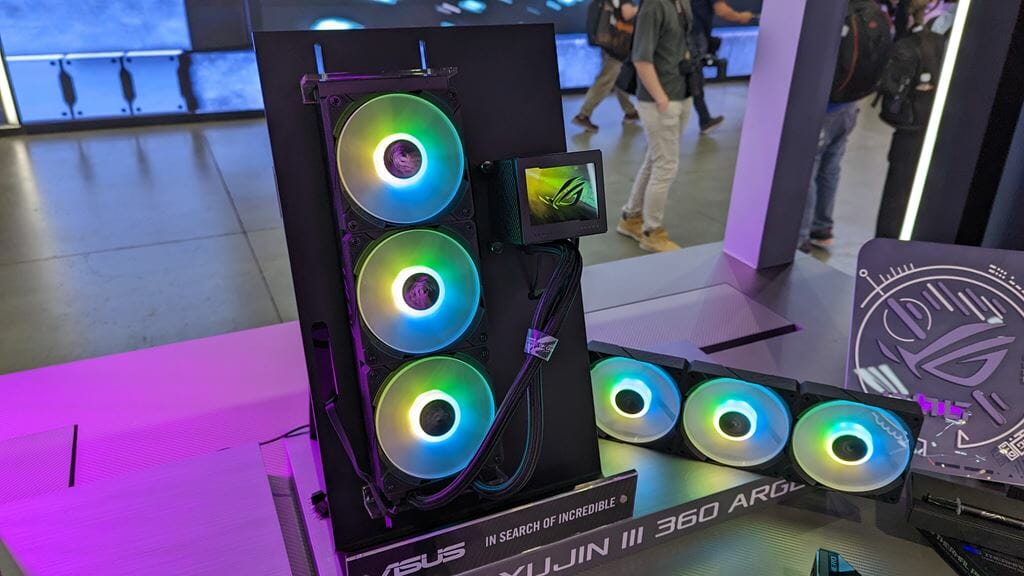 Prefer to have a full custom water cooling loop instead of using an AIO? Not to worry, ASUS have you covered there as well! The below pump/block combo again comes in both black and white and as you will see, it allows for some amazing-looking builds.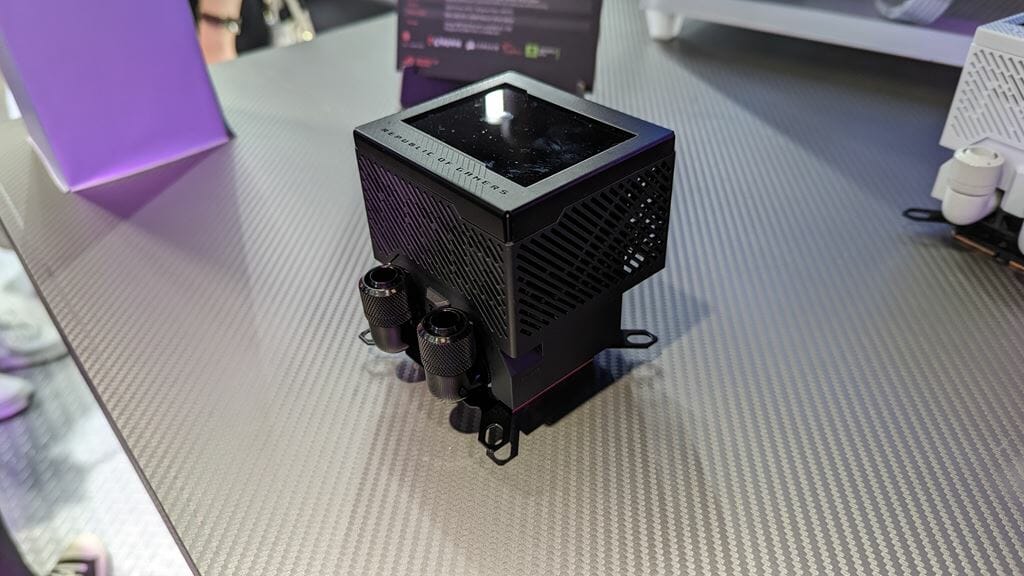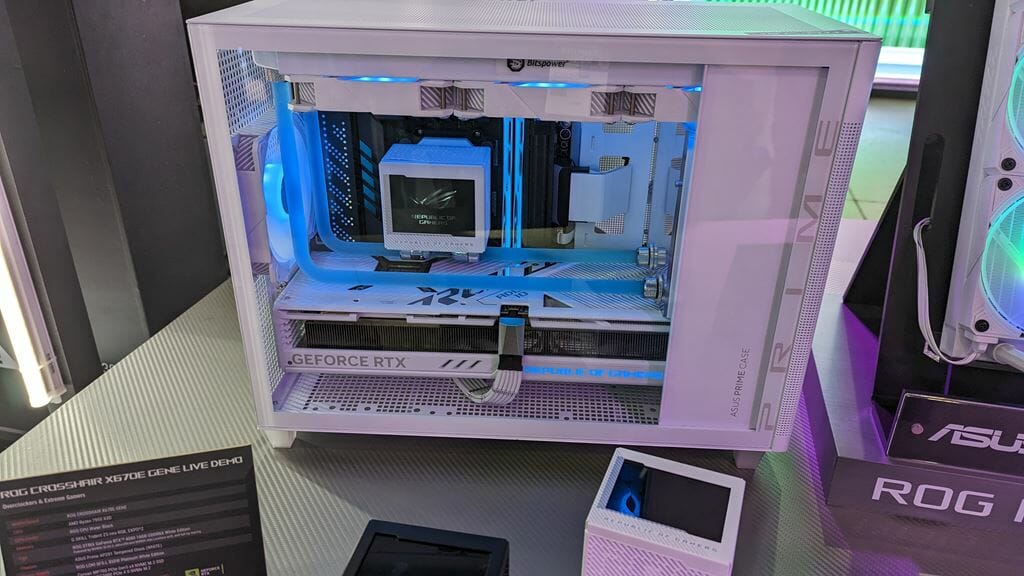 Motherboards
As you can imagine, ASUS had all of its newer ROG motherboards on display. First up we have the ROX STRIX X670E-E Gaming WiFi board for AMD Ryzen 7000 series CPUs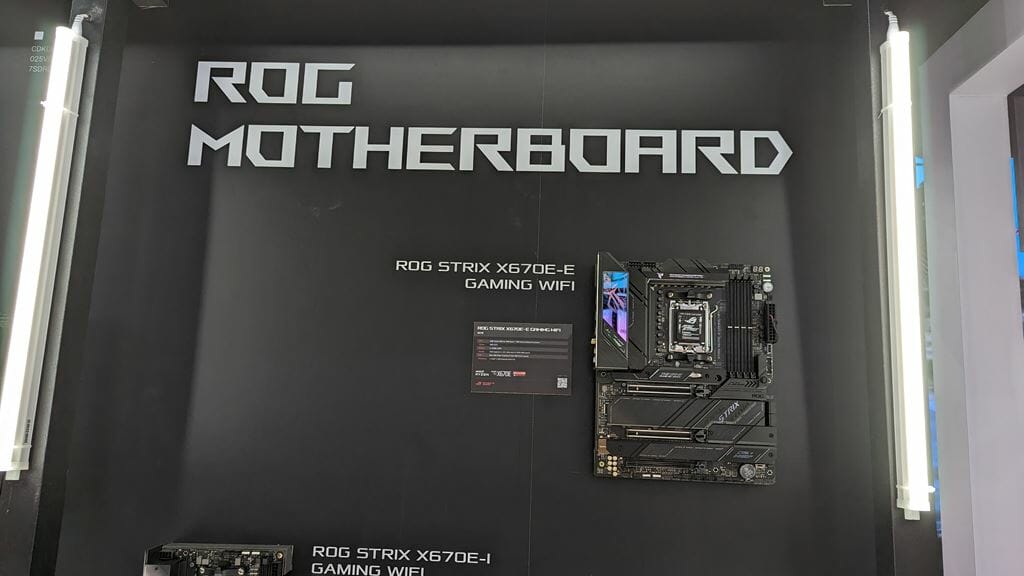 They also showed off their X670E-I and B650E-E AMD-based motherboards.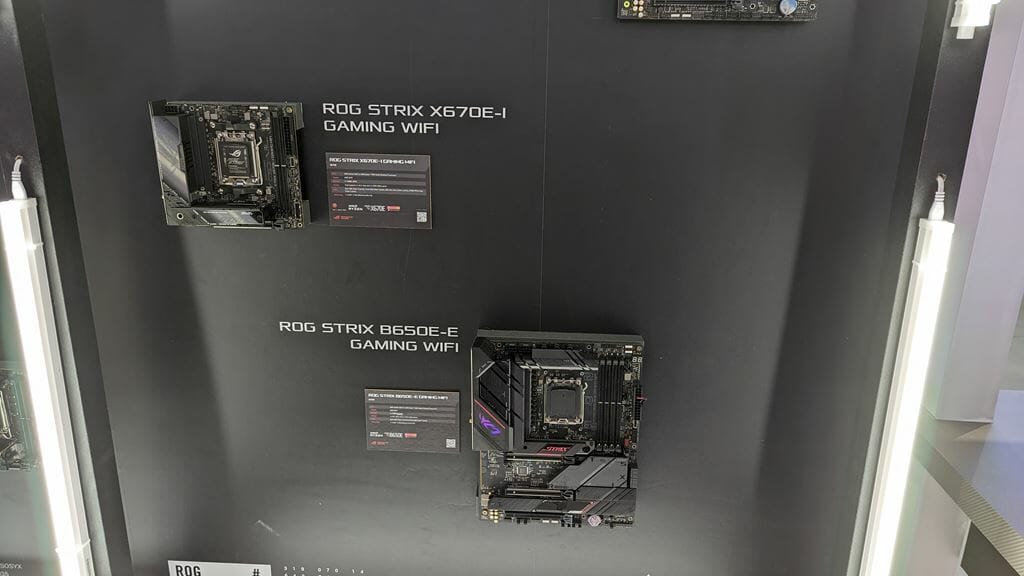 For those who prefer Intel-based CPUs, ROG also had their ROG STRIX Z790-A Gaming WiFi board on display.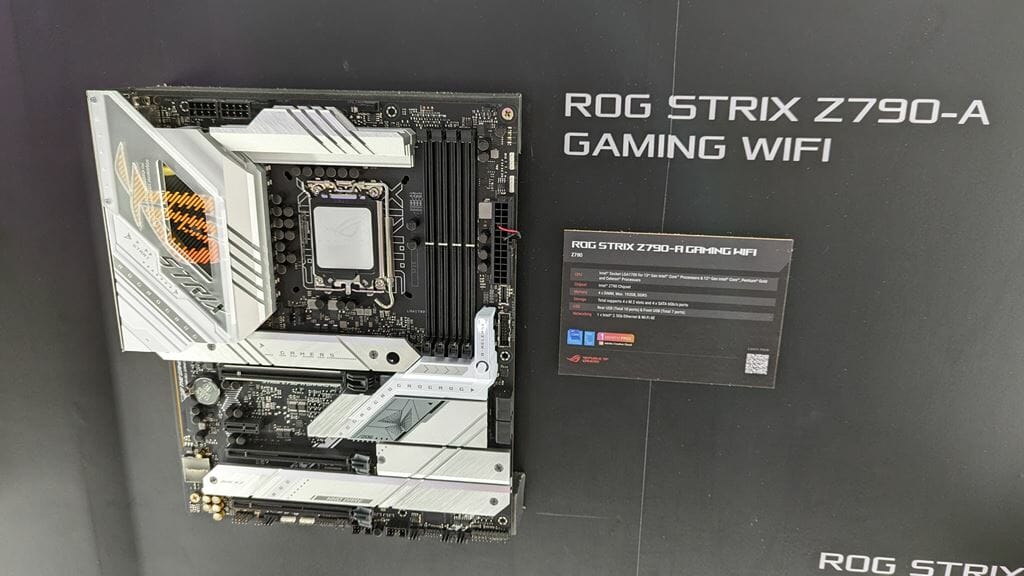 Up next, is the monstrous ROG MAXIMUS Z790 EXTREME. This board has pretty much everything on it anyone could need. PCIe 5.0, 5x m.2 slots, WiFi 6e, 24+1 power phase design, and much, much more.
We also had a quick little peek at a couple of their B760 boards. These are going to be the more affordable options for those who don't need the top-of-the-line hardware.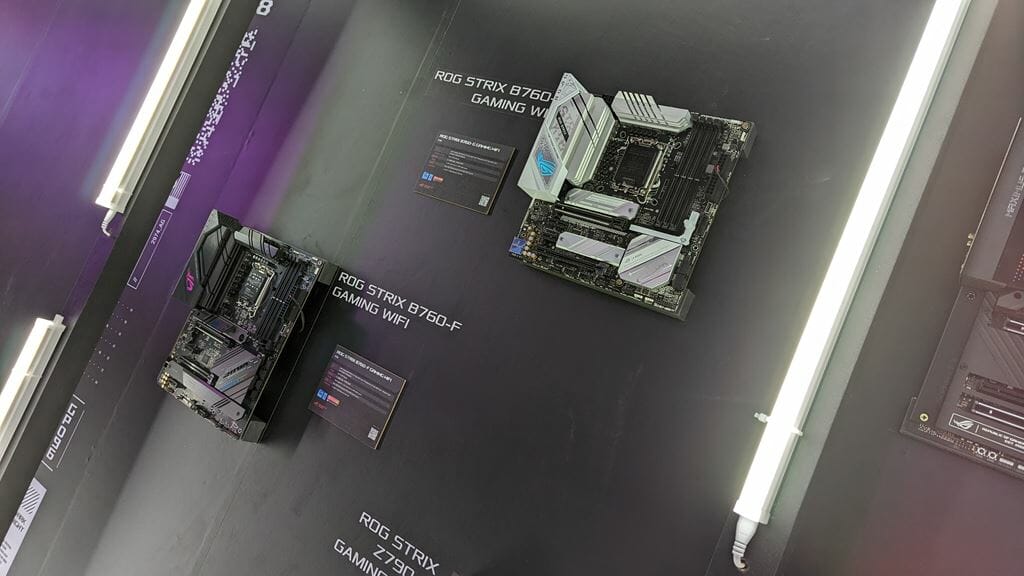 Monitors
The ROG SWIFT 360HZ PG27AQN is an absolute beast of a gaming monitor. It comes packing a 360Hz 2560 x 1440P display, NVIDIA G-Sync, HDR technology, and an e-sports dual mode that is sure to go over well with those who like to take their gaming a bit more seriously.
We saw this back at CES but it is still just as amazing to see again! This is the ROG SWIFT PRO PG248QP 540Hz monitor! This is an FPS gamer / Esports gamer's absolute dream. The high refresh rate is going to give you that extra advantage over your enemies.
It also has an ESS USB CODEC to help improve in-game audio and is all G Sync capable.
For those who want a bigger screen for gaming, the ROG SWIFT OLED PG49WCD is going to be the one for you. It is a 49″ ultra-wide monitor which still has a 144Hz display. It has a 5120 x 1400p resolution and a 1800R curvature to offer a highly immersive gaming experience.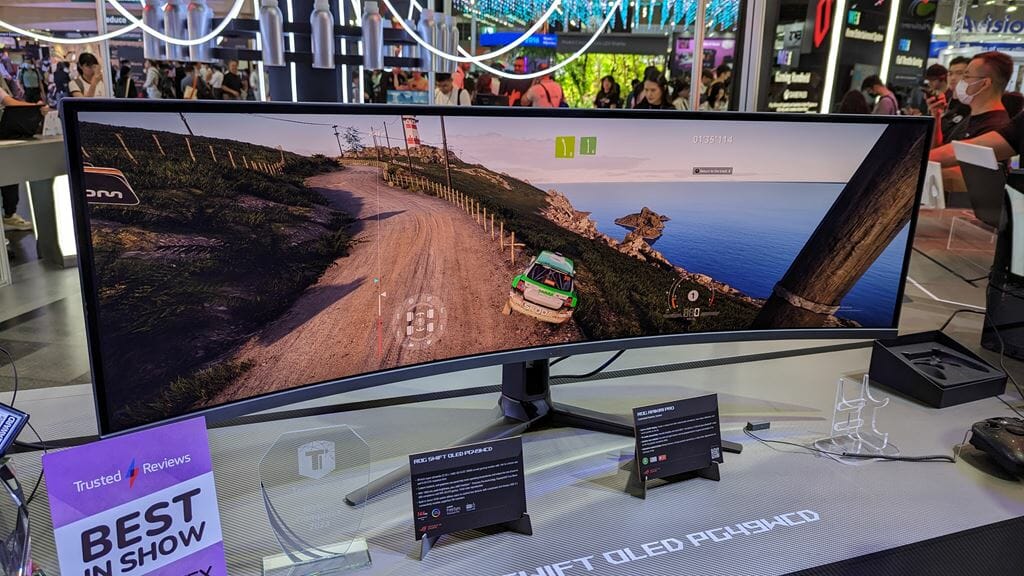 Networking
Fancy a new 8 legged friend? The ROG RAPTURE GT-BE98 is the world's first WiFi 7 Quad Band router which boosts speeds up to 25,000 Mbps.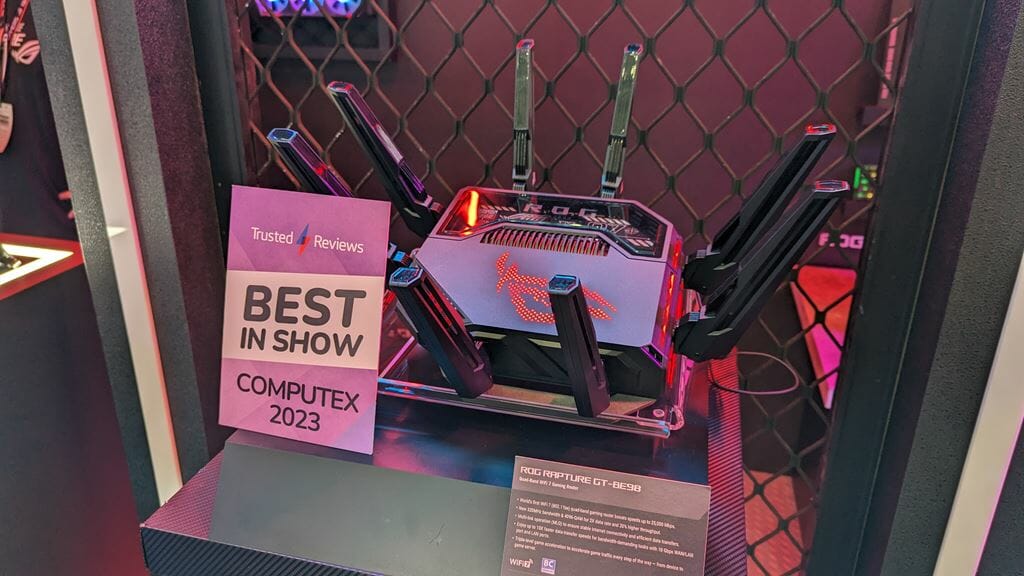 Graphics Cards
While they had a few GPUs on display, this one takes the show. This is the ROG MATRIX GEFORCE RTX 4090 Platinum 24GB GDDR6X. This absolute unit of a GPU comes with its own 360MM AIO to keep it cool even when doing the most demanding of tasks.
If you want the best of the best, this is certainly a good place to start looking. Just make sure you have room for the AIO and make sure your power supply is up to the task as well!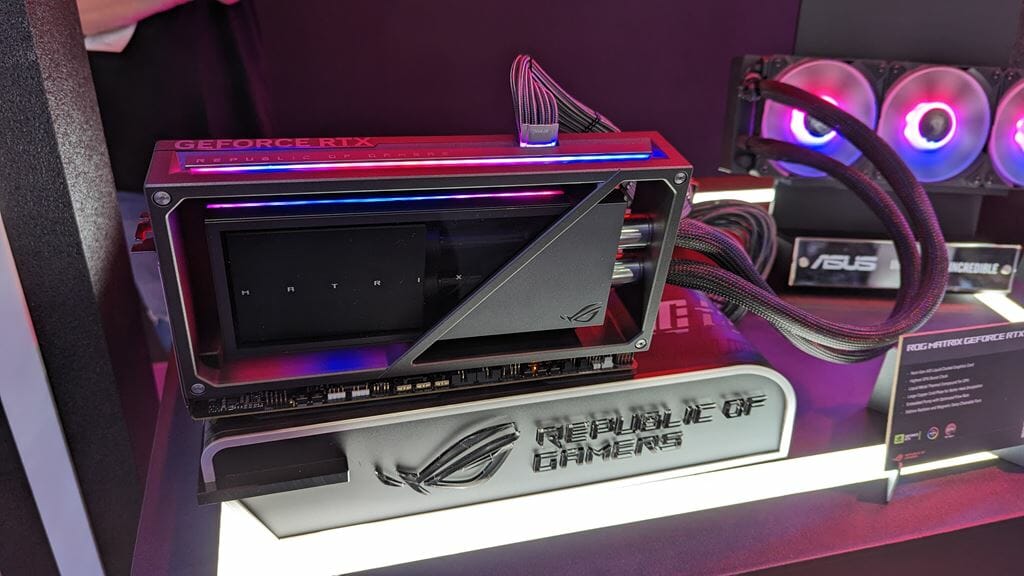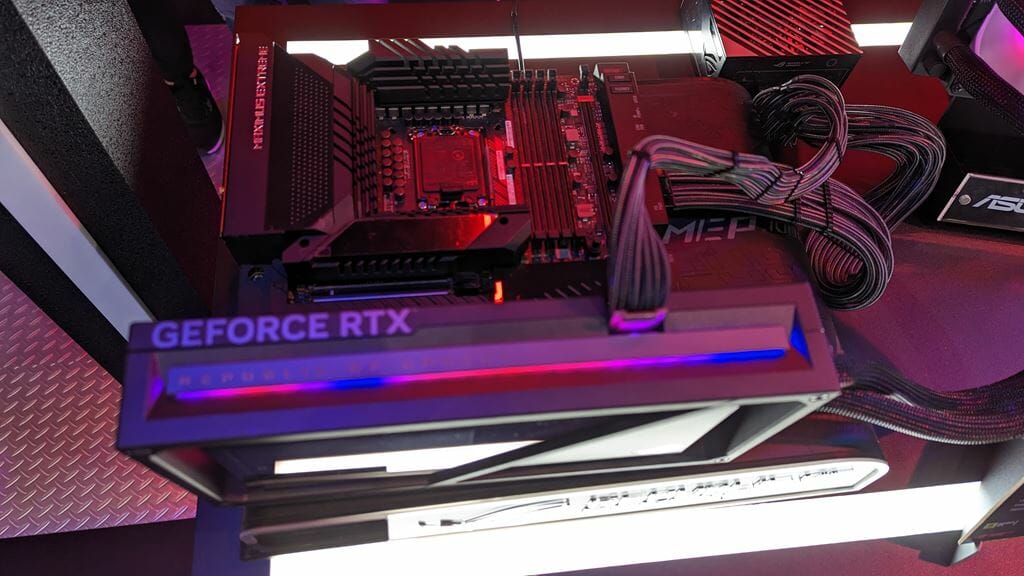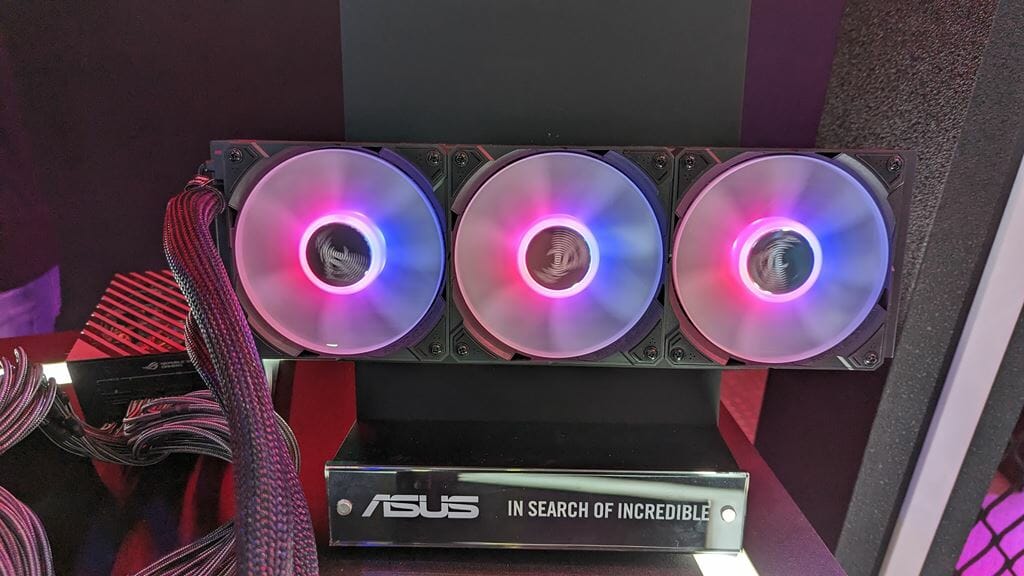 Peripherals
Custom keyboards are becoming all the rage and companies like ASUS are bringing them to the massive. Below is the ROX STRIX SCOPE II 96 Wireless keyboard.
This comes with pre-lubed ROG NX hot-swappable switches and can be connected to multiple devices with the ROG OMNI receiver.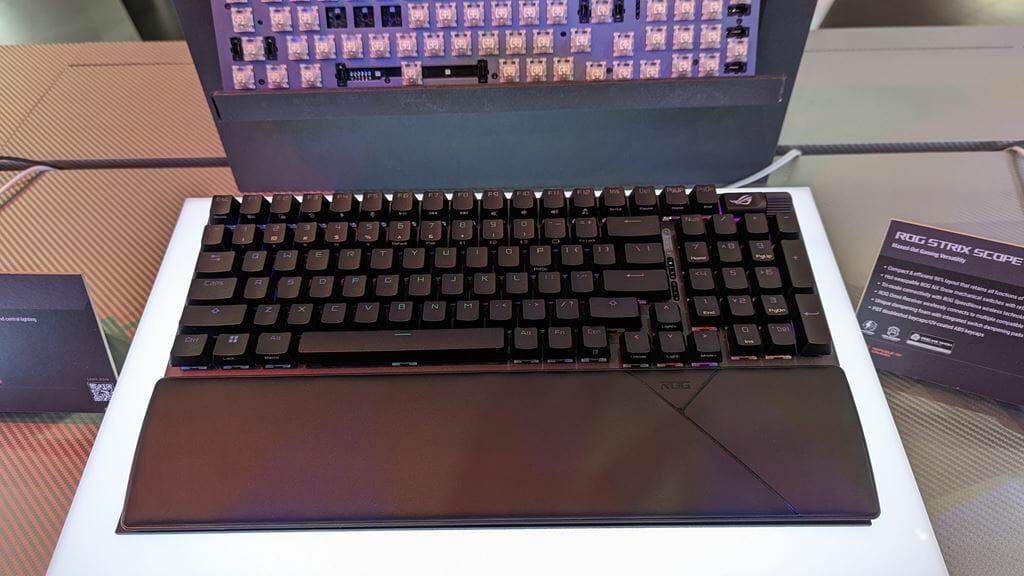 ROG also had some of their NX switches on display so users could get a better look at them. Personally, I can't wait to get my hands on a keyboard that features them and really put them to the ultimate test. Gaming and writing reviews can be hard on a keyboard so would be great to see how well they hold up!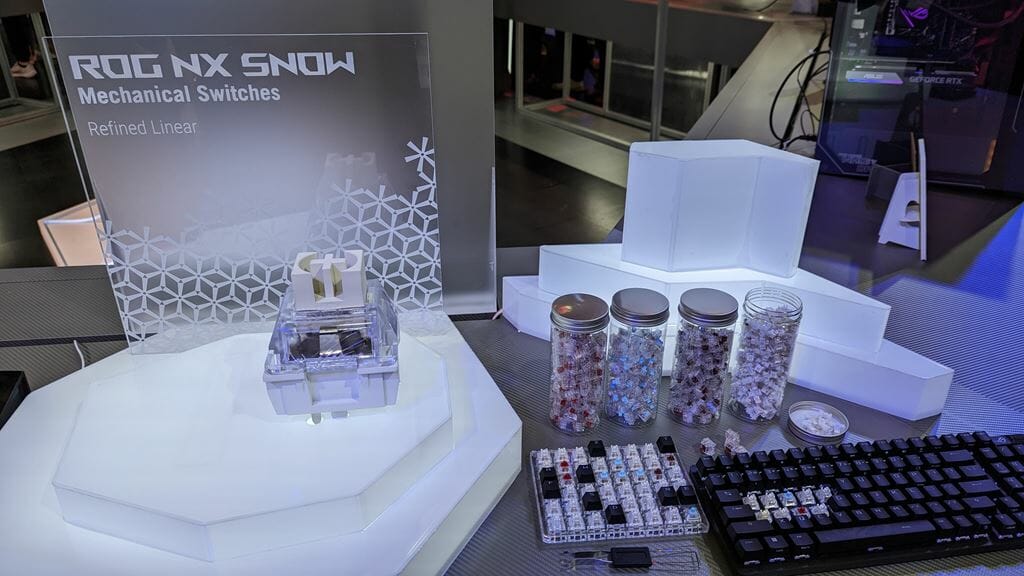 ASUS and ROG never disappoint and wow, did they have some amazing products on display at Computex 2023! We look forward to seeing them all in the wild and hopefully getting a bit more hands-on with them in the near future.
Please make sure to check for more of our Computex coverage in our EVENT COVERAGE which will be coming in the next couple of days!