2016 has been the year of Lights, particularly the RGB Lighting from the PC industry. Products ranging from Motherboards to RAM, PC Fans and even Mouse mats and what not, have all seen RGB Lighting implementation. While many would have argued against it, I like the approach being taken by the manufacturers. RGB Lighting does not mean you will have disco show; though you can, but it gives the users the ability to have aesthetically pleasing colourful PC builds and setups. Also, RGB implementation would enable the users to save their bucks in case they have to implement the different colour schemes. Without RGB lighting on various components, if one would have to go from red/black to green/black, they may have to buy some components in green colour implementation, for example. But, with RGB lighting implementation, one would just change the colour on their desired components and have the same build looks different.
Corsair was not behind the new craze and release quite a few new products with RGB implementation. We have seen Corsair SP 120 RGB fans, HD 120 RGB fans, Polaris 800M RGB mat, Corsair VOID headset with RGB implementation to name a few. Not only are these products RGB capable, these products also carry a decent performance punch as well. Today, we will be reviewing Corsair SP 120 RGB fans in particular.
SP series of fans are quite popular among the PC enthusiasts for their unique design from the first generation with three colour rings that can be swapped to colour coordinate the build theme.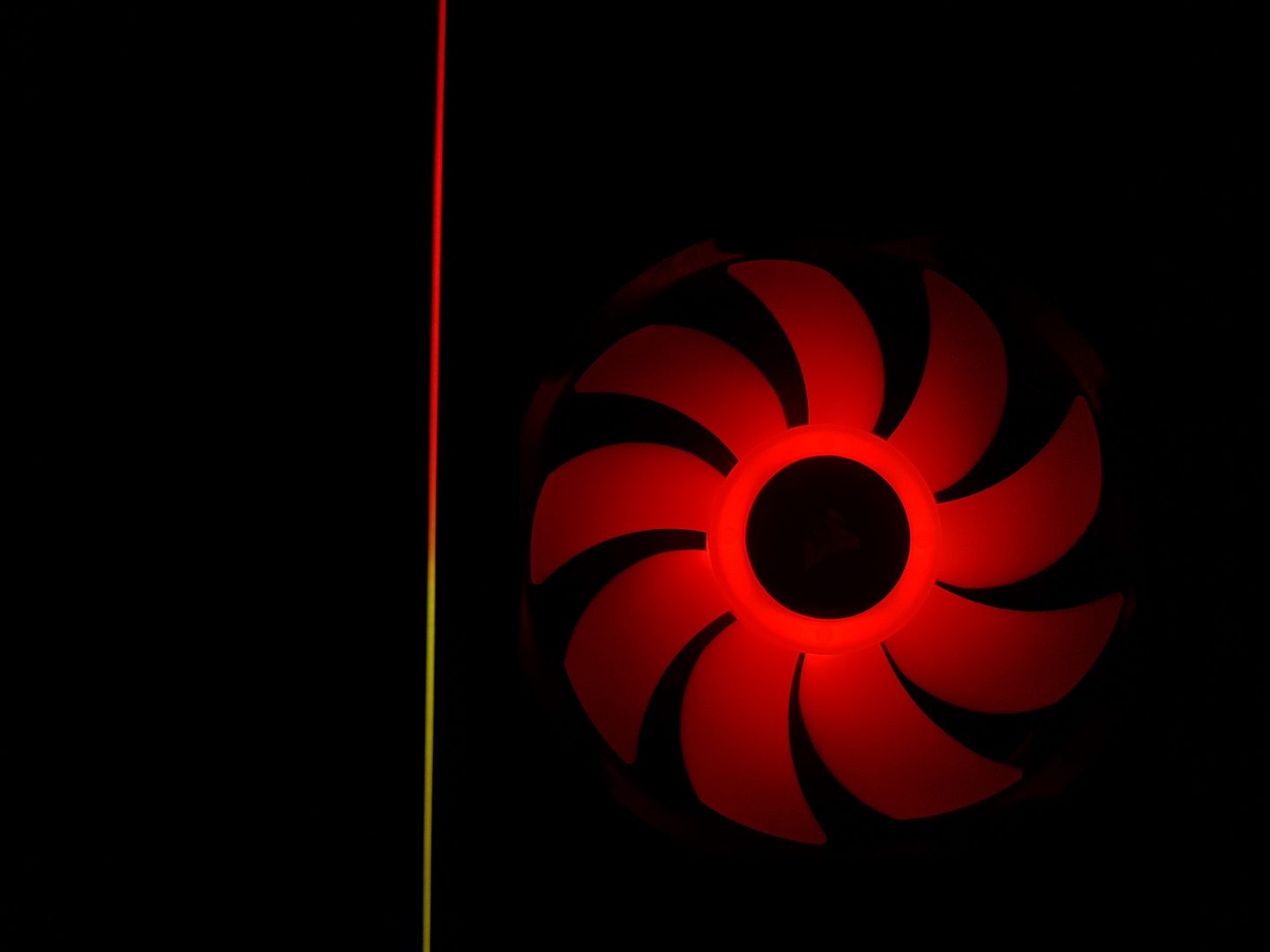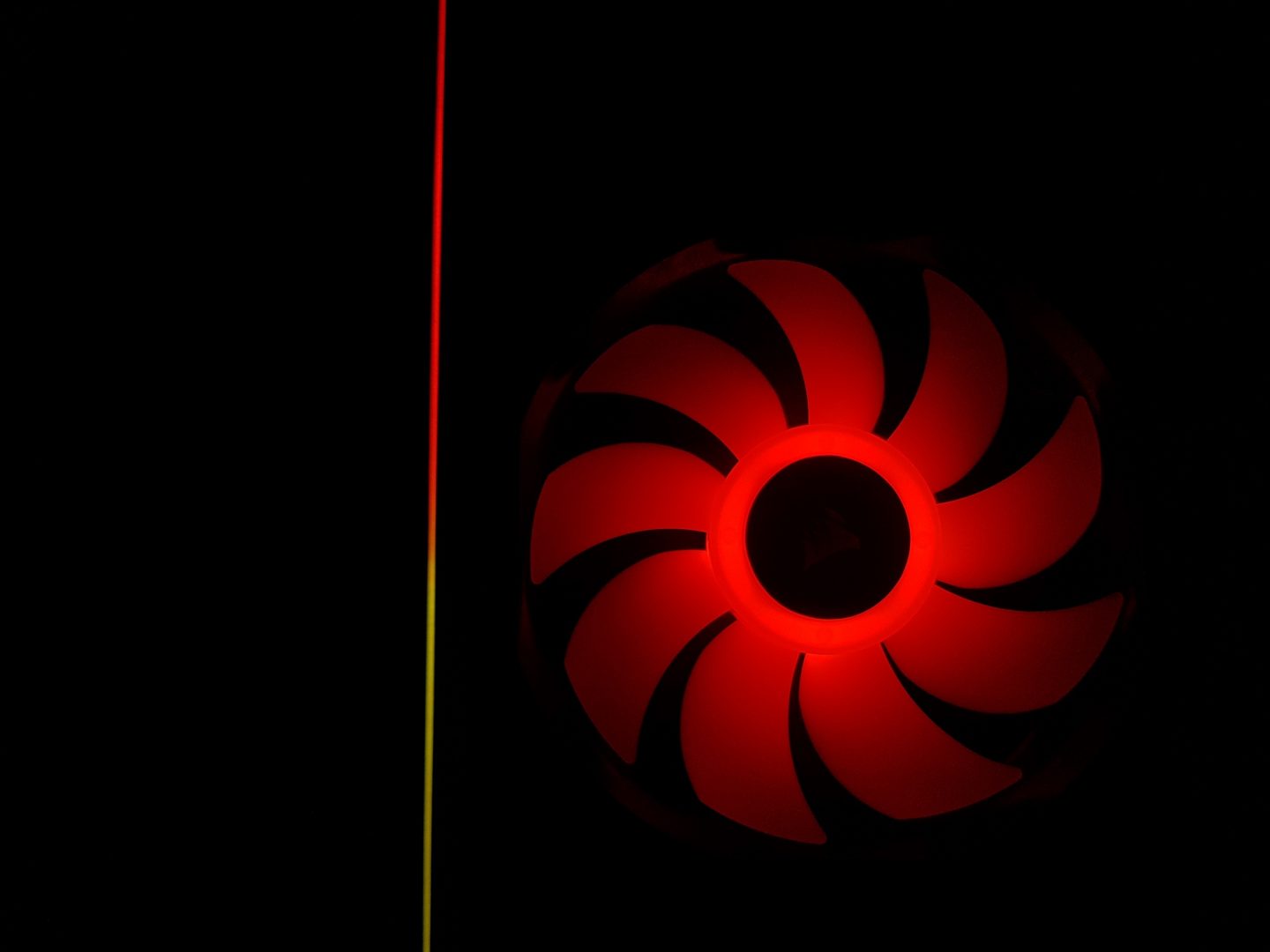 Can these fans perform like their previous generation brethren while offering colour customization? Time to verify it.
Specs:
| | |
| --- | --- |
| Rated Current – Fan | 0.30A |
| Rate Current – LED | 0.06A |
| Dimensions | 120mm x 120mm x 25mm |
| Air Flow (at 12V) | 52 CFM |
| Speed (at 12V) | 1400 RPM +/- 10% |
| Sound Level (at 12V) | 26 dBA |
| Static Pressure (at 12V) | 1.45 mm-H2O |
| Connection Cable | 3-pin |
| Warranty | 2 Year Corsair Guarantee |
Packing:
Corsair has released three retail packs for these fans. One is Single Fan only (CO-9050059-WW). Second is Single Fan with Controller (CO-9050060-WW) and third is a pack of three fans with controller (CO-9050061-WW). We received the pack of three fans with a controller for review. Fans come with a cardboard packing box with Corsair branding and colours of yellow and black.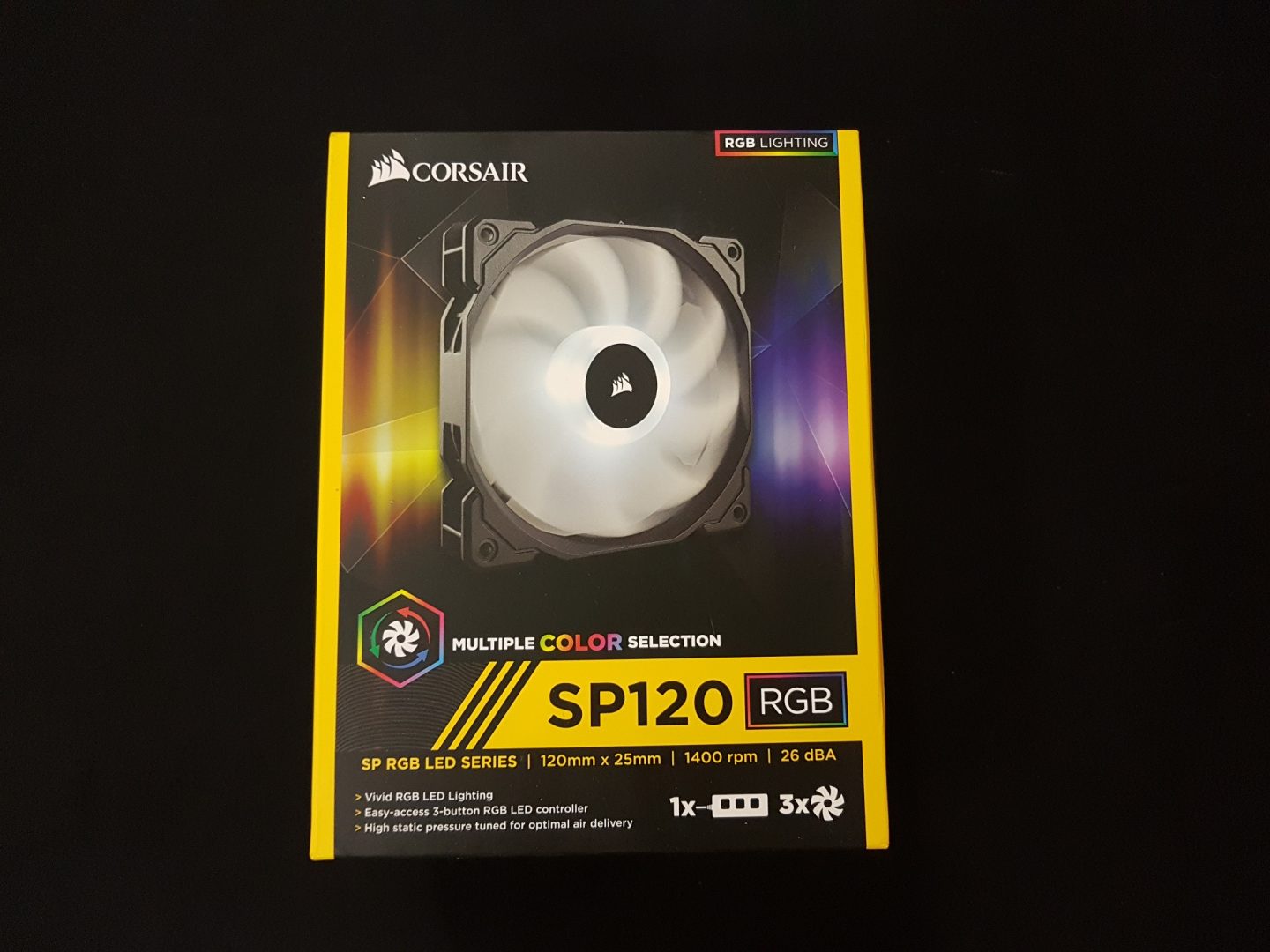 On the front side of the retail packing, Fan picture is visible without any colour. RGB Lighting is enclosed in RGB colours on the top right side. Salient specs are mentioned in yellow colour. There is a diagram of controller and fan on the right bottom along with number indicator. Here, it shows that this pack has 1 controller and 3 fans.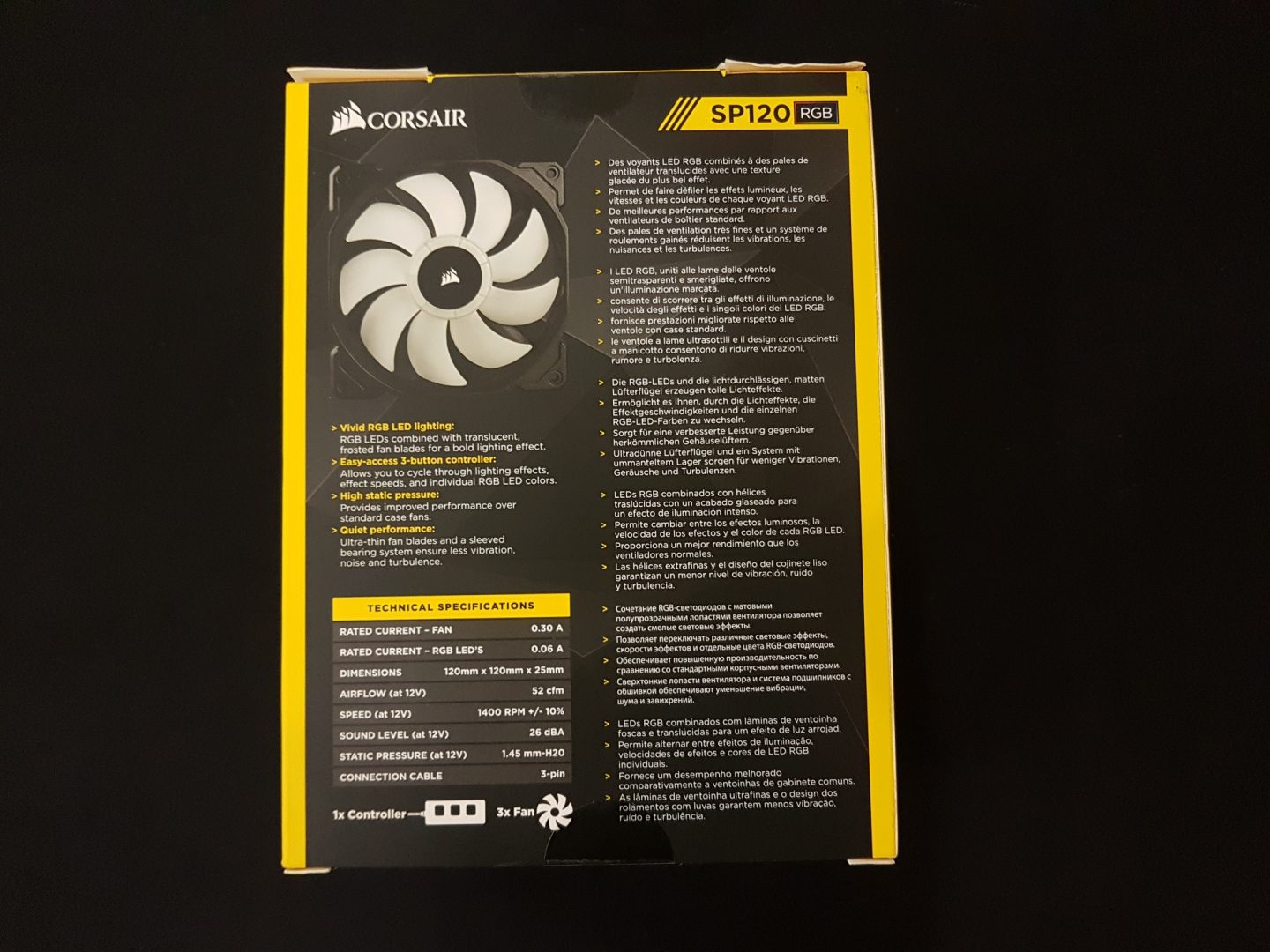 On the backside of the box, we can see all the specs printed on the bottom left with feature highlights in 7 languages. SP 120 RGB is printed on the top right side.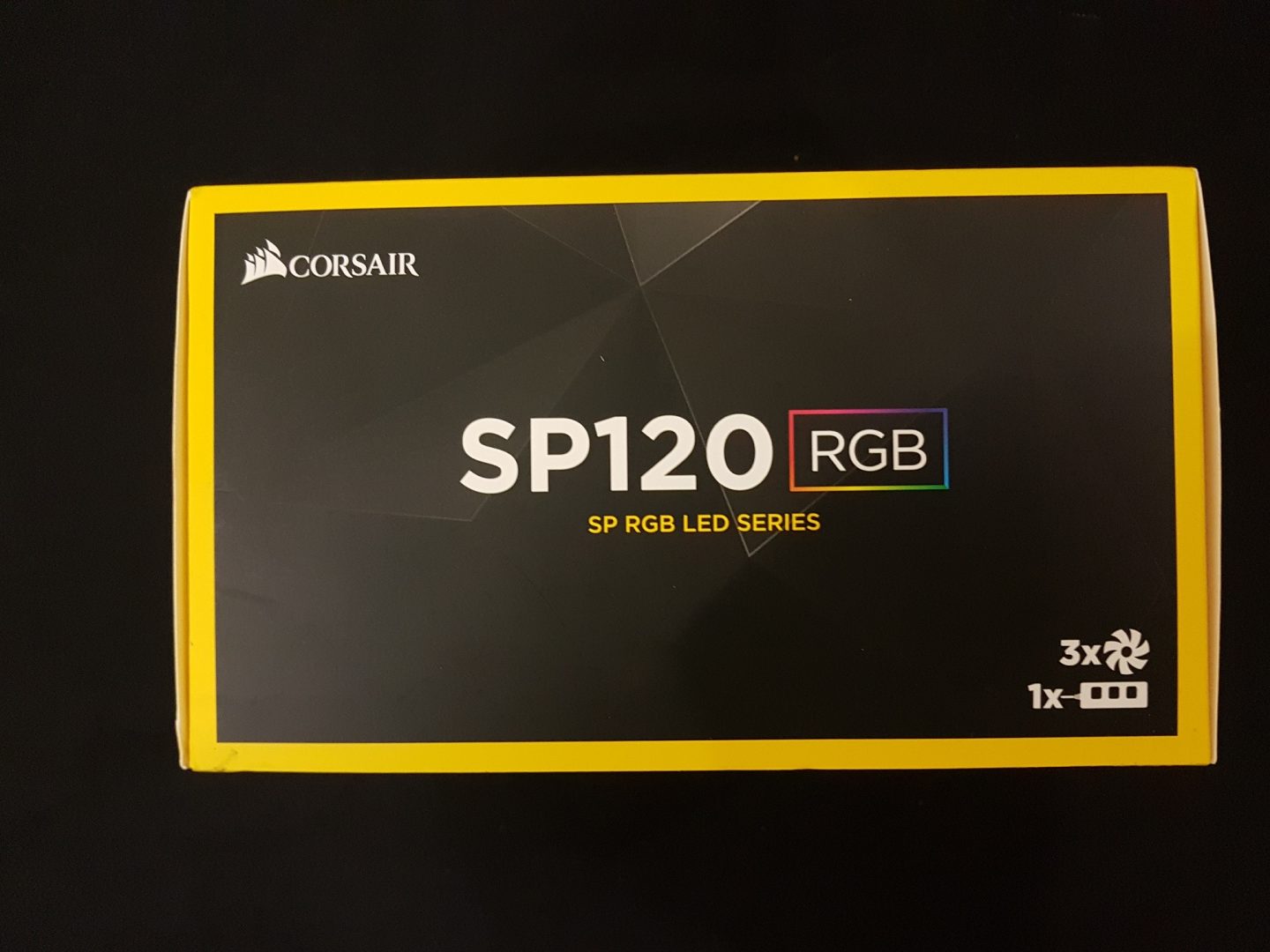 Left and right sides of the packing have SP120 RGB printed on the centre along with the contents diagram on the bottom right side. Corsair logo and name are printed on the top left side.
The bottom side of the packing has the serial no and part no of the products printed along with warranty period of the product.
There are four cardboard boxes inside the main packing. The top most is the accessories and controller box placed horizontally. All the inside boxes are a deep yellow colour. The colour on the boxes makes them look aesthetically pleasing to the viewers.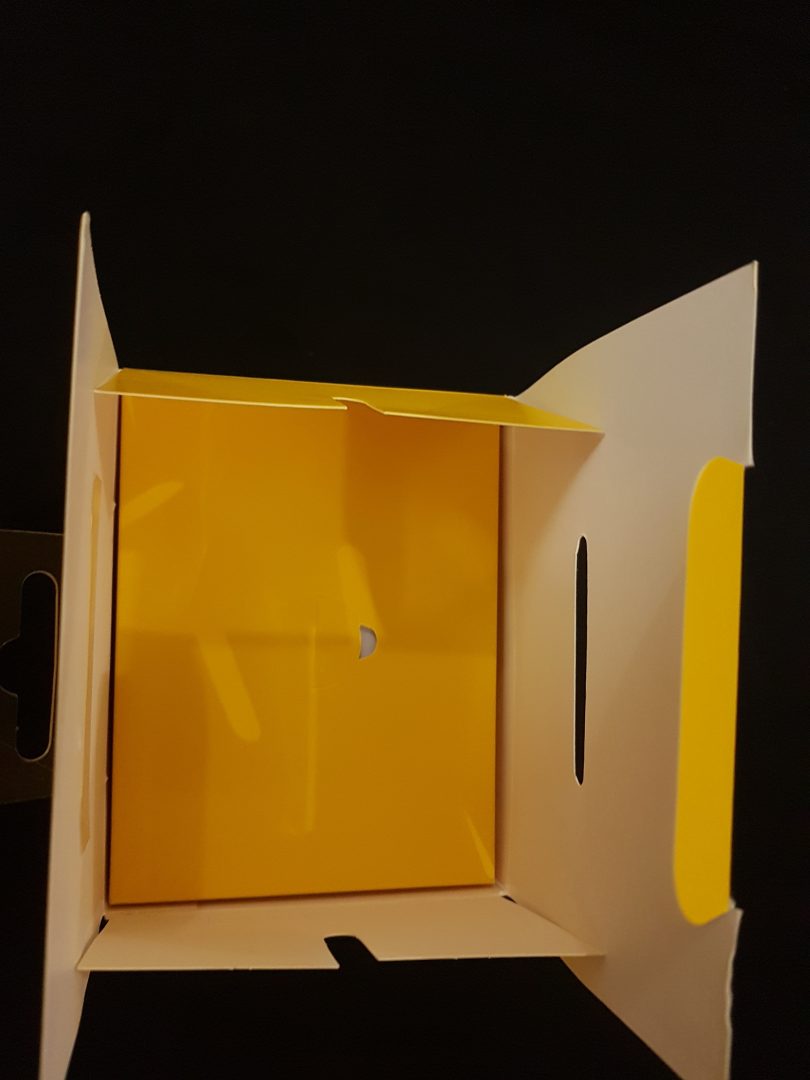 Removing the first box will reveal three boxes placed vertically in the packaging. These are also in same deep yellow color. Each box has a fan placed inside. Corsair was thoughtful by providing cut outs in the middle for easy handling of the boxes. Just pick the raised cut out part of the box and pull it gently to take out the corresponding box.
Fans are placed inside the inlay sort of design on these boxes. All boxes are sturdy. Behold the Corsair High Static Pressure SP 120 RGB fans placed nicely in their packing boxes.
Cables of the fan are nicely hidden inside the contained portion of the box making the overall presentation of the fan very good.
There are two cables per fan. One is for Fan motor power and the other goes to the fan hub. Cables are not sleeved. I like this approach as it helps in hiding the cable clutter. Fan connector is 3-pin making it voltage based regulation, not PWM. If you are looking for a fan with PWM option and LED lighting, have a look at Corsair HD 120 RGB fans or other options in the market. The majority of the motherboards these days have built-in voltage based regulation to control the speed of the fans along with PWM option. Hence, controlling the speed of these fans should not be a concern to many. Those having voltage based fan controller would love the voltage regulation on these fans.
There are nine blades on this fan. The diameter of the fan motor hub is approx. 1.78" which is larger than most of the 120mm fans in the market. This is due to the fact that LEDs are inside this hub. Its frame is made of plastic which is simple but stylish on the edges. There are no rubber paddings on the edges to reduce the vibration. Blades are translucent and frosted, they are in white colour. Corsair logo is visible in the centre of the motor hub.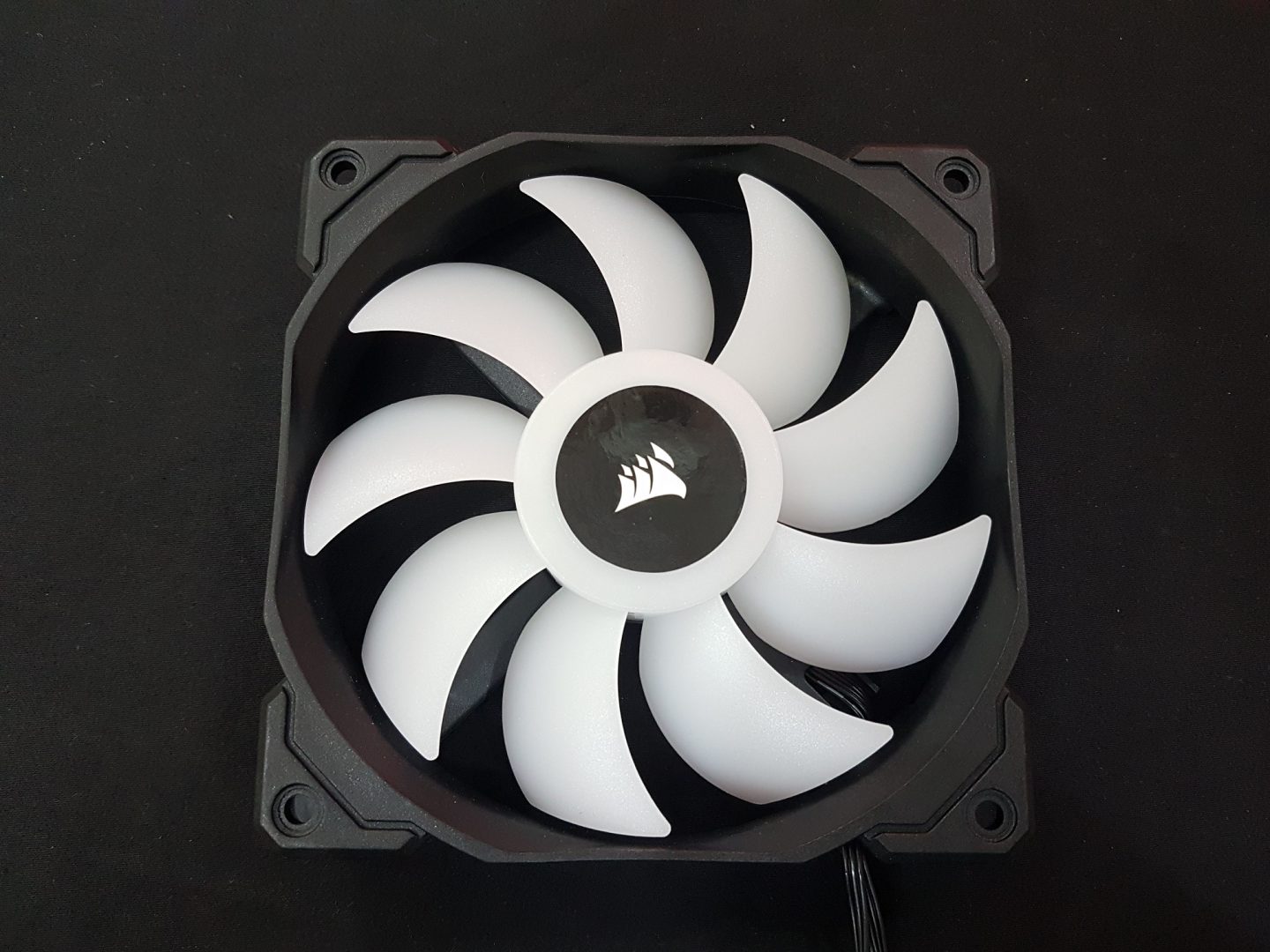 On the backside, Voltage and Amp ratings are mentioned along with the part number of the fan. Motor is rated at 0.30Amp making it 3.6W. LED power draw is approx. 0.06A which is independent of this 0.30Amp. LEDs are drawing power directly from the PSU using fan hub provided with the controller, that is why we have two cables per fan.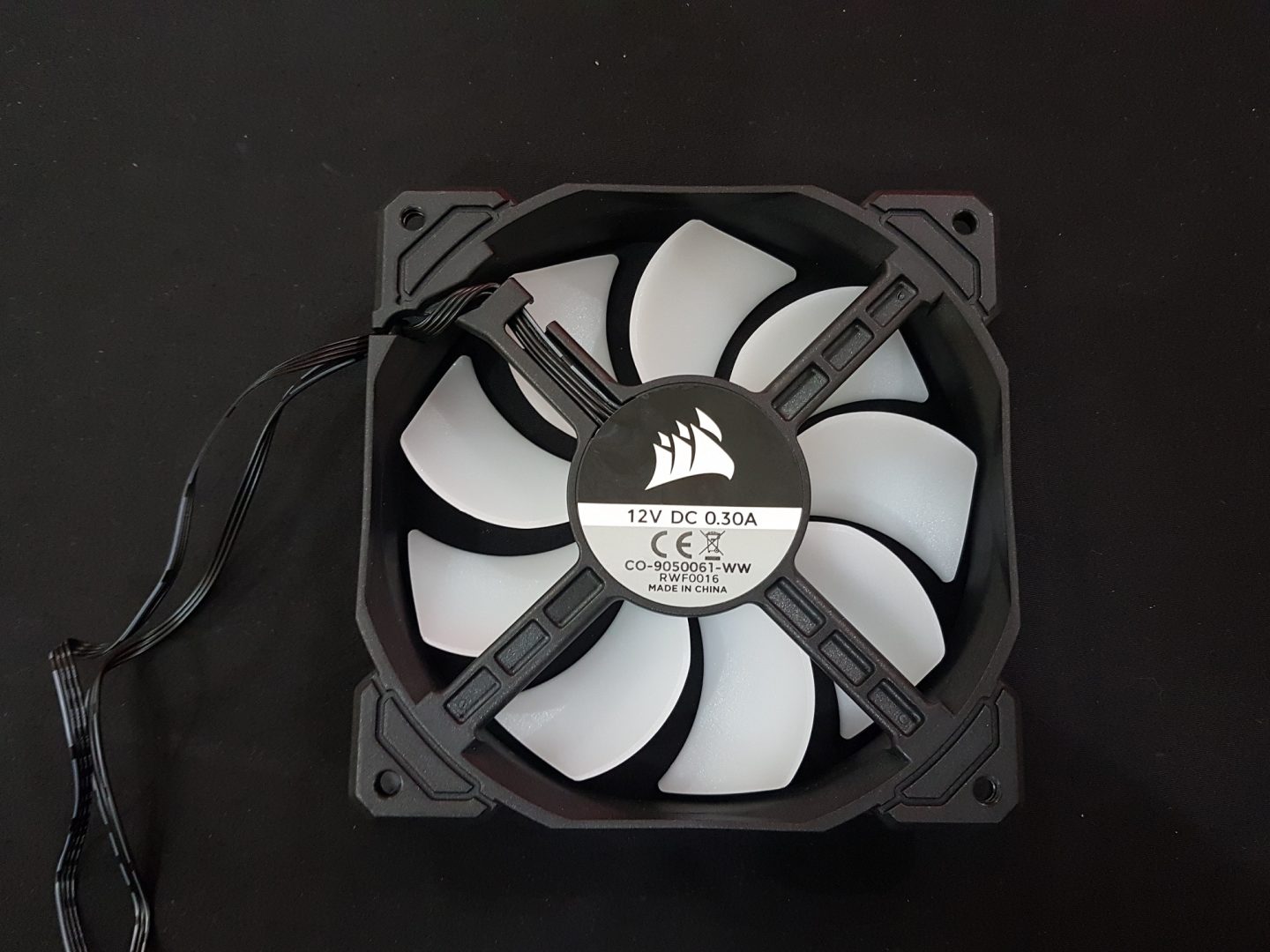 Air flow and Fan spin direction indicators are only on one side of the fan. The Fan has a Hydraulic bearing to make sure it doesn't loose performance after many hours of use.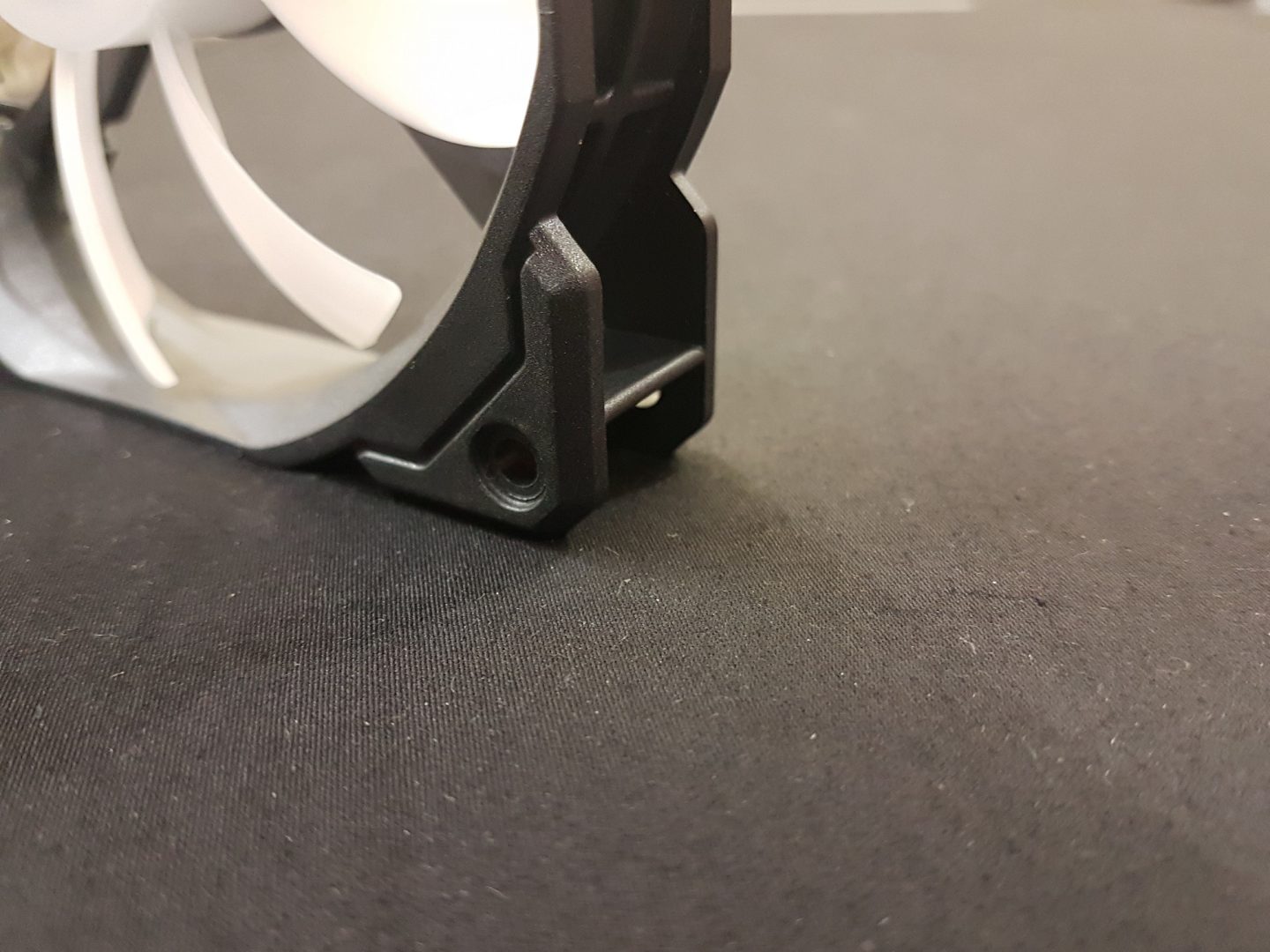 Accessory Box
The Controller, RGB LED hub, fan screws, Installation guide and warranty info are included in the accessory box.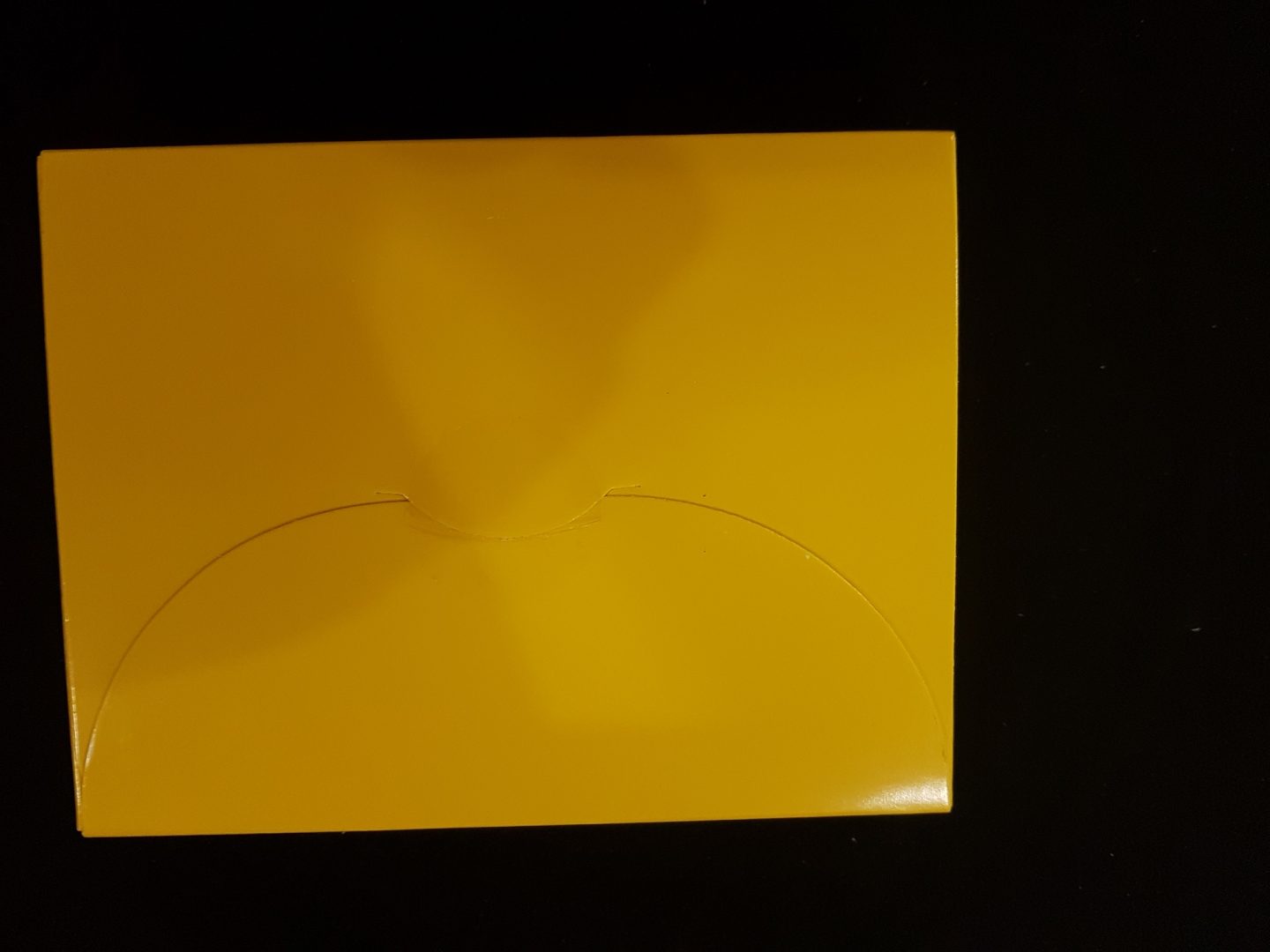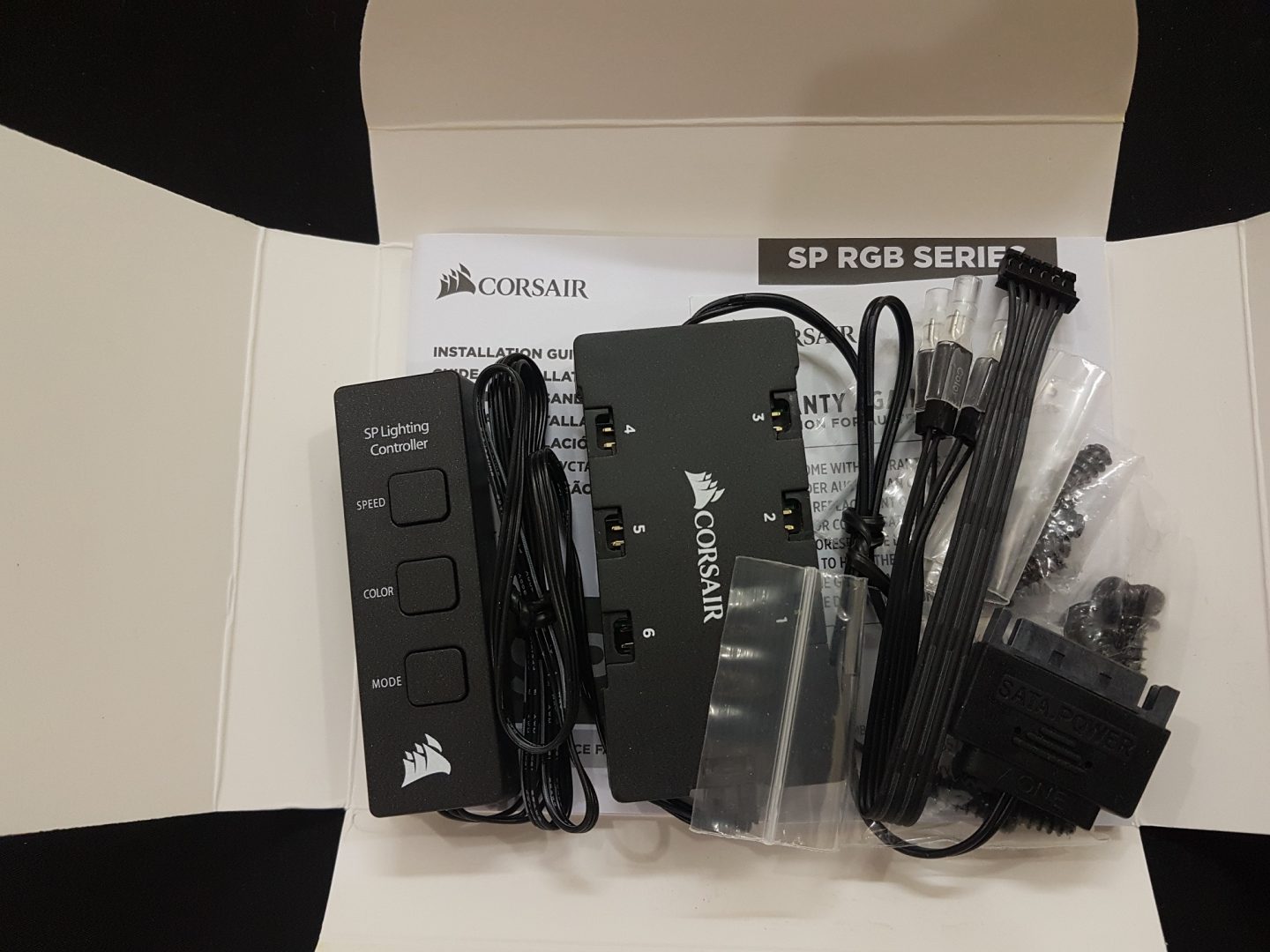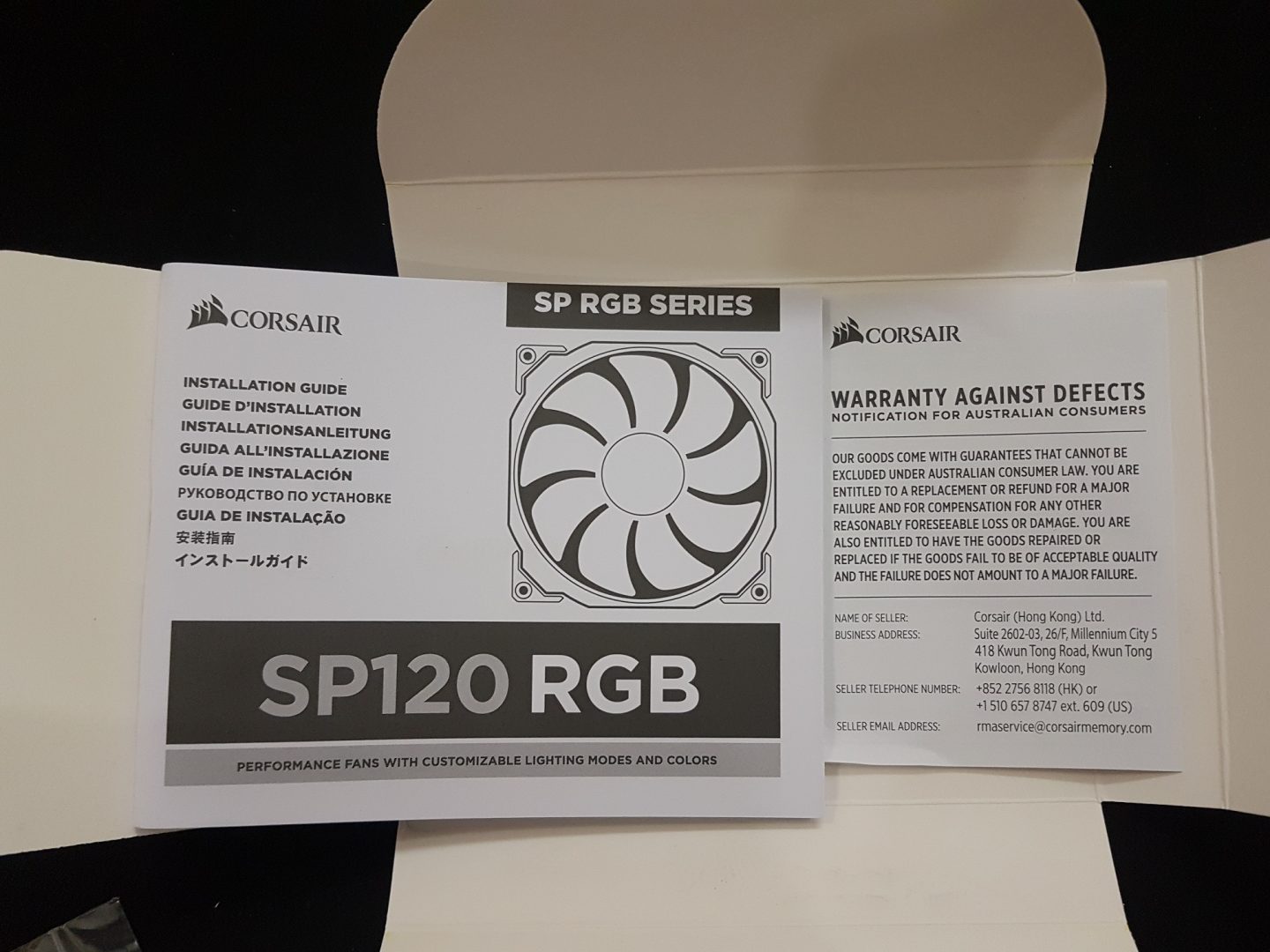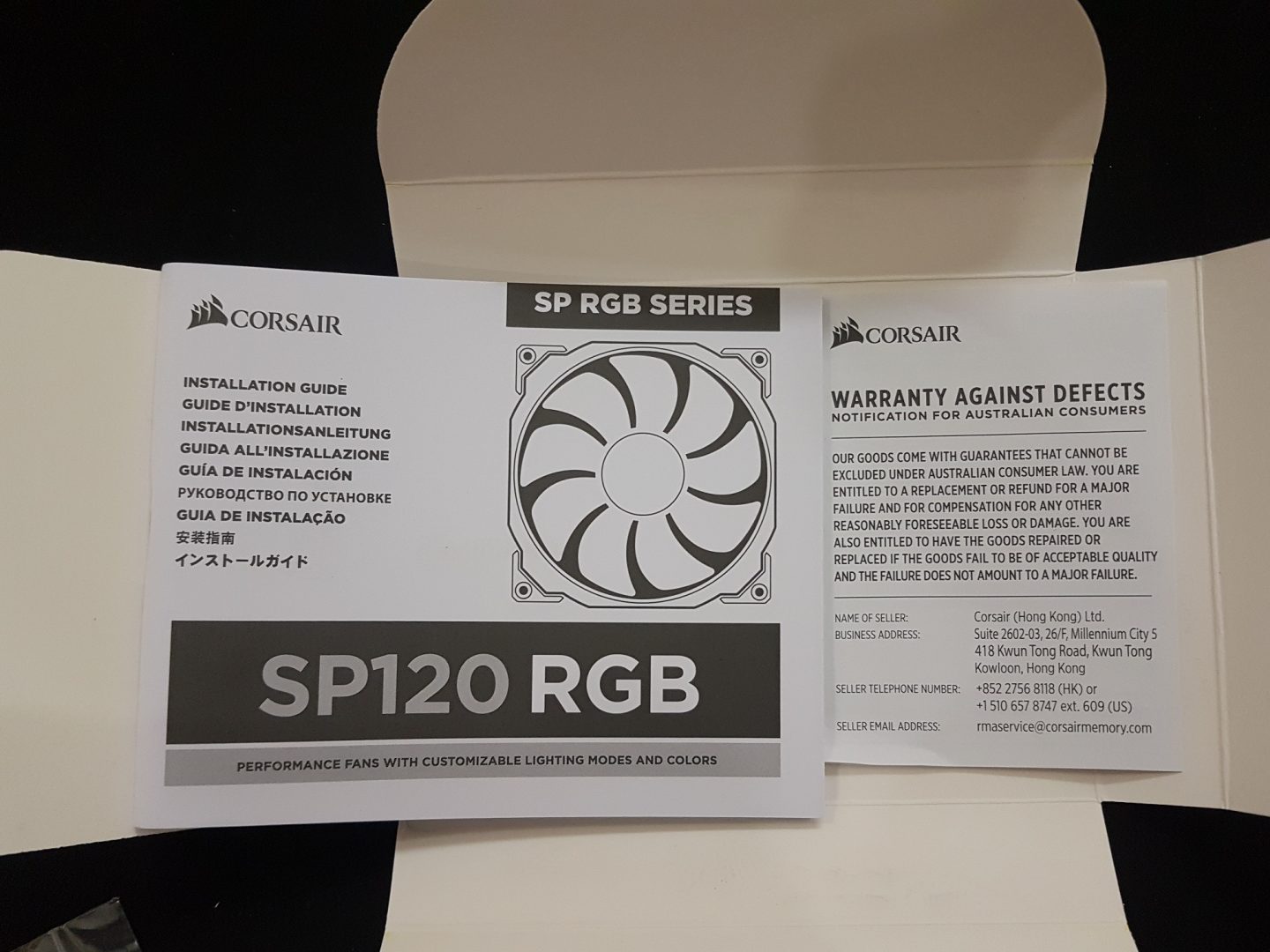 The controller is labelled as SP Lighting Controller and is in black colour. It has three buttons on it. Speed button controls the interval between lighting effects. Don't confuse it for controlling the speed of the fan as it won't control the speed of the fan.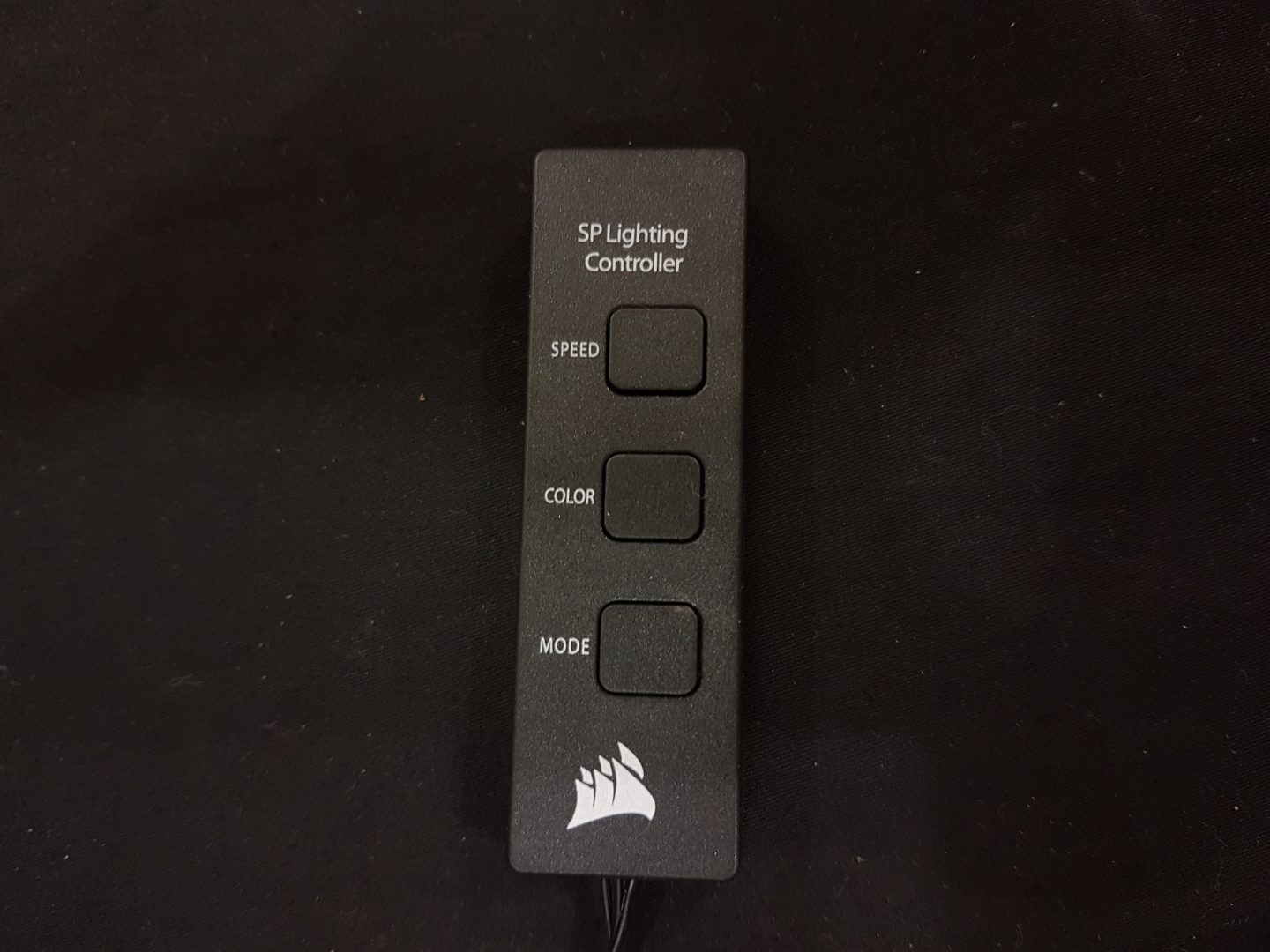 Speed button is to make lighting effects appear/disappear in fast, medium and slow mode. Colour button will change the LEDs colour one by one with each tap. SP fans have total 7 colours which are White, Red, Orange, Yellow, Green, Blue and Violet. There are 4 Modes on these fans, Static, Flicker, Breathing and combination of Flicker and Breathing, mode button is used to switch thru these modes.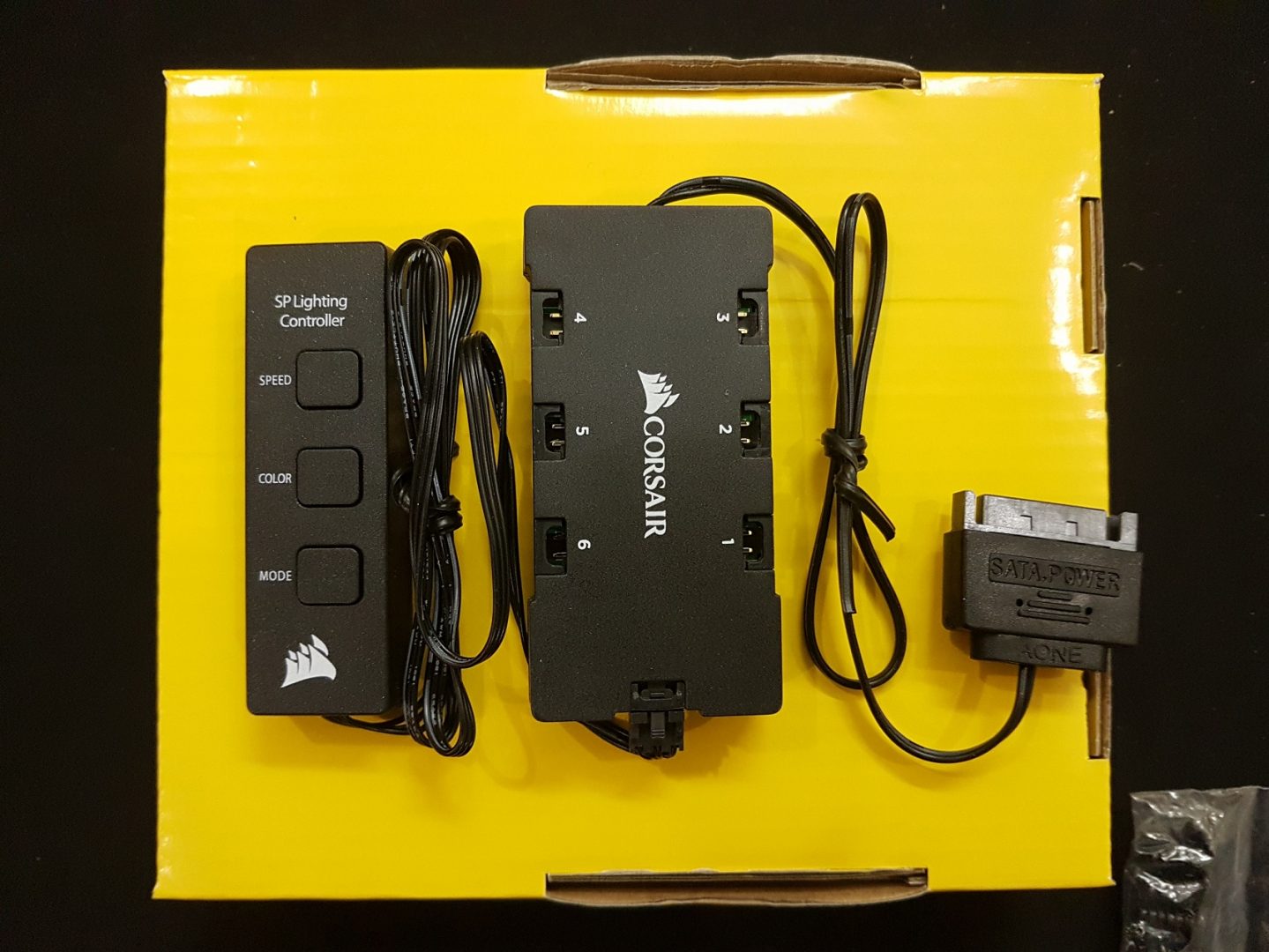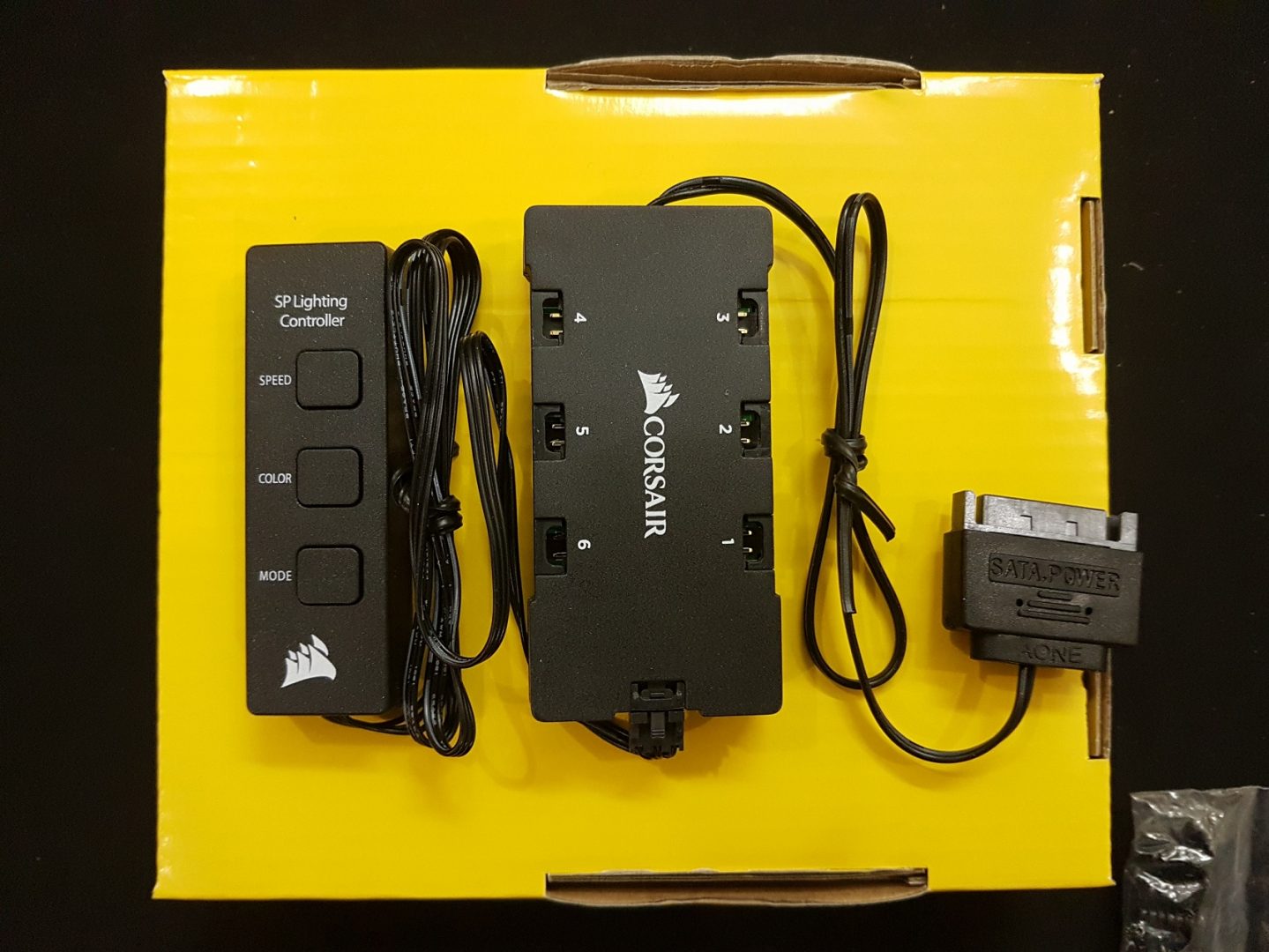 RGB LED hub has total 6 headers which are numbered in serial. Pay attention here. You can connect up to 6 SP 120 RGB fans on a single hub and a controller. Fans must start with header no 1 otherwise, you won't get any light or effect on the fans.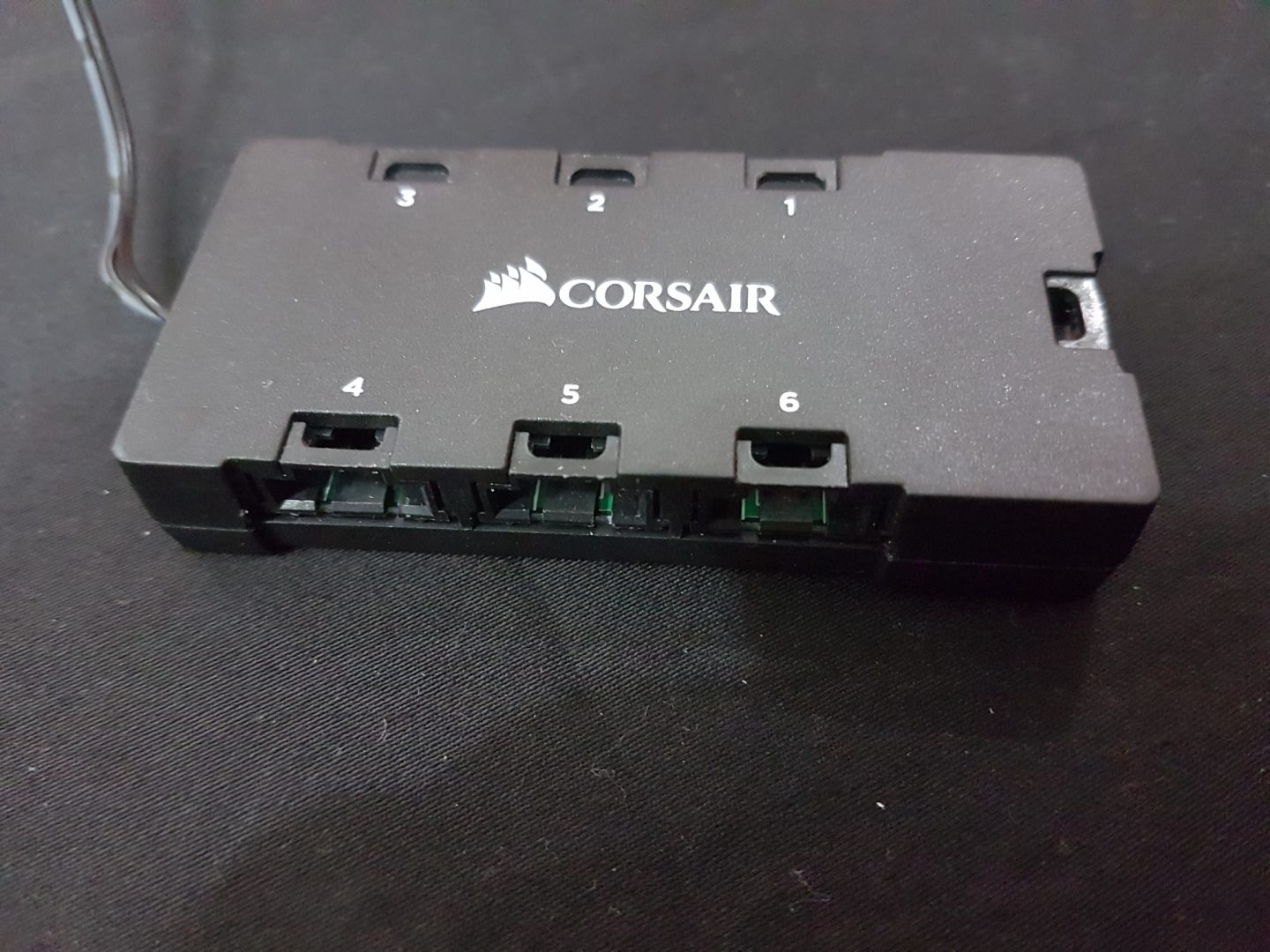 SATA cable is coming out of one side of the hub and it is fixed inside the hub, hence can't be removed. On the other side of the hub is a header for connectivity with the controller.
3M's double sided tape is preinstalled on the backside of the hub. Corsair was thoughtful on the mounting mechanism of the hub inside the chassis and has saved customers' from hassle.
You would need a SATA cable from PSU to connect the hub to power it up.
The controller has fixed cable on one side to be connected with the RGB LED hub while there is an additional (optional) header. An optional cable is supplied with the accessory which can be hooked up to the controller. There are three-panel ends of this cable.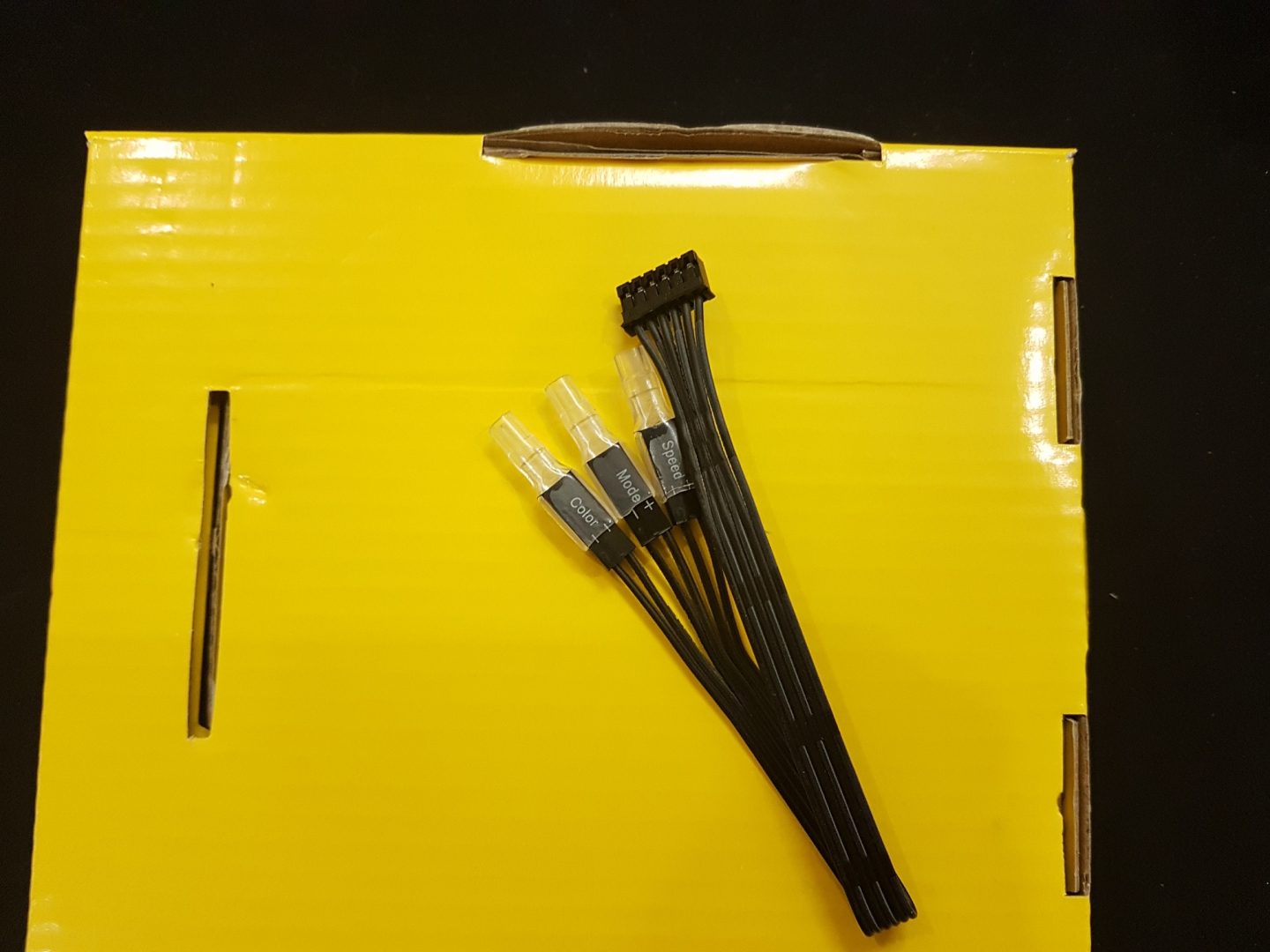 Each can be connected with a push button for easy control of the RGB LED. An example for such Push Buttons is Power/Reset button on the chassis.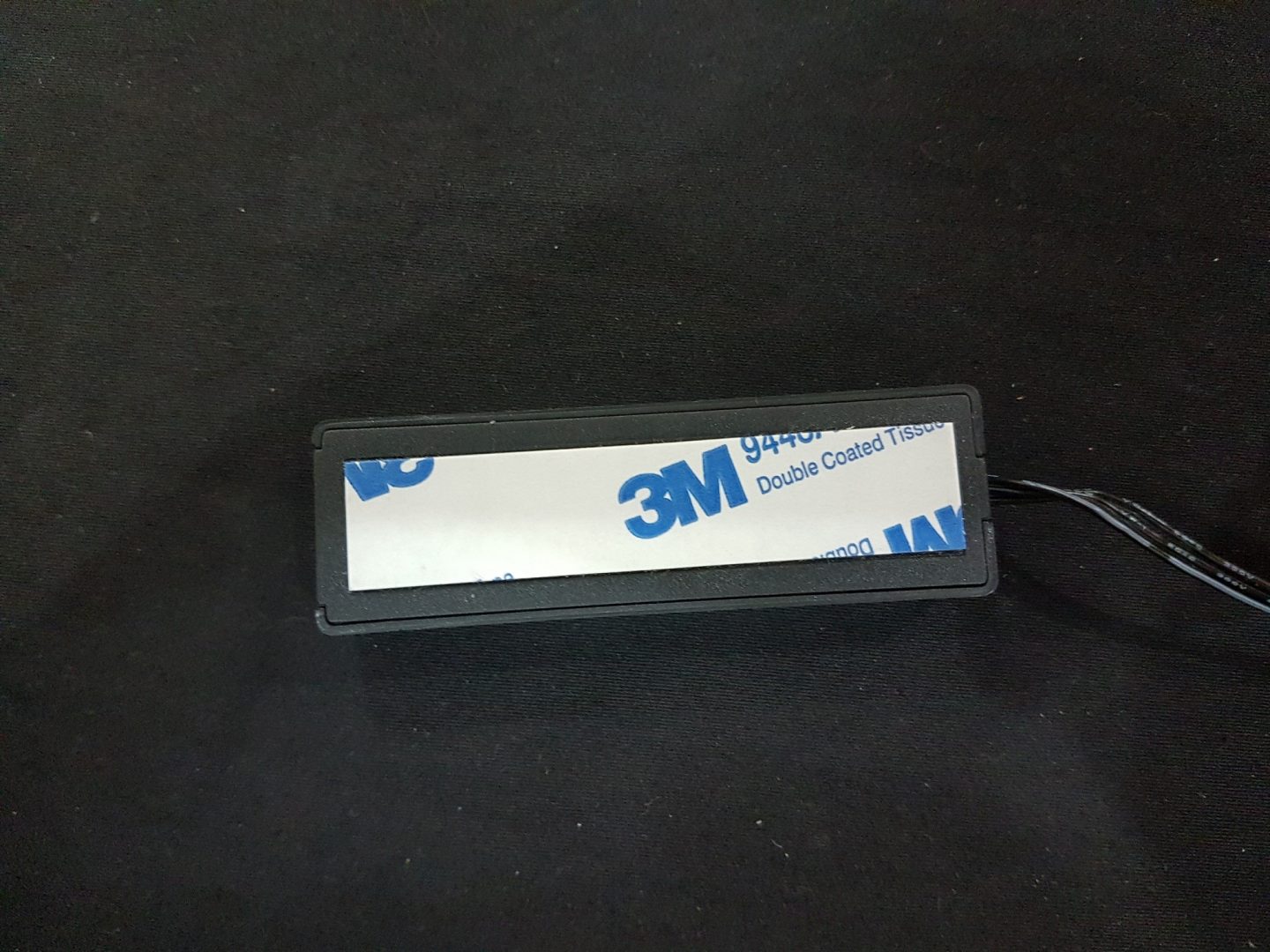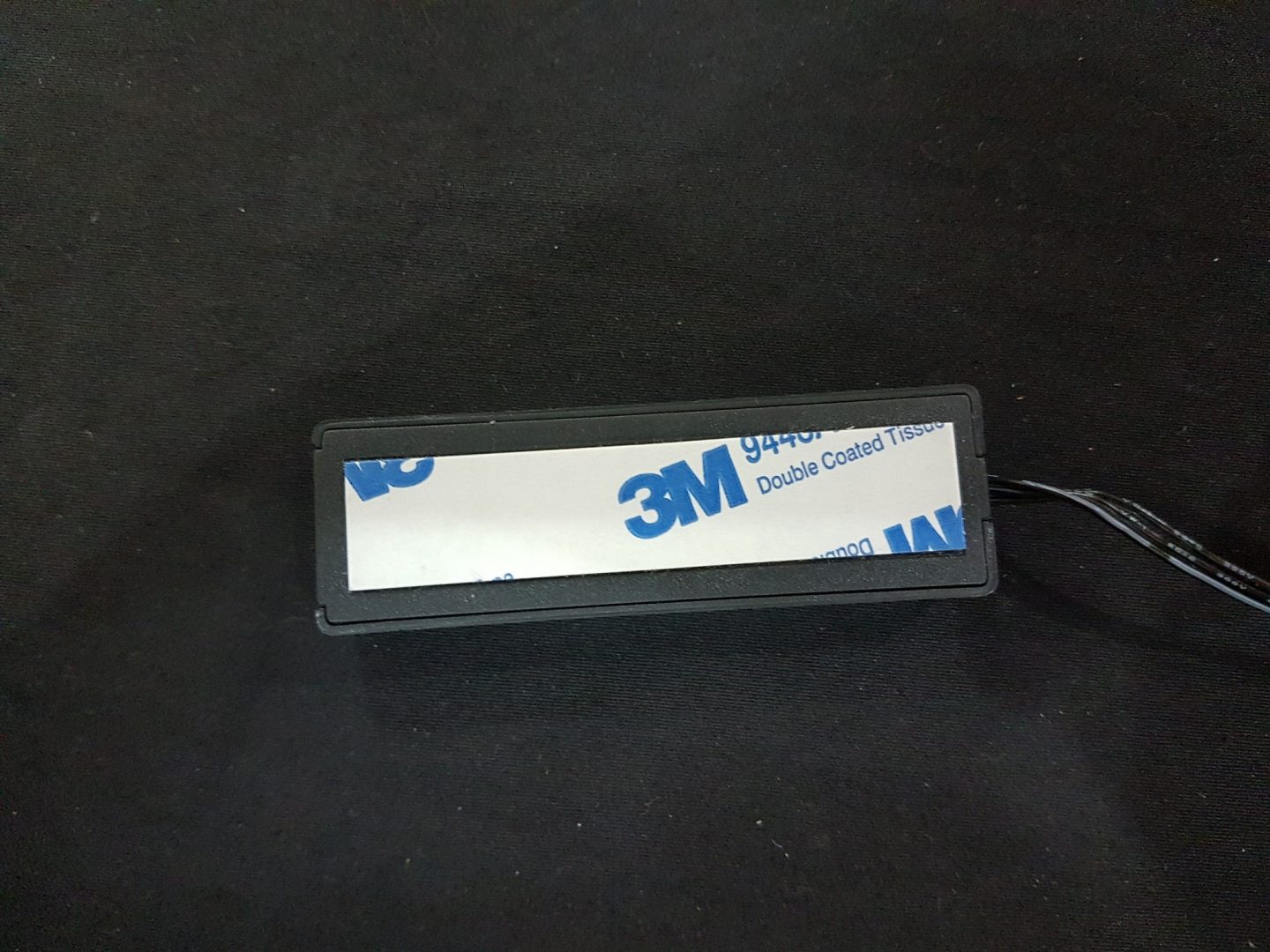 Controller has 3M's double sided tape on the backside of it for easy installation of the controller inside the chassis.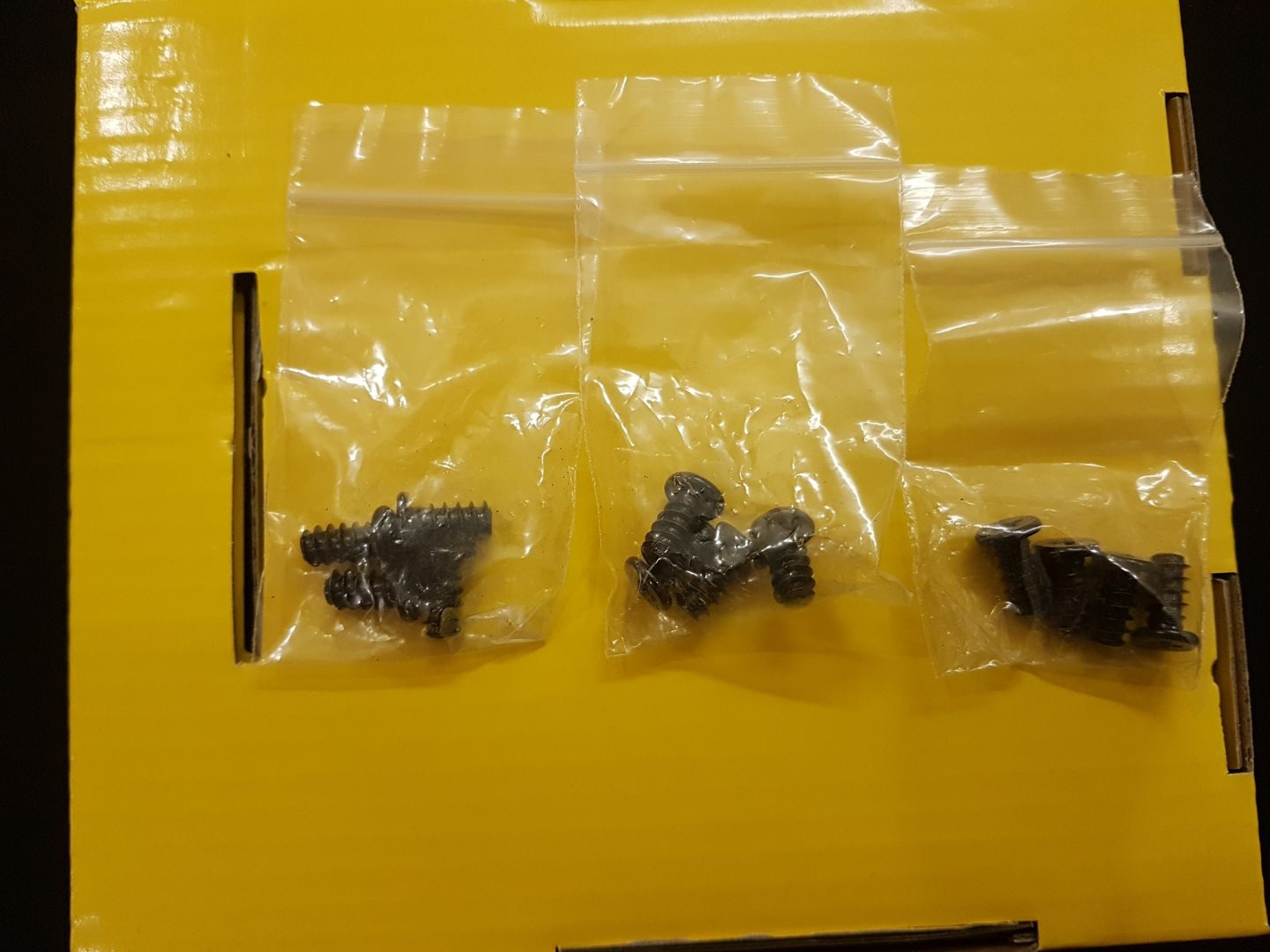 Last, we have three bags of 4 M3 screws for the fans.
By now, cable management freaks would have realized that they are going to be busy doing cable management should they opt for these fans. One would has to deal with 6 cables from the fans, interconnecting cable between fan RGB LED hub and Controller and SATA cable from RGB LED hub to PSU cable.
RGB LED Performance
There are 4 LEDs on a single fan. These LEDs are placed on the fan motor hub. Controller retains the last color on the fan and next time you power it up, it will be the same color. As described above, there are 7 colors available on these fans. Pressing the Color button one at a time will change the single color.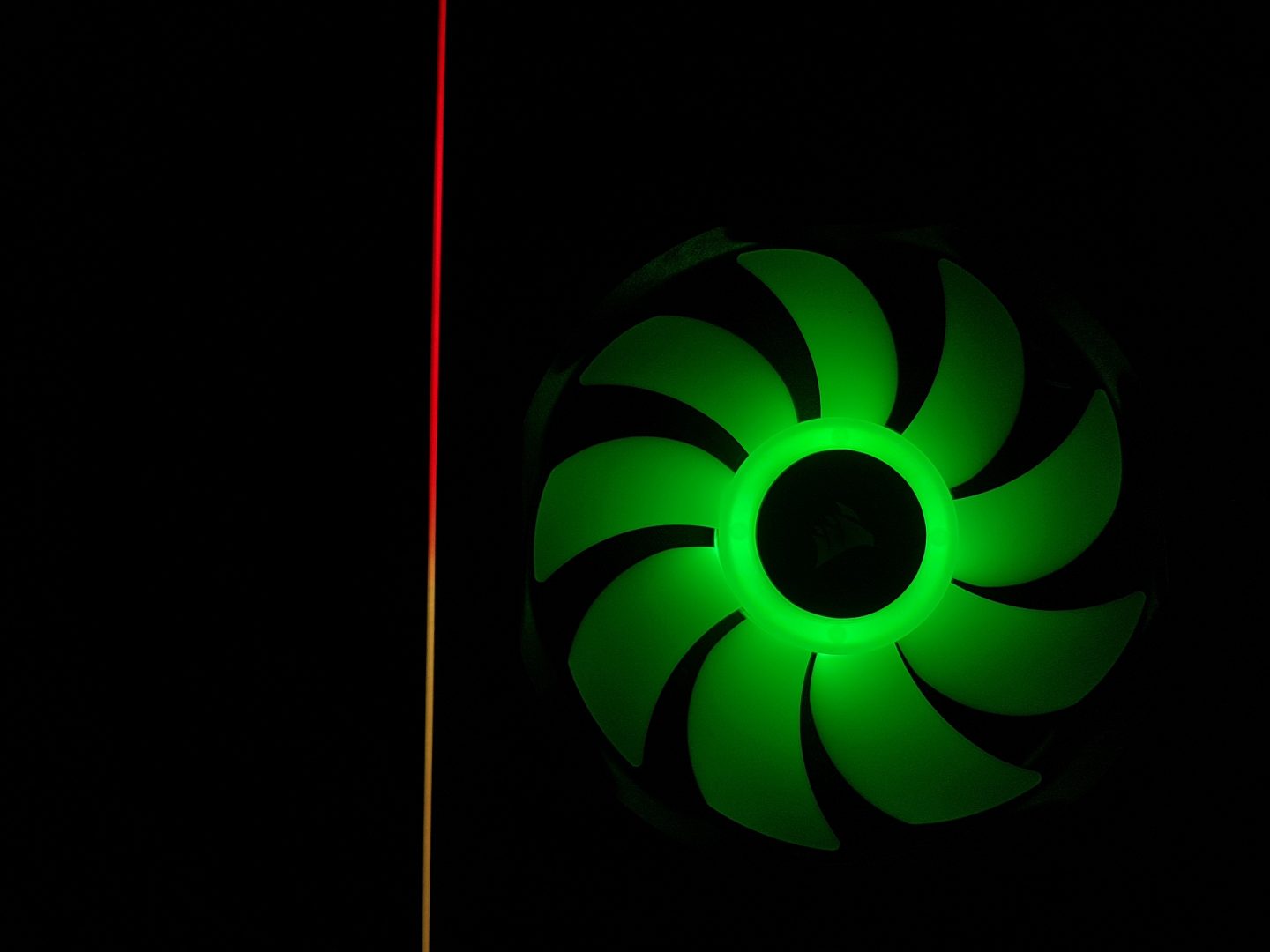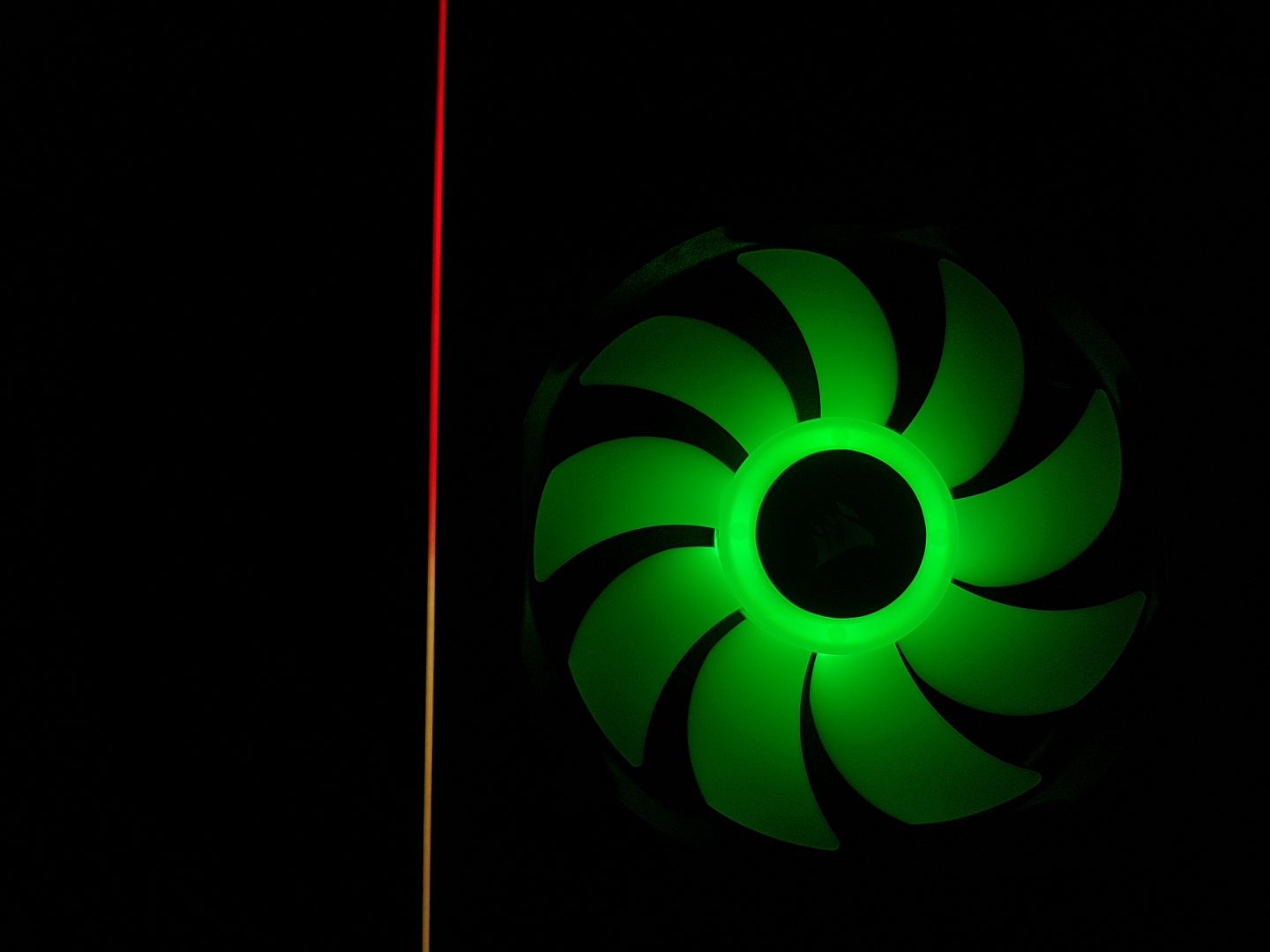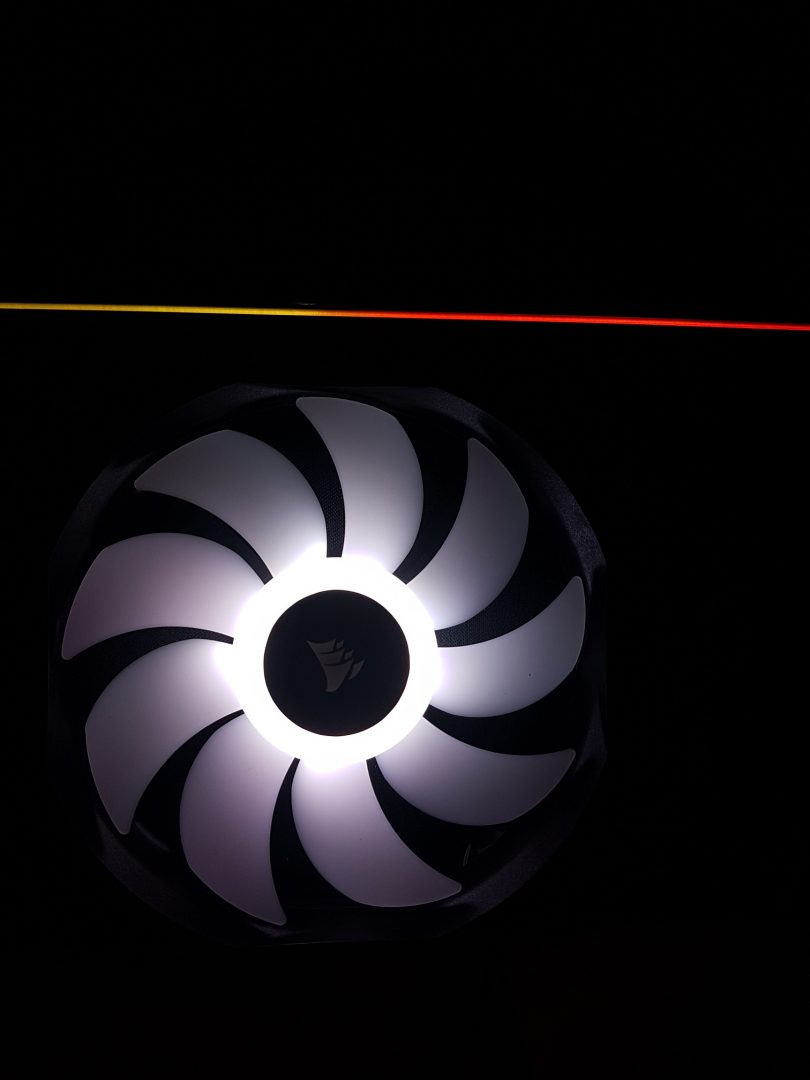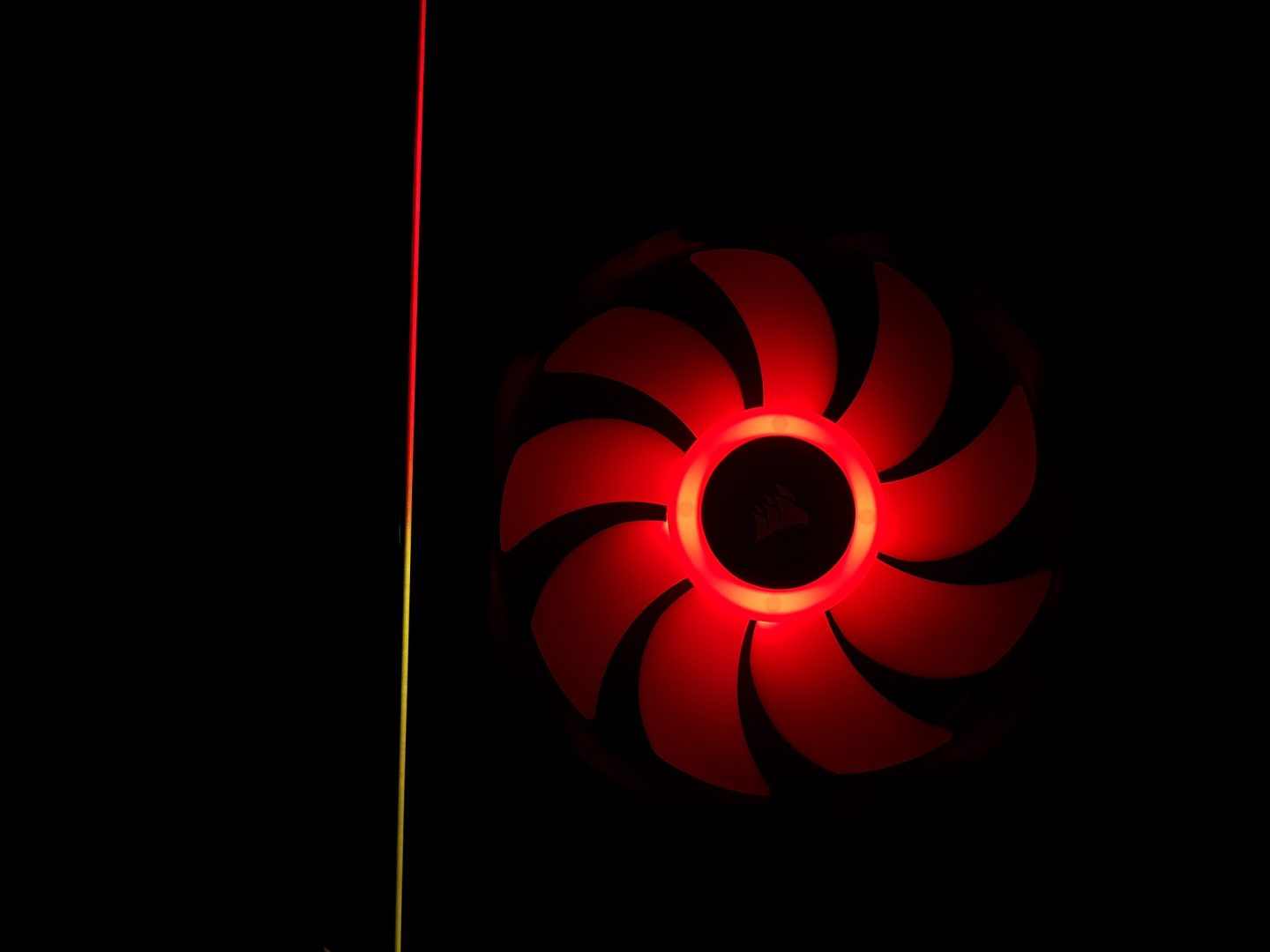 For color effects, pleas watch this video
Test Bench, Methodology and Performance
Following test bench was used to measure the thermal performance of the fans.
Asus Rampage V Edition 10
Intel i7 6850k
Corsair H100i V2
Corsair 64 gigs Vengeance DDR4 @ 2666MHz
Following equipment was used to measure the air flow and decibels of the fans:
UNI-T UT 352
Amprobe TMA 10A
Following software were used for stress testing and fan speed monitoring/control:
Speed Fan 4.52
Real Bench 2.44
Real TempGT
Matlab R2013a for Graphs
Test data includes two fans. Both fans were mounted on Corsair H100i V2 which has 27mm thin radiator with Avg FPI of 22. Stress test was run for 15 minutes on stock clock at full speed and low speed. System was allowed to cool itself with minimum 30 minutes before next run. CPU was overclocked to 4.4GHz at 1.360v. Stress test was run for 15 minutes on full speed and on low speed. Average of six cores was taken. Graphs will show the Max and Average temps during all these tests.
These fans were compared with Corsair HD 120 RGB fans. Review of HD 120 RGB fans coming soon. Low speeds on both were approx. set to 800 RPM with +/- 10%.
Asus motherboard has very well voltage control on it for the 3 pin fans. SP fans speed was regulated at various voltage readings, against each of this rating, air flow was measured using TMA 10A which was placed 6" away from the radiator. Similarly, on each voltage reading, dBA was recorded using UT 352 placed at 6" distance. Every value was double checked for validation purpose. Room dBA was 29. Delta of decibel reading from room decibel was taken for more accurate representation of the statistical data.
On a side note, higher CFM values are better, lower dBA values are better. Similarly, lower dBA values against the higher RPMs are better.
First, we will look at linear air flow and decibels of the fans followed by the thermal results.
Below graph shows the relationship between various voltage readings and Fans' RPM. This is an average RPM of two fans. Fans were shut down at 3.12V and their startup Voltage was 3.24V which is damn impressive. On 3.24V, Avg RPM was 439 RPM. Max RPM at 12V was 1512.  Linear relation is clear between various voltage readings and RPMs.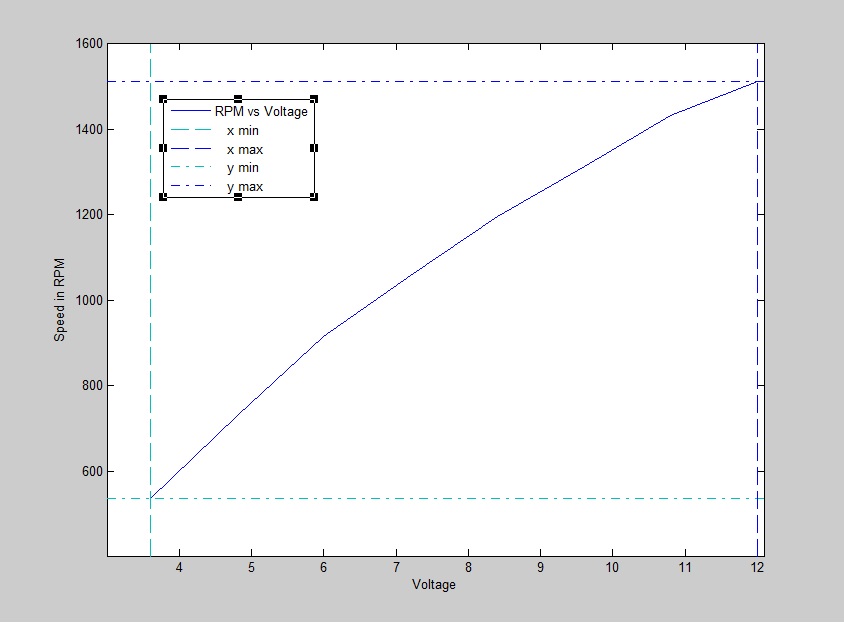 Below is a graph showing relationship between Voltage and Air Flow. Again we see a linear relation between the two variables on various voltage points. Higher CFM is better or required as per the increase in the speed with voltage regulation. Minimum CFM on 3.6V was 15 whereas max CFM on 12V was 38. This is a good performance. Rated CFM of the fan is 52. Our readings are coming through the radiator.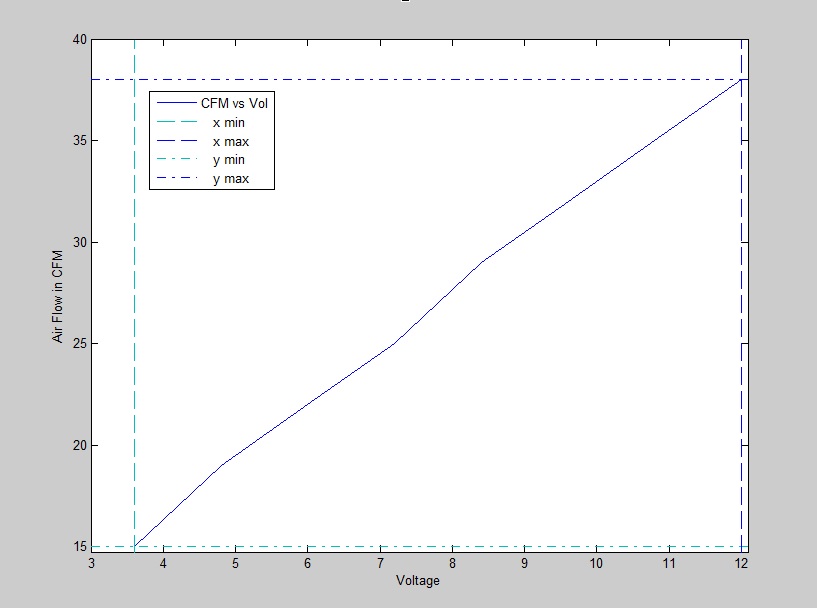 Below graph shows the relationship between Voltage and Sound level. This is bit of a linear relation with highs and lows across the line. Maximum dBA in our testing was 27 which is above the rated dBA of 26 from the manufacturer. This is still within +/-1.5 dBA adjustment of the equipment. Next up is the graph showing relationship between fans speed and sound level.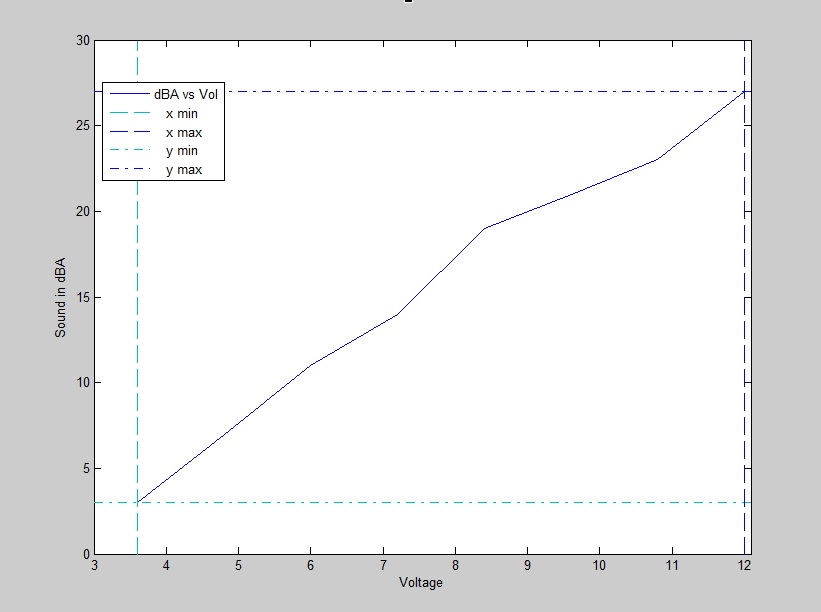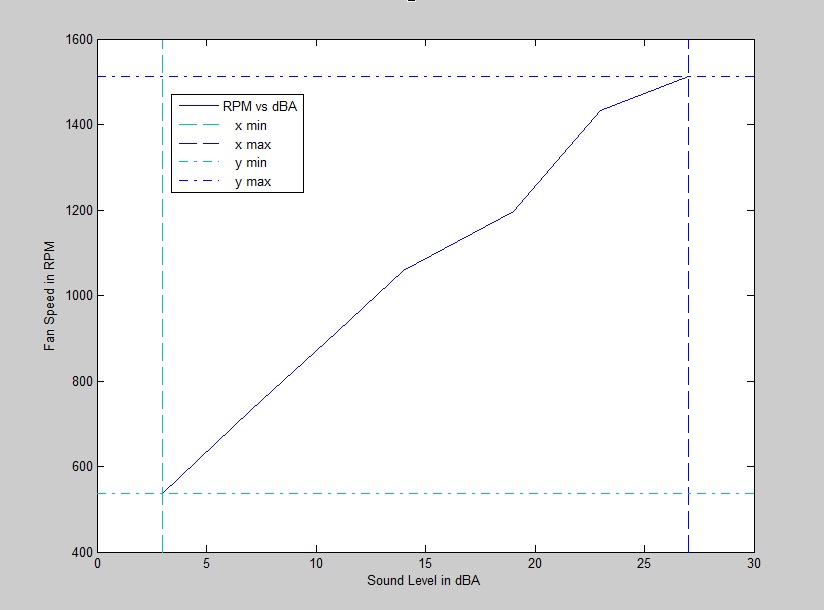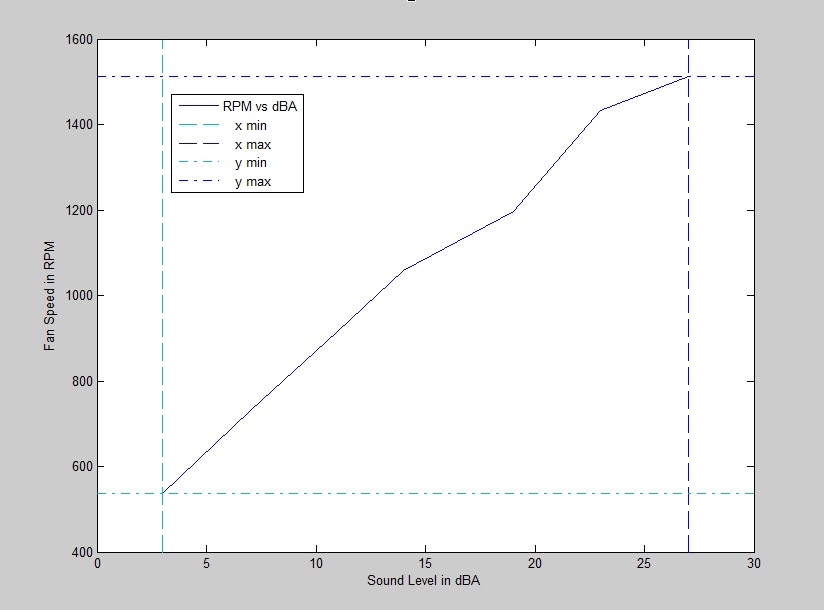 27dBA was recorded on 1512 RPM.
Below graph shows the relationship between air flow taken at various speeds of the fan measured in RPM. Maximum CFM was 38 on 1512 RPM. This is again a linear relation showing the good performance of the fans. Next graph will show the relation between air flow and sound level.
Again we see an almost a linear relation here. Maximum CFM was 38 on 27 dBA. Not bad at all for this fan.
As many users would want to know if they can use these fans as case fans, we measured the air flow free of any resistance and then against the dust filter. Performance was damn impressive. Fan managed to produce 74CFM on full speed at 12V. Against dust filter, the fan managed to provide 55 CFM on full speed at 12V.
Thermal Performance
Corsair has maintained the static pressure rating on these fans to continue the SAGA of static pressure on SP series fans. This would mean one can mount these fans on the radiator and put them to good use. We measure the thermal performance of these fans on H100i V2 as described above. Fans were run on Full speed and on Low Speed with chip on stock clocks at 1.136V and then on 4.4GHz with 1.360V. Room temp was 18C. Results are as under. Voltages on VCore were set to be in manual mode to avoid any fluctuation or voltage spikes. HD fans are rated at 800 RPM as minimum though our samples made it to 450 RPM. Hence, 800 RPM was taken as a minimum for both fans and both types of fans were tried to operate at near or at 800 RPM. With PWM, regulation is easier than with Voltage regulation.
Both fans were run on approx. 800 RPM with +/- 10%. CPU was on stock clocks at 1.136V with XMP enabled. Average temps were 44C on SP 120 RGB fans.
Both fans were run on their full speed with +/- 10%. CPU was on stock clocks at 1.136V with XMP enabled. Average temps with SP 120 RGB were 43C.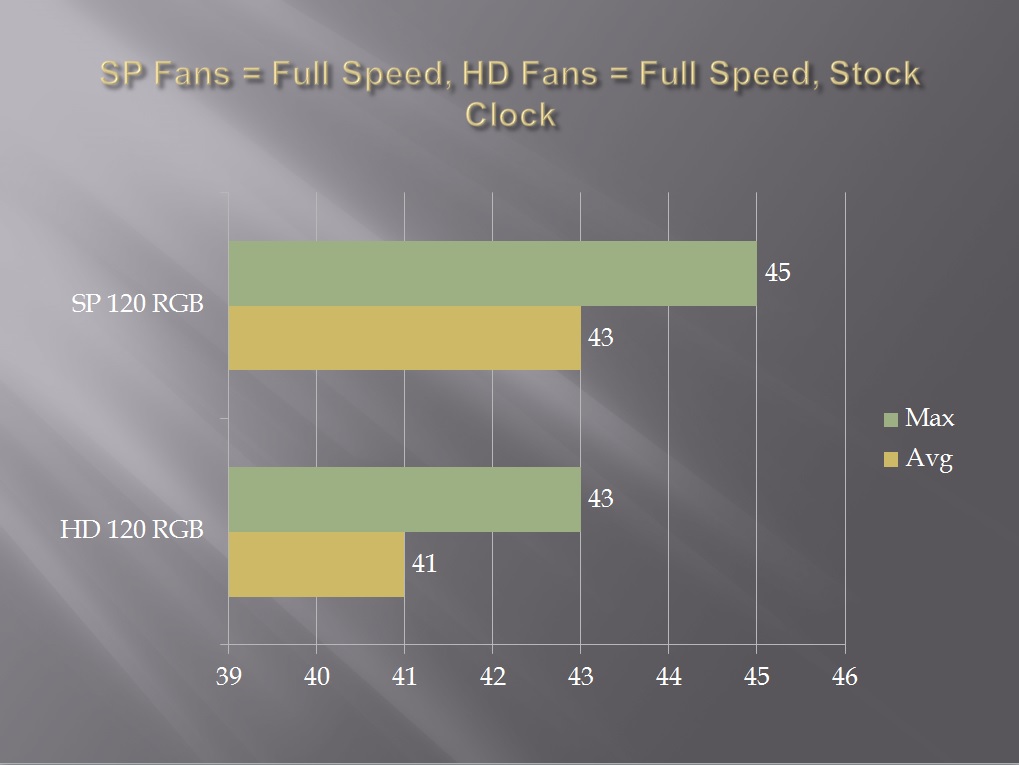 CPU was overclocked to 4.4GHz at 1.360V with XMP enabled. Fans were run on their low speeds at approx. 800 RPM with +/-10%. Max temps on SP 120 RGB were 81C with average being 70C. Remember, 1.360V for 6-core chip will produce too high a heat to dissipate and it will put more stress on the cooling unit. This is a good performance from the fans of rated 1400 RPM speed made to run at approx. at or near 800 RPM.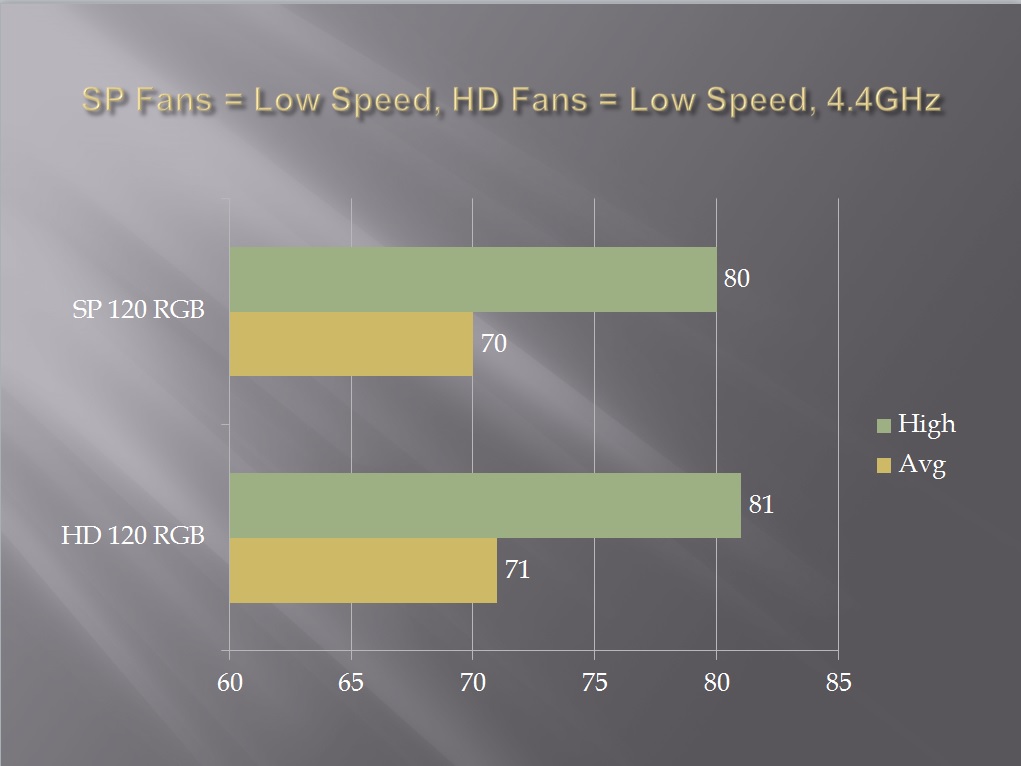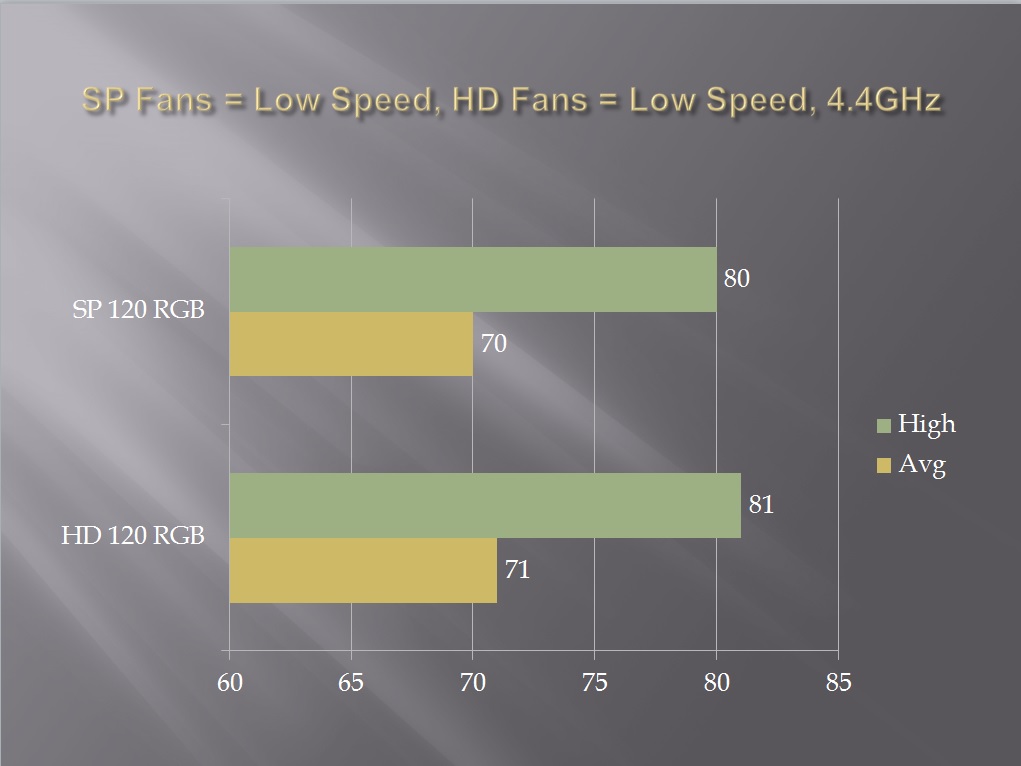 CPU was overclocked to 4.4GHz at 1.360V with XMP enabled. Fans were run on their full speeds with +/-10%. The result is very good. 67C average temp with SP 120 RGB fans with a max temp of 75C.
Corsair made an entry into RGB fans with SP 120 RGB and HD 120 RGB series of fans. SP 120 RGB is a new generation of the SP series of fans. In our testing, SP fans have delivered a good performance across the board with almost a linear relation among Linear Air Flow, speeds, and sound levels. Corsair has provided the PC enthusiasts and SP lovers yet another high performing product with customizable lighting effects. But not everything is without a con and SP 120 RGB Fans are no exception to it. There is no software control for these fans which is very disappointing. So, we are missing a true colour spectrum here. We are limited to only 7 colours and three lighting modes besides static lighting. No integration of these fans with Corsair link is another letdown. Too many cables to deal with would be challenging tasks for sure. There is no brightness control as well though brightness on these fans is not as high as on HD fans.
Value
Prices of three retail packs are as under: –
Single Fan pack @ $20 [2500 PKR]
Single Fan with a Controller pack @ $36
Three Fans with a Controller pack @ $63 [7000 PKR]
Remember, without the controller we won't have any light on the fans so minimum $36 are to be expensed. Prices are high if not higher but they have gone down a bit after the release except that of the single fan without a controller. One would need to take into consideration that they are not buying only a good performance fans but also making their way into the RGB world. Hence, their prices would need to be compared with the other RGB fans offering in the market.
Performance
Fans have definitely delivered as indicated by our test results. Corsair has maintained high static pressure on these fans – though not that high given the price, making these fans good for radiator use.
In a nutshell, these are performance edition fans with minimal RGB Lighting effects on them. Corsair seems to have delivered and achieved what they are marketing these products for. With further lowered prices and integration in Corsair Link would make them more value products to have.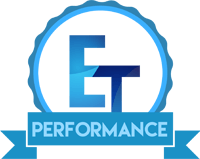 Many thanks to Ease Tec for providing the samples for today's review!