Today, we will be taking a look at the MorphA X gaming Mouse from the folks over at EpicGear. The MorphA X is a modular mouse that allows users to swap out the Mouse 1&2 button switches, casing and even the sensor. Yes, it also comes with both an Optical and Laser sensor so no matter your preference, you should be covered. Modularity is becoming a must have feature and allows companies to design one product and have it fit multiple needs and uses. With PC Gaming and eSports becoming more and more popular, companies are doing everything they can to keep up with the recent influx of new consumers into the market. While there is no denying RGB LEDs are currently a big hit, modularity is just as important and products featuring both of these features such as the MorphA X have a much better chance of being suitable for a wider audience.
The MorphA X is definitely a one of a kind mouse and the real test lies in the performance it has to offer. While it has some pretty amazing modularity features, can it battle against other mice where it matters? If the MorphaX can live up to the expectations, it's going to be one Epic mouse!
SPECIFICATIONS
EG MSC™ – Modular-Sensor-Cartridge:                              – 12000 dpi IR LED sensor cartridge                                            – 8200 dpi laser sensor cartridge
EG MSS™ – Modular-Switch-Structure:                                  – EG Orange – medium, EG Purple – pro (from light to heavy)
Adjustable lift-off distance with auto-calibration feature
Adjustable angle-snapping
Customizable RGB LED colors
On-the-fly sensitivity change
Adjustable report rate: 125~1000Hz
Optical sensor cartridge: Up to 250ips tracking speed & 50G acceleration
Laser sensor cartridge: Up to 150ips tracking speed & 30G acceleration
AFM Ambient Lighting mode

7 longevity buttons with 6 programmable
Lock-down function
5 gaming profiles with dedicated LED color assignment
Ultra swift big-size PTFE mouse feet
1.8 meter X-braided cable with gold plated USB connector
Approx. size in mm: 126.5(L) x 66.5(W) x 40(H)
Approx. weight: 92.6g excluding sensors, cable & weights
Adjustable weight & balance system: 5g x 4 weights, 20g in total
2 year manufacture warranty *

*Note: warranty covers defects caused by manufacturing. The warranty does not cover wear and tear, including but not limited to breakage caused by abuse, improper usage, water damage or other causes outside of the manufacturing process.

**Note: Equipped with the mouse:
IR LED sensor cartridge + EG Purple + Grey Shell + 5g weights x4

               Extra accessories in the package:
Laser sensor cartridge + EG Orange + White Shell + Puller
To get things kicked off, it doesn't come in a box, it comes in a tin! One the front we can see an image of the MorphA X and it also mentioned some of the features it has. Down in the bottom right corner, we can also see the changeable EG switches that come in Orange and Purple and offer 20 or 50 million clicks respectively.
On the back, we have some more information on the features and even a couple of pictures that depict the modularity of the MorphA X. Being able to easily swap out switches and even the sensor is a major feature and one well worth having. Lots of times, people get attached to their peripherals and instead of having to replace the whole thing should something break out of warranty, you can easily buy a replacement part now.
The first thing you are likely to see when you open the tin up is the quick start guide which is resting on a bit of foam that is protecting all the goodies underneath it.
Throwing the foam to the side as quickly as possible and we can get a closer look at all of what is included. OBvisouly, we have the mouse itself, there is also 2x purple switches, switch puller, a laser sensor, and spare casing pieces in white. Everything is protected by foam on all sides and has its own cutout.
By default, the MorphA X comes with the silver casing on it. There are a couple of extra buttons on the top such as the profile changing button (right below the mouse wheel) and then there is also a DPI changing buttons, with a LED metre below it so we can know what DPI we are set to.
While the shape of the mouse is actually ambidextrous, it is only on the left side that we can find some extra buttons. These buttons are set to be backwards/forwards and can come in great handy for web and folder browsing. Though, if you want to use them for other tasks, it is easy enough to switch their binds in the downloadable software for the mouse.
On the but of the mouse are an 'EG' logo and an 'EpicGear' written text. The complete test is actually part of the sensor and is present on both the Laser and Optical sensors. Both areas also feature RGB LEDs. While the LEDs can't be controlled individually, there are four individual zones that we will look at in a bit.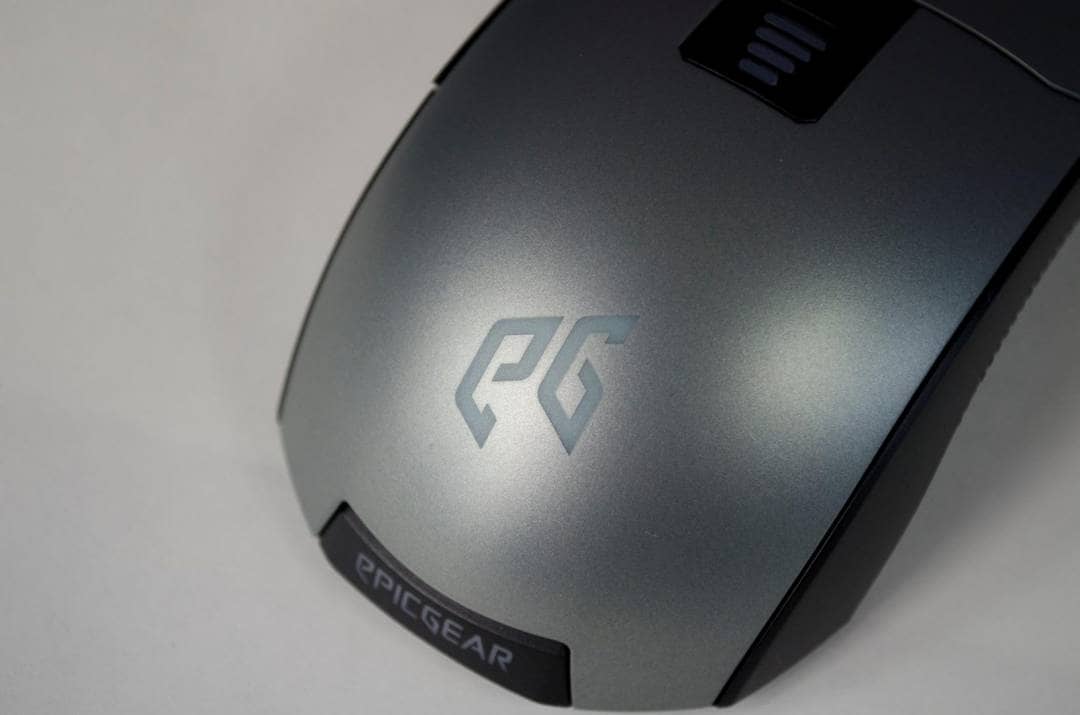 To take the casing off, simply pull up on the part that will be in your palm if you were holding the mouse from just above the 'EpicGear' writing. IT is only held on by magnets so don't worry about breaking anything. Once that piece is off, you'll see a little arrow just under the profile indicator LEDs showing you were to lift up on the buttons casing. Once both of these pieces or off, you can easily change the weight of the mouse thanks to the hidden weights in the palm and change the button switches as well. You can now even slide the sensor out with ease and swap it out for your preferred one. Note, you don't have to take the button casing off to take the sensor off, just the palm casing.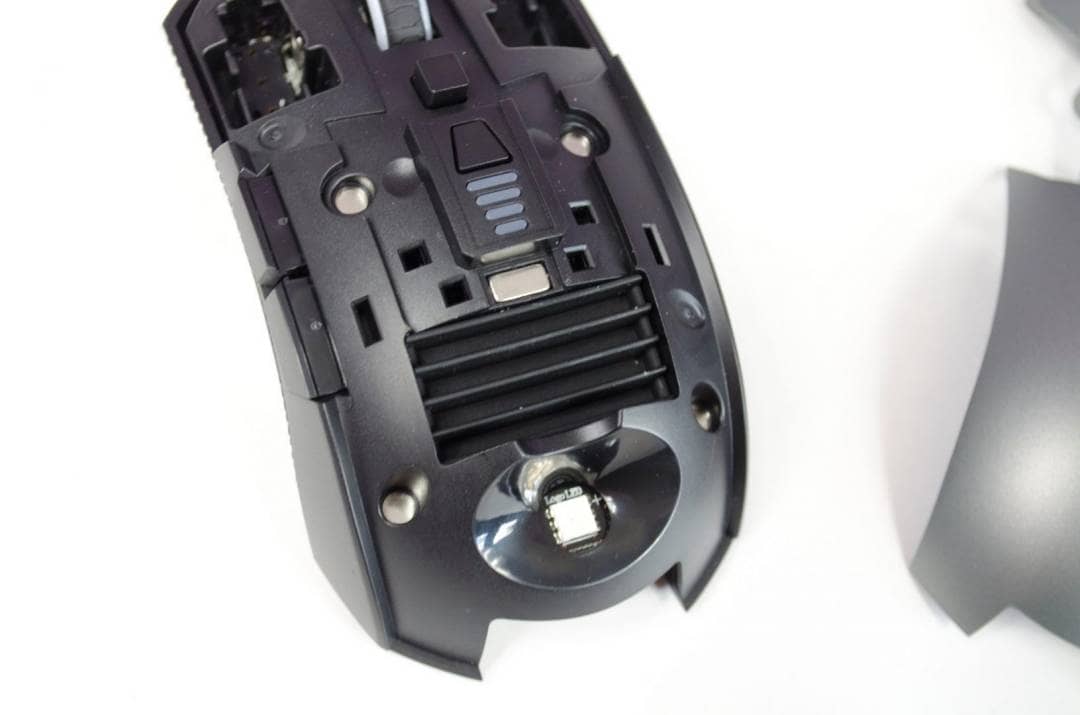 Flipping the mouse over and we can see the sensor simply says to slide it out the back of the mouse and yes, it really is that easy.
Once the sensor is off, you can get a look at how it plugs into the mouse and how EpicGear have allowed it to be hot swappable.
Getting everything out of the box and stripping the mouse down to the bare essentials leaves us with a few pieces on the table. This is everything for the mouse as mentioned there are a laser and optical sensor, two sets of EG switches, one is good for 20mil and the other 50mil clicks, there is also the grey and white casings and we also have four removable weights to help your further customise the MorphA X. I have to say, this is not the first mouse I have seen that has swappable switches and sensors, however, it is the easiest and also the only one I have seen that includes both sensors in the box. EpicGear was out to prove a point with their MorphA X and it is safe to say they've made it clearly!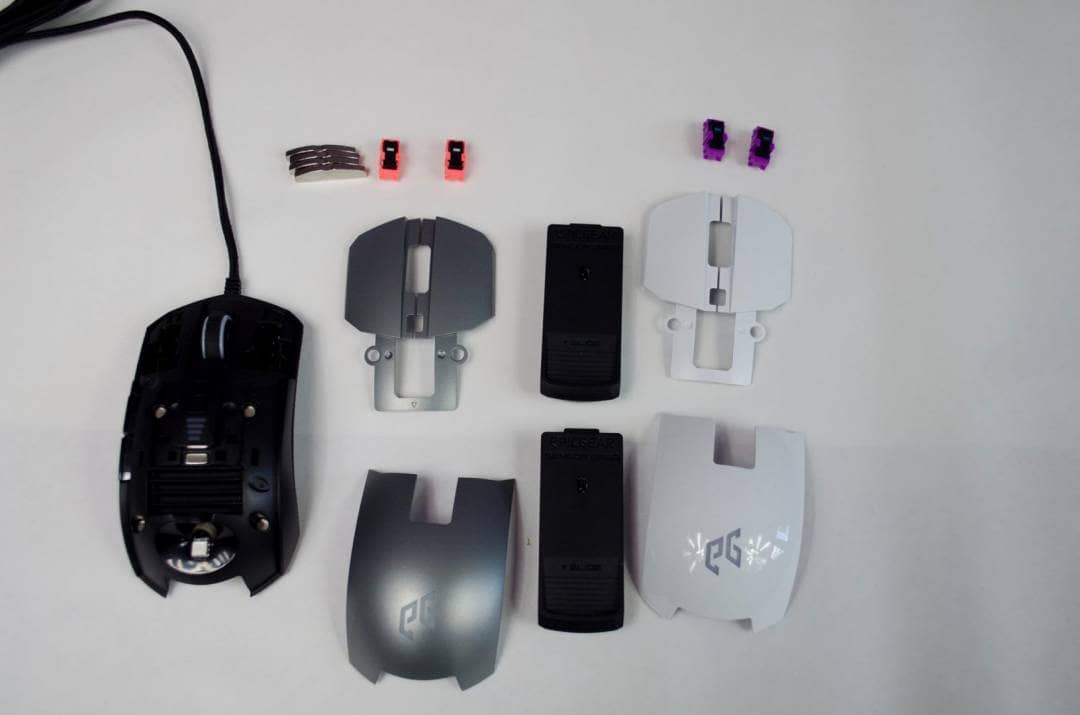 As mentioned, there are four LED zones on the mouse that are all RGB. While they can't currently be controlled individually, they can be set to any colour you like VIA the software. There is also a nice idle feature that after a few seconds of not using the mouse it will start scrolling through the colours automatically. When you go back to using it, it will switch back to the colour based on the profile you have preselected.
The software for the MorphA X is quite easy to use, even if it looks like a lot is going on at first. The first tab that opens up is the Main Control page. Here, you'll be able to change the button assignments and the DPI levels. Also worth noting, you'll see 5 different profiles on the bottom, make sure you choose which one you want to customise before you start messing around with things. Helpful hint –  you can also change the colours of the LEDs on the mouse dependent of what profile is in use!
The second tab is the performance tab. Here, users will be able to change the USB report rate, scroll wheel speed, double-click speed, pointer acceleration and a few other settings. If you're not familiar with these settings, I suggest you set them on a profile you may not use much the first time around so you can see how the have an effect on the performance of the MorphA X. You'll also notice this tab will tell you what sensor is currently installed in the mouse and even offers a Surface calibration option.
Last up, we have the Macro tab. Personally, I don't use Macros, but for those who do you'll be happy to know they are fully supported.
Performance
Now, let me just start this off by saying the current mice I generally use on a daily basis feature Optical sensors. However, I found myself sticking with the 9800 Laser and for one main reason in particular. As many of you will know, I am an avid FPS fan/player and especially love the Quake Series. Well, while I can't go into too much detail thanks to their ridiculous NDA, I have been enjoying some Quake Champions during my time testing the Morhpa X and the Laser sensor seems better suited for the fast paced movement, at least in my testing. While the Optical sensor was still fine, the game feels much more fluid when using the laser sensor with all the fast movements. I tried both sensors out for a week a piece and this was the result I came too. Now in saying that, the Optical sensor is still more than suitable and I am sure will be some users first choice as it is still a top of the line optical sensor. Sensors aside, the MorphA X offers an overall good experience as far as the performance is concerned. The swappable mouse 1 & 2 switches are amazing as between the two included sets, you should be set for around 70mil clicks. When changing the switches, I didn't notice much of a difference in the feel of the click or actuation personally and spent the majority of the time testing the mouse using the Purple variants. Let us also remember that the software offers loads of customization options and tweaks should something not feel quite right for you. All in all, I'd imagine that someway somehow, this mouse can fit most users needs unless you need an insane amount of buttons on your mouse.
Design
For the design portion of the conclusion, please refer back to the Closer Look section, KK, Thx, Bye! Jokes aside this mouse has a lot going for it in terms of design. First off, let's just pretend for a minute that it's not highly modular and is more of a standard mouse. Even if it was, it'd still be a great mouse as it is a nice size and features an ambidextrous shape, though it does only have the extra buttons on the left side where the thumb will rest for a right-handed person. The RGB LEDs can be used to determine what profile is currently set and they also have a pretty sweet idle setting where they'll start strobing through the colour spectrum and when you move the mouse, it'll go back to the colour of your preferred profile.
Now, for the real fun by way of all the modularity, the MorphA X has to offer. There are a couple other mice on the market with removable parts, but nothing quite like this, at least not that I've seen. To get it all kicked off, the casing is removable as is the mouse button casing. What's even better is that EpicGear has included a 2nd set of casings in white inside the box! Next up, we have the removable mouse switches and yet again, EpicGear has included a 2nd set in the box. Not only does this offer users a chance to customise the mouse to their liking, it helps with longevity. Those who like a lighter mouse will be happy to know there are four weights in the butt of the mouse that can be taken out with ease when the casing off and lastly, we have the hot-swappable sensor. Not only does it take a whole 2 seconds to take it, EpicGear has included both an Optical and Laser sensor with the MorphA X so there is a better chance of finding the one that suits your needs.
Value
Personally, I feel it rather hard to put a price on such a product, but someone has to do it. Currently, this mouse isn't readily available in the U.K. but you can purchase it across the pond in America. The MorphA X is available for around $125 at the time of review, which I feel is a fair price given everything this mouse has to offer. Not only do you get a top performing gaming mouse, you get one that comes with loads of spare parts that are easily swapped out. I mean, this mouse comes with both Laser and Optical sensors and two sets of switches in the box, that alone is going to warrant a hefty price tag on its own. While everyone may not want the extra parts or even like the modularity of the mouse, those who do will surely be getting their money's worth.
"The MorphA X modular gaming mouse from EpicGear is something special. Coming packed with both Optical and Laser sensors it offers great performance alongside its amazing modular features!"
Many thanks to EpicGear for sending in a sample of their MorphA X Gaming Mouse!