Today we have another great peripheral review in store for you. But first, I want you to think about what you feel makes peripherals 'gaming' related. Is it design, function or performance? Is it flashy lights and loads of options? Well, while we could debate these topics for awhile on what makes a 'gaming' peripheral, it really all comes down to each individual users thoughts. I like the performance aspect most but I also need them to be comfortable for prolonged periods of use. I am also a fan of LEDs, especially the RGB variants and while these generally have no real affect on the performance of a keyboard and if it is gaming related, it is definitely something I do consider when looking to make a new purchase.

Today we will be taking a look at the Logitech G410 Atlas Spectrum Mechanical Gaming Keyboard. The G410 is a TKL (Tenkeyless) Keyboard that is packed with some great features. The G410 features Logitech's own Romer-G Mechanical switches which also have a per-key RGB LED illumination. Aside from that, the G410 also supports Logitech's ARX IOS and ANDROID app and has one of my favourite features, 'Game Mode'. Game mode allows users to disable certain keys when they game by simply hitting the game mode key. What's even better is that thanks to the Logitech Gaming Software, users can actually set up the keys they want to disable during game, whereas a lot of other keyboards only allow you to disable the Windows key.
When I first got the G410 out of its box, I was quite surprised with how light-weight it was. A lot of mechanical keyboards weigh quite a bit but this is not the case with the G410. Taking my first look at it and I was quite pleased with the overall shape and design of the keyboard. One of the things that struck me when I was using it was the layout of the wrist rest, to the left of the space bar is a bigger space for the left hand and to the right, the rest is a bit smaller which allows for your right hand to move about a bit more freely. This is perfect for me as I have a bit of a weird typing style, or so I thought anyways.
When I type I keep my left hand/wrist stationary while my right hand roams about a bit and does the 'pecking'. I always thought this was a bit odd but it works for me so I don't worry about it too much. Seeing the design of the G410 made me realize I may not be along in my typing style which was a pleasant surprise.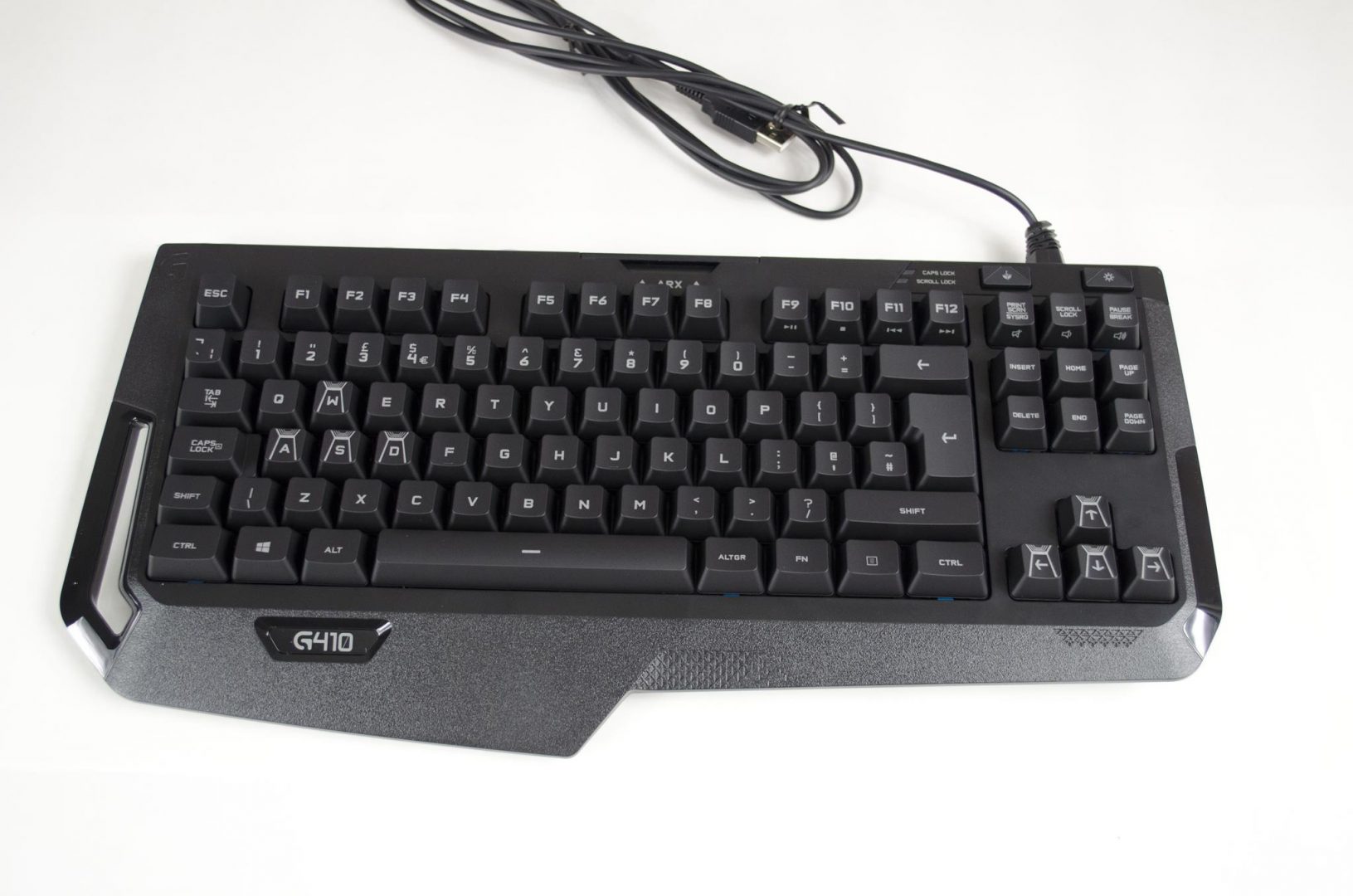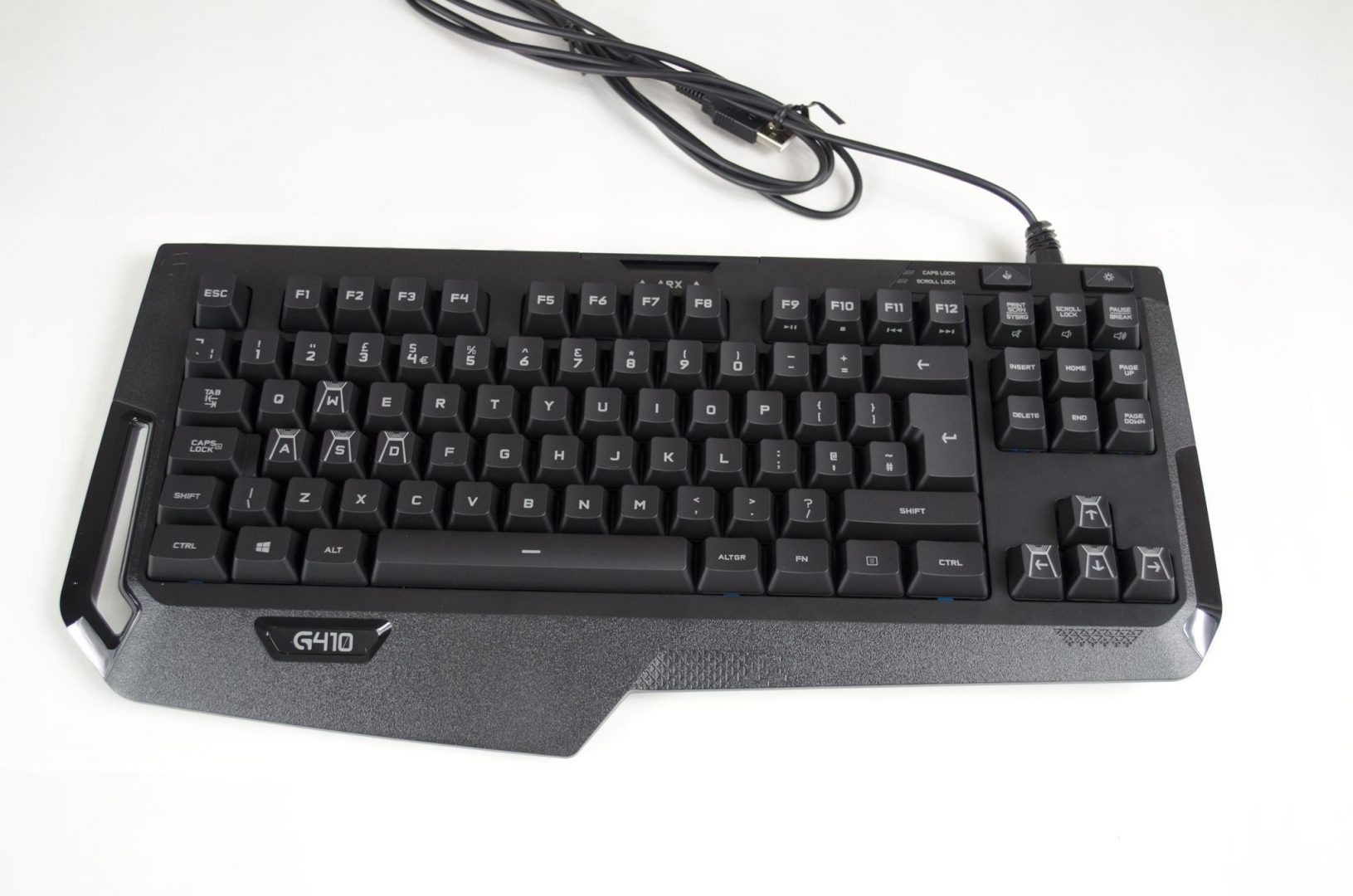 On the top of the keyboard in the middle is a small dock that simply pulls up from the keyboard itself. This dock is designed to hold a phone so you can load up the ARX app and monitor your computer statistics while in a game. A nifty feature for those who are into this sort of thing as you will not have to alt-tab to see your CPU usage etc, you can have it right in front of you while you game.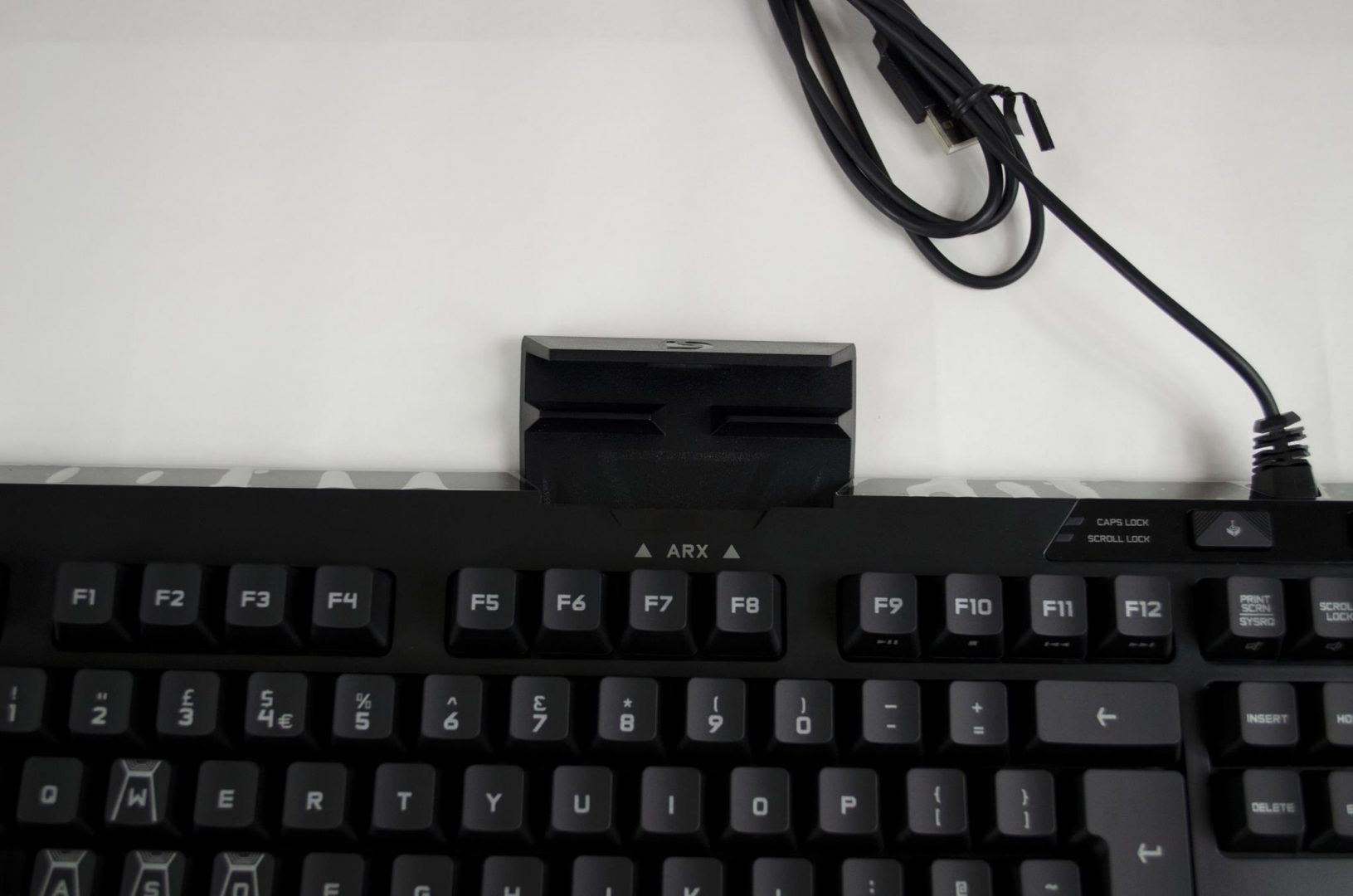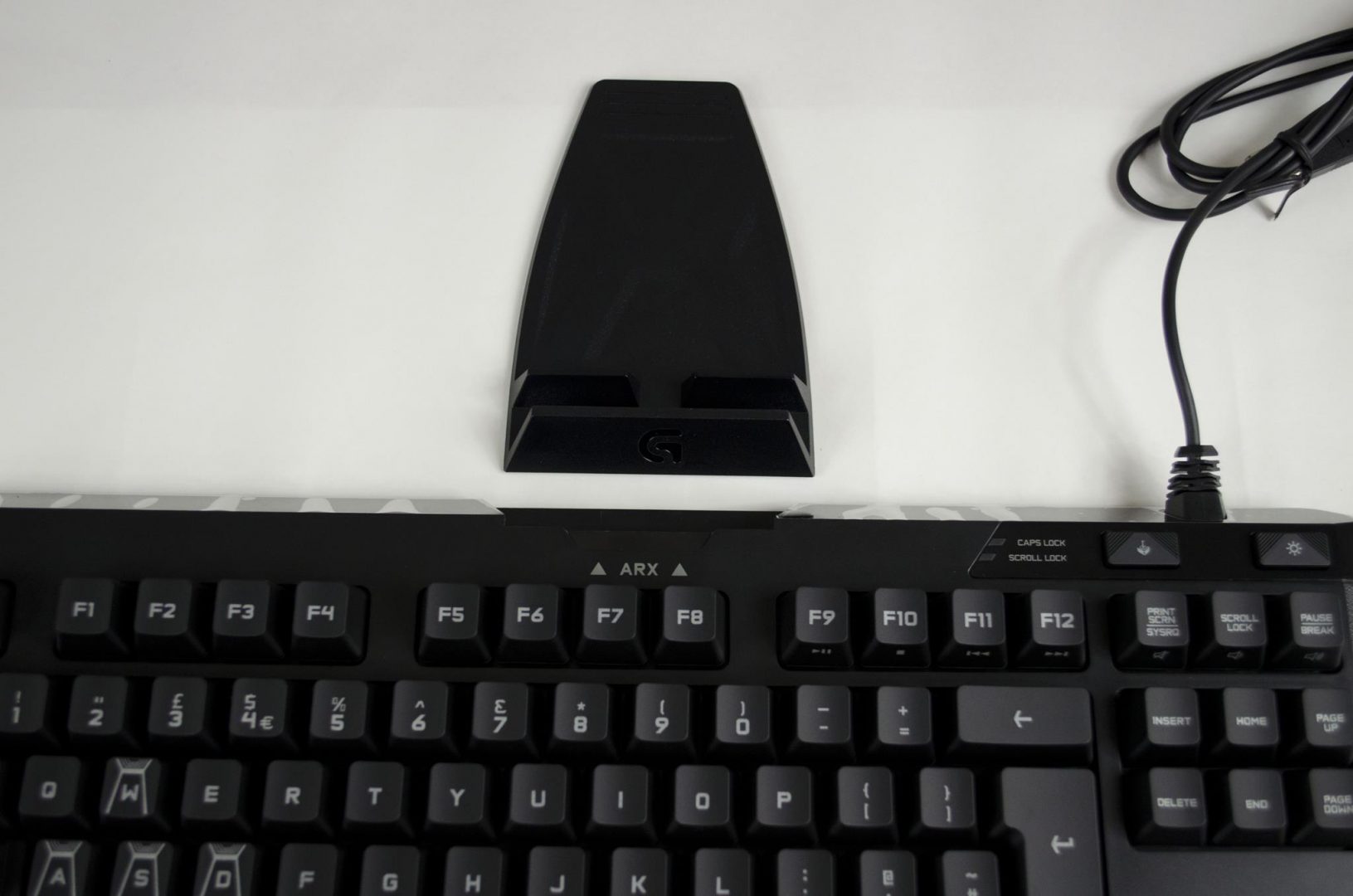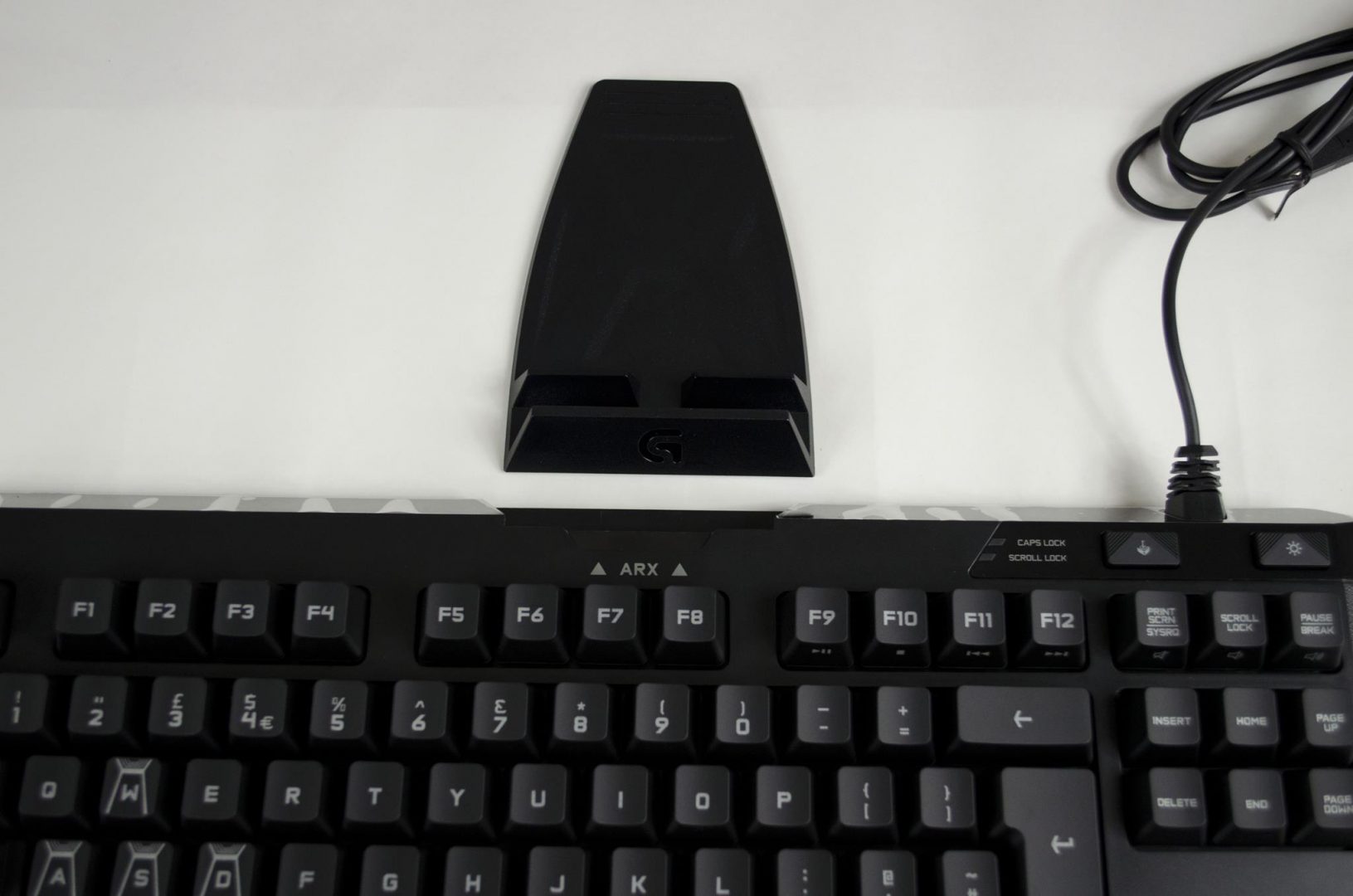 Over in the upper right corner is where the USB is connected to the keyboard. I much prefer this location over the norm of having it in the middle of the keyboard, having it to one side allows for it to swing around and behind my monitor with ease. You will also notice a pair of buttons in this top corner, these are the game mode and LED light buttons. Turning the game mode on will disable the user set keys for the duration it is left on while the LED button simply turns the keyboard backlighting on or off.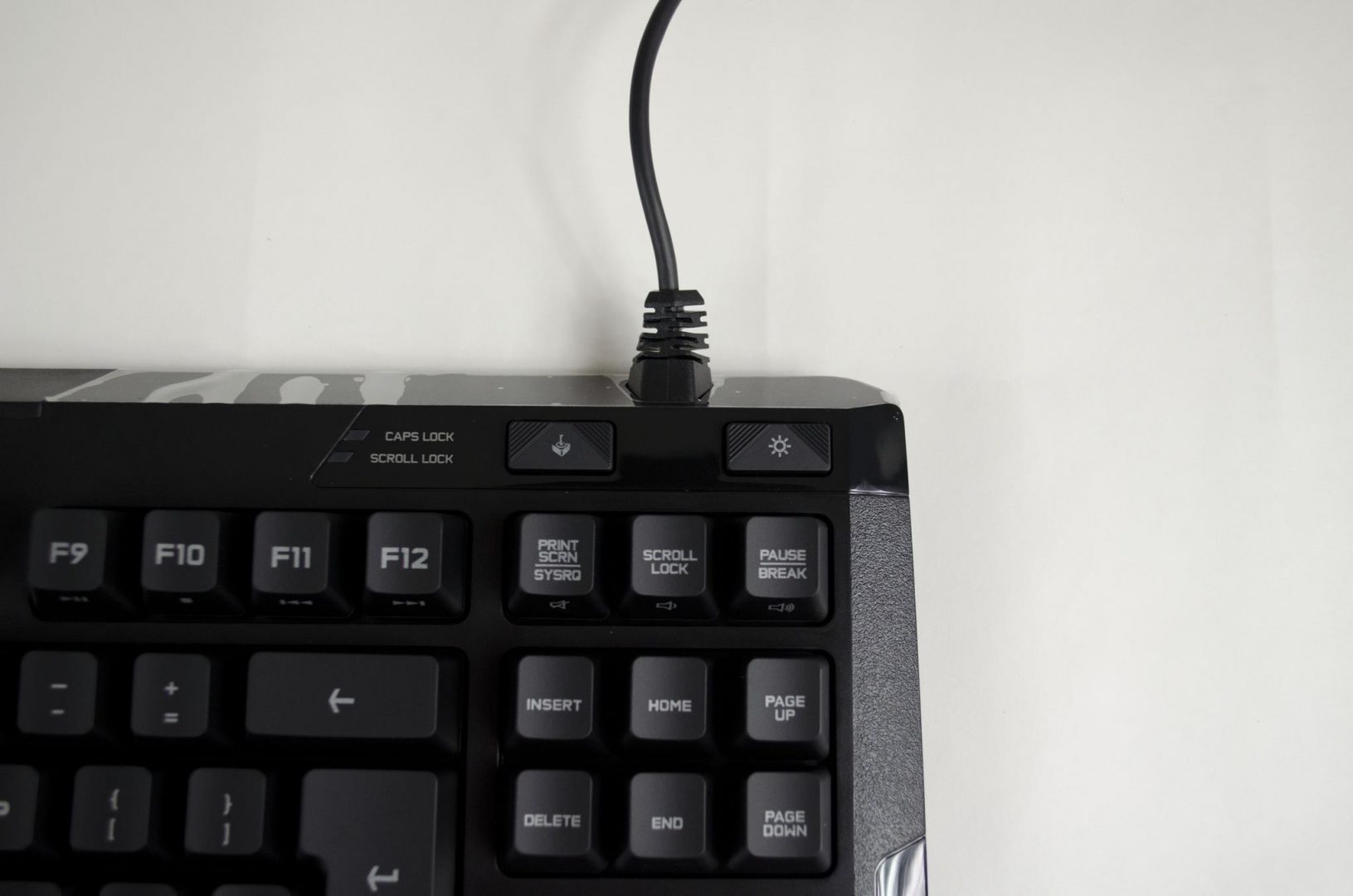 One of the great debates between PC gamers, do you use the WASD keys or are you an arrow key gamer? Personally, I am a WASD man though I have had my butt handed to me a few times by some of my friends who are arrow key games!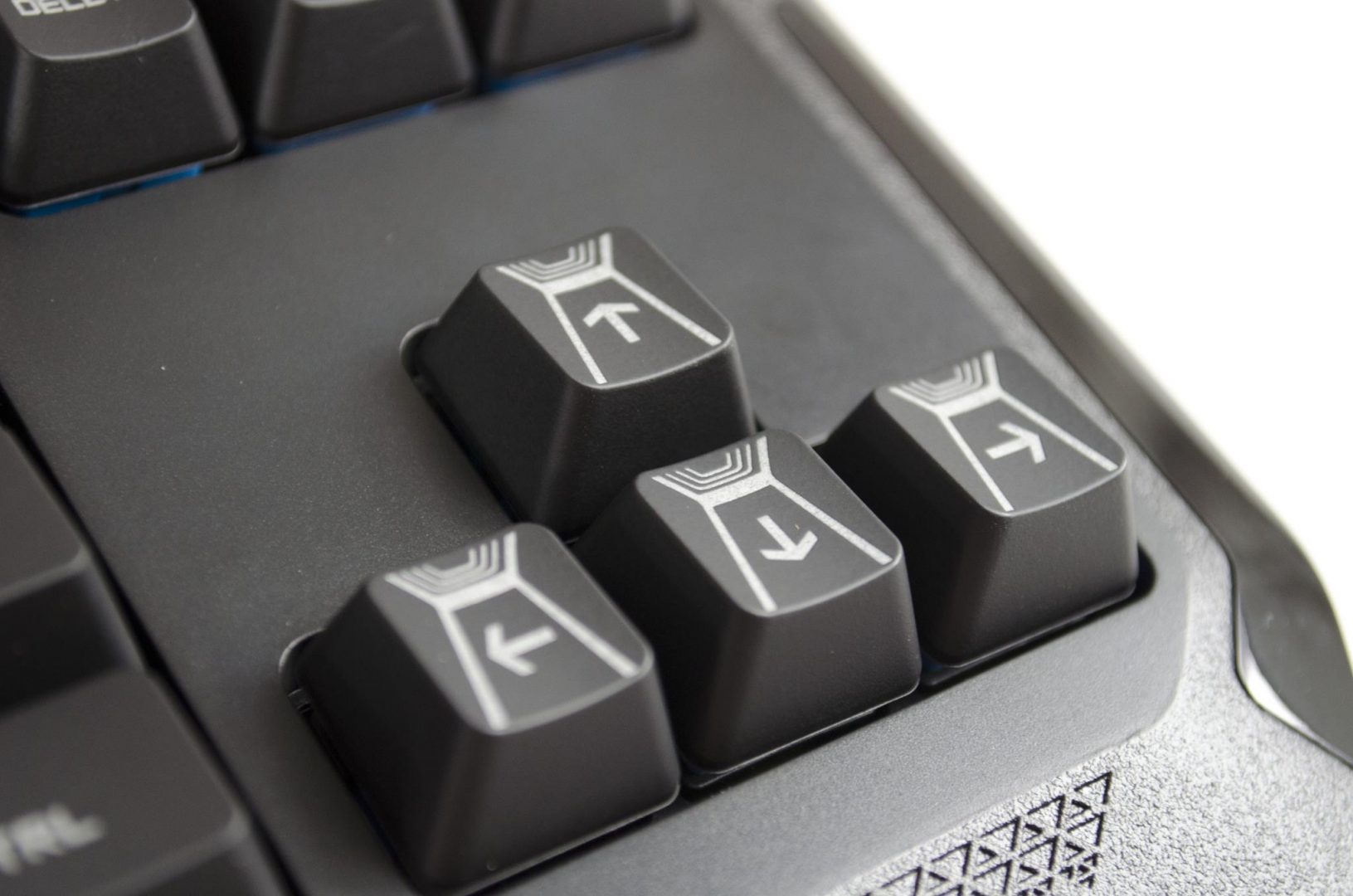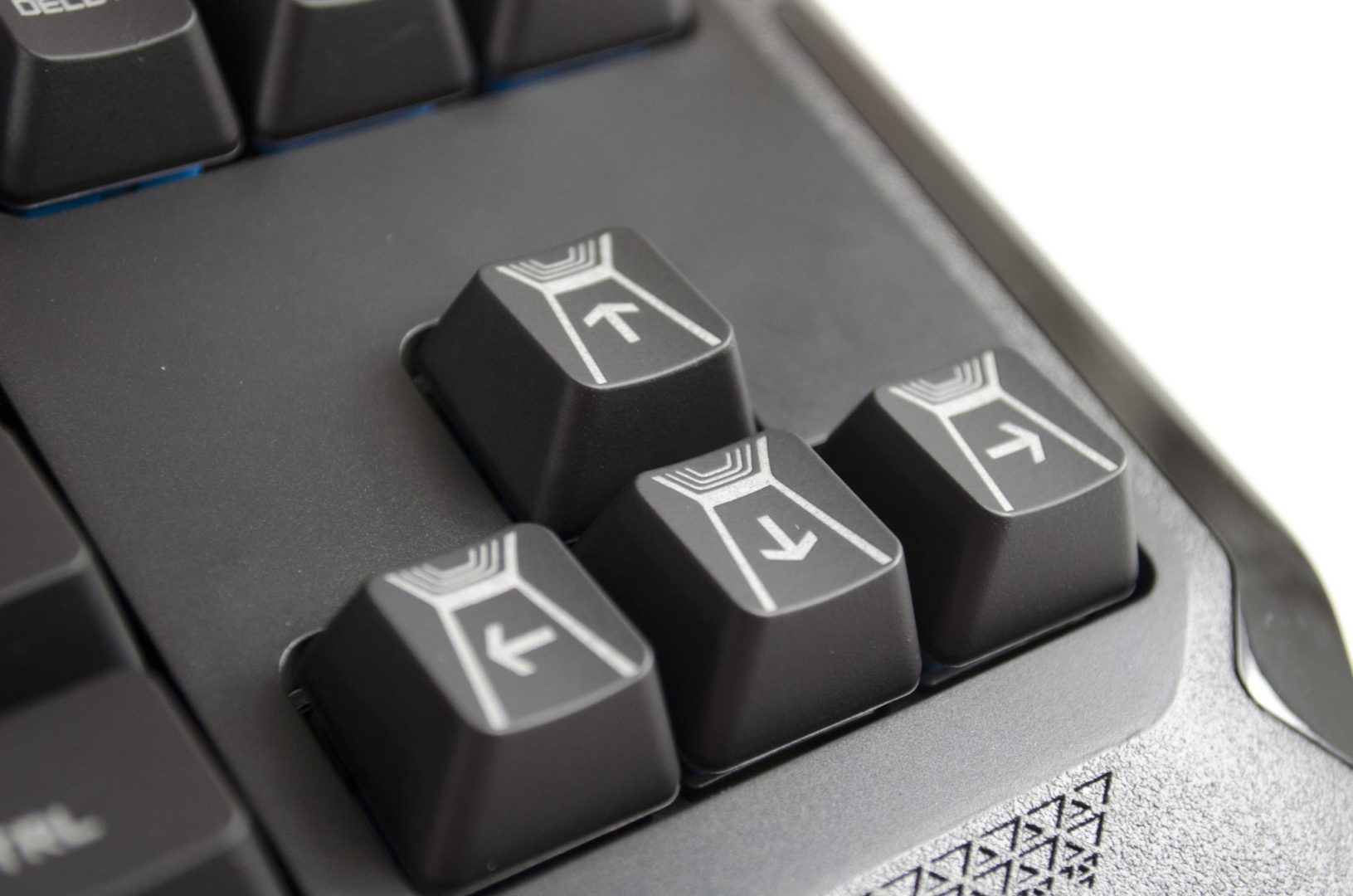 On the underside of the G410 are a couple of slip out feet to all for better ergonomics. There are also non-slip pads in each corner to ensure the keyboard doesn't slide around your desk when being used.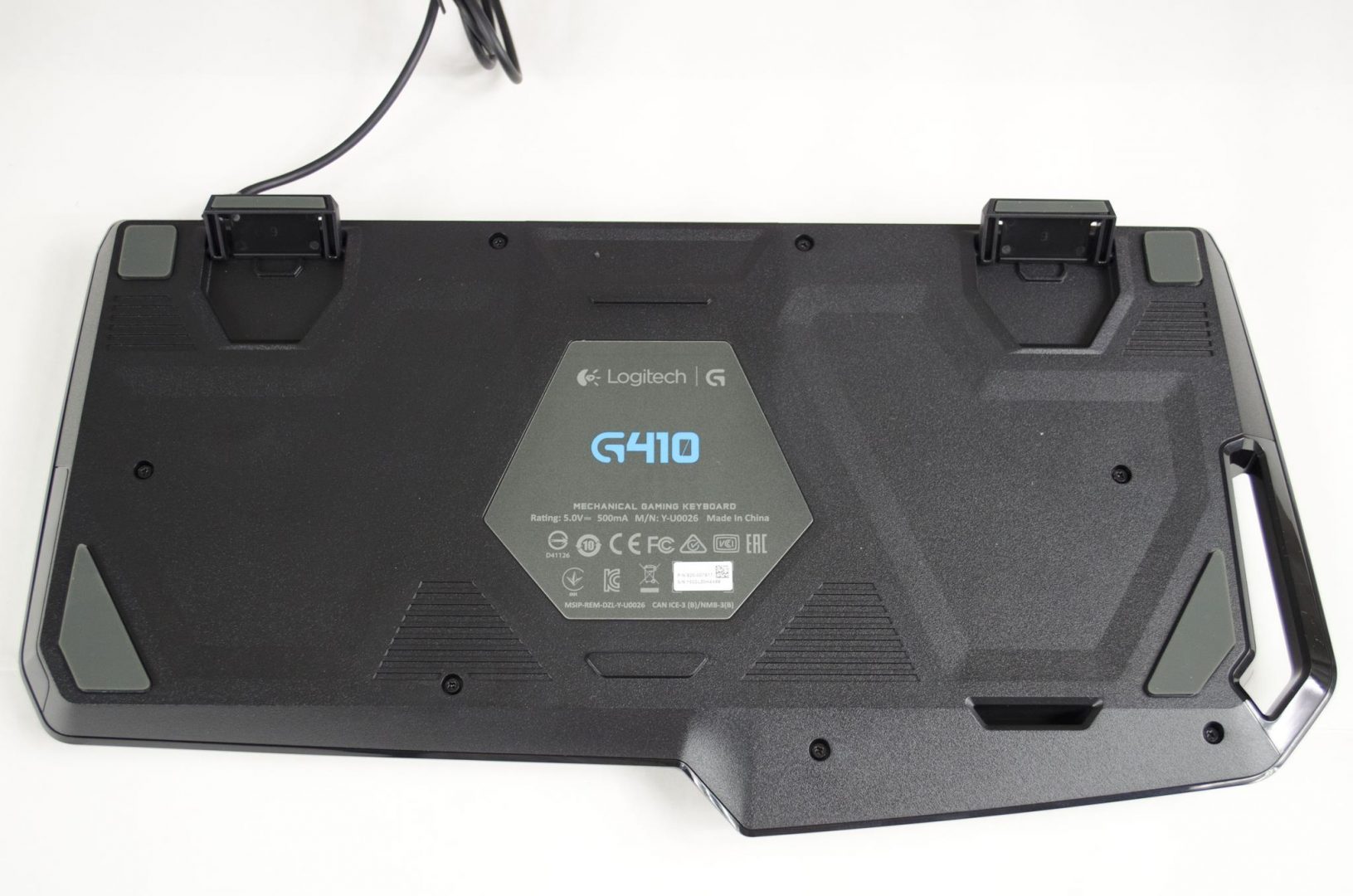 On to the fun part, LEDS! To see more of what the G410 has to offer when it comes to the LED backlighting, please do check out the video at the beginning of the Closer Look section. As mentioned each key has its own RGB LED, but I am a fan of single colours on my keyboard and Blue is my first pick.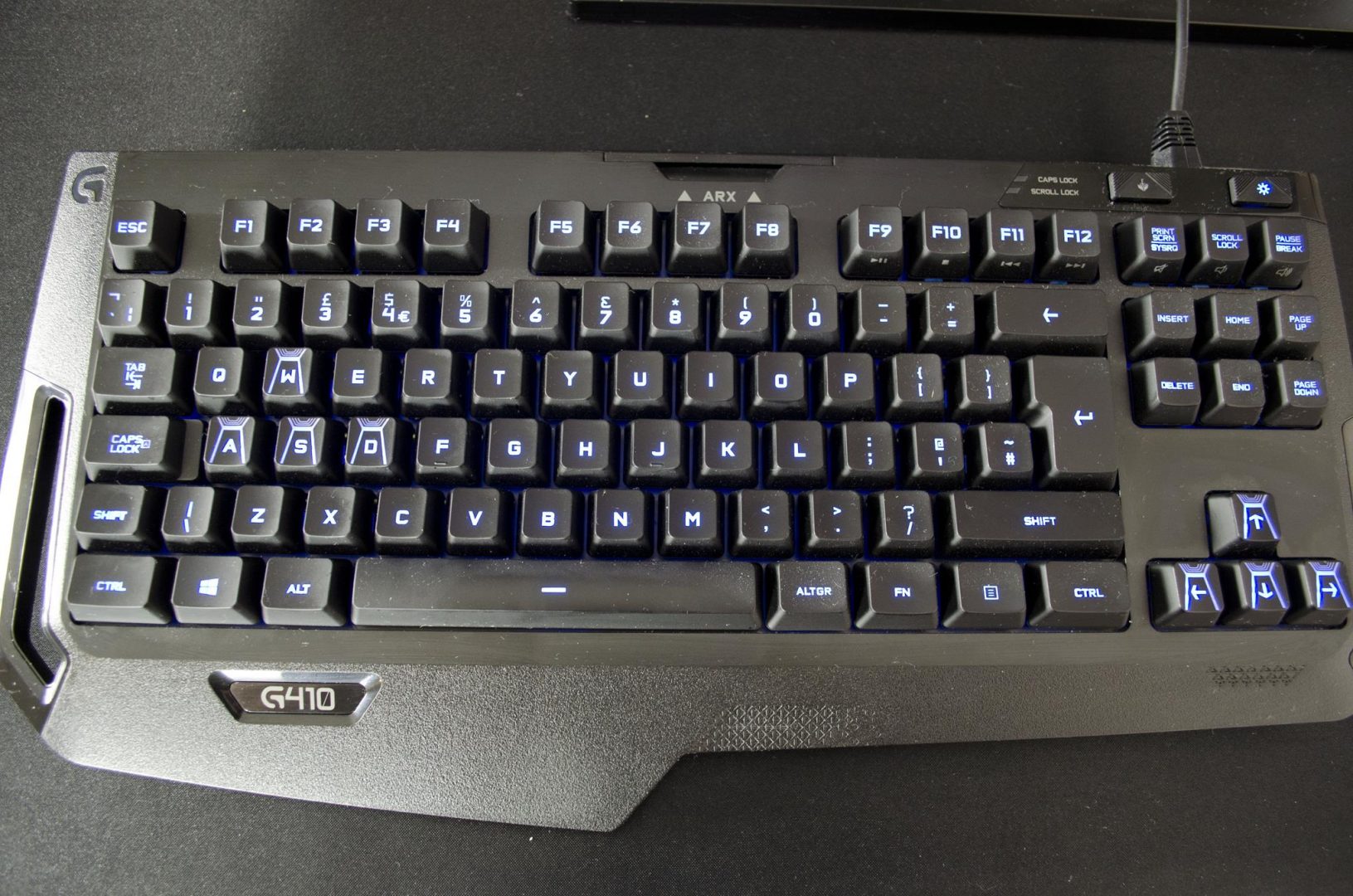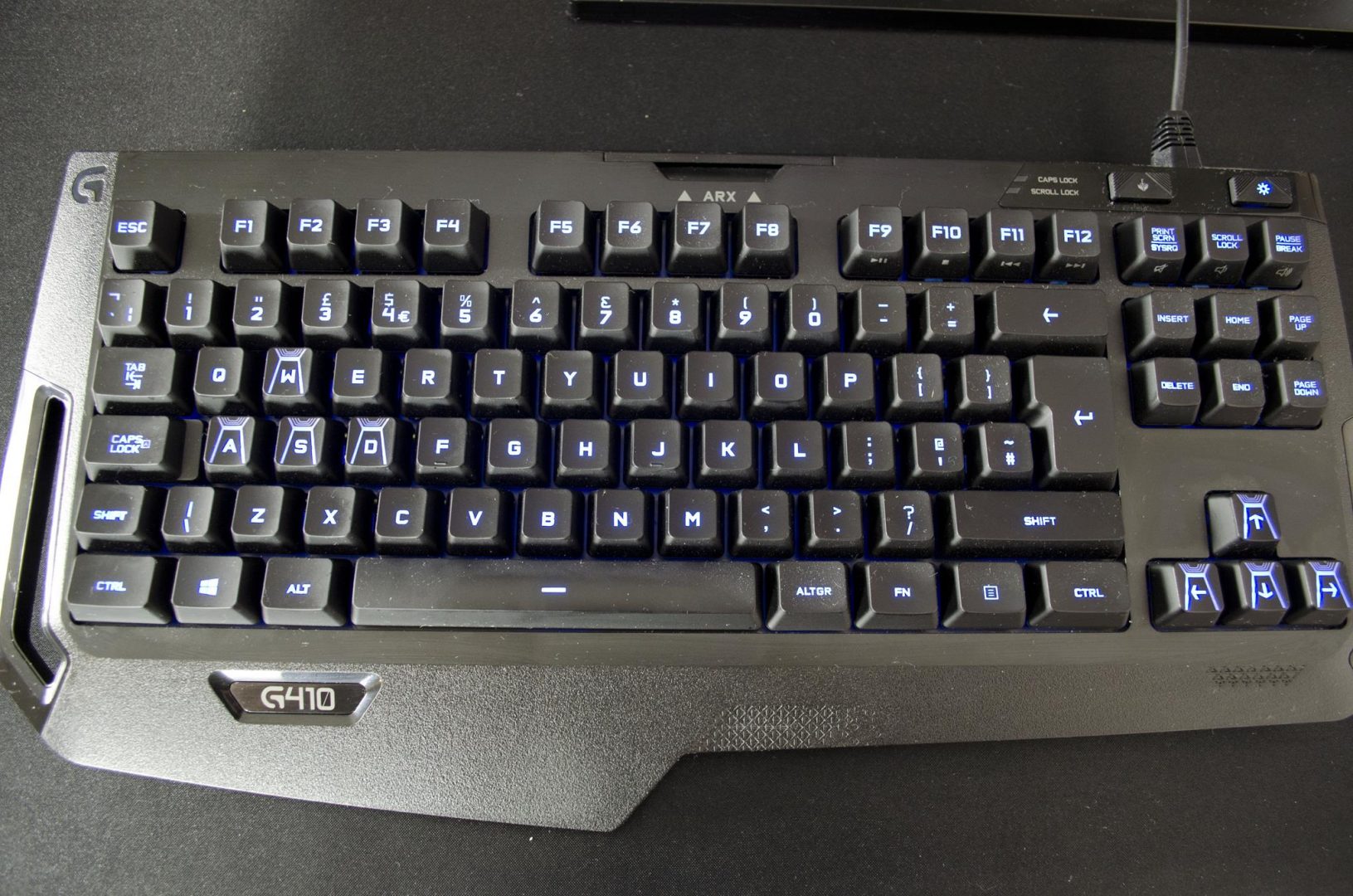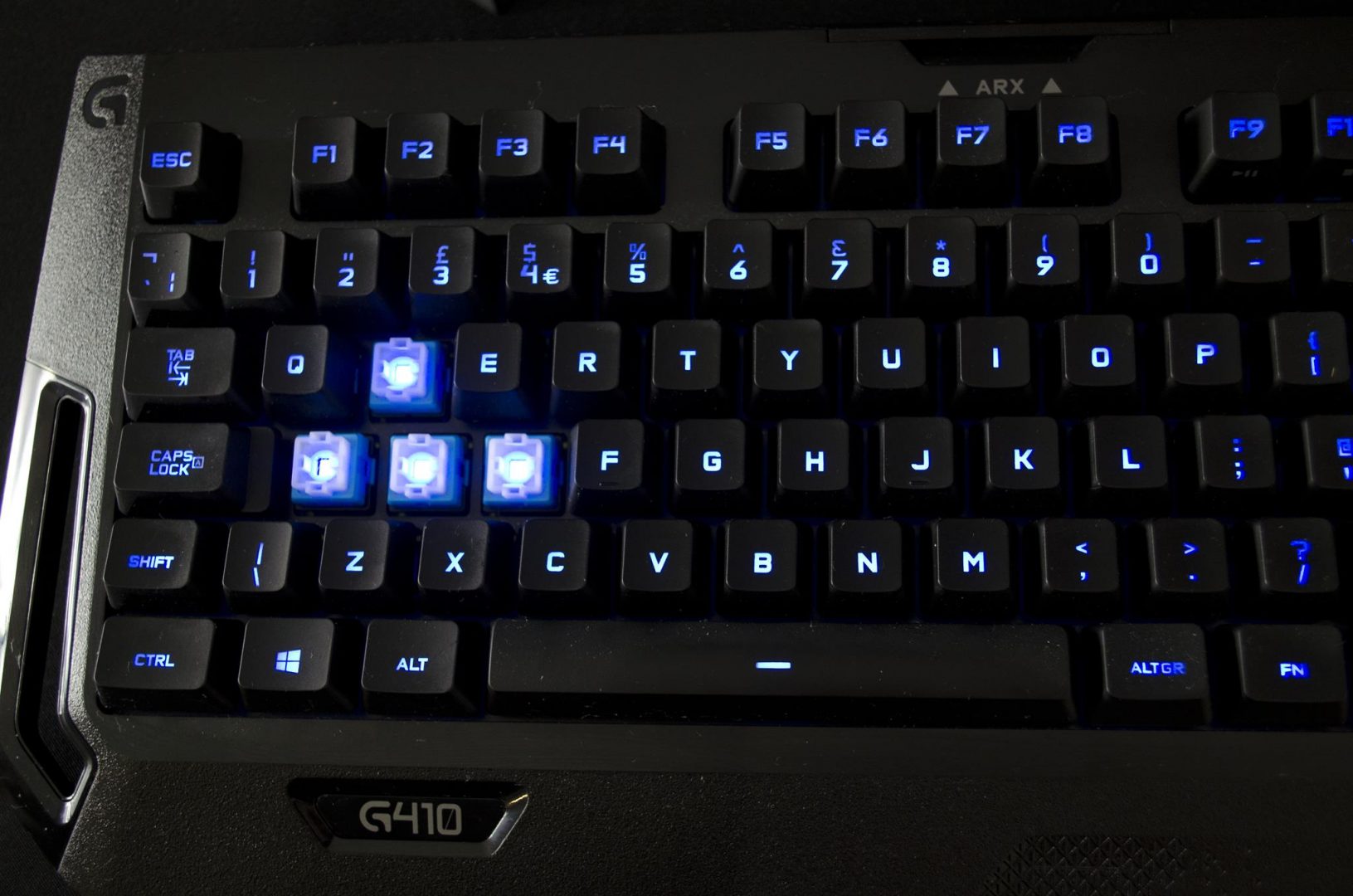 There are some great gamer mode profiles for the G410 that can be set up through the software. One I liked was the one shown below which only illuminates the keys you would use in-game and has them set up to different colours based on functions. This was a preset profile but would be great and easily customized to each user's own tastes if need be.
Also, as mentioned, the G410 features Logitech's own Romer-G mechanical switches. The Romer-G switches did take me a couple of days to get used to but overall they were quite nice. One of the things I was happy to see was that they have centered the LED in the switch. For those looking to add custom keycaps to their keyboard, they G410 may not be the best for it as you would need special caps designed for the Romer-G switches as these switches are different to that of the more standard Cherry MX.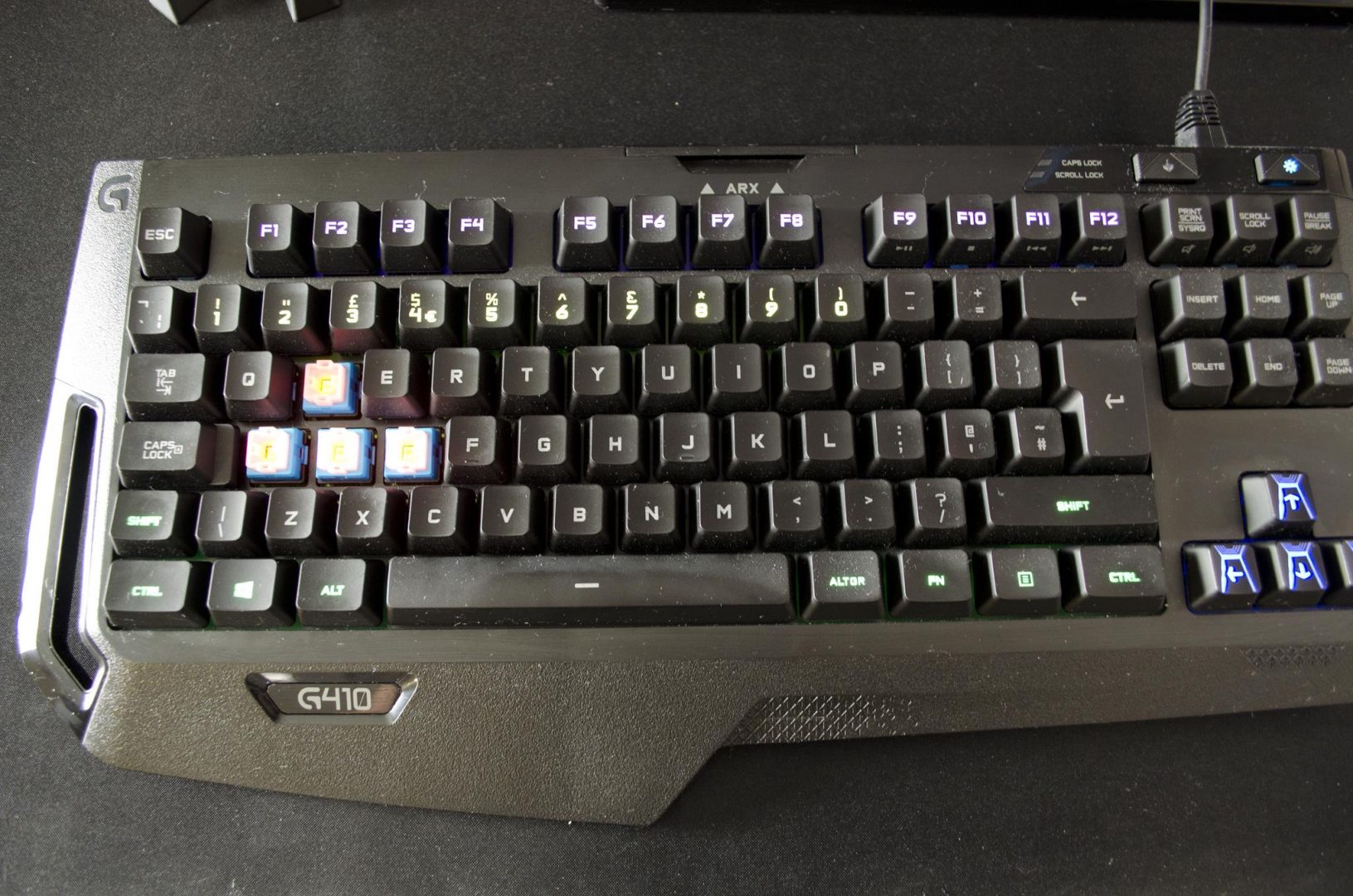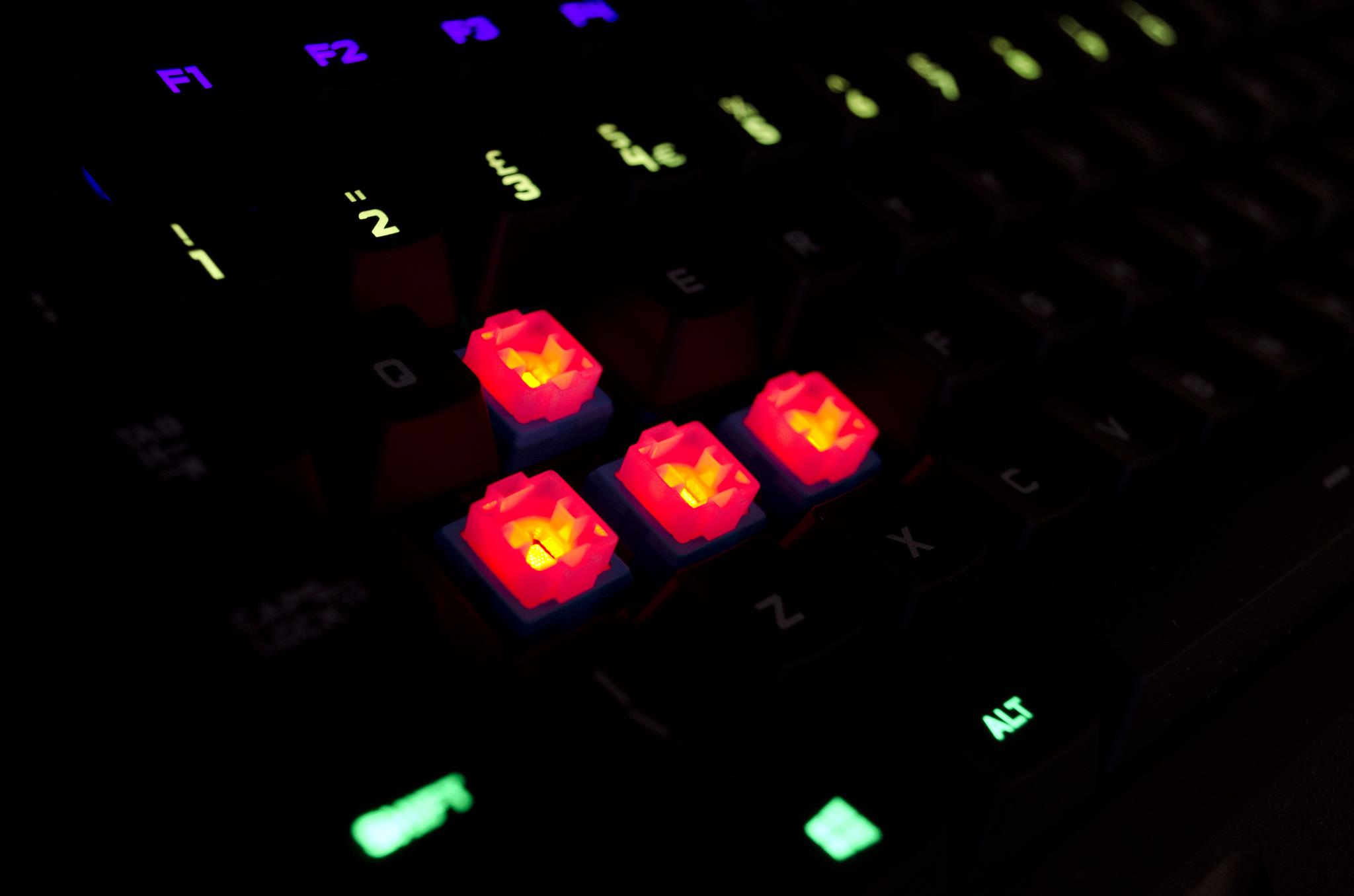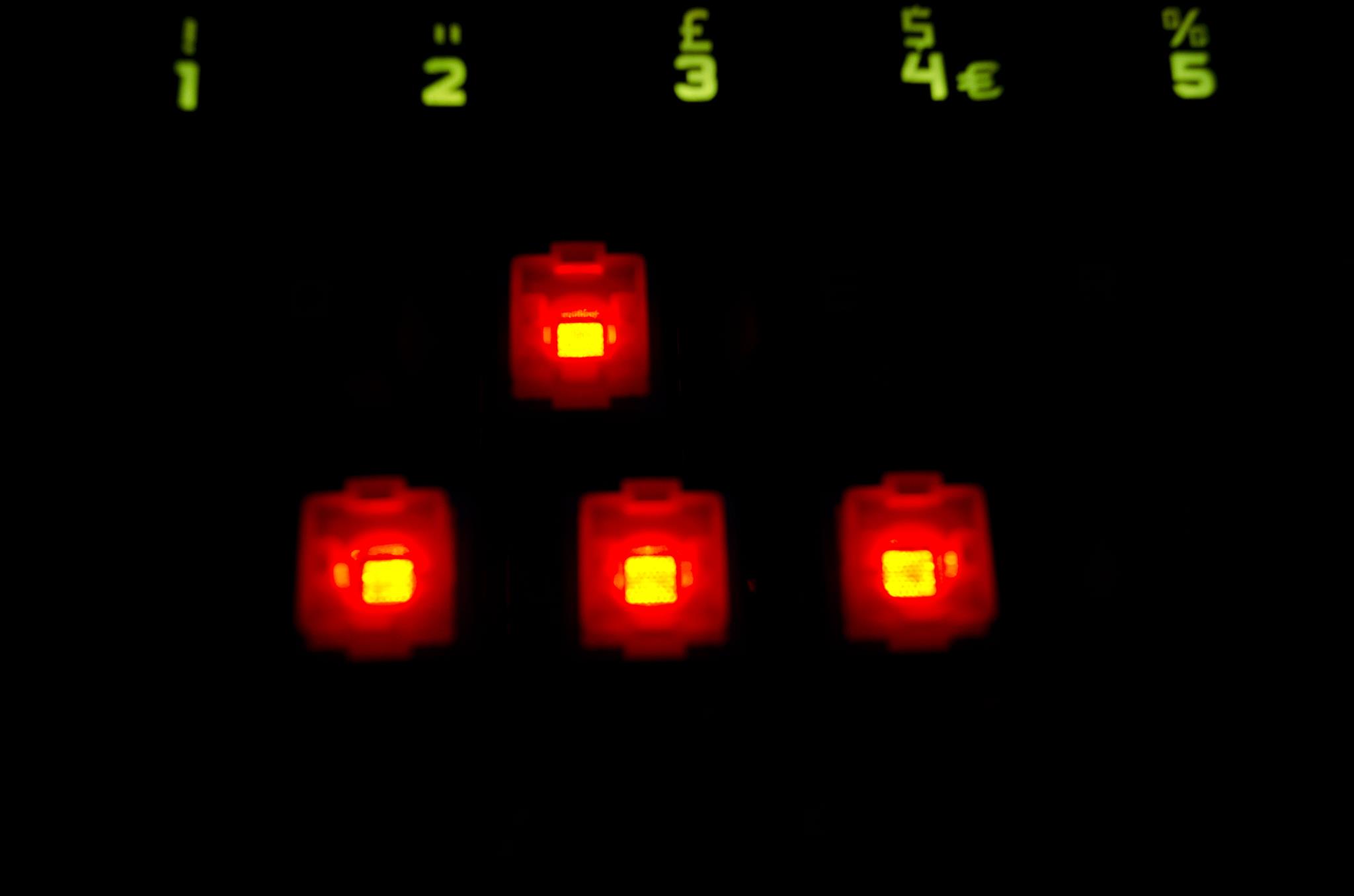 For cleaning (something I should've done before these photos were taken) and maintenance purpose, they keycaps do easily lift off the switches and you can use pretty much any standard keycap puller to do so.
The G410 Atlas Spectrum can make use of the Logitech Gaming Software. The LGS allows users to set up and customize the G410 to their specific needs. Here users will be able to set up their gaming and backlighting profiles with plenty of options. There are a plenty of different lighting modes, you can either manually set a colour to each key or use one of the preset zone or effects settings. Through the software, you can also set up profiles for different games and view a heat map of the most pressed keys during a certain time period.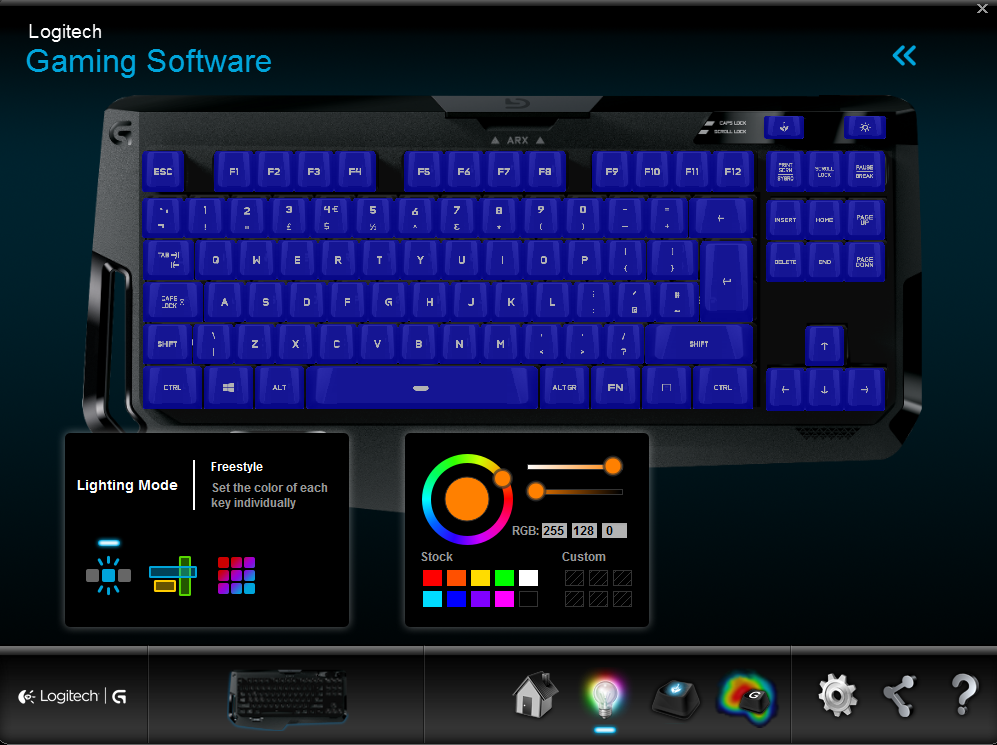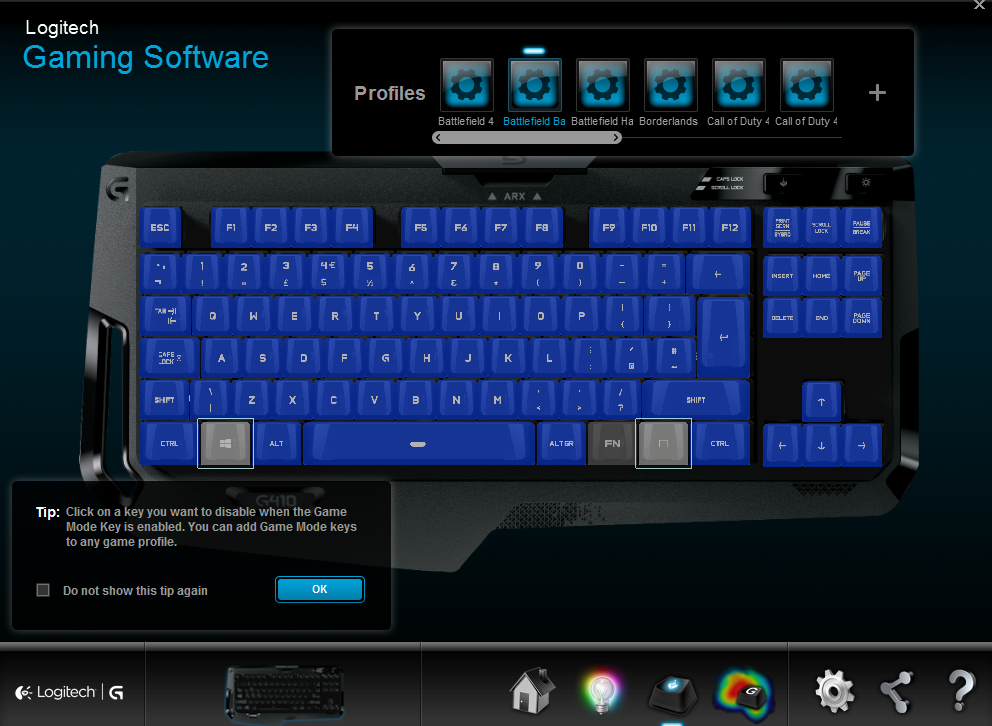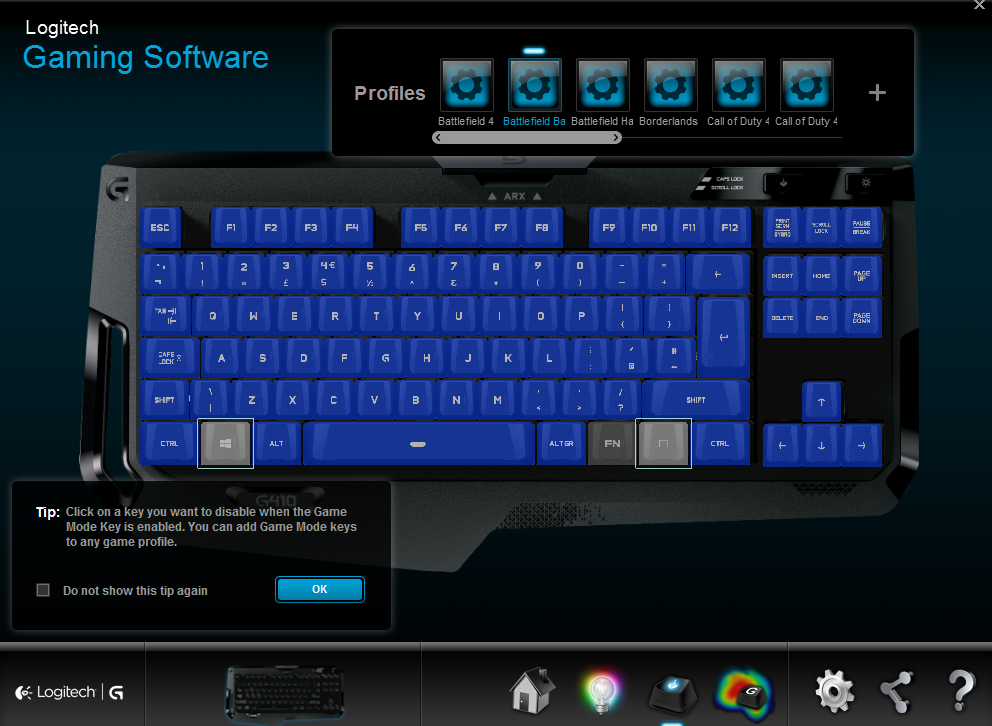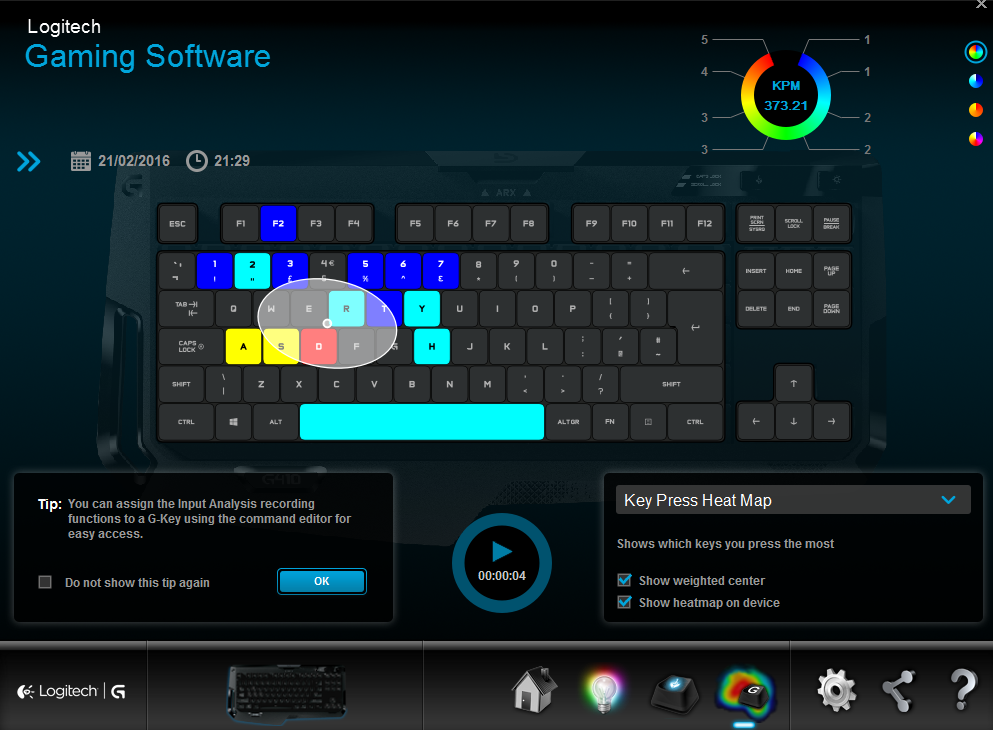 As you probably noticed in some of the photos, I spent a good amount of time with the G410 Atlas Spectrum. The reason for this being Is that on my first impression, I wasn't very impressed with it. However, I wanted to give it a chance to change my mind so used it daily for around 3 weeks time and I have to say, at the end, my impressions of the G410 had definitely changed. The G410 and the Romer-G switches are definitely something that needs to be experienced to be appreciated and if you don't quite like the feel, at first, do try and give it a few days to get used to it all.
Performance
At first, I was a bit skeptical of how much performance the G410 Atlas Spectrum would offer. When I first started using it, it felt as if I was typing directly on a spring, which was a bit odd. However, after a good few days of using it and getting used to it, I could see it for what it was worth. During my testing, I did a mass amount of typing and gaming so I could get an all around feel for it, as at the end of the day it is a gaming keyboard.
Typing is what took me the most time to get used to. When I first started using it, it just felt a bit off but as mentioned, after a few days I started to get used to it and typing on it became much easier and more fluent. I spend a lot of time typing, between reviews and running a load of social media accounts so I need something that will not only stand the test of time but is also comfortable to type on. My typing style is a bit unique as I mentioned previously and the G410 suits it perfectly thanks to the way they have designed the wrist rest on it. At the end of my testing, I would almost say my typing speed may have improved a tiny bit. I'm not positive but it definitely was, at least, on par with that of any Cherry MX switch I have tried.
Gaming is where the G410 is really designed to shine. I am a FPS gamer and have been for years and the G410 is designed perfectly for us. There are no extra macro keys and the G410 is TKL so takes up less room on your desk which will allow for you to have a bigger space to use your mouse, especially if you are right handed. Using the Logitech Gaming Software allows users to customize lighting profiles to their desired needs and to even do it by game which is great as while FPS controls are similar, different games make use of different keys. The actuation of the Romer-G switches feels good and the reaction times are excellent. I don't remember any opponents getting the jump on me due to a key press not registering, which is very important in FPS gaming.
Design
It almost felt as if the design of the G410 was made specifically for me. Again, me and my odd typing style were a perfect match for the G410 due to the extended part of the wrist rest on the left-hand side of the keyboard. The Romer-G switches proved to be very good and the fact they include a per-key RGB LED illumination and that the LED is centered is amazing. Centering the LED may seem like a small detail but it does help to allow the backlighting to look much nicer and also has a great effect depending on the brightness setting you have chosen. The G410 Atlas Spectrum is small and lightweight which allows it to be a perfect desk companion or LAN keyboard. Also, let us not forgot about the included ARX dock so users can monitor their system specs while in-game.
Value
The price comes in around £120 here in the UK, depending on your preferred shipping destination. While this is far from the cheapest keyboard around, you wouldn't really expect it to be. Logitech is tried and tested and has been a favoured brand in the PC gaming scene for some years now, offering some of the first ever 'gaming' based peripherals. While the price is most certainly going to turn a few people away, you get what you pay for.
As I originally mentioned, I was a bit skeptical about the G410 when I first received it as something about is just didn't feel right. However, after a good few weeks of using it my attitude towards it changed and I came to really like it. Logitech have done a great job at designing a good TKL gaming keyboard that offers great performance and has some nice features. If TKL is your thing, this is definitely one to look out for!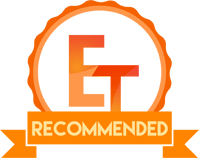 I would like to thank Logitech G for sending in the G410 for review.