Rx 400 series of the graphics cards are based on the AMD's Polaris architecture that combines the latest FinFET 14 process technology and AMD's advanced power, gating and clocking technologies to deliver a superior cool and quiet gaming experience. Powerful Async shaders and new geometry capabilities enable unique support for DirectX® 12 and Vulkan™ in the best version of Graphics Core Next yet with the capability of streaming and recording your favorite games up to 4K, H.265, 60 FPS with virtually no performance impact.
Rx 480 is a 4th gen GCN architecture which comprises of 36 compute units based on 2304 stream processors clocked at 1120MHz base clock with 1266MHz boost clock with up to 5.8 TFLOPS. Video card memory is 8GB GDDR5 with 256-bit interface.
When it comes to PC Components, AsusTek is among one of the best names we have in the market. It was founded in 1989 in Taiwan. Ever since its foundation, Asus has seen a phenomenal growth and diversity in its business line. When it comes to Asus, the first associated name that comes to mind is ROG or Republic of Gamers. ROG brand was introduced in 2006 and it focuses on mainstream gamers/enthusiasts with products ranging from Motherboard, Graphics Cards to Peripherals. ROG is now the pinnacle of the Asus products lineup. Strix has been a new addition to the ROG lineup and here is what Asus is saying about it: "ROG Strix is the newest recruit into the Republic of Gamers. A series of specialized gaming gear designed for the rebel in all of us, Strix exemplifies ROG's premier performance, innovative technology, and leading quality, but with its own confident and dynamic attitude. Featuring bold designs and bright colors, this exciting new series possesses a spirit of fierce individualism that charges every gaming experience with thrilling energy. ROG Strix equips players with the necessary speed and agility to dominate their game. A new generation of force has arrived. Join the Republic and experience the power of ROG Strix."
Today, I will be reviewing the Asus ROG Strix Rx 480 O8G. This is an OC edition of their Strix Rx 480 with 8GB video memory. The card has the same shroud design as that of the Nvidia's Pascal series cards from the Asus.
Product: ROG Strix Rx 480 O8G
Manufacturer: Asus
Price: $283.80 at the time of the review
Specifications
Graphics Engine
AMD Radeon Rx 480
OpenGL
4.5
Video Memory
GDDR5 8GB
Engine Clock
1330 MHz (OC Mode)

1310 MHz (Gaming Mode)

*Retail goods are with default Gaming Mode, OC Mode can be adjusted with one click on GPU Tweak II

Memory Clock
8000MHz
Memory Interface
256-bit
Resolution
Digital Max Resolution:7680×4320
Interface
DVI Output : Yes x 1 (Native) (DVI-D)

HDMI Output : Yes x 2 (Native) (HDMI 2.0)

Display Port : Yes x 2 (Native) (Regular DP)

HDCP Support : Yes

Power Connectors
1x 8-pin
Accessories
2x ROG Cable Ties
Dimensions
11.73 x 5.28 x 1.57 Inch

29.8 x 13.4 x4 Centimeter

Software
ASUS GPU Tweak II & Driver

Aura (Graphics Card) Software
Packing
The graphics card comes in a standard cardboard box. On the front side, we have a ROG brand name and the logo printed on the top left side. The graphics card picture is printed on the top and mid sections. The graphics card model is printed on the right-hand side above the bottom part. Asus and AURA Sync are printed on the bottom right side. Radeon VR Ready in printed in the red and white colors on the bottom left side. Salient features of the card are printed on the bottom left. Strix is printed in multi-color diagonally crossing from the upper left side to the bottom mid. It signifies the RGB effect on the card.
ROG brand name, logo and STRIX GAMING GRAPHICS CARD are printed on the top left side on the top left side. The graphics card's model is printed on the top extending towards the right end. There are 6 pictures highlighting the salient features like DirectCUIII, Wing-Blade fans, AURA SYNC etc. Salient specifications are printed on the bottom left side. Card's capability of connecting VR device and other displays at a time are printed right next to the specifications.
The left side of the packing box has Minimum system requirements info printed in 14 different languages. UPS, EAN, Part No, Serial No label are printed on the right side of the box. These requirements are: –
Minimum 500W PSU with 42A on 12V rail.
PCIe Compliant motherboard.
300MB of free disk space.
8GB or higher System memory
Microsoft Windows 7 and Windows 10 (x32, x64)
1x 8-pin PCIe connector
The right side of the box has ROG brand name and logo printed on the left side while the graphics card model no is printed on the right side.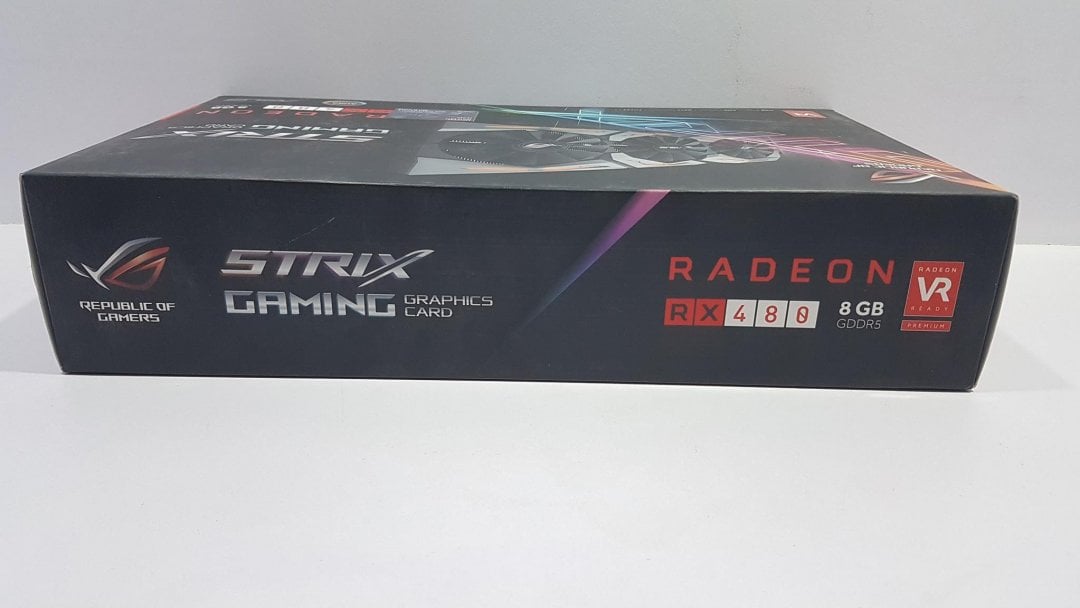 Opening the box would reveal another container box with the STRIX printed in the middle.
Opening that container box would reveal the contents of the packing. We can see a black color container with the Asus brand name printed on the middle. This container has the User Installation guide and the installation disk.
Removing the top protective container would reveal the graphics card wrapped inside a protective antistatic sheet.
Accessories
Accessories include the installation guide, the Installation CD, 2 set of Velcro Strips.
This card has a unique and stylish cooler shroud. Cooler shroud is made of plastic. Top and bottom cut outs on the cooler have LEDs on them which can be controlled with AURA Graphics Card software available on Asus website. Central fan has ASUS brand name printed in white color on its fan hub whereas the other two fans have ROG Eye printed on the fan hub. With the curves, edges, grooves Asus not only has able to maintain the typical Strix looks it is known for but has given the user what could be described as one of the most stunning design.
Card features Asus DirectCU-III cooling solution with patented wing-blade design fans. This ensures the maximum air flow with 30% cooler and 3 times quieter performance. DirectCU-III features direct contact between heat pipes and the GPU to ensure effective heat dissipation. Cooler has two fin stacks with 4 heat pipes. Heatsink on the GPU has 5 heat pipes taking the heat away from the GPU. Second heatsink or fin stack is connected with it by 4 heat pipes.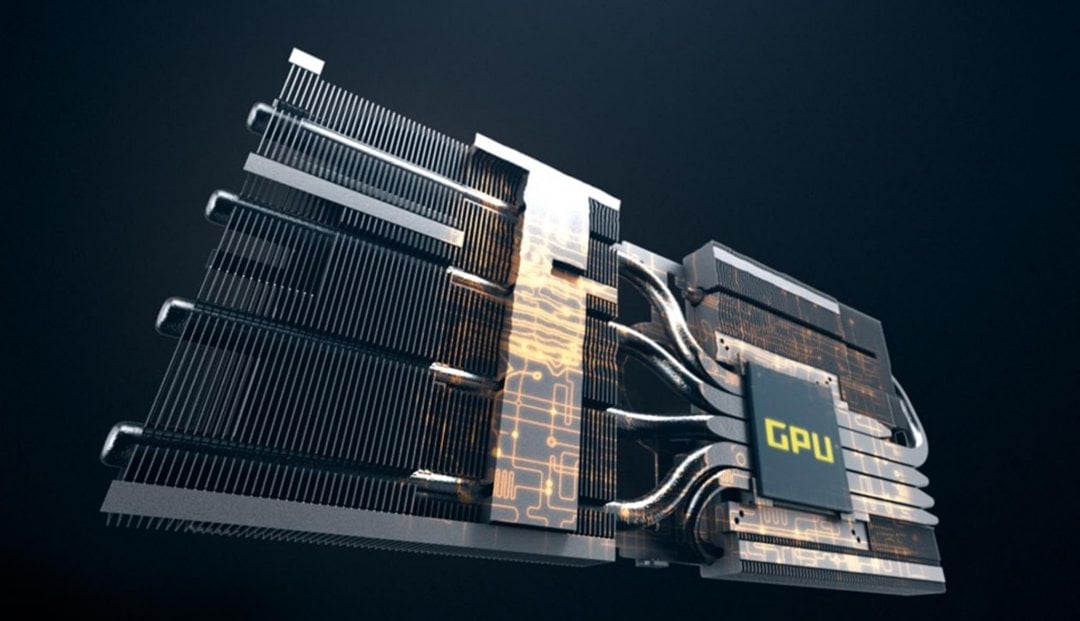 We've three 90mm fans with wing-blade design pouring fresh air on the fin stacks. This design enables to have 105% more static pressure on the edges of the blades hence it can create more pressure on the heat sink while pushing the air through  them. Card features 0dB on the fans. They will not turn up unless GPU hit defined thermal limit.
Cooler shroud and fin stack covers the entire PCB for effective cooling. All ASUS graphics cards are now produced using Auto-Extreme Technology; an industry-exclusive, 100% automated production process that incorporates premium materials to set a new standard of quality. Auto-Extreme Technology ensures consistent graphics card quality as well as improved performance and longevity. This new manufacturing process is also environmentally friendly, eliminating harsh chemicals and reducing power consumption by 50%.
ASUS engineers have integrated premium alloy components into their graphics card designs to reinforce overall reliability. Super Alloy Power II components greatly enhance efficiency, reduce power loss and achieve thermal levels that are approximately 50% cooler than previous designs. This cards feature 6 phase power delivery system. Concrete alloy chokes would result in 2X quieter choke. 20% Cooler DrMos ensures the low temperatures and more power efficiency. Capacitors used on the card have over 90,000 hours which means they have 2.5X longer lifespan than traditional capacitors.
Let's have a look on the top side of the card. There is a single 8-pin power connector with LED underneath it. White color on the LED would indicate no error with the power connector or the source. Red light would mean error. Total power draw of the card is 225W. ROG Eye and REPUBLIC OF GAMERS text are on the right side of the card which illuminates to give cool look while in use. We can see two fin stacks clearly. PCB is in black color. Strix is printed on the left side of the shroud and it does not illuminate.
Backside of the card has stylish backplate on it. It has printed lines in a pattern to signify Strix concept. We've large size ROG Eye in white background. This section is implemented with RGB LED and really adds to the cool looks of the card when in use. One 8-pin connector is visible. There are soldered overclocking tweaking points labelled on the inner side or the top of the PCB. One of the screws on the GPU bracket is covered with white sticker. Peeling or tearing that would void the warranty.
Backside of the card features two HDMI 2.0 ports which is Asus way of implementing the VR Support in their cards. I found this approach to be more user friendly than implementing the HDMI ports on the front side of the card. We've two DP 1.4 ports and one DVI-D port. Card has support for up to four displays. It supports HDCP as well.
Front side of the cooler has something that is yet to be seen on other designs. We've two 4-pin fan headers on the front side which Asus refers to as FanConnect. When gaming, GPU temperatures are often higher than CPU temps. However, chassis fans usually reference CPU temperatures only, which results in inefficient cooling of the system. For optimal thermal performance, ROG Strix graphics cards feature two 4-pin GPU-controlled headers that can be connected to system fans for targeted cooling. On the left side of the headers, we've LED and Fan power headers. Cooler shroud has vents from the front side to ensure the effective heat dissipation.
Cooler's shroud extends over the PCB.
Bottom side of the card clearly shows the two fin stacks on the cooler. Light gray color thermal pads have been used on possible point of contacts between PCB and the cooler.
Test System and Methodology
Test Bench
Following test bench setup was used to test the performance of the graphics card:
Intel i7 6850k
Asus Rampage V Edition 10
Corsair Vengeance Red LED 8x8GB @ 2666MHz
Reeven Justice RC-1204
Corsair AX1200i
Samsung 840 EVO 250GB SSD for OS
Samsung 840 EVO 1TB SSD for Steam Games
WD Black 6TB for Origin and Uplay games
Previously, Battlefield 4, Call of Duty Black Ops 3 and Gear of Wars 4 were the part of the test games. They have been dropped from this test and onwards. Metro Last Light Redux will continue to be featured as this game based on its rich environment and taxing effects on the graphics card are handy to measure the performance of any given graphics card. Following games have been tested: –
Battlefield 1
DOOM
Grand Theft Auto V
Metro Last Light Redux
Far Cry 4
Far Cry Primal
Assassin's Creed Syndicate
The Witcher 3
Rise of the Tomb Raider
Microsoft Windows 10 x64 version 1607 was used. AMD Crimson driver version 17.4.4 was used. FPS were monitored using MSI AfterBurner 4.3.0. Game settings were set from within the games. Battlefield 1 and the Rise of the Tomb Raider were tested in DX11 and DX12 modes. All the reported framerates are average FPS.
Important Note
All the other model of the graphics cards were tested on Ultra settings and their average FPS from Ultra settings are mentioned in the graphs. This card has been tested on the Ultra settings as well. Where FPS count was below 60 FPS, card was tested with the High graphics settings. Don't let the graphs confuse you even for a bit.
Following synthetic benchmarks were used:
3dMark
Unigine Superposition
Previously Unigine Heaven and Valley were a part of our testing but they have been dropped and only superposition will be featured from onwards.
Let's take a look on performance graphs.
Performance and Benchmarks
3dMark
Unigine Superposition
 Battlefield 1 DX11
New drivers have improved the performance of the AMD graphics cards as is evident from the graph.
Battlefield 1 DX12
DX12 in Battlefield 1 gave me a heck of a tough time as all the FPS monitoring software were crashing the games. I tried MSI Afterburner, Fraps, Action, Bandicom, OCAT and in-game FPS counter. After repairing the game OCAT and Action worked with DX12 mode. Surprisingly FPS count on DX12 is almost the same as the DX11. This was verified using Action, OCAT and in-game FPS count one at a time. All three reported the same FPS.
DOOM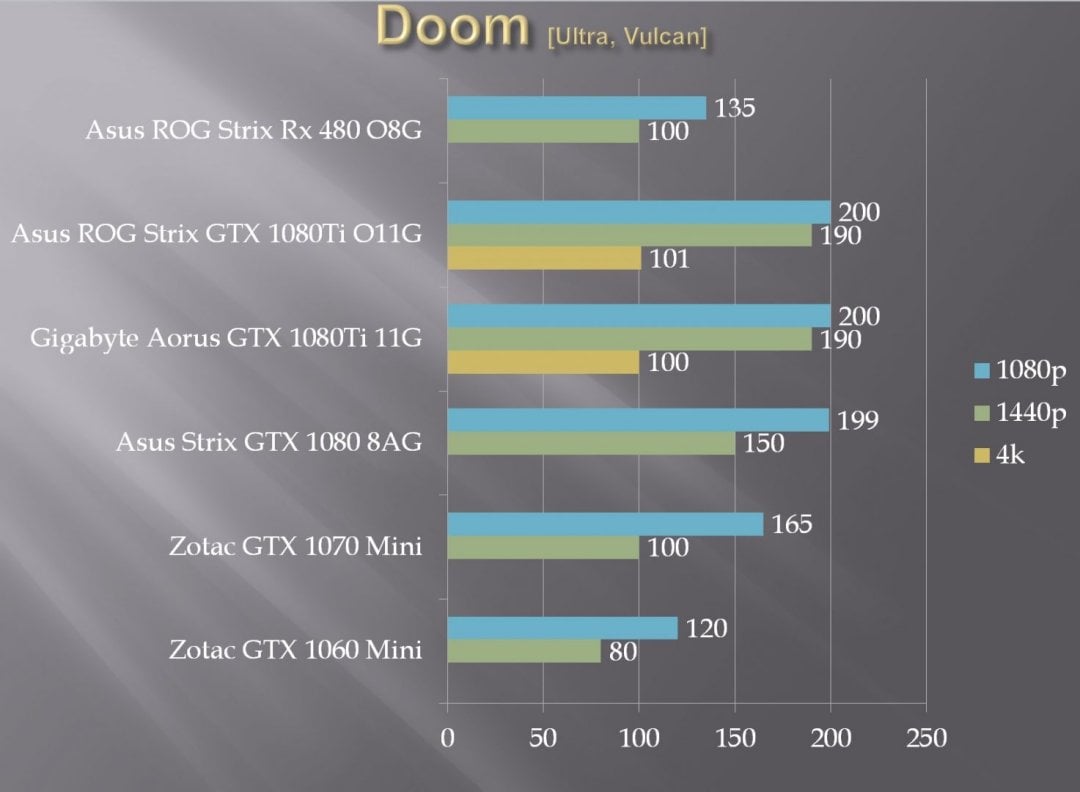 DOOM was tested using Vulcan API and Ultra settings using TSSAA8FX.
Metro Last Light Redux
Metro Last Light Redux was tested on Very High graphics settings with AX 16 and 2x SSAA. Card suffered from these settings. They were lowered to High, AX 4. Both the results are mentioned in the graph.
Grand Theft Auto – V
Grand Theft Auto – V was tested with maxed out settings on Ultra with 4x MSAA and High settings using 2x MSAA.
Far Cry 4
This game was tested with maxed out Ultra settings and 4x MSAA along with the High and 2X MSAA settings. 
Far Cry Primal
This game was tested using Ultra and Very High presets.
Assassin's Creed Syndicate
This game takes its toll on the graphics cards. The game was tested using Ultra High and High settings.
Rise of the Tomb Raider DX11
Again excellent performance by the Asus ROG Strix GeForce GTX 1080Ti O11G followed closely by the Gigabyte Aorus GeForce GTX 1080Ti 11G. I observed the negative scaling in this game.
Rise of the Tomb Raider DX12
DX12 again has shown improvement over DX11.
The Witcher 3
This game was tested using Ultra and High presets.
Overclocking and Software
Overclocking
The Asus ROG Strix Rx 480 O8G is a factory overclocked graphics card. O8G denominates Overclocked with 8GB video ram. I managed to get +110 MHz on the core clock and +200MHz on the memory clock. These settings were tested on 100% voltage tweak.
Here are the results of the synthetic benchmarks and gaming performance with overclocked graphics card:
3dMark
Superposition
Battlefield 1
Acoustics
Fans were left on default fan curve. Foneso Digital Sound Level Meter version A0 was used to test the sound level. 
Thermals
Room temp was 38C at the time of the testing. In an open bench table, maximum temperature hit by the graphics card was 68C. With overclocking, the max temperature was 71C.
Power Consumption
The Corsair AX1200i is a digital PSU with monitoring enabled on the power consumption. Corsair Link was used to check the power consumption under stock clocks and overclocked clocks. Unigine Heaven and AIDA64 were run at the same time to check the combined power consumption of the system. On stock clocks the maximum power that PC draws from the PSU was 434W. With overclocked graphics card the maximum power drawn was 505W. Bear in mind that CPU was also overclocked to 4.3GHz at 1.350V.
Software
AURA RGB Lighting
One of the unique features on this card is the RGB Lighting. Asus calls it AURA RGB Lighting. Recent motherboards from Asus are featuring RGB header and giving the users complete solution to mix and match the lighting in their chassis coming from the motherboards. AURA software has been designed to give comprehensive range of options for lighting control.
This card also features the AURA RGB Lighting. We've effective three RGB zones on this card one on the backplate, second on the top side on the ROG Eye followed by the text REPUBLIC OF THE GAMERS and the third on the front side of the cooler's shroud. LEDs can be controlled using AURA Graphics Card software. Once can have following color effects:
Static [Always on]
Breathing
Strobing
Color Cycle
Music Effect
GPU Temperature
AURA Graphics Software was separate from AURA Software for the motherboards. Asus has recently released an updated version enabling the user to control the LED on the motherboards and graphics cards from a single interface.
GPU Tweak II
Asus has designed comprehensive software to control and monitor their graphics cards. This software is known as GPU-Tweak-II. It has typical red and black color theme on it which represents ROG traditional colors. Though in recent times, ROG has taken a deviation from the Red/Black combo and is setting yet another tradition when it comes to colors on the brand.
The main window of the software shows three main indicators which are: –
VRAM Usage
GPU Speed
Temperature
Red bar on these circles shows the corresponding value of the indicator. On top, we have model no of the graphics card on the left side with three buttons to its right, Home, Info and Tools.
The home button is the default and can be clicked at any time to bring the main window back on the screen. Info button will show the Graphics Cards specs with built-in GPU-Z implementation. Tools button has Game XSplit Game Caster, AURA Graphics Card and ROG FurMark buttons to launch the corresponding app.
Below the model no, we've a triangle featuring the blend of most important factors that end user would want. They are Performance, Coolness, and Silence. A perfect combination of these three is what Strix is all about. One can have the utmost performance with exceptional cooling yet silent operations. Red color span within triangle would vary with each profile showing how the card would manage all three with the respective profile.
Next, we have 4 profiles which are OC Mode, Gaming Mode, Silent Mode and My Profile. Gaming is a default mode with base clock of 1310Mhz. OC Mode will increase the Power factor of the card and it has base clock of 1330MHz. My Profile will allow the user to create custom profile based on user's own settings. This can be done in Professional Mode where all the settings like Voltage Control, Power Level, Base Clock, Memory Clock, Fan Speed can be configured. The fan can be set on Auto or Custom fan curve.
Monitoring window can be activated by clicking on the Monitoring button at the bottom left side of the main window. Monitoring window shows all the critical variables for monitoring. Values are mentioned in Min, Max and Current value is shown on the graph. User has the option to monitor only the desired variables. Monitoring window can be disconnected from main window by clicking once on the chain button between both windows.
Gaming Booster option is at the bottom of the main window. Clicking this would open a new window. Here we've three options. Visual Effects, System Services, System Memory Defragmentation. Visual effects reduce the windows visual flares like animations, animated themes to reduce the performance hit these settings could have on the performance. System Services would allow stopping the not needed services to boost the performance. System memory defragmentation would help restore the wasted memory space and would boost the application handling.
In crux, this software has everything, user would have dreamt of to monitor and control their graphics card. Plus, the interface is easy to understand and once, you have launched it, it will get you going.
AMD with its focus on the mid-range budget market introduced its Polaris architecture that combines the latest FinFET 14 process technology and AMD's advanced power, gating and clocking technologies to deliver a superior cool and quiet gaming experience. This was an instant hit and AMD has been giving some tough competition to her rival Nvidia. The Asus ROG Strix Rx 480 O8G is the second Rx 480 on my test bench and this card has got serious performance punch. This card features stylish yet effective cooler based on the DirectCU III technology with Direct-GPU heat pipes. We have patented 0dB wing-blade design fans with 105% more air pressure. Asus FanConnect is an excellent idea of allowing the chassis fans be connected with the graphics card to control the airflow inside the PC Chassis based on the thermals from the graphics card. The beautiful shroud is suited to the Strix concept. We have Aura Sync Lighting Backplate and the Aura Sync Lighting on the shroud to add the subtle touch to the looks. Asus has not overlooked the VR aspect and has provided VR-Friendly HDMI ports on the rear IO panel which allows the users to connect multiple displays and the VR device at a time. This approach also reduces the cable clutter. The design is bold and aggressive. Users can have a sheer power at their disposal with this card. It is powerful yet silent. This card has 6 power phases based on the Super Alloy Power II and has good overclocking potential yet being a factory overclocked card. I really have no complaint with this card.
Value
This card is listed at $283 at the time of the review. Looking at the performance level of this card, it certainly provides value to your bucks spent on it.
Performance
I did not encounter any issue while gaming with this graphics card. It chewed and digested everything that I threw at it. Where performance suffers in terms of low FPS, fewer settings adjustments were made to get smoother gameplay. For a gamer who is playing on 1080p resolution, this card is a perfect gaming solution. Even with fewer graphics settings' adjustments, one can have smooth gaming experience on 1440p as well.
With raw performance out of the box, stunning looks profuse by Aura Sync, a powerful cooling solution in the market, VR support with multi-display at the same time and simple yet effective software, the Asus ROG Strix Rx 480 O8G has won our performance award.