In the modern world, computers are a necessity. They help us with work, socializing, and just about everything else we do in our day-to-day lives. However, sometimes they can stop working properly. This is frustrating for anyone who relies on their computer to get things done. If you have been encountering this issue recently or know someone who has been having trouble with their computer lately, read on as we give some valuable tips to consider. Let's get to the list.
Contact a Repair Company
Contacting a repair company might be the last resort, but it is worth considering, especially in more complex situations. It might cost you some money, but at least your computer will function properly again, allowing you to catch up on all the essential things you missed out on during its time away from home or office!
Repair experts will also give you some valuable tips that may help prevent your computer from breaking down in the future. So, if your laptop is not working, be sure to find laptop fix experts before you take drastic measures. They will diagnose and repair the issue and get your computer up and running again in no time at all!
Check Your Computer's Memory
One reason for a computer not working properly is that it might be low on memory. This means you should check your RAM (random access memory) to ensure there is enough of it or try freeing some by deleting unnecessary files or programs. You can also add more memory to your computer if it is the right slot type.
If you are not sure how to do any of this, plenty of online tutorials will guide you through the process. So, take a look and see if this is causing your computer issues. You can also contact a repair center if this doesn't work out.
Update Your Operating System
A computer uses a software program, an operating system, to function. Computer companies like Apple or Microsoft create these operating systems. These companies constantly update their systems to stay ahead of the curve, and one way they do this is by updating your operating system.
Remember that you will need a working internet connection, so make sure it works before trying this step. If you are not sure how to do it or if your computer is too old, take it to a professional and have them help you out. This can be an expensive process, but at least your computer will be up-to-date with the latest security features and software updates.
Buy a New Computer
If your computer is not working the way it should or if certain parts have stopped functioning, you may need to consider buying a new one instead. You can also consider buying a PC case to replace the old one. Of course, this will depend on how much money you can afford and whether there are other options available before going for this route, but it might be the best thing to do in the long run.
When buying a new computer, you need to consider several factors such as size, memory, processing speed, etc. You also need to decide on the operating system you want and whether or not it is compatible with your old computer, so be sure to check before buying anything. If possible, do some research online to find the best deal. You can also go to a physical store and ask for help from one of the employees. They should be able to assist you in finding the perfect computer for your needs.
Avoid Overheating
One of the most common reasons for a computer malfunctioning is overheating due to dust and dirt buildup on fans and vents or misuse (e.g., placing it too close to an air conditioner). If you are not sure how to clean your computer, plenty of online tutorials can help. It would be best to look at the manufacturer's website for more information.
In some cases, you might need to get a professional involved if the problem is too severe. Avoiding overheating will help keep your computer running smoothly and prevent future problems. Ensure its fans and ventilation are clean and obstruction-free for best results.
Check Your Monitor
If your computer is not working, it's possible that the monitor isn't either. This could be due to several reasons, such as a broken cable, loose connection, or dead pixels. If you are handy with tools and have some experience in repairing electronics, you might fix the problem yourself but if not, take it to a professional.
If you are not sure whether it is the monitor causing the problem, try connecting your computer to another screen to see if that fixes the issue. If it does, then you know it's time to get a new monitor. Buy a new monitor with specs that are compatible with your computer.
Don't Neglect Your Laptop Battery
A dying battery is one of the most common causes of laptop computer failure. Laptop batteries have a limited number of cycles before they lose their ability to hold a charge. This can cause your laptop to overheat, shut down, or not function as it should.
If you have these types of problems with your laptop, it might be time to replace the battery. Replacing a laptop battery requires purchasing the right battery for your laptop and following the manufacturer's instructions to install it. Be sure to keep your old battery so you can recycle it properly.
Have Your Computer Serviced Regularly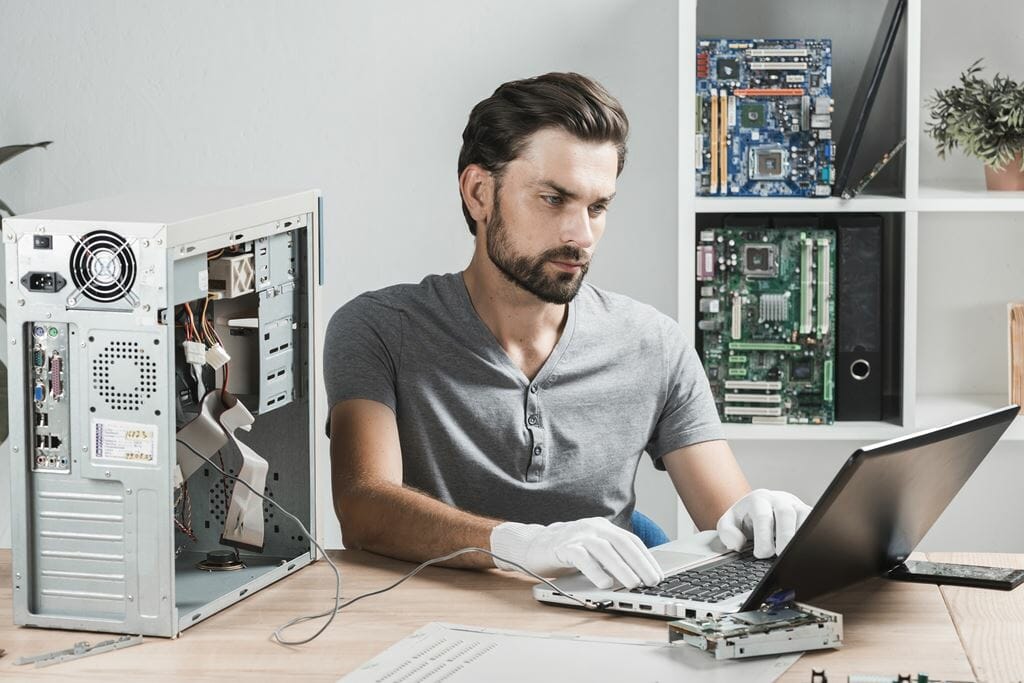 Even if you take all the necessary precautions to keep your computer running smoothly, it's still a good idea to regularly have it serviced by a professional. This will help detect any potential problems before they become too serious and ensure that your computer is up-to-date with the latest security features and software updates.
It is also a good idea to back up your essential files regularly in case of an emergency. You can use an external hard drive or cloud storage, whichever you prefer. Even if your computer breaks down, you'll be able to relax knowing that your data is secure.
These are just some tips to help get your computer working properly again. If you are still having issues, be sure to take the computer to a professional for assistance. They will find the problem, fix it, and service your computer to ensure it is working the way it should.