Introduction
Manufacturer: Nitro Concepts
Product: S300 EX
Purchase: £239.99 At the time of review
In the grand scheme of things, Nitro Concepts is still a fairly new company but then again, Gaming Chairs aren't that old of a product themselves. Well, these new age gaming chairs anyways! Nitro Concepts offer a nice range of fairly affordable gaming chairs that always come in multiple colours so as to make sure they have something for everyone.  Today we will be taking a look at their newest offering by way of the S300 EX in Inferno Red. While I am not a fan of red, the design of the chair was quite favourable and I would love to see it in almost any other colour! The cover is a high-quality PU leather which is wrapped around a cold foam. As with most chairs, the S300 EX has a number of ergonomic features so that must anyone can find a comfortable position to sit in this chair.
Closer Look
The design of this chair has to be one of my favourites, even if I am not a fan of the colour. The red stripes down the side with the flame on the backrest of the chair look amazing and really help this chair to stand out. Nitro Concepts has done a great job with the overall design of the S300 EX in terms of aesthetics.
The cold foam and PU leather will make a great pair, not only for comfort but also for the longevity and durability of the chair. The maximum weight for the S300 EX is 135KG so as long as users don't go over this too much, this chair should last quite some time.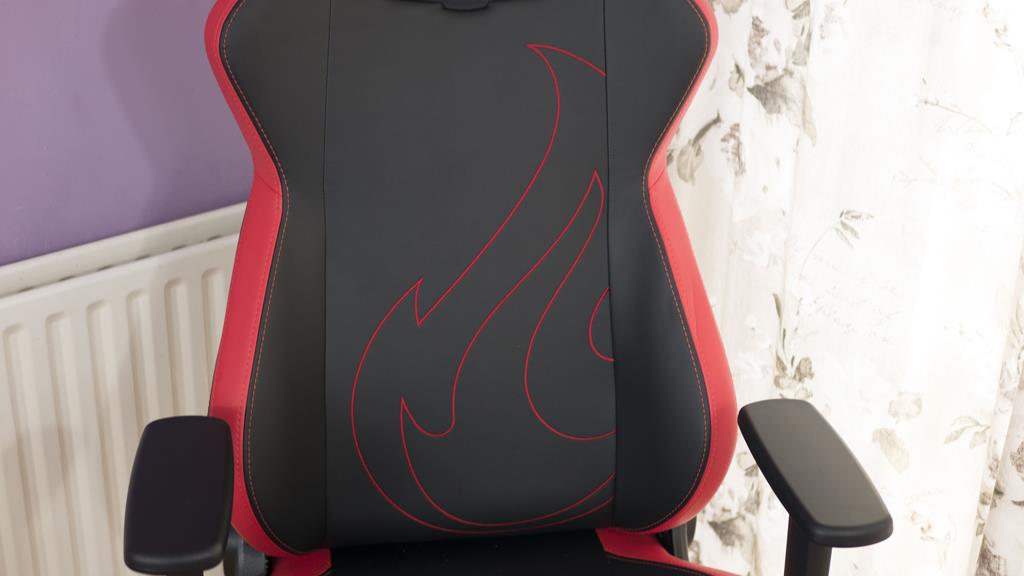 The included lumbar pillow can not only be removed by undoing a couple of clips, but you can also move it up and down on the chair and have it stay in place with ease. This will allow users to get it set to their preferred comfort and then leave it and not have to worry about moving it every time they go to sit down.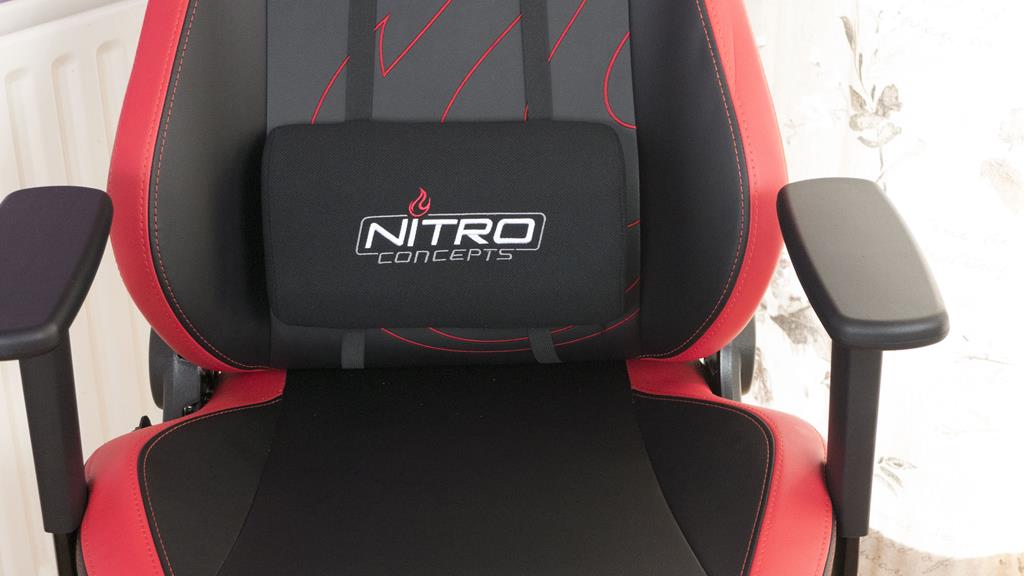 The next pillow can also be easily removed by simply just taking off of the chair. Having both of the pillows be able to be attached to the chair while still being easily removed is a great feature of any gaming chair. Most users will have different comfort requirements and being able to easily customize the S300 EW to the user's needs bodes well for Nitro Concepts.
Removing the next pillow reveals another Nitro Concepts logo and we can see where the straps for the lumbar pillow passthrough to connect on the backside of the chair.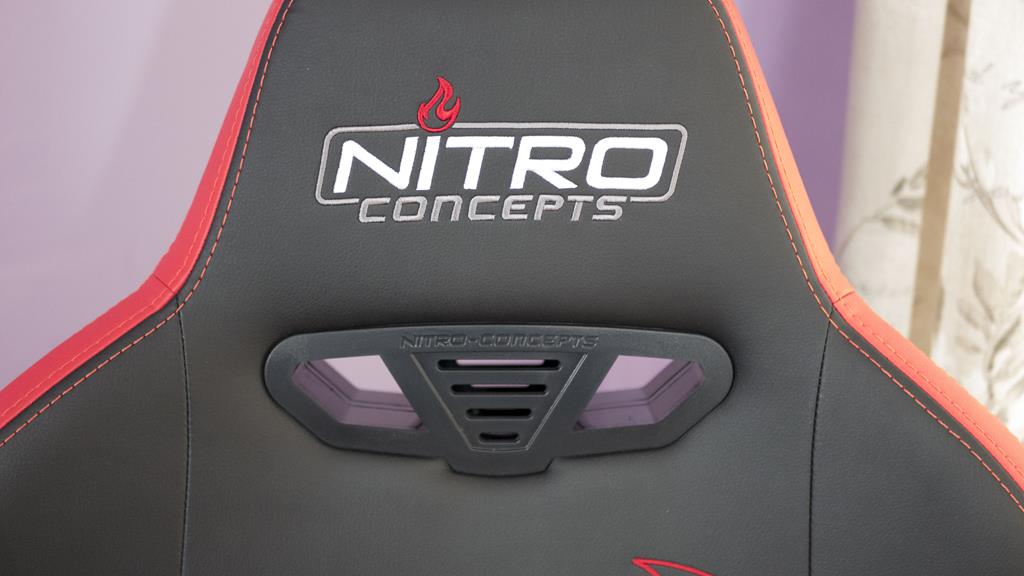 The armrests can be moved into a number of different positions. To see this better, watch the review video below!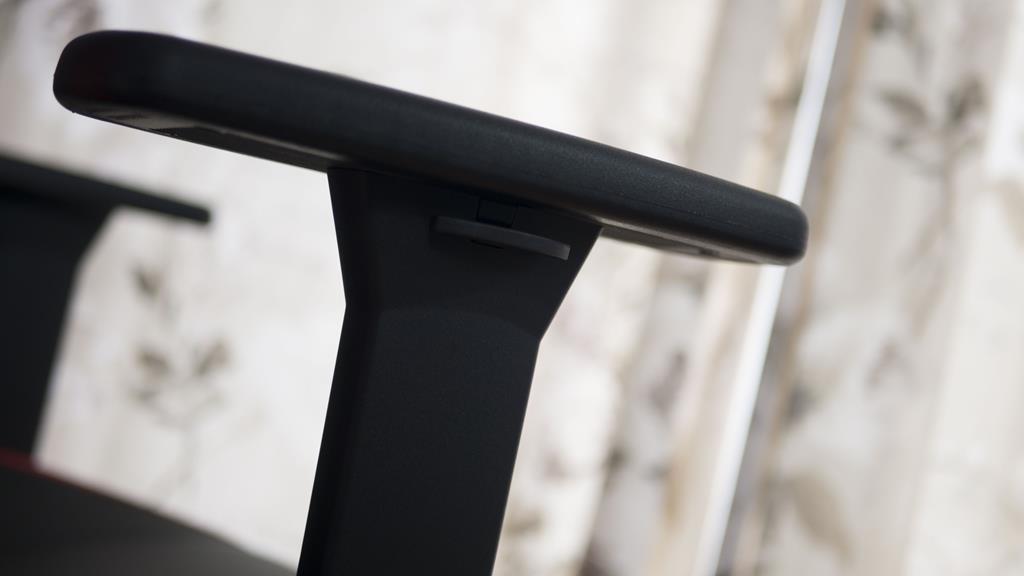 The top lever is the one used to lay the chair back and bring it back forward if you want to recline. The lever below the chair controls the gas lift so you can lift the chair up and down or lock it so it won't tilt.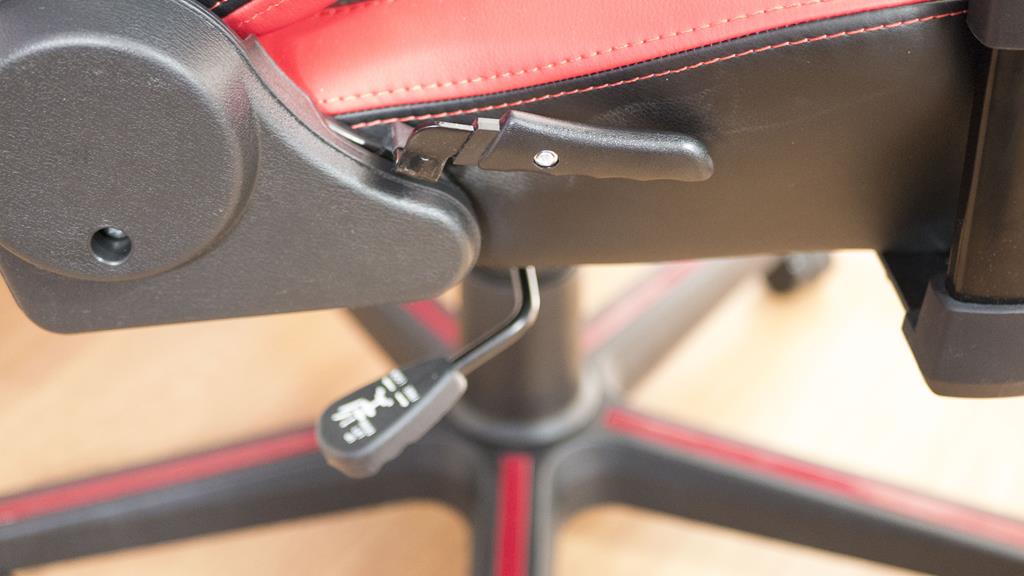 This knob underneath can be turned to adjust how easy/hard it is to rock the whole chair back and forth. Simply turn it to your desired level of tension.
Some users may want their armrest out a bit wider. Not a problem, loosen these screws on the mount up and slide it over to your desired position.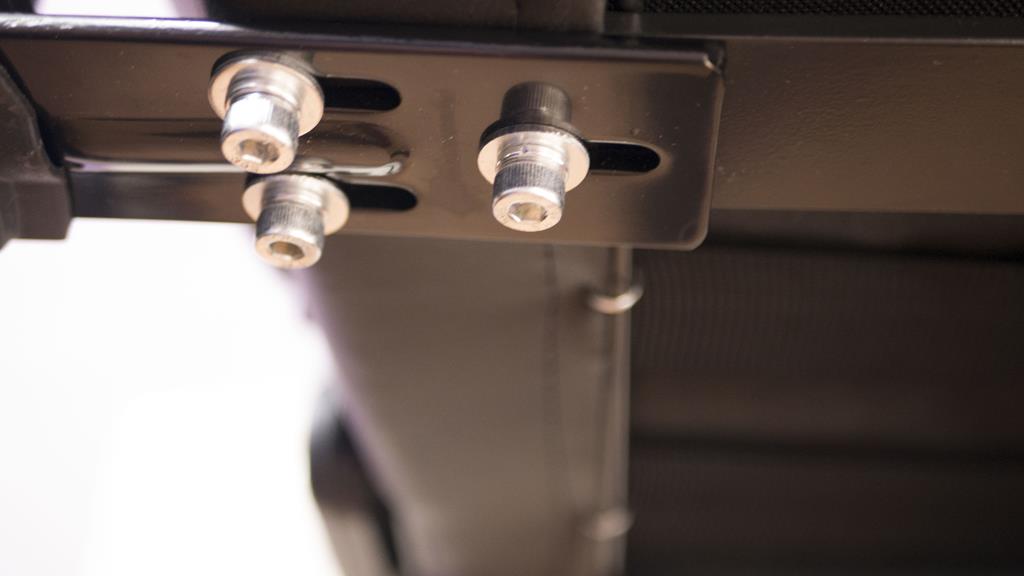 The 5-star base makes the S300 EX very stable and you shouldn't have to worry about it tipping over, even when the back is reclined all the way. The 50mm castor will also allow the S300 EX to roll across a number of hard or soft surfaces with ease.
Not much going on around the back of the chair but there is another flame logo that does add a bit of flair.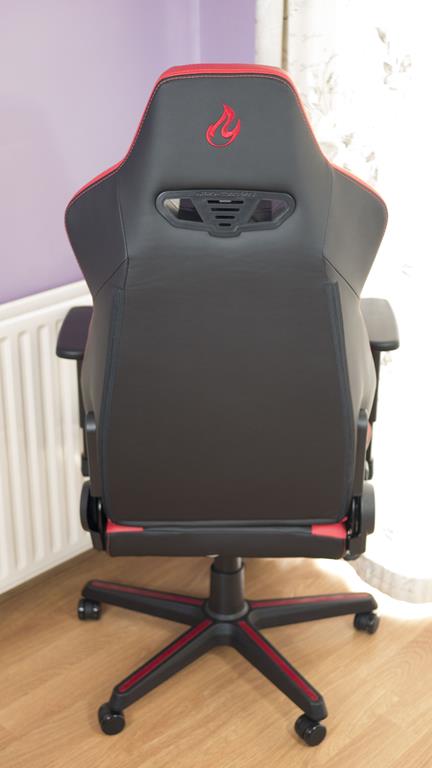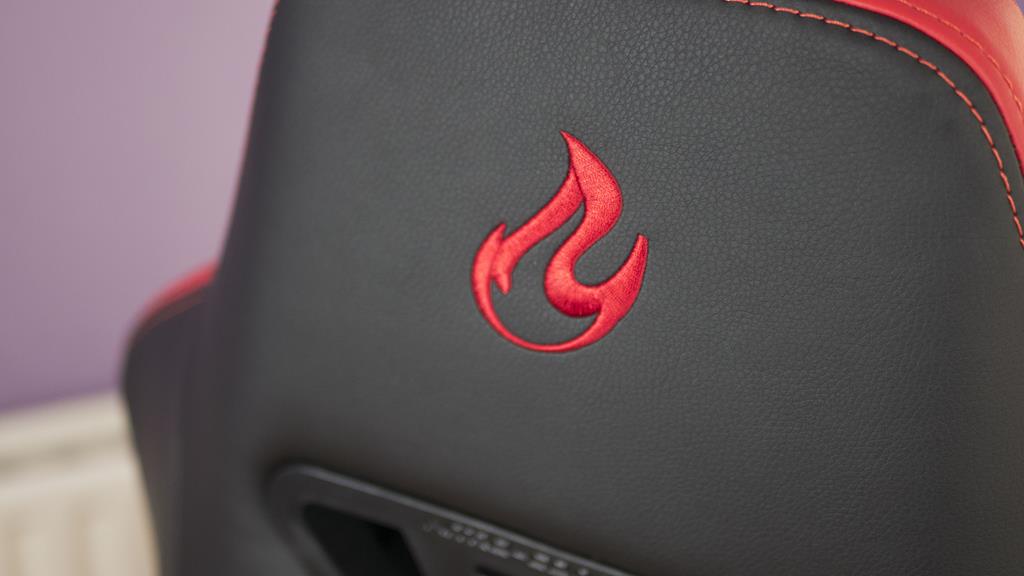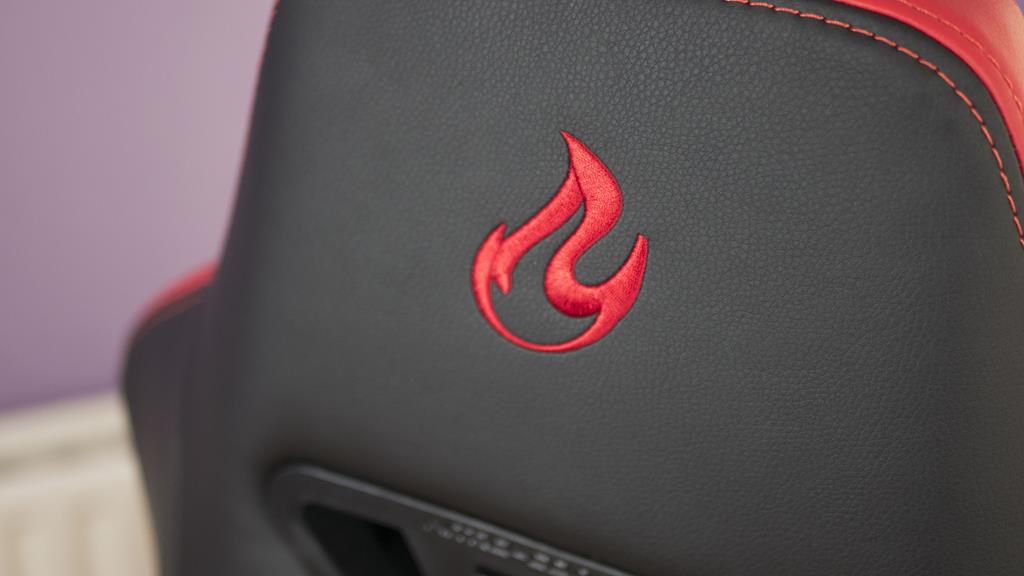 Video Review
Conclusion
Performance and design
I used this chair for a few good multi-hour sitting sessions, both for gaming and writing reviews. The S300 EX is extremely comfortable and didn't cause me any discomfort, even after sitting in it for the better part of 9 hours! Nitro Concepts have gone with quality parts/components and it shows! The cold foam and PU leather are both comfortable and durable which makes them a great combination. The S300 EX is also not short of ergonomic features so each individual users can customise it to their own liking. Being ergonomically comfortable in your chair, whether gaming or working is a massive factor to overall health and Nitro Concepts have made sure this is easily obtainable in the S300 EX. Everything down to the castors was thoroughly planned out to offer user's the best experience possible.
Value
Coming in at the £240, the S300 EX is probably at the top end of the mid-range market. For the price, you are getting a very well constructed and sturdy gaming chair. While some will still argue if spending this much on a 'gaming' chair is worth it, all I can say is yes! I've had a number of them come through for review and the better ones, such as the S300 EX are money well spent. Even for those just looking to add something extra to their setup, whether gaming or not, the S300 EX is a great choice and will look great whether next to a gaming setup or just in an office.
"When all is said and done, the S300 EX offers a comfortable sitting experience with an amazing aesthetic. For the price, you will be hard pressed to find a better looking and more comfortable chair!"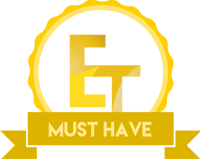 Many thanks to Overclockers UK and Nitro Concepts for sending in a sample of their S300 EX