With the price of Solid State Drives dropping significantly the past few months, there really is no reason why you should not have one in your PC, at least for a boot drive if nothing else. While they are still more expensive than hard drives and most likely always will be, the performance they have to offer is also far superior. Most SSD's, even the cheap/not so good ones can offer 5-6x the speeds of a standard hard drive which can surely come in handy. Not only can SSDs help your PC boot faster, they can make programs load quicker and even come in handy for gamers. I remember the first time I put Battlefield 4 on an SSD and was amazed at how much quicker games loaded, even online than over my previous hard drive I was using. For those who don't know, the year is 2016 and SSDs are a must for anyone using a laptop or PC, it's that simple.
Today we are going to be taking a look at the HyperX Fury SSD which has actually been around for a little while now. It features a SandForce® SF-2281, which while it may limit the overall speeds of the drive when you consider the price it is still a decent SSD. The Fury SSD has been HyperX's budget SSD for some time and as the market changes and overall prices go down, so do the Fury SSD prices. The Fury SSD comes in three sizes, 120GB, 240GB and 480GB with the later two being noticeably faster than the 120GB model. However, this is rather common with SSDs that the bigger drives are normally speedier than the smaller ones. The Fury SSD has a 1-million hour MTBF and comes with a 3-year warranty for consumers piece of mind. Users looking to get a bit more speed out of the Fury can always look into a RAID configuration though this may not always be cost effective.
HyperX Fury Specifications
Form factor: 2.5″
Interface:
SATA Rev. 3.0 (6Gb/s) with backwards compatibility to SATA Rev. 2.0
Capacities2: 120GB, 240GB, 480GB
Controller: SandForce® SF-2281
Baseline Performance3
Compressible Data Transfer (ATTO) All capacities:
500MB/s Read and 500MB/s Write
Incompressible Data Transfer (AS-SSD and CrystalDiskMark):
120GB — 420MB/s Read and 120MB/s Write
240GB — 470MB/s Read and 220MB/s Write
480GB — 450MB/s Read and 208MB/s Write
IOMETER maximum 4k read/write:
120GB — up to 84,000 up to 52,000 IOPS
240GB — up to 84,000/ up to 41,000 IOPS
480GB – up to 73,000/ up to 28,000 IOPS
Random 4k Read/Write:
120GB — up to 11,500/ up to 52,000 IOPS
240GB — up to 22,000 / up to 41,000 IOPS
480GB — up to 30,000/ up to 41,000 IOPS
PCMARK® Vantage HDD Suite Score :
120GB — 60,000
240GB — 60,000
480GB – 57,000
PCMARK® 8 Storage Bandwidth Score:
120GB — 140 MB/s
240GB — 180 MB/s
480GB — 200 MB/s
Total Bytes Written (TBW)4:
120GB: 354TB 2.75 DWPD5
240GB: 641TB 2.5 DWPD5
480GB: 750TB 1.45 DWPD5
Power Consumption:
0.31 W Idle / 0.35 W Avg / 1.65 W (MAX) Read / 2.76 W (MAX) Write
Storage temperature: -40°C~85°C
Operating temperature: 0°C~70°C
Dimensions: 69.8mm x 100.1mm x 7mm
Weight: 120GB: 90.03g
Vibration operating: 2.17G Peak (7–800Hz)
Vibration non-operating: 20G Peak (10–2000Hz)
Life expectancy:
1 million hours MTBF
Warranty/support:
3-year warranty with free technical support
The packaging for the SSD is very simple, there is literally just enough there to hold the drive and be able to hang it on a shelf.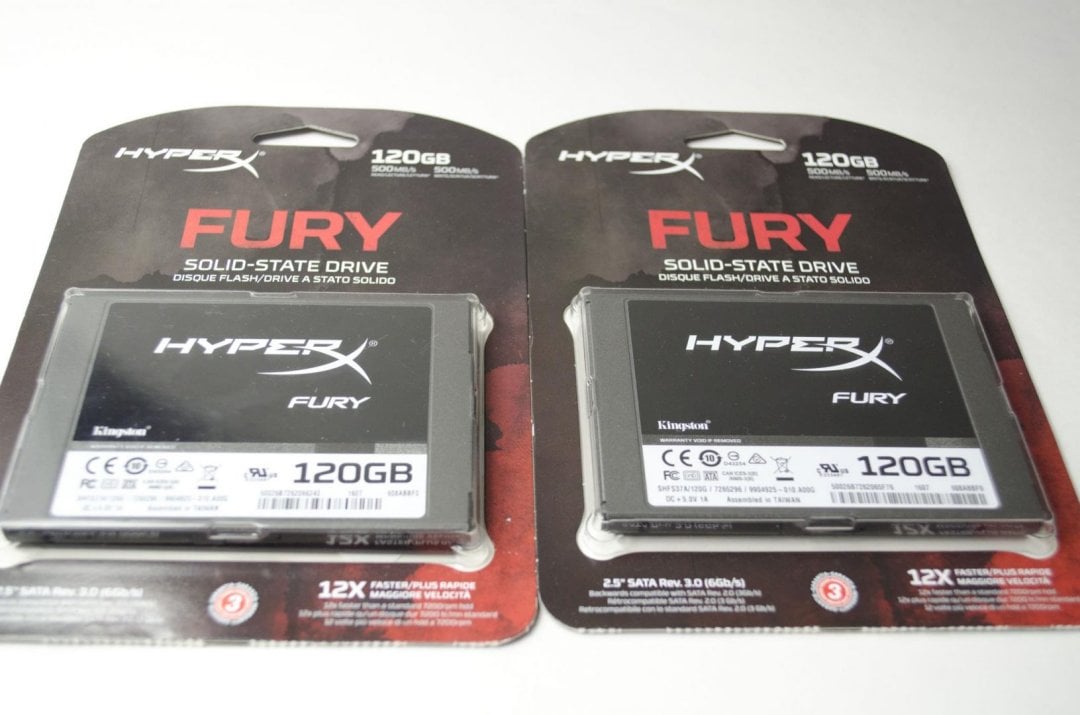 Inside the packaging is the Fury SSD itself, as well as a spacer and a HyperX sticker and that are`1 it!
On the front, there is a sticker that covers most of the drive. Most of the sticker features a black background and has the nice Kingston, Hyperx and Fury branding on it. Below this is a white area which features the drives size, a barcode and all those lovely logos companies are forced to put on electronics, even though most people have no real clue what they mean. The back of the SSDs are blank and you will just see the grey casing of the drive. While I could do without the white part on the front, I do know HyperX have to include it but aside from that, the drive is quite pleasing to look at and should fit in with most builds should you want to show it off.
The Fury SSD has your standard SATA 3 connector on it which is also compatible with SATA 2 so don't worry!
For fun, this is an image of the SSDs in the Cooler Master MasterCase Pro 5 review which I did a few days ago! As you can see, they do look quite nice once installed into a complete build.
Motherboard: MSI X99s SLI PLUS
Processor: Intel i7 5820K
Ram: 16GB (2x8GB) Crucial Ballistix Sport  2400Mhz
SSD: 2x HyperX Fury 120GB SSD's
PSU: be quiet! Straight Power 10 600w
CPU Cooler: be quiet! dark Rock 3
Case: Cooler Master MasterCase Pro 5
Monitor: Ben Q XL2730z
The performance of the HyperX Fury SSD wasn't the best, nor did I expect it to be. When originally launched, it was designed to be a budget SSD that was significantly cheaper than other current and faster SSDs at the time. It is still considered a budget SSD to this day and as mentioned, the price has dropped quite a bit since it was originally launched. What really surprised me was the performance when using 2x Fury 120GB SSDs in a RAID 0 array. When put in RAID 0, I was easily able to get twice the performance out of the drives. For those who don't know, RAID lets you take two like drives and sort of combine them together to use their space as one drive. So instead of having a 120GB C:\ and a 120GB D:\, when in RAID you would have a 240GB C:\. This makes life a bit easier when it comes to installing programs and as you can see in the benchmark below, it also allows you to get much more speed out of the drives. However, there are some downsides to RAID but that is a story for another day. All in all, I was happy with the RAID performance and OK with the expected single drive performance.
Anvil
AS SSD
CrystalDiskMark
I've put the pair of Fury SSDs through their paces and while I was pleasantly surprised with the RAID results, the general performance of a single drive wasn't overly impressive. However, these are not designed to be the best performing drives on the block so this is understandable and unfortunately, their SandForce controller really does hold them back a bit.
Performance
Single drive performance wasn't the best but it was decent. The write is going to be the biggest letdown. coming in at around 150MB/s in our testing this is definitely not the fastest out there. However, this is still more than suitable for most people and once the data is written to the drive, there's no need to worry. These would make could boot drives to install a couple of programs on as they are fairly cheap and the read speeds are good for the price. Overall, the single drive performance is decent and as long as you don't plan on writing Terabytes of data to them, they will be fine.
the RAID performance left me a little bit shocked. Admittedly, this is the first time I have used a RAID array so wasn't quite sure how well things would hold up. Much to my surprise, I got around double, if not a little more than double the speed out of them in most of the benchmarks. While two of these may be a bit more expensive than a single 240GB model, you would also get a bit more performance from them so it really would be a judgement call on the individual user whether or not using these in RAID would be beneficial for them.
Design
When it comes to the technical side of things, the SandForce controller is definitely the limiting factor of this drive. However, in saying that, I have seen more recently released SSDs that offer worse performance, especially in the write department so I really can't complain too much about it. From an aesthetics point, it's decent. The grey casing with the black/white sticker should allow it to fit/blend in with most PC builds and not cause too much attention. As you saw in the closer look, it worked out well with my PC build and they do look quite nice on the floor of the MasterCase Pro 5.
Value
This is what allows the HyperX Fury SSD to be a decent drive. They've always been designed to be more of a budget/cheaper alternative to the faster and more expensive drives. However, these days they do have a bit of competition in this price range that may even offer a bit better performance. While I feel the Fury SSD do offer good value, it may be worth looking around to see what else is out there as you may find similar drives a bit cheaper, or, you may even find some with a bit better performance at the same price point.
I would like to thank HyperX for sending in a pair of their 120GB Fury SSDs for review.